This lemon baked cod recipe is such an easy weeknight dinner! Learn how to bake cod quickly and easily with loads of flavor and minimal effort!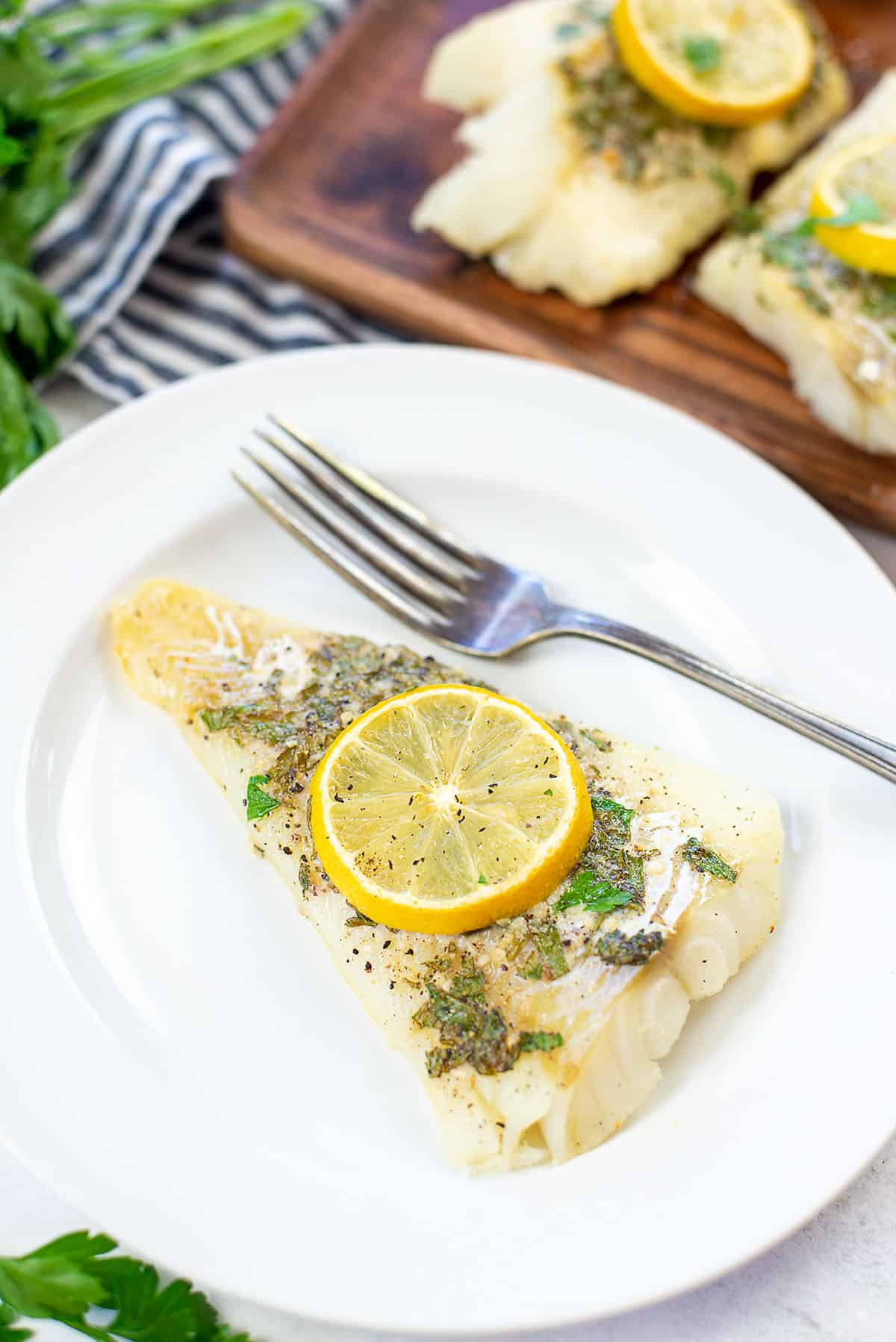 When we have picky eaters (hello, my children) we try to phrase their dislike of food in more positive terms…
Rather than 'they don't like seafood,' they're 'learning to love seafood.'
Try it – it actually works! It reframes it into something that they're still trying rather than setting things in stone that this a food we don't like.
It even works on me…I'm learning to love fish. It's not always my go to, but I want to like it more so I'm experimenting with new recipes and methods and learning to love it!
This lemon baked cod was one of our experiments and turned out to be a total hit with my entire family.
Let's be real though – how could anyone resist that buttery lemon garlic topping on this baked cod recipe? So good and so much flavor!
Our Parmesan Crusted Cod is another favorite around here!
What Readers Are Saying:
u0022This was beyond delicious and probably one of the best seafood dishes I ever made. Thank you very much for sharing this recipe!u0022 – u003cstrongu003eJenu003c/strongu003ernrnu0022This is my second time using your recipe (first one was the million dollar spaghetti squash recipe which was a MAJOR hit). Thank you for posting your meals as they are delicious and help me with my keto diet! I appreciate you!u0022 – u003cstrongu003eJanilleu003c/strongu003ernrnu0022Cooked this last night for my family and they loved it! My 3 year old daughter kept asking me for seconds, then thirds!! I will definitely be making this again.u0022 – u003cstrongu003eAshleyu003c/strongu003e
Ingredients: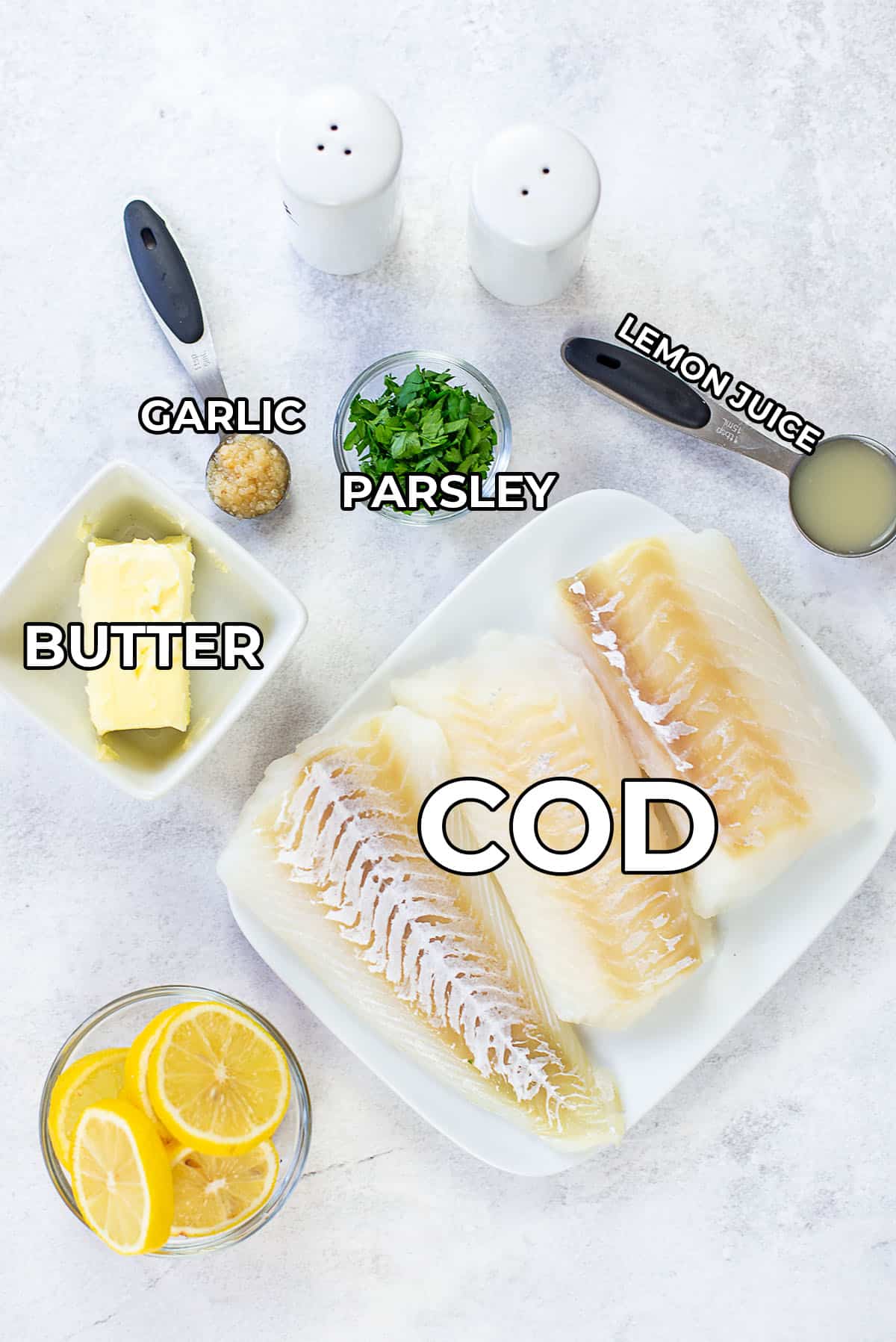 Cod Filets – It's no secret that fresh caught, never frozen fish tastes the best. But unless you live near the sea or in a city with a decent fish market or grocery store, chances are you're going to have to make do with some frozen filets. That's no problem! Just thaw them out first and you are good to go.
Buttery Topping – What makes this baked cod recipe so special is the topping! We're talking about a mix of softened butter, minced garlic, parsley, and of course some freshly squeezed lemon juice.
How To Bake Cod:
u003culu003ern tu003cliu003eu003cstrongu003eMake the Topping – u003c/strongu003eAdd the softened butter, garlic, lemon juice, parsley, salt and pepper to a bowl and mash it all together with a fork.u003cimg class=u0022size-full wp-image-11628 aligncenteru0022 src=u0022https://thatlowcarblife.com/wp-content/uploads/2021/10/topping.jpgu0022 alt=u0022lemon butter in small bowl.u0022 width=u00221200u0022 height=u0022801u0022 data-pin-nopin=u0022trueu0022 /u003eu003c/liu003ern tu003cliu003eu003cstrongu003eSeason the Cod – u003c/strongu003eSpread the butter mixture evenly over each piece of cod. Top it off with a slice of lemon.u003cimg class=u0022size-full wp-image-11618 aligncenteru0022 src=u0022https://thatlowcarblife.com/wp-content/uploads/2021/10/fish.jpgu0022 alt=u0022lemon butter spread on top of cod.u0022 width=u00221200u0022 height=u0022801u0022 data-pin-nopin=u0022trueu0022 /u003eu003c/liu003ern tu003cliu003eu003cstrongu003eBake – u003c/strongu003ePop the cod in the oven and bake for 15-20 minutes.u003c/liu003ernu003c/ulu003e
What We Love About This Recipe:
Not only is this dish super flavorful thanks to the bold flavors of lemon and garlic, it's also very simple with just a handful of ingredients and minimal prep. Ready in about 20 minutes from start to finish, this is perfect for a busy weeknight.
Lemon Baked Cod Serving Suggestions:
Our baked cod goes great with many different sides, including our roasted cauliflower rice, air fryer zucchini, and broccoli tots.
Of course, a simple side salad and some steamed broccoli are our go to sides for just about any meal, if you'd like to keep it more simple.
FAQ's:
What temperature should cod be baked at in the oven?
The perfect temperature for cooking cod is 400 degrees Fahrenheit. At this temperature, your cod filets will take about 15 minutes to cook through.
How do you know when cod is done?
Place a fork into the thickest part of the fish and twist. The fish should flake apart easily and no longer look translucent.
Why is my baked cod tough?
Overcooked fish tends to be dry and tough. Be sure to cook the fish until it just flakes apart with a fork for the best taste and texture.
More Seafood Recipes:
And, please, if you make this, be sure to snap a pic and share with us on Instagram! Tag us at @thatlowcarblife or follow here. You can also share on our Facebook page! Click to like!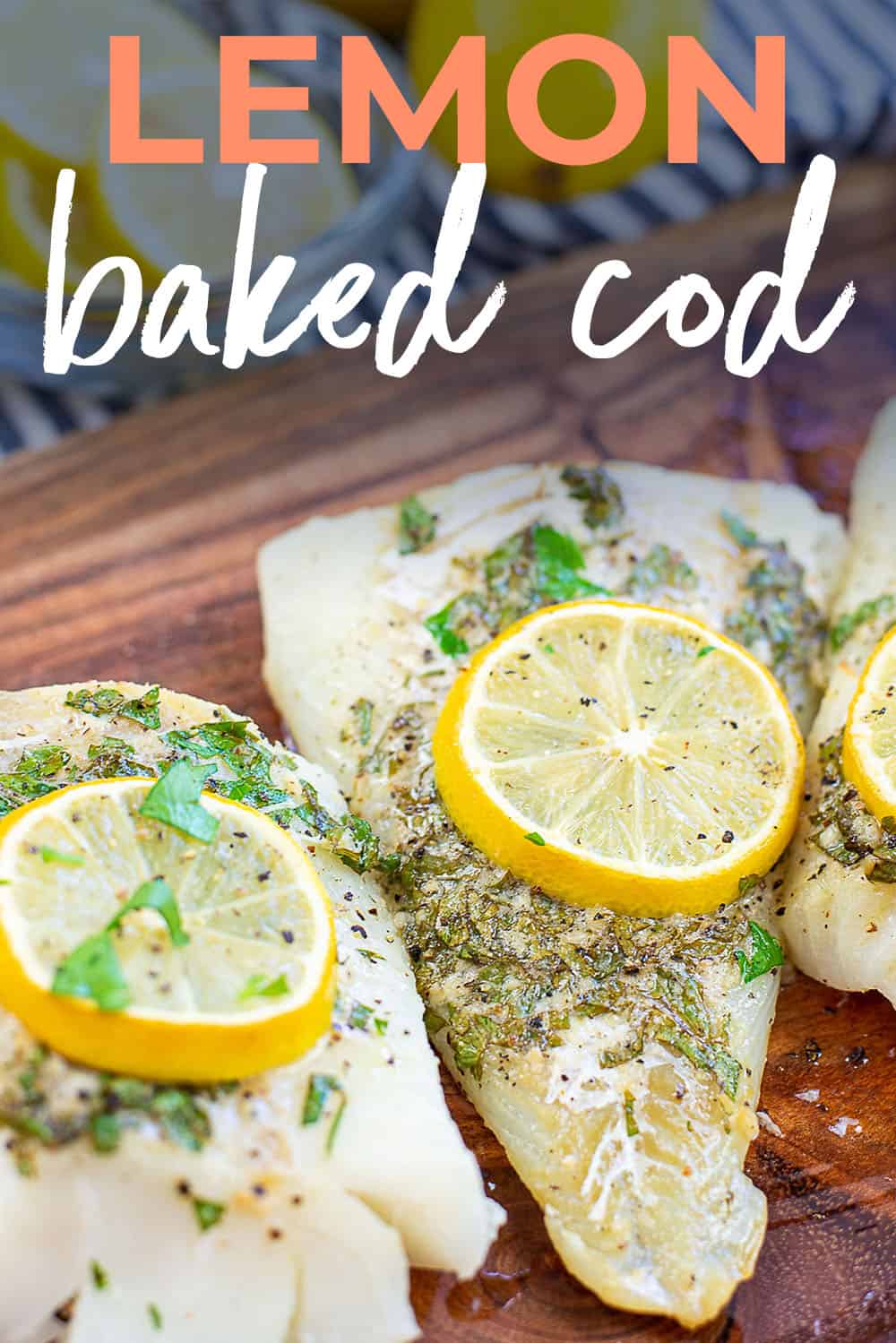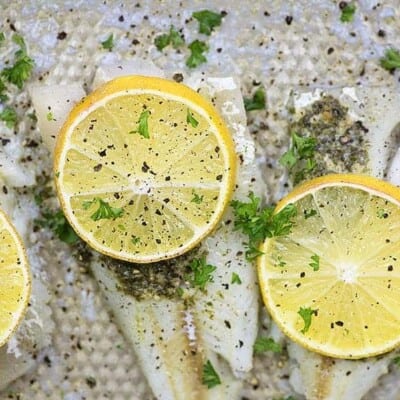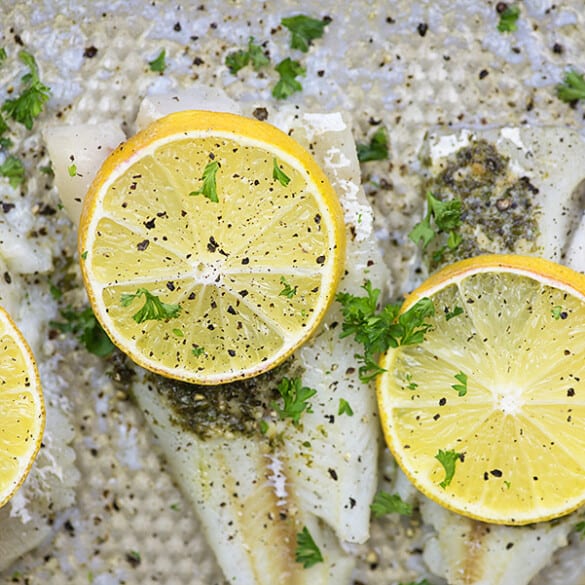 Lemon Baked Cod
This lemon baked cod is an easy weeknight recipe. With just a handful of ingredients and 20 minutes time, you'll have a gorgeous, flavorful, and healthy fish dinner on the table.
Prep5 minutes
Cook20 minutes
Total25 minutes
Ingredients
4 cod fillets 4 ounces each
¼ cup butter softened
1 tablespoon lemon juice
1 tablespoon minced parsley
1 teaspoon minced garlic
½ teaspoon salt
½ teaspoon pepper
4 slices lemon
Instructions
Preheat the oven to 400 degrees. Spray a large rimmed baking sheet with non-stick spray.

Add the butter, lemon juice, parsley, garlic, salt, and pepper to a small bowl and mix together with a fork until well combined.

Spread the butter mixture evenly over each cod filet and top with a slice of lemon.

Bake for 15 minutes or until the cod is opaque and flakes easily with a fork.
Tips & Notes:
This cod recipe should also work well with tilapia and other firm white fish.
Nutrition Information:
Serving: 1| Calories: 136kcal (7%)| Carbohydrates: 1g| Protein: 7g (14%)| Fat: 12g (18%)| Saturated Fat: 7g (44%)| Polyunsaturated Fat: 4g| Cholesterol: 46mg (15%)| Sodium: 379mg (16%)| Net Carbs: 1g (2%)