Our easy Keto Caesar dressing recipe is rich and creamy, with the savory flavors of Parmesan, dijon, and Worcestershire sauce. We add anchovy paste for a traditional flavor, but we've included an option for skipping it.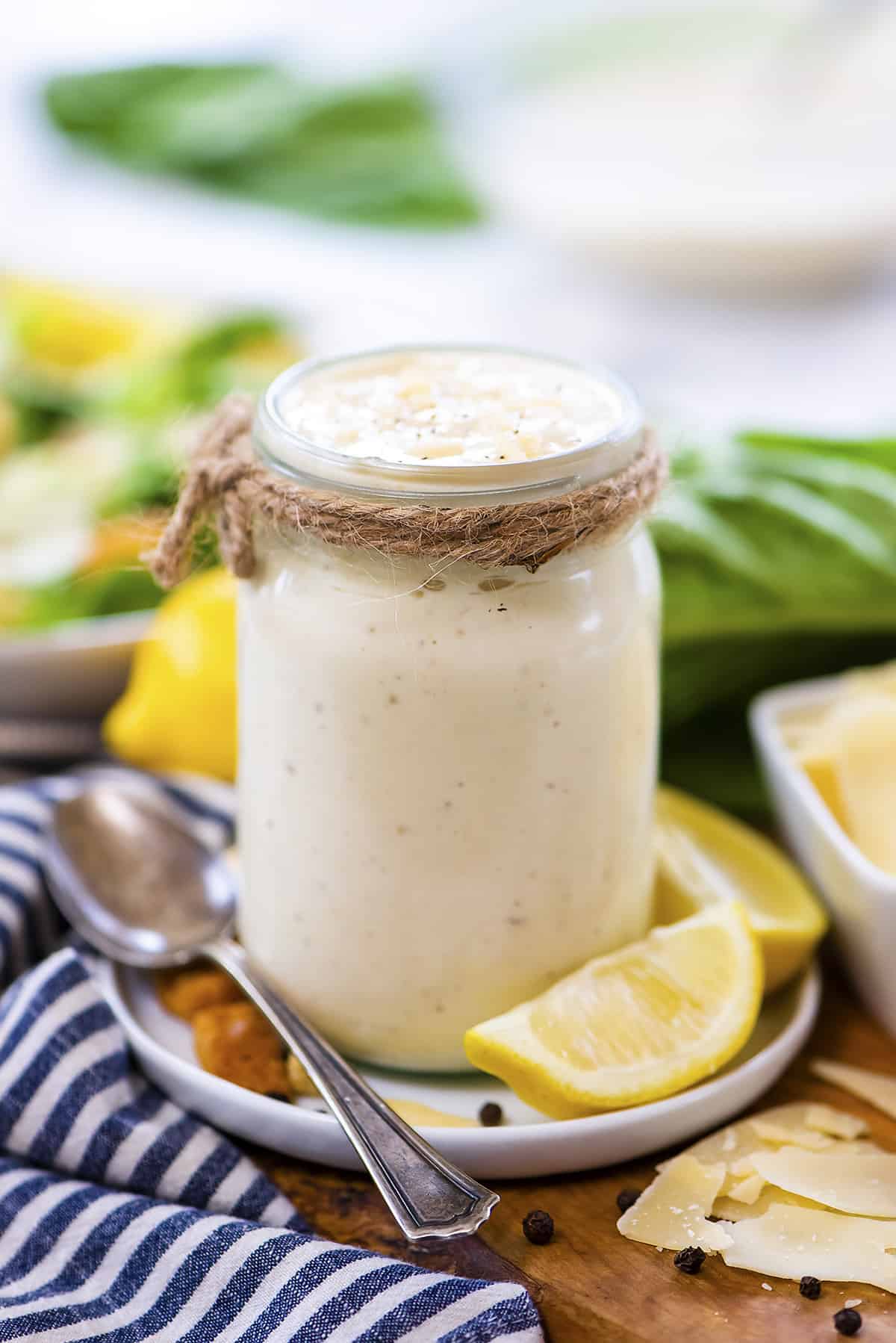 Nothing beats a salad, but sometimes they do get a bit boring.
The easiest way to make a salad exciting is to add a homemade salad dressing and our keto Caesar dressing is a current favorite around here!
Rich, creamy, and bursting with umami flavors – this salad dressing can really bring a salad to life.
We have a whole collection of salad dressing recipes that my family loves. You'll want to check out our keto ranch dressing, keto thousand island dressing, and our creamy avocado salad dressing.
The dressing really does make a salad, and while a bottle of dressing from the store is easiest, homemade is definitely tastiest!
Ingredient Notes:
This post contains affiliate links. As an Amazon associate and member of other affiliate programs, I earn from qualifying purchases.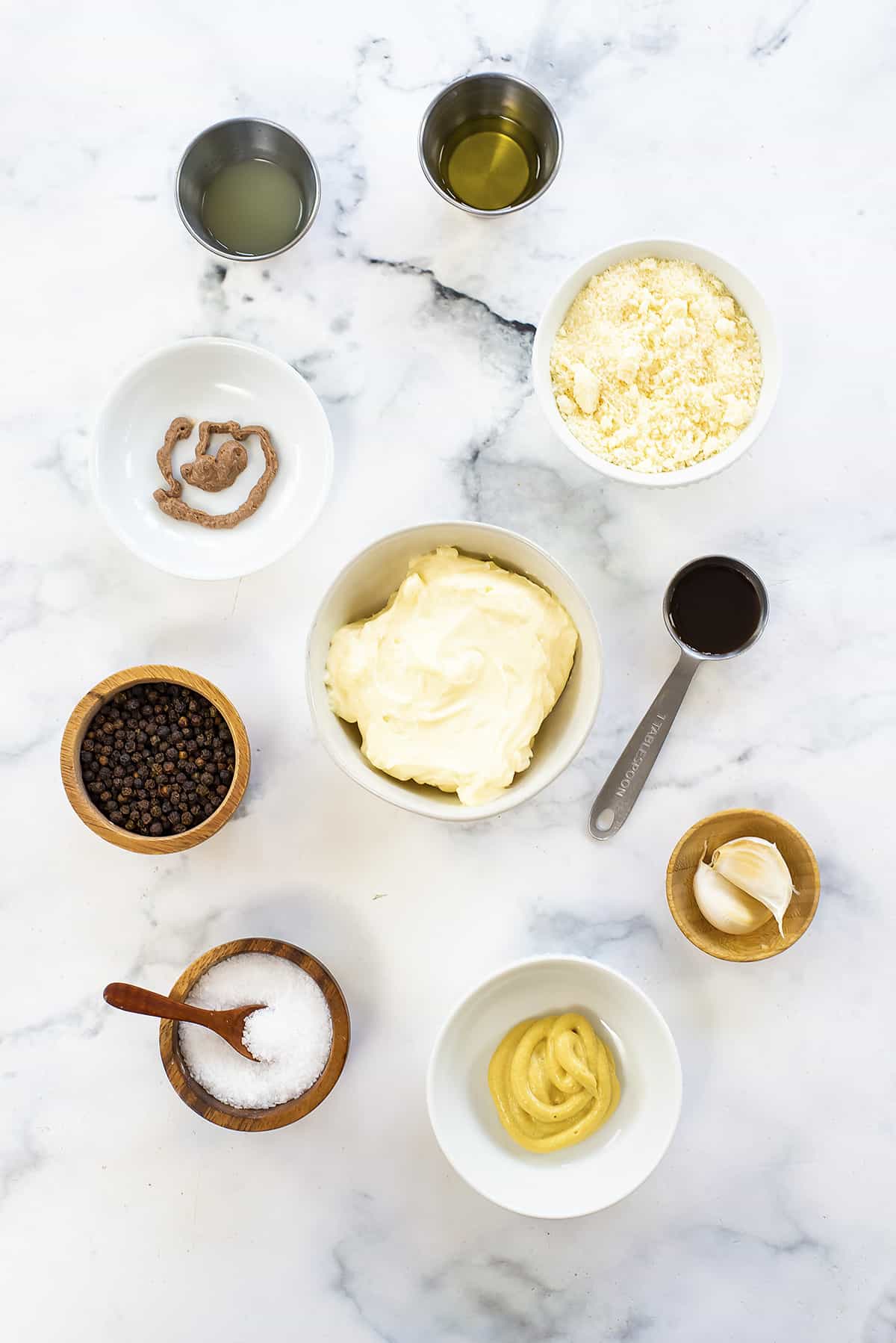 Mayonnaise – This homemade Caesar dressing uses plenty of creamy mayonnaise as the base. Use your favorite brand of mayo for this! We like Kraft.
Lemon Juice – The lemon juice is an important ingredient so I'd recommend using freshly squeezed. It'll help to enhance the flavor and brighten the colors of this keto Caesar dressing.
Olive Oil – More flavor and it helps emulsify the other dressing ingredients!
Dijon Mustard – The strong tangy flavor of Dijon mustard will help to balance out the intense savory flavor of the anchovy paste and other ingredients. Plus, it adds flavor!
Worcestershire Sauce – It adds all kinds of good savory flavor to pretty much anything! Some brands have added sugar so choose accordingly.
Anchovy Paste – Took me awhile to except that Caesar dressing really does need anchovy paste, but it does add loads of savory flavor. If you're squeamish, skip this and use extra Worcestershire sauce. Find tubes of anchovy paste near the canned tuna at the store.
Parmesan – For this recipe I'd urge you to freshly grate your own Parmesan, or get it from the cheese counter at a grocery store. The green canned kind of crumbly Parmesan just isn't good enough for this homemade dressing!
Garlic – I'm using two cloves of garlic in this dressing because I really like the flavor of garlic! You can use even more, or less, to suit your taste!
Shop Keto Ingredients
We use Thrive Market for a lot of our specialty ingredients and keto snacks or products. Their prices tend to be cheaper than the local stores and I love that you can so easily sort products by diet.
Like Costco, this is a membership site, but we find that it's more than worth it based on the amount we save over the regular grocery store.
They have monthly or yearly plans. Check it out here.
Why We Love This Recipe:
This homemade salad dressing is just loaded with savory flavor, thanks to the worcestershire sauce, anchovy paste, and fresh garlic.
Making dressing from scratch means you can adapt it to suit your tastes – grate in extra cheese, add extra oil to thin it out, use just as much salt as you like.
Salad can get boring, but making a nice homemade dressing is an easy way to get my family interested in eating more greens.
How To Make Caesar Salad Dressing: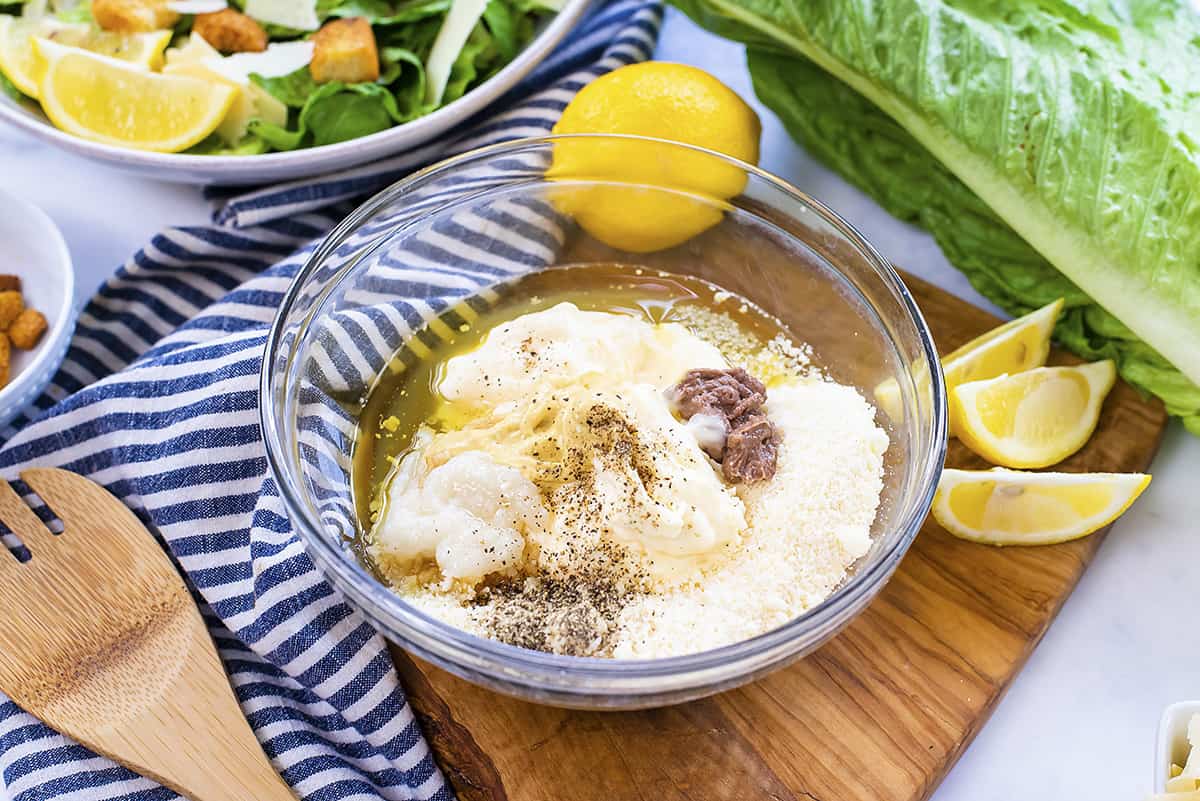 Combine – To begin you'll need a small bowl. Add the mayonnaise, freshly grated Parmesan, fresh lemon juice, olive oil, Dijon mustard, anchovy paste, and Worcestershire sauce to the small bowl.
Garlic – Next up you can mince the cloves of garlic and then sprinkle a bit of salt over them. Use the back of your knife to press the garlic into a paste! This is the best way to release all the oil and flavor in the garlic cloves.
Whisk – Add minced garlic to the other dressing ingredients along with the rest of the salt and some pepper. Whisk all that together until the mixture is well combined. Add a bit of water to thin the dressing, if needed. Taste and adjust with more salt/pepper if necessary.
Finish – When you've finished preparing the keto Caesar dressing you can either serve it immediately with a salad or store it in a sealed jar in the fridge for up to 5 days!
Helpful Tip!
Pasting the garlic helps it melt into the dressing – no chunks of garlic anywhere! If you'd prefer, you can also grate the garlic using a microplane zester.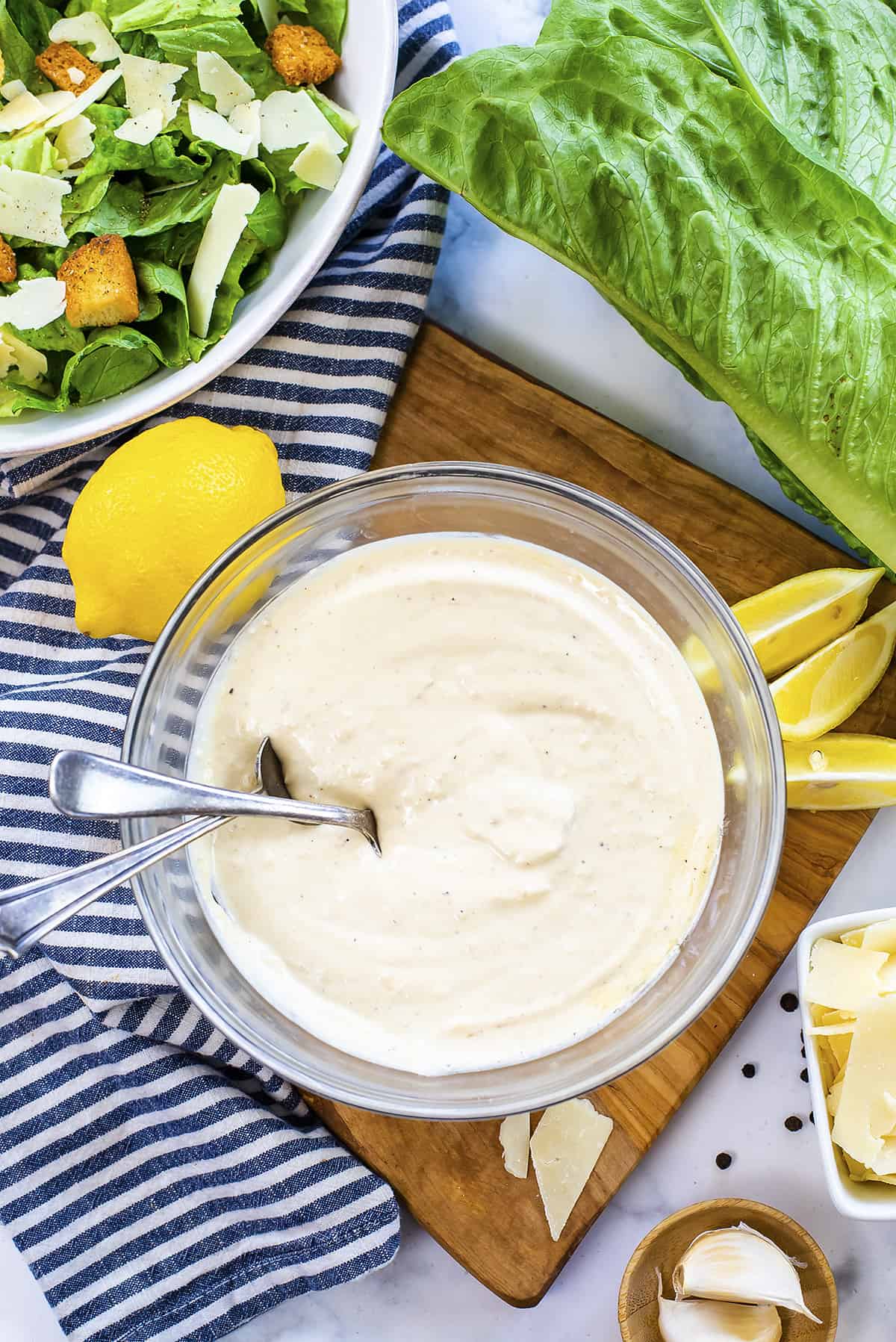 FAQ's:
Is Caesar dressing keto?
Most Caesar dressing recipes are keto friendly, including this one. Worcestershire sauce usually has added sugar so feel free to swap that out if you want but it's so little that we use worcestershire sauce regularly on a keto diet.
Do I have to use anchovy paste?
No, you do not! You could use more of the Worcestershire sauce + extra salt instead to add that salty, savory kick of flavor.
How to store Caesar salad dressing?
You can keep this dressing stored in a sealed jar in the fridge for up to 5 days.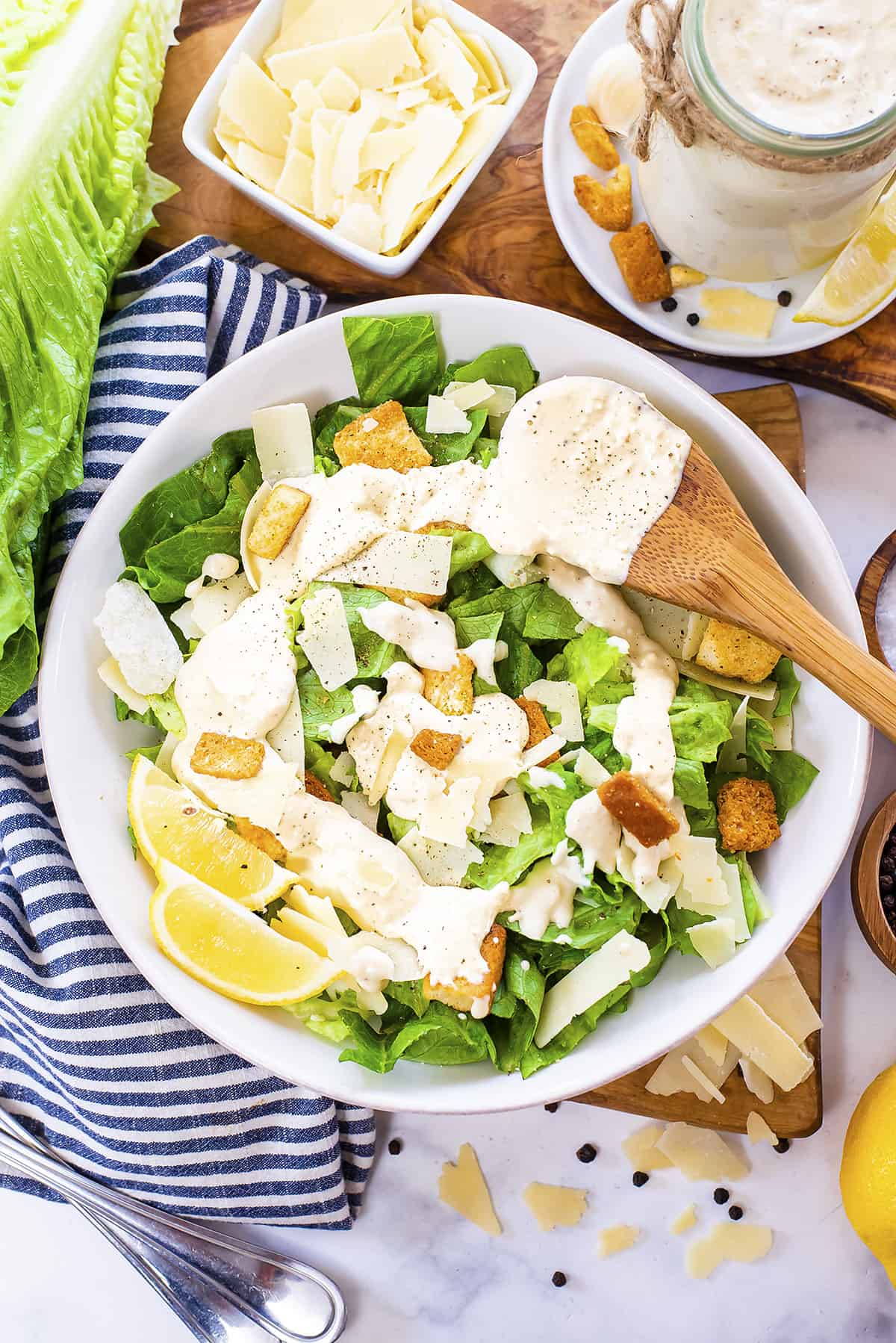 Keto Caesar Salad:
Want to make a classic Caesar salad but without the carbs?
We use keto bread from the grocery store to make croutons! Chop the bread into bite-sized pieces and toss with melted butter and seasonings (we do garlic salt and onion powder to keep it simple). Toast in a hot pan over medium heat until as crunchy as you'd like.
Chop your romaine, sprinkle on plenty of Parmesan cheese and croutons, and toss well with our keto Caesar dressing.
MORE HOMEMADE SALAD DRESSING RECIPES!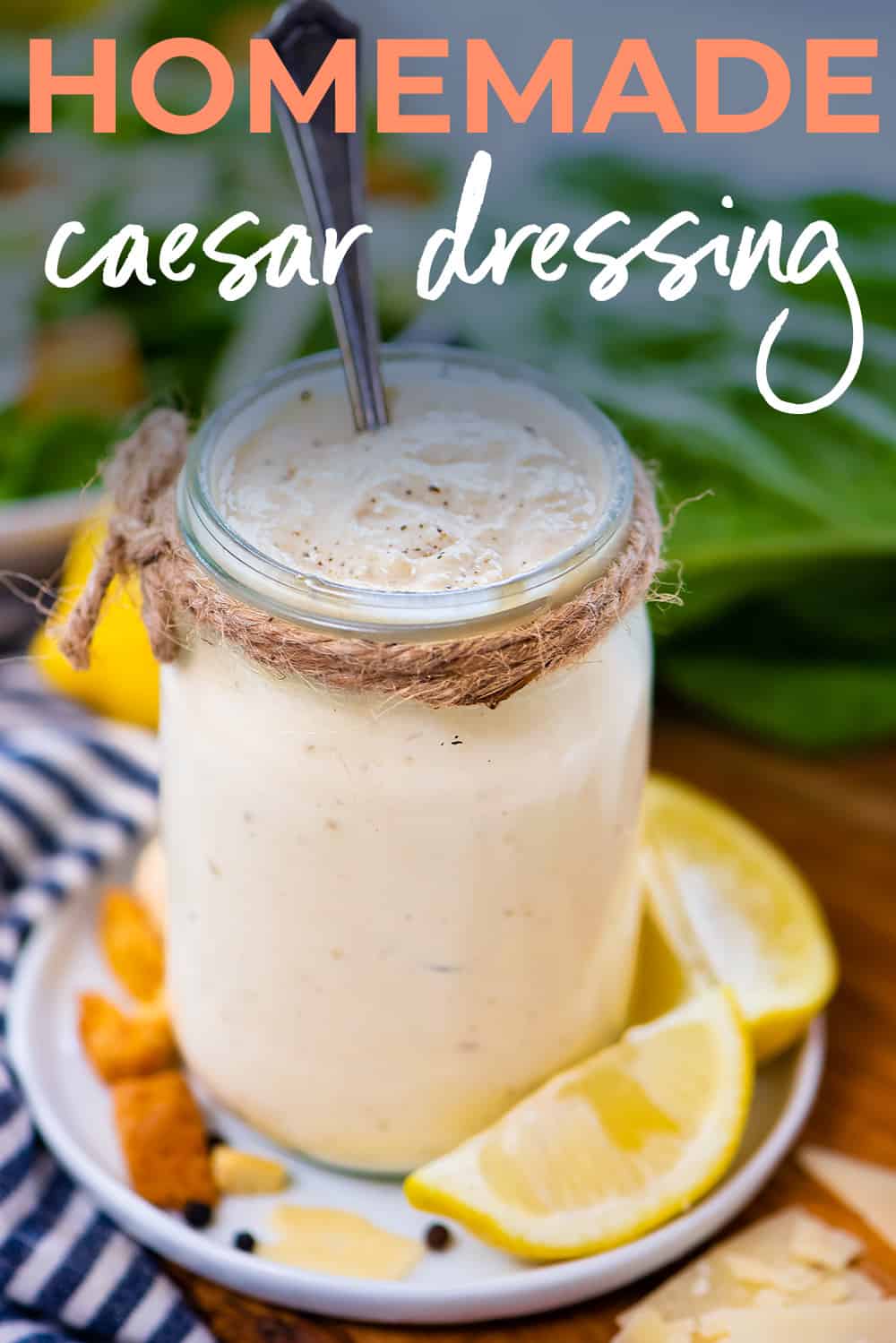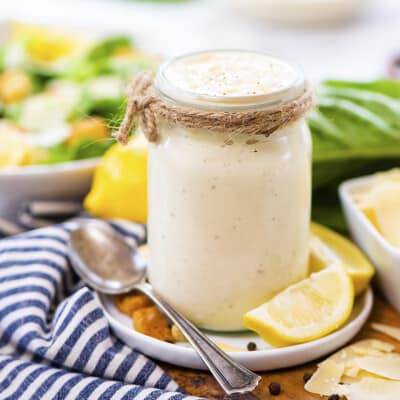 Keto Caesar Dressing
Our homemade Caesar dressing is so rich and creamy, loaded with savory flavor, and easy to make. This is perfect for dressing up a quick salad.
Prep5 minutes
Total5 minutes
Ingredients
1 ¼ cup mayonnaise
½ cup grated Parmesan see notes
2 tablespoons lemon juice freshly squeezed
1 tablespoon olive oil
2 teaspoons dijon mustard
1 teaspoon anchovy paste see notes
1 teaspoon Worcestershire sauce
2 cloves garlic
1/2 teaspoon salt
Cracked pepper to taste
Instructions
Add the mayonnaise, Parmesan, lemon juice, olive oil, dijon, anchovy paste, and Worcestershire sauce to a small bowl.

Mince the garlic and then sprinkle with a bit of the salt. Use the back of your knife to press the garlic into a paste.

Add the garlic to the mayonnaise mixture along with the rest of the salt and the pepper.

Whisk the dressing together to combine. Add a bit of water to thin the dressing, if desired. Taste and adjust seasoning to suit your preferences.

Serve immediately or store in a sealed jar in the fridge for up to 5 days.
Tips & Notes:
We prefer to use freshly grated Parmesan or the kind from the cheese counter – not the kind in the green can. You can find anchovy paste in a tube near the canned tuna. If you leave this out, you'll be missing a lot of flavor but can add in extra Worcestershire + salt to make up for it. To make a classic Caesar salad, toss romaine, shredded or shaved Parmesan, and keto croutons with this dressing. To make keto croutons, chop a few slices of store-bought or homemade keto bread, toss with melted butter, and season with garlic salt and onion. Toast in a hot pan over medium heat until golden and crispy.
Nutrition Information:
Serving: 2tablespoons| Calories: 190kcal (10%)| Carbohydrates: 1g| Protein: 2g (4%)| Fat: 20g (31%)| Saturated Fat: 4g (25%)| Polyunsaturated Fat: 11g| Monounsaturated Fat: 5g| Trans Fat: 0.04g| Cholesterol: 14mg (5%)| Sodium: 352mg (15%)| Potassium: 25mg (1%)| Fiber: 0.1g| Sugar: 0.3g| Vitamin A: 53IU (1%)| Vitamin C: 1mg (1%)| Calcium: 42mg (4%)| Iron: 0.1mg (1%)| Net Carbs: 1g (2%)