This BLT Salad turns my favorite sandwich into a delicious low carb salad, made with crispy bacon, freshly chopped romaine, and cherry tomatoes – all topped off with seasoned chicken, chunks of creamy avocado, and our famous homemade ranch dressing!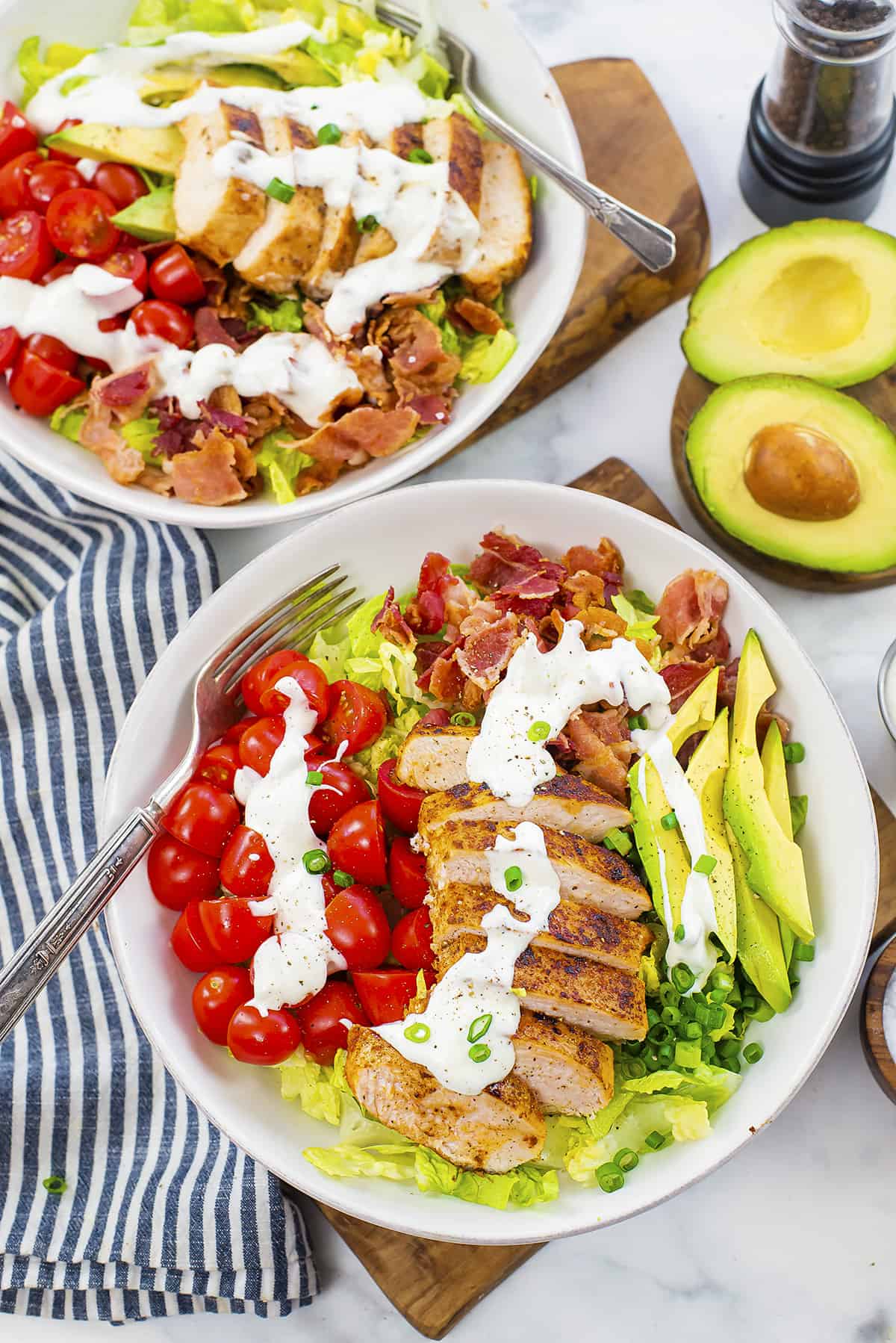 Nothing beats a classic BLT sandwich, with the crispy bacon, juicy tomatoes, and the crunch of lettuce.
But, I'm not big on low carb bread, so I usually turn sandwiches into salads these days. Like my Keto Grinder Salad – such a fun sandwich, but makes an even tastier salad!
We bulked up our BLT Salad with chicken and avocado. The seasoned chicken adds flavor and protein, which helps make this salad feel like a full meal. The avocado adds good fats and the perfect pop of creaminess!
We used our keto ranch dressing over the salad. It's a reader favorite around here…have you tried it yet? For another vibe, try using our avocado salad dressing.
Ingredient Notes:
This post contains affiliate links. As an Amazon associate and member of other affiliate programs, I earn from qualifying purchases.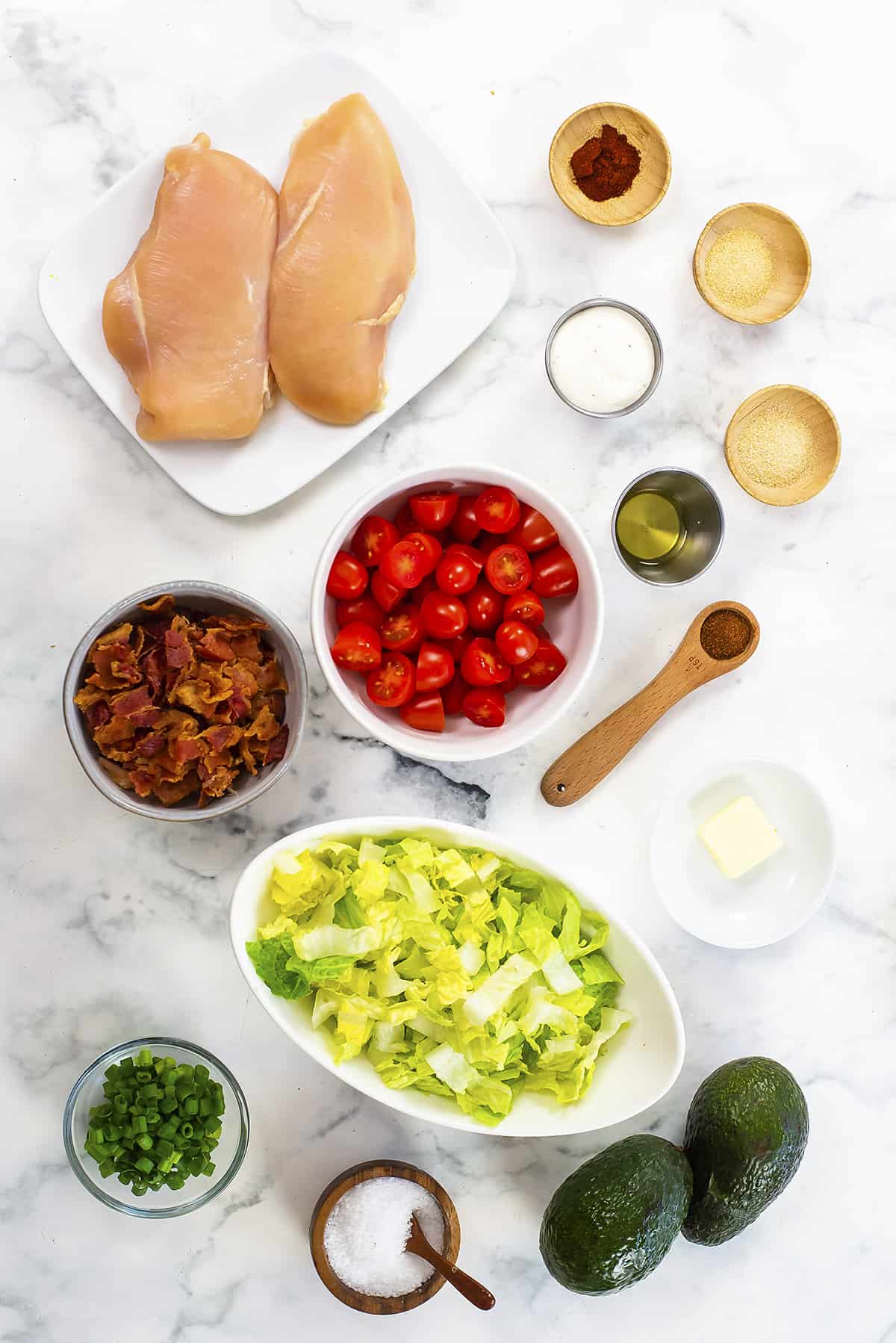 For the chicken:
Chicken – I'm using boneless skinless chicken breasts for this chicken salad recipe. You could use boneless chicken thighs for this instead if that's what you've got.
Seasoning – To season the chicken you will need some smoked paprika, onion powder, garlic powder, chili powder, and salt. Regular paprika works too.
Olive Oil & Butter – For cooking the chicken!
For the salad:
Romaine Hearts – You'll need 12 cups of rinsed and chopped romaine hearts. You can buy these pre-chopped or chop your own. A salad spinner would be useful for drying all that lettuce after rinsing.
Bacon – Fried and crumbled bacon will go into salad. This easy air fryer bacon recipe is a good way to prepare it ahead of time and it's pretty mess free. You could also fry some up in the same skillet you'll be cooking the chicken in.
Veggies – In addition to the romaine you'll need some halved cherry tomatoes, diced green onions, and a couple of sliced avocados. The green onions aren't traditionally found in a BLT, but we love the flavor they give to this salad.
Keto Ranch Dressing – We use about ¼ cup of ranch dressing per salad. Our keto ranch dressing has 1 net carb per 2 tablespoons and is not included in the nutrition information in this recipe. You can add the carbs depending on how much dressing you like.
Shop Keto Ingredients
We use Thrive Market for a lot of our specialty ingredients and keto snacks or products. Their prices tend to be cheaper than the local stores and I love that you can so easily sort products by diet.
Like Costco, this is a membership site, but we find that it's more than worth it based on the amount we save over the regular grocery store.
They have monthly or yearly plans. Check it out here.
Why We Love This Recipe:
As with any salad you can customize this and make it your own! Add or swap veggies, use a different type of lettuce or a different kind of salad dressing. It's all up to you!
This is perfect on a hot summer night. It's still filling, but feels light and refreshing.
How To Cook Chicken:
Season – Trim any fat from the chicken and then start preparing the seasoning. Add all of the seasoning ingredients to a small bowl or container and stir until they are well combined. Season both sides of the chicken breast until they are well coated in the seasoning.
Cook – Start heating up some olive oil and butter in a skillet over medium heat. Add the seasoned chicken to the pan and cook for about 5 to 6 minutes on each side, or until it has cooked through to a safe temp of 165 degrees. Set the chicken aside while you prepare the salad.
Our Favorite Meat Thermometer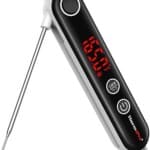 I love using this meat thermometer for making sure the meat is fully cooked! Easy for beginners & absolutely worth the low cost. Just stick it in the thickest part of the meat to check for doneness. This thermometer is also magnetic so it's easy to store right on the side of the fridge or oven for easy access! Get it on Amazon.
How To Make Salad: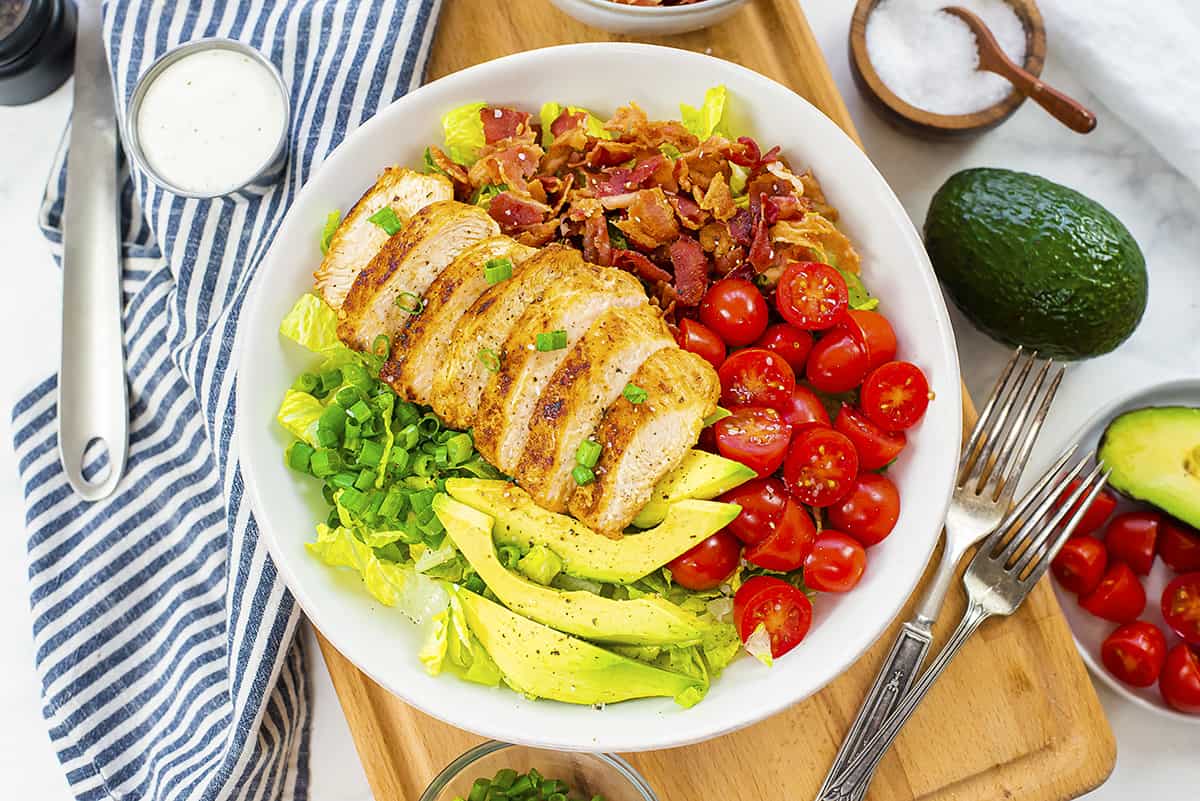 Romaine – If you haven't already you'll need to rinse and chop the romaine and then divide it up evenly between four salad bowls.
Top – Start sprinkling an even amount of crumbled bacon, halved tomatoes, and diced green onion over the romaine in each bowl. Slice up the avocado and chicken and arrange them evenly over the salads.
Finish – Finally you can finish these BLT salads by topping with some low carb ranch dressing! Try my homemade recipe or use your favorite brand. OR try this salad with a different type of dressing, like my green goddess salad dressing!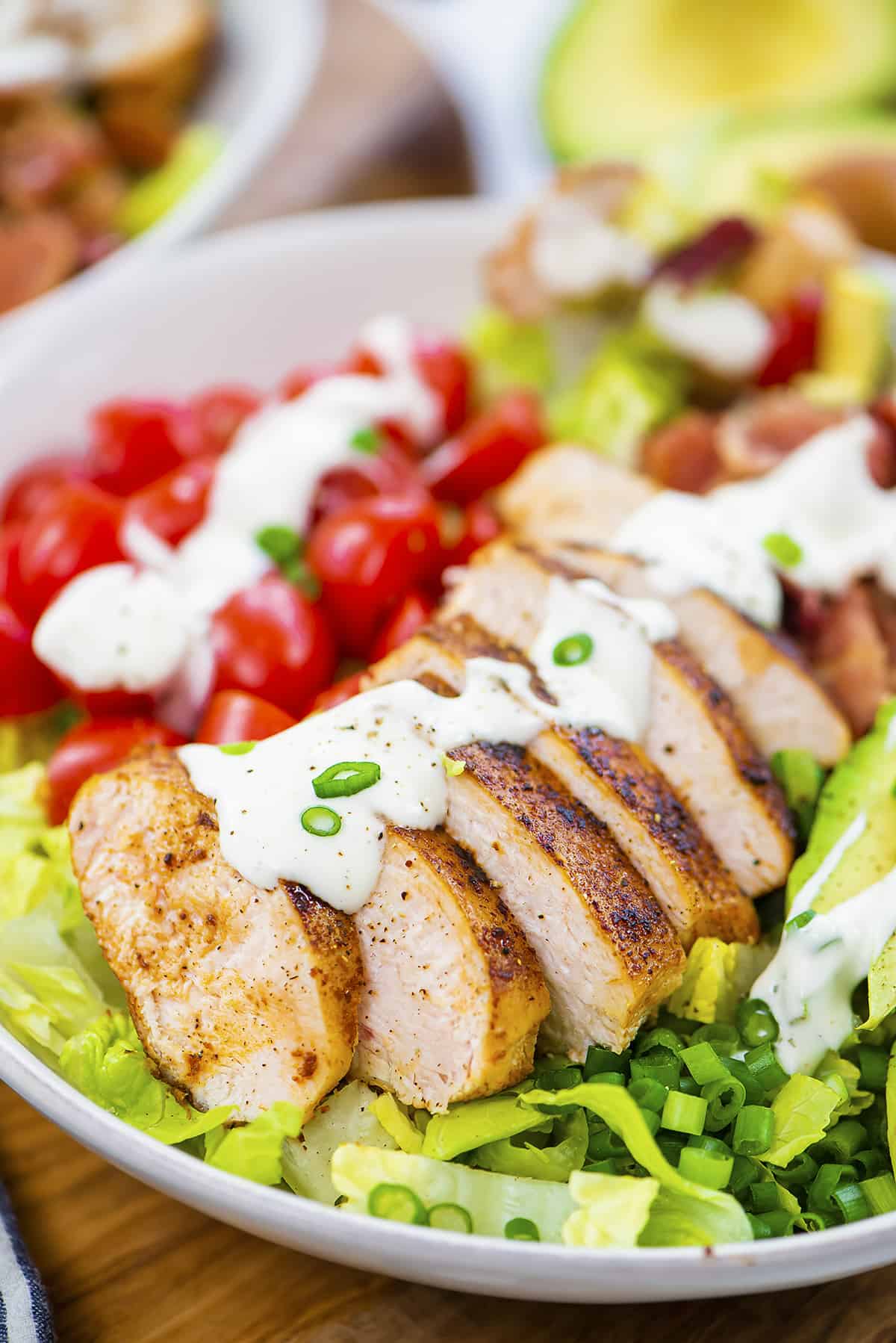 Helpful Tip!
Use leftover chicken to make this recipe even easier! Rotisserie chicken also works well!
FAQ's:
What are romaine hearts?
These are the center leaves of a head of romaine lettuce. They're smaller and sweeter and are perfectly crispy. You can find these pre-chopped at most grocery stores.
How to store salad?
We like to layer our salad ingredients in a mason jar, leaving out the dressing until ready to eat. If you're taking your salad on the go, place the dressing in the jar first. Layer it as follows: 1. Dressing 2. Tomatoes 3. Chicken 4. Bacon 5. Romaine 6. Green Onion 7. Avocado The salad should last a couple of days, although the avocado may start to brown.
More Keto Salad Recipes: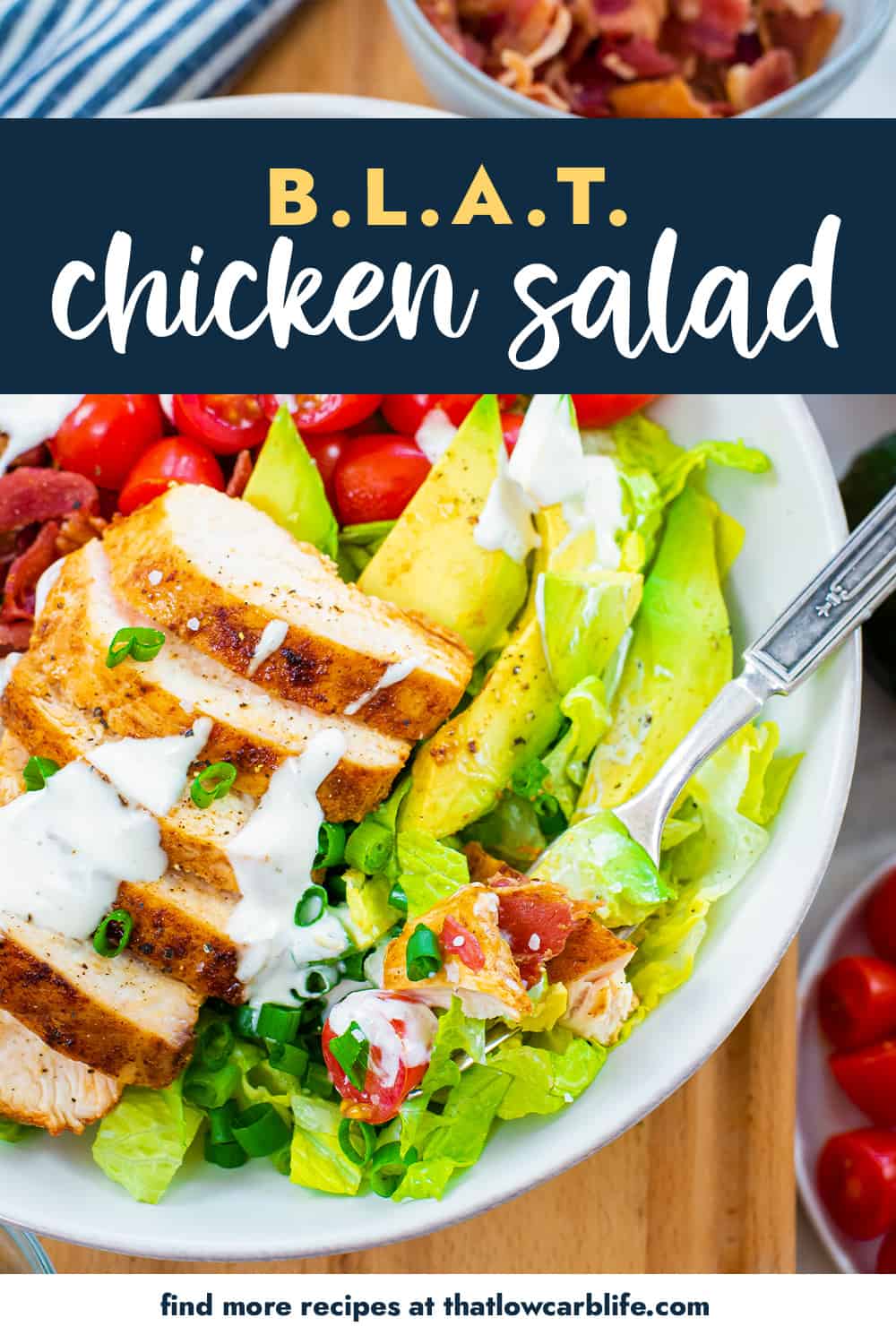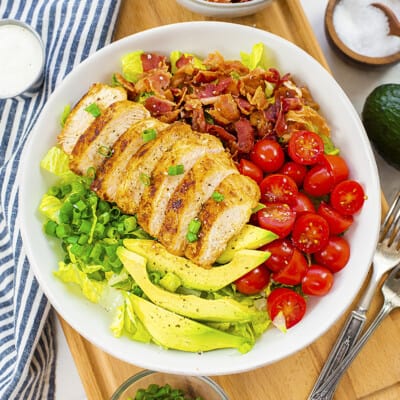 BLT Salad with Chicken
We took all the flavors of a BLT and turned it into a hearty salad by adding in some juicy chicken breasts. Topped off with our homemade ranch dressing, this is one salad we can't get enough of.
Prep15 minutes
Cook12 minutes
Total27 minutes
Ingredients
For the chicken:
1 pound boneless, skinless chicken breasts
1 teaspoon smoked paprika
1 teaspoon onion powder
1 teaspoon garlic powder
1 teaspoon chili powder
1 teaspoon salt
1 tablespoon olive oil
1 tablespoon butter
For the salad:
12 cups chopped romaine hearts
8 slices bacon fried and crumbled
2 cups halved cherry tomatoes
½ cup diced green onions
½ avocado
2 avocados sliced
Keto Ranch Dressing see notes
Instructions
To make the chicken:
Trim any fat from the chicken breasts.

Add all of the seasonings to a small container and stir to combine.

Season both sides of the chicken with the seasoning to coat.

Heat the oil and butter in a skillet over medium heat. Add the chicken and cook on both sides, about 5-6 minutes each, until cooked through.

Set aside to rest while you prepare the salad.
To make the salad:
Divide the romaine evenly between 4 salad bowls.

Sprinkle each salad with the bacon, tomatoes, and green onions.

Slice the avocados and arrange evenly over the salads. Slice the chicken breasts into thin strips and arrange evenly over the salad.

Serve topped with ranch dressing.
Tips & Notes:
We use about ¼ cup of ranch dressing per salad. Our keto ranch dressing has 1 net carb per 2 tablespoons and is not included in the nutrition information in this recipe. You can add the carbs depending on how much dressing you like.
Nutrition Information:
Calories: 631kcal (32%)| Carbohydrates: 23g (8%)| Protein: 36g (72%)| Fat: 46g (71%)| Saturated Fat: 12g (75%)| Polyunsaturated Fat: 7g| Monounsaturated Fat: 24g| Trans Fat: 0.2g| Cholesterol: 109mg (36%)| Sodium: 1072mg (47%)| Potassium: 1882mg (54%)| Fiber: 14g (58%)| Sugar: 6g (7%)| Vitamin A: 20018IU (400%)| Vitamin C: 42mg (51%)| Calcium: 118mg (12%)| Iron: 4mg (22%)| Net Carbs: 9g (18%)