We turned the TikTok viral grinder salad sandwich into a keto grinder salad that has all the meat, cheese, and toppings without the bread! The homemade creamy Italian dressing really makes this salad!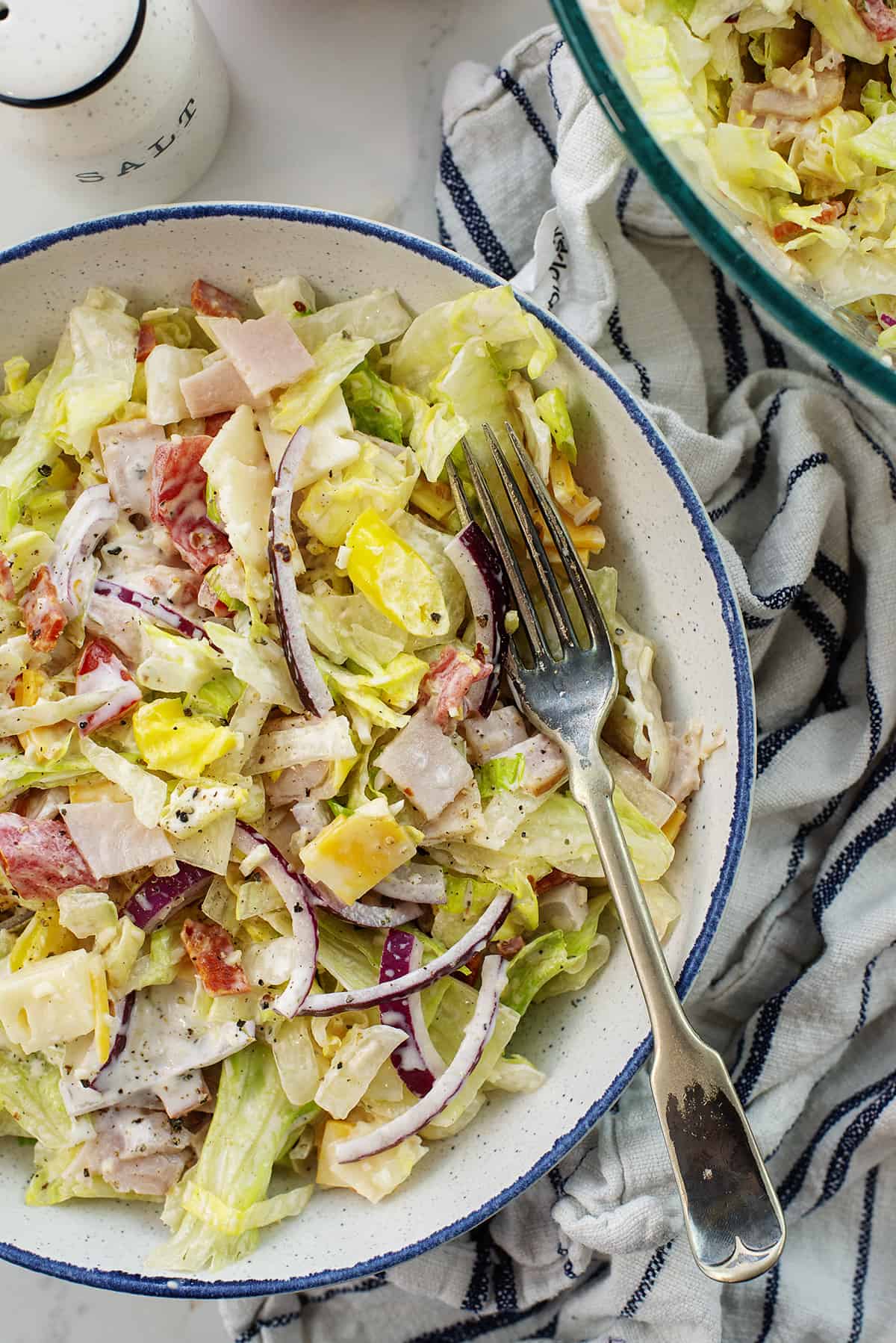 If you've been on TikTok at all in the last 6 months, you've probably stumbled across the viral Grinder Salad Sandwich. It's insanely popular with deli meats, a variety of cheese, and a chopped salad that's packed with veggies and dripping with dressing all stuffed inside a toasted hoagie.
It's honestly hard for me to scroll by without stopping to drool every time one pops up on my FYP.
We decided to make a Keto Grinder Salad – all the ingredients of the sandwich, just without the bread. Who needs a hoagie roll anyway?! I promise you won't after you get a taste of this protein and flavor packed salad!
This isn't our first TikTok recipe that we've turned low carb, either. Our Baked Feta Veggies were a riff on the ever popular feta pasta recipe. We just left out the pasta, baked up the veggies with the feta cheese, and now we have a majorly tasty dish!
I don't share a ton of green salad recipes here, because I feel like it's the obvious 'diet' food and I'm not all about that life. I want flavor and fun, so the only salads I share are the ones that I can (and do) eat on repeat for lunch – ones that are super satisfying and filling, like this Keto Grinder Salad and like our Big Mac Salad!
Ingredient Notes:
This post contains affiliate links. As an Amazon associate and member of other affiliate programs, I earn from qualifying purchases.
For the salad: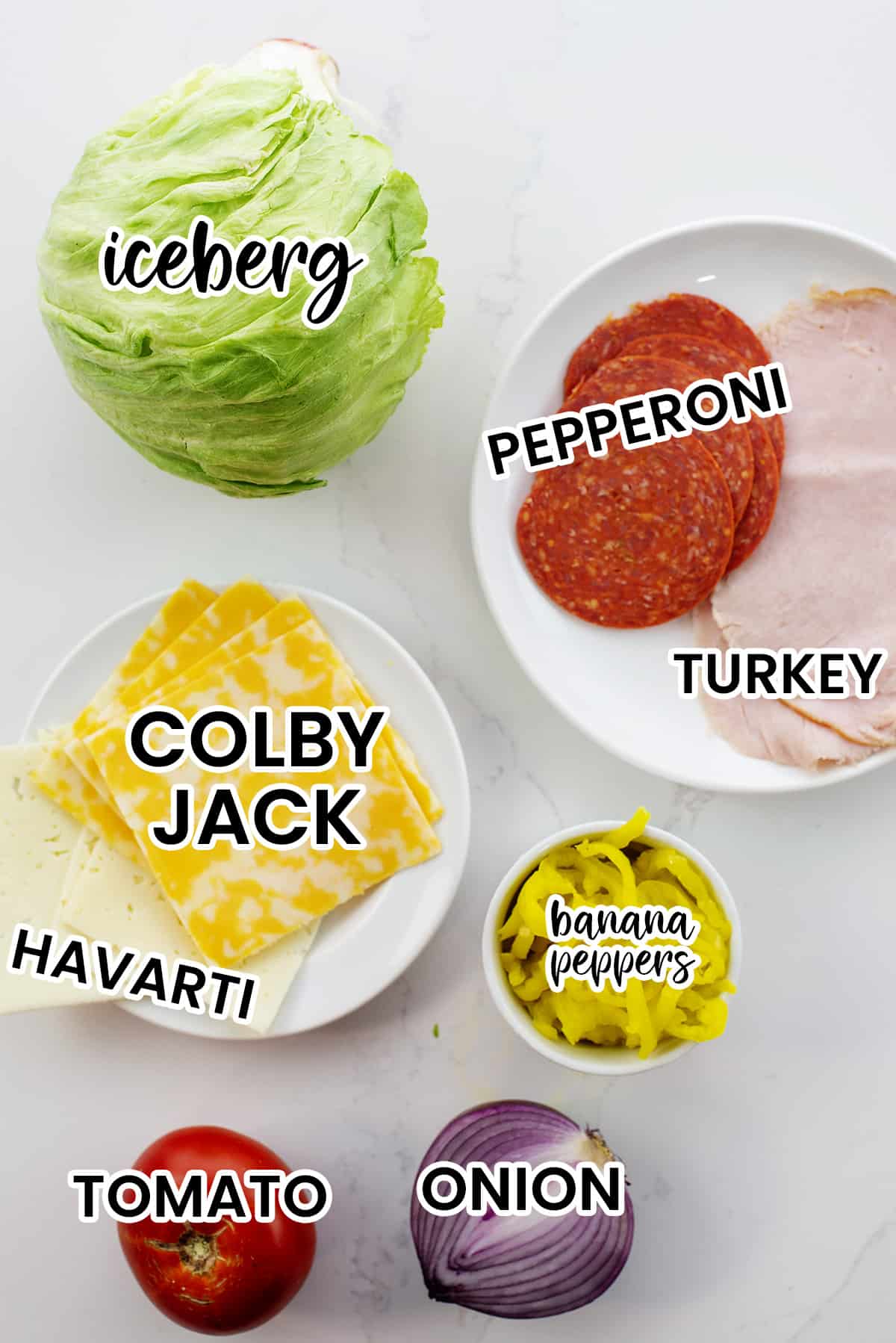 Lettuce – We're going old school with a head of iceberg. Please don't substitute – it really is the best in this salad!
Veggies – In addition to the lettuce I'm adding some diced tomato, red onion, and sliced banana peppers. The jarred kind work well in this salad. The peppers only add a little bit of mild spice. You can omit them if you don't like it.
Deli Meat – I'm using sliced deli meats just like you'd find on an Italian sub sandwich! We used turkey and pepperoni this time, but adding salami is always a good choice too! Feel free to use other deli meats too like capicola or ham.
Cheese – I'm using slices of Havarti and Colby Jack! If you can get some freshly sliced cheese from the deli along with the meat, then that's even better!
Helpful Tip!
Soaking the sliced onion in cold water for 15 minutes will mellow out the sharp flavor and make for a more mild onion.
For the creamy Italian dressing: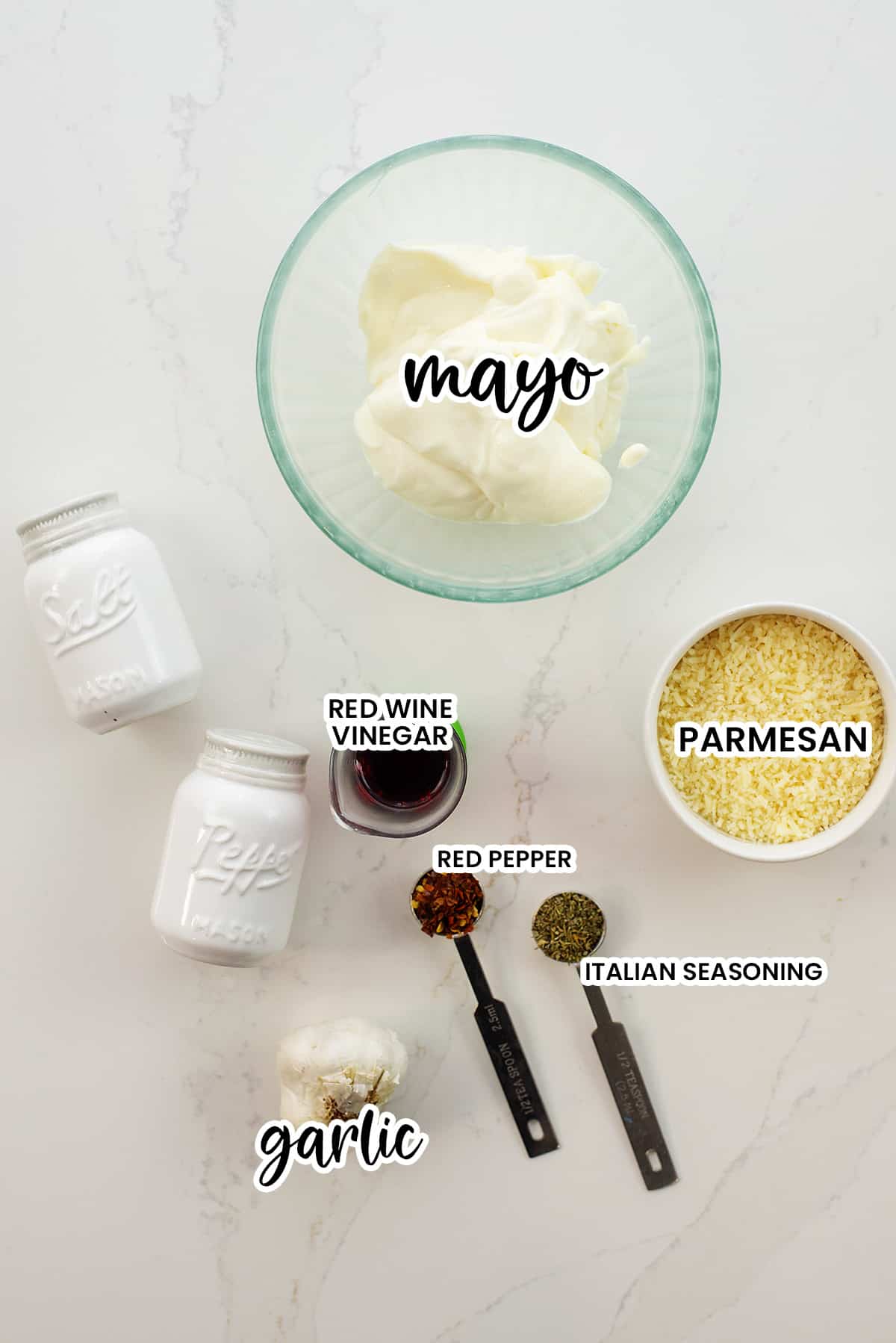 Mayonnaise – This creamy Italian dressing starts with mayonnaise! You can use any brand you like, as long as it's the real stuff.
Garlic – I like lots of good garlic flavor in Italian dressing so I'd recommend grating some garlic cloves, or pasting them. It'll add even more flavor than mincing and it'll mix up better with the other salad dressing ingredients.
Red Wine Vinegar – Just a couple tablespoons of some good red wine vinegar will add the right amount of tangy flavor to the homemade dressing!
Parmesan – I love adding lots of grated Parmesan to Italian dressing! It's an easy way to add more flavor.
Seasoning – You'll need some salt, pepper, Italian seasoning, and red pepper flakes. I don't feel that the red pepper flakes make the salad dressing too spicy but if you're concerned about it you can omit them.
Shop Keto Ingredients
We use Thrive Market for a lot of our specialty ingredients and keto snacks or products. Their prices tend to be cheaper than the local stores and I love that you can so easily sort products by diet.
Like Costco, this is a membership site, but we find that it's more than worth it based on the amount we save over the regular grocery store.
They have monthly or yearly plans. Check it out here.
Why We Love This Recipe:
The creamy Italian dressing mixed up with all the deli meat, cheese, lettuce, and veggies is about as close as you can get to a grinder sandwich without the carbs!
You can easily switch up the ingredients in this recipe to customize it to your liking!
Thanks to all the meat and cheese, this salad is filling and hearty without feeling heavy.
How To Make Grinder Salad: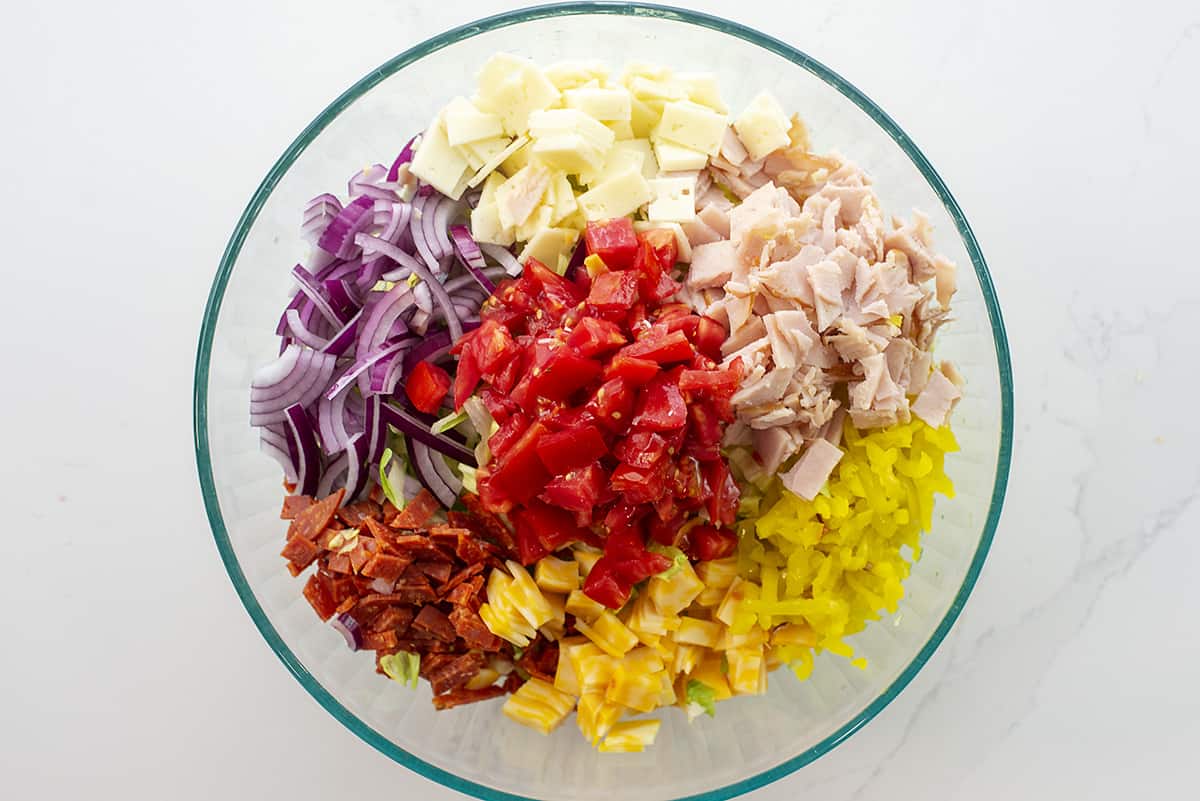 Prepare – If you're using a head of iceberg lettuce remove the outer leaves and cut the into quarters. Remove the core and then slice the lettuce into thin strips. Use a salad spinner to wash the lettuce and then add it to a large bowl.
Tomato & Onion – Next you will dice the tomato and then cut the onion in half and slice it into thin strips. Add those to the bowl with the lettuce.
Meat & Cheese – If you are using slices of deli meat and cheese you can make things simple by stacking them all and then dicing them into small pieces with a sharp knife! Add the diced turkey, pepperoni, and salami with the diced cheese to the bowl with the other salad ingredients. Finally, add in the sliced banana peppers with the meat and cheese.
How To Make Salad Dressing: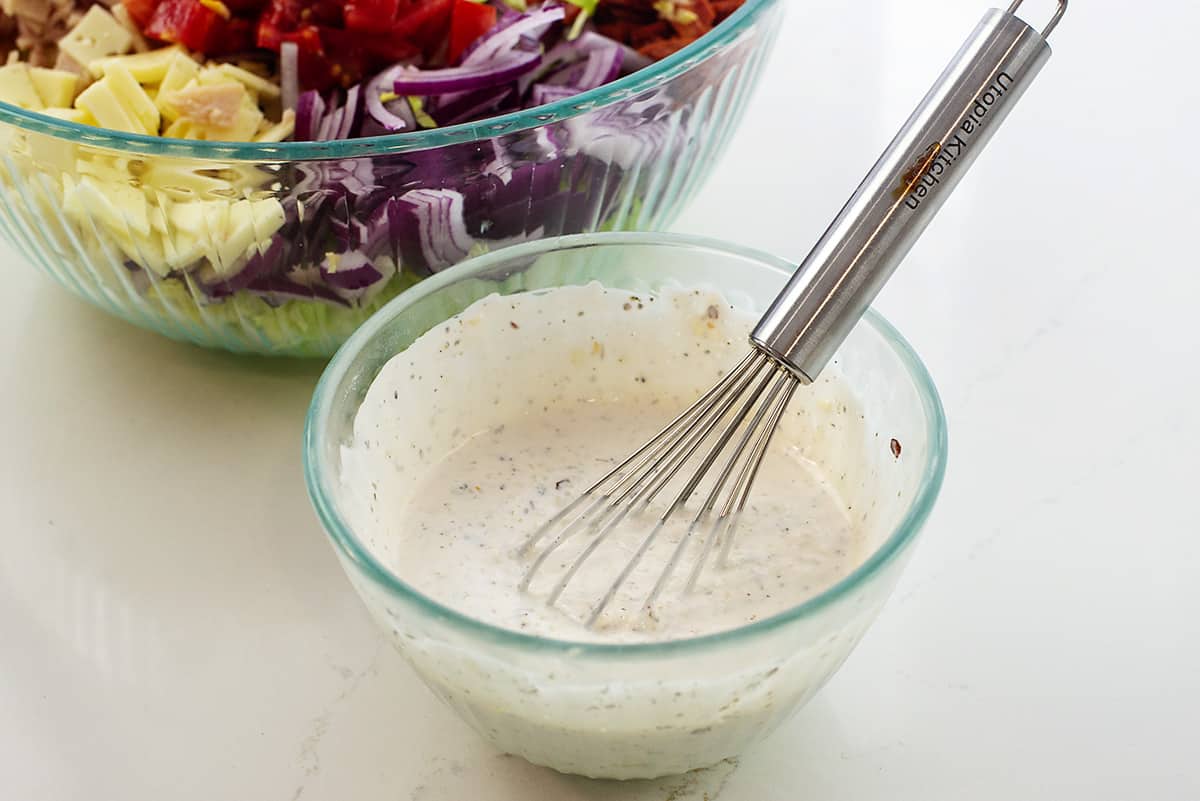 Mix – There really isn't anything difficult about preparing this homemade salad dressing! You just take all of the dressing ingredients, put them into a small mixing bowl, and whisk them together until well combined! This easy Italian dressing perfectly creamy and tangy and you'll love how it tastes with this keto salad recipe.
Keto Grinder Salad:
Assemble & Serve – Once you've completed preparing the salad and the homemade salad dressing, all that's left to do is combine the two! Pour the creamy Italian dressing over the salad and toss to coat the lettuce, deli meat, and cheese in the dressing.

Add some salt and pepper to taste and then serve this salad up. I think you'd really enjoy it alongside some of my cauliflower breadsticks!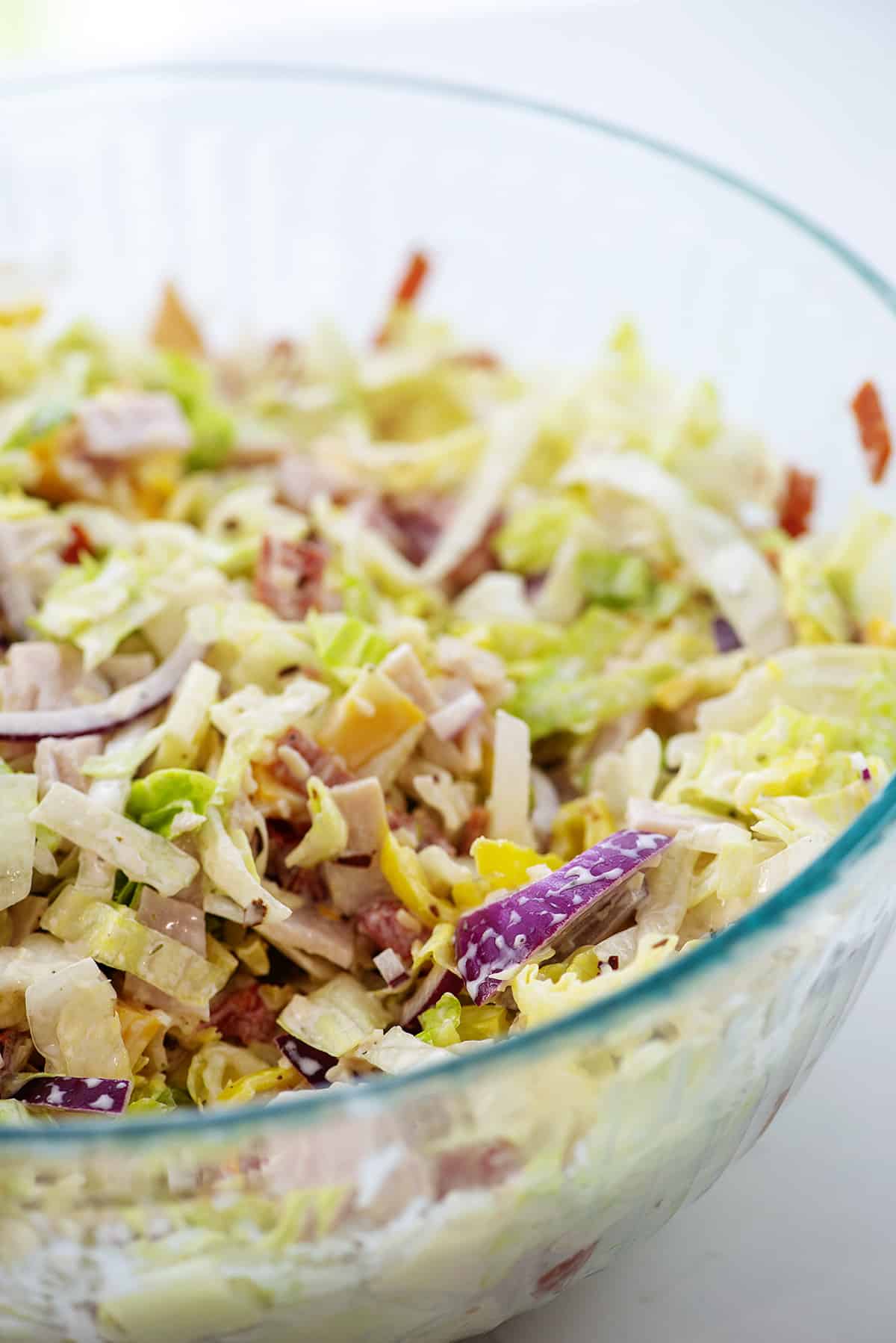 Helpful Tip!
A classic grinder sandwich can be prepared with a variety of meats, cheese, and toppings. You're welcome to switch any of those up in this keto grinder salad so that you can get it as close to your favorite grinder sandwich as you can without the carbs!
FAQ's:
What is a grinder?
A grinder is another name for a hero sandwich or an Italian submarine sandwich. This keto grinder salad has all the ingredients and flavors of a classic Italian sub without the bread and carbs!
How to store salad?
This keto grinder salad will keep much better if it is not mixed up with the dressing! If you think you'll have leftovers just hold off on adding all the dressing at once. Store the salad and dressing separately for up to a few days covered in the fridge!
More Keto Salad & Salad Dressing Recipes: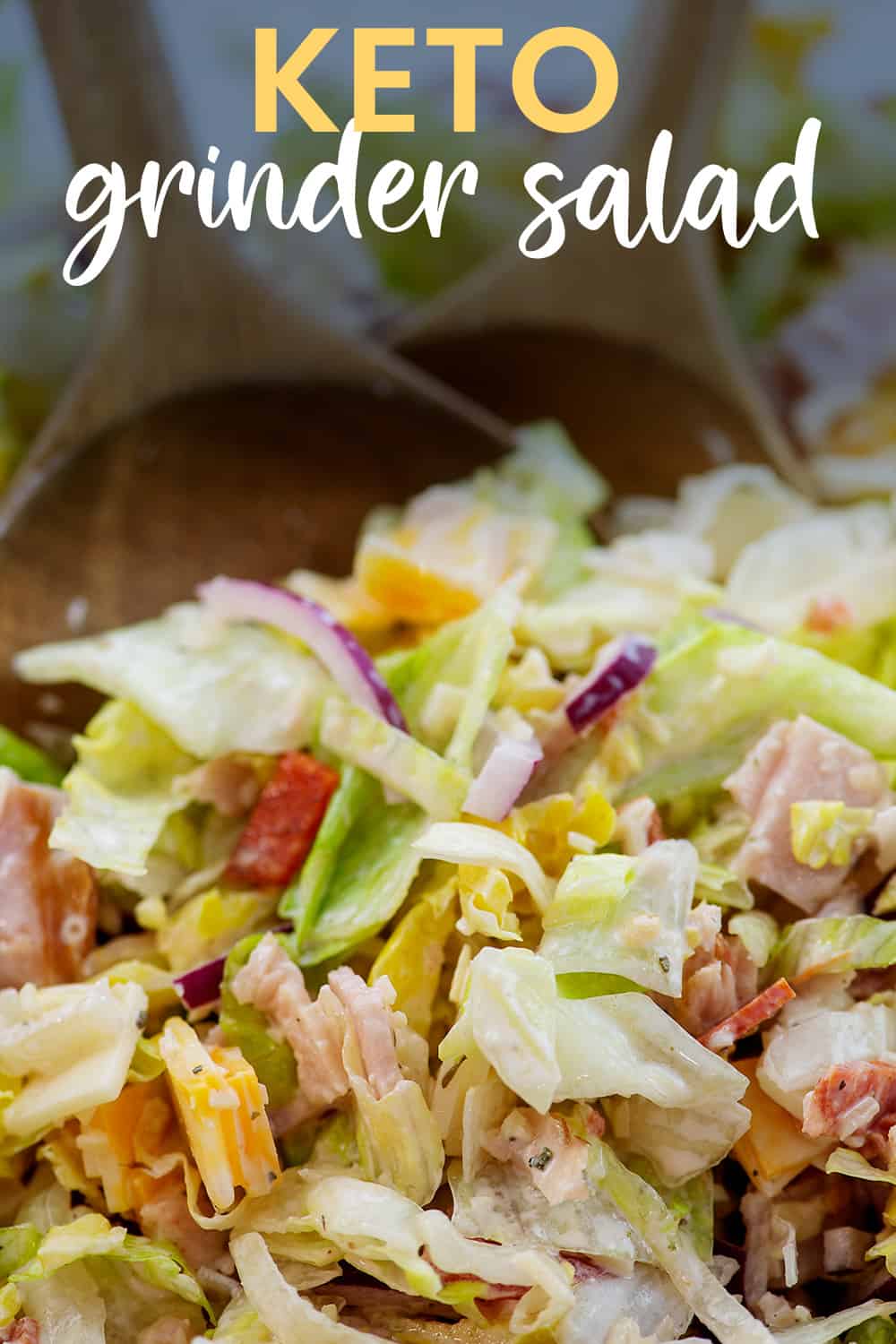 Keto Grinder Salad
Based off the viral TikTok Grinder Salad Sandwich, we created this low carb salad that is loaded with protein and veggies and tossed in a delicious creamy dressing. This is a salad that packs in loads of flavor and keeps your full til dinner!
Ingredients
For the salad:
1 head iceberg lettuce
1 tomato
½ red onion
6 slices deli turkey, about 3 ounces
6 slices deli pepperoni
4 slices Havarti cheese
4 slices colby jack cheese
½ cup sliced banana peppers
For the dressing:
⅔ cup mayonnaise
¼ cup grated Parmesan cheese
2 tablespoons red wine vinegar
2 cloves garlic, grated or pasted
½ teaspoon Italian seasoning
½ teaspoon red pepper flakes
½ teaspoon salt
½ teaspoon cracked pepper
Instructions
To make the salad:
Remove the outer leaves from the head of iceberg. Cut the head into quarters and then remove the core. Slice the lettuce into thin strips and place in a large bowl.
Dice the tomato and add to the lettuce.
Cut the onion in half and then slice into thin strips. Add to the lettuce.
Stack the deli meats and cheeses and dice into small pieces. Add to the lettuce along with the banana peppers.
To make the dressing:
Add all of the ingredients to a small bowl and whisk well to combine.
To assemble:
Pour the dressing over the salad and toss to coat.
Taste and season with additional salt and pepper.
Serve immediately.
Notes
You can easily customize this salad by swapping out the types of meat and cheese. We highly recommend sticking with iceberg lettuce though as the crunch is key.
To make this salad ahead, store the dressing separately for the prepared salad and toss together just before serving.
Nutrition: We based nutrition information on this salad being divided into 3 servings, which makes for the perfect lunch sized salad, in our opinion. There are 12 net carbs per serving if you divide the salad into 2 and there are 6 net carbs per serving if you divide it into 4.
Nutrition Information:
Yield: 3
Serving Size: 1
Amount Per Serving:
Calories: 719
Total Fat: 62g
Saturated Fat: 20g
Trans Fat: 0g
Unsaturated Fat: 39g
Cholesterol: 108mg
Sodium: 1620mg
Carbohydrates: 12g
Net Carbohydrates: 8g
Fiber: 4g
Sugar: 8g
Protein: 26g
All information and tools presented and written within this site are intended for informational purposes only. This information is provided as a courtesy and there is no guarantee that the information is accurate.