Our Avocado Salad Dressing is a favorite in our house – packed with healthy avocado, the perfect mix of spices, and so easy to make. Perfect for drizzling over salads or as a dip for veggies!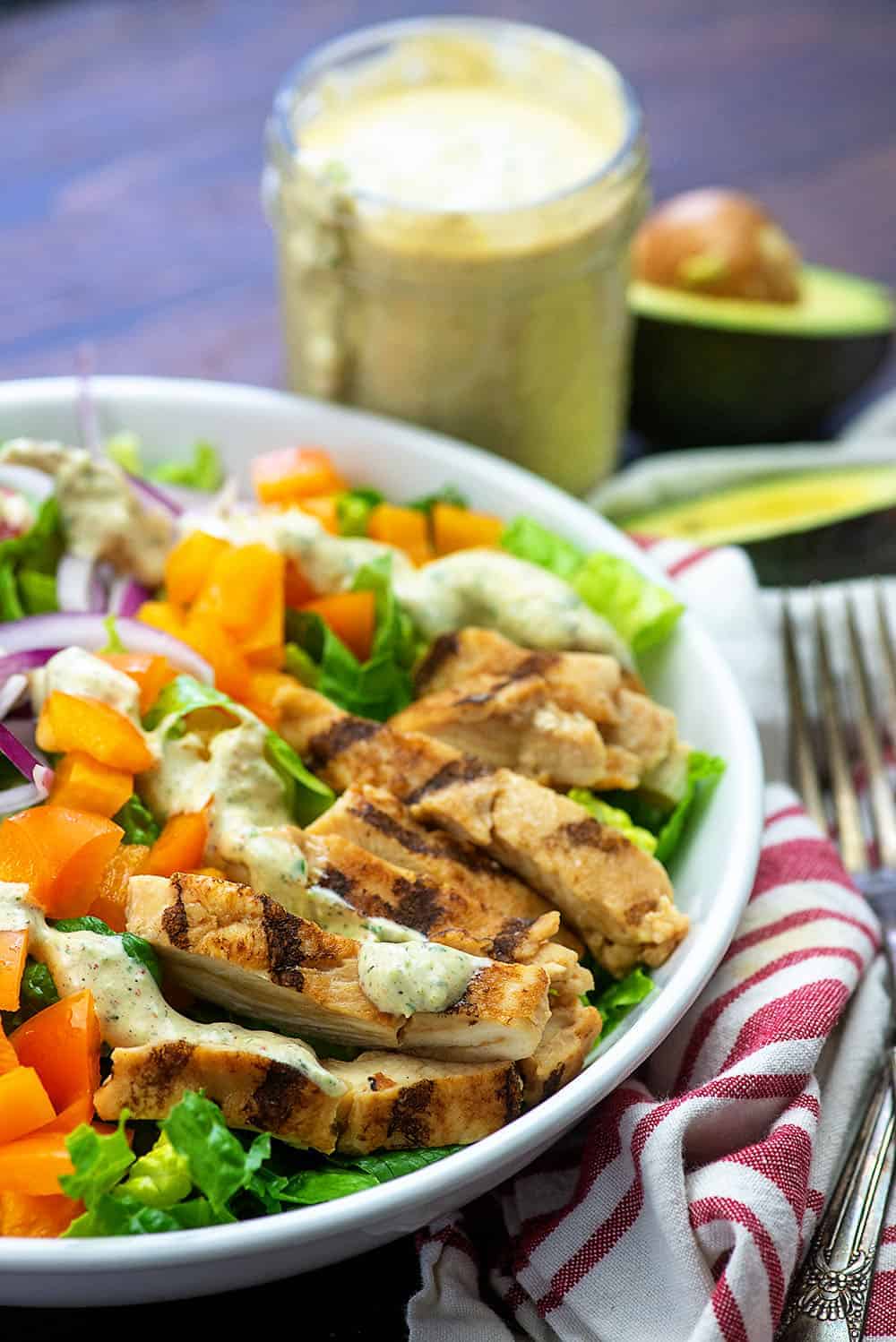 I do my best to eat salads pretty regularly. I feel better when I eat them. They're easy to make. They're healthy and low carb and just all the good things, you know?
When I start getting bored of salad for lunch or as a side for dinner, I start experimenting with salad dressings.
Our Big Mac Salad and Keto Taco Salad always go over well.
Currently, I'm on a huge avocado dressing kick! It's so perfect over any green salad and it's loaded with all the healthy fats and nutrients you find in avocado.
Plus, it's about the only way to get avocado in my kids, which is something I try to do pretty often. 😉
Ingredients & Tools Needed:
This post contains affiliate links. As an Amazon associate and member of other affiliate programs, I earn from qualifying purchases.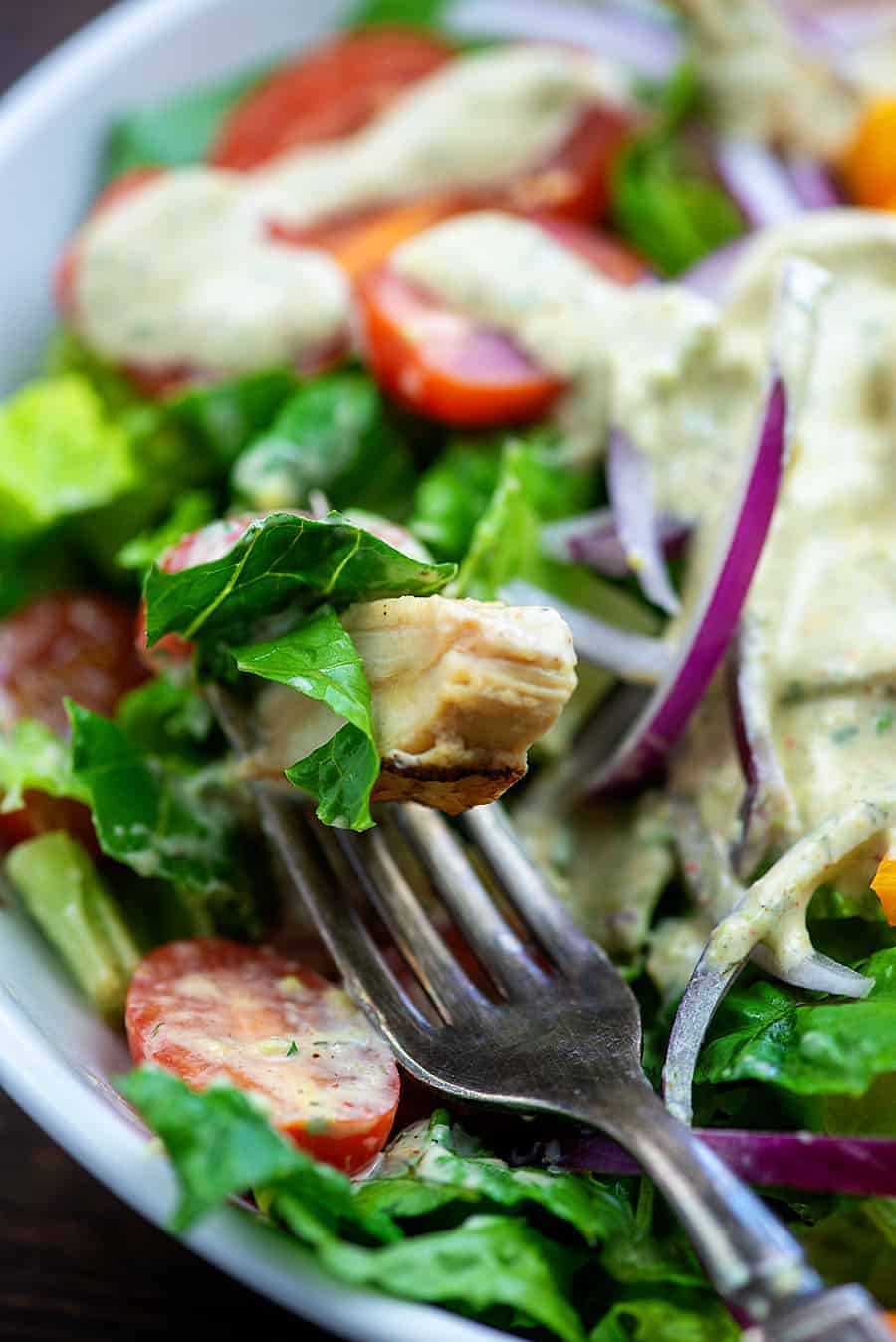 Avocado – Make sure your avocado is nice and ripe. This recipe is perfect for a squishy avocado.
Ranch Seasoning – We use a homemade mix of spices including garlic powder, onion powder, chili powder, and dill. This is the same blend we use in our keto ranch dressing.
Dairy – We're using both buttermilk and sour cream to make this creamy and tangy.
Food Processor or Blender – We use our favorite food processor to blend this up. Here's the one we use. It's a total workhorse and we use it daily to shred cheese, chop veggies, and blend ingredients together. This personal blender should also work well.
Why We Love This Recipe:
What's not to love about such an easy recipe? You just toss all the ingredients into a processor or blender and let it do the work. The fresh avocado and lime juice with the buttermilk and sour cream makes for a very flavorful dressing and you'll know exactly what went into it.
Storing Your Avocado Dressing
We like to store our homemade salad dressings in mason jars. They're budget friendly, easy to find, and simple to use. Store in the refrigerator for 3-4 days.
Salad Options:
Any green salad that you would put ranch dressing on will be delicious with this avocado dressing!
My current favorite is chopped romaine, grilled chicken, halved grape tomatoes, slivers of red onion, and diced bell pepper.
Feel free to add whatever salad toppings you love!
We also use this dressing on our keto taco salad.
You may also use this avocado dressing recipe as a dip for fresh veggies. It's great with sliced cucumbers, mini bell peppers, radishes, broccoli, and cauliflower!
FAQ's:
Is Avocado Salad Dressing keto friendly?
This salad dressing can be pretty perfect for a keto diet since it's loaded with healthy fats. Swap out the buttermilk for heavy cream if you're following a strict ketogenic diet with a focus on ingredients.
How many carbs are in avocado ranch dressing?
This salad dressing has 4 total carbs and 2 grams of fiber per serving. A two tablespoon serving of this dressing has 2 net carbs.
More healthy low carb recipes: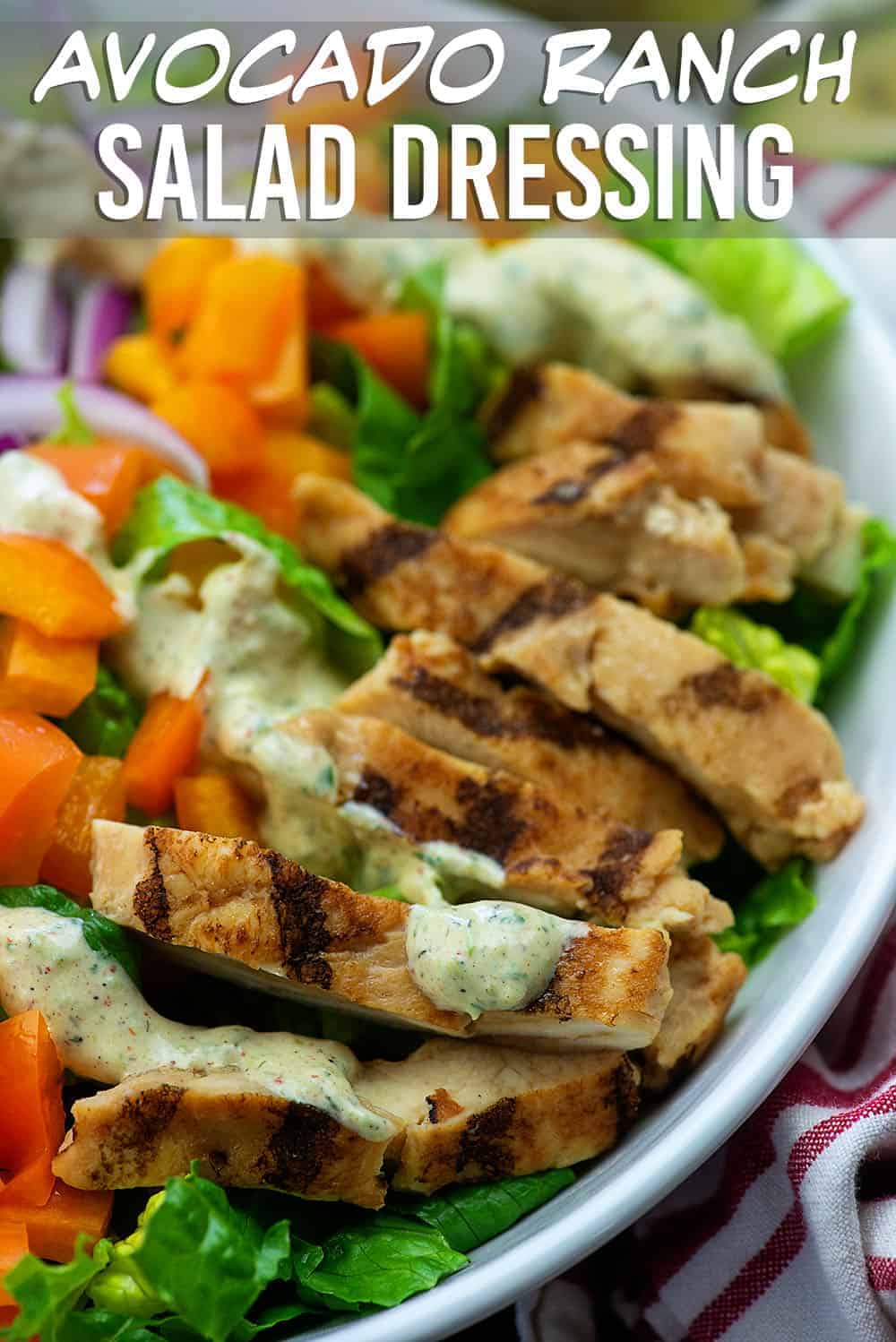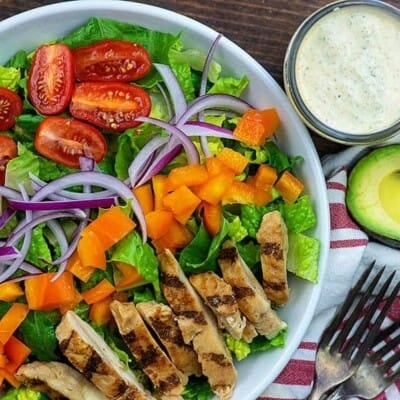 Avocado Salad Dressing
Packed with fresh flavor and perfect for a low carb or keto diet!
Prep5 minutes
Total5 minutes
Ingredients
1 ripe avocado
1/2 cup buttermilk
½ cup sour cream
1/4 cup cilantro
Juice of 1 lime
1 teaspoon garlic powder
1 teaspoon onion powder
1 teaspoon dried dill
1 teaspoon chili powder
1 teaspoon salt
Instructions
Add all of the ingredients to a food processor or blender and blend until smooth.

Store tightly covered in the refrigerator for up to 3 days.
Tips & Notes:
If using fresh herbs, double the amount called for.
Nutrition Information:
Serving: 2tablespoons| Calories: 64kcal (3%)| Carbohydrates: 4g (1%)| Protein: 1g (2%)| Fat: 5g (8%)| Saturated Fat: 2g (13%)| Polyunsaturated Fat: 3g| Cholesterol: 7mg (2%)| Sodium: 248mg (11%)| Fiber: 2g (8%)| Sugar: 1g (1%)| Net Carbs: 2g (4%)