This Ranch Grilled Chicken turns out moist, flavorful, and perfect every time. We serve this all summer long, hot off the grill. The ranch marinade adds tons of flavor and moisture to the chicken, helping it stay tender and juicy.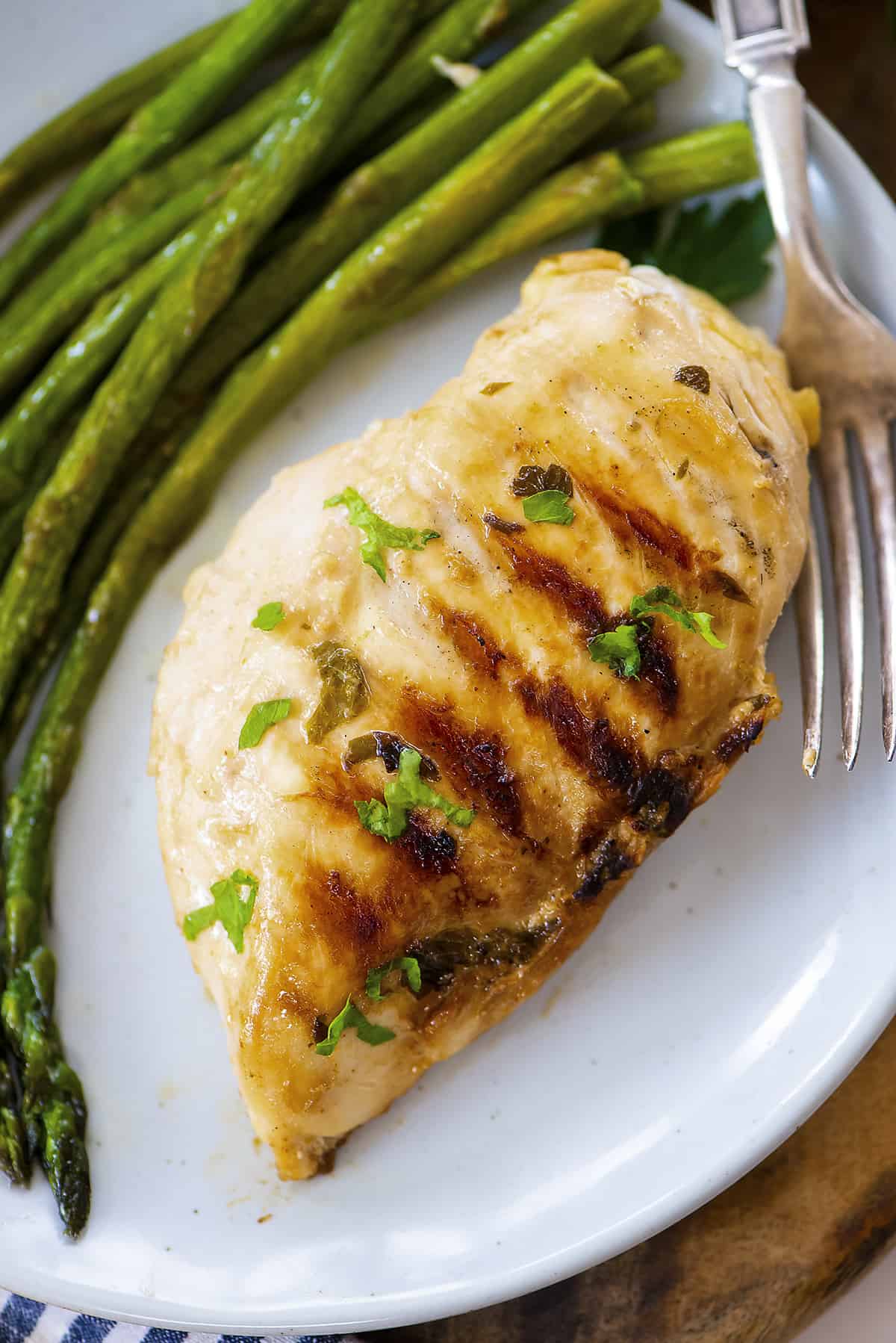 If you've been reading this blog for any length of time, you might have noticed that I have a thing for ranch dressing.
I was born and raised in the Midwest, so basically ranch dressing flows through my veins. Our homemade ranch dressing is legit the best thing ever.
Can't stop, wont' stop, sorry not sorry.
Anyway, the weather outside has been glorious and I've been grilling every chance I can get. We do a lot of grilled chicken in the summer and this ranch grilled chicken is our go to. I can't believe I haven't shared it before now!
You're going to love how flavorful this chicken is and it's totally kid friendly – what kid doesn't love ranch?
Ingredient Notes:
This post contains affiliate links. As an Amazon associate and member of other affiliate programs, I earn from qualifying purchases.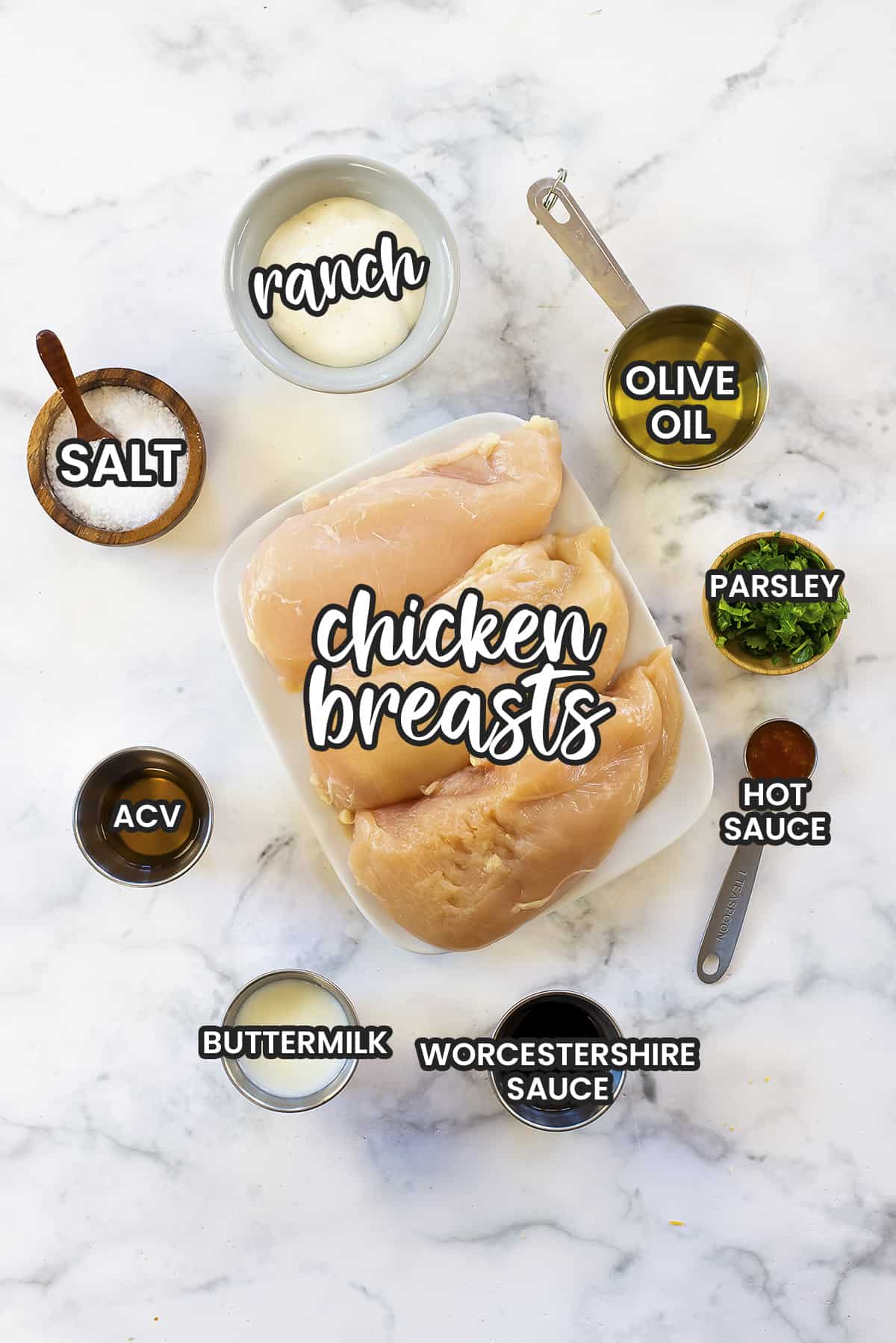 Chicken – For this recipe I am using boneless, skinless chicken breast. You could also use boneless chicken thighs for this if that's what you prefer.
Ranch Dressing – While we think our homemade ranch is the best, store bought will work fine too.
Oil – You can use either avocado or olive oil in this recipe. Both are tasty.
Worcestershire Sauce – It doesn't take much of this sauce to add lots of savory flavor to any marinade!
Buttermilk – It's going to add even more of that ranch flavor to the chicken marinade and help make the chicken more tender.
Apple Cider Vinegar – This is a great way to add some flavor and it helps to break down the surface of the chicken which tenderizes it and allows in more of the flavor from the marinade.
Hot Sauce – You can use any brand you prefer. We love Frank's Red Hot! It's not too spicy so it won't overpower the ranch flavors in the chicken. The final product will NOT be spicy at all…this just balances the flavors.
Why We Love This Recipe:
u003culu003ern tu003cliu003eWe really love the flavors in ranch dressing and it's perfect as a marinade for grilled chicken.u003c/liu003ern tu003cliu003eThe ranch flavor is a great way to change up the usual BBQ or teriyaki grilled chicken.u003c/liu003ern tu003cliu003eThe buttermilk and ACV both work together to help tenderize the chicken so the final product is juicy, tender perfection.u003c/liu003ernu003c/ulu003e
Our Favorite Meat Thermometer
u003cimg class=u0022alignleft wp-image-12937u0022 src=u0022https://thatlowcarblife.com/wp-content/uploads/2020/02/61xvykK-lZL._AC_SL1500_-150×150.jpgu0022 alt=u0022meat thermometer.u0022 width=u002298u0022 height=u002298u0022 data-pin-nopin=u0022trueu0022 /u003e I love using this meat thermometer for making sure the meat is fully cooked! Easy for beginners u0026amp; absolutely worth the low cost. Just stick it in the thickest part of the meat to check for doneness. This thermometer is also magnetic so it's easy to store right on the side of the fridge or oven for easy access! u003ca href=u0022https://amzn.to/32NvK5Uu0022 target=u0022_blanku0022 rel=u0022noopener sponsoredu0022u003eGet it on Amazon.u003c/au003e
How To Make Grilled Chicken With Ranch:
u003cimg class=u0022alignnone size-full wp-image-20800u0022 src=u0022https://thatlowcarblife.com/wp-content/uploads/2019/05/how-to-3.jpgu0022 alt=u0022Collage showing how to make chicken marinade.u0022 width=u00221200u0022 height=u0022600u0022 data-pin-nopin=u0022trueu0022 /u003ernu003culu003ern tu003cliu003eu003c!u002du002d wp:paragraph u002du002du003eu003cstrongu003eMix – u003c/strongu003eWhip up your marinade by mixing together some bottled or u003ca href=u0022https://thatlowcarblife.com/best-ever-ranch-dressing/u0022u003ehomemade ranch dressingu003c/au003e with a good bit of avocado or olive oil. Seems weird, but trust me.u003c!u002du002d /wp:paragraph u002du002du003e u003c!u002du002d wp:paragraph u002du002du003eAdd in some buttermilk, Worcestershire sauce, apple cider vinegar, parsley, hot sauce, a sprinkle of salt. Whisk well and you've got your marinade!u003c!u002du002d /wp:paragraph u002du002du003eu003c/liu003ern tu003cliu003eu003c!u002du002d wp:paragraph u002du002du003eu003cstrongu003eMarinate – u003c/strongu003eToss your chicken into the marinade and be sure to coat every bit of the chicken.u003c!u002du002d /wp:paragraph u002du002du003e u003c!u002du002d wp:paragraph u002du002du003eYou can marinate your chicken for anywhere from 30 minutes to 8 hours. I'm usually not super on top of my game, so the chicken usually gets 30 minutes to an hour in my house.u003c/liu003ern tu003cliu003eu003cstrongu003eGrill – u003c/strongu003eToss the chicken on the grill and cook for 5 minute or so per side, depending on how thick your chicken breasts are. I've linked to my favorite meat thermometer above!u003c!u002du002d /wp:paragraph u002du002du003e u003c!u002du002d wp:paragraph u002du002du003eWe obviously serve with a little extra ranch dressing for dipping, but like I said: ranch dressing flows through my veins. ;)u003c!u002du002d /wp:paragraph u002du002du003eu003c/liu003ernu003c/ulu003e
Ranch Chicken Marinade: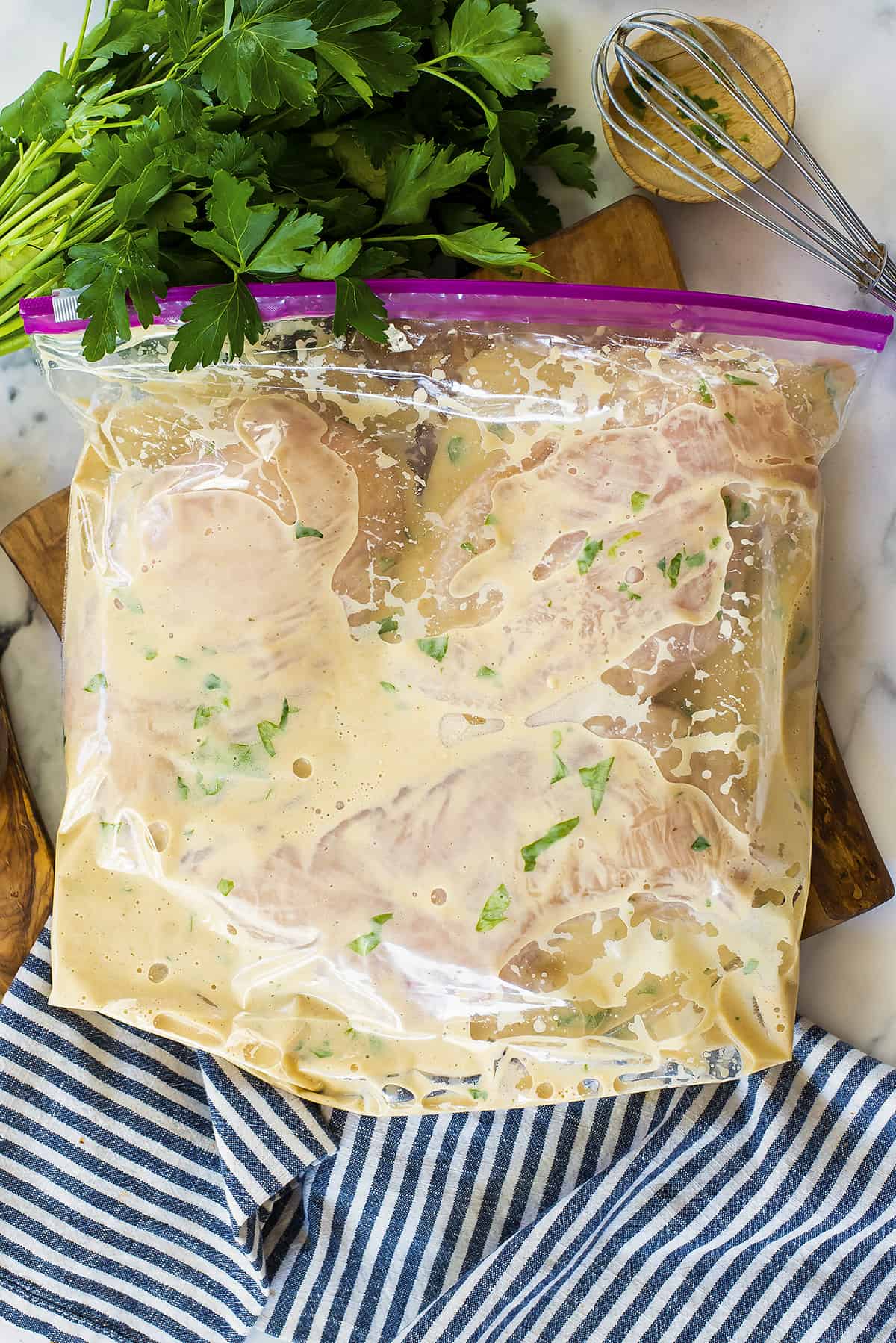 We love the ease and clean up of marinating chicken in plastic bags. Just toss it all in, mush it together, and pop it in the fridge. Couldn't be simpler!
If you use plastic bags, these little bag holders make it so simple!
Of course, plastic bags aren't the most environmentally friendly route. You can also marinate your chicken in a glass baking dish or these reusable bags.
What To Serve With Low Carb Grilled Chicken:
Cucumber Tomato Feta Salad: This one goes with anything off the grill!
Cauliflower Mac and Cheese: One of my favs!
Air Fryer Vegetables: So easy to make this in an air fryer for a quick side dish!
Loaded Radishes: If you haven't cooked radishes before, you have to try these!
Cauliflower Salad: Wait until you see what I load this one up with!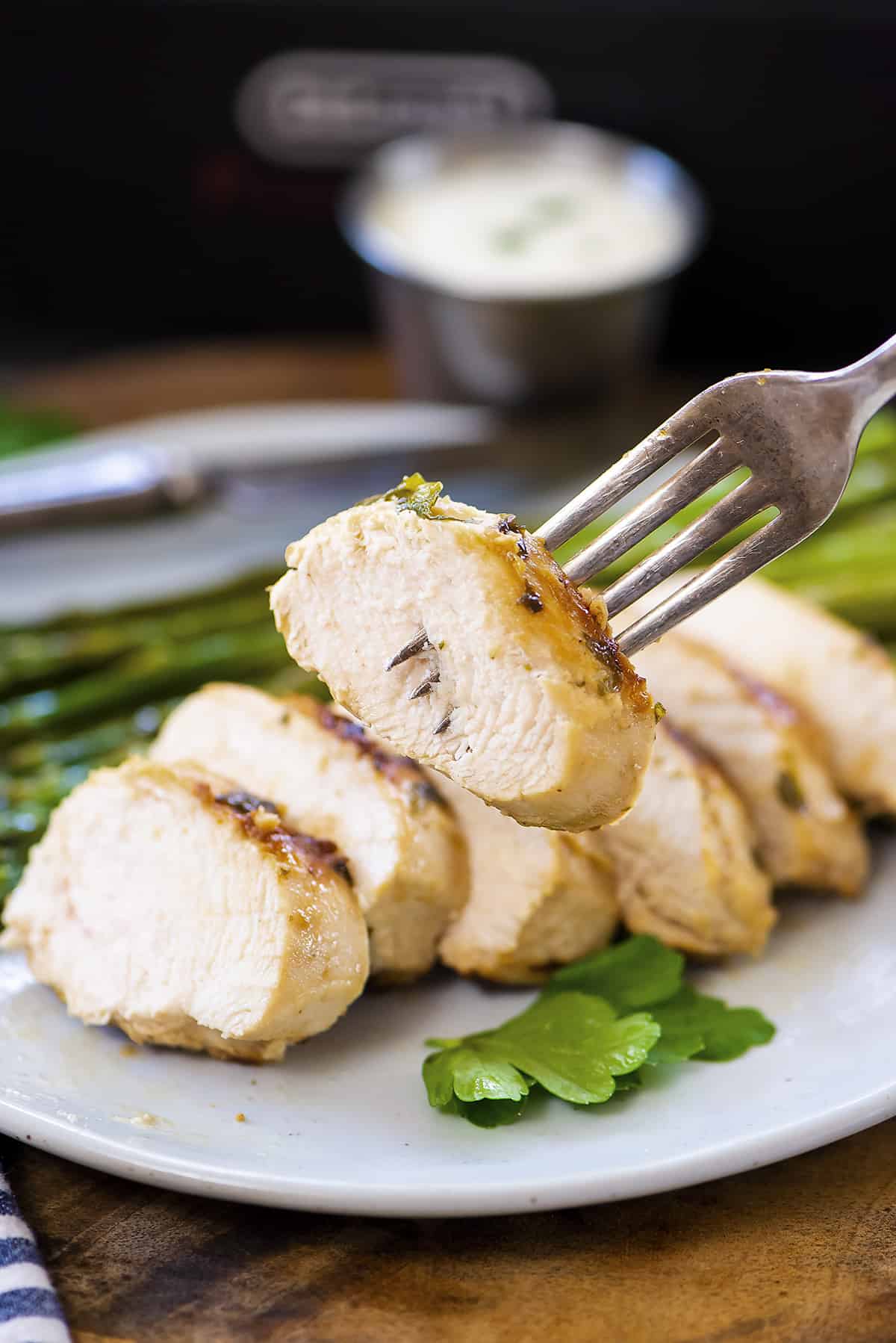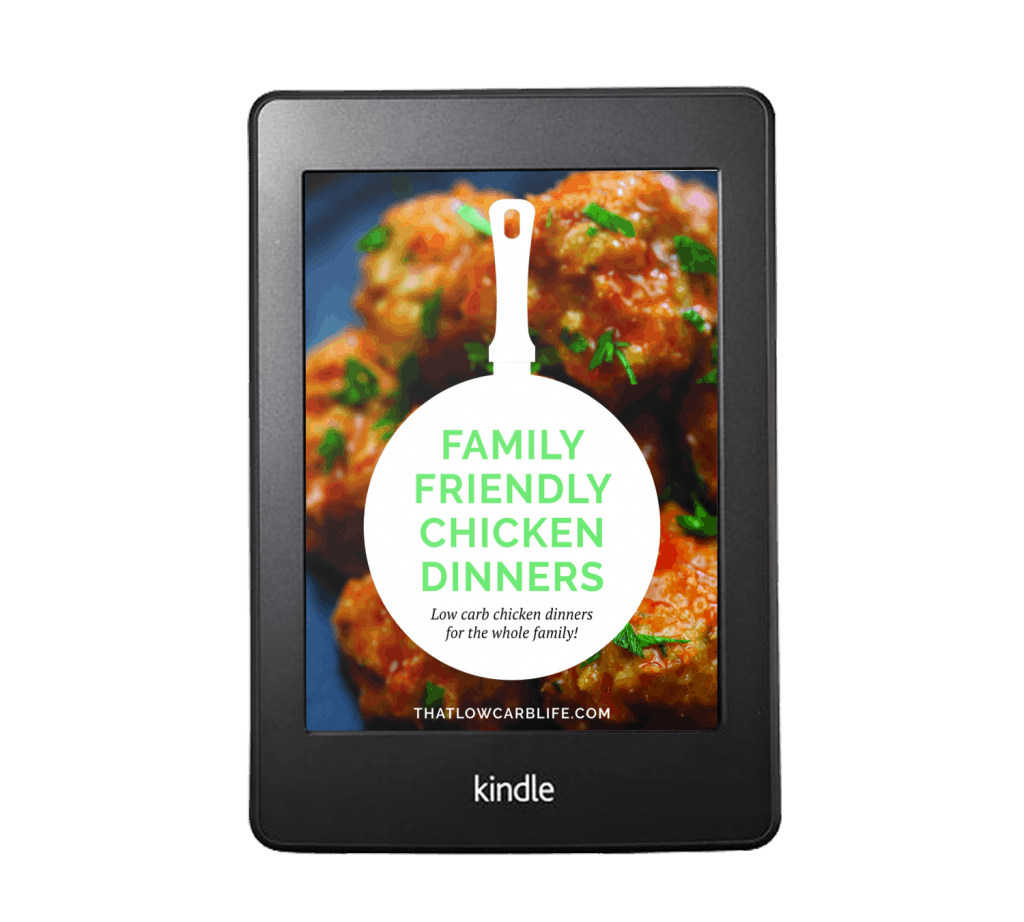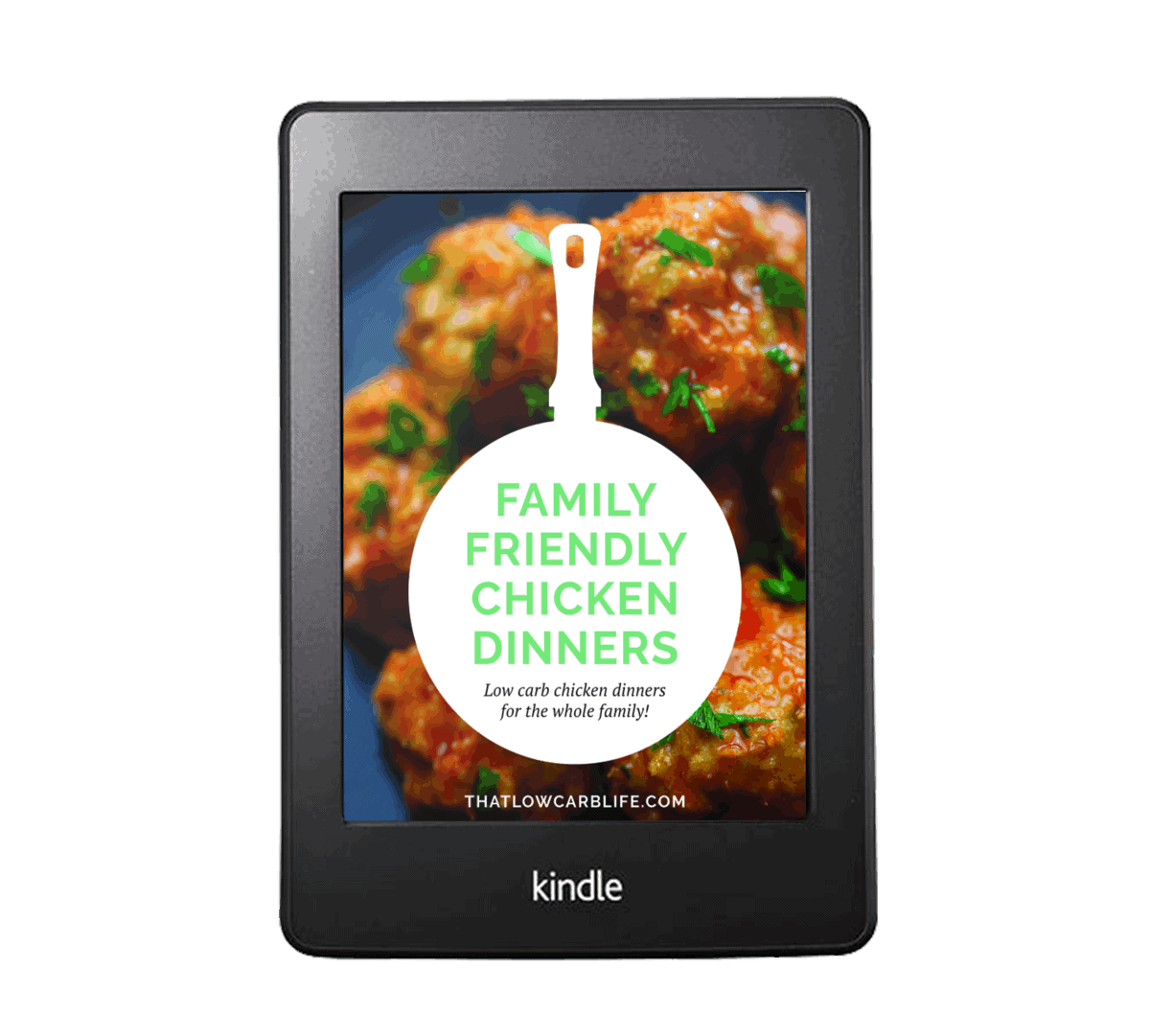 Feeding your family AND sticking to your diet is about to get a whole lot simpler!
Eating low carb doesn't have to mean cooking one meal for yourself and another meal for your family! With Family Friendly Chicken Dinners, you'll find 14 of my favorite chicken recipes that the entire family will love!
FAQ'S:
How long to grill chicken breasts?
It'll likely take about 5 to 10 minutes per side depending on the thickness of the chicken and the heat of your grill. It'll be safe to eat when the chicken reaches an internal temp of 165 degrees.
How to store grilled chicken?
Any leftover chicken can be stored in your refrigerator in an airtight container for about 3 to 4 days.
How to freeze grilled chicken?
You can freeze this ranch grilled chicken in a freezer safe container or bag for about 3 months! Thaw before reheating in the oven.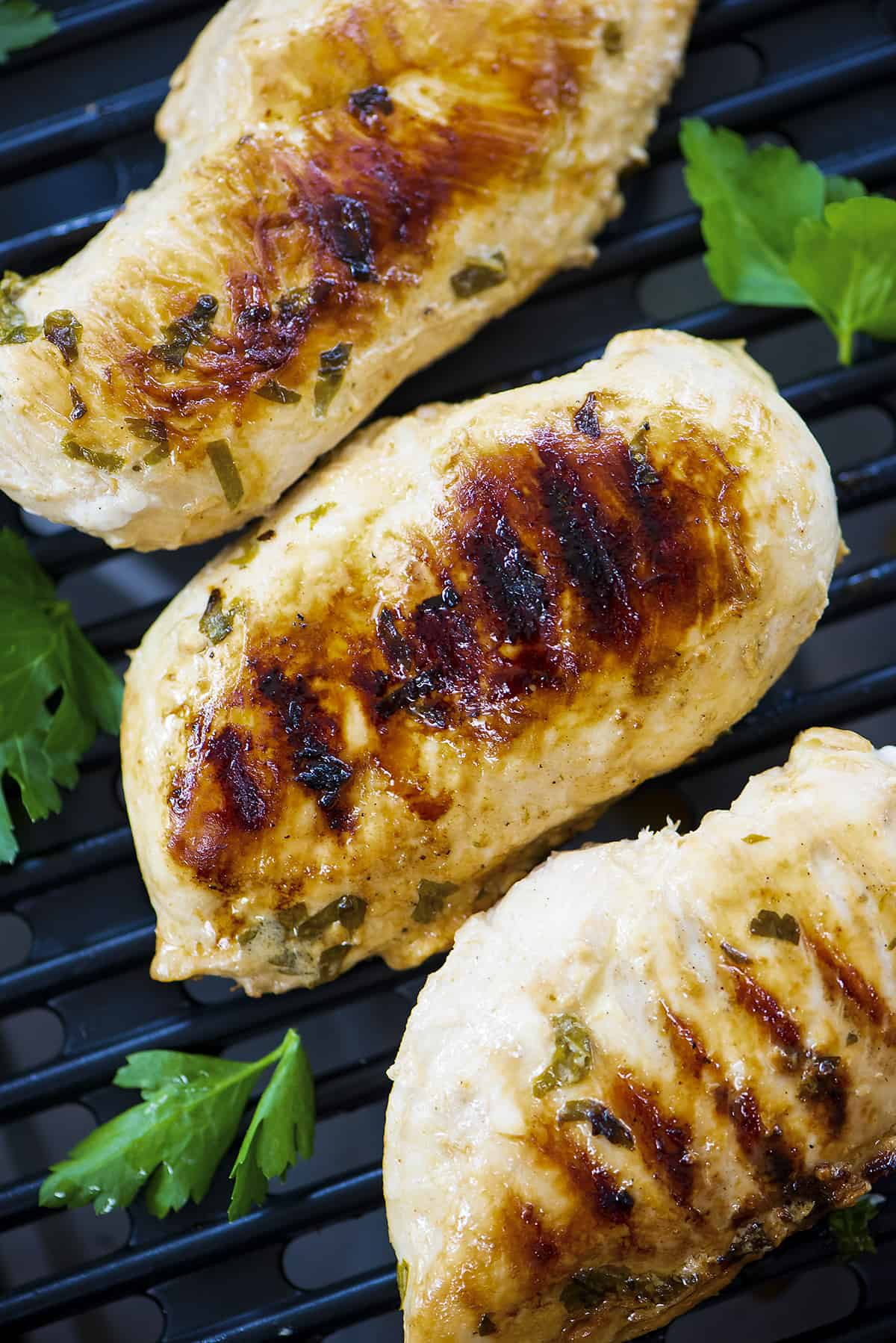 MORE RECIPES WITH RANCH FLAVOR!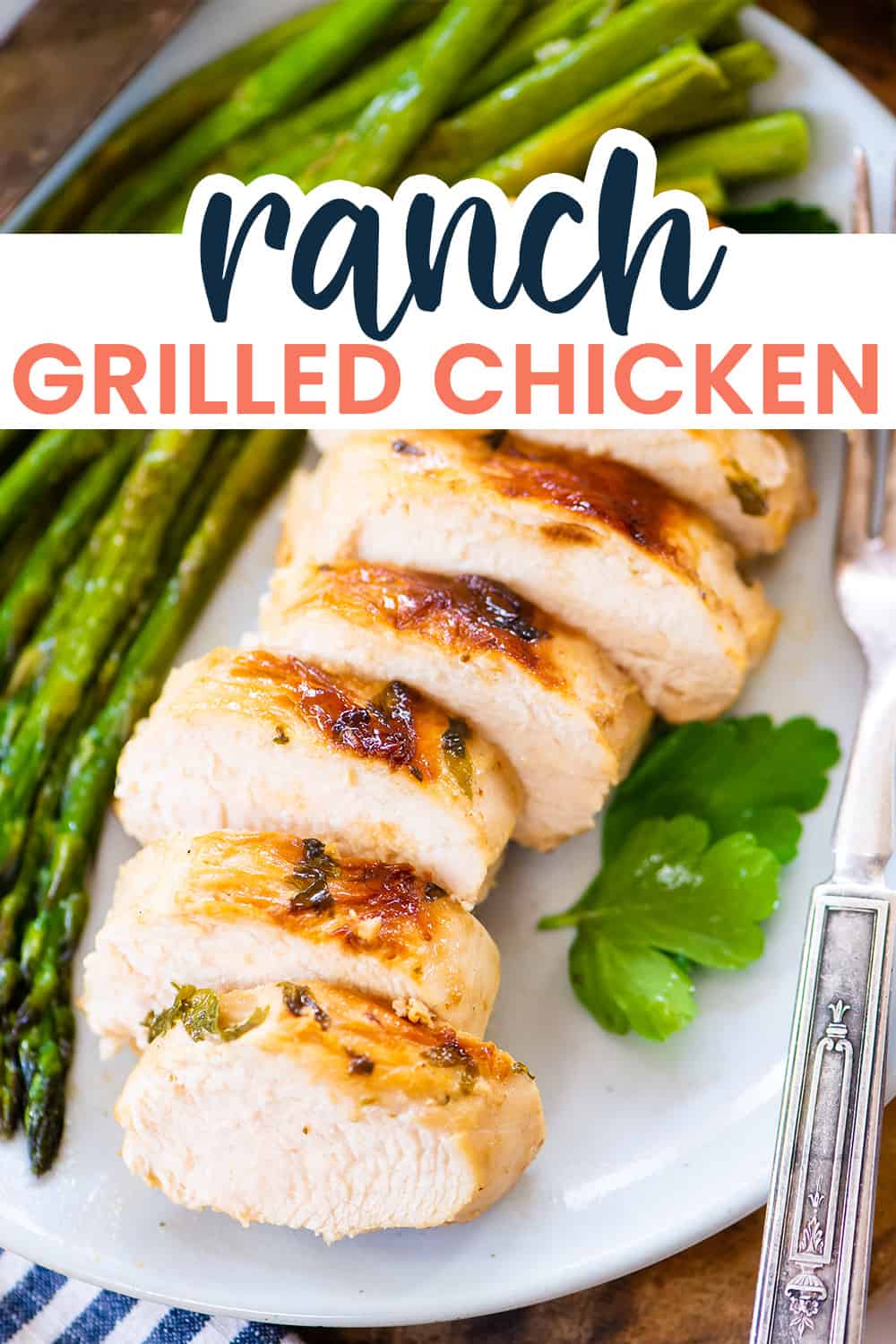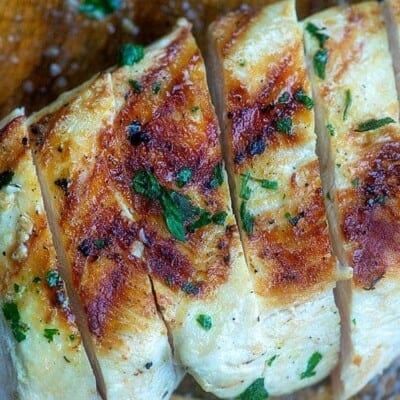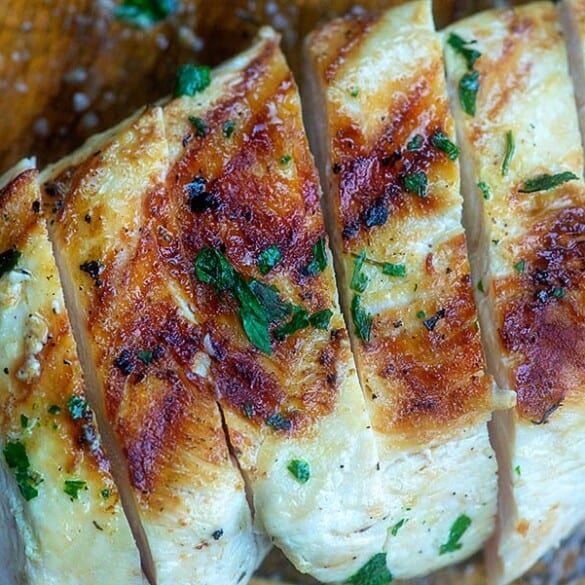 Ranch Grilled Chicken
This ranch grilled chicken comes out so juicy and flavorful! Serve with extra ranch on the side for dipping!
Prep5 minutes
Cook15 minutes
Additional Time8 hours
Total8 hours 20 minutes
Ingredients
½ cup ranch dressing
½ cup avocado oil
2 tablespoons Worcestershire sauce
2 tablespoons buttermilk
1 tablespoon apple cider vinegar
1 tablespoon chopped parsley
1 teaspoon hot sauce
1 teaspoon salt
3 pounds boneless, skinless chicken breasts
Instructions
Add everything but the chicken to a mixing bowl and whisk well to combine.

Add the chicken breasts to a 9×13 baking dish or gallon zip top bag and add the marinade. Stir well to coat the chicken.

Marinate the chicken in the refrigerator for at least 30 minutes and up to 8 hours. The longer the chicken marinates, the more flavorful it will be.

Heat the grill to a medium heat.

Remove the chicken from the marinade, letting much of it drip off the chicken, and add it to the hot grill.

Grill for 5-10 minutes per side, until cooked through, depending on the thickness of your chicken.
Tips & Notes:
Olive oil works well in place of avocado oil, if that's what you have on hand. This recipe is also good with chicken thighs. Serve with extra ranch for dipping, if desired.
Nutrition Information:
Serving: 1piece| Calories: 494kcal (25%)| Carbohydrates: 4g (1%)| Protein: 71g (142%)| Fat: 19g (29%)| Saturated Fat: 4g (25%)| Polyunsaturated Fat: 13g| Cholesterol: 198mg (66%)| Sodium: 789mg (34%)| Fiber: 1g (4%)| Sugar: 2g (2%)| Net Carbs: 3g (6%)