Our BROCCOLI CAULIFLOWER SALAD RECIPE is the perfect side dish for summer. Loaded with fresh veggies and tossed in a simple, creamy dressing that will have you coming back for seconds.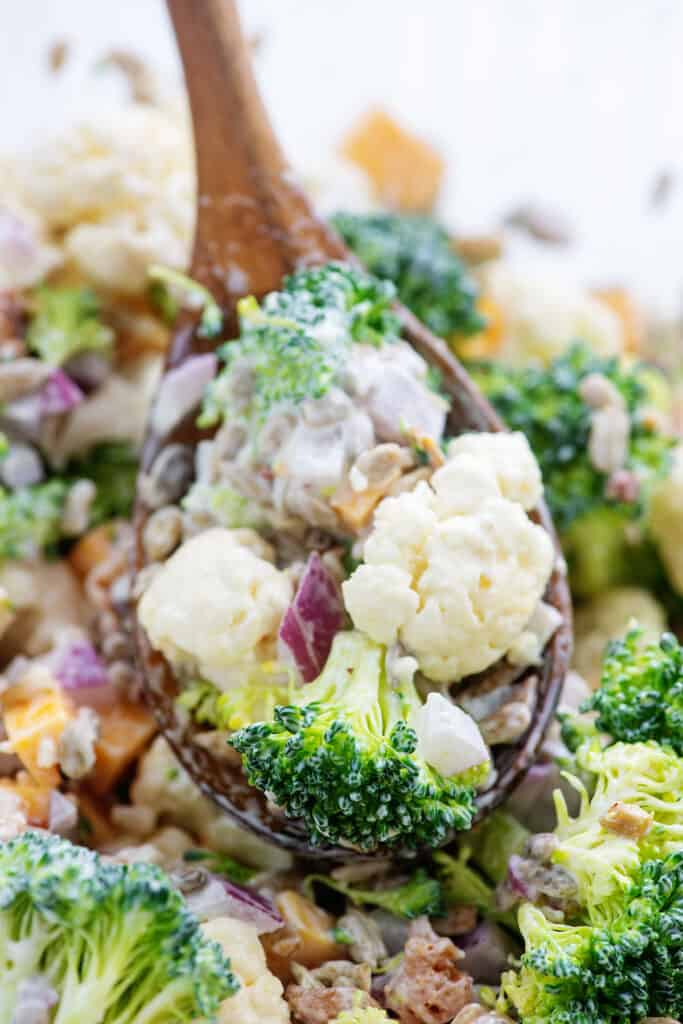 We are ready for summer around these parts and I'm doing my best to usher it in by making all of the summer salads to go with our grilled chicken and steak!
We grill out most nights when the weather cooperates, so having simple side dishes to compliment our main dish is a must for us.
Back in the day, we ate a lot of pasta salad and potato salad, but I honestly don't even miss it anymore. We've come up with A LOT of creative summer salads over the years and I'm still adding to them.
This Broccoli and Cauliflower Salad is a new favorite. The creamy dressing has just the right amount of sweetness. The broccoli and cauliflower are crisp, cool, and crunchy. And of course we don't stop there – we mix in sunflower seeds, cubed cheddar, red onion, and crispy fried bacon.
Ingredients:
Broccoli – As always, fresh is best! Start with a head or buy the pre-chopped florets in the produce section.
Cauliflower – Same as the broccoli…fresh is best!
Cheddar Cheese – We like to cube our cheddar for little chunks of creamy goodness, but you can also shred it if you prefer.
Red Onion
Sunflower Seeds – Slivered almonds are also tasty here!
Bacon – Fry it crisp and crumble it.
Mayonnaise
Sweetener – We use Lakanto monkfruit sweetener. Just enough to give the dressing a bit of sweetness.
Vinegar – White distilled vinegar is my favorite, but apple cider vinegar is a solid choice.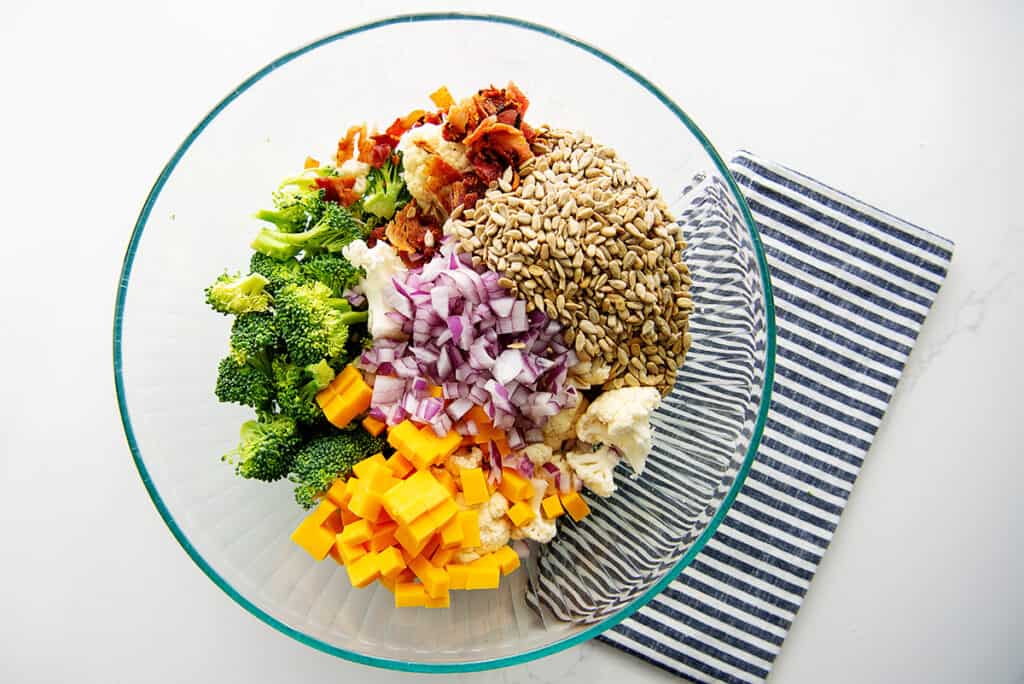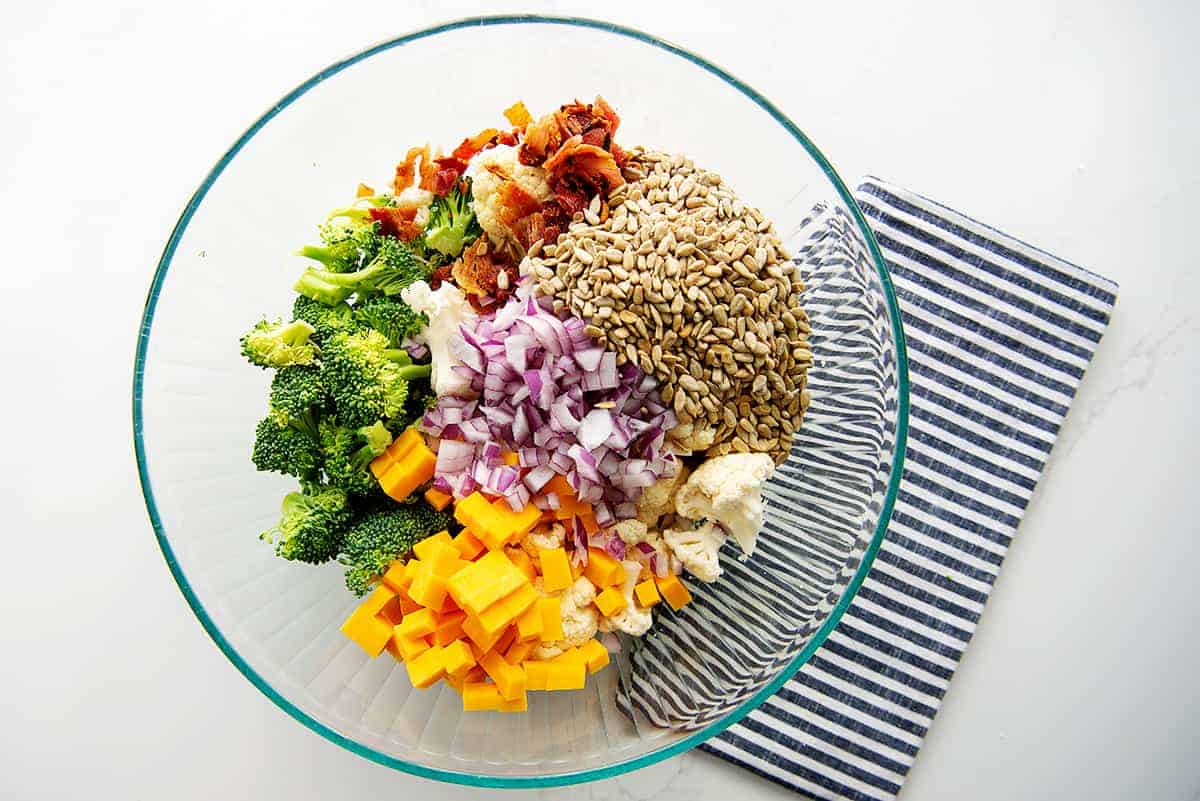 How to:
Make the Salad: It couldn't be simpler! Just toss all of the salad ingredients into a large mixing bowl and give them a quick stir.
Make the Dressing: Add everything to a small bowl and give it a good whisk to combine.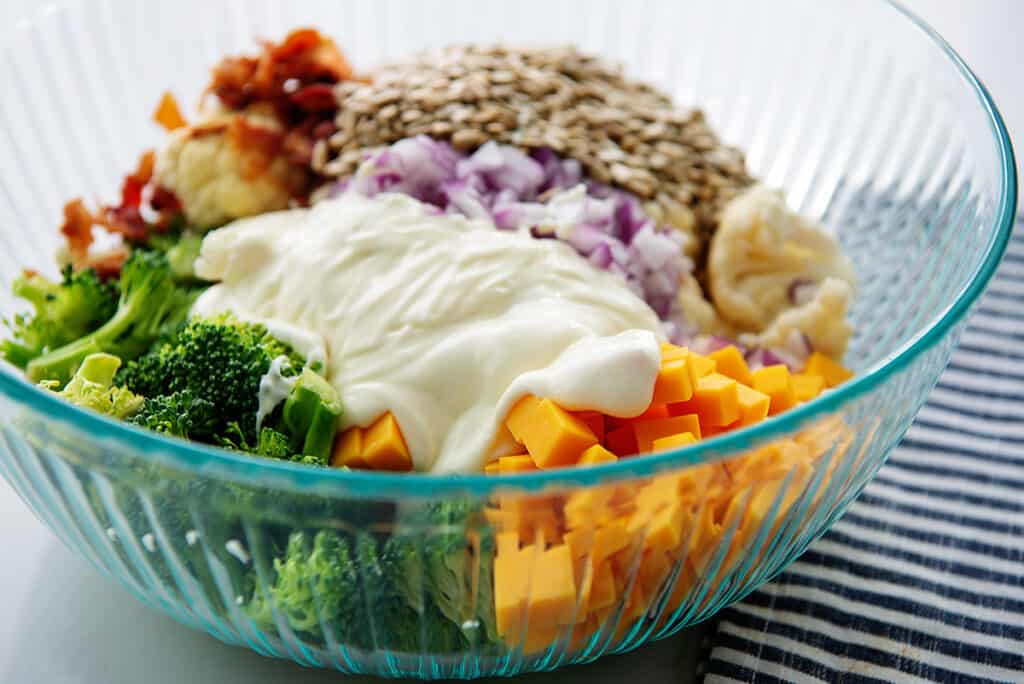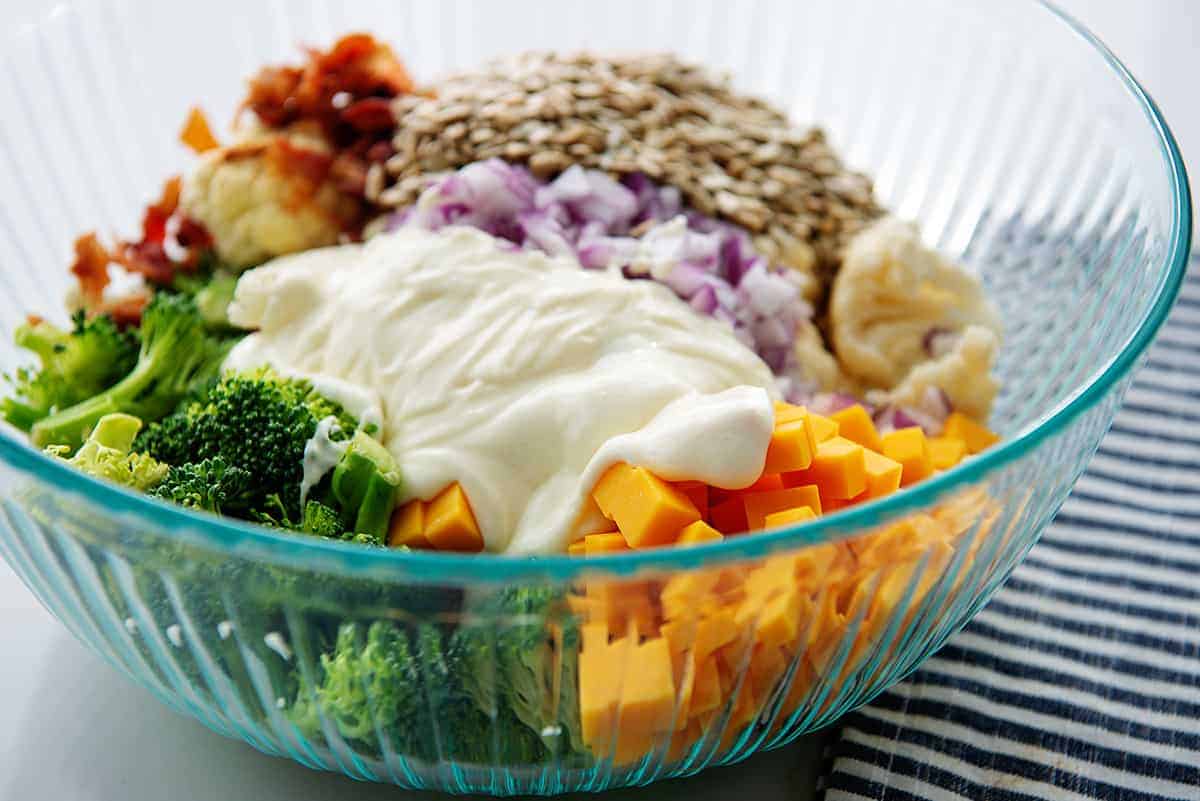 Combine & Chill: Pour the dressing over the top of the salad, stir well to coat everything, and then cover it and pop it all in the fridge for a couple of hours. We like to chill this to really let the dressing soak into the veggies. It makes for a more flavorful salad.
Storage & Leftovers:
This salad will keep well in the fridge for 3-4 days, but do keep in mind that both broccoli and cauliflower tend to have stronger smells the longer they sit. Cover tightly.
This never deters us, as the broccoli and cauliflower salad is absolutely delicious, even days later.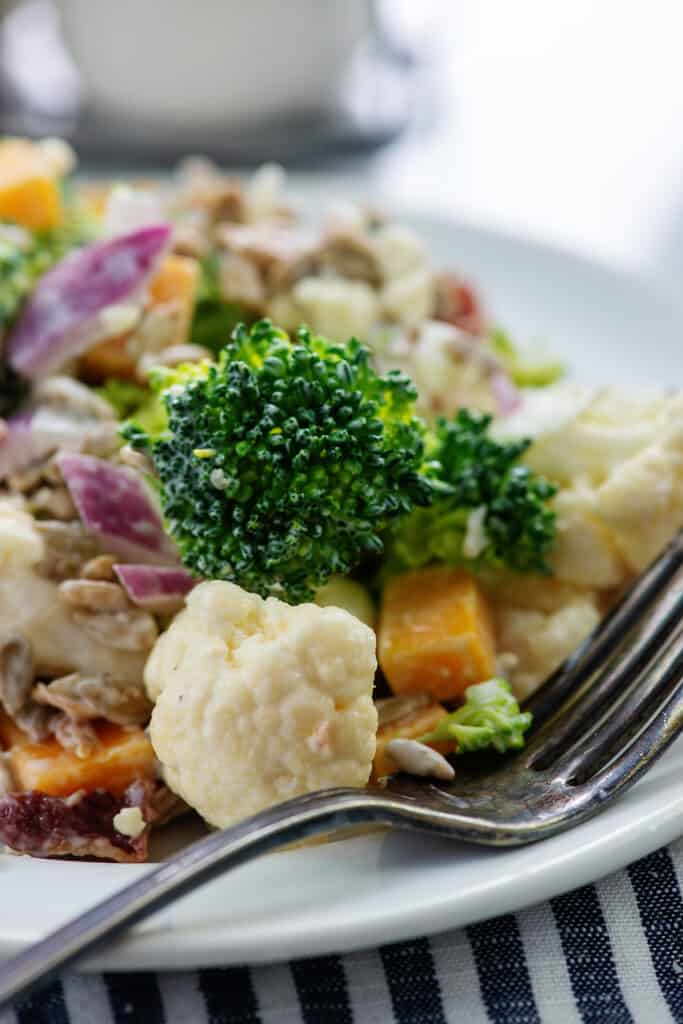 What to serve with Broccoli and Cauliflower Salad:
Fire up the grill to make this cilantro lime chicken or ranch grilled chicken!
Our keto meatloaf, stuffed pork chops, and keto chicken thigh recipe all go well with this veggie salad too!
More summer salads: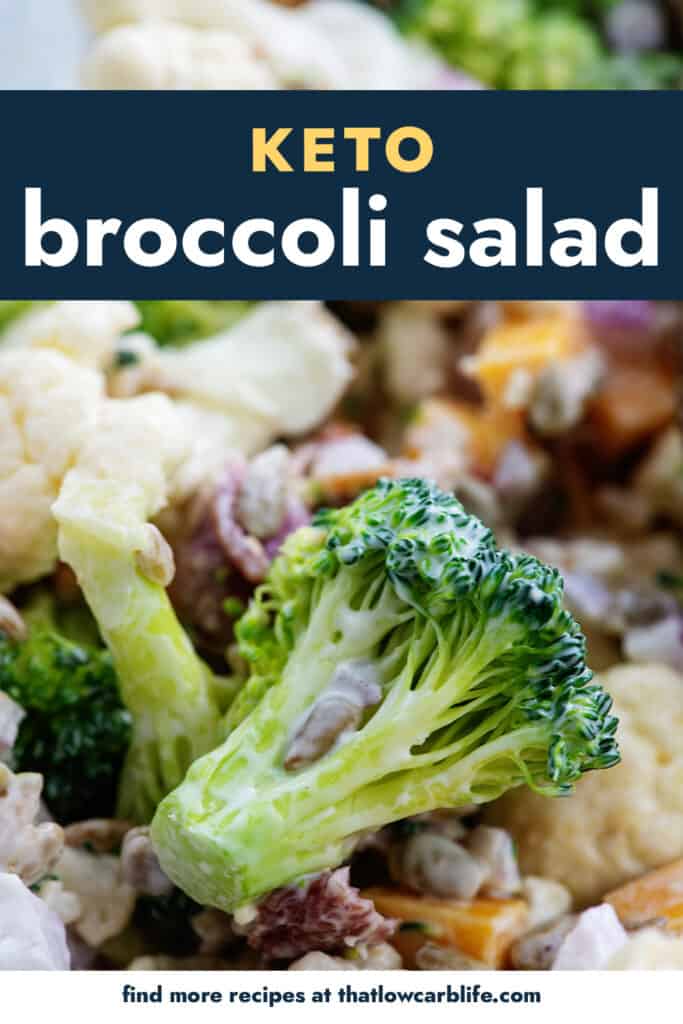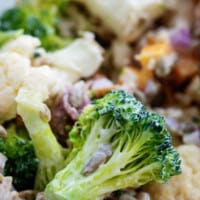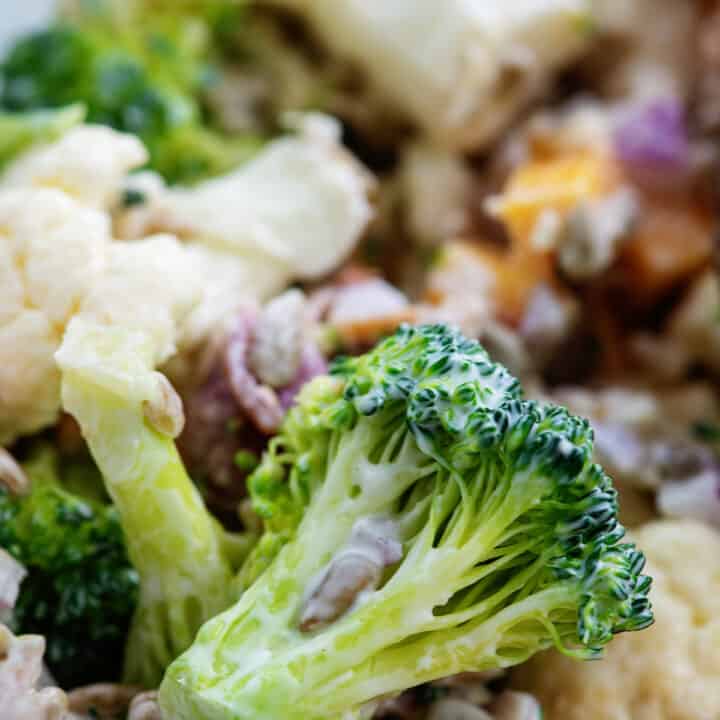 Broccoli Cauliflower Salad
This cool, crisp summer salad is loaded with broccoli and cauliflower and topped off with a sweet, creamy dressing. This will last in the fridge for 3 to 4 days, making it perfect for grabbing to serve alongside dinner all week long.
Total Time 2 hours 10 minutes
Ingredients
1 head broccoli, cut into florets
1 head cauliflower, cut into florets
4 ounces cheddar, cubed
¾ cup sunflower seeds
½ cup diced red onion
6 slices bacon, fried and crumbled
¾ cup mayonnaise
1 tablespoon sweetener
1 tablespoon white distilled vinegar
½ teaspoon salt
Instructions
Add the broccoli, cauliflower, cheddar, sunflower seeds, red onion, and bacon to a large bowl and stir to combine.
Add the mayonnaise, sweetener, vinegar, and salt to a small bowl and whisk until smooth and creamy.
Pour the dressing over the vegetables and toss well to coat.
Refrigerate for 2 hours before serving.
Notes
We use and recommend Lakanto Sweetener in all of our low carb recipes. It has zero effect on blood glucose levels and it tastes like real sugar. Use code THATLOWCARBLIFE for 20% off your order at Lakanto.com.
Nutrition Information:
Yield: 8
Serving Size: 1
Amount Per Serving:
Calories: 343
Total Fat: 30g
Saturated Fat: 7g
Trans Fat: 0g
Unsaturated Fat: 21g
Cholesterol: 31mg
Sodium: 1252mg
Carbohydrates: 10g
Net Carbohydrates: 6g
Fiber: 4g
Sugar: 3g
Protein: 11g
All information and tools presented and written within this site are intended for informational purposes only. This information is provided as a courtesy and there is no guarantee that the information is accurate.