These keto chicken thighs are a favorite recipe around here – so simple to make and the chicken turns out perfect every time. Crispy skin, moist and tender meat, and just a handful of ingredients and easy prep!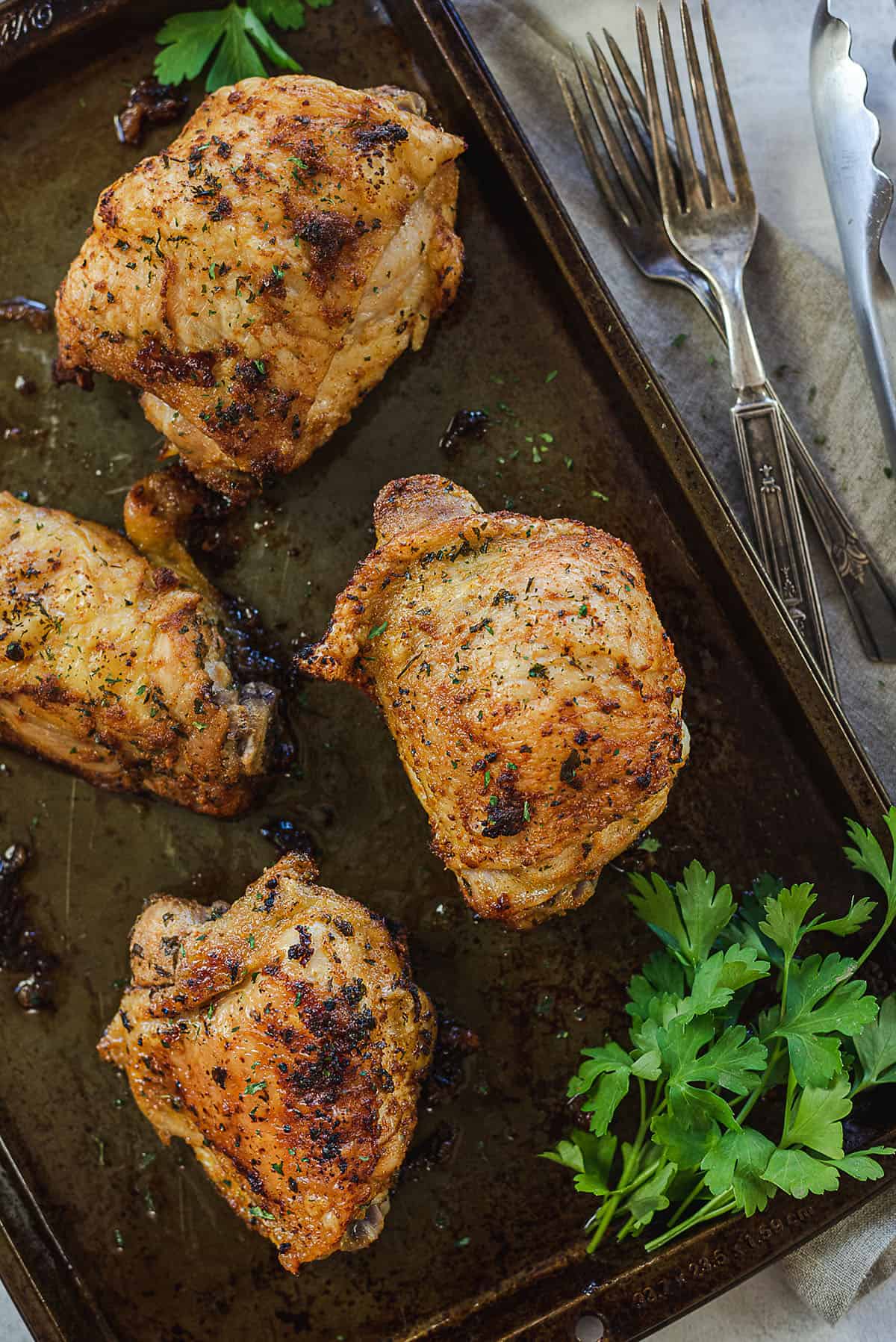 Keep it simple, silly.
How many times a week do I have to repeat that to myself when trying to figure out what to make for dinner?
I mean, I love an elaborate meal just as much as the next person, but busy weeknights are for simple, cozy dinners that the family will eat without fuss.
Enter this keto chicken thighs recipe! Made with simple spices, an easy method, and just a couple of minutes of prep.
We. are. obsessed.
We tested a lot of keto chicken thigh recipes, and this is THE ONE.
I wanted a really crisp skin, but didn't want to go to the work of breading or frying and I'm happy to say that both of those things are COMPLETELY unnecessary for these crispy baked thighs. This recipe is magic, just like my baked chicken legs and roasted chicken breast.
Ingredient Notes:
This post contains affiliate links. As an Amazon associate and member of other affiliate programs, I earn from qualifying purchases.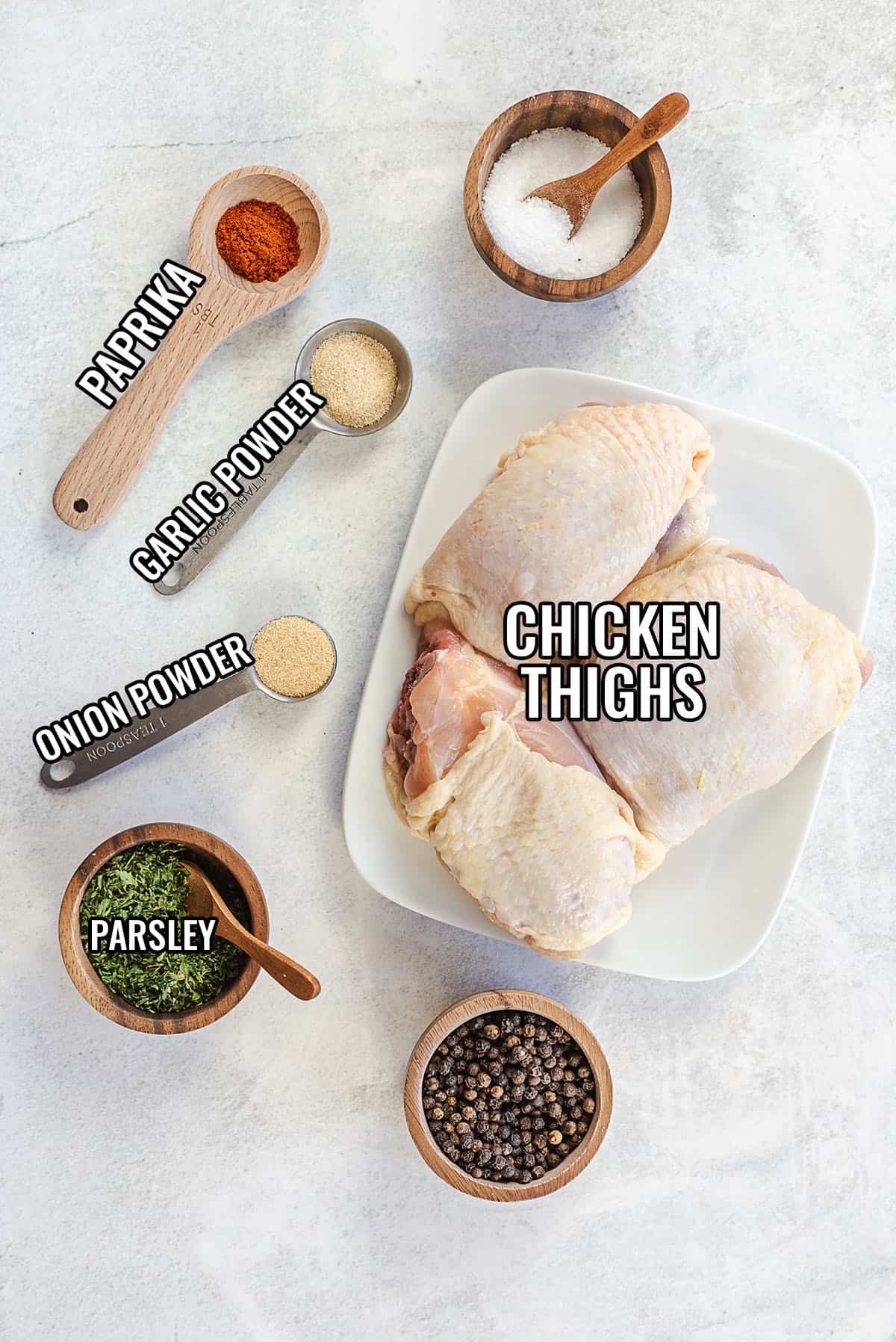 Chicken Thighs – You'll want bone in and skin on thighs for this recipe.
Seasoning – This simple seasoning mix is made with garlic powder, onion powder, paprika (smoked if you have it), salt, and cracked pepper.
Oil – We prefer to cook with avocado oil, but olive oil will work as well.
What Readers Are Saying:
"I made these for my fiance, I ended up not turning them, and they were wonderful! He loves chicken thighs, and I'm not the biggest fan, but after trying this recipe, I love them! A++++" – Elizabeth
How To:
Chicken – You'll want to purchase skin-on, bone-in chicken thighs for this recipe or you won't end up with that crispy exterior. Drop your chicken thighs in a large bowl or plastic bag and then drizzle with a bit of oil.
Seasoning – To season this baked chicken recipe, sprinkle in some paprika, garlic powder, onion powder, salt, and pepper. <— Keep it simple, silly. 😉Shake it up if you are using a bag or mix it up in a bowl until the chicken thighs are fully coated in the seasoning mix.
Bake – Place your chicken thighs on a baking sheet and pop them in a 400 degree oven for 35-45 minutes. The high temp allows for the chicken skin to crisp up nicely. The inside of the baked chicken thighs will be so tender and juicy! We use a meat thermometer to check for doneness. This helps make sure your crispy baked chicken thighs come out perfect instead of dry and tough.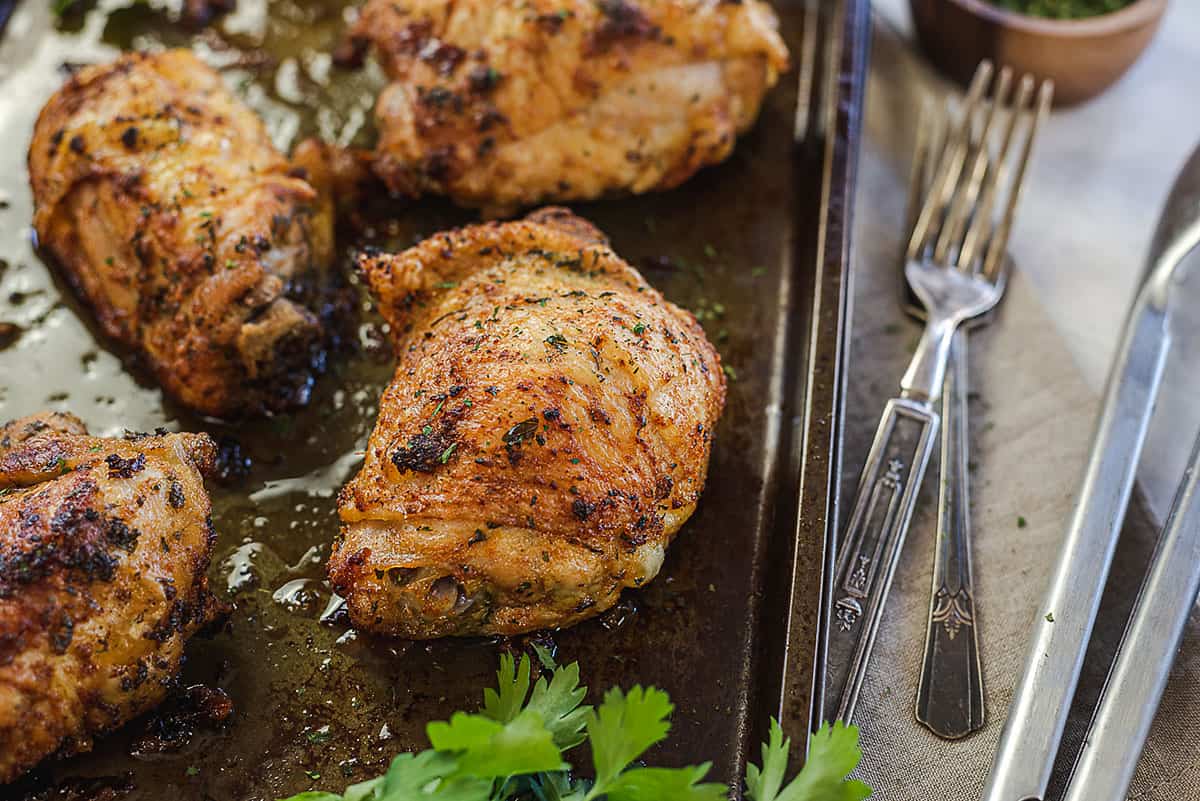 Our Favorite Meat Thermometer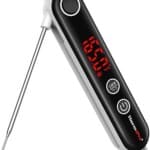 I love using this meat thermometer for making sure the meat is fully cooked! Easy for beginners & absolutely worth the low cost. Just stick it in the thickest part of the meat to check for doneness. This thermometer is also magnetic so it's easy to store right on the side of the fridge or oven for easy access! Get it on Amazon.
Are chicken thighs keto?
Chicken thighs are perfect for a keto diet, so long as you skip the sugary sauces and carb filled breadings. Chicken thighs are a nice choice for keto because they're packed with protein and have a bit more fat than leaner white meat, which will help keep you full and satisfied for longer. The skin is also keto, so long as you haven't breaded the chicken.
Can I make this in the air fryer?
This recipe works beautifully in the air fryer and, if you're in a hurry, the chicken cooks in about half the time! Get the recipe for air fryer chicken thighs.
What to serve with my easy baked chicken thighs:
My kids love my cauliflower mac and cheese, so it's always a hit with them. These cauliflower tots are a big hit too.
We also like to serve my extra cheesy broccoli cheese casserole, green beans almondine, or zucchini casserole to get something green on the table.
For dessert, give my mini cheesecakes a try! That strawberry topping is to die for.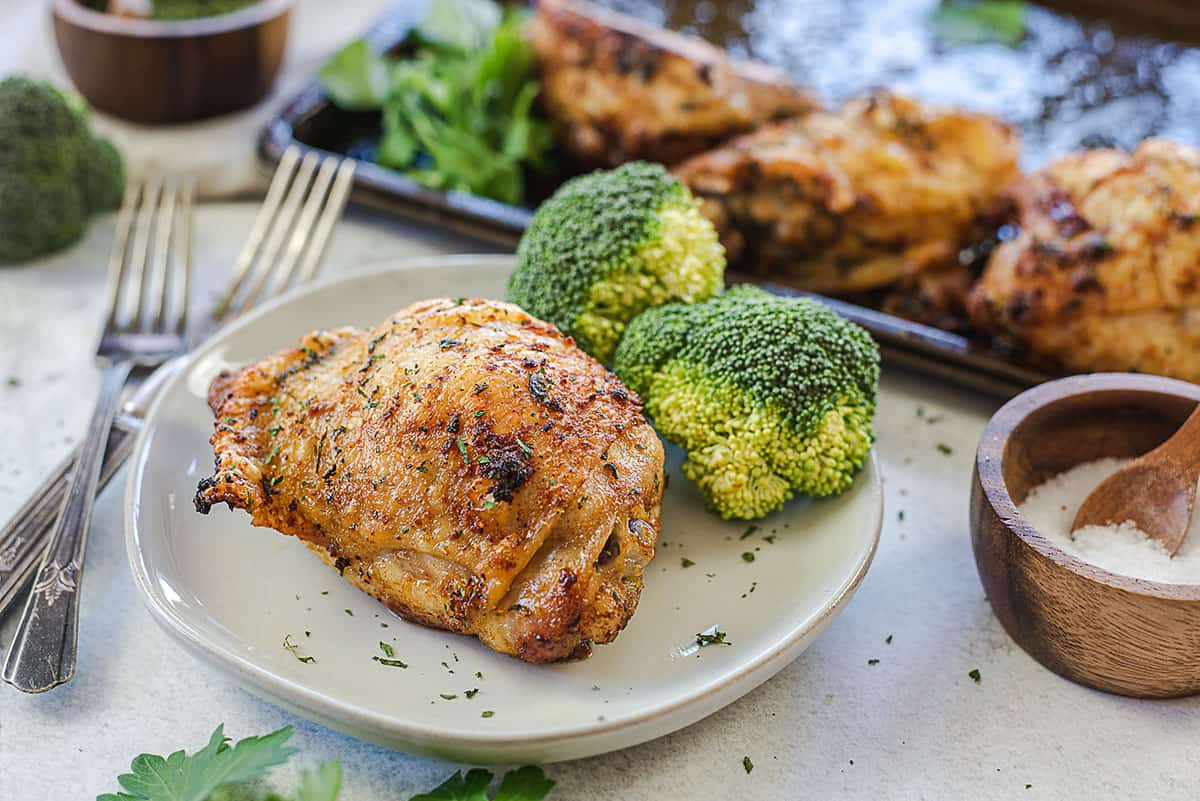 FAQs:
How long do you bake chicken thighs?
For these bone-in chicken thighs you will want to bake them at high heat (400 degrees) for at least 35 to 45 minutes. It's best to double check they have reached the correct temperature with a meat thermometer that way you don't under or overcook the chicken! No need to flip them either. If you want the bottom to be crispy too you can try baking with a wire rack over a baking sheet.
How to store baked chicken thighs?
Any leftover should last in the refrigerator at least 3 to 4 days in an airtight container, and you can freeze the baked chicken things for about 3 to 4 months. Make sure they have cooled completely before adding to the freezer safe bag or container.
Is it better to bake chicken thighs at 350 or 400 degrees?
Baking skin-on chicken thighs at 400 degrees allows the skin to crisp up quickly and seal in all the juices, making for a moist, tender chicken with crispy skin.
How long does it take to bake chicken at 400 degrees?
It'll take around 35 minutes to bake your chicken fully, though we always recommend double checking with a meat thermometer to ensure your chicken has reached 165 degrees.
More Low Carb Chicken Recipes: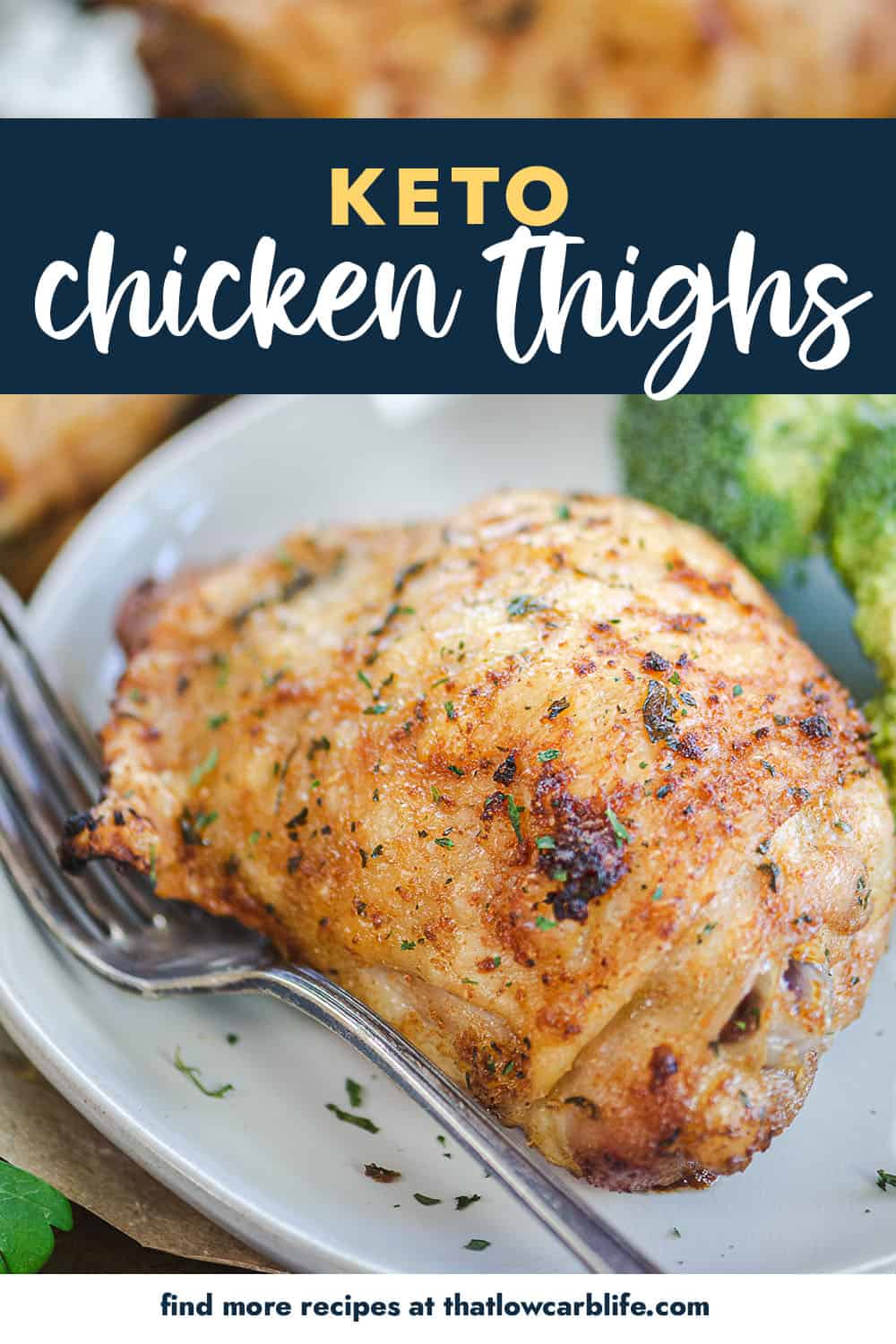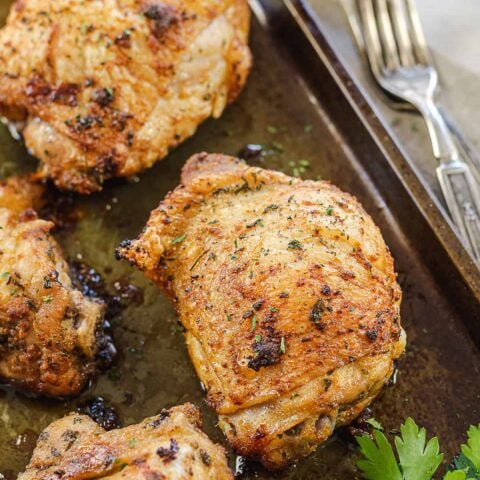 Crispy Baked Chicken Thighs
Crispy skin, juicy meat, and so easy! This chicken thigh recipe is a weeknight favorite in our house.
Ingredients
3 pounds bone-in chicken thighs
2 tablespoons avocado oil
1 teaspoon garlic powder
1 teaspoon onion powder
1 teaspoon salt
½ teaspoon cracked pepper
1 teaspoon chopped parsley
Instructions
Preheat oven to 400 degrees. Spray a baking sheet with non-stick spray.
Add all of the ingredients except for the parsley to a large zip top bag and seal. Smush the chicken around in the bag to coat in the seasoning.
Arrange chicken on the baking sheet and bake for 35-45 minutes or until a thermometer reads 165 degrees.
Sprinkle chicken with parsley just before serving.
Notes
There are generally about 8 chicken thighs in 3 pounds of chicken. We count on 2 chicken thighs per person when serving.
It's easy to mix up the seasonings. Use your favorite spice blend or create your own. We like this basic mix for a simple, classic flavor.
The cook time will vary based on the size of the chicken thighs. We find it best to use a meat thermometer to check for doneness. It should read 165 degrees in the thickest part of the thigh without touching the bone.
Recommended Products
As an Amazon Associate and member of other affiliate programs, I earn from qualifying purchases.
Nutrition Information:
Yield: 4
Serving Size: 2 chicken thighs
Amount Per Serving:
Calories: 796
Total Fat: 54g
Saturated Fat: 15g
Trans Fat: 0g
Unsaturated Fat: 39g
Cholesterol: 435mg
Sodium: 1122mg
Carbohydrates: 2g
Net Carbohydrates: 2g
Fiber: 0g
Sugar: 0g
Protein: 80g
All information and tools presented and written within this site are intended for informational purposes only. This information is provided as a courtesy and there is no guarantee that the information is accurate.