CAULIFLOWER TOTS are the less-carby, healthier version of tater tots and they're made with simple ingredients. We serve these up with ketchup or ranch dressing and they're always a hit.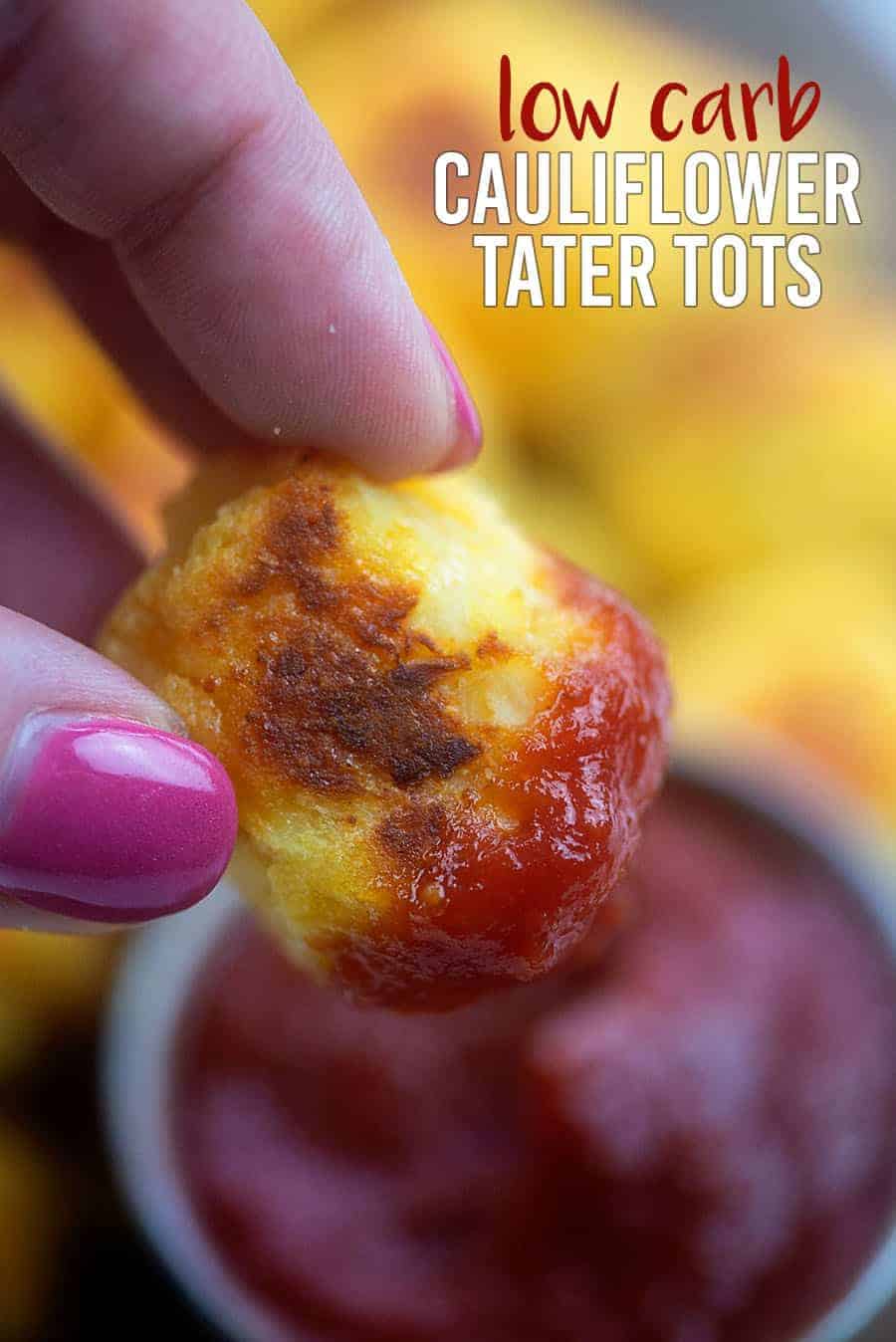 Have you seen or tried the packages of frozen cauliflower tots yet? They're pretty easy to find these days and they taste pretty okay, but have you read the ingredients list?
There are a few things in there that I'd prefer to avoid PLUS I knew I could make even tastier cauliflower tater tots at home. With WAY less carbs. I was right.
You guys, these are so dang delicious.
My kids were a little leary to try them, as they always are. They never seem to trust me when I present them with a vegetable dressed up as a potato. I suppose I can't blame them, but they almost always love it so you'd think they'd just learn to trust me. 😉
Anyway, these were a TOTAL HIT. My whole family loved these.
We were split down the middle on which dip was best – 2 votes for ketchup and 2 votes for ranch. You really can't go wrong with either, though!
I liked them best dipped in our keto ranch dressing. We're also obsessed with broccoli tots!
Ingredient Notes for Cauliflower Tater Tots:
This post contains affiliate links. As an Amazon associate and member of other affiliate programs, I earn from qualifying purchases.
Riced Cauliflower – We use the frozen, steam-in-bag riced cauliflower when making these. It makes the process so simple! If you want to make your own riced cauliflower, it's best done with a food processor and a fresh head of cauliflower! When formed into tots, the riced cauliflower has a similar texture to tater tots that have been made from grated potatoes.
Cheese – Some cheddar and Parmesan cheese will help bind these tots together.
Coconut Flour – Along with the cheese and egg, the coconut flour is going to help bind the riced cauliflower together so it will hold the tot shape as it bakes. These do not taste like coconut.
Seasoning – A little bit of salt, onion powder, and garlic powder is all you need to season these cauliflower tots. Simple!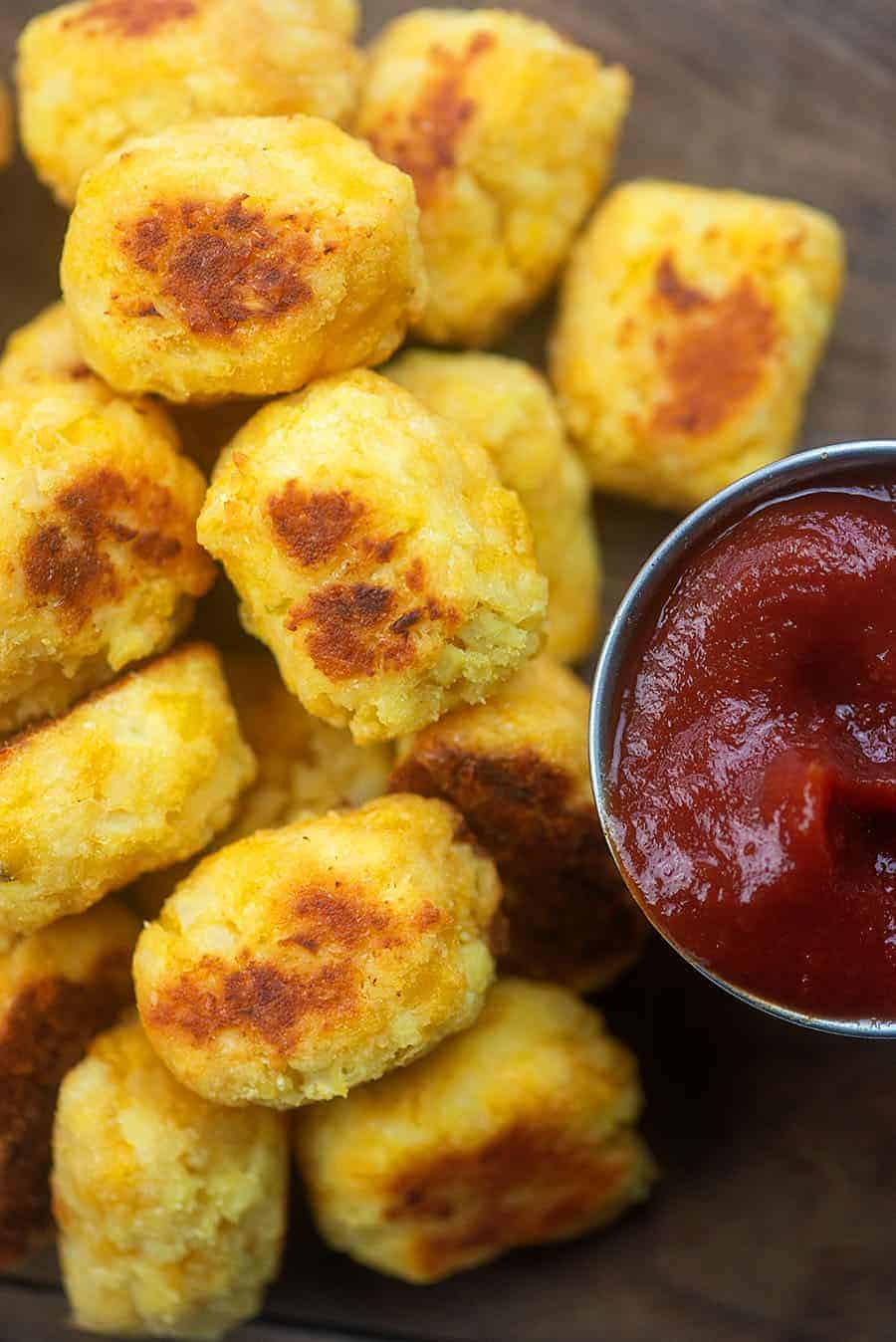 Why We Love This Recipe:
These cheesy cauliflower tots are packed with so much flavor you won't even miss the tater tots, and the kids won't complain that you've tricked them into eating something healthy!
Using the steam-in-bag frozen riced cauliflower makes this a really simple recipe. The cauliflower tots are easy to prepare and are finished baking in no time.
How To:
Steam – If you are using the frozen steam-in-bag riced cauliflower just follow the instructions, otherwise steam the cauliflower as you normally would. You don't want soggy cauliflower tots so drain any liquid before adding the cooked cauliflower rice to a mixing bowl. If you think there is still too much liquid, you can squeeze it out with a cloth. Move on to the next step while the cauliflower rice is still hot!
Mix – Add all of the remaining ingredients including the coconut flour, cheeses, and seasoning to the mixing bowl with the cauliflower rice. The residual heat from the cauliflower should help melt the cheese. Stir it all together until the mixture is well combined and the cheese is melty.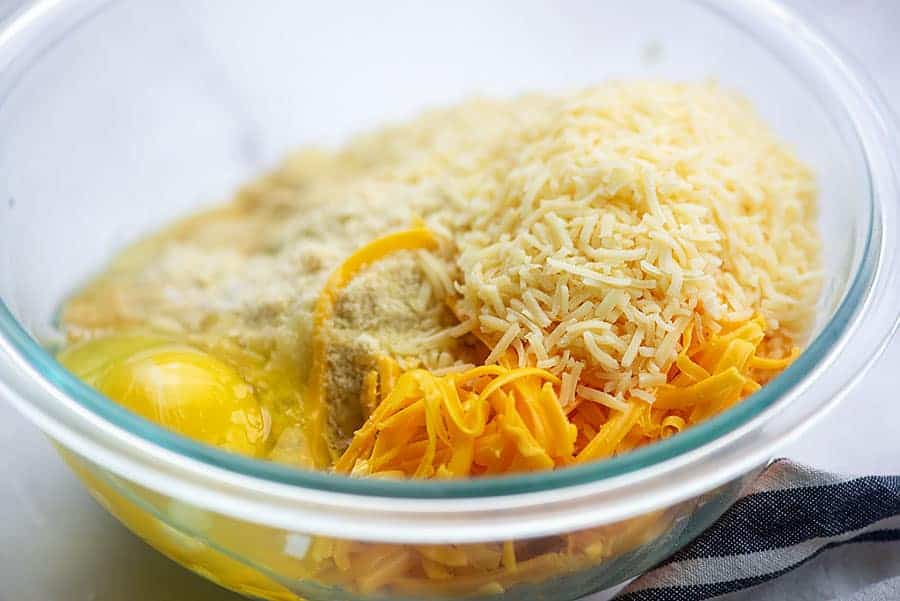 Shape – I recommend using a small cookie scoop for this next step. It'll ensure you get evenly sized tots that all finish baking at the same time. If you don't have a cookie scoop, use a small spoon and try to portion evenly. Start scooping out portions of the cauliflower and cheese mixture and shaping them into cauliflower tots. You can easily use your hands to shape these. I'd recommend grabbing a kid to help with that because while it's not hard, it can be a bit tedious!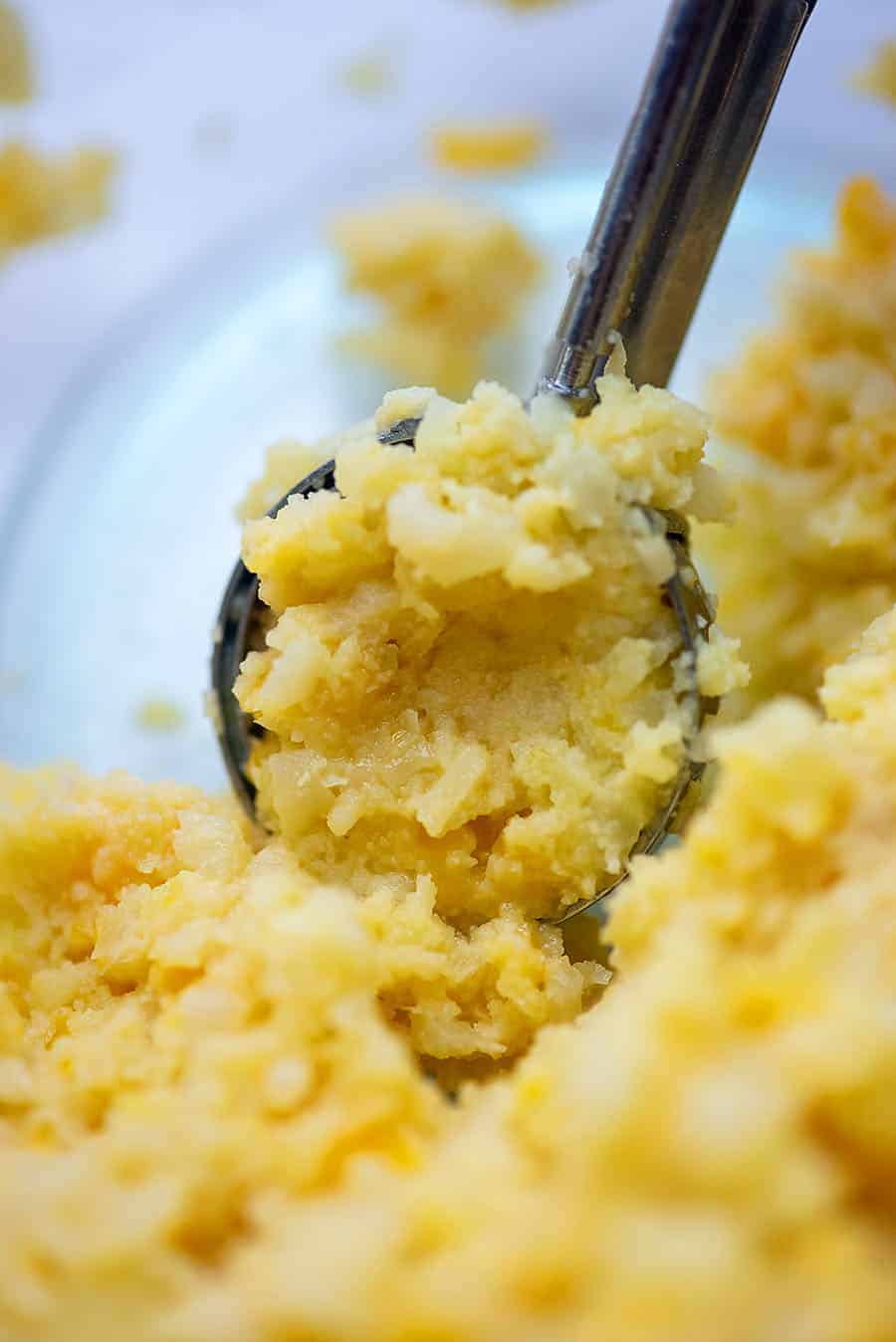 Bake – Once you've started shaping the cauliflower tots you can begin placing them onto a prepared baking sheet and then give them a light spritz with some non-stick spray. Bake the tots for 15 minutes and then flip them to be sure they get perfectly crispy all the way around. Give them another spritz of the non-stick spray and then return the cauliflower tots to the oven for 10 more minutes to finish.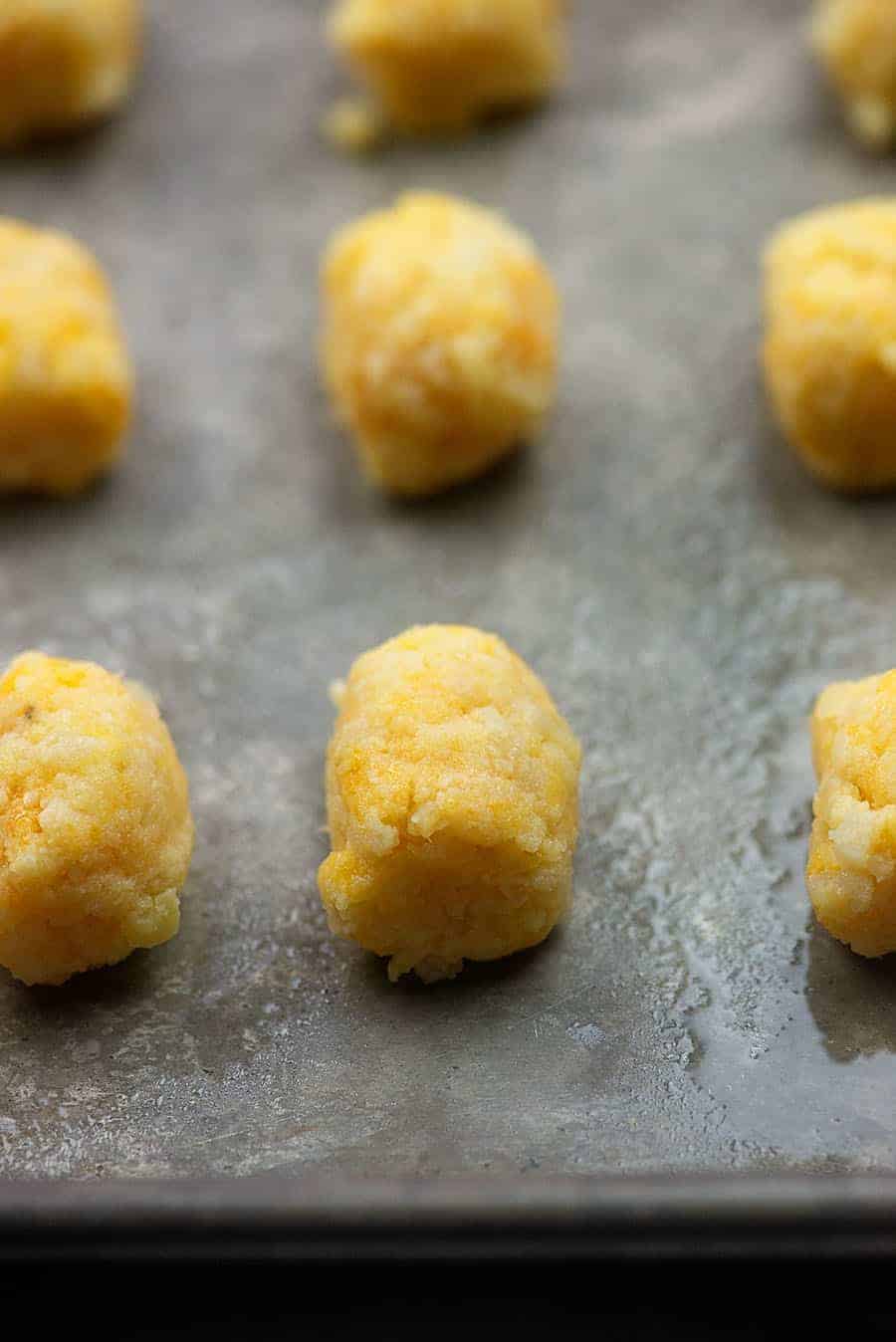 For Serving:
We love sugar-free ketchup or my homemade ranch dressing as a dip for these.
These cauliflower tater tots go great with just about any protein. Serve them up with my spinach stuffed chicken, low carb meatloaf, pork tenderloin, or steak bites for a tasty dinner.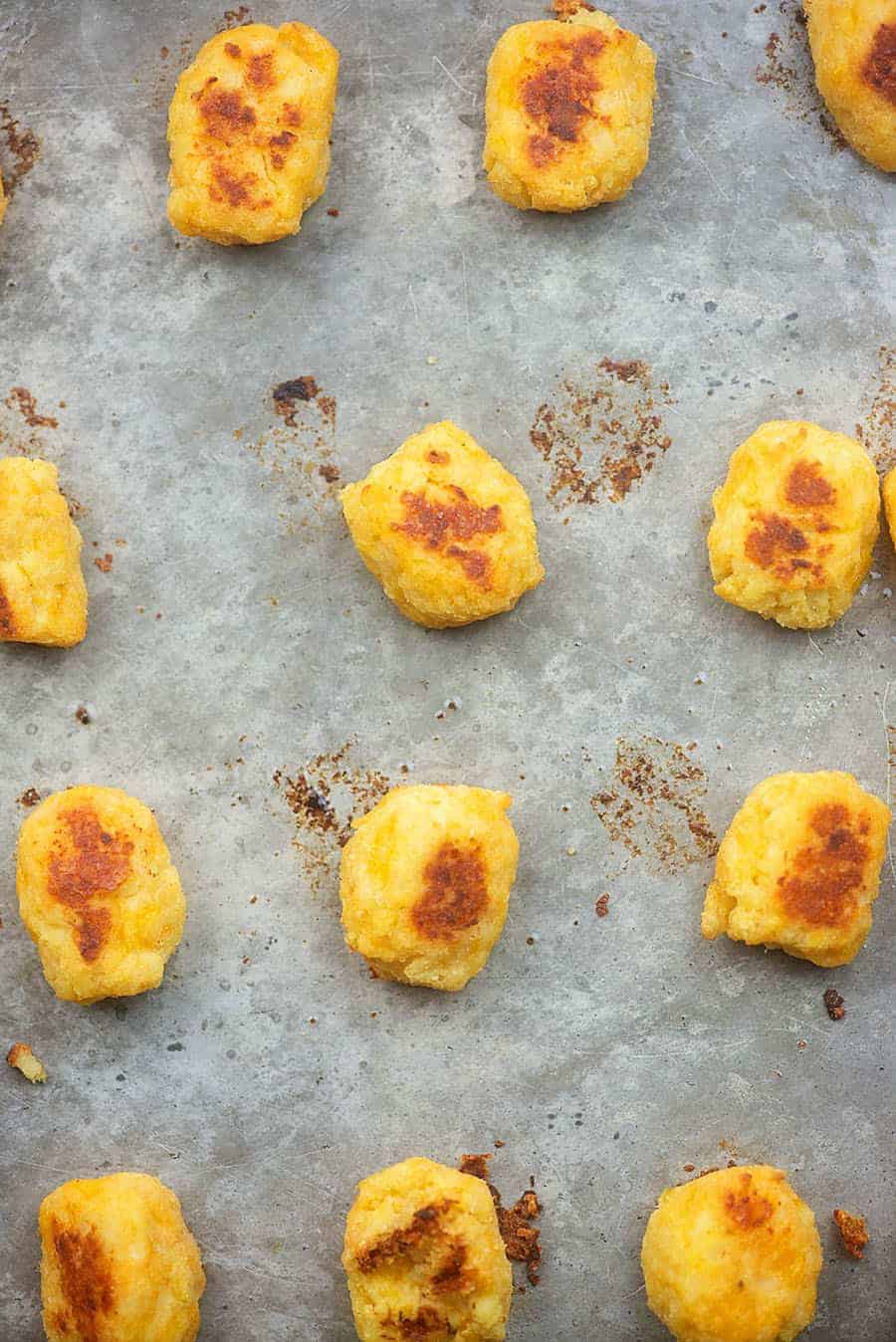 FAQs:
Can you freeze cauliflower tots?
These will freeze beautifully! Arrange the tots on a baking sheet and pop them in the freezer for an hour before transferring them to a freezer-safe bag. Bake as directed directly from the freezer. You'll need to add an extra couple of minutes to the bake time.
Can I make cauliflower tots in the air fryer?
I haven't tried it with this recipe but I don't see any reason why that wouldn't work. Just follow the steps up to the point of baking, toss them in your air fryer, and see what happens! It's hard to mess up air fried food as long as you keep an eye on it.
How many cauliflower tots are in a serving?
Our recipe for cauliflower tots is based on 7 tots per serving, which seems to be just the right amount for our appetites. You can adjust as you like, but keep in mind the nutriiton information will change accordingly.
More Low Carb Side Dishes: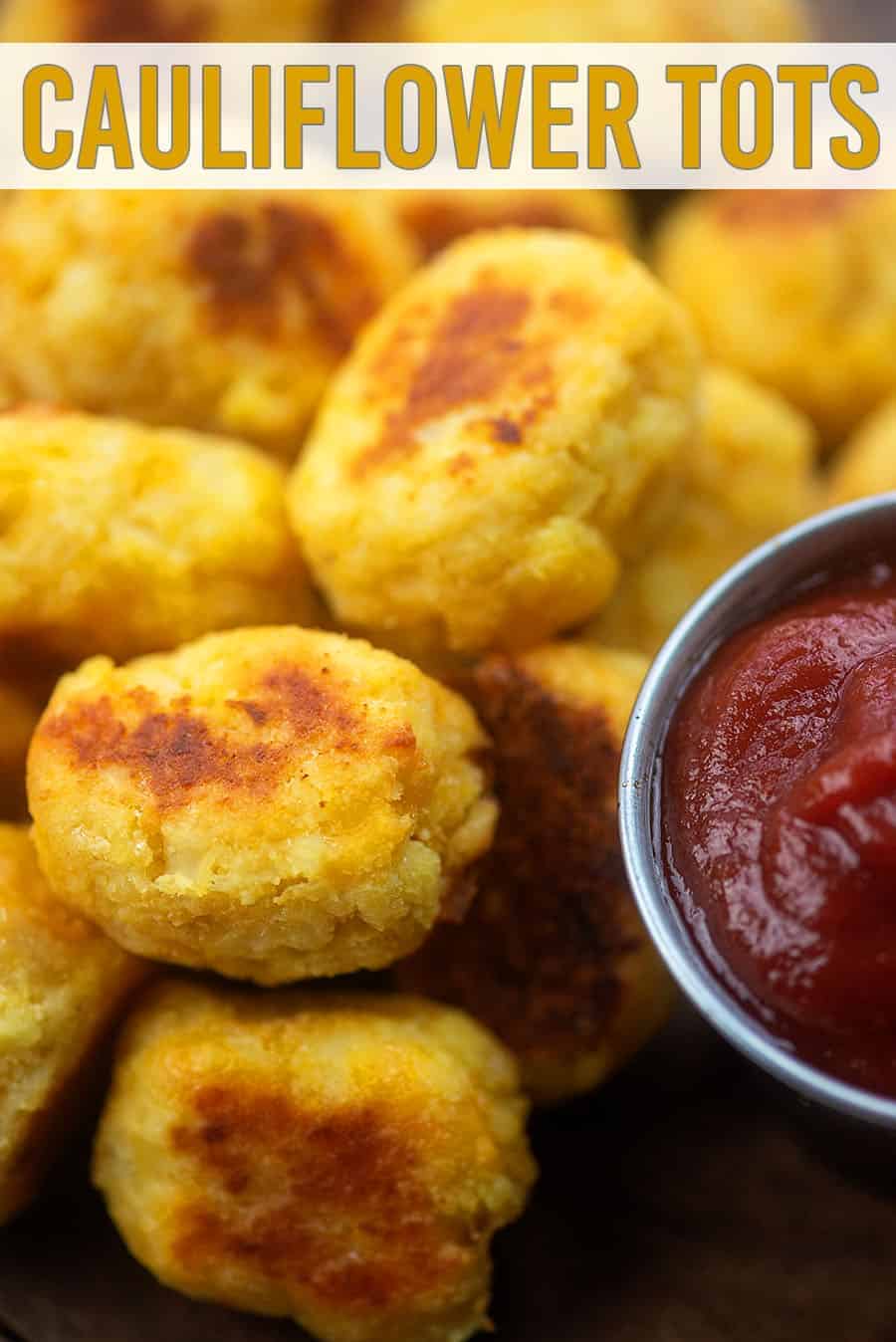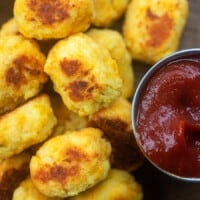 Cauliflower Tots
These cauliflower tater tots are a total hit with my kids. Serve with ketchup or ranch for a healthy side dish.
Ingredients
10 ounces frozen steam-in-bag riced cauliflower
¾ cup Parmesan
¾ cup grated cheddar
1 egg
1 teaspoon garlic powder
½ teaspoon onion powder
½ teaspoon salt
Instructions
Preheat oven to 425 degrees. Line a baking sheet with parchment paper.

Steam the rice according to package directions. Drain any liquid from the cauliflower and place cauliflower in a mixing bowl.

Add the remaining ingredients to the mixing bowl and stir well to combine.

Use a small cookie scoop to scoop out portions of the mixture and then shape with your hands into tots.

Place on the prepared baking sheet and spritz lightly with non-stick spray.

Bake for 15 minutes, flip, spray with non-stick spray, and bake for 10 more minutes.
Notes
If you don't have a cookie scoop, just use a small spoon and try to keep the portions even so that everything cooks evenly.
Recommended Products
As an Amazon Associate and member of other affiliate programs, I earn from qualifying purchases.
Nutrition Information:
Yield: 4
Serving Size: around 7 tots
Amount Per Serving:
Calories: 140
Total Fat: 15g
Saturated Fat: 8g
Trans Fat: 0g
Unsaturated Fat: 5g
Cholesterol: 84mg
Sodium: 785mg
Carbohydrates: 7g
Net Carbohydrates: 4g
Fiber: 3g
Sugar: 1g
Protein: 15g
All information and tools presented and written within this site are intended for informational purposes only. This information is provided as a courtesy and there is no guarantee that the information is accurate.