These homemade Broccoli Tots are an easy low carb substitute for tater tots that even the kids are sure to enjoy! They're an easy way to get broccoli on the table without complaints and they're perfect dipped in ranch dressing!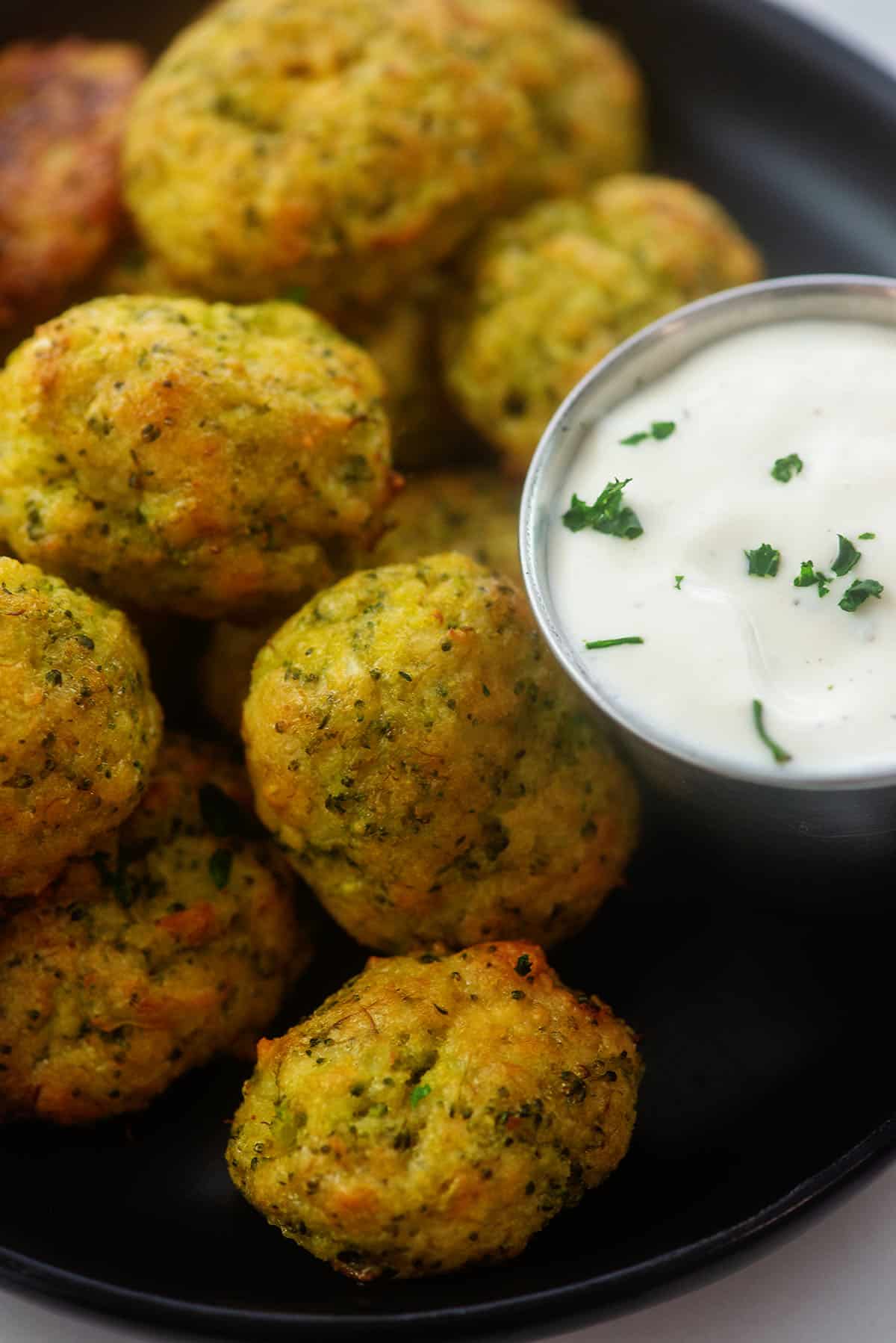 For me, the hardest part about low carb isn't that I'm not eating carbs…it's that I have to plan ahead for every meal and come up with food that my family will also eat at dinner time.
I mean, I refuse to cook two separate meals, so I've gotten really good at creating low carb recipes that even my kids like. Pretty proud of that, actually. 😉
Broccoli can definitely be hit or miss with kids, but I turned it into a sure thing this time around with these Keto Broccoli Tots!
We all love eating food with our hands, especially when there is dip involved!
We serve these broccoli tots with our keto ranch dressing, sugar free ketchup, or keto cheese sauce as the dip and the whole family just inhales these!
These make a great side for a burger on our keto hamburger buns or our keto sloppy joes.
Ingredient Notes:
This post contains affiliate links. As an Amazon associate and member of other affiliate programs, I earn from qualifying purchases.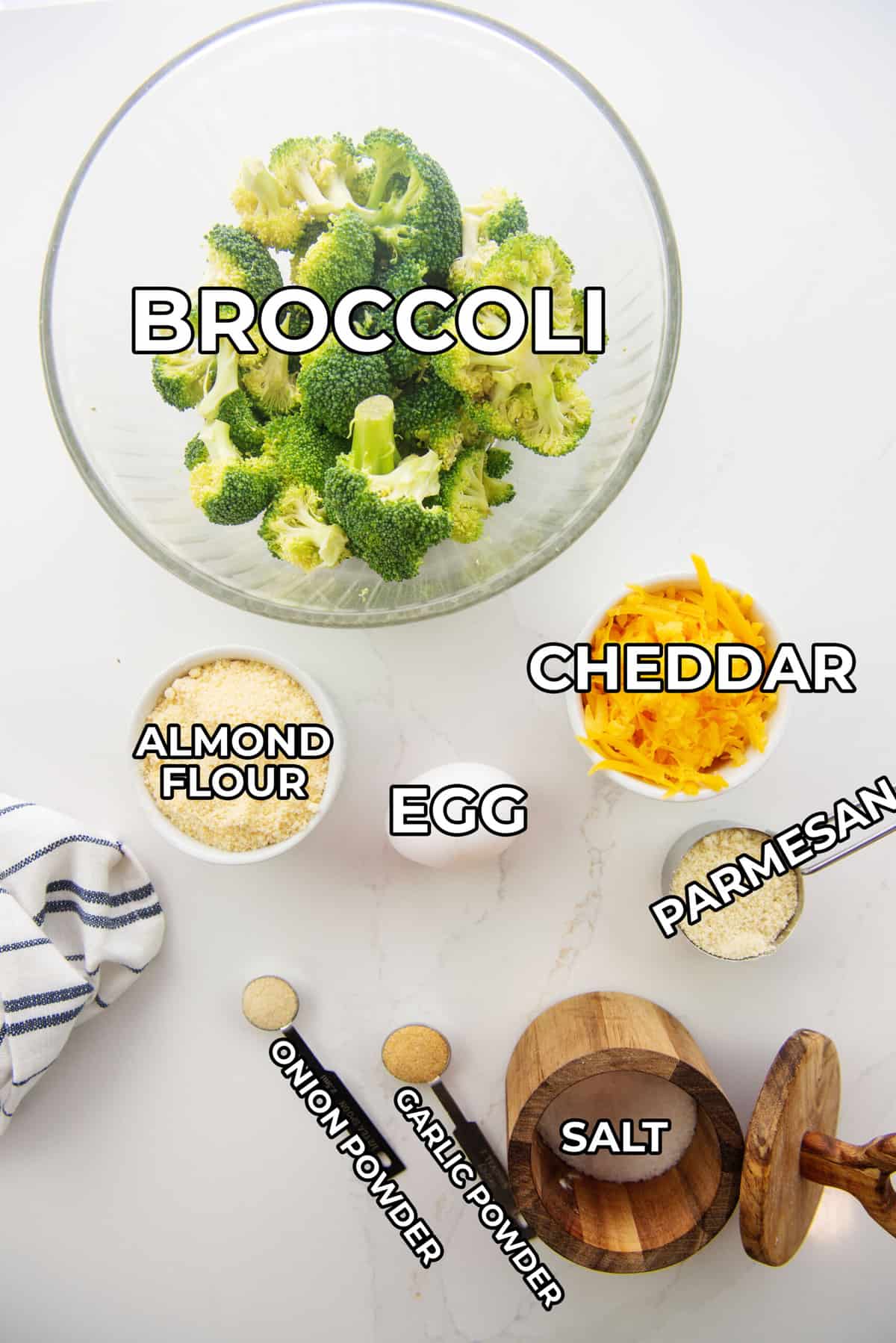 Broccoli – We always prefer fresh broccoli – it has such a better texture and flavor, in our opinion. You'll steam the broccoli for a short time in the microwave to get it just a little tender before the broccoli gets processed and turned into tots!
Cheese – Broccoli and cheese are a perfect combination! We're using a mix of both Cheddar and Parmesan cheese in these broccoli tots.
Almond Flour – You'll be using almond flour in this recipe in place of breadcrumbs. When combined with the egg, it'll help hold all the broccoli and cheese together and will bake up nicely in the oven!
Seasonings – Just a simple mix of garlic powder, onion powder, and salt!
Why We Love This Recipe:
Kid Friendly!
A bit of prep work, but overall quite simple!
Perfect for dipping!
Reheats well in the oven or air fryer if you have leftovers!
How To Make Keto Broccoli Tots From Scratch:
Steam the Broccoli – First up we'll need to steam the broccoli a bit to soften it up. You can do this easily by adding the broccoli florets to a microwave safe bowl along with a couple of tablespoons of water and covering it tightly with plastic wrap. Microwave for 4 minutes and allow it to sit still covered for 2 more minutes. Remove the plastic wrap carefully and drain the water from the bowl.
Process – Next go ahead and add the broccoli to a food processor or blender along with all of the remaining ingredients including the almond flour, egg, cheeses, and seasonings. Process all of that good stuff up until you have a finely ground mixture that can easily be shaped by hand into tots.
Shape – We like to use a small cookie scoop to get perfectly sized tots. Scoop out a portion of the broccoli and roll it into a tot with your hands. This goes quick and the mixture is easy to work with.
Bake – Once you've shaped the the broccoli cheese mixture into a tot place each one onto a parchment lined baking sheet and spritz with some non-stick spray. The broccoli cheddar tots are ready to bake! Bake for just 15 minutes and these are ready to serve!
Air Fryer Instructions:
These should work wonderfully in an air fryer! Line the basket with parchment paper that has holes poked in it for air flow. Arrange the tots in a single layer with space between each. Air fry at 350 for 7-8 minutes or until golden brown.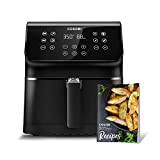 My Favorite Air Fryer
Our favorite air fryer is the Cosori 5.8qt Max XL.It's a good, classic air fryer with a simple to use interface and over 10k positive ratings on Amazon. This is one popular air fryer, for good reason!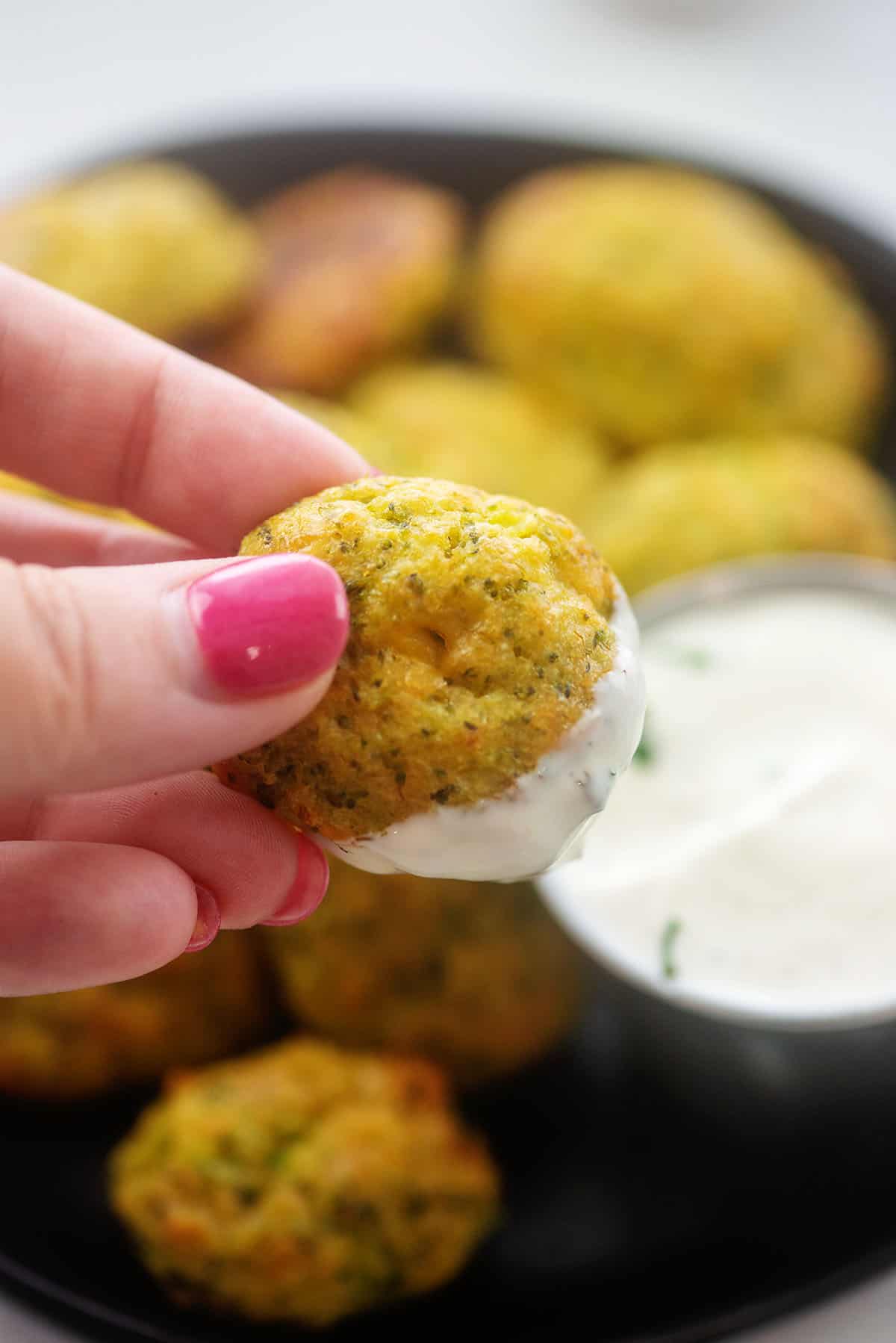 FAQ's:
Can you freeze broccoli tots?
Yes, leftover broccoli cheddar tots will freeze well for up to three months if you store them in a freezer safe bag. Thaw in the fridge before reheating in the oven or air fryer.
What are broccoli tots?
Much like the classic tater tot, these are little bite sized chunks of veggies that kids and adults both love. We swapped the potatoes for broccoli, added in a bit of cheese for flavor, and baked them for a healthier take on the tater tot.
How do you serve broccoli tots?
These are delicious on their own as a side dish or snack, but dip really takes things up a notch. Ketchup, ranch, and cheese sauce are our go to dips for broccoli tots.
More Easy Low Carb Snacks & Side Dishes: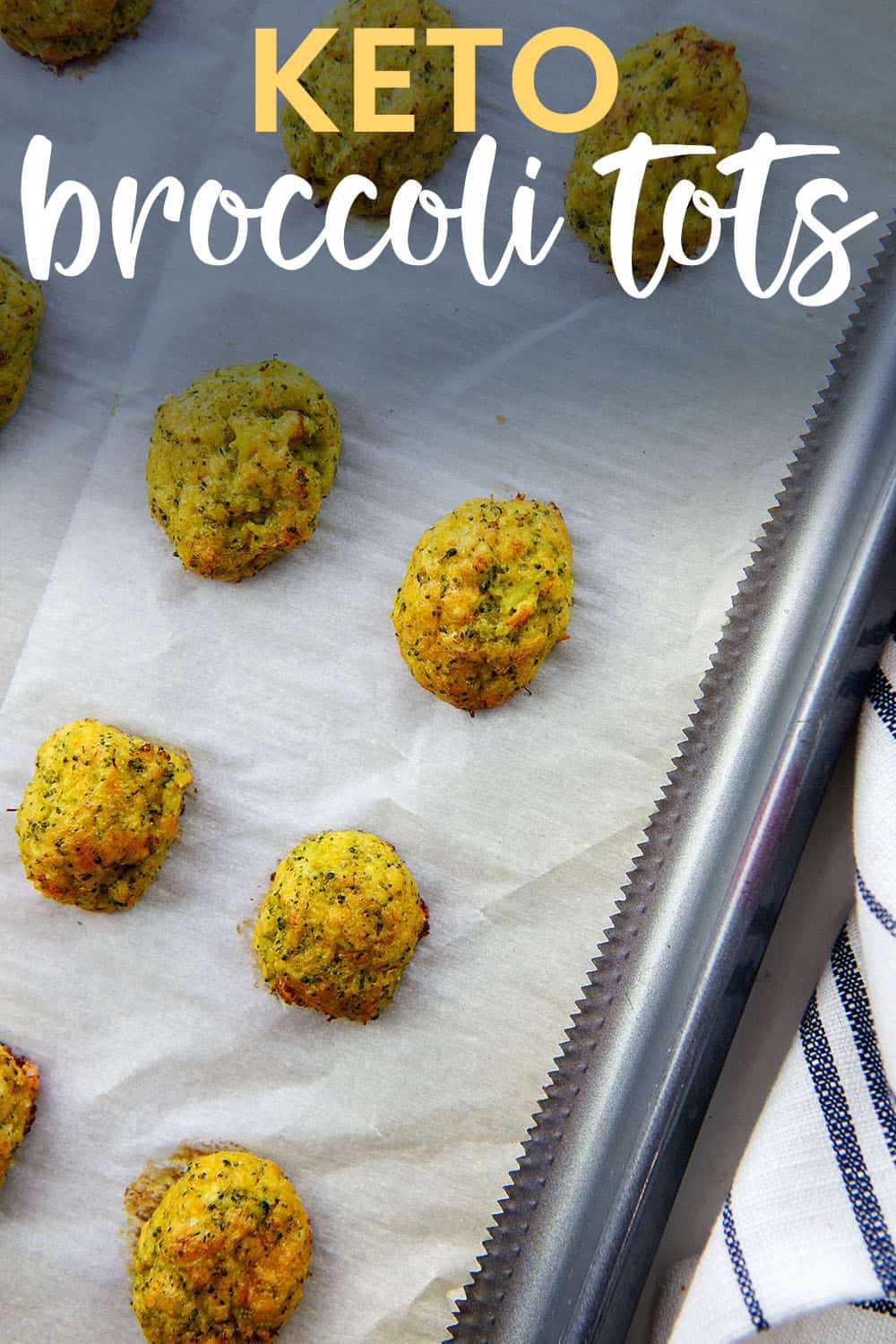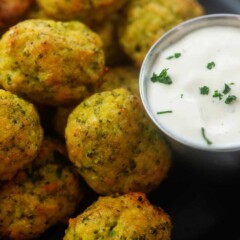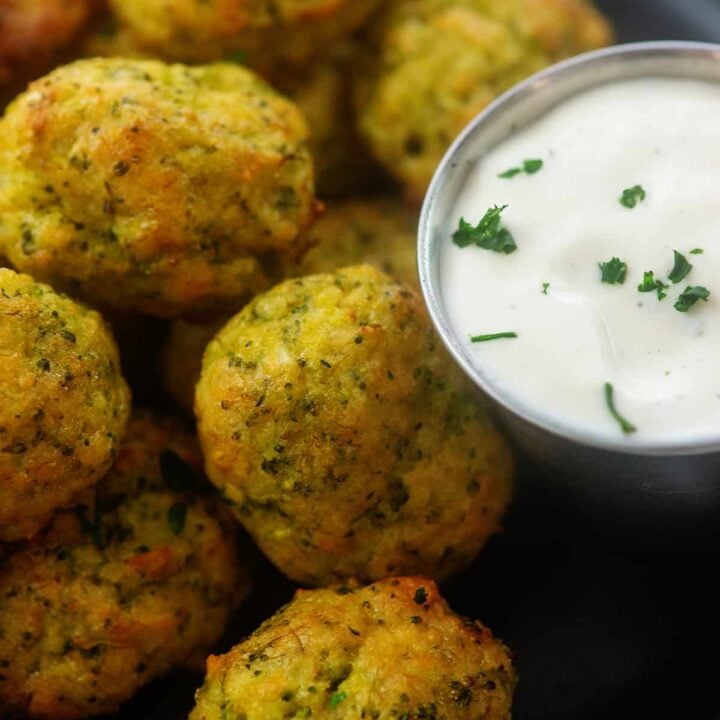 Broccoli Tots
These cheesy broccoli tots are perfect for dunking in ranch or ketchup and the whole family loves them! We like to serve these up with burgers and other kid friendly meals for a healthier dinner that everyone enjoys.
Ingredients
10 ounces broccoli florets
¾ cup Parmesan
¾ cup grated cheddar
1/4 cup almond flour
1 egg
1 teaspoon garlic powder
½ teaspoon onion powder
1/4 teaspoon salt
Instructions
Preheat oven to 425 degrees. Line a baking sheet with parchment paper.
Place the broccoli florets in a mixing bowl along with 2 tablespoons of water. Cover tightly with plastic wrap and microwave for 4 minutes. Let sit for 2 minutes.
Carefully remove the plastic wrap and drain the liquid from the bowl.
Add the broccoli to the bowl of a food processor or blender along with the remaining ingredients.
Process until you have a finely ground mixture.
Use a small cookie scoop to scoop out portions of the mixture and then shape with your hands into tots.
Place on the prepared baking sheet and spritz lightly with non-stick spray.
Bake for 15 minutes.
Serve hot.
Notes
Using a small cookie scoop yields evenly sized tots every time, which helps them bake up better and makes it easier to calculate nutrition. We use our cookie scoops often for all kinds of things - highly recommend.
These should work wonderfully in an air fryer! Line the basket with parchment paper that has holes poked in it for air flow. Arrange the tots in a single layer with space between each. Spritz with oil spray and air fry at 350 for 7-8 minutes or until golden brown.
Nutrition Information:
Yield: 4
Serving Size: 7 tots
Amount Per Serving:
Calories: 251
Total Fat: 17g
Saturated Fat: 8g
Trans Fat: 0g
Unsaturated Fat: 8g
Cholesterol: 84mg
Sodium: 656mg
Carbohydrates: 9g
Net Carbohydrates: 7g
Fiber: 2g
Sugar: 1g
Protein: 15g
All information and tools presented and written within this site are intended for informational purposes only. This information is provided as a courtesy and there is no guarantee that the information is accurate.