These KETO MOZZARELLA STICKS are the perfect low carb appetizer! Crispy outside, cheesy inside, and perfect for dipping in marinara or ranch!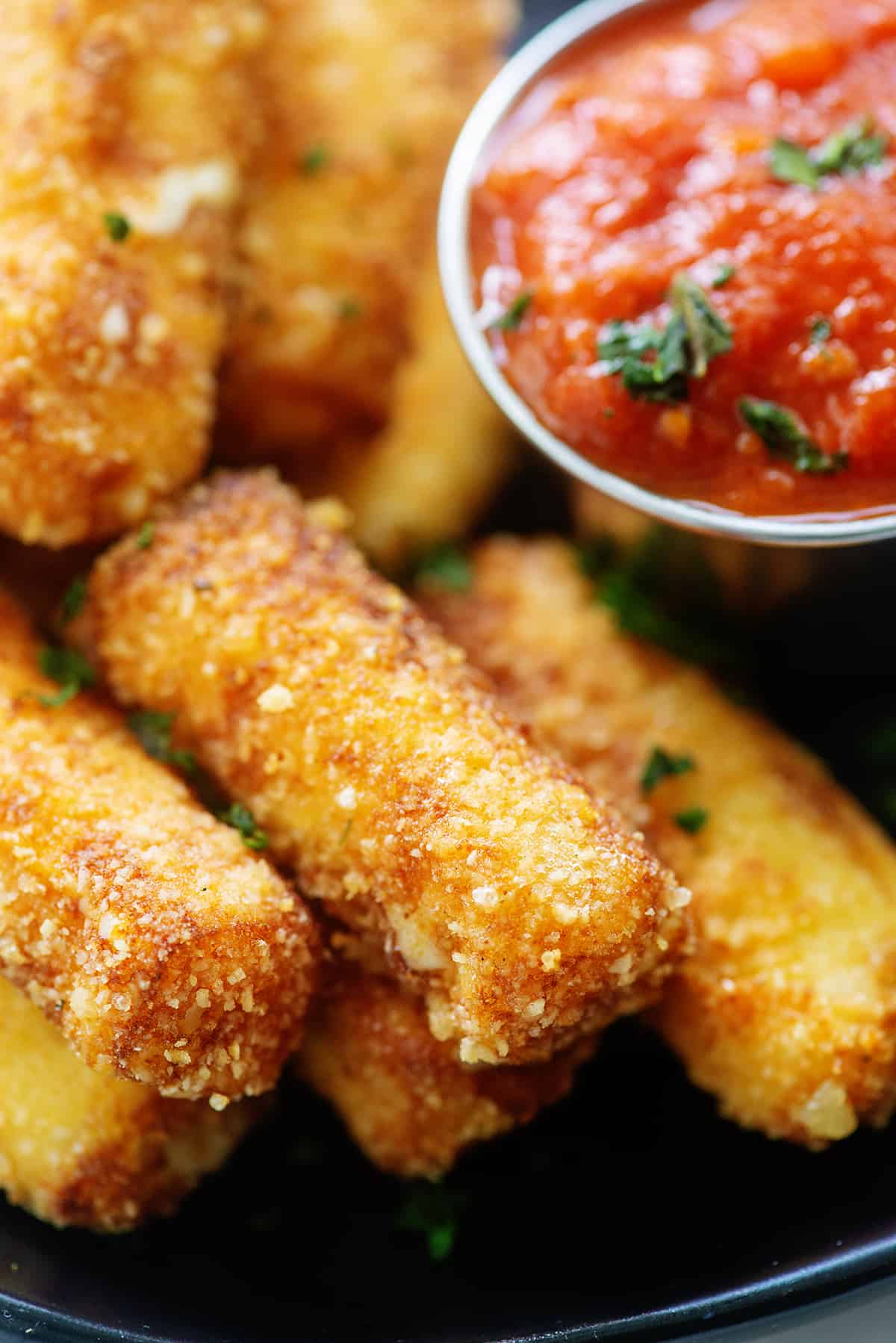 Oh boy, am I EXCITED to share today's recipe with you!
There are just some foods that you absolutely can't live without, regardless of your diet or way of eating, and for me…mozzarella sticks is one of those foods!
Crispy coating, melty cheese, dunked in marinara or ranch, and served up as the appetizer before more delicious food comes along? Who can resist that?!
It took us a few tries to get these just right, but I'm happy to say that we knocked this one out of the park!
We like to serve these with some warmed marinara (Rao's is our preferred brand!) or our keto ranch dressing. Either way, you really can't go wrong.
Ingredient Notes:
This post contains affiliate links. As an Amazon associate and member of other qualifying programs, I earn from qualifying purchases.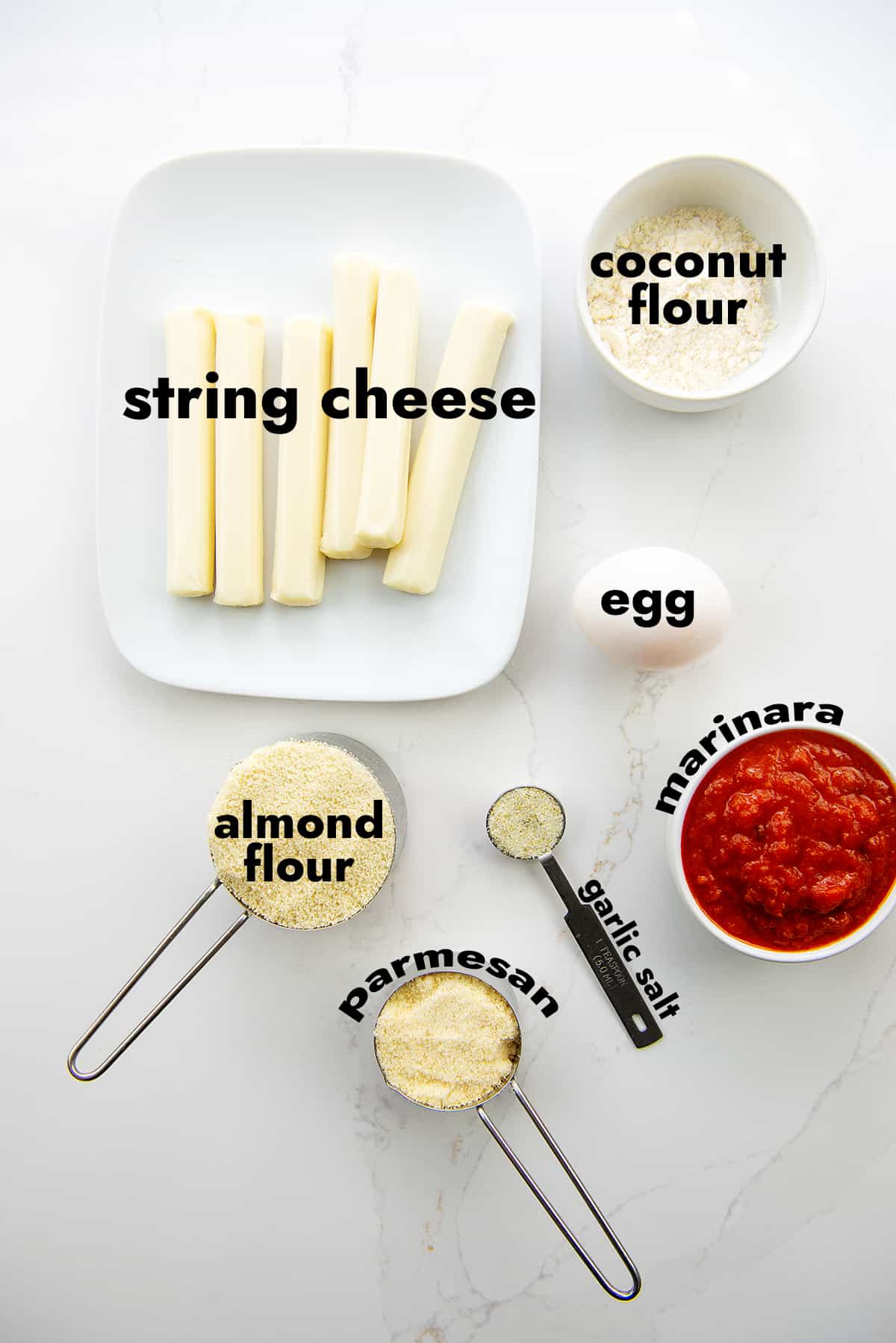 Flour – For this recipe you'll be using both almond flour and coconut flour for the ultimate keto breading. Don't worry, your mozzarella sticks won't taste like almonds or coconuts. The Parmesan and garlic salt help balance out the flavors.
String Cheese – I don't think you'll have any trouble finding these at your local grocery store. Use your favorite brand!
Marinara Sauce – The perfect dipping sauce for mozzarella sticks! Just be sure to use a low carb sauce. We really like Rao's Homemade Marinara! Or grab my recipe for homemade ranch (linked above).
About Thrive Market
We use Thrive Market for a lot of our specialty ingredients and keto snacks or products. Their prices tend to be cheaper than the local stores and I love that you can so easily sort products by diet.
Like Costco, this is a membership site, but we find that it's more than worth it based on the amount we save over the regular grocery store.
They have monthly or yearly plans. Check it out here.
How to:
Bread the Cheese Sticks – First you'll need to cut the mozzarella sticks in half. They'll fry easier this way and you can better control the portions. Set the sticks aside until the breading is ready.
The low carb breading is a simple mix of almond flour, coconut flour, Parmesan, and garlic salt. Your low carb mozzarella sticks will fry up really well in this coating, just like traditional mozzarella sticks!
Mix all that up in a small bowl. In a separate bowl whisk together an egg and a little water.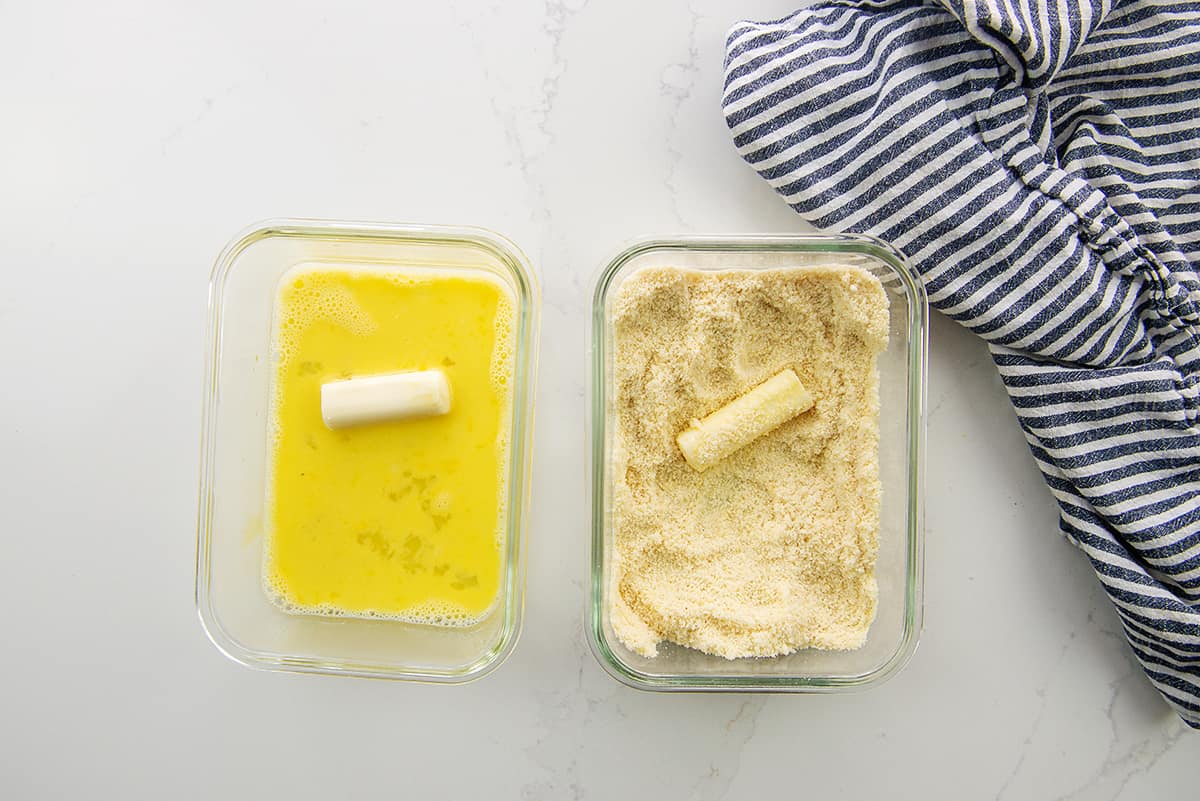 Begin by dipping the cheese sticks in the egg. Make sure they are well coated to get as much breading as possible. After dunking in the egg, roll the cheese sticks in the flour. When they're fully coated transfer to a parchment lined baking sheet and freeze for at least an hour.
Pro Tip!
When breading foods, use the wet/dry method with your hands. One hand only touches the dry ingredients and the other hand only touches the wet ingredients. This will keep the breading from sticking to your fingers.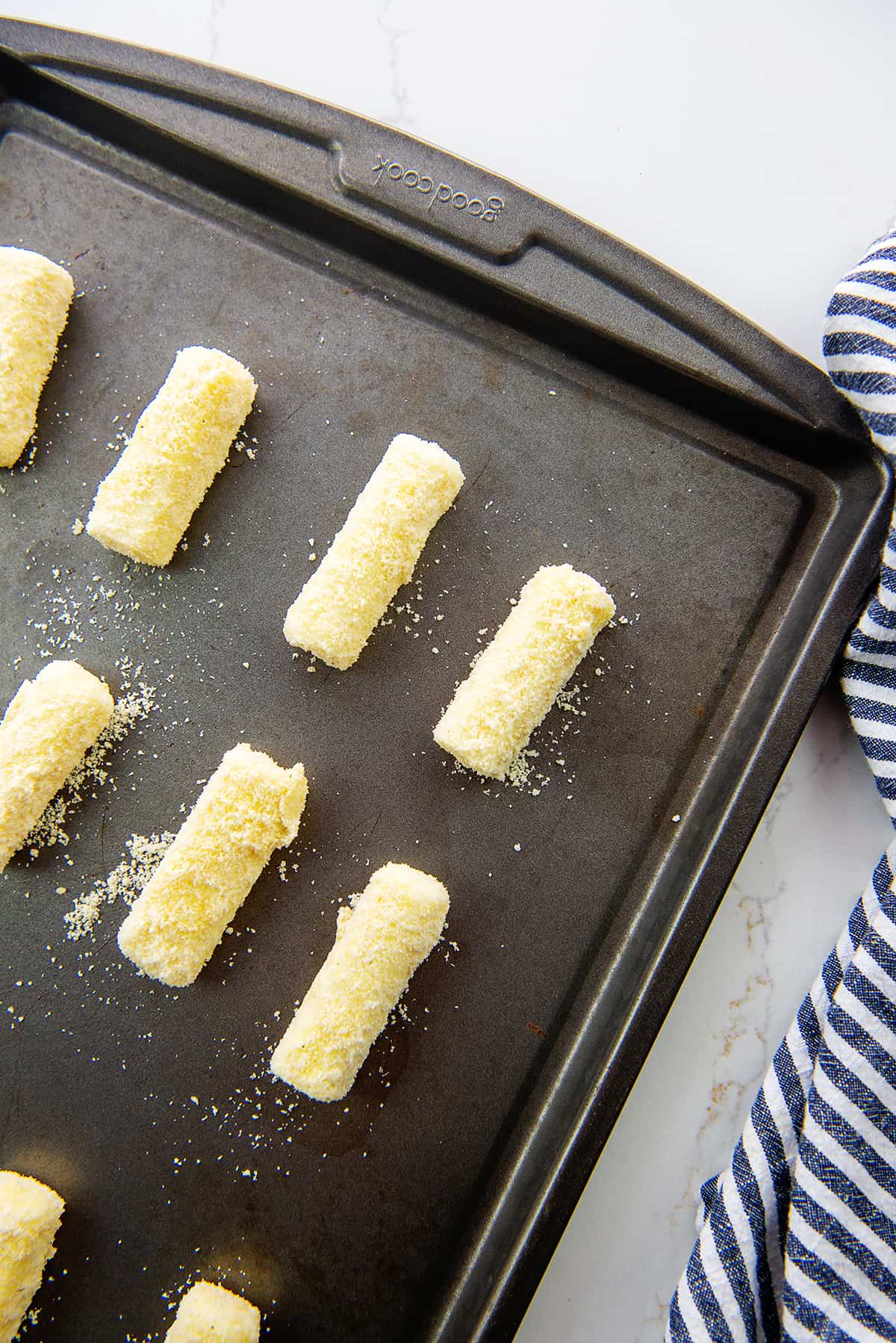 Fry the Cheese Sticks – The breading should be set after an hour in the freezer. I like to fry these in a skillet with an inch or two of oil. They cook pretty fast and you don't want them to burn so watch closely and make sure not to overcrowd the pan! Cook in batches if necessary.
Give them a flip after a minute or two so the other side can fry.
Let them turn a nice golden brown on both sides. Use a paper towel lined plate to soak up the excess oil when they are finished. Serve them hot with your favorite marinara sauce!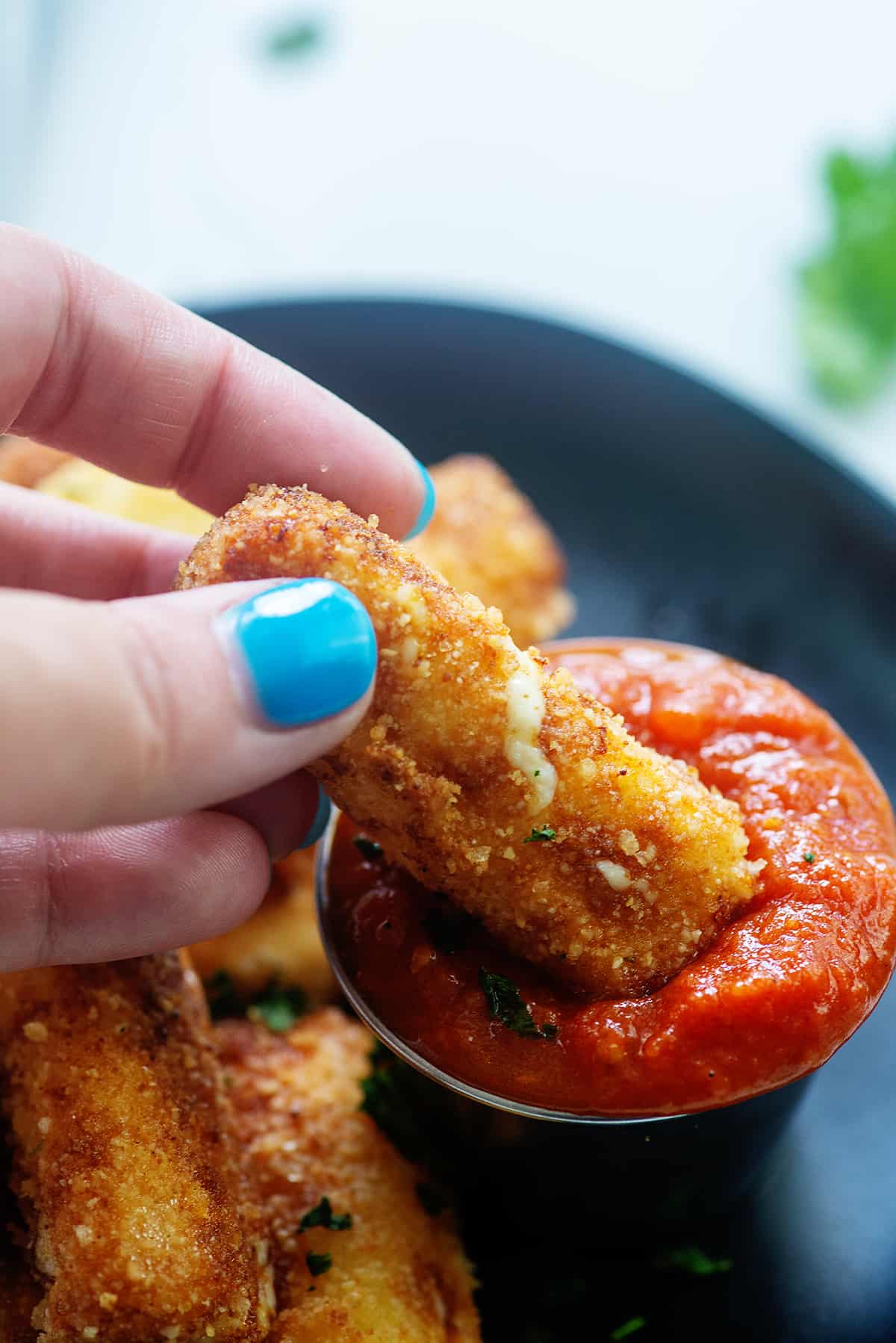 FAQs:
Can I cook Keto Mozzarella Sticks using a different method?
For the ultimate crispy goodness, we've only tried frying these in oil. I'm sure this recipe could be air fried, but we have not tested it yet.
Is marinara sauce low carb?
Not all marinara sauces are created equal! Many brands have a lot of added sugar. We highly recommend Rao's marinara sauce as it has no added sugar and just tastes the best of any jarred sauce out there.
Can I store these mozzarella sticks?
We recommend cooking only what you'll eat and keeping the breaded and uncooked mozzarella sticks in a freezer safe bag in your freezer. Fry them up straight from the freezer whenever the mood strikes.
More Keto Snack Recipes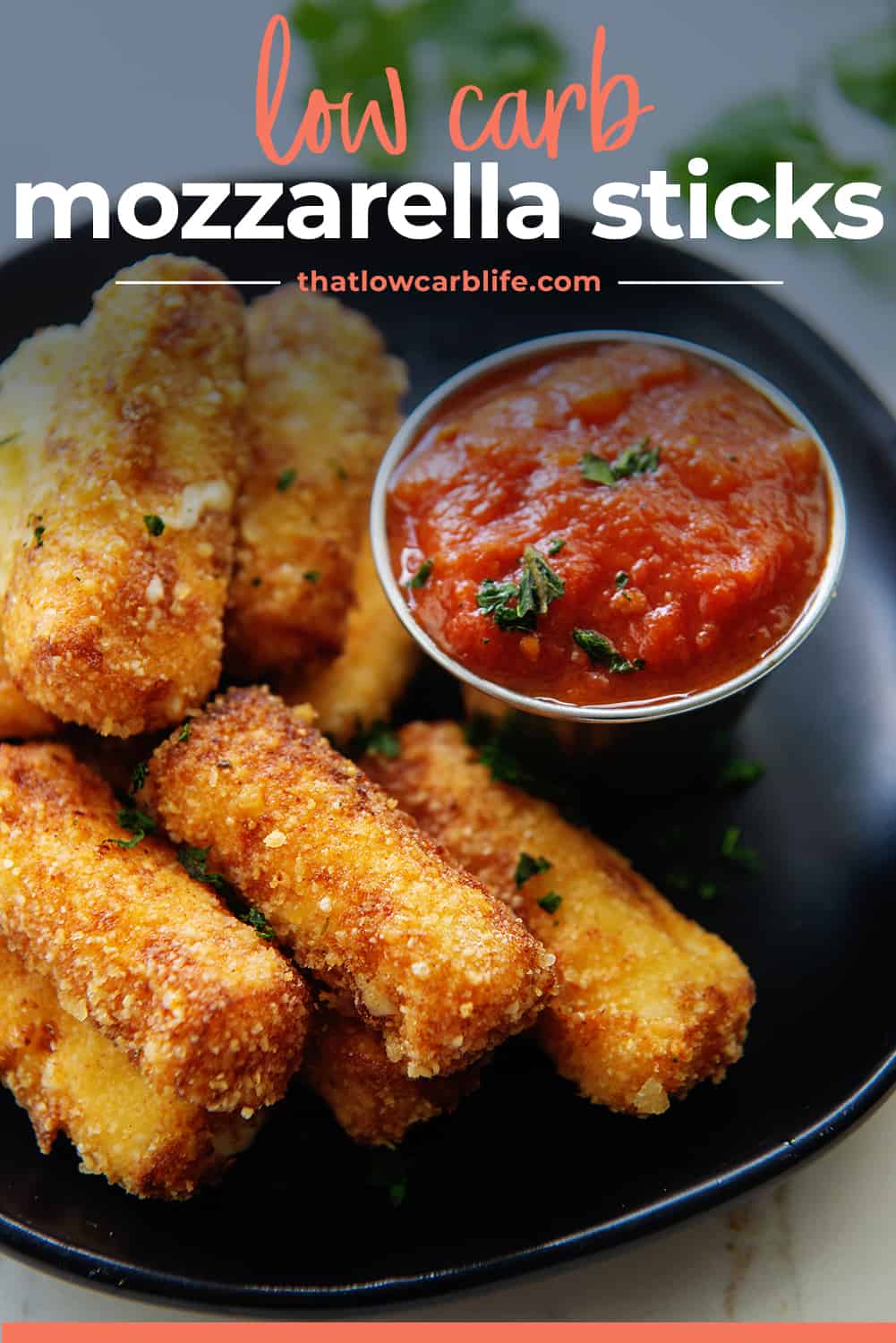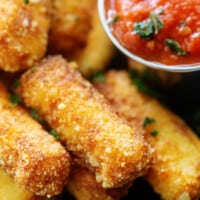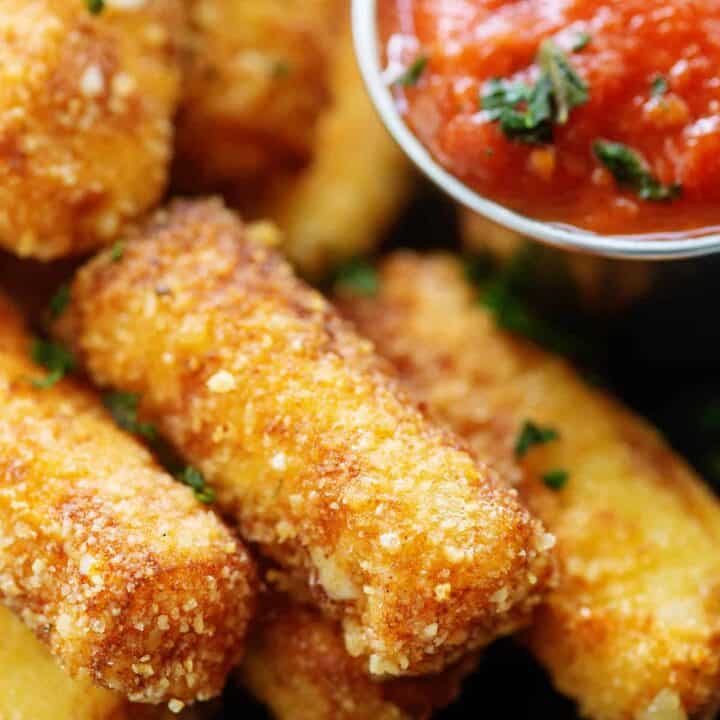 Keto Mozzarella Sticks
These keto mozzarella sticks have that classic crispy breading with a melty, gooey cheesy center. We love these dunked in marinara or ranch for an easy appetizer or snack.
Total Time 1 hour 20 minutes
Ingredients
1 large egg
1/4 cup almond flour
1/8 cup grated Parmesan cheese
1 tablespoons coconut flour
1/2 teaspoon garlic salt
Oil, for frying
Instructions
Slice the string cheese in half to make 12 pieces.
Add the egg to a small bowl along with 1 tablespoon of water. Whisk well to combine.
Add the almond flour, Parmesan, coconut flour, and garlic salt to a second bowl and stir to combine.
Dip each string cheese into the egg to coat and then the almond flour mixture. Make sure to fully coat the string cheese in the breading.
Place breaded string cheese on a parchment lined baking sheet and place in the freezer for at least 1 hour.
Heat 1-2 inches of oil in a deep skillet over medium heat to 350 degrees.
Carefully place the cheese sticks into the oil, making sure they do not touch and you do not overcrowd the pan.
Fry for 1-2 minutes per side or until golden brown.
Remove cheese sticks to a paper towel lined plate to drain.
Serve with marinara or ranch dressing for dipping.
Notes
To store these mozzarella sticks for later, freeze as directed and then transfer to a freezer safe bag. Flash freezing on the sheet pan will prevent them from sticking together. Store in the freezer for up to 3 months and fry when ready to serve.
Nutrition information does not include dipping sauce.
Nutrition Information:
Yield: 4
Serving Size: 3 mozzarella sticks
Amount Per Serving:
Calories: 240
Total Fat: 19g
Saturated Fat: 7g
Trans Fat: 0g
Unsaturated Fat: 10g
Cholesterol: 83mg
Sodium: 538mg
Carbohydrates: 4g
Net Carbohydrates: 3g
Fiber: 1g
Sugar: 1g
Protein: 14g
All information and tools presented and written within this site are intended for informational purposes only. This information is provided as a courtesy and there is no guarantee that the information is accurate.