This Keto Chicken Bacon Ranch Casserole is a rich, cheesy low carb casserole that the whole family will love! Loaded with 2 types of cheese, chicken and bacon, and veggies! This one clocks in at 4 net carbs per serving!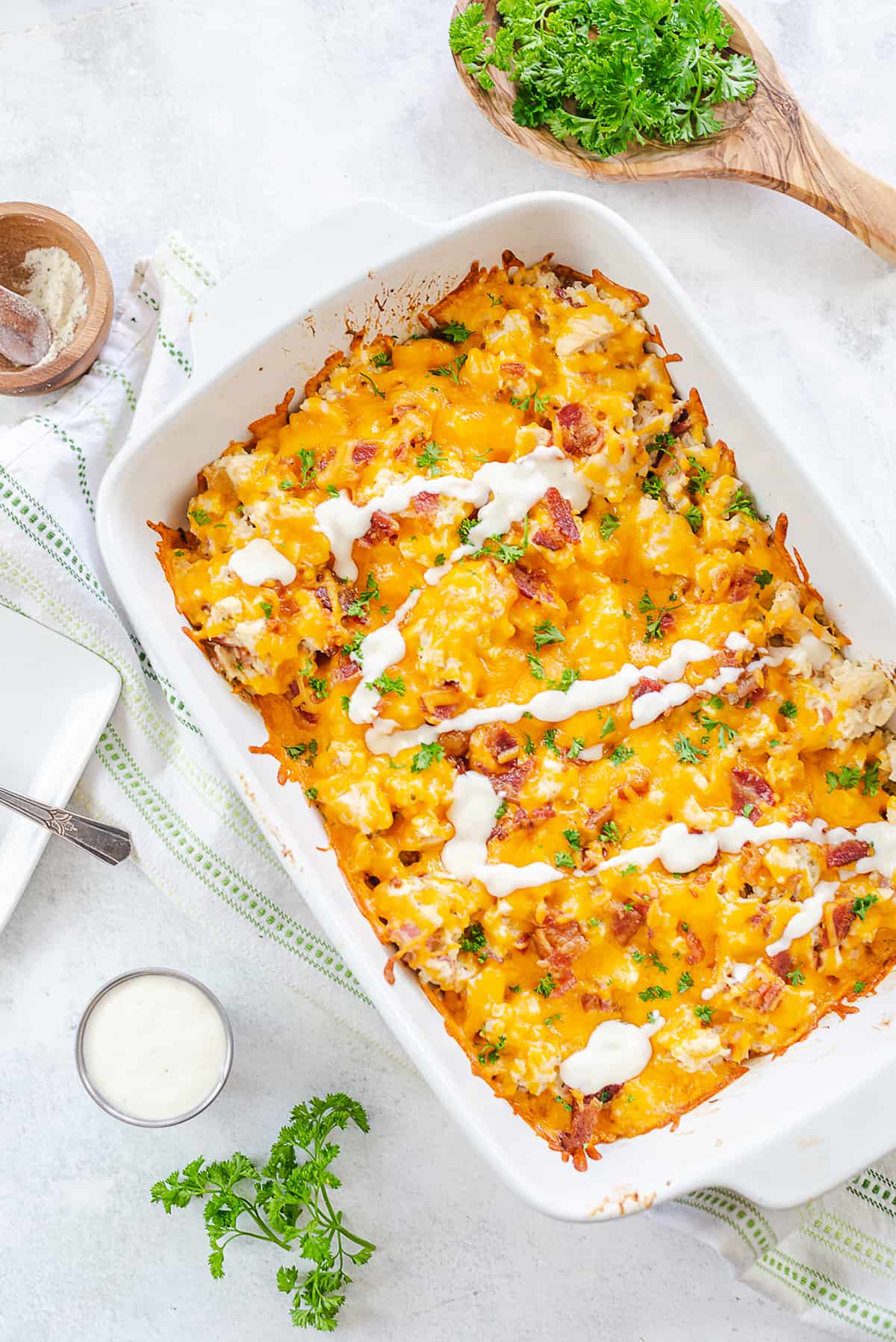 I'm a Midwestern girl and that means there is one important thing you should know about me…
I LOVE CASSEROLES.
We have a solid relationship, casseroles and I. We go way back.
And this keto casserole right here is one of the best, if you ask me! Loaded with chicken and bacon, cream cheese and cheddar, and ranch seasoning – what's not to love? We also snuck in some cauliflower rice to bulk things up and add some healthy veg to the whole dish.
Our spaghetti squash casserole, meatball casserole, and low carb chicken casserole are other family favorites. They've all got that cheesy, cozy, comfort food vibe that a good casserole brings to the table.
Ingredient Notes: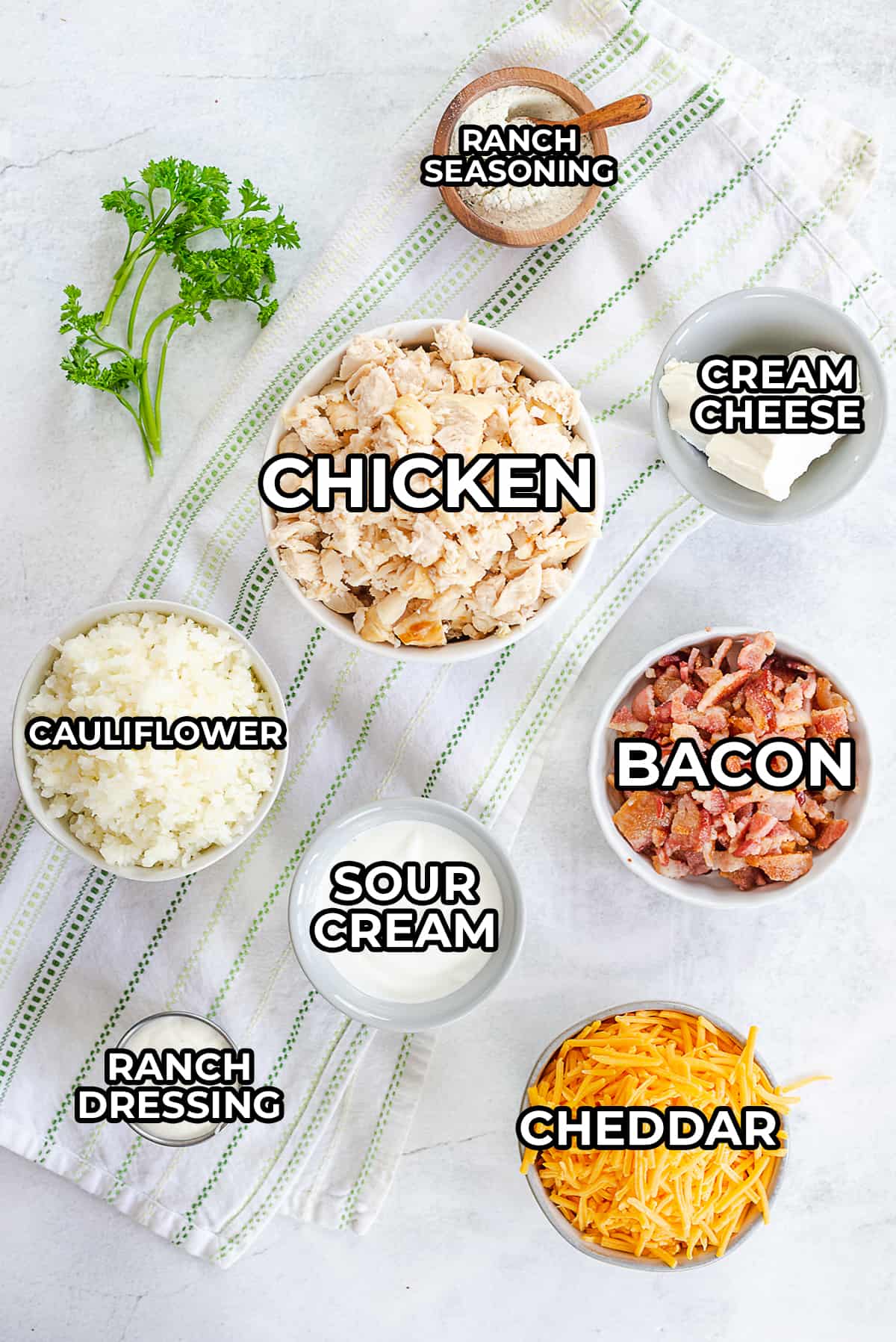 Chicken – You'll need some shredded, cooked chicken for this recipe. Use a rotisserie chicken, canned chicken, or leftover cooked chicken for this one.
Bacon – Fry and crumble up some bacon. We often fry a pound of bacon for breakfast and then pop the leftovers in the fridge to use in our dinner.
Cauliflower Rice – I'm using the frozen, steam-in-bag kind of cauliflower rice you can find at the store. It's quick and easy! You could also swap this out with cauliflower florets or broccoli florets if you prefer.
Ranch Dressing – You're going to prepare the ranch dressing yourself using some cream cheese, sour cream, and ranch seasoning!
Cheese – This cheesy casserole recipe gets topped off with lots of shredded cheddar cheese! Mozzarella would also work well in this dish.
Why We Love This Recipe:
Ultra rich and cheesy, so this dish is very filling.
Loaded with protein from the chicken and bacon.
Kids love the flavors of ranch and cheddar, so this is a win with the whole family.
How To:
Cauliflower – Microwave the frozen cauliflower rice in the bag for 3 minutes to get it started cooking. It won't be cooked through, but should be separated into individual pieces after 3 minutes. Drain any excess liquid and add the rice to a mixing bowl with the pre-cooked chicken and bacon.
Ranch Dressing – To prepare the ranch dressing you'll first need to soften some cream cheese. Microwave in a bowl for about 30 seconds or until it can easily be stirred. Add in the sour cream and the packet of ranch seasoning and stir it well until it is fully combined. This easy ranch mix is going to add lots of flavor and creaminess to the casserole!
Combine – When you've prepared the dressing go ahead and pour it into the mixing bowl with the cauliflower rice, chicken, and bacon. Stir it all up and then pour the mixture into a prepared 9×13 baking dish. Now just start sprinkling the casserole with all that shredded cheddar cheese and it's ready to bake!
Bake – This keto chicken bacon ranch casserole won't take long to bake in the oven, only about 20 minutes or until the cheesy topping has melted and the casserole is hot and bubbly! We like to serve it with a drizzle of ranch dressing and some chopped parsley to top it off. Serve it while it's good and hot!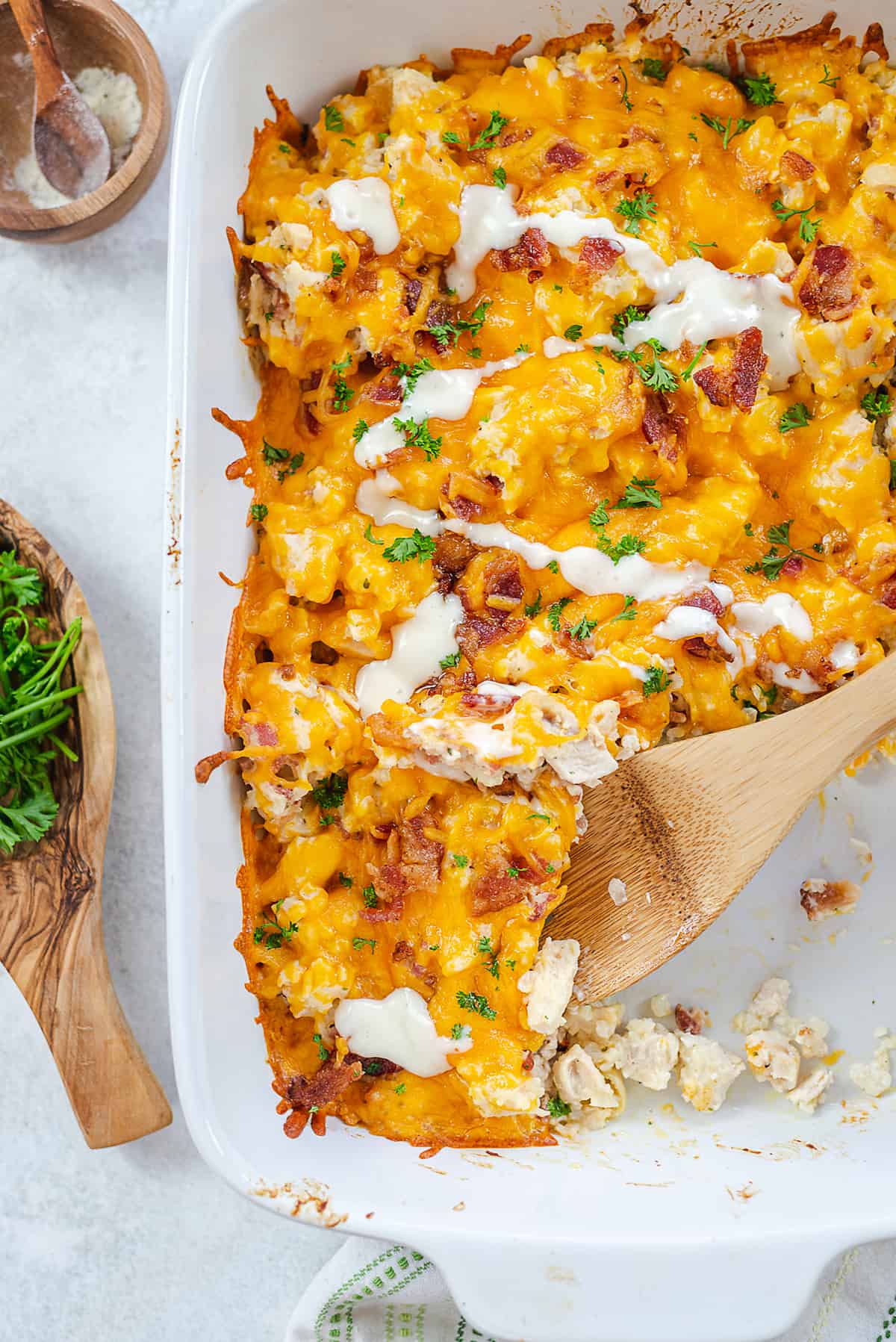 Helpful Tip!
Keep cooked, shredded chicken on hand for easy weeknight meals like this! We often cook 4-5 pounds of chicken breasts in the crockpot (low for 4-5 hours), shred it all up, and freeze in dinner sized portions in freezer bags. Just grab a bag from the freezer and let it thaw out in the fridge all day before making dinner.
FAQ's:
Can I store this casserole?
Cover the dish with plastic wrap or foil and keep refrigerated. Leftovers should keep for 3-4 days.
Can I use fresh cauliflower?
Fresh cauliflower will work great in this recipe. Chop or process the cauliflower into rice sized pieces and place in a microwave save bowl along with 2 tablespoons of water. Cover the dish tightly and microwave for 3 minutes. Drain the liquid and proceed with the recipe.
Make it a Meal!
Serve this casserole alongside a green salad tossed in our keto ranch dressing, keto thousand island, or homemade Italian dressing.
A garlic bread chaffle makes a great side too!
More Low Carb Casserole Recipes!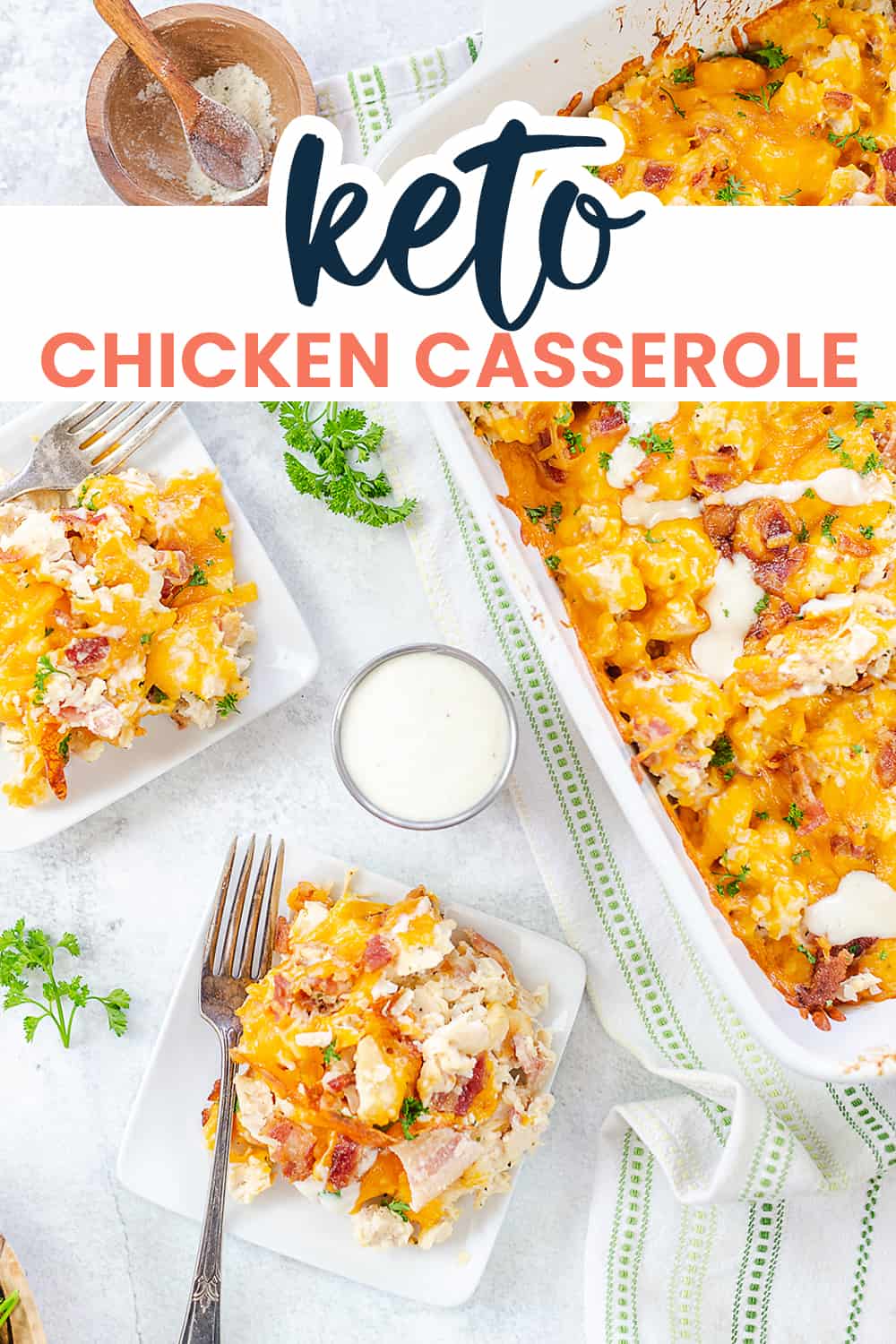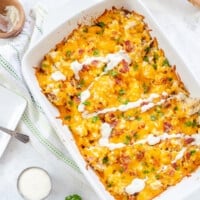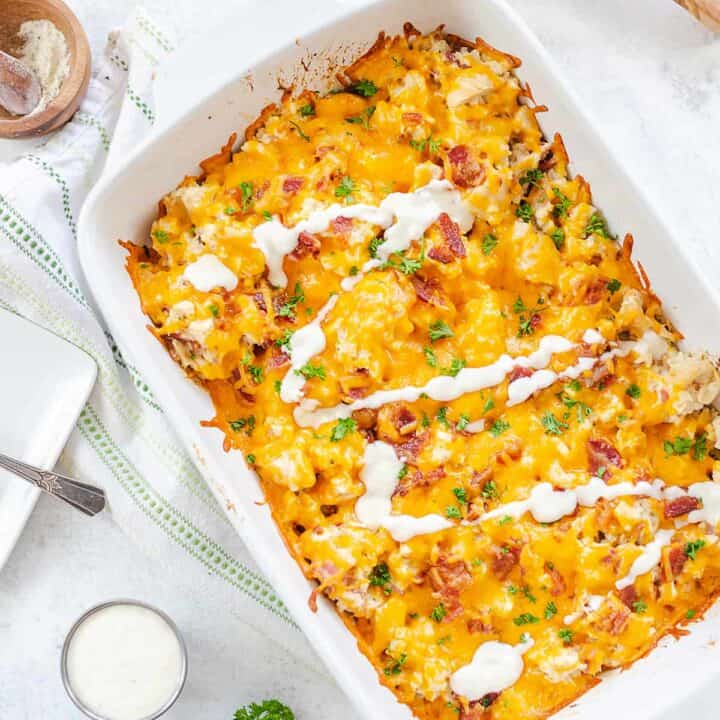 Keto Chicken Bacon Ranch Casserole
Loaded with chicken, bacon, ranch, and two kinds of cheese, this keto casserole is a family favorite. It's very filling thanks to all of the protein and fat. We like to serve this with a big salad on the side.
Ingredients
10 ounces frozen steam-in-bag cauliflower rice
4 cups cooked, shredded chicken
6 slices bacon, fried and crumbled
4 ounces cream cheese
½ cup sour cream
1 packet ranch dressing seasoning
2 cups shredded cheddar
Chopped parsley, for garnish
Ranch dressing, for serving
Instructions
Preheat oven to 350 degrees. Spray a 9x13 baking dish with nonstick spray.
Microwave the frozen cauliflower for 3 minutes. Cut open the side of the bag and drown out any excess liquid. Add cauliflower to a large mixing bowl.
Add the chicken and bacon to the bowl with the cauliflower.
Add the cream cheese to a small bowl and microwave for 30 seconds or until the cream cheese is easily stirred.
Add the sour cream and ranch seasoning to the cream cheese and stir well to combine.
Stir the ranch mixture into the cauliflower rice to combine. Pour mixture into prepared baking dish.
Top the casserole with the cheddar.
Bake for 20 minutes or until the cheese has melted and the casserole is hot and bubbly.
Sprinkle with parsley and serve with prepared ranch dressing drizzled over the top, if desired.

Notes
If using fresh cauliflower, chop or process it into rice sized pieces, place in a microwave safe bowl, and add 2 tablespoons water. Cover tightly and microwave for 3 minutes. Drain liquid and proceed with step 3.
Nutrition Information:
Yield: 8
Serving Size: 1 cup
Amount Per Serving:
Calories: 379
Total Fat: 27g
Saturated Fat: 12g
Trans Fat: 0g
Unsaturated Fat: 12g
Cholesterol: 111mg
Sodium: 538mg
Carbohydrates: 5g
Net Carbohydrates: 4g
Fiber: 1g
Sugar: 2g
Protein: 28g
All information and tools presented and written within this site are intended for informational purposes only. This information is provided as a courtesy and there is no guarantee that the information is accurate.