This GARLIC BREAD CHAFFLE is the perfect answer to your low carb garlic bread cravings! Loaded with garlic flavor, extra cheesy, and ready in about 10 minutes with no funky ingredients! You're going to love this twist on a traditional chaffle.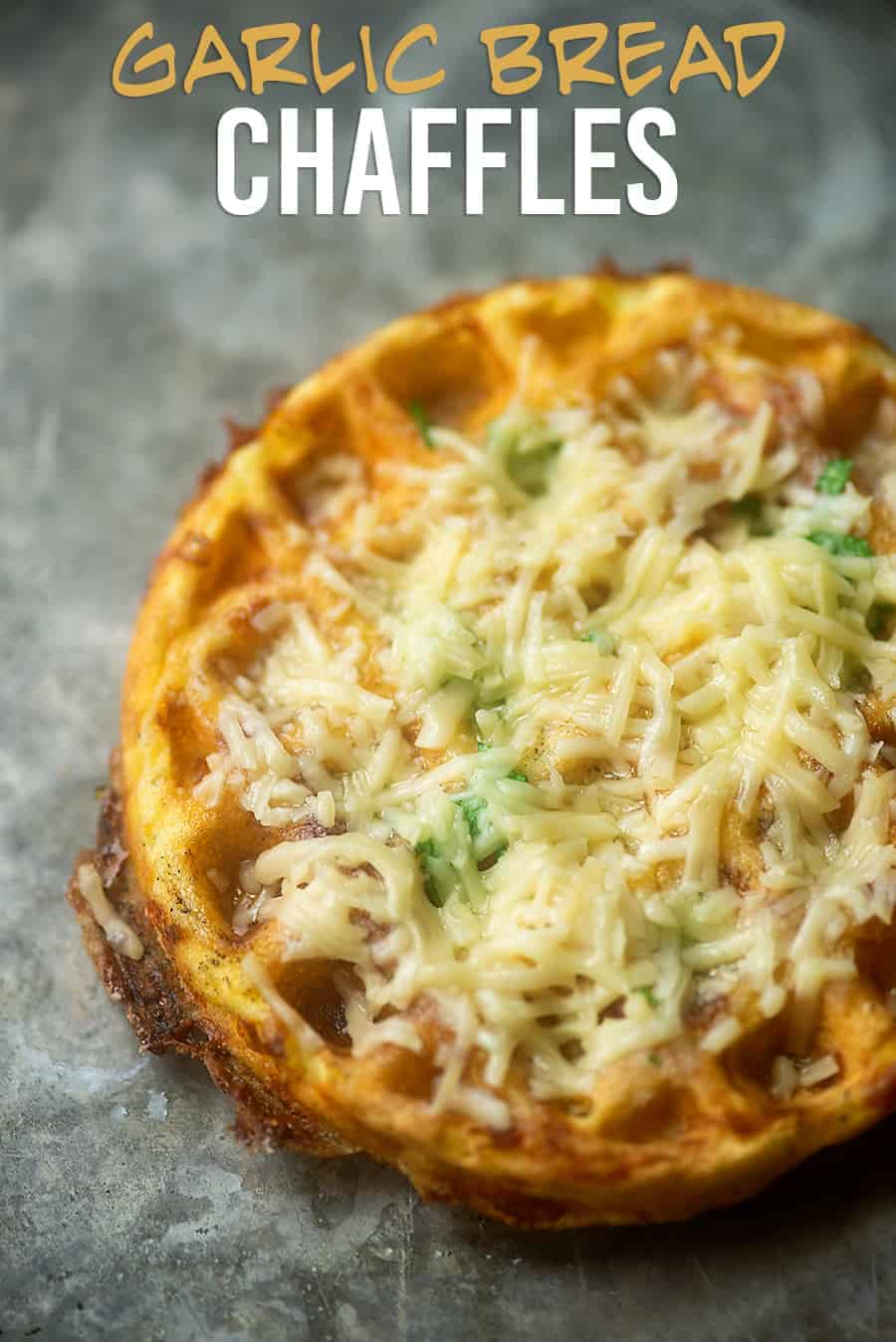 Hey, hey! I'm back with another chaffle recipe!
Not sure what chaffles are? Read here: Chaffles!
If you haven't already joined the Chaffle Week craziness, you better head over and join! It's a week of chaffle recipes delivered to your inbox, totally free! What are you waiting for?
I made my spaghetti squash Alfredo the other night for dinner and I just really had a craving for garlic bread to along with it. You can't have Italian without garic bread, right?
These garlic bread chaffles totally hit the spot and they are so darn easy to make.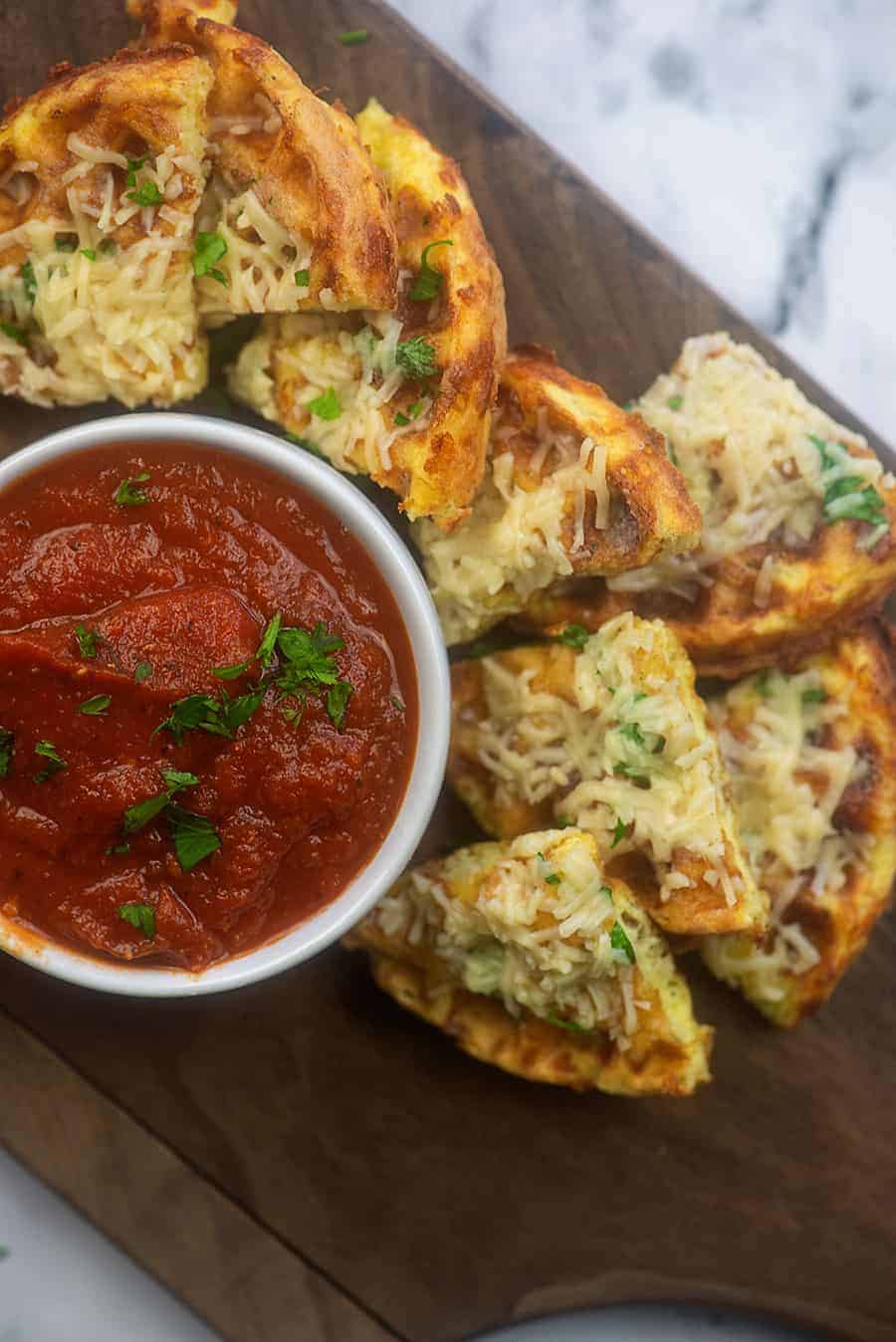 How to make garlic bread chaffles:
This post contains affiliate links.
A chaffle is just egg and cheese, but you can get so creative and add in all kinds of goodies!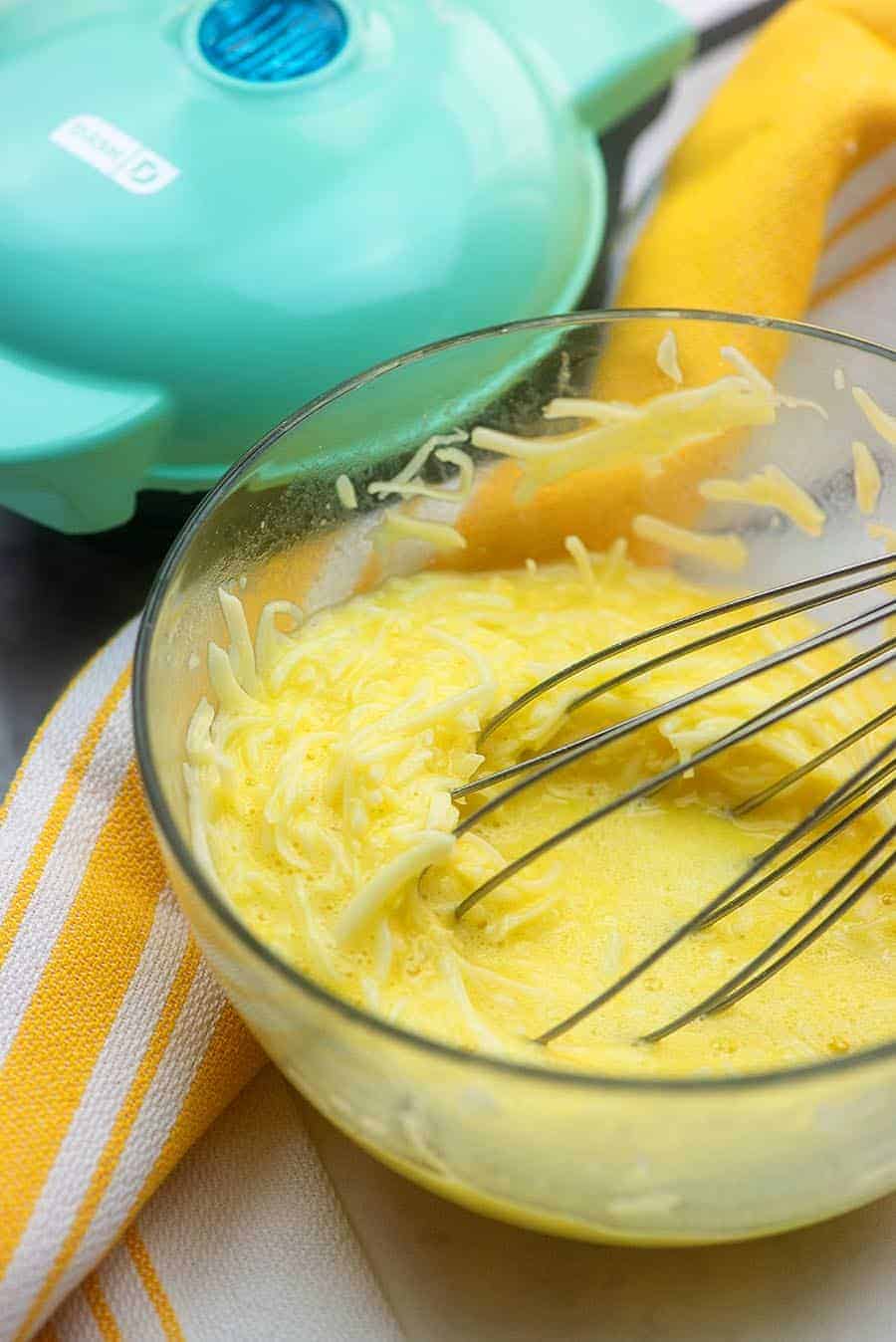 Today, we're giving it a garlic bread vibe, so whisk together your egg with a little coconut flour, baking powder, and garlic powder and then stir in some finely-shredded mozzarella.
The coconut flour and baking powder just help give this a more bread-like texture, but neither are mandatory. This recipe will work with just the egg, cheese, and spices if you don't want to buy special ingredients.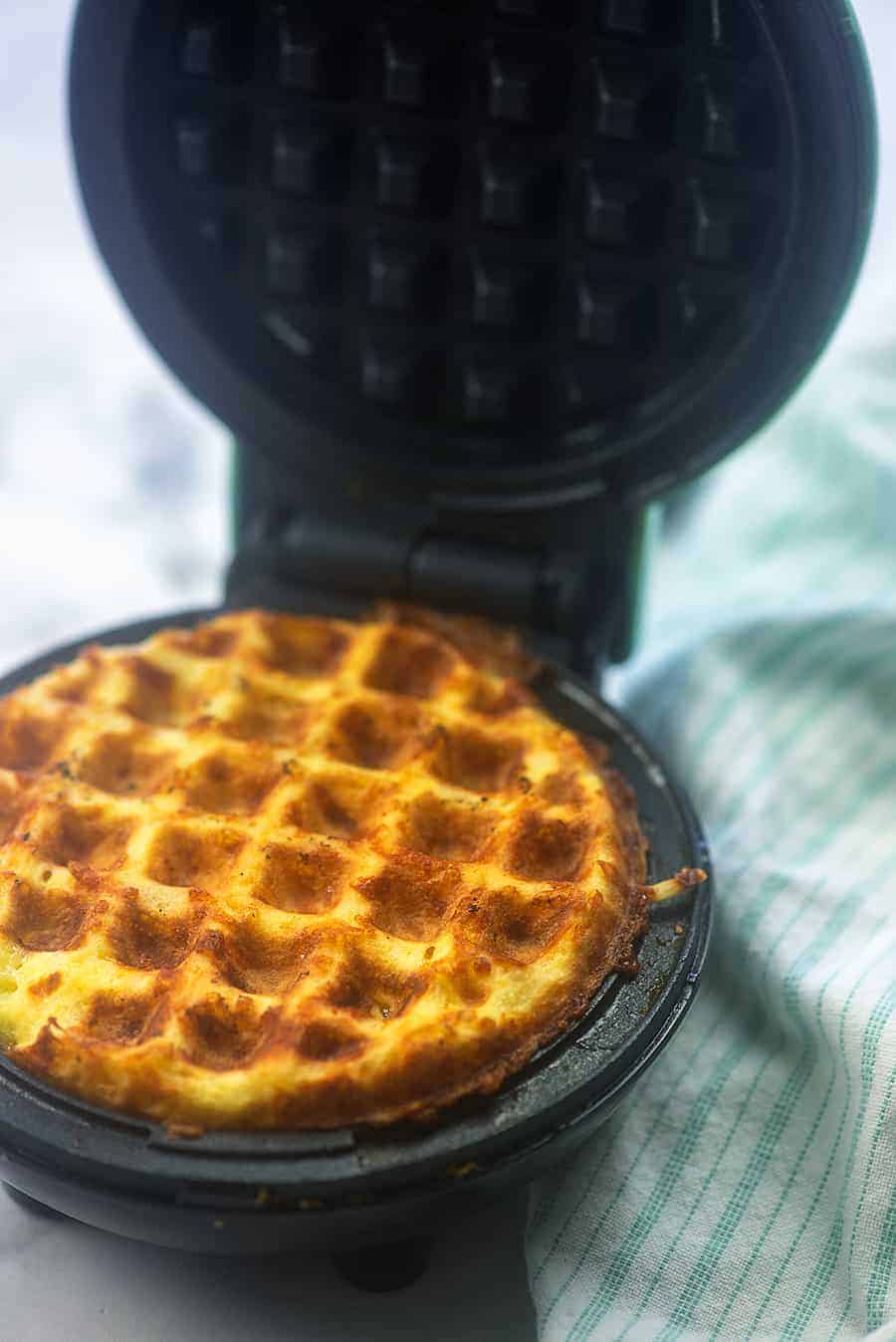 Once everything is whisked together, you'll pour half of the batter into your mini waffle maker and cook for about 3 minutes. You want to wait until your waffle maker stops steaming – that means your waffle will be nice and crisp on the outside!
Repeat with the rest of the batter and pop your chaffles on a baking sheet.
Whisk together some melted butter, parsley, and garlic salt to brush over the tops of the chaffles and then top them with some shredded Parmesan.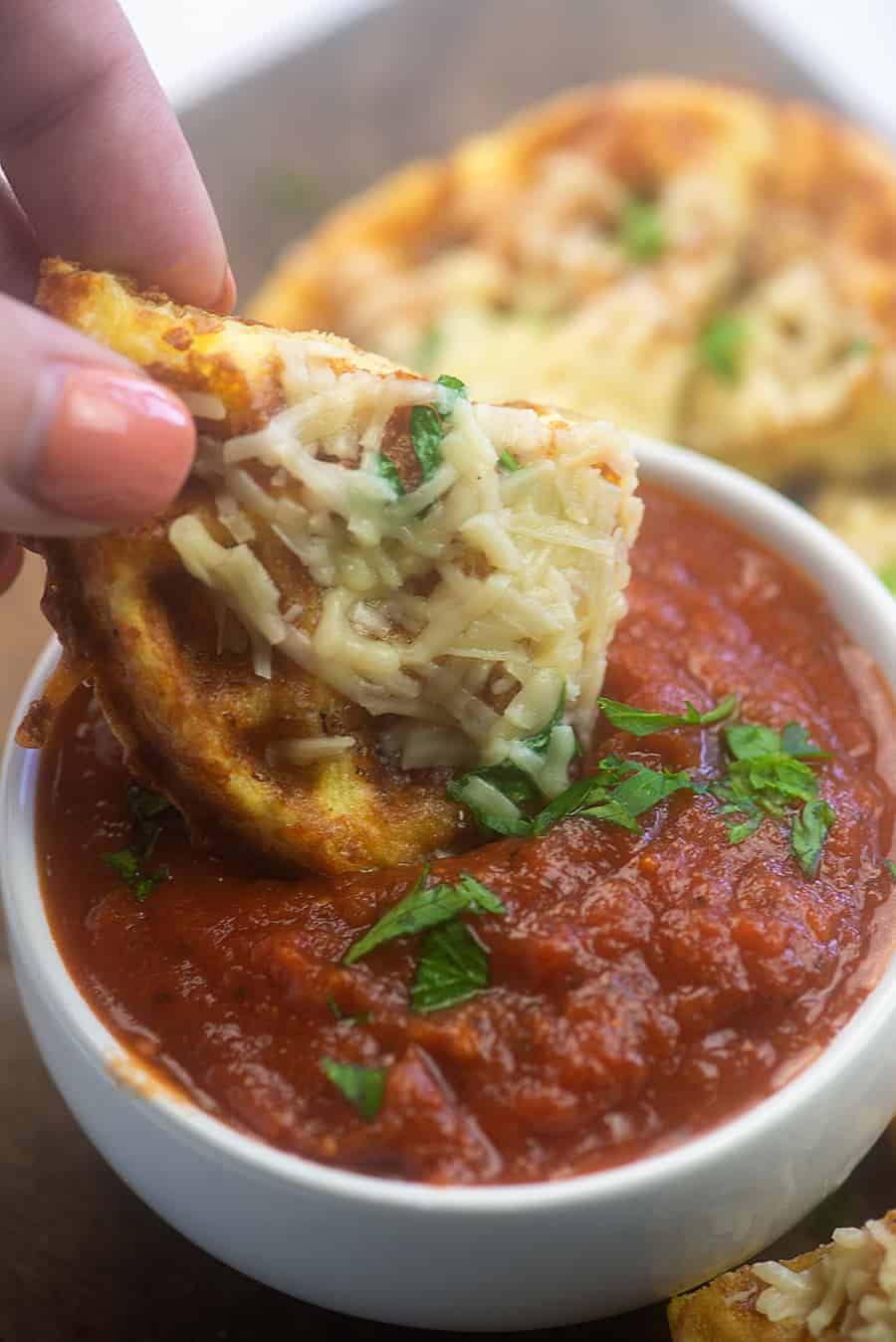 Pop these in a hot oven to melt the cheese and then dig in!
We like to cut into quarters and dip the chaffles in marinara. These would be divine dipped in keto Alfredo sauce too!
Our favorite marinara is this Rao's brand…it has the BEST flavor of any jarred pasta sauce I've ever tried plus it's sugar free.
What kind of waffle maker do you need?
You are going to want a mini waffle maker for this recipe.
I use the Dash Mini Waffle Maker.
Don't worry – you can order from Amazon for around $10 and I almost guarantee you won't regret the purchase!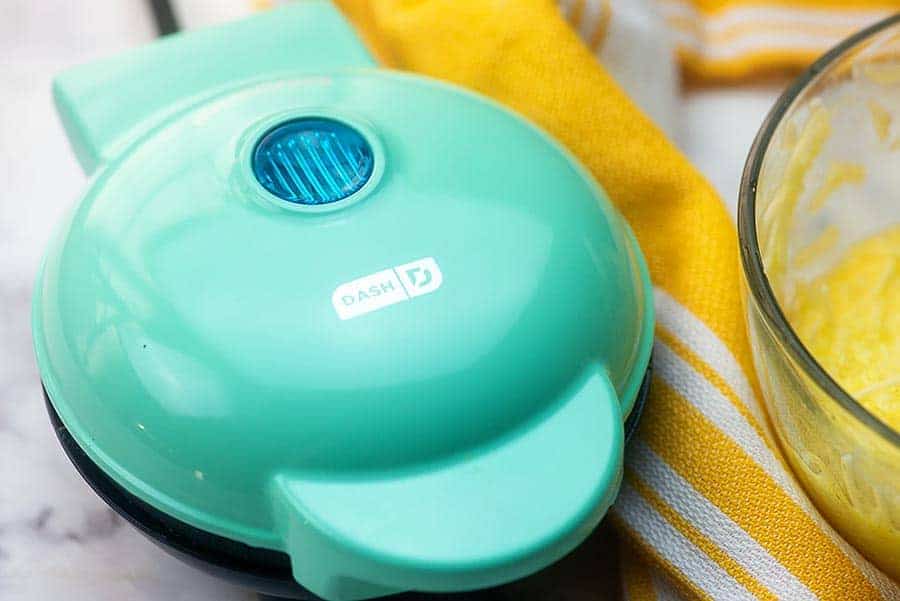 It heats quickly, cooks quickly, takes up barely any space, and it comes in a variety of cute colors. I have the aqua.
If you want to make more than 1 mini waffle at a time, check out this one:
If you plan to make chaffles for a family, this should work great! I haven't tried it myself, but plan to order because my kids are obsessed with chaffles too.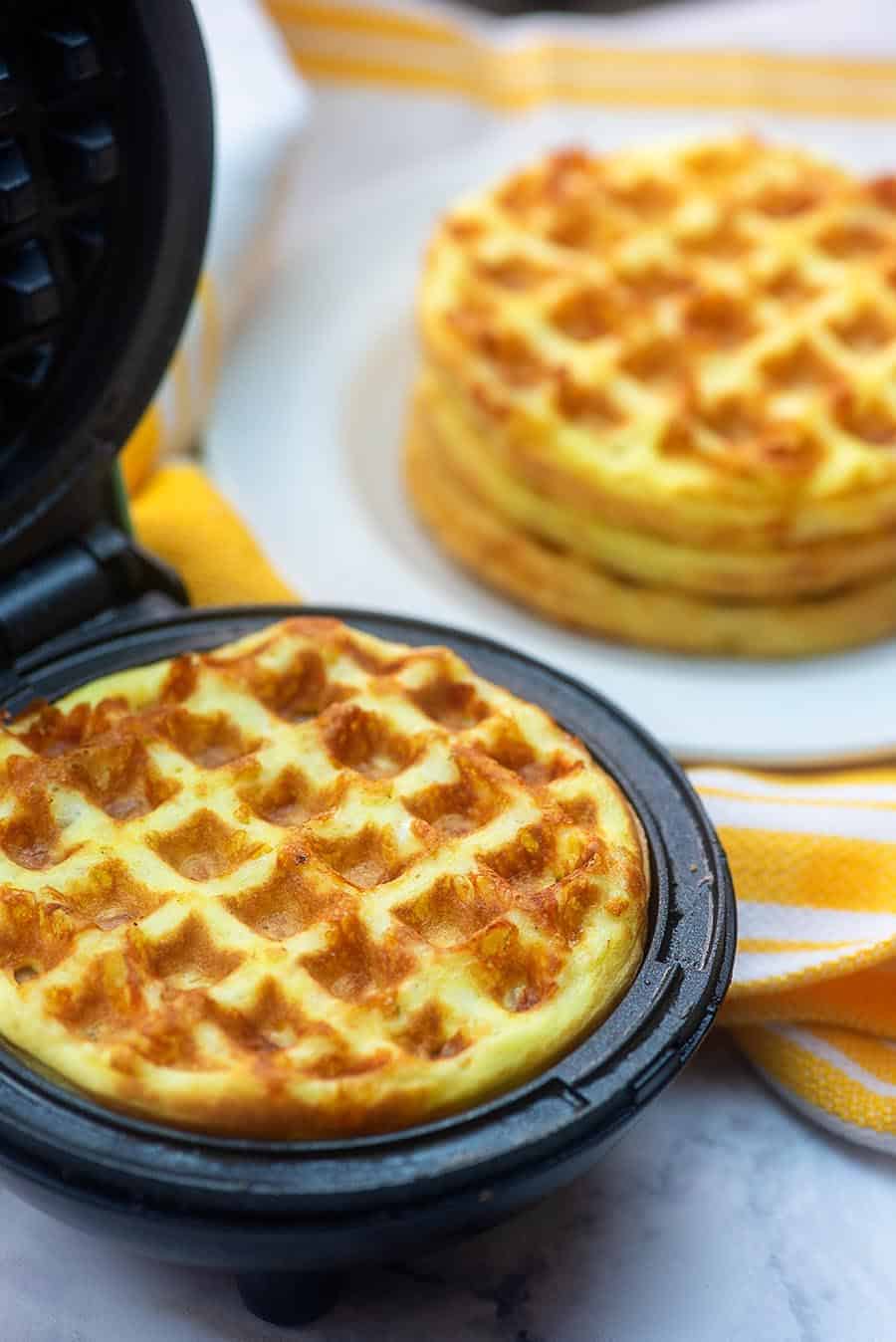 Chaffle Week!!
I love chaffles so much, that I made CHAFFLE WEEK! Get excited!
You'll get a new chaffle recipe every day for five days. Pumpkin Chaffles, Big Mac Chaffles, and more…you seriously don't want to miss out!
SIGN UP HERE for the free emails so you don't miss a single chaffle recipe! This is going to be so fun!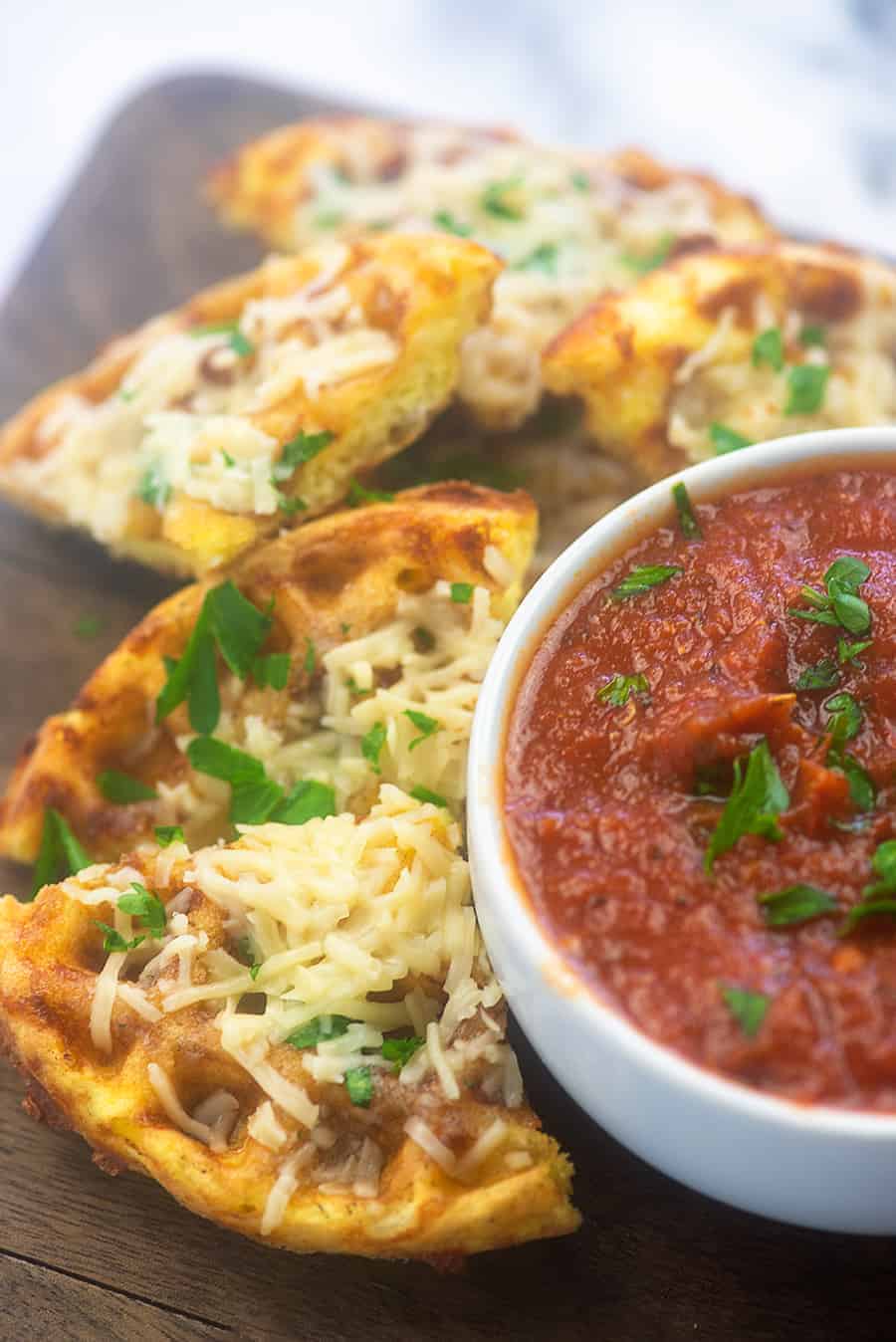 More low carb favorites to try:
Keto Salmon Recipe: Topped with garlic butter!
Spaghetti Squash Casserole: A favorote with my kiddos!
Pork Tenderloin: People are raving about this recipe!
Creamy Lemon Chicken: Always a hit in my house.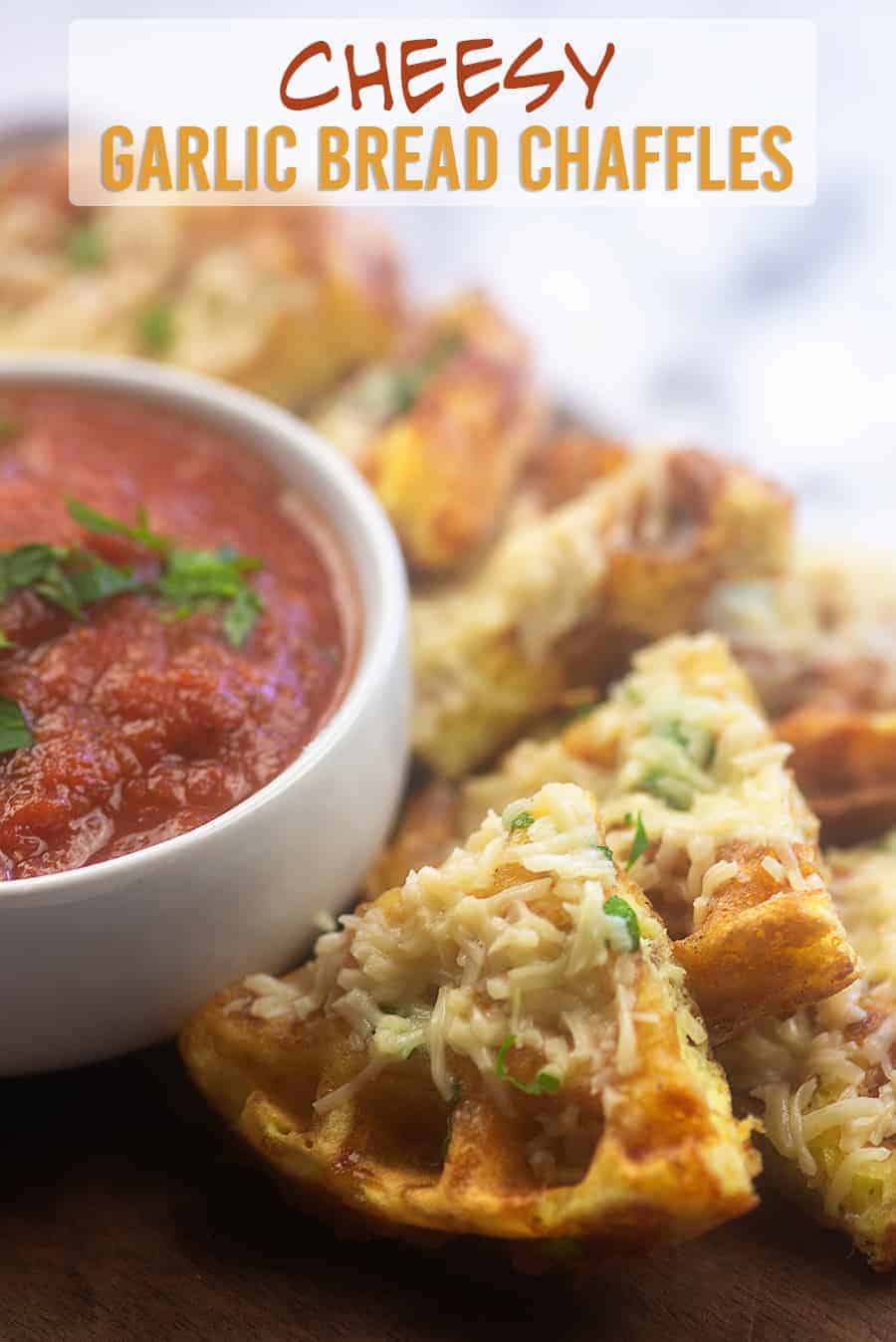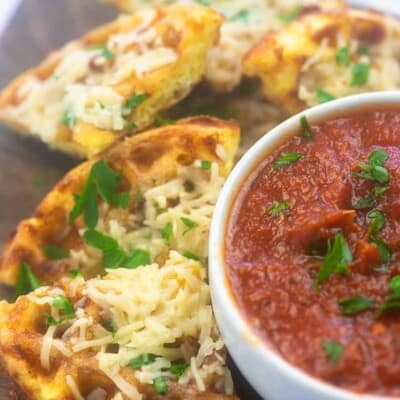 Garlic Bread Chaffle
Cheesy garlic bread made in minutes thanks to your waffle maker!
Prep5 minutes
Cook10 minutes
Total15 minutes
Ingredients
1 large egg
1/2 cup finely shredded mozzarella
1 teaspoon coconut flour
¼ teaspoon baking powder
½ teaspoon garlic powder
1 tablespoon butter melted
1/4 teaspoon garlic salt
2 tablespoons Parmesan
1 teaspoon minced parsley
Instructions
Plug in your mini waffle iron to preheat. Preheat oven to 375 degrees.

Add the egg, mozzarella, coconut flour, baking powder, and garlic powder to a mixing bowl and whisk well to combine.

Pour half of the chaffle batter into the waffle iron and cook for 3 minutes or until the steam stops. Place the chaffle on a baking sheet.

Repeat with the remaining chaffle batter.

Stir together the butter and garlic salt and brush over the chaffles.

Top the chaffles with the Parmesan.

Place the pan in the oven for 5 minutes to melt the cheese.

Sprinkle with parsley before serving.
Tips & Notes:
The garlic salt does make these a bit salty - feel free to swap in fresh minced garlic or garlic powder, if you're watching salt.
Nutrition Information:
Serving: 1| Calories: 186kcal (9%)| Carbohydrates: 3g (1%)| Protein: 10g (20%)| Fat: 14g (22%)| Saturated Fat: 8g (50%)| Polyunsaturated Fat: 5g| Cholesterol: 127mg (42%)| Sodium: 590mg (26%)| Fiber: 1g (4%)| Sugar: 1g (1%)| Net Carbs: 2g (4%)