SPAGHETTI SQUASH ALFREDO is the low carb alternative to chicken Alfredo and it's every bit as delicious as the original! Spaghetti squash is a healthy substitute for pasta and it's really easy to prepare, too.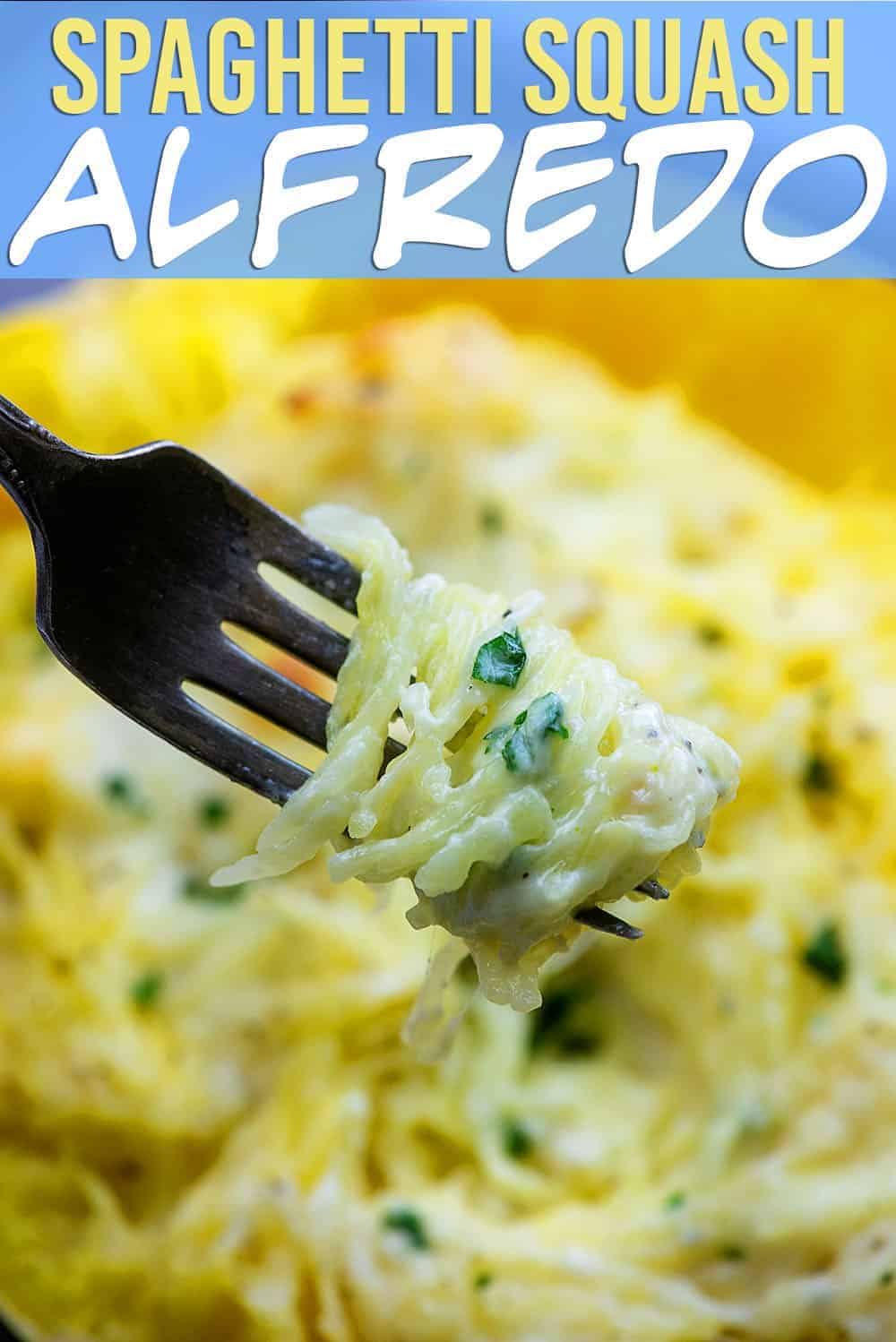 I remember the first time I attempted to make Alfredo sauce at home.
You guys…it was rough.
The recipe had me standing over a pot and stirring for over 30 minutes. It was ridiculous.
It tasted fine, but I never made that recipe again. Instead, I did a little research and learned that Alfredo sauce is suuuuuuuper easy and just needs 3 ingredients: butter, cream, and Parmesan.

My keto Alfredo sauce is total perfection and it sure doesn't taste like diet food. 😉 It's perfect over spaghetti squash too!
How to make Spaghetti Squash Alfredo:
To start, you'll want to get your spaghetti squash ready.
There are a couple of ways to cook spaghetti squash, but I prefer to cook it in the Instant Pot.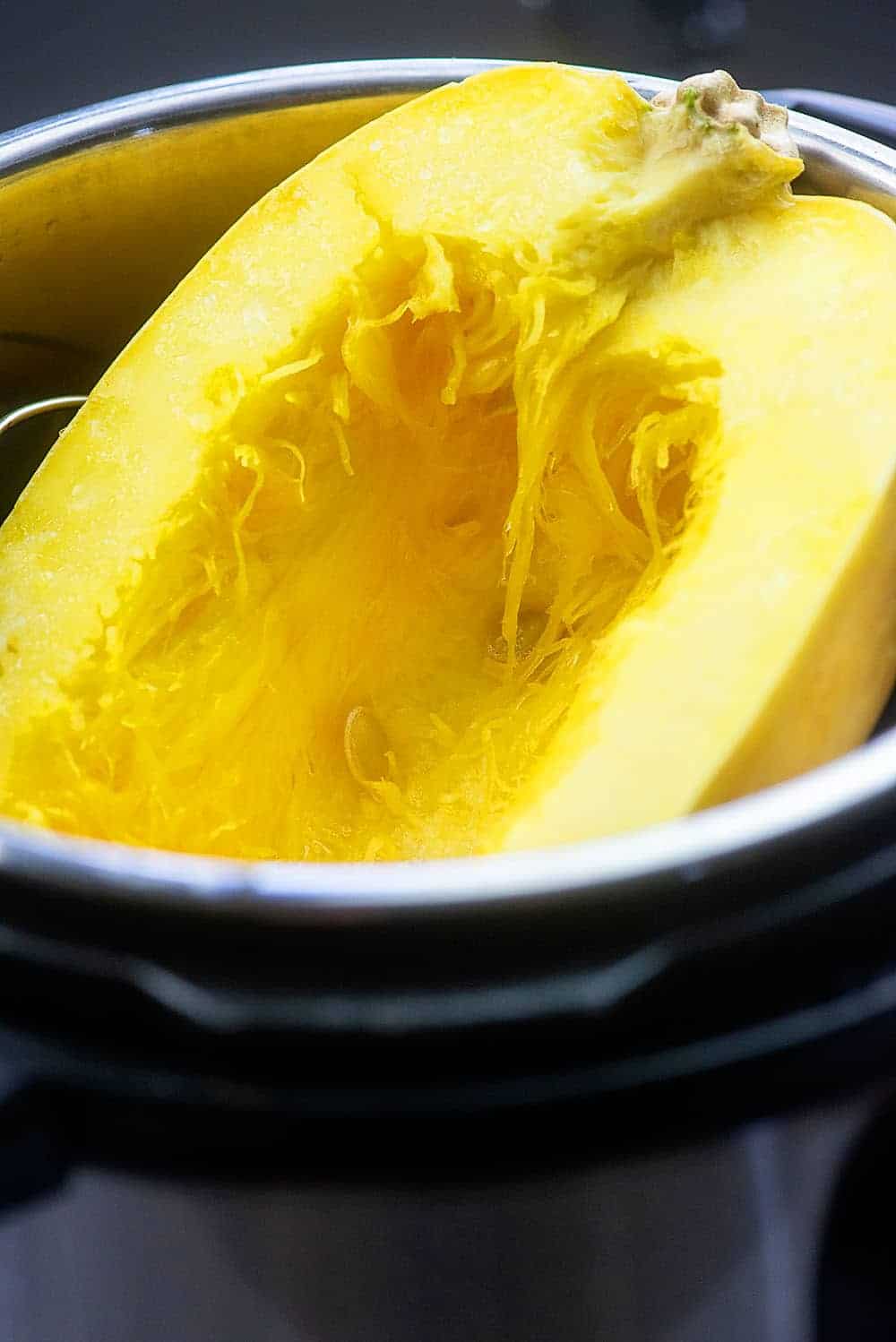 You just slice the squash in half, remove the seeds, and then pressure cook for 7 minutes. Check it out: Instant Pot Spaghetti Squash
If you don't have an Instant Pot, slice your squash in half, remove the seeds, and season with a little salt.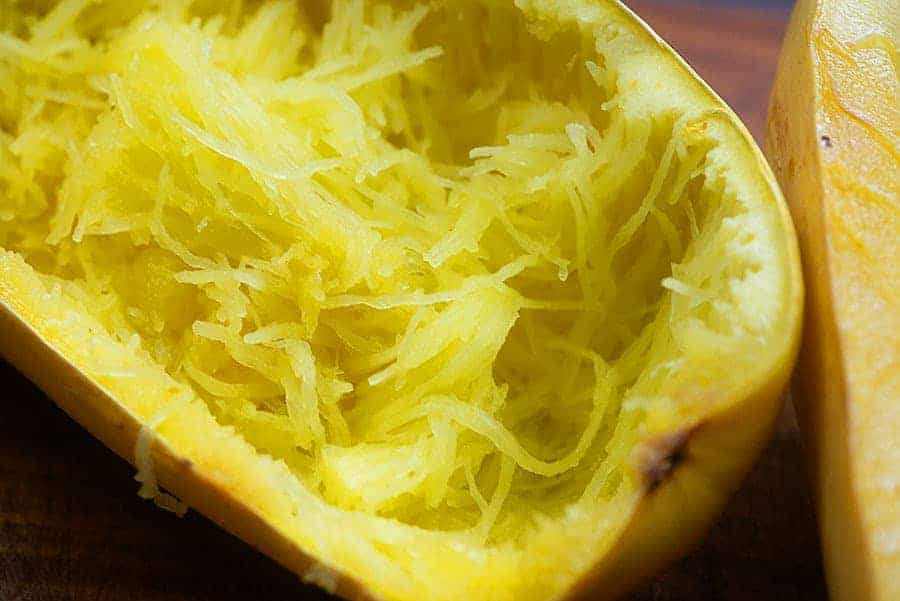 Place the squash face down on a cookie sheet and roast at 400 degrees for about an hour.
Scrape the strands of squash out and get that Alfredo sauce ready!
Low carb alfredo sauce:
To make the Alfredo sauce, melt a stick of butter in a small sauce pan with some heavy cream.
Once the butter and cream are hot, stir in some garlic and shredded Parmesan cheese. Keep whisking until the cheese has fully melted.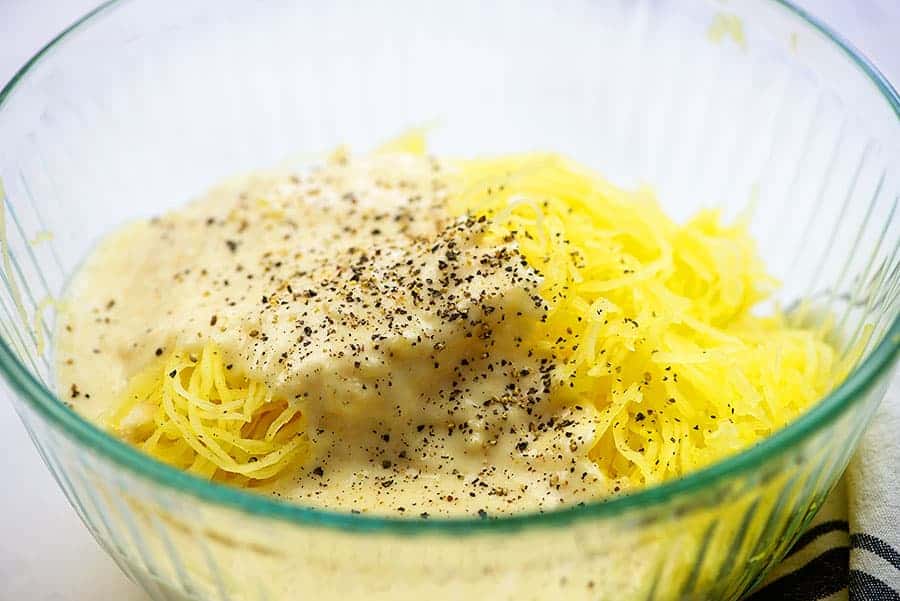 Season the Alfredo sauce with salt and pepper and then pour it over the strands of spaghetti squash and toss.
You can add chicken if you want spaghetti squash chicken Alfredo!
Spaghetti Squash Boat:
You could go ahead and dig in once your squash is coated in the Alfredo sauce, but we really like to take this just a bit further.
Place the spaghetti squash back in the empty squash shell and then top it off with a handful of shredded mozzarella.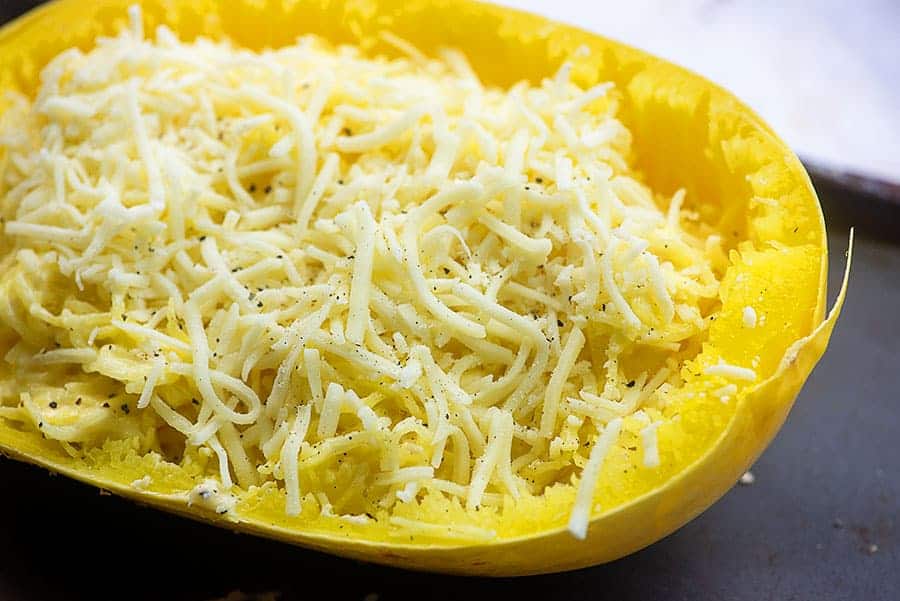 Pop this in the oven for about 10 minutes to melt the mozzarella and then sprinkle on some parsley.
Dig in!
This spaghetti squash Alfredo is so decadent and cheesy, but it's also perfect for a low carb or keto diet!
We eat this one quite a bit and it's loved by my whole family.
Serve with a side salad topped off with my homemade ranch dressing!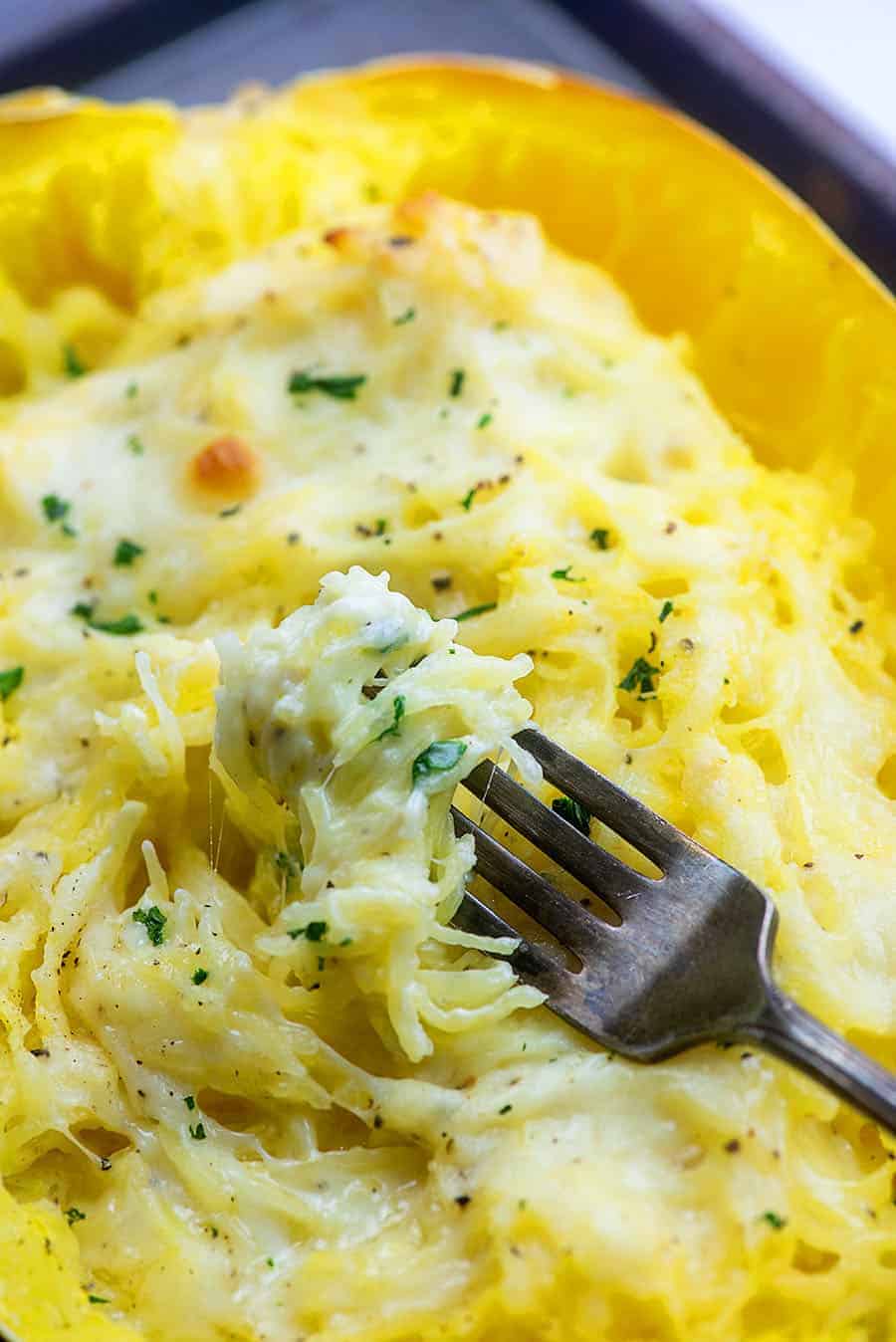 More spaghetti squash recipes:
Spaghetti Squash Casserole: Probably our favorite way to enjoy spaghetti squash!
Spaghetti Squash with Bacon and Garlic: Love the flavors here!
Spaghetti Squash Lasagna Casserole: This looks absolutely delicious!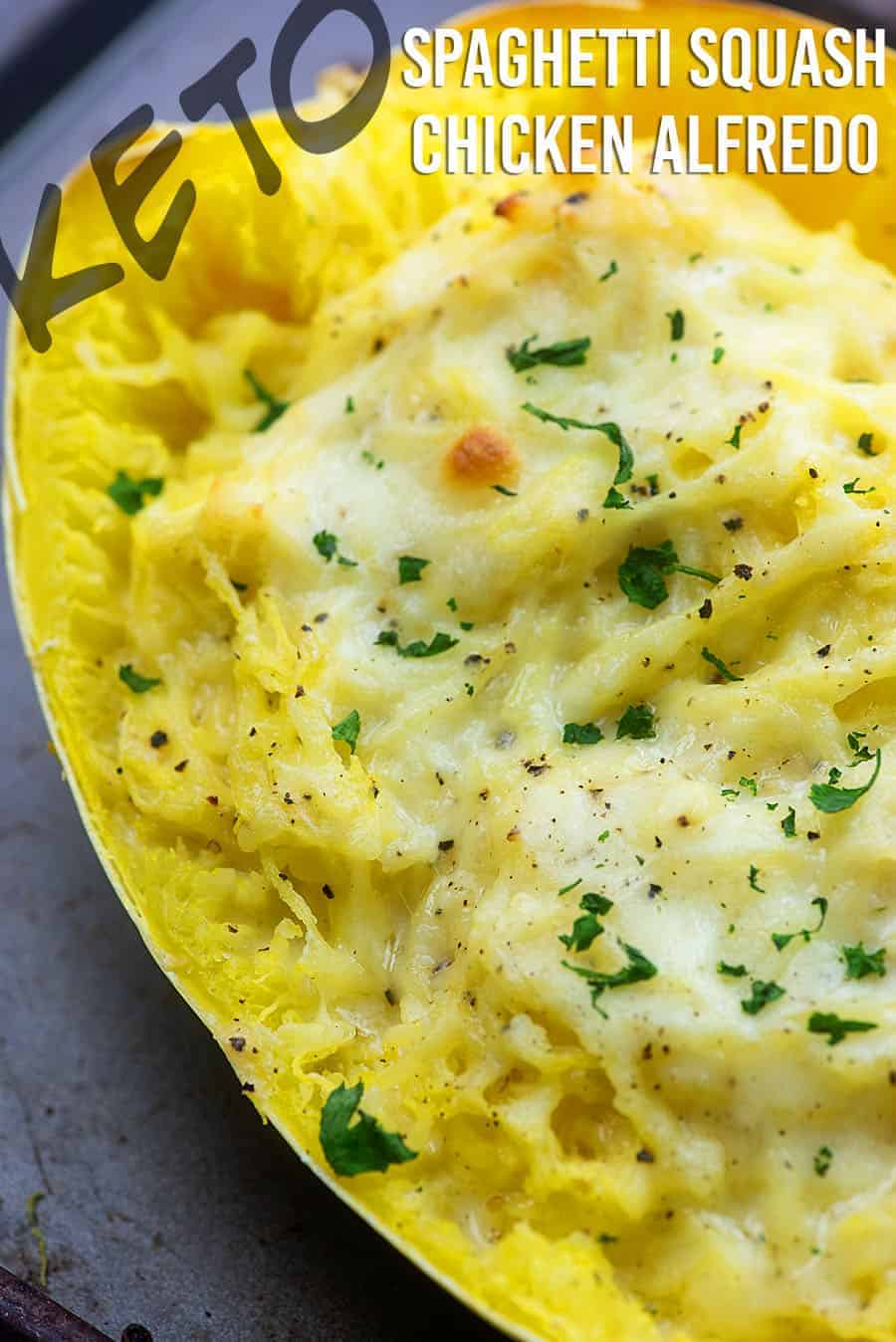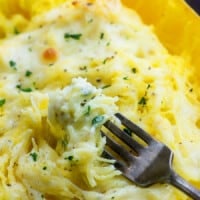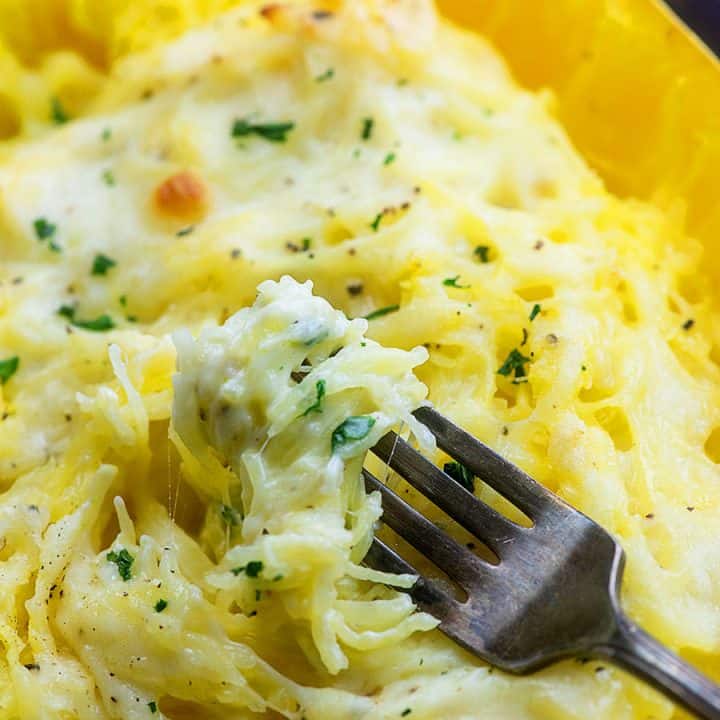 Spaghetti Squash Alfredo
Creamy Alfredo sauce pairs so well with earthy spaghetti squash and it makes a great low carb dinner for the whole family!
Cook Time 1 hour 15 minutes
Total Time 1 hour 30 minutes
Ingredients
1 whole spaghetti squash, about 3 pounds
1/2 cup butter
1 cup heavy cream
1 clove garlic, minced
1/2 teaspoon cracked pepper
1/4 teaspoon salt
2 cups shredded Parmesan
1 cup shredded mozzarella
1 teaspoon minced fresh parsley
Instructions
To cook the spaghetti squash:
To cook in the oven, preheat oven to 400 degrees. Cut the squash in half length-wise and scoop out the seeds with a spoon. Discard the seeds. Drizzle with olive oil and place face down on a baking sheet. Bake for 1 hour or until squash is fork tender.
To cook in the Instant Pot, follow these directions.
Once squash is cooked, shred the squash into long spaghetti-like strands by using a fork to scrape the squash widthwise.
To make the Alfredo sauce:
Melt the butter in a sauce pan over medium heat.
Once butter has melted, add the cream, garlic, salt, and pepper and bring to a simmer.
Turn off the heat and add the shredded Parmesan to the pan. Whisk until the cheese has melted and the sauce is smooth and creamy.
To assemble:
Pour the Alfredo sauce over the squash and stir to coat.
Spoon the squash into the empty squash halves. Sprinkle with the mozzarella. Alternately, add to a 9x9 baking dish.
Bake at 350 degrees for 10 minutes.
Sprinkle with parsley before serving.
Notes
Top with grilled chicken, if desired.
Recommended Products
As an Amazon Associate and member of other affiliate programs, I earn from qualifying purchases.
Nutrition Information:
Yield: 8
Serving Size: 1
Amount Per Serving:
Calories: 352
Total Fat: 30g
Saturated Fat: 19g
Trans Fat: 1g
Unsaturated Fat: 9g
Cholesterol: 86mg
Sodium: 600mg
Carbohydrates: 10g
Net Carbohydrates: 8g
Fiber: 2g
Sugar: 4g
Sugar Alcohols: 0g
Protein: 12g
All information and tools presented and written within this site are intended for informational purposes only. This information is provided as a courtesy and there is no guarantee that the information is accurate.