Our Spaghetti Squash Carbonara is made with a rich, silky smooth and creamy homemade carbonara sauce that's loaded with bacon and garlic! The earthy, sweet flavor of the spaghetti squash pairs perfectly with this sauce and will keep you coming back for more!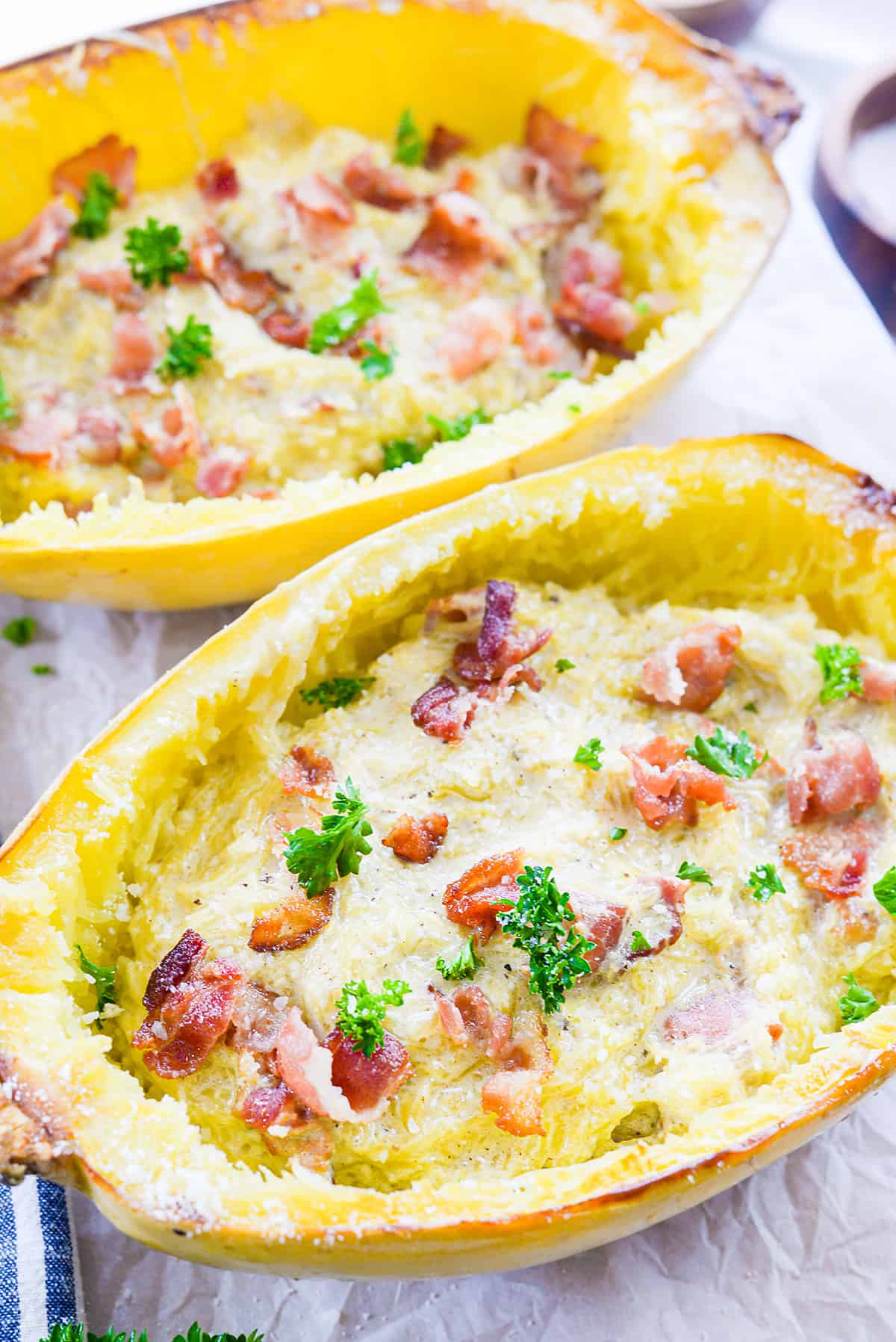 Everyone in my family loves pasta, which can be a bummer for them since I'm the one usually doing the cooking and I don't make a whole lot of pasta for dinner. 😉
I do like to keep my family happy though, and that's where this Spaghetti Squash Carbonara comes into play!
We the love sweet, earthy strands of spaghetti squash as a pasta substitute. No, it doesn't taste the same as wheat pasta, but it has a similar vibe and you can use it as a vehicle for most of your favorite sauces! Like our keto Alfredo sauce or some homemade spaghetti sauce.
This time around we went the carbonara route. Before you start yelling at me, I'll just get this out of the way: This is not an authentic carbonara, because you need a bit of that starchy pasta water to make the sauce. We have no starchy pasta water, so we're using cream in it's place.
We've also used bacon instead of the traditional guanciale (hard to find where I'm from), added garlic because it's garlic and and we must follow our hearts, and sprinkled in parsley because we like the flavor and pop of color.
So, no, this is not the spaghetti carbonara you would get in Italy, but it's a darn good substitute, with a simple but rich and creamy sauce that will have you making this dish again and again! And, hey, it's low carb too!
Ingredient Notes:
This post contains affiliate links. As an Amazon associate and member of other affiliate programs, I earn from qualifying purchases.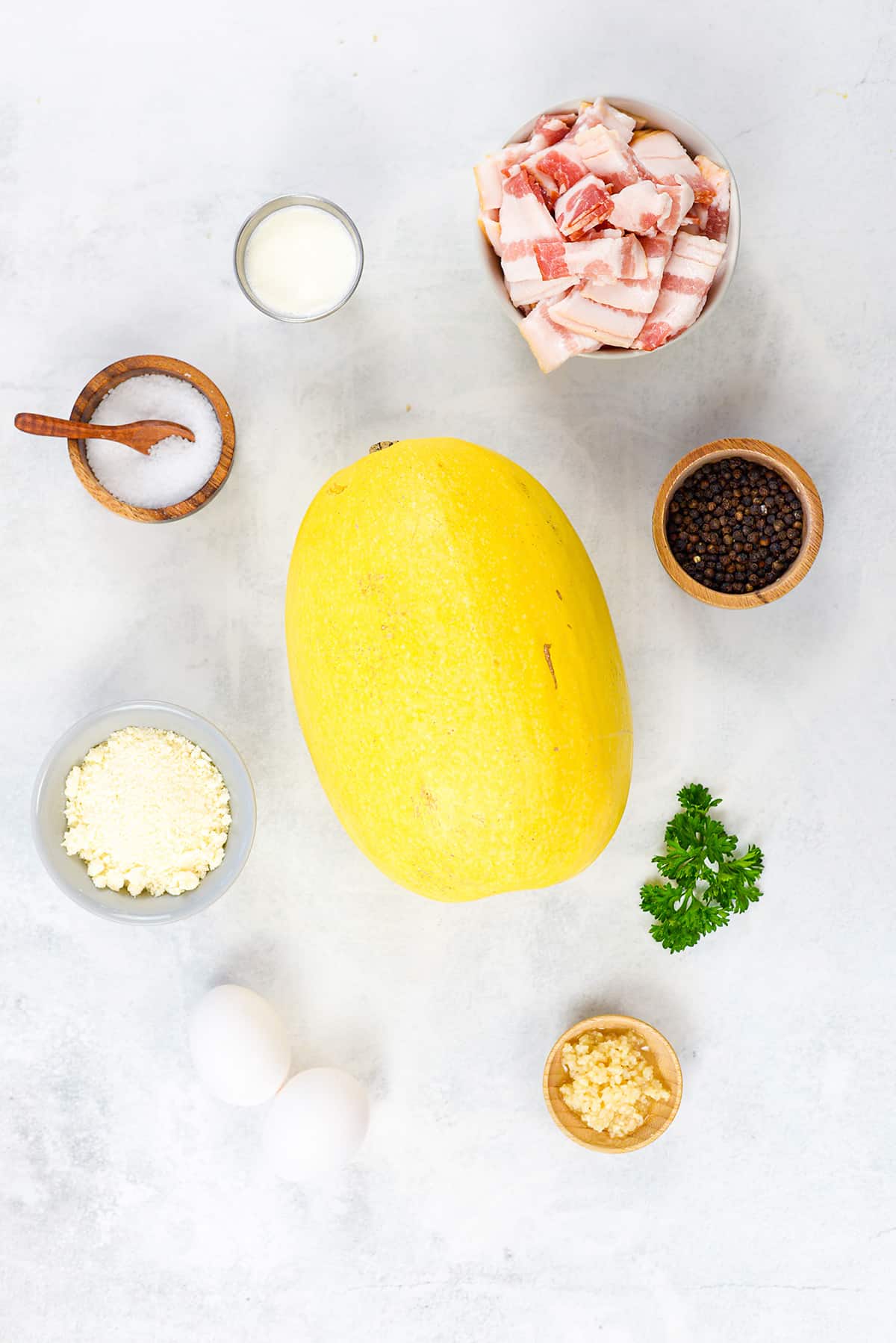 Spaghetti Squash – You'll need a whole uncooked large spaghetti squash! I'm baking it for this recipe but you can also prepare it with an Instant Pot or even an air fryer. See the how to make section below for more details.
Pecorino Romana – You want finely grated/powdery cheese here. You can swap in Parmesan if that's easier for you to find.
Carbonara Sauce – You'll also need bacon, heavy cream, garlic, kosher salt, pepper, and egg yolks! The yolks will help to give this creamy sauce a rich, silky smooth taste and texture.
Why We Love This Recipe:
We love Italian recipes but most of them are not low carb! This is a great way to enjoy some Italian inspired flavors without the worry.
The homemade carbonara sauce is perfectly silky smooth and rich thanks to the egg and heavy cream!
How To Make Spaghetti Squash Carbonara: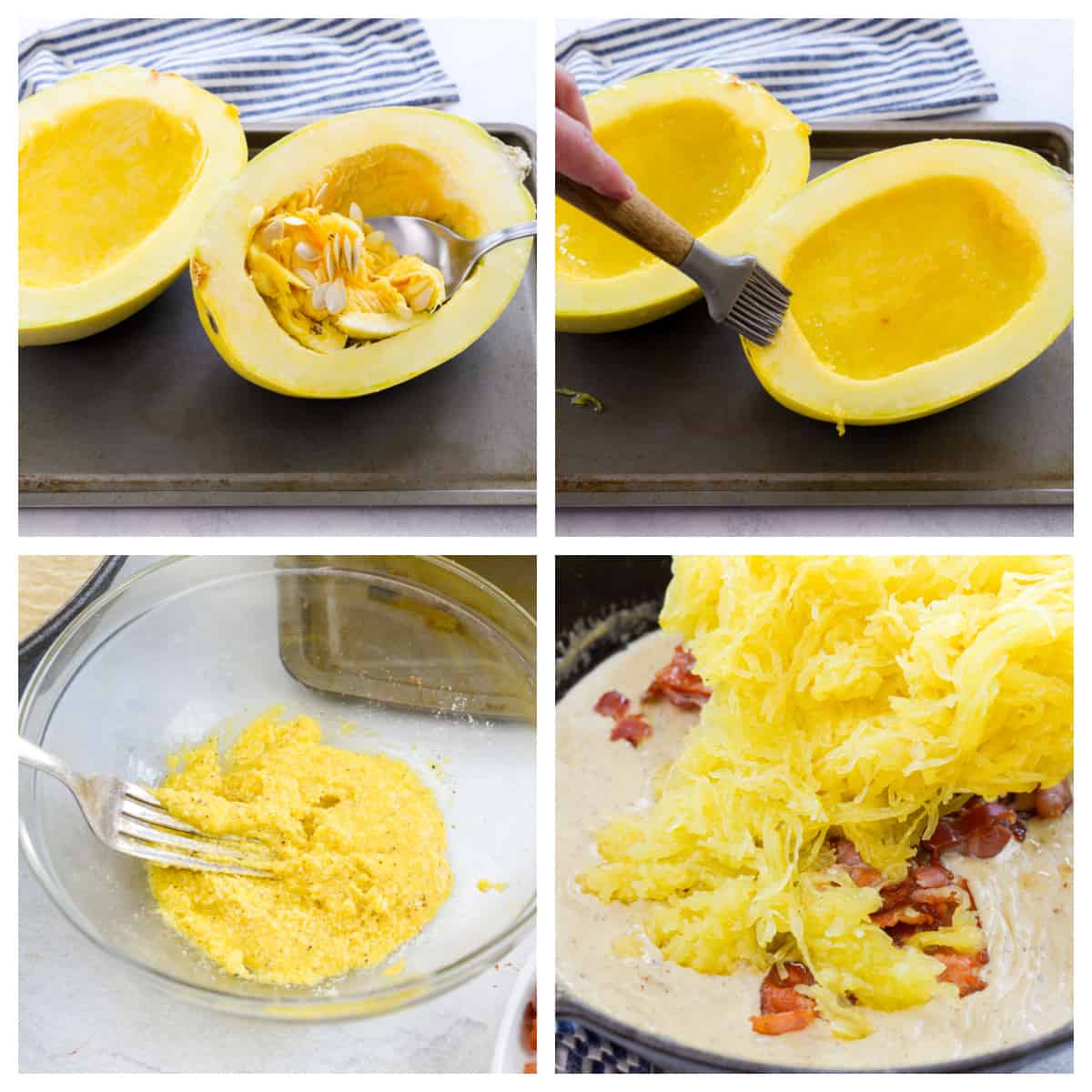 Prepare – To begin you'll first need to slice the spaghetti squash in half and then scoop out and the seeds with a spoon and discard them.
Bake – To bake the spaghetti squash drizzle with some olive oil and place it face down on a baking sheet and bake for 1 hour at 400 degrees, or until the squash is fork tender. You can also use your Instant Pot with this Instant Pot spaghetti squash recipe or try this spaghetti squash in air fryer recipe! It all works.
Mix – While the squash cooks you you can prepare the Parmesan mixture. Add the cheese to a bowl with the egg yolks, kosher salt, and pepper. Stir all that together until well combined and set it aside for now.
Shred – Once you've cooked the spaghetti squash you can use a fork to scrape the squash widthwise into long spaghetti-like strands! Place the strands of spaghetti squash into a large bowl. <— Scrape the opposite direction you'd think for long pasta-like strands. Short side to short side is what you want!
Bacon – Start frying up the bacon in a large skillet until it is cooked through and crispy. Remove it to a paper towel lined plate to drain. Drain most (but not all!) of the bacon grease from the skillet.
Cream – Add the garlic into the hot skillet with the grease and cook over low heat for a few seconds before pouring in the heavy cream. Stir it up well and scrape any browned bits off the bottom of the pan. That's extra flavor!
Combine – You can now return the bacon to the skillet along with the cooked strands of spaghetti squash. Stir it all up until well combined and cook over low heat until it's all reheated and the spaghetti squash is good and hot.
Finish – When it's hot remove the pan from the heat and immediately pour in the Parmesan and egg yolk mixture. Stir it all up until well combined. The residual heat from the squash will cook the egg! To finish sprinkle with some parsley and serve hot.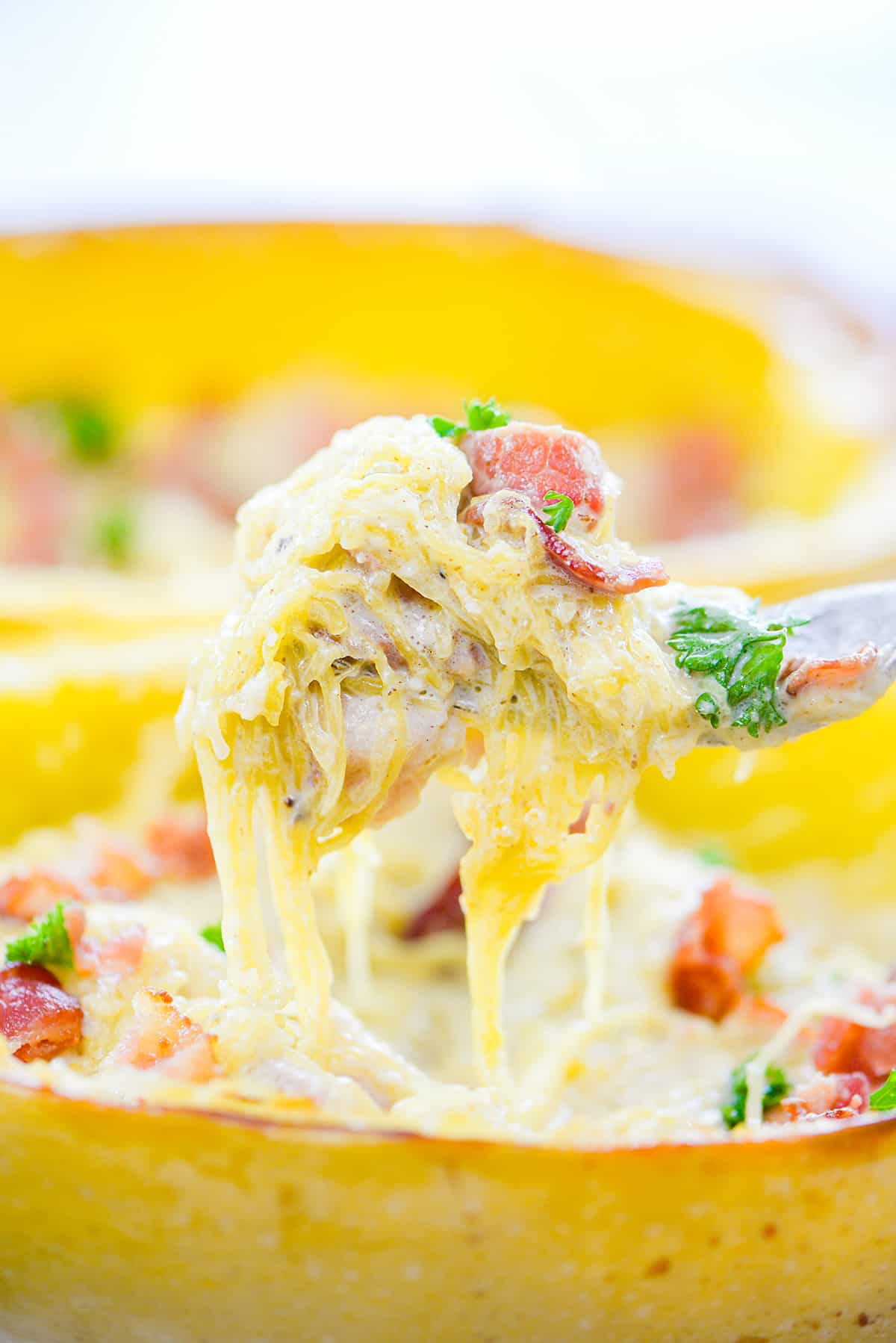 Helpful Tip!
Spaghetti squash is very hard and can be difficult to cut. Use a sharp knife, be careful, and put a little muscle into it. We've also heard that scoring the squash and microwaving it a bit helps to cut it open a bit easier.
Serving Suggestions:
We think it's quite pretty to place the spaghetti squash carbonara back into the hollowed out squash shell, however it's just as easy to plate the squash as soon as you're done preparing it.
Serve alongside a green salad (topped with our homemade Italian dressing) and a garlic bread chaffle, a keto cheddar bay biscuit, or some cauliflower breadsticks!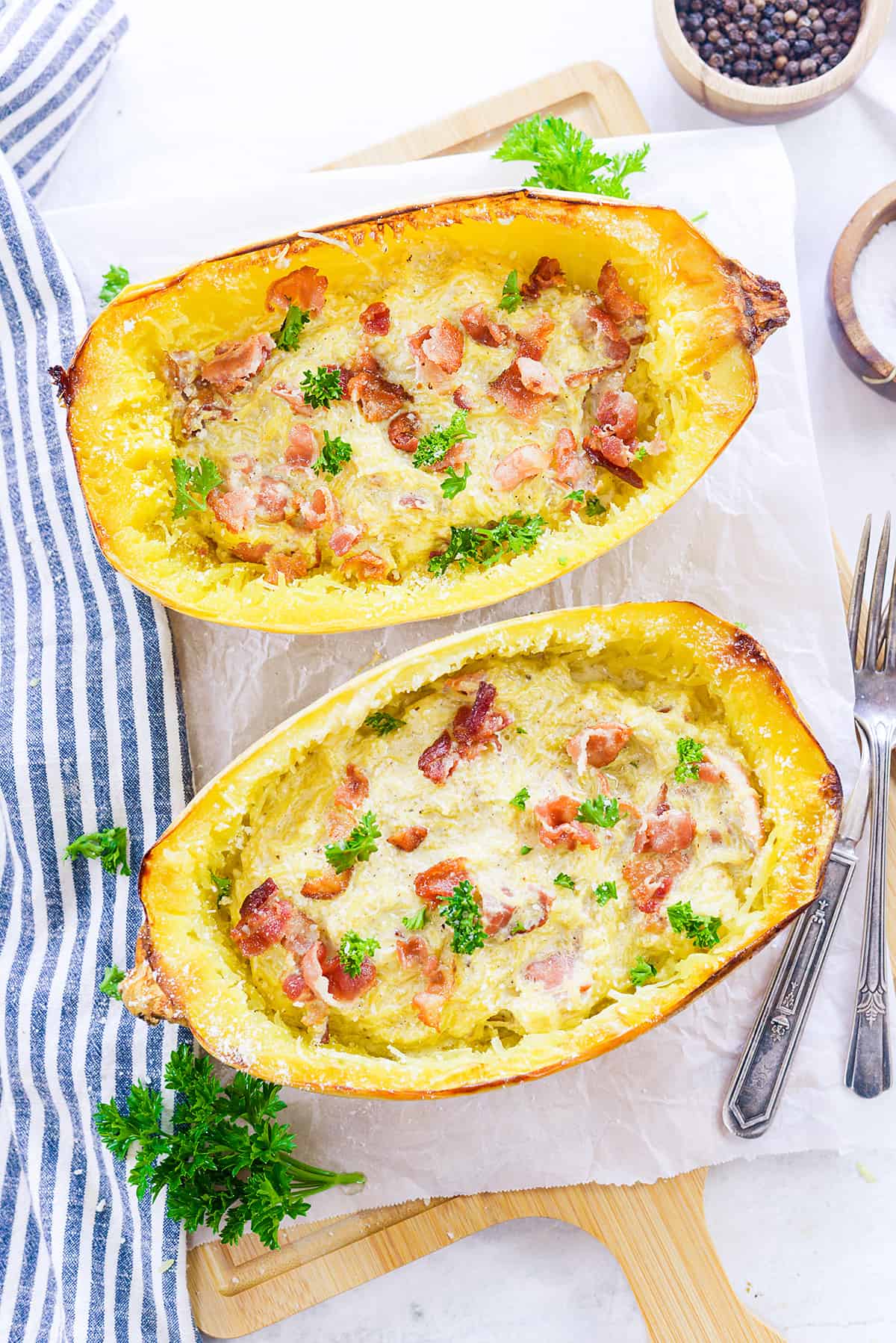 FAQ's:
How to cut spaghetti squash?
You'll want to cut the spaghetti squash in half lengthwise! If you are having trouble cutting it score the spaghetti squash with a knife and then microwave for a few minutes. It should be much easier to cut!
How long does spaghetti squash last?
You can keep any leftovers covered in the fridge for about 3 days but I think this recipe is best enjoyed fresh!
Can you freeze spaghetti squash?
You could but I don't think the sauce will hold up so well. I'd probably avoid freezing this recipe! You can freeze the spaghetti squash without the sauce pretty easily though, and then prepare the carbonara sauce before serving.
More Spaghetti Squash Recipes: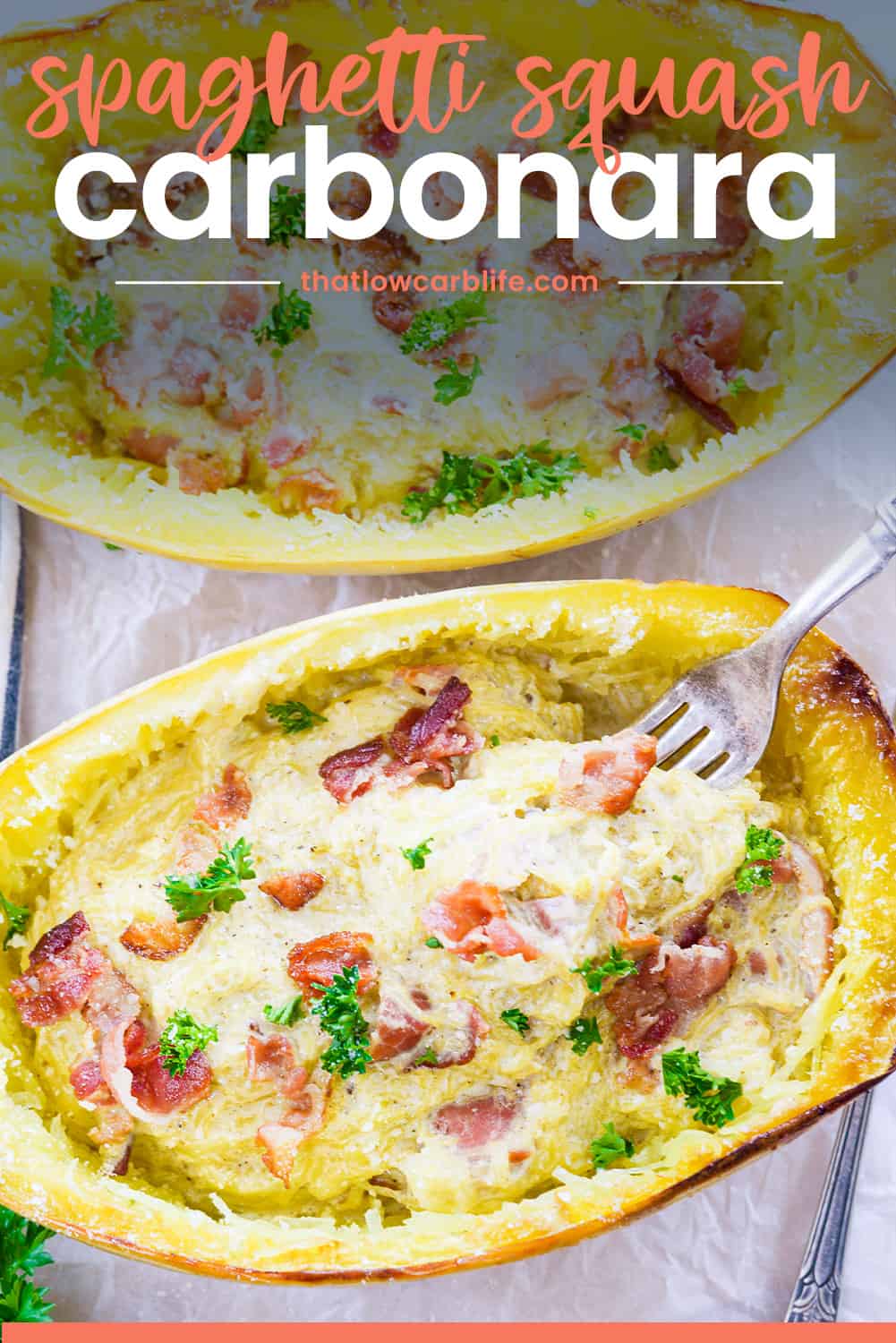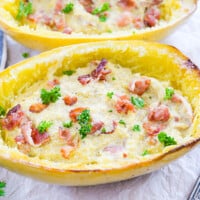 Spaghetti Squash Carbonara
Our creamy carbonara sauce pairs perfectly with the sweet, earthy flavor of spaghetti squash! While this isn't the most traditional carbonara, it's absolutely delicious and our family raves about it.
Cook Time 1 hour 15 minutes
Total Time 1 hour 30 minutes
Ingredients
1 large spaghetti squash
½ cup grated pecorino romano
2 large egg yolks
½ teaspoon kosher salt
½ teaspoon cracked pepper
8 slices bacon, chopped into small pieces
2 cloves garlic, minced
3 tablespoons heavy cream
Chopped parsley, for serving
Instructions
To cook squash in the oven: Preheat oven to 400 degrees. Cut the squash in half length-wise and scoop out the seeds with a spoon. Discard the seeds. Drizzle with olive oil and place face down on a baking sheet. Bake for 1 hour or until squash is fork tender.
To cook in the Instant Pot, follow these directions.
Once squash is cooked, shred the squash into long spaghetti-like strands by using a fork to scrape the squash widthwise.
Place the strands of squash in a large bowl.
While squash is cooking, stir together the pecorino romano, egg yolks, salt, and pepper. Set aside.
Fry the bacon until crisp and remove to a paper towel lined plate to drain.
Drain most of the grease from the skillet and add the garlic, cooking until fragrant over low heat, about 30 seconds. Add the cream to the skillet and cook, stirring up any browned bits on the bottom of the pan.
Return the bacon to the skillet and add the spaghetti squash. Stir well to combine and make sure the spaghetti squash is hot. Remove from the heat.
Pour the egg yolk mixture over the squash and stir well to combine. The heat from the squash will cook the eggs.
Sprinkle with parsley and serve.
Notes
You may use pancetta in place of bacon and Parmesan in place of pecorino romano, if preferred.
Nutrition Information:
Yield: 6
Serving Size: 1
Amount Per Serving:
Calories: 201
Total Fat: 13g
Saturated Fat: 6g
Trans Fat: 0g
Unsaturated Fat: 6g
Cholesterol: 123mg
Sodium: 515mg
Carbohydrates: 12g
Net Carbohydrates: 10g
Fiber: 2g
Sugar: 4g
Protein: 11g
All information and tools presented and written within this site are intended for informational purposes only. This information is provided as a courtesy and there is no guarantee that the information is accurate.