This garlic Parmesan spaghetti squash makes a simple side dish for just about any protein! My family loves the mild, nutty flavor of spaghetti squash cooked with garlic butter and Parmesan.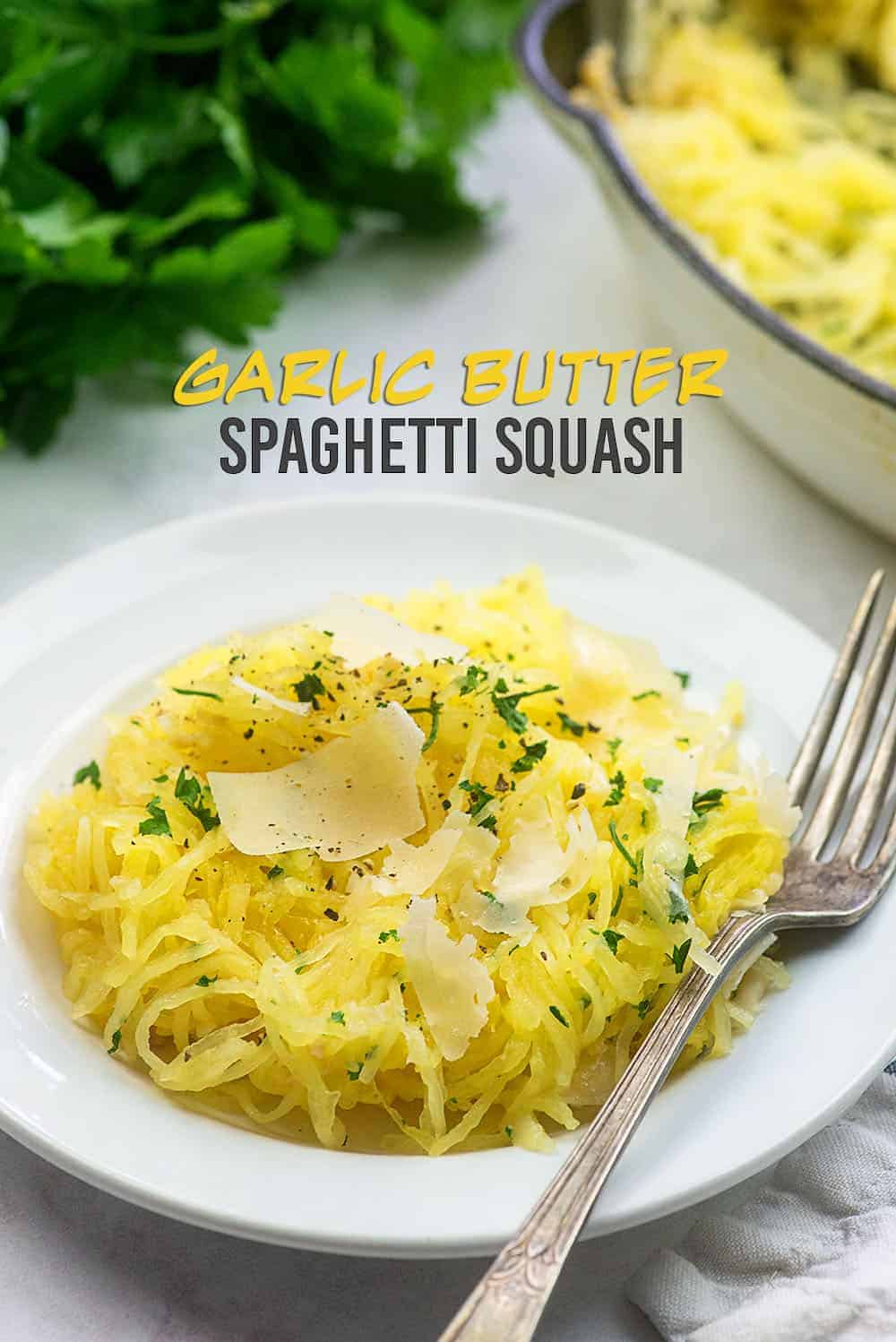 I put up a poll in my Facebook group (are you a member?? So many recipes, loads of inspiration and support, a great place to ask questions, plus it's totally free!) and asked members what kinds of recipes they'd like to see more of.
Breakfast was the number one answer, followed shortly by vegetable side dishes.
I've got a ton of breakfast recipe ideas that I'm working on, so be on the lookout for those.
In the meantime, this keto spaghetti squash recipe is a favorite in our house! It pairs well with just about any protein and it's pretty simple to make.

You can use my Instant Pot Spaghetti Squash recipe to cook the squash if you have an IP handy. Otherwise, check out how to cook in the oven below.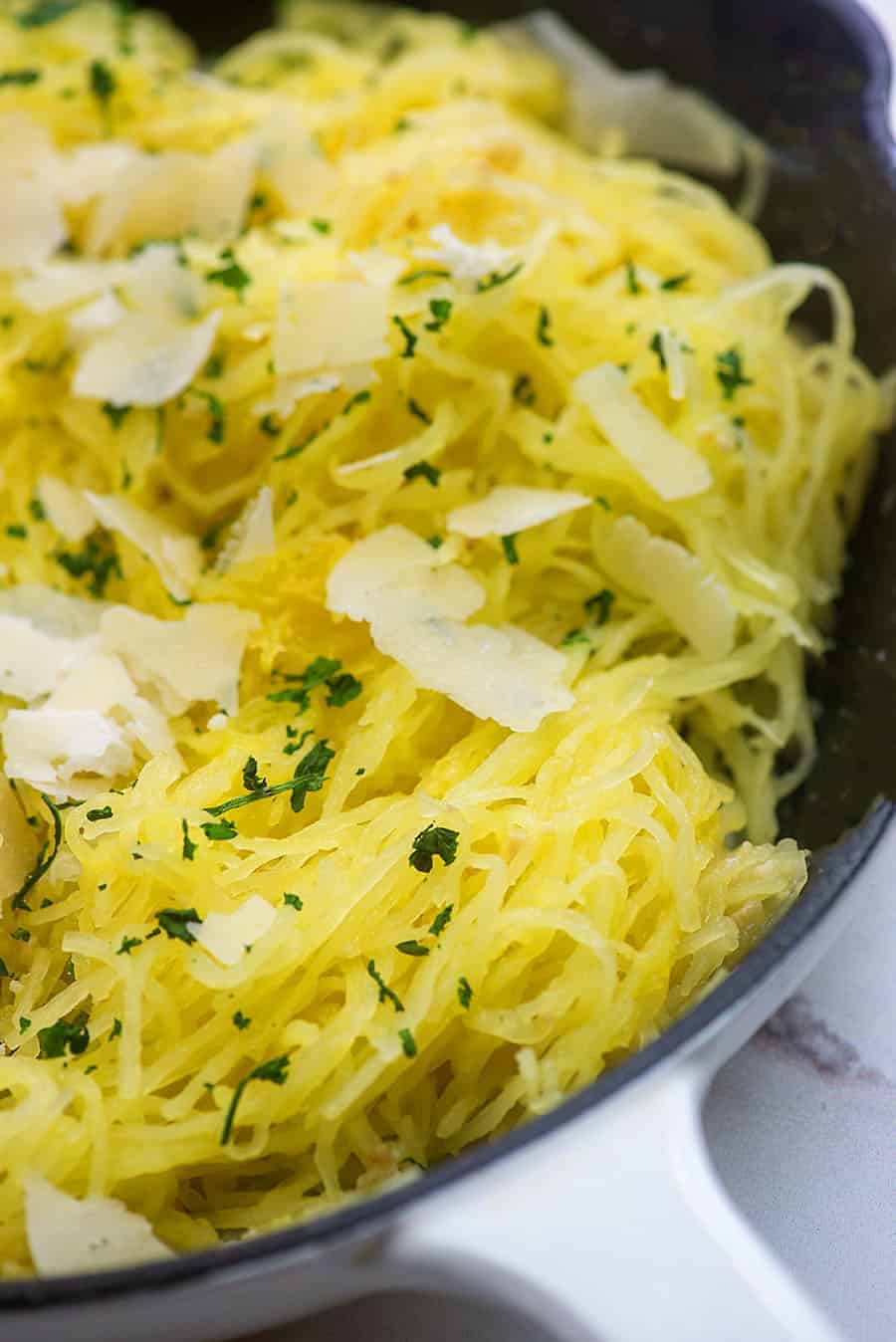 Ingredients for this keto spaghetti squash:
Spaghetti squash
Butter
Garlic
Parsley
Parmesan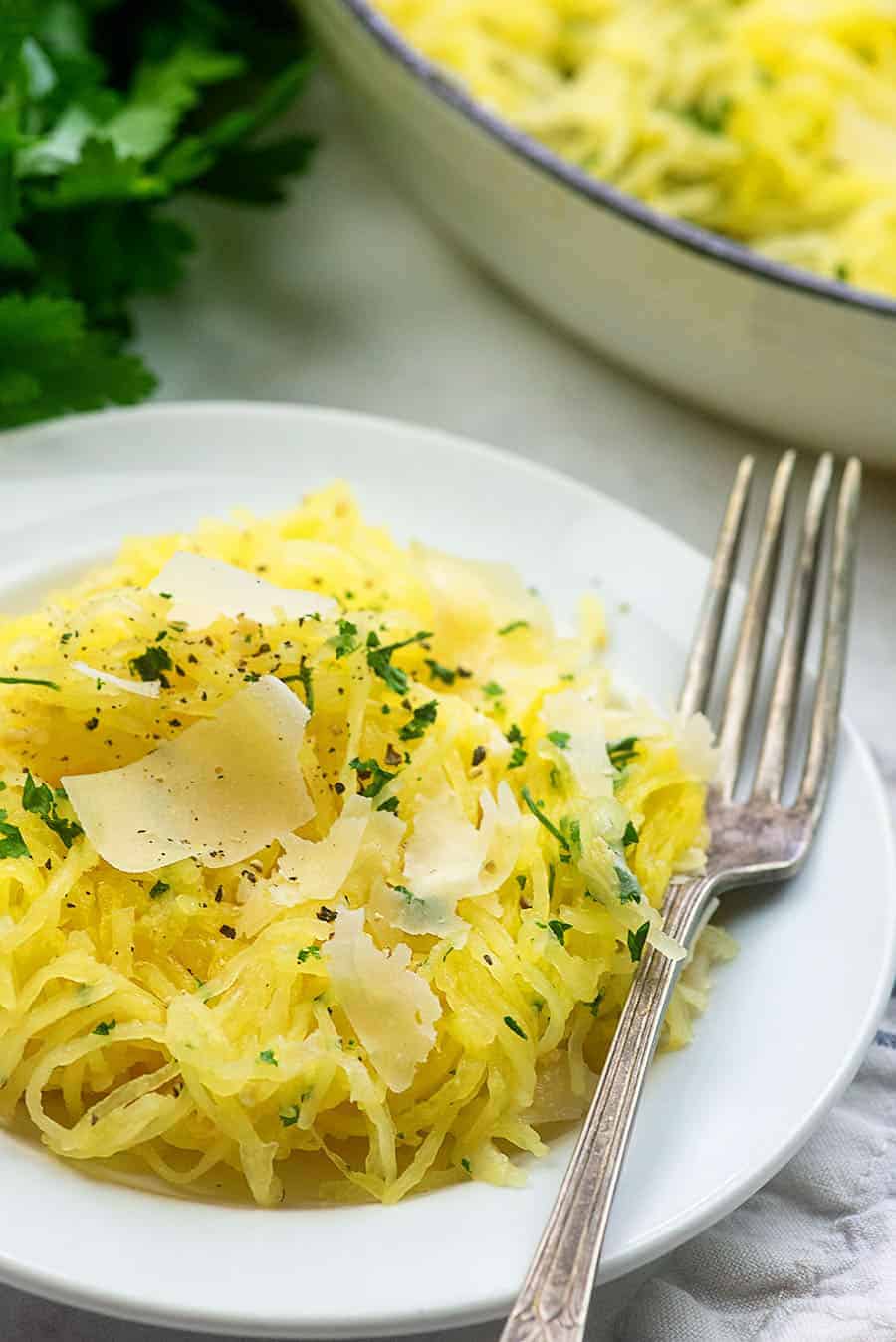 Roasted Spaghetti Squash:
To roast spaghetti squash in the oven, you'll want to cut the squash in half length-wise. Spaghetti squash are very hard, so be sure to use a sharp knife and be very careful.
Pro Tip: Score the spaghetti squash with a knife and then microwave for 5 minutes. It should be much easier to cut!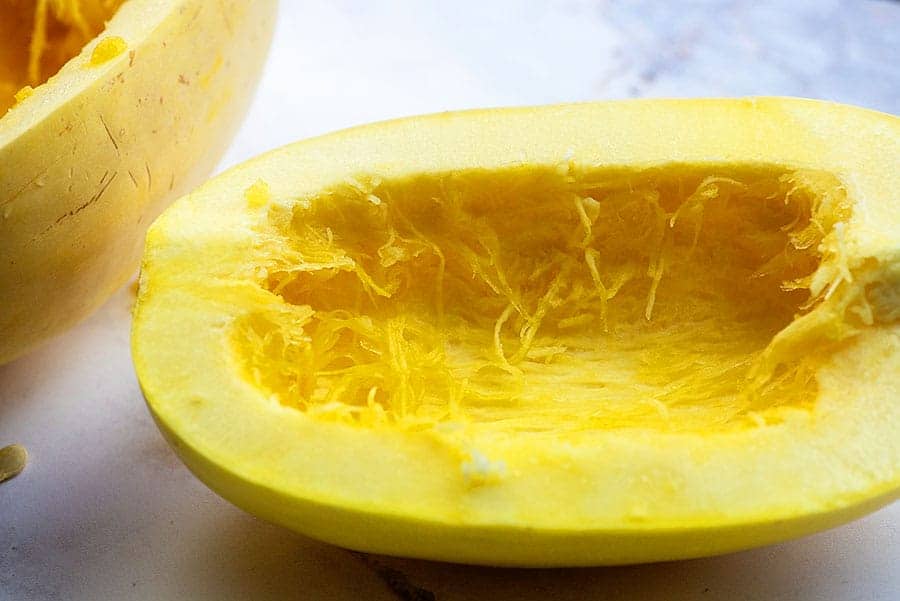 Once your squash is halved, use a spoon to scrape out the seeds and then drizzle with oil and place face down on a baking sheet.
Bake for about an hour until the squash is nice and tender and then shred with a fork to create spaghetti-like strands.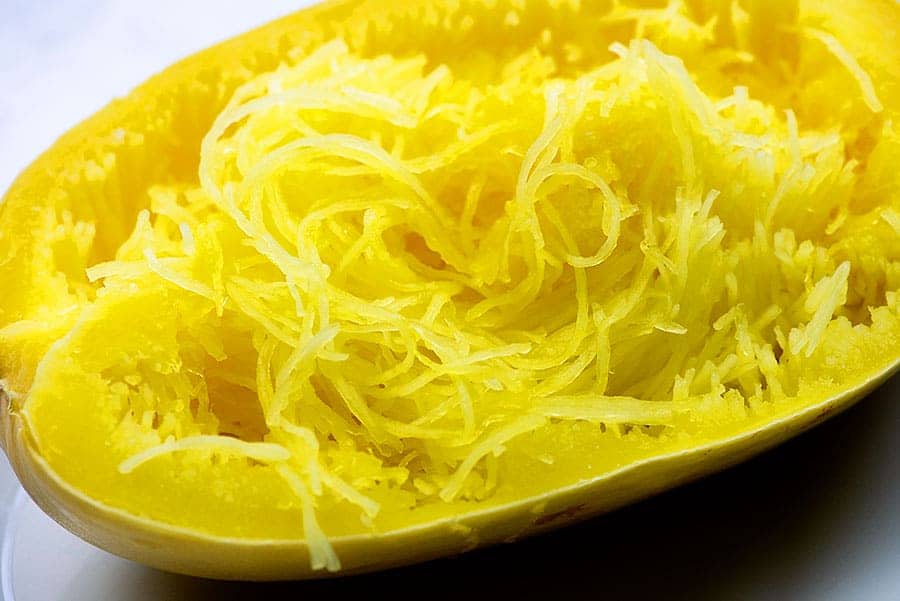 Garlic Butter Spaghetti Squash:
Once your squash is roasted and you've scraped it into long strands, grab a skillet and the makings for garlic butter.
Melt the butter in the skillet and then add in the garlic and cook until fragrant. Drop in your spaghetti squash and stir it all around to coat. This will just take a couple of minutes to cook the squash in the garlic butter and let it all infuse with goodness.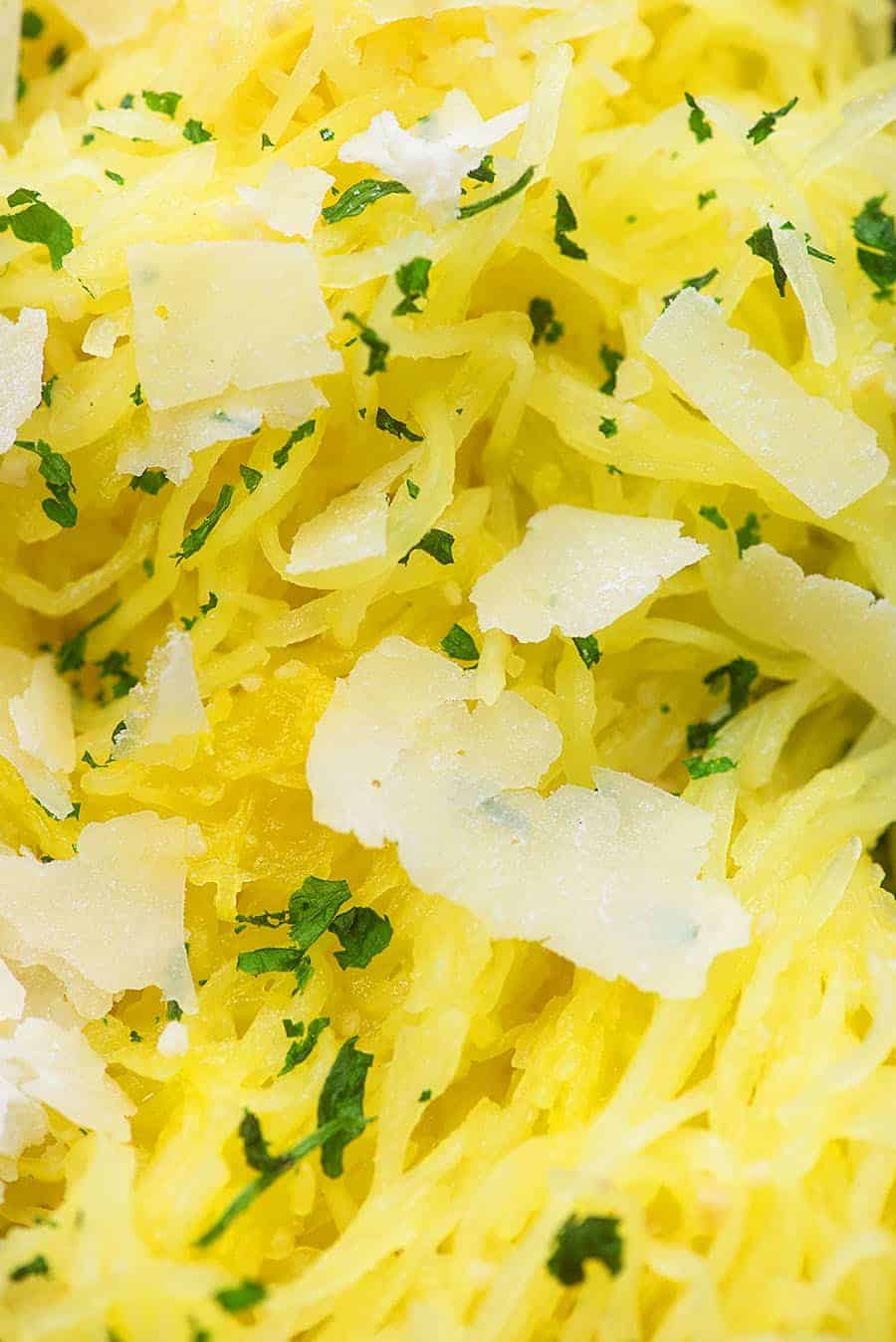 Sprinkle on some parsley, season with salt and pepper, and top with shaved Parmesan.
Boom. Easy keto spaghetti squash for the win!
More low carb side dishes to try: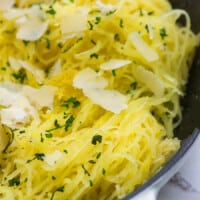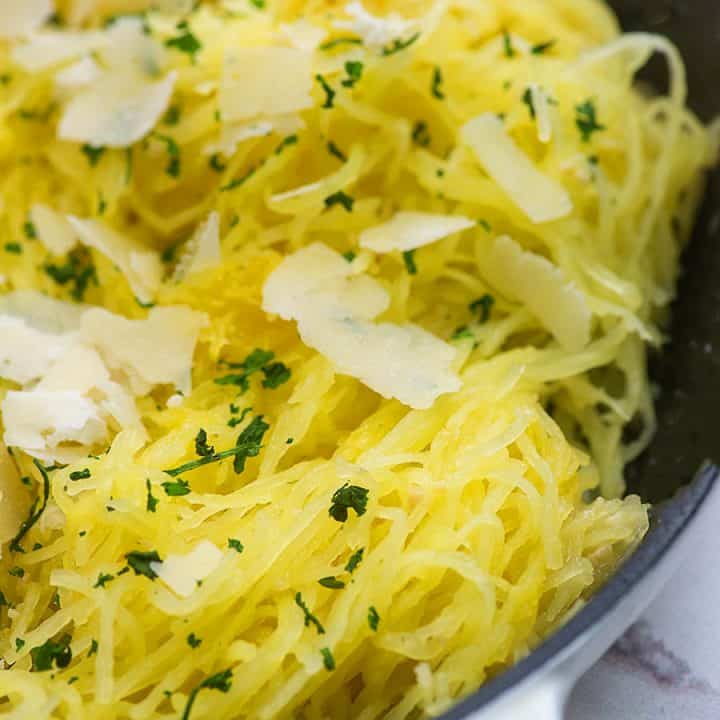 Garlic Parmesan Spaghetti Squash
This side dish pairs so well with just about any protein.
Ingredients
1 spaghetti squash, about 2 pounds
6 tablespoons butter
4 cloves garlic, minced
1 teaspoon onion powder
2 tablespoon fresh chopped parsley
1/4 cup shaved parmesan
salt and pepper, to taste
Instructions
Preheat the oven to 375 degrees. Spray a baking sheet with cooking spray or olive oil.
Wash the spaghetti squash and score the squash length-wise with a sharp knife. Microwave for 5 minutes to soften the squash to make it easier to cut. Slice the squash in half lengthwise.
Scrape the seeds from the center of the squash and discard (or save for roasting and eating as a snack).
Sprinkle the inside of the squash with salt and pepper.
Place on the prepared pan cut side down and bake for 30-45 minutes or until a sharp knife can be easily inserted with only a little resistance.
Use a fork to scrape strands of spaghetti squash. Scrape width-wise for longer strands or length-wise for short stands. Set squash aside.
Heat a large skillet over medium heat. Add the butter to the skillet to melt.
Stir in the garlic and onion powder and cook for 1 minute.
Add the spaghetti squash to the skillet and toss to coat in the butter mixture, cooking for 2 minutes, stirring constantly.
Remove from the heat and sprinkle with parsley, Parmesan, and season with salt and pepper. Serve immediately.

Recommended Products
As an Amazon Associate and member of other affiliate programs, I earn from qualifying purchases.
Nutrition Information:
Yield: 6
Serving Size: 3/4 cup
Amount Per Serving:
Calories: 124
Total Fat: 10g
Saturated Fat: 6g
Trans Fat: 0g
Unsaturated Fat: 3g
Cholesterol: 26mg
Sodium: 184mg
Carbohydrates: 8g
Net Carbohydrates: 6g
Fiber: 2g
Sugar: 3g
Sugar Alcohols: 0g
Protein: 2g
All information and tools presented and written within this site are intended for informational purposes only. This information is provided as a courtesy and there is no guarantee that the information is accurate.