This BUFFALO CHICKEN SPAGHETTI SQUASH is a tasty, low carb way to get your buffalo chicken fix! Sweet strands of spaghetti squash pair so well with the spicy chicken.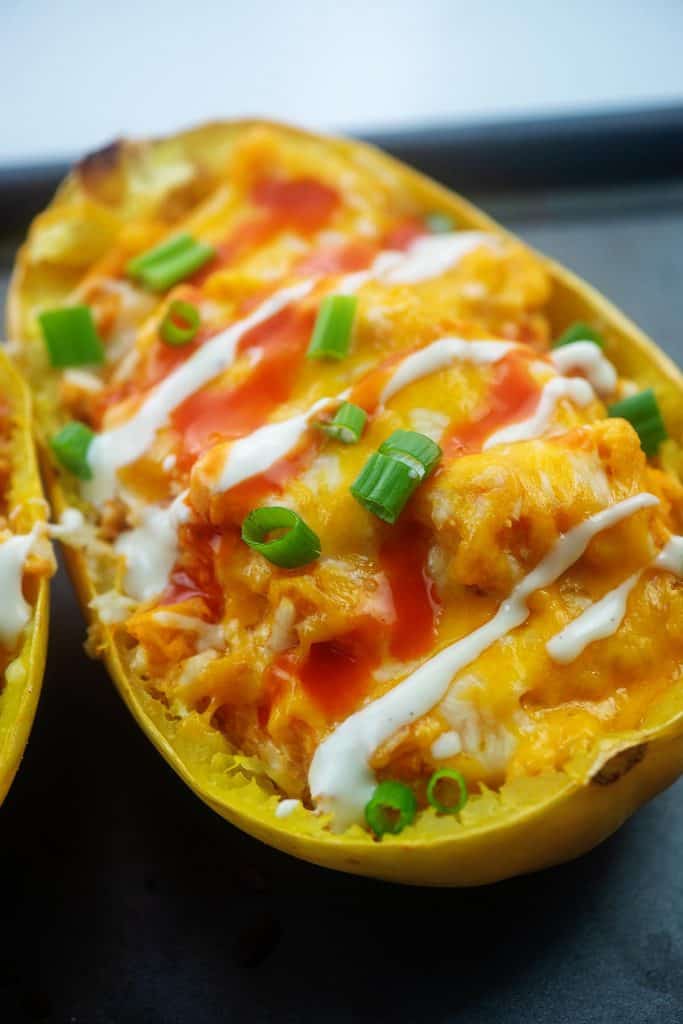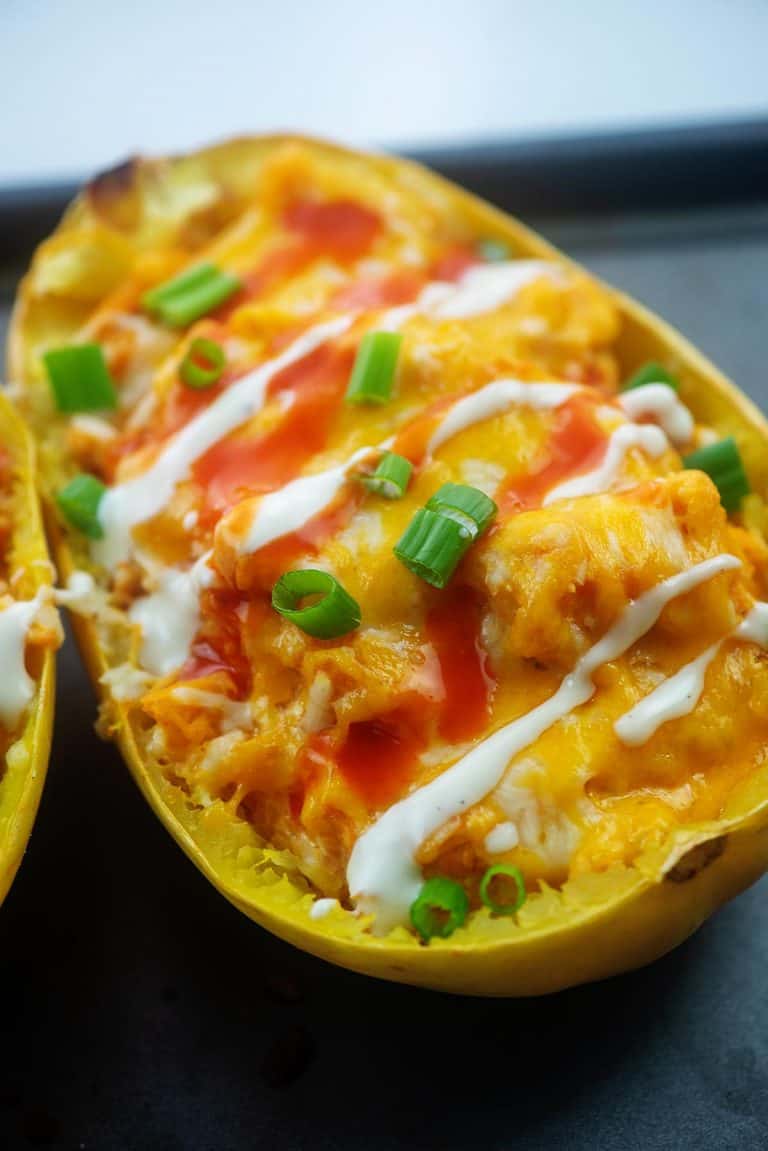 We've been ordering way too much take-out lately and it's mostly been from our local chicken wing place.
I just seem to crave the big, bold flavors of buffalo chicken at all times.
Wings tossed in buffalo sauce, or even naked chicken tenders with buffalo sauce, is a favorite in my house, but sometimes you've gotta mix it up a bit.
Enter this buffalo chicken spaghetti squash!
We love the earthy sweetness of spaghetti squash paired with the salty spice of the buffalo sauce. Plus, there's cheese and you just can't go wrong with cheese. 😉
We also have recipes for keto buffalo chicken dip, a keto buffalo chicken casserole, and this keto buffalo chicken, so if you're also obsessed with buffalo sauce then you're in the right place!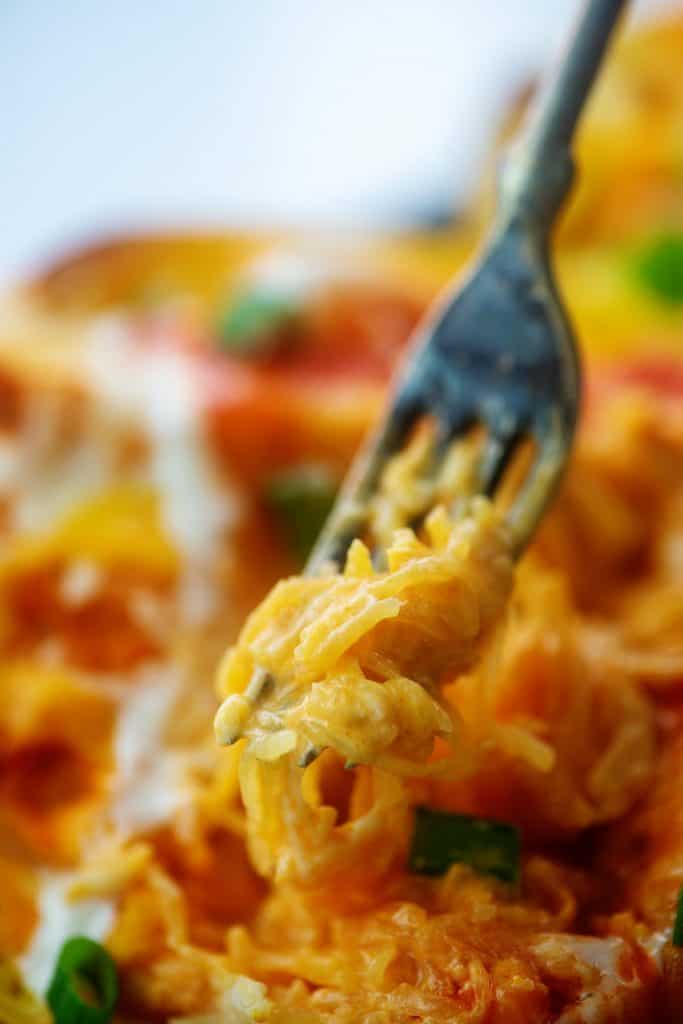 How to:
This recipe starts with a spaghetti squash. You'll want to score the squash and microwave it to get it soft enough to cut in half. Alternately, power through and cut that sucker up with sheer force and a sharp knife. 🙂
You can either roast your spaghetti squash or do this Instant Pot spaghetti squash.
You just want cooked spaghetti squash that you can scrape with a fork to make 'noodles.'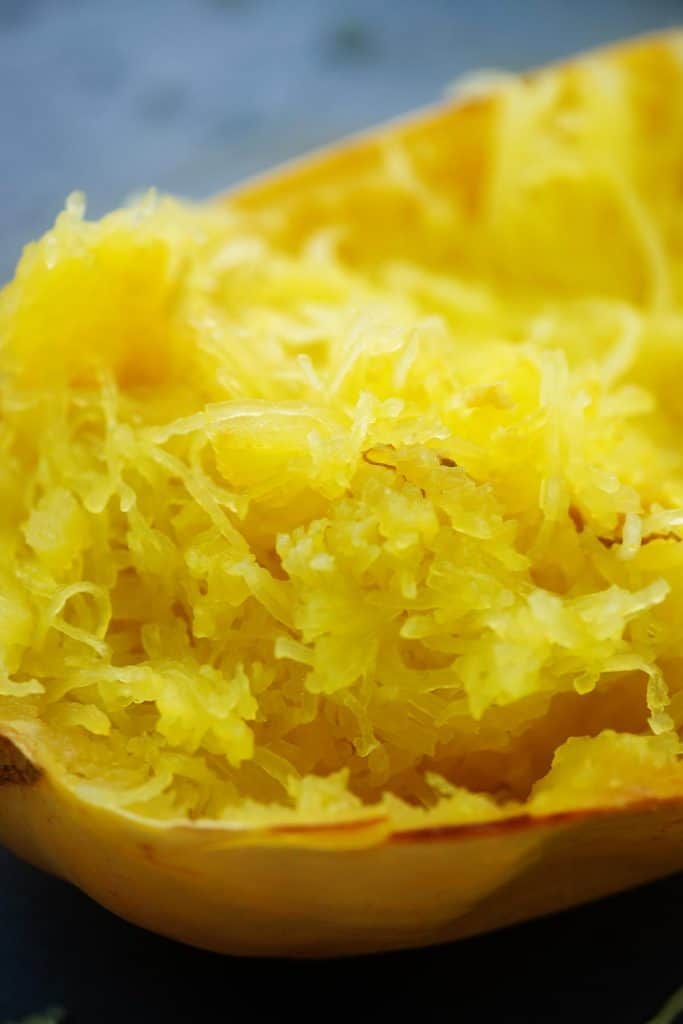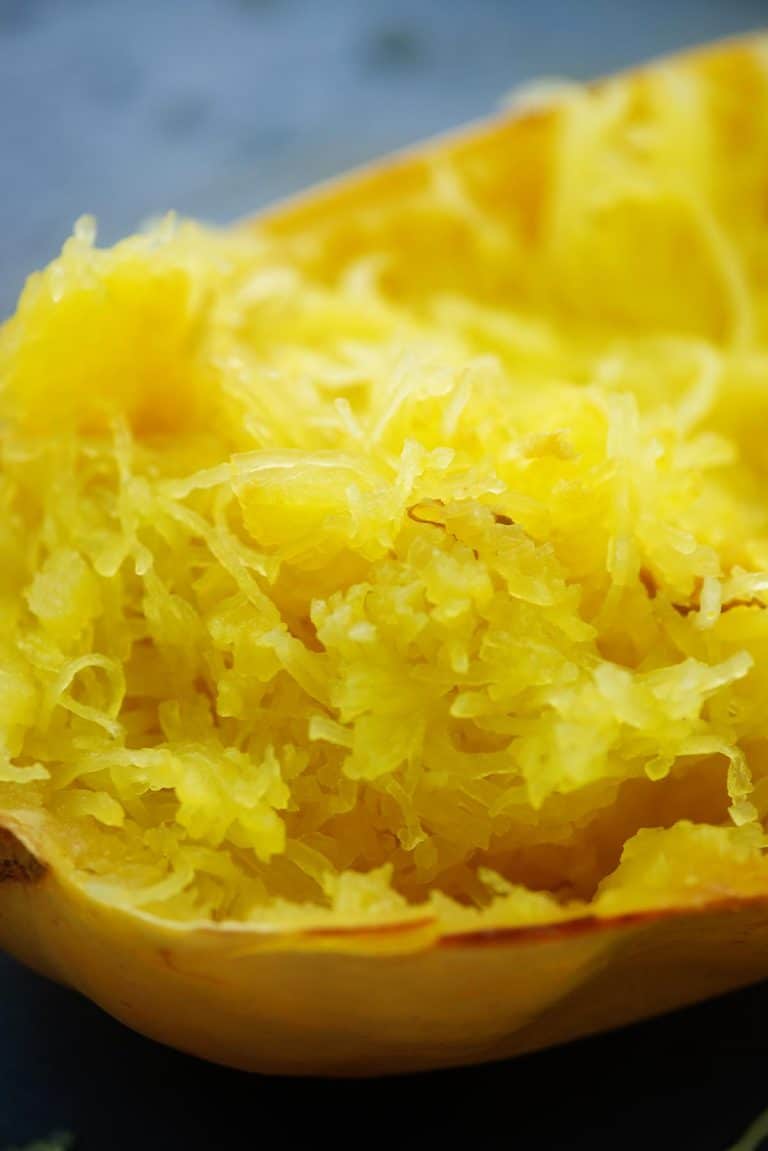 Add the cooked strands of spaghetti squash to a mixing bowl, along with some shredded cheese, cream cheese, sour cream, cooked chicken, buffalo sauce, and green onions.
We tend to use Frank's Buffalo Sauce. It's a classic and we love the flavor. You can use whatever buffalo sauce you prefer.
Stir that all up and then spoon it into the spaghetti squash shell and top with extra shredded cheese. Alternately, you could just bake this in a casserole dish.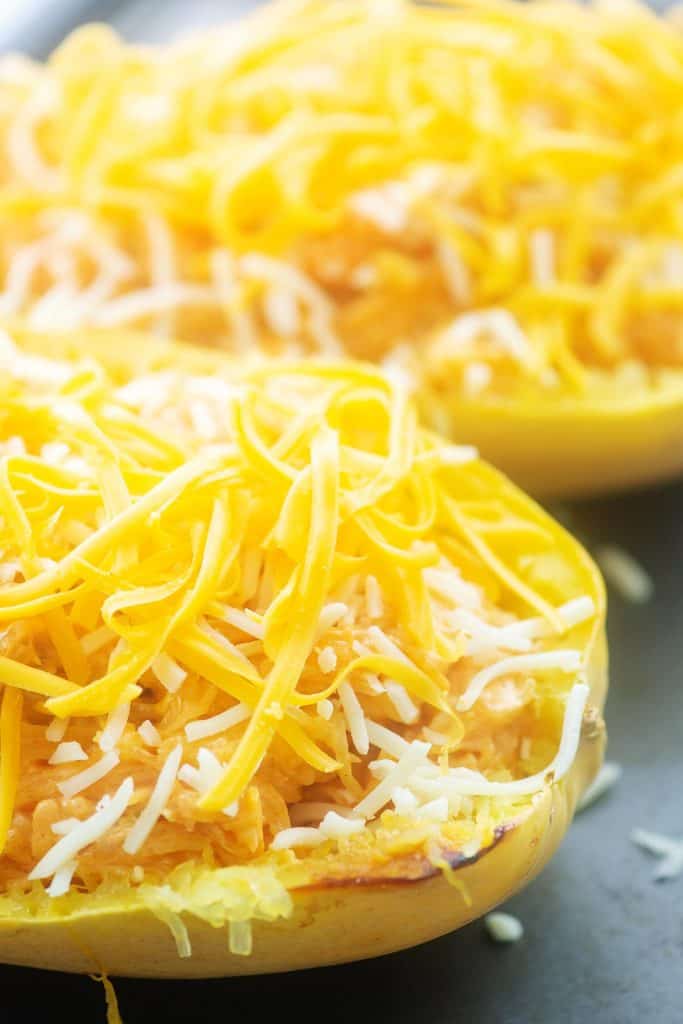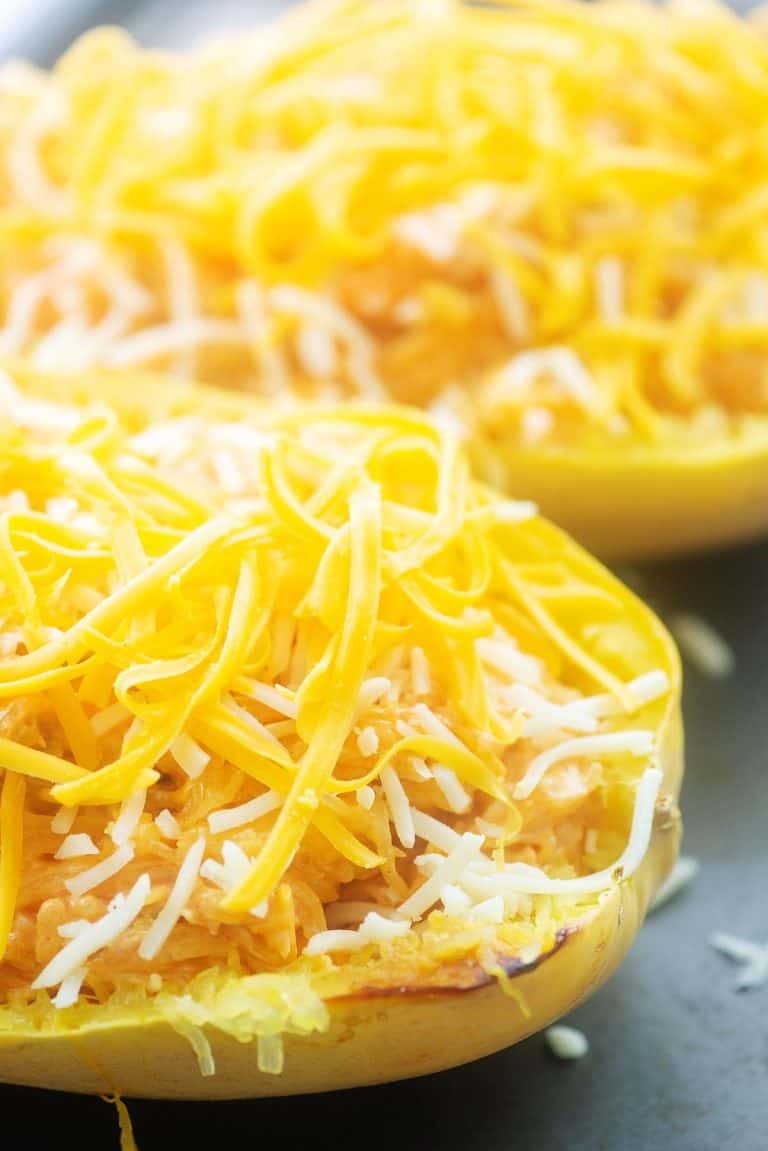 Once this has baked, we like to drizzle our buffalo chicken spaghetti squash boats with extra buffalo sauce and ranch dressing and then sprinkle on some green onions.
You can definitely use blue cheese dressing instead of ranch. You could even swap out the cheddar for blue cheese in the filling. We're just not blue cheese fans in this house.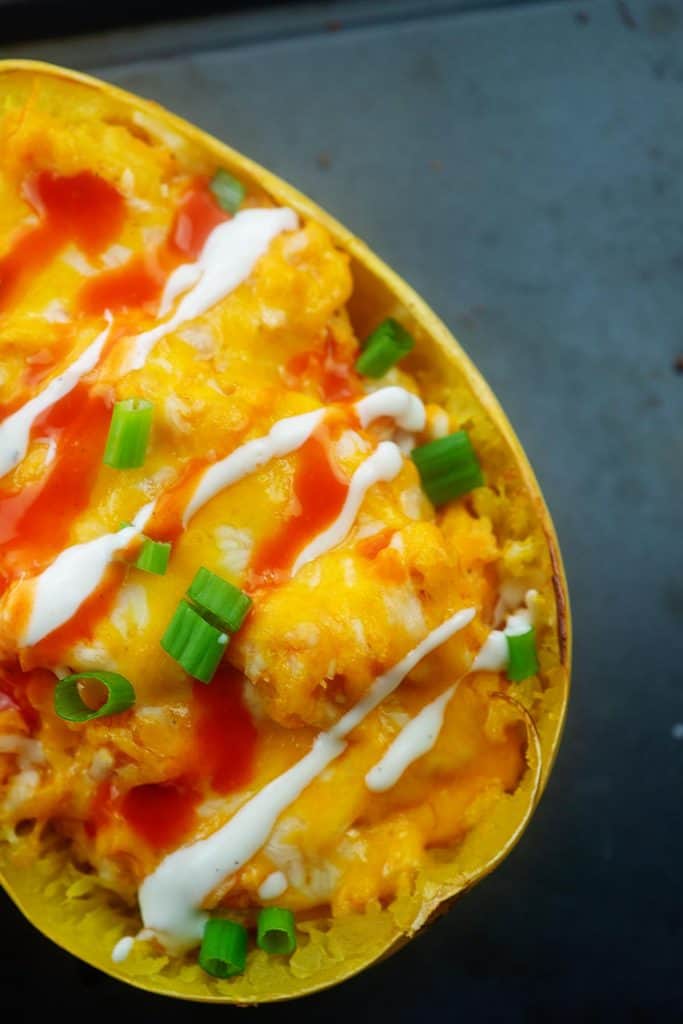 Can I use frozen spaghetti squash?
Absolutely! We've been seeing the steamable bags of frozen spaghetti squash in the grocery store for a while now and they'd work well here.
I'm not sure how many bags you'd need to equal one whole spaghetti squash, and it's more budget friendly to just buy the whole squash, but when you're in a time crunch these would be perfect.
Just bake this up in a casserole dish since you won't have the spaghetti squash shell.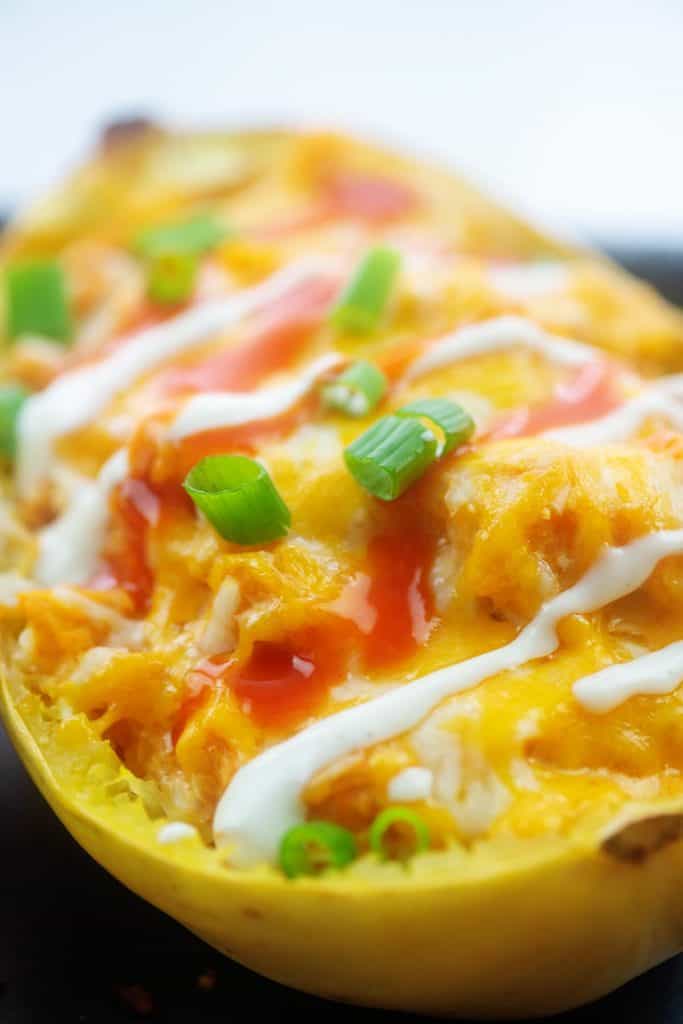 Swaps & Substitutions:
Cheddar Cheese: Swap it out for blue cheese, if that's your style!
Cooked Chicken: Leftover chicken is great, or grab a rotisserie chicken from the store.
Ranch Dressing: You can drizzle with blue cheese instead!
Buffalo Sauce: We use Frank's Wing Sauce, but any buffalo sauce will work well here.
Serving Size:
We divide this casserole into 6 equal portions. I did not measure by volume or weight.
Spaghetti squash is low carb in moderation, but the carbs do add up. We try to go heavy on the chicken and cheese to balance that out.
To bulk up the servings without adding extra carbs, add additional chicken to the mixture.
More spaghetti squash recipes: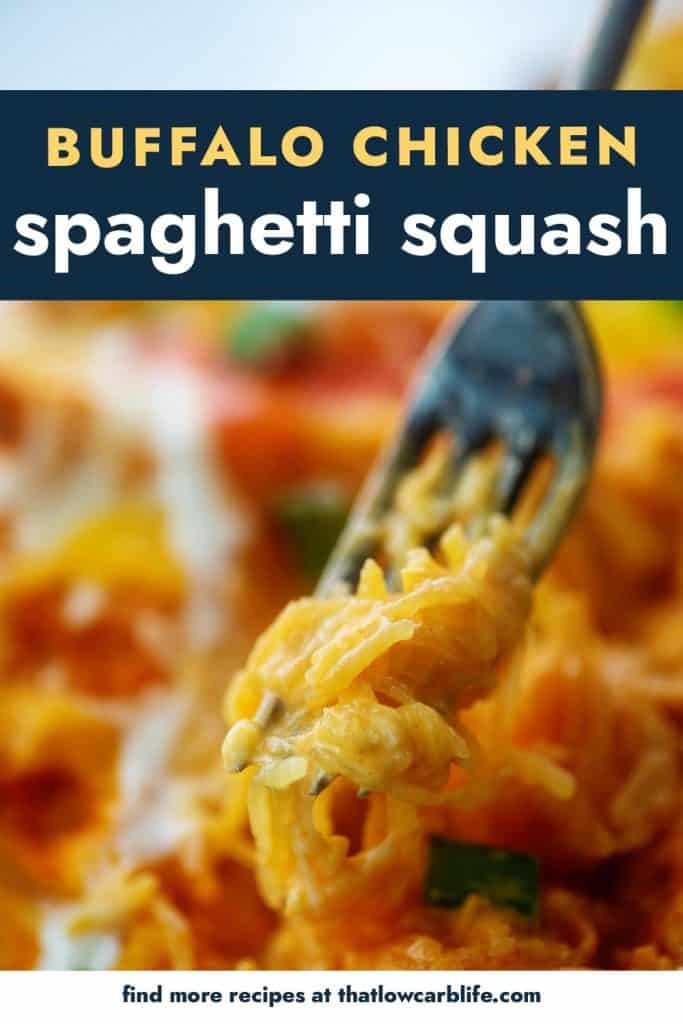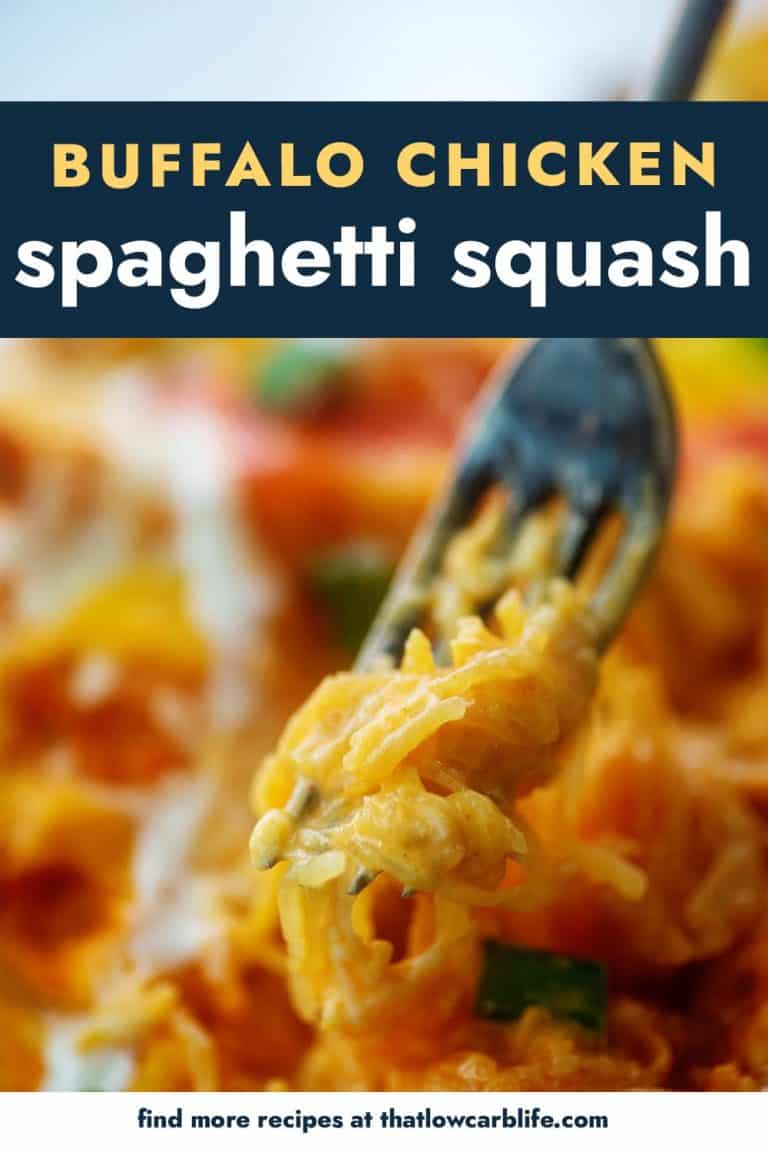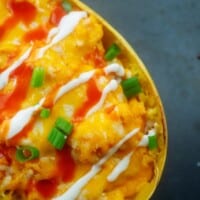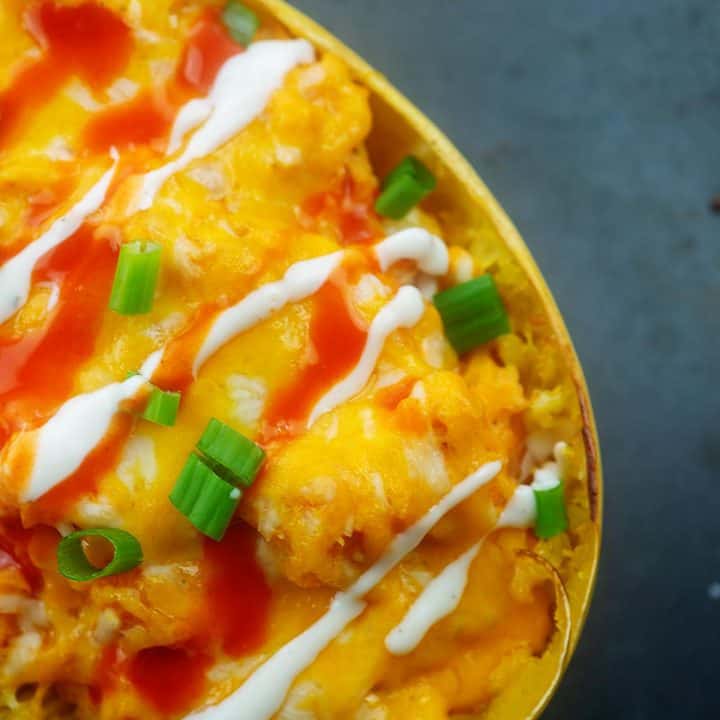 Buffalo Chicken Spaghetti Squash
Spicy buffalo chicken pairs so well with the earthy sweetness of spaghetti squash. Feel free to swap out the cheddar or Monterey jack for blue cheese, if you prefer.
Cook Time 1 hour 20 minutes
Total Time 1 hour 40 minutes
Ingredients
1 whole spaghetti squash, about 3 pounds
1 tablespoon olive oil
2 cups cooked, chopped chicken
1 cup shredded cheddar, divided
1 cup shredded Monterey jack, divided
2 ounces cream cheese, softened
½ cup sour cream
2 tablespoons ranch seasoning
⅓ - ½ cup Frank's buffalo sauce, to taste
Ranch and Buffalo sauce, for drizzling on top
Green onions, for sprinkling on top
Blue cheese crumbles, if desired
Instructions
To cook the spaghetti squash:
To cook in the oven, preheat the oven to 400 degrees. Cut the squash in half lengthwise and scoop out the seeds with a spoon. Discard the seeds. Drizzle with olive oil and place face down on a baking sheet. Bake for 1 hour or until squash is fork tender.
Alternately, make Instant Pot Spaghetti Squash.
Once squash is cooked, shred the squash into long spaghetti-like strands by using a fork to scrape the squash widthwise.
For the filling:
Add the cooked squash to a large mixing bowl with 1/2 cup of cheddar, 1/2 cup of Monterey jack, and the remaining ingredient. Stir well to combine.
Spoon the mixture back into the empty spaghetti squash shell and top with the remaining cheeses.
Bake at 350 degrees for 15-20 minutes or until hot and bubbly.
Drizzle with ranch dressing and extra hot sauce, if desired. Sprinkle with green onions and blue cheese before serving.
Notes
We normally just bake this in a casserole dish, but we do like the presentation when baked in the spaghetti squash shell.
Feel free to swap some of the cheese for blue cheese.
Recommended Products
As an Amazon Associate and member of other affiliate programs, I earn from qualifying purchases.
Nutrition Information:
Yield: 6
Serving Size: 1
Amount Per Serving:
Calories: 404
Total Fat: 30g
Saturated Fat: 14g
Trans Fat: 0g
Unsaturated Fat: 13g
Cholesterol: 93mg
Sodium: 889mg
Carbohydrates: 18g
Net Carbohydrates: 13g
Fiber: 5g
Sugar: 8g
Protein: 26g
All information and tools presented and written within this site are intended for informational purposes only. This information is provided as a courtesy and there is no guarantee that the information is accurate.