CHICKEN SPAGHETTI SQUASH CASSEROLE is a low carb riff on the classic chicken spaghetti! Made with shredded chicken, tomatoes & chiles, and a creamy cheese sauce all mixed up with spaghetti squash.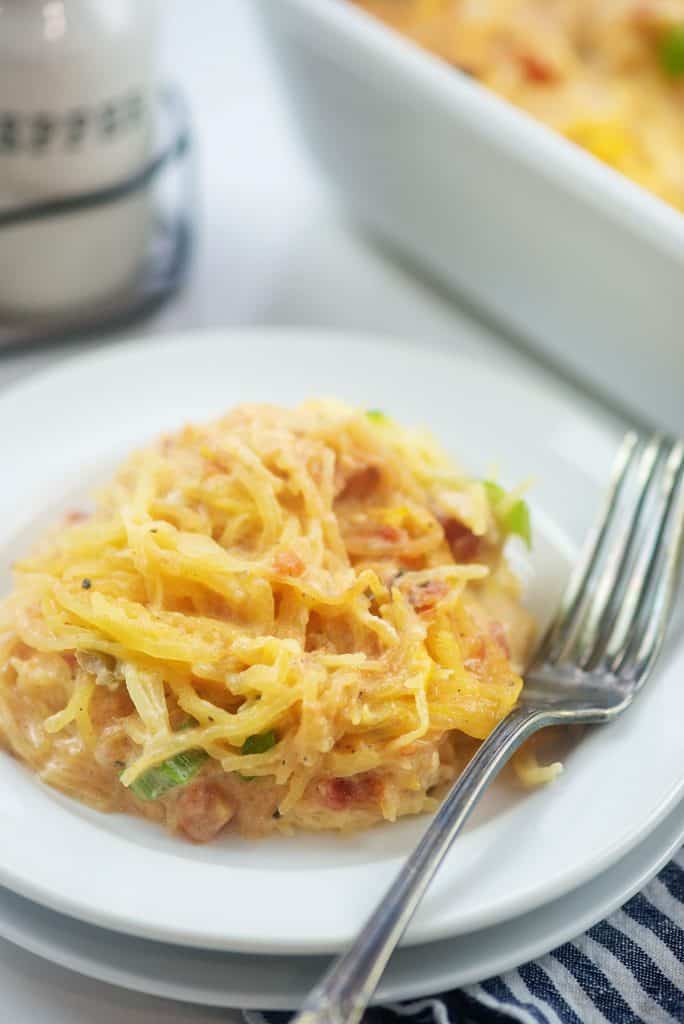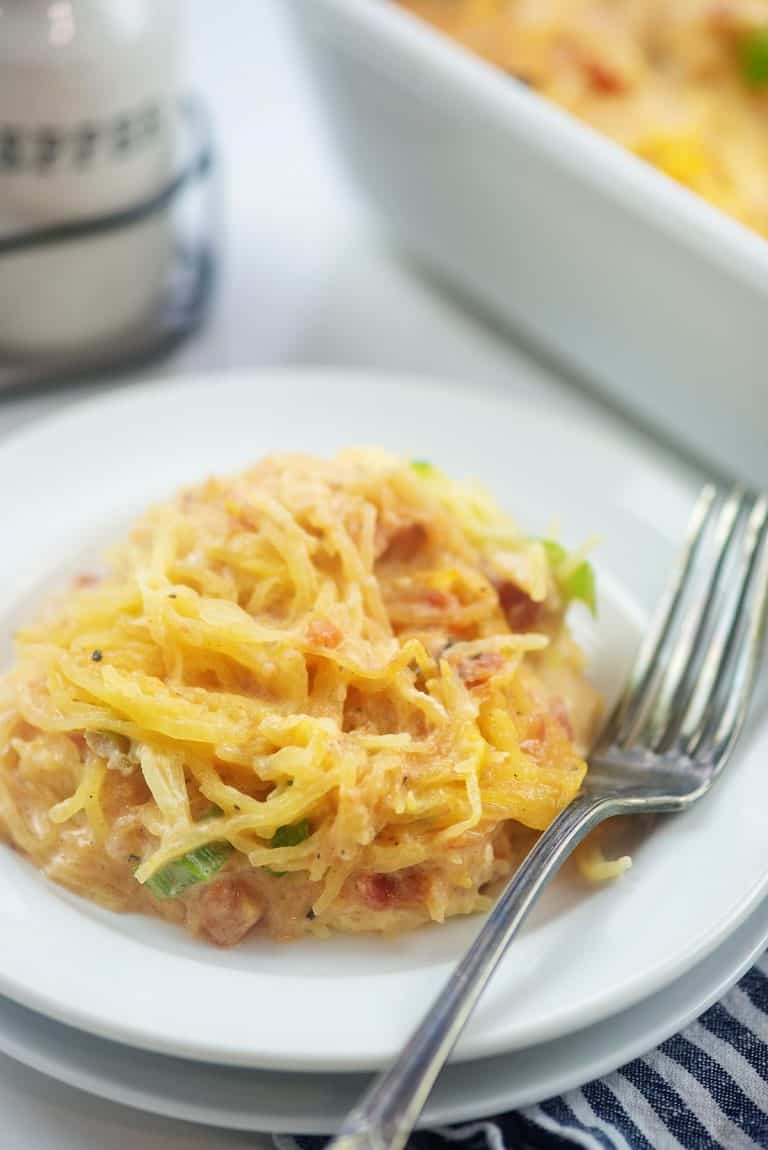 This time of year is when I am all about the mighty casserole.
I love mixing a bunch of things together and popping them in the oven to bake into a hot, cheesy, bubbly mess of tasty goodness.
It was a struggle to figure out casseroles when we first went low carb, since we often used pasta or rice as the base for our casseroles.
Now we've figured out which veggies work best and how to use them!
I took our family's old favorite, chicken spaghetti, and swapped out the pasta for spaghetti squash and made a keto cheese sauce.
The spaghetti squash is a bit sweet and earthy, which pairs really well with the spice of the tomatoes and green chiles.
How to:
This recipe is a bit involved, as you'll need to cook the spaghetti squash, then the cheese sauce, then combine everything, and then bake.
That said, it's all easy to do – just takes a bit of time!
Spaghetti Squash:
Start by cooking your spaghetti squash.
We like to cook ours in the Instant Pot. Instant Pot Spaghetti Squash cooks quickly and easily.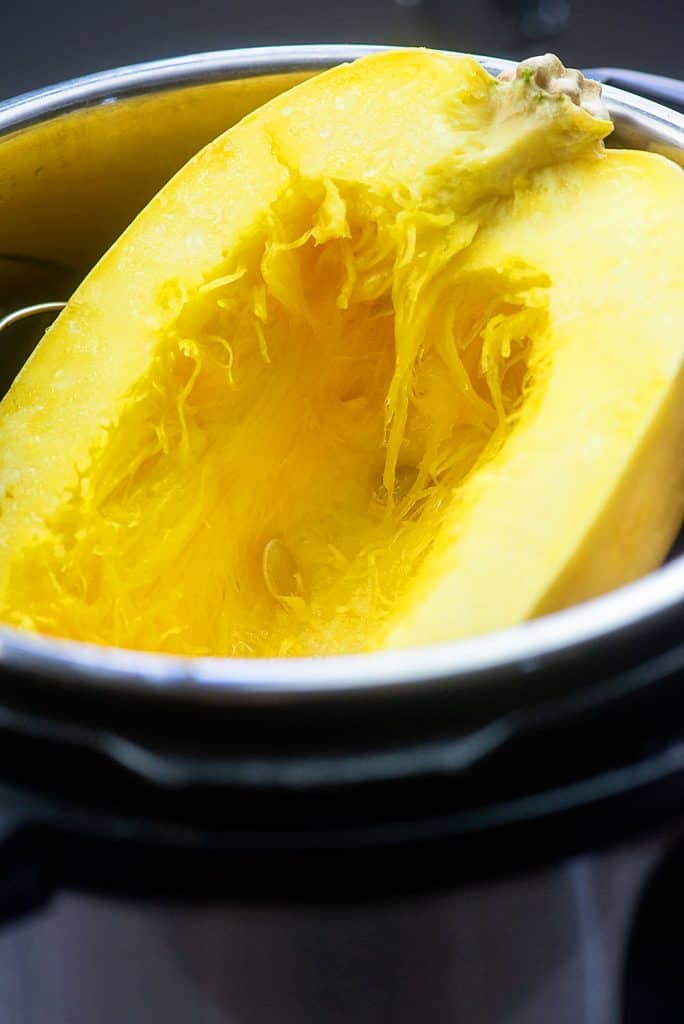 You can also halve your squash, scoop out the seeds, and roast for around an hour at 400 degrees.
Scrape the squash out into long strands and place in a large mixing bowl.
I believe you can also buy frozen bags of spaghetti squash strands that you steam in the bag. Those would also work well here, if you want to cut down on prep.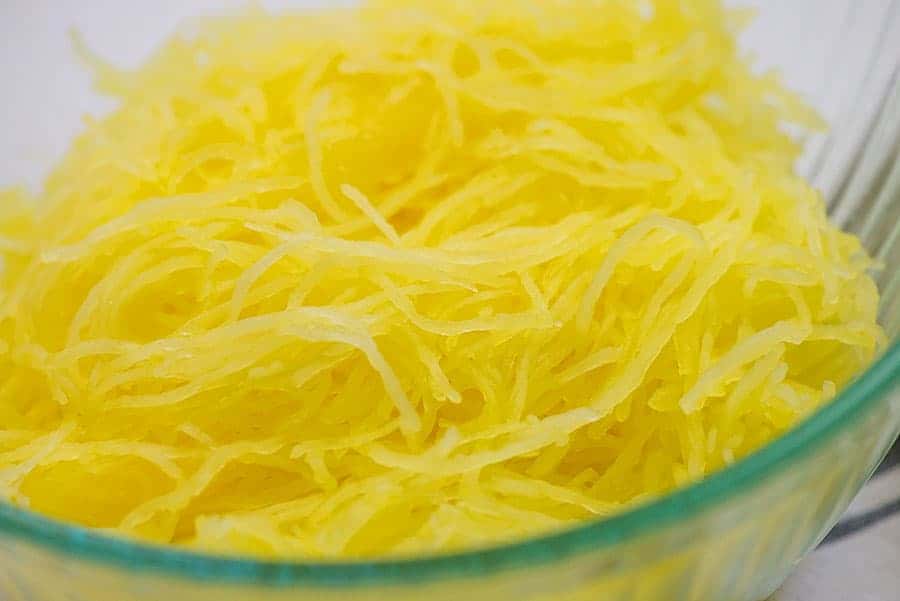 Cheese Sauce:
We're using my keto cheese sauce in this recipe. It's thick, creamy, and just perfect!
You'll just add cream, cream cheese, and butter to a small pot and heat until smooth and creamy.
Stir in cheddar and spice until melted.
This is great over steamed veggies too!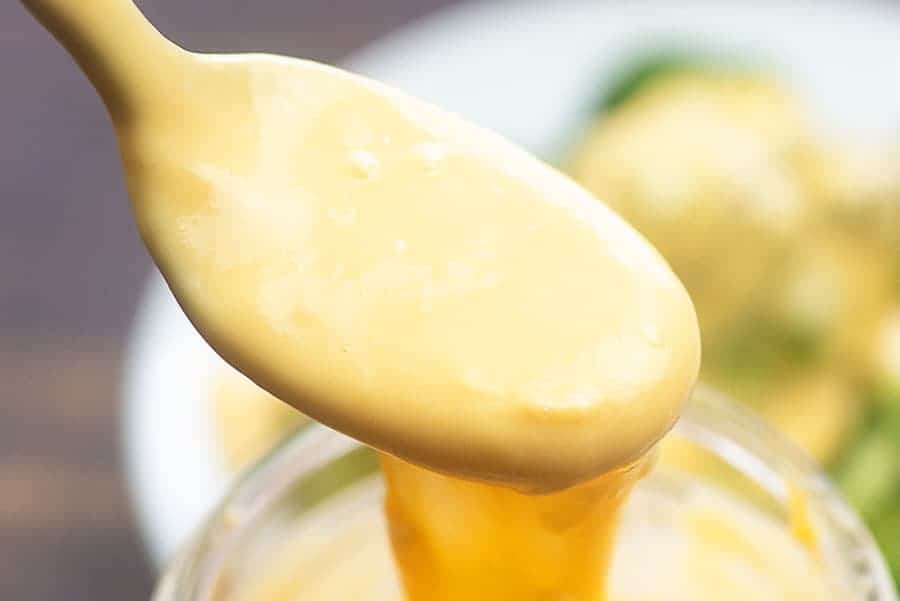 Assembly:
Add shredded chicken (rotisserie chicken is great here), a can of diced tomatoes and green chiles, garlic, and onion powder to the bowl with the spaghetti squash.
Pour the cheese sauce over the top and give it a good stir.
Transfer this to a 9×13 baking dish and bake for 20 minutes, just to get everything hot and bubbly.
We sprinkle with chives or green onions just before serving.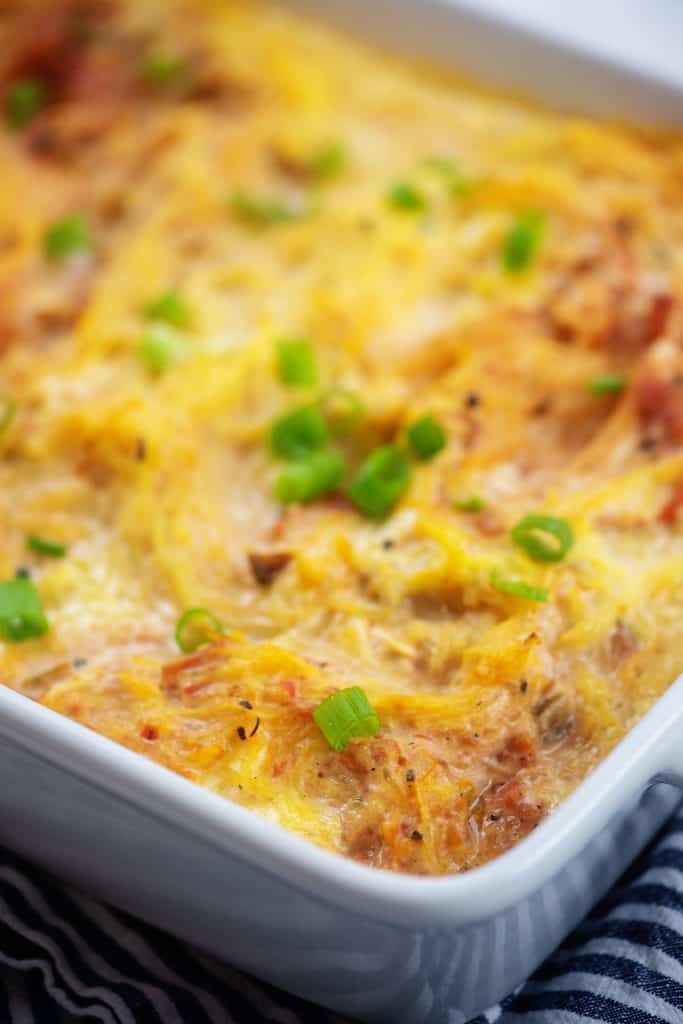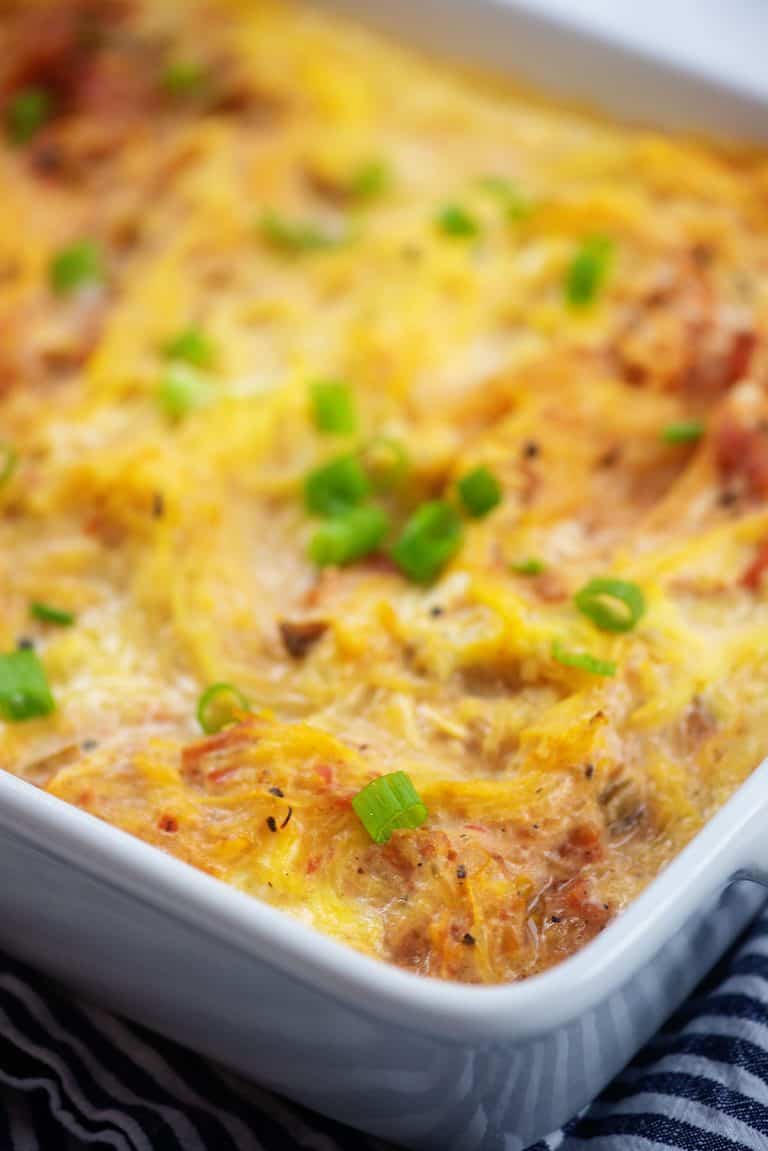 Serving Suggestions:
This recipe is really a meal by itself, but we always serve casseroles with either a pile of roasted vegetables or a simple green salad.
These roasted green beans or roasted Brussels sprouts and cauliflower are a great option.
If you go the salad route, try it with my keto ranch dressing. It's the best ranch ever!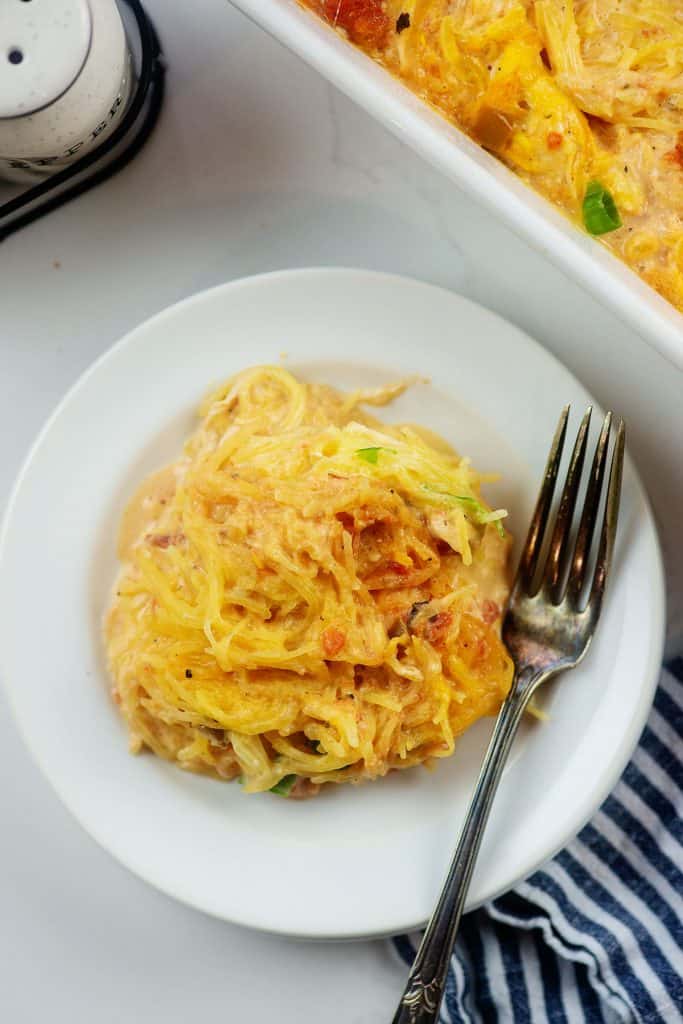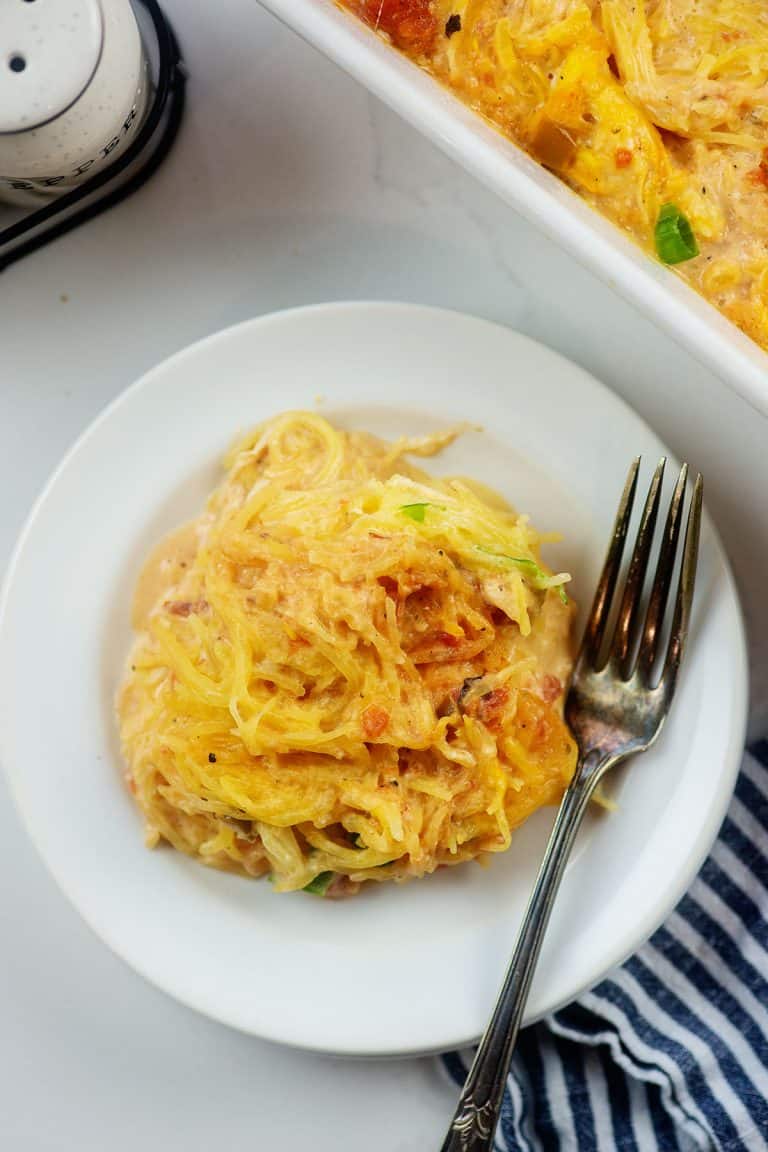 More keto casseroles: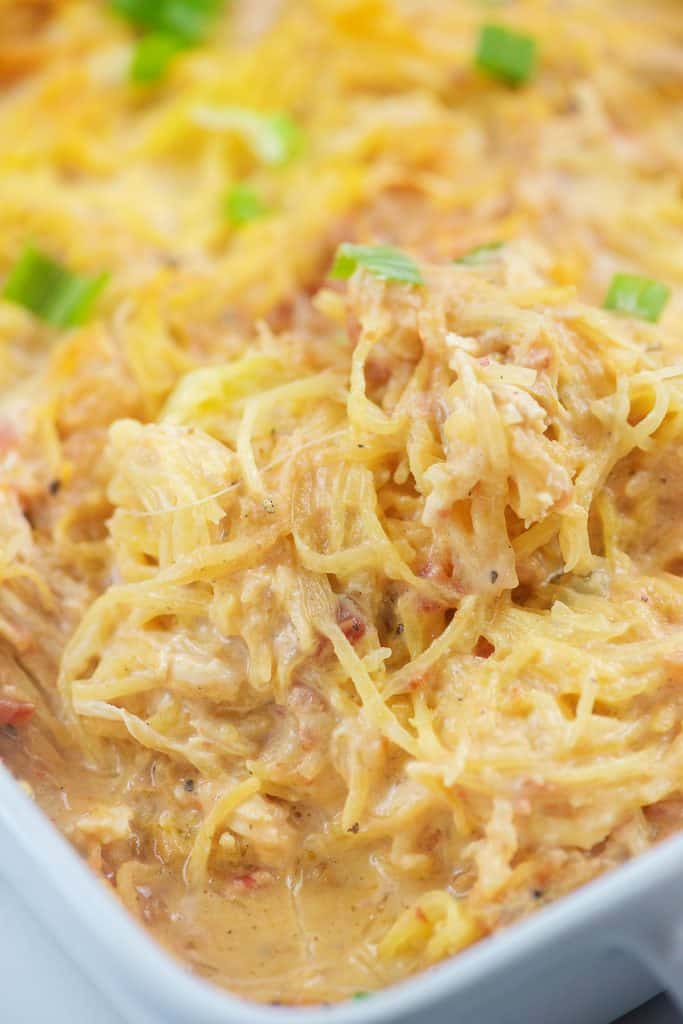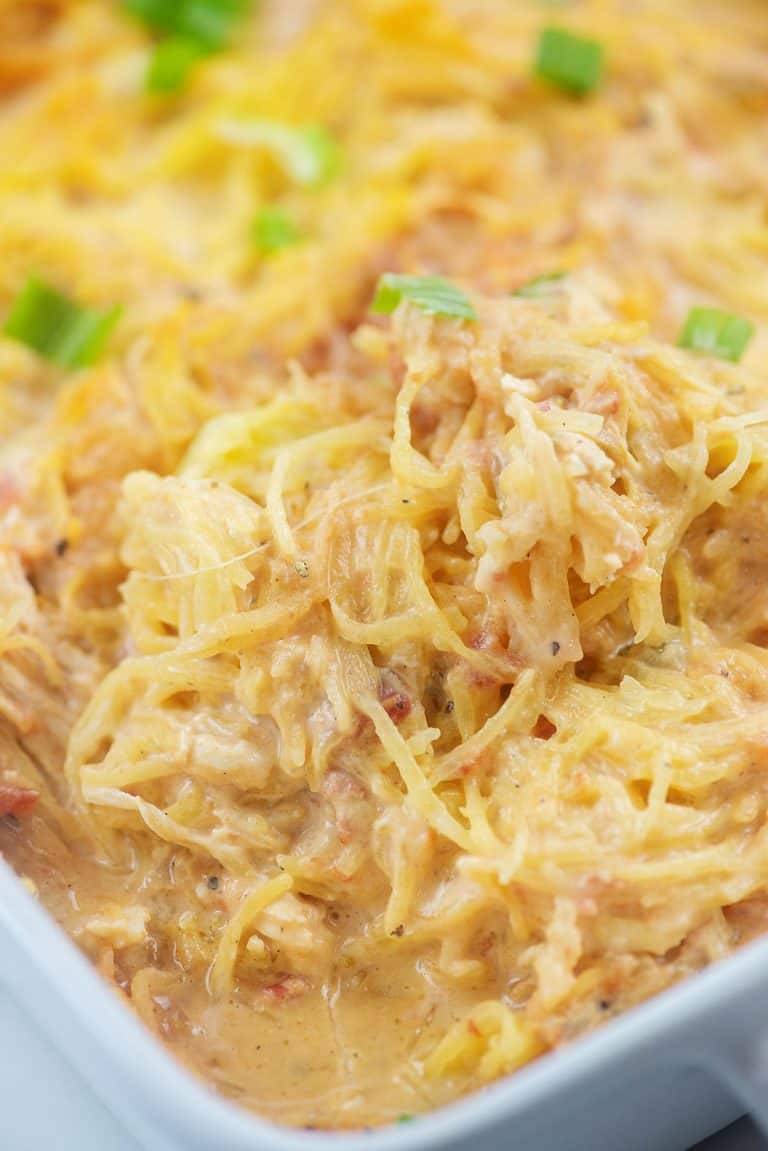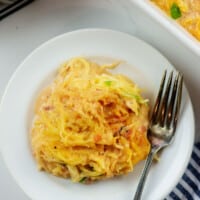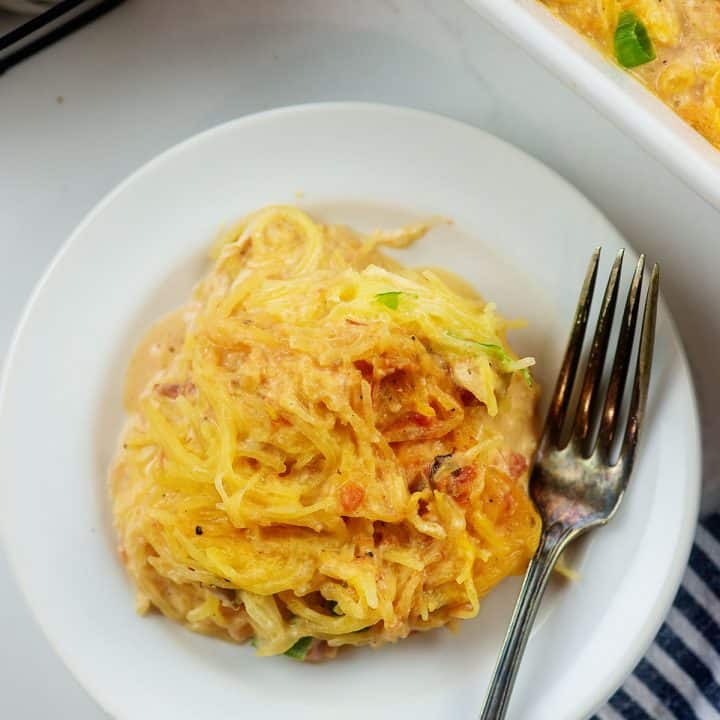 Chicken Spaghetti Squash Bake
This chicken spaghetti squash casserole is a riff on the classic chicken spaghetti. It's creamy and cheesy with a bit of spice from the diced tomatoes and chiles and sweetness from the spaghetti squash.
Cook Time 1 hour 20 minutes
Total Time 1 hour 50 minutes
Ingredients
1 whole spaghetti squash, about 3 pounds
1 1/4 cups heavy whipping cream
2 ounces cream cheese
2 tablespoons butter
1/2 teaspoon ground mustard
1/2 teaspoon pepper
6 ounces cheddar, shredded
3 ounces mozzarella, shredded
3 cups cooked, shredded chicken
10.5 ounces Ro*Tel, drained
2 cloves garlic, minced
1 teaspoon onion powder
Chives, for garnish
Instructions
To cook the spaghetti squash:
To cook in the oven, preheat oven to 400 degrees. Cut the squash in half length-wise and scoop out the seeds with a spoon. Discard the seeds. Drizzle with olive oil and place face down on a baking sheet. Bake for 1 hour or until squash is fork tender.
To cook in the Instant Pot, follow follow these directions..
Once squash is cooked, shred the squash into long spaghetti-like strands by using a fork to scrape the squash widthwise.
Place the strands of squash in a large mixing bowl.
To make the cheese sauce:
Add the heavy cream, cream cheese, and butter to a medium sauce pan and cook over medium heat until the butter and cream cheese have melted, stirring often.
Whisk in the ground mustard and pepper.
Remove from the heat and whisk in the cheddar and mozzarella until the mixture is smooth and creamy.
To assemble:
Reduce oven heat to 350 degrees. Spray a 9x13 baking dish with non-stick spray.
Add the chicken, Ro*Tel, garlic, and onion powder to the mixing bowl with the spaghetti squash.
Pour the cheese sauce over the top and stir gently to coat.
Pour mixture into the prepared baking dish and bake for 20 minutes or until hot and bubbly.
Sprinkle with chives before serving.
Notes
3 pounds of spaghetti squash will yield around 4 cups of spaghetti squash strands.
We didn't measure servings by volume. We just divided evenly into 6 portions, however each serving will be around 1 cup.
Recommended Products
As an Amazon Associate and member of other affiliate programs, I earn from qualifying purchases.
Nutrition Information:
Yield: 6
Serving Size: 1 cup
Amount Per Serving:
Calories: 553
Total Fat: 42g
Saturated Fat: 24g
Trans Fat: 1g
Unsaturated Fat: 14g
Cholesterol: 164mg
Sodium: 435mg
Carbohydrates: 12g
Net Carbohydrates: 10g
Fiber: 2g
Sugar: 6g
Protein: 30g
All information and tools presented and written within this site are intended for informational purposes only. This information is provided as a courtesy and there is no guarantee that the information is accurate.