These ROASTED BRUSSELS SPROUTS WITH BACON AND CAULIFLOWER are the perfect weeknight side dish. Low carb, big flavor, and minimal work!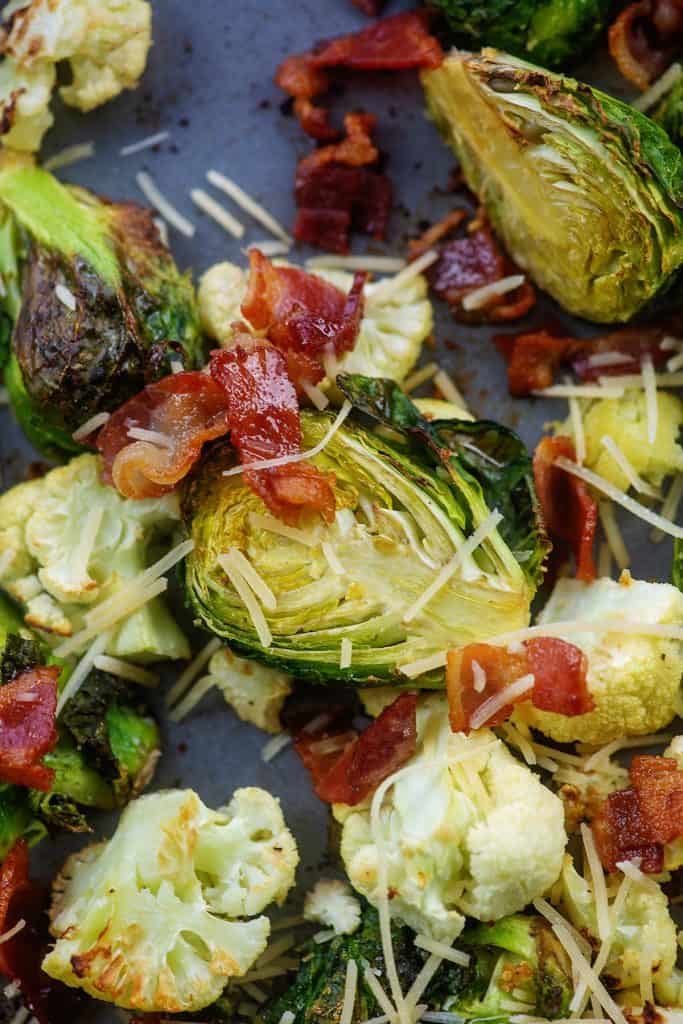 Roasting veggies is such a game changer.
Not only is it an easy method to cook them (season & bake!), the high heat of the oven caramelizes the natural sugars in the vegetables to give them a deeper flavor you'd never get from steaming or (ew) boiling.
We toss loads of veggies in the oven in an array of combinations with whatever seasonings sound good at least a few times a week.
Lately, we've been on a big Brussels sprouts kick, so I thought I'd share our current favorite: roasted Brussels sprouts with Parmesan, bacon, and cauliflower! It's a great mix!
We like to serve these with our keto meatloaf. Reminds me of a meal my grandma would have made.
How to:
Chop the ends off the Brussels sprouts and then halve them.
Toss them into a large mixing bowl with fresh cauliflower florets, plenty of minced garlic, and seasonings.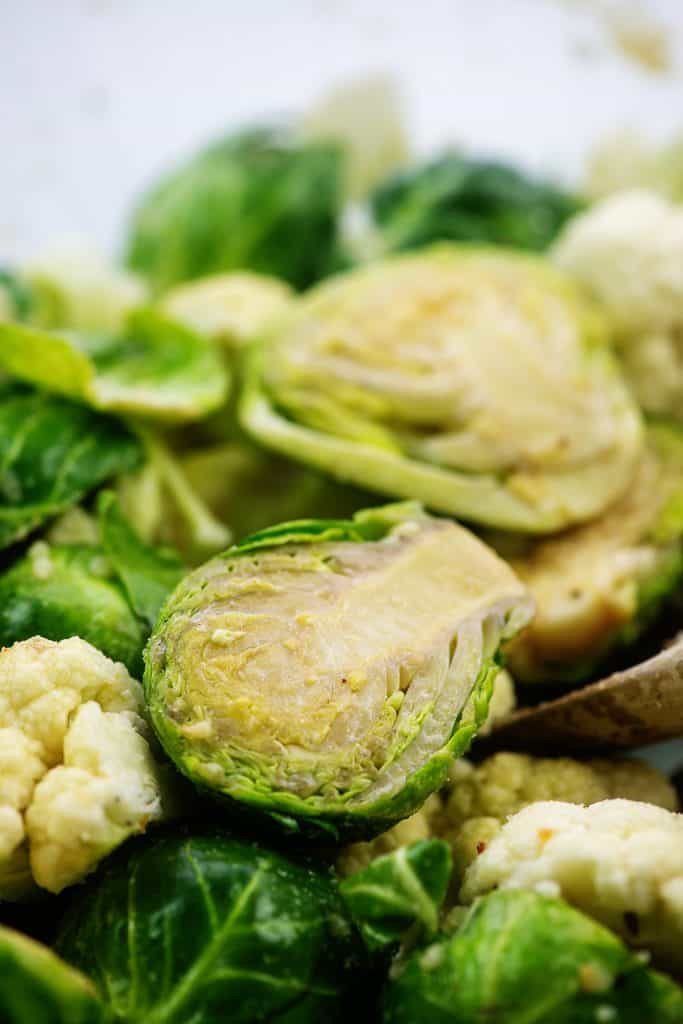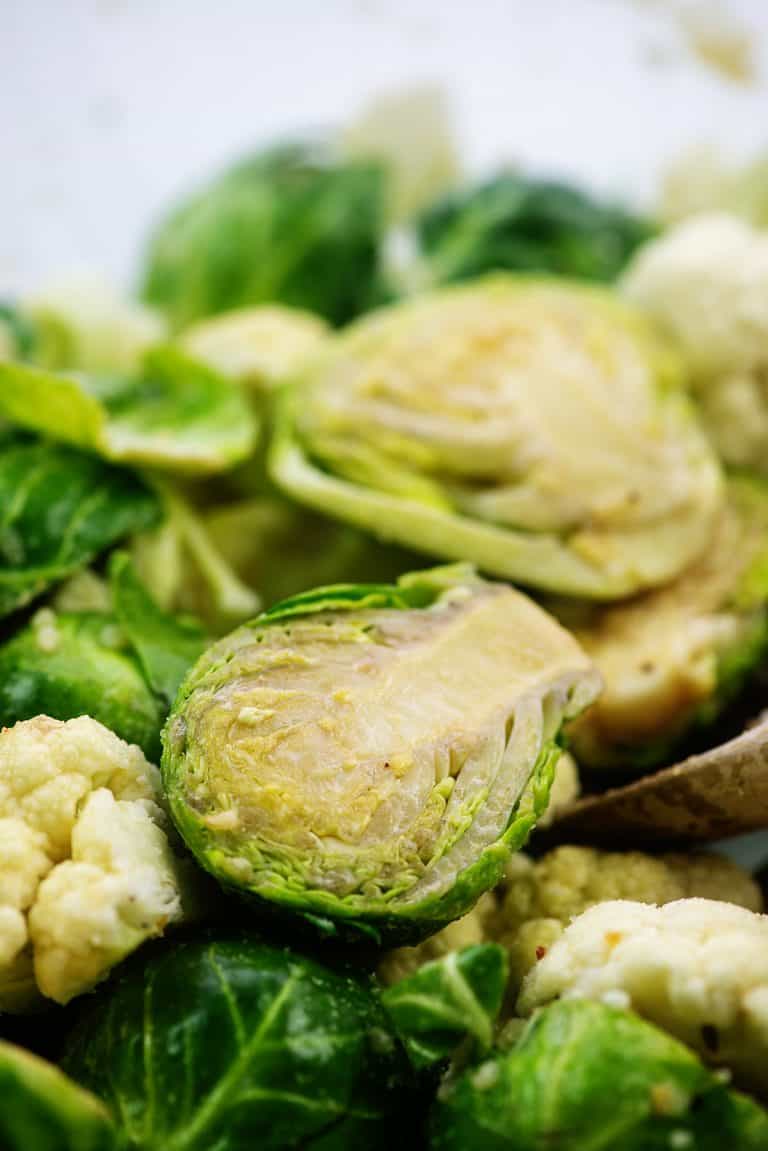 Now there are two ways to go about the fat in this recipe – you can drizzle the veggies with the oil of your choice and pop these in the oven. While they roast, you'll want to fry up some bacon to sprinkle over them before serving.
My favorite way, though, is to start by frying the bacon and then use the bacon drippings as the fat. It adds so much flavor!
Pick which works best for you – either way is tasty!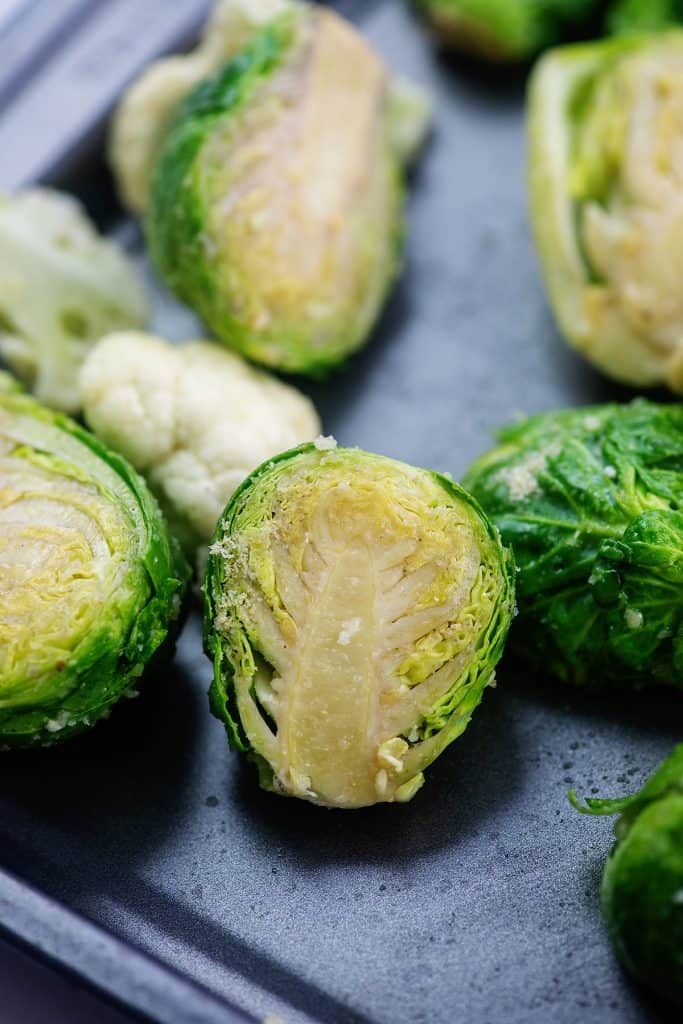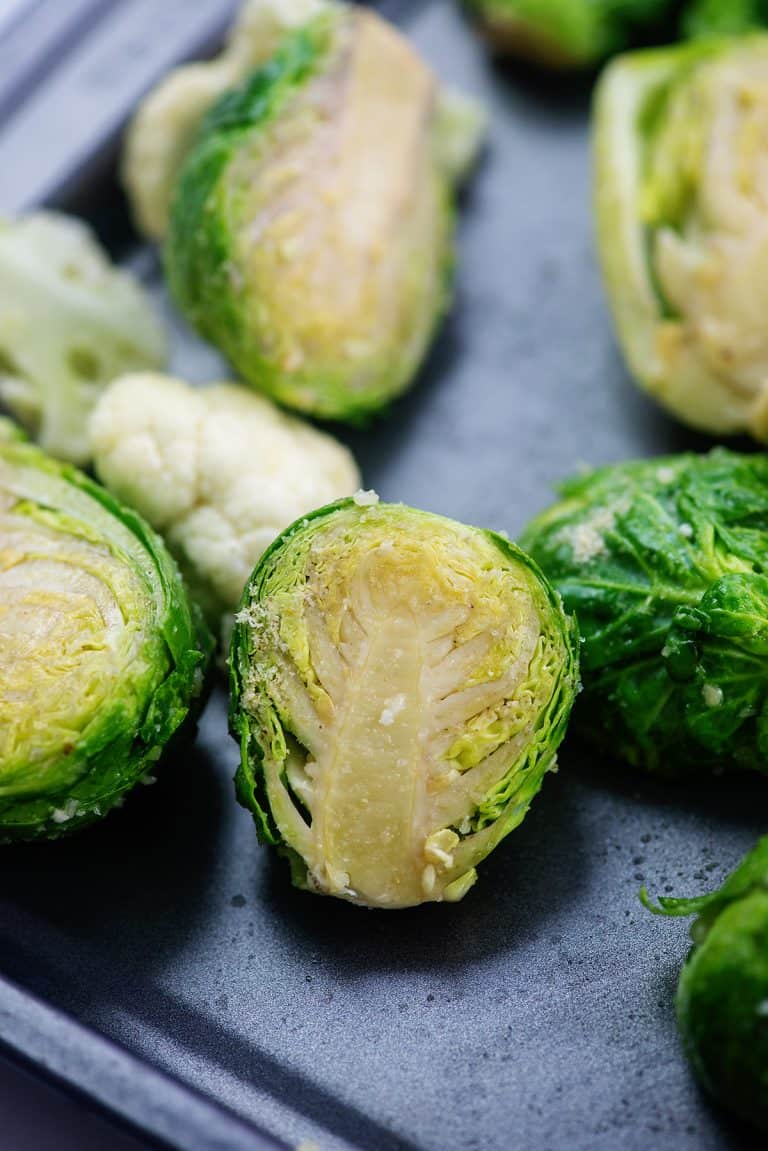 How long to roast Brussels sprouts:
We bake these at 400 degrees for 20 minutes.
You an cook them a bit longer if you like your vegetables softer, but we like them to still have a bit of bite in them.
Serving:
Pull your Brussels sprouts and cauliflower from the oven and sprinkle some crumbled bacon and shredded Parmesan over the top. A bit of red pepper flakes would be nice too, if you like some heat.
Serve this up with our stuffed chicken breast, chicken drumsticks, or pork tenderloin.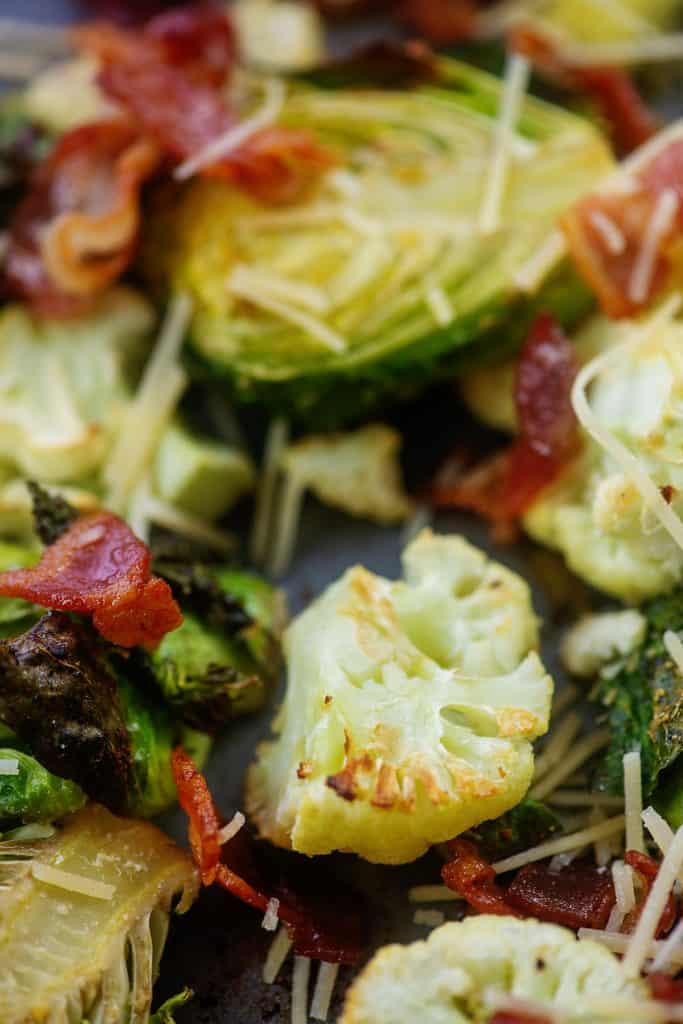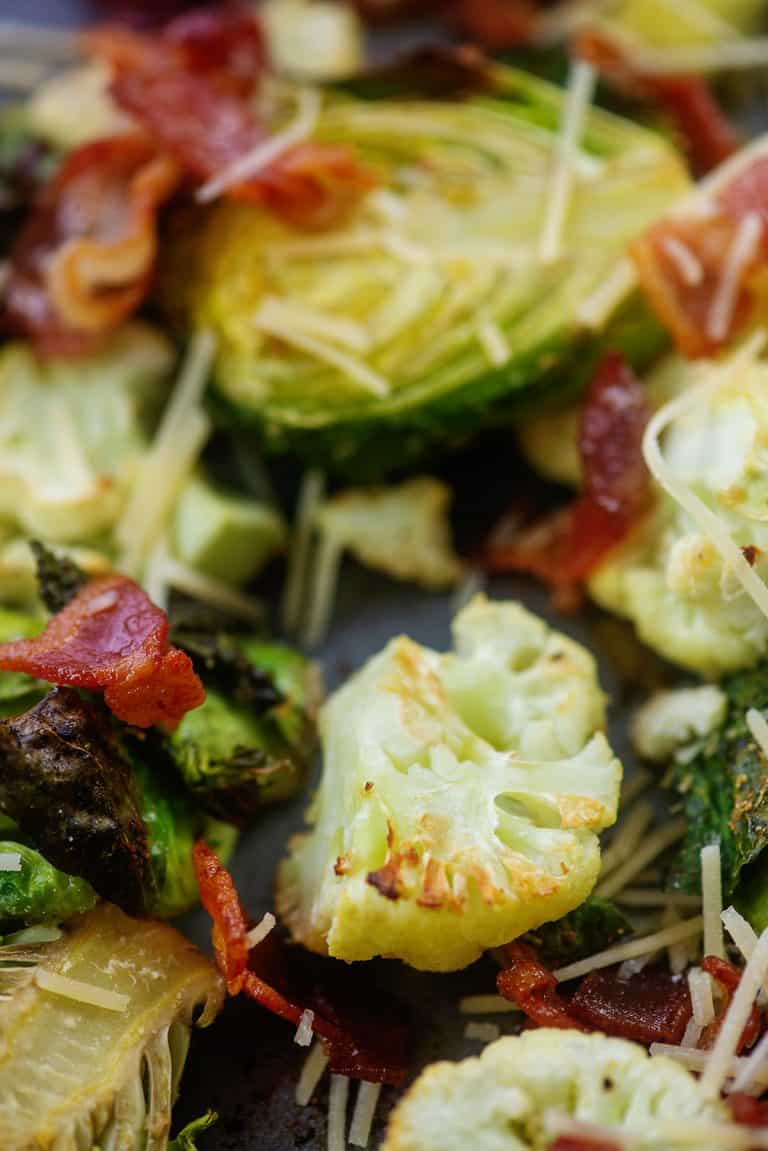 More low carb side dishes: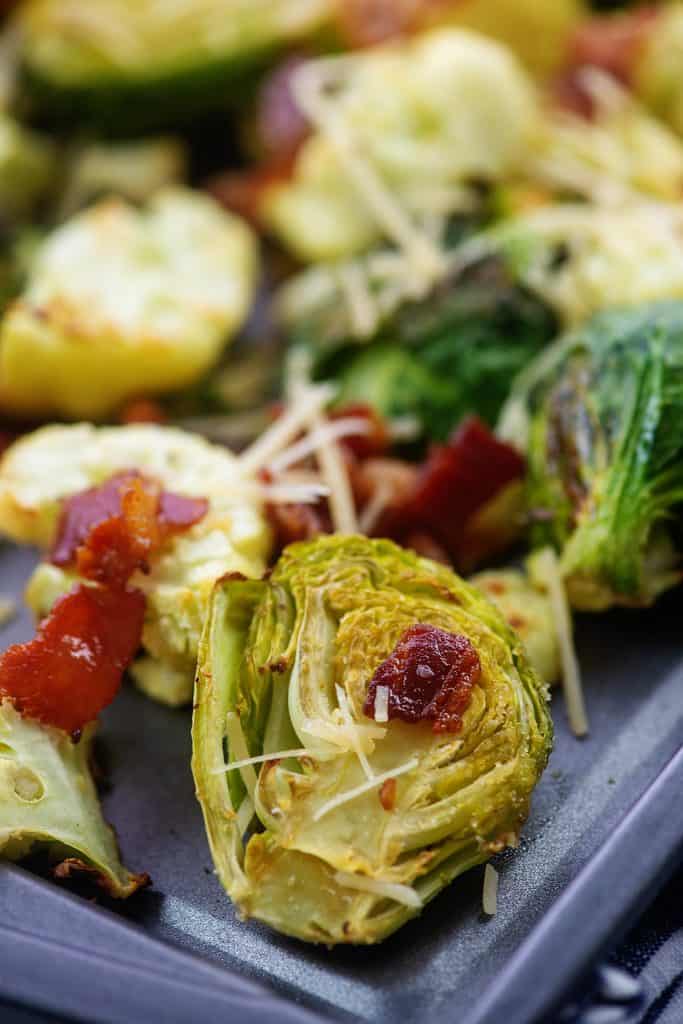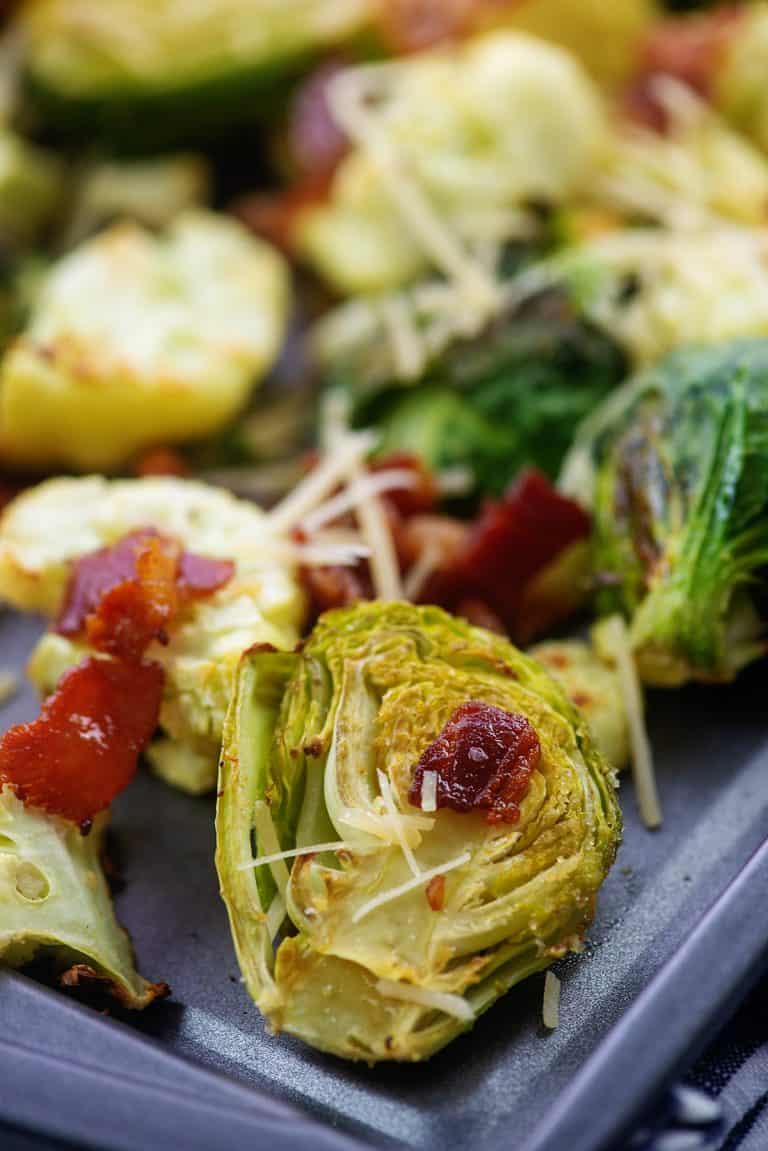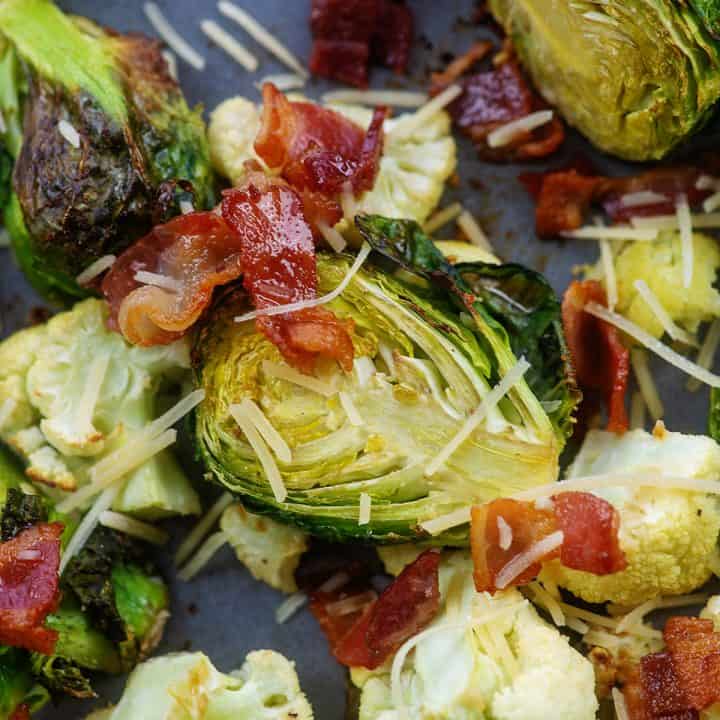 Roasted Brussels Sprouts and Cauliflower
Roasting vegetables brings out their natural sweetness and totally transforms them into something delicious. We topped these off with crumbled bacon and shredded Parmesan. A sprinkle of red pepper flakes would be a nice addition, if you like a little heat.
Ingredients
4 slices bacon
2 cups halved Brussels sprouts
2 cups cauliflower florets
4 cloves garlic, minced
1 teaspoon onion powder
1 teaspoon salt
½ teaspoon cracked pepper
Grated Parmesan, for serving
Instructions
Preheat oven to 400 degrees.
While the oven is preheating, chop the bacon into bite-sized pieces and add to a large skillet over medium heat. Fry until crisp. Remove bacon to a paper towel lined plate and set aside.
Add all of the remaining ingredients, aside from the Parmesan, to a large mixing bowl. Pour the bacon drippings over the top.
Stir well to coat.
Transfer the vegetables to a large rimmed baking sheet and bake for 20 minutes, stirring halfway through, or until vegetables are tender.
Sprinkle with the cooked bacon and Parmesan before serving.
Notes
If you prefer not to use the bacon grease, you may sub in 1-2 tablespoons of the oil of your choice. We prefer avocado oil, if we're not using the bacon grease.
Recommended Products
As an Amazon Associate and member of other affiliate programs, I earn from qualifying purchases.
Nutrition Information:
Yield: 4
Serving Size: 1
Amount Per Serving:
Calories: 109
Total Fat: 5g
Saturated Fat: 2g
Trans Fat: 0g
Unsaturated Fat: 3g
Cholesterol: 12mg
Sodium: 772mg
Carbohydrates: 10g
Net Carbohydrates: 6g
Fiber: 4g
Sugar: 3g
Protein: 8g
All information and tools presented and written within this site are intended for informational purposes only. This information is provided as a courtesy and there is no guarantee that the information is accurate.