Keto Lasagna that tastes like the real deal without the carbs! The 'noodles' are actually layers of deli meat, making this low carb lasagna super easy to assemble, protein rich, and very filling.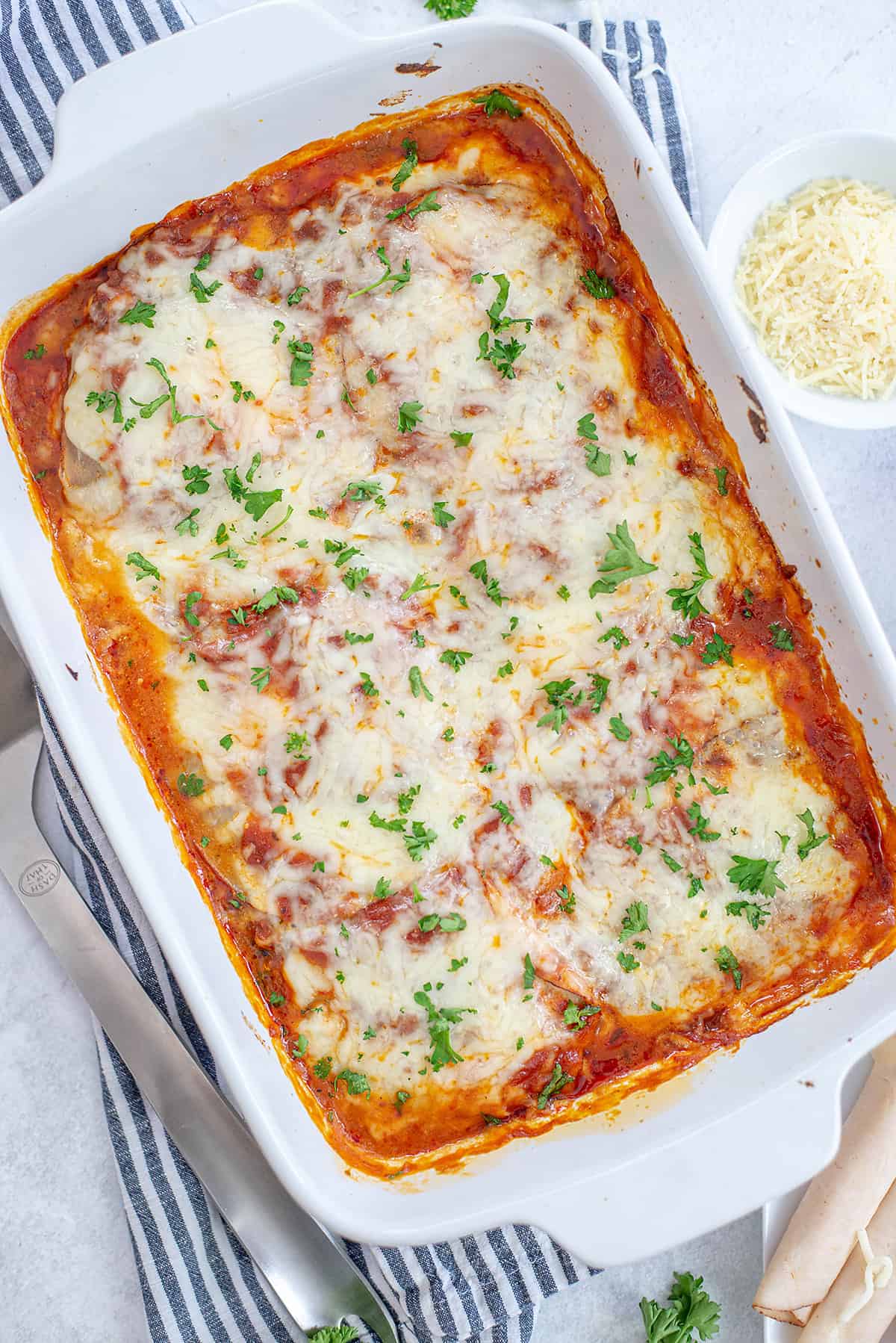 Lasagna. It's a whole thing.
People FIGHT over lasagna…everyone has their special family recipe and how dare someone make it the WRONG way?!

Well, I'm going to risk your Italian grandma shouting at me here, because I just can't not share this keto lasagna with you!
No noodles in this guy! Instead, we're using deli meat…sounds strange, but just trust me! And trust the reviews on this one…
What Readers Are Saying:
"This was SO SO good!! My mother in law (of Italian descent) makes a killer lasagna and it's an event in our house when she makes it. I made this tonight and was so impressed, thinking there was no way I could have a delicious low carb lasagna. I will be making this over and over again! My husband (who has been eating his moms lasagna all his life) had a second helping! And its sooo easy! Thank you!!!!" – Emily
I saw the idea for using deli meat in one of the many Facebook groups I'm in, so I can't take credit for this genius idea. The recipe itself is one I created, but the idea to use deli meat came from someone more clever than me. 😉
Speaking of Facebook groups, have you joined mine yet? Everyone is so kind and supportive and there's so many recipes shared each day. Join here!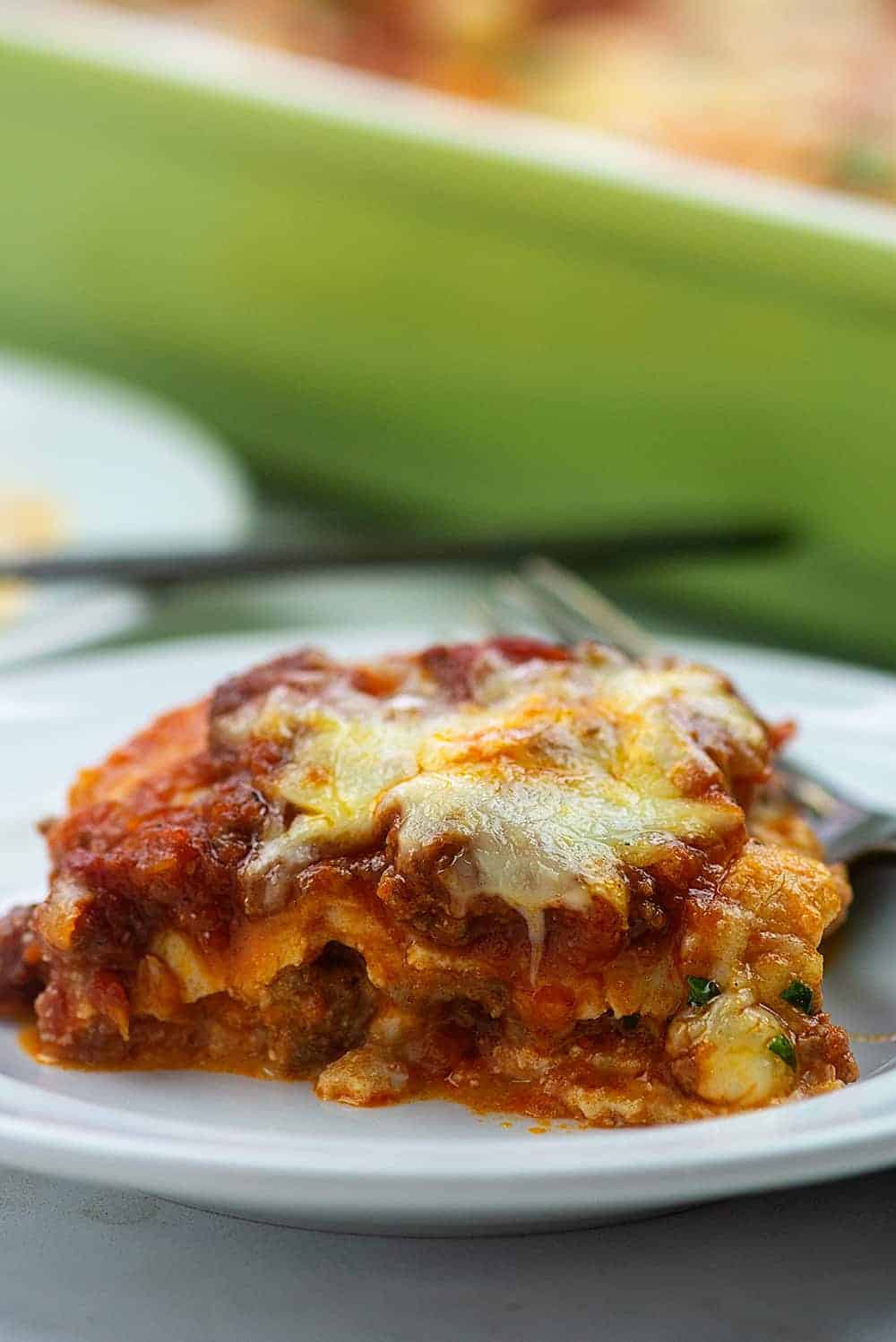 The true test: What did my picky husband and kids think?
They LOVED this low carb lasagna!
My son didn't realize he wasn't eating regular lasagna, but my husband and daughter knew something different was going on. They all said it tasted amazing and would 100% eat it again. This dish is now on rotation in our house!
Ingredient Notes:
This post contains affiliate links. As an Amazon associate and member of other affiliate programs, I earn from qualifying purchases.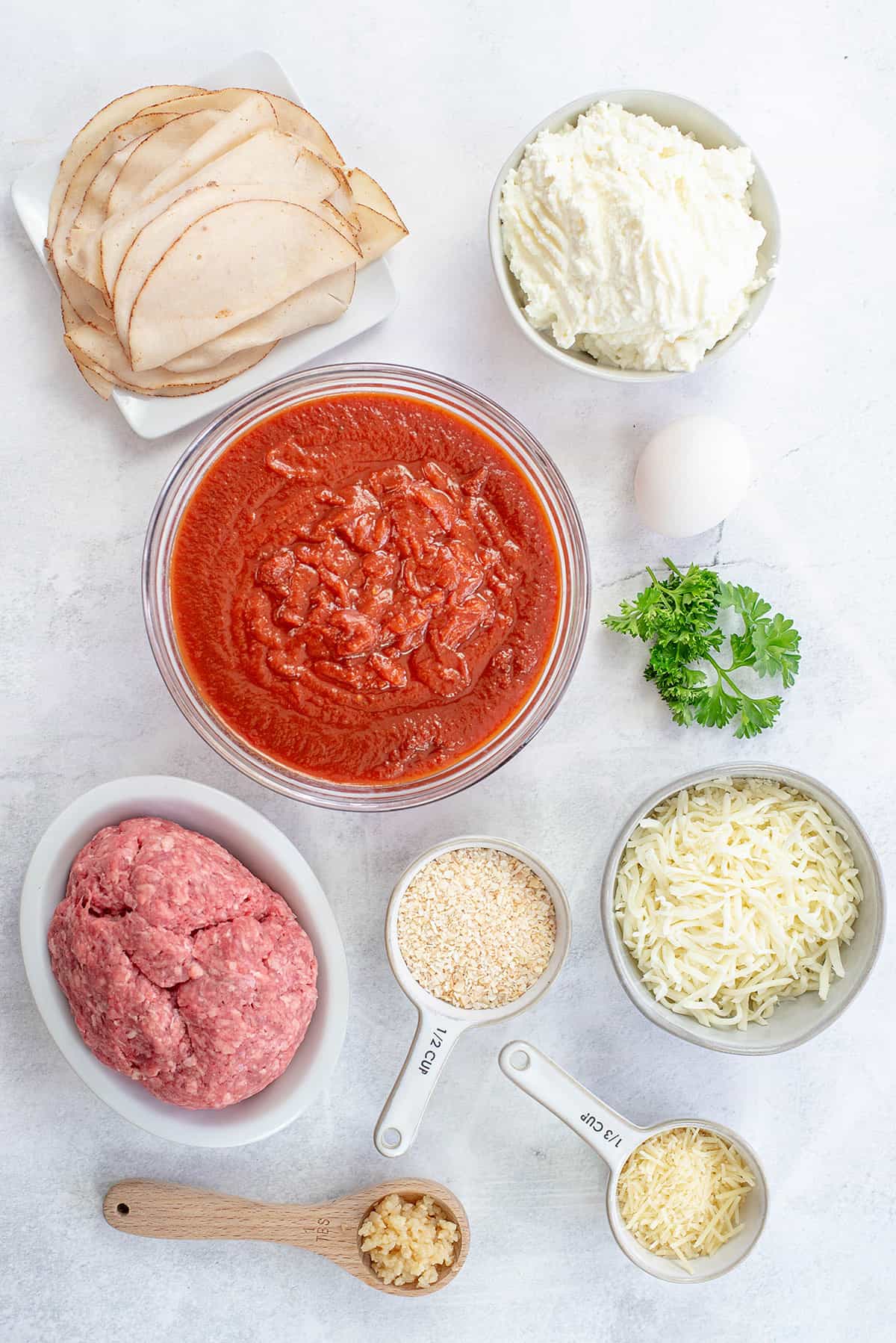 Ground Beef – We grew up with lasagna featuring beef. You can use half Italian sausage or ground pork, if you prefer.
Keto Marinara Sauce – Any thick, sugar free marinara will work nicely but I use and recommend Rao's Marinara Sauce. It's not the cheapest marinara, but it's for sure the best!
Keto Lasagna Noodles – What could be simpler than using deli chicken (or turkey!) in place of lasagna noodles? The deli meat doesn't add a ton of flavor and it holds together pretty well in this low carb lasagna recipe. There will be a bit more liquid in your lasagna, since the deli meat doesn't soak it up quite the same as traditional noodles would.
Cheese – We're using a mixture of ricotta, parmesan, and mozzarella.
Why We Love This Recipe:
All the flavors of a classic lasagna, but without the carbs!
The deli meat really does separate the sauce layers nicely and has a very neutral flavor, like pasta.
This one feels like a big pasta dinner without leaving you feeling bloated and gross.
This one isn't just for the low carbers – the rest of the family enjoys this one too!
How To Make Keto Lasagna:
Meat Sauce: Brown your beef and onion in a skillet and stir in the marinara.
Cheese: Stir together ricotta, Parmesan, egg, garlic, and parsley in a small bowl.
Assemble: Start layering your keto lasagna, just like you would a traditional lasagna! Begin with a bottom layer of the meat sauce, followed by a layer of the keto lasagna "noodles", then a layer of the creamy cheese mixture. Sauce, noodles, cheese, sauce, noodles, cheese, sauce, cheese. <—Easy peasy.
Bake: Now all that's left is to cover the baking dish with some foil and pop it in the oven for 20 minutes. You can then remove the foil and continue baking uncovered for 15 minutes to get that perfect melty cheese topping!
Serve: Let your keto lasagna set for 10 minutes before slicing and serving. There will be liquid at the bottom of the pan, so you may want to use a slotted spatula to serve. Of course, you can't have lasagna without a side salad! Top it off with my low carb salad dressing!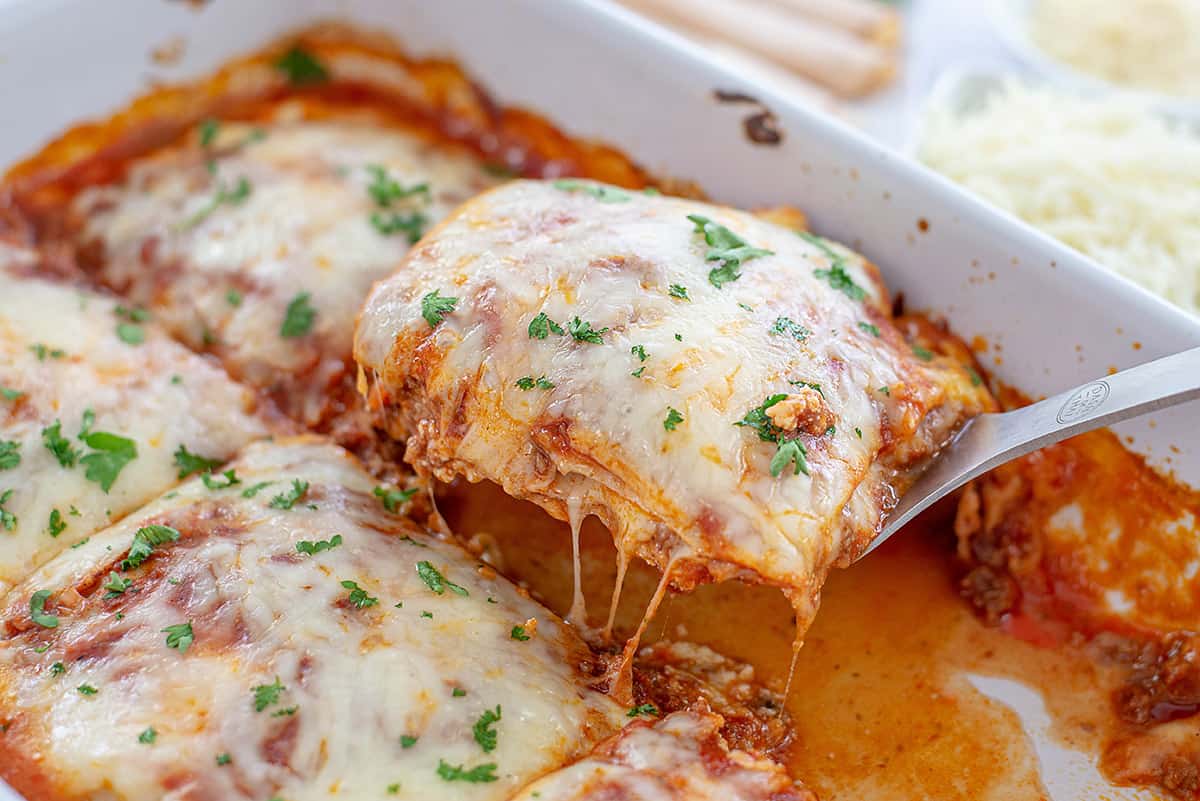 FAQs:
How to store keto lasagna?
This keto lasagna recipe should last for about 4 to 5 days in the refrigerator if well sealed. You can reheat it in the oven like you would a normal lasagna.
Can I make this ahead of time and freeze for later?
I have not tried it myself but some readers have commented that it works! I would just prepare it up to the point of baking and then cover it well and freeze. It should last for at least a couple of months.
Substitutions:
Use half ground beef and half Italian sausage.
Both deli turkey and deli chicken work well in this recipe.
Homemade marinara sauce will be delicious here, if you like to make your own.
Swap the ricotta for cottage cheese – the carb count is very similar among most brands.
More Low Carb Italian Inspired Recipes:
If you enjoyed this keto lasagna recipe, try out these low carb lasagna stuffed peppers!
My keto chicken Alfredo is a hit with the husband and kids and this keto chicken Parmesan and mozzarella stuffed meatballs both go great with my Italian cauliflower salad.
And if you enjoy easy air fryer recipes then you'll definitely like these savory Italian sausage stuffed mushrooms or this crustless pizza!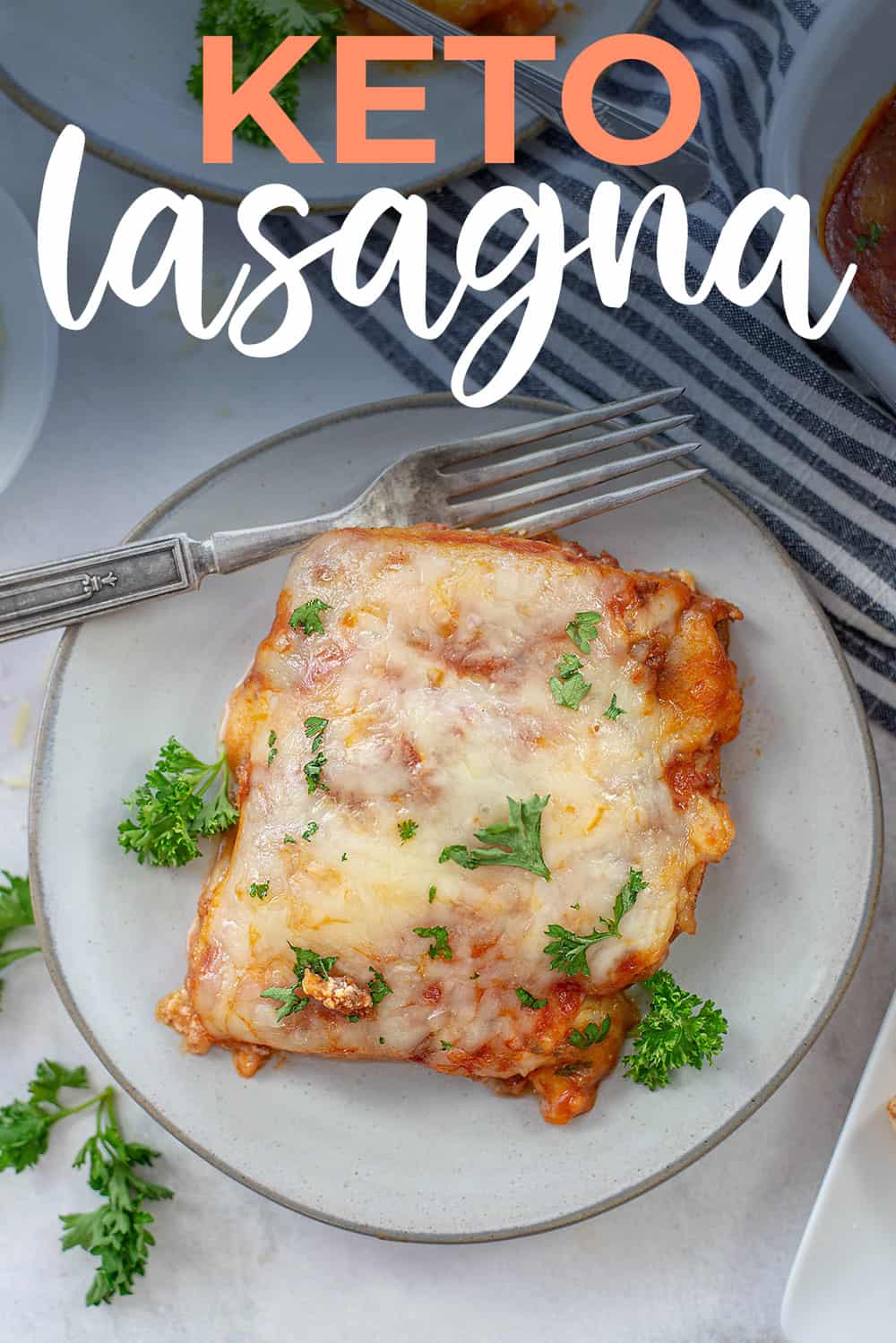 Keto Lasagna
This lasagna skips out on the carb-heavy noodles and uses deli meat instead! So satisfying and filling and it tastes like a traditional lasagna!
Additional Time 10 minutes
Ingredients
1 pound ground beef
½ cup minced onion
24 ounces marinara sauce, such as Rao's
8 ounces chicken deli meat
15 ounces ricotta cheese
1 large egg
¼ cup shredded Parmesan
3 cloves garlic, minced
3 tablespoons minced fresh parsley
2 cups shredded mozzarella
Instructions
Preheat oven to 350 degrees.
Add the ground beef to a skillet over medium heat. Crumble the meat as it cooks. Once meat is about halfway through cooking, add the onion and continue cooking until meat is cooked through. Drain grease and return to the pan.
Add the marinara to the beef and stir to combine. Spoon 1 cup of the meat sauce into the bottom of a 9x13 baking dish to coat the bottom.
Place a single layer of deli meat over the meat sauce.
Add the ricotta cheese, egg, Parmesan, garlic, and parsley to a small bowl and stir to combine.
Spread 1/2 of the ricotta mixture over the deli meat. Top with a ⅓ of the remaining meat sauce. Top with ⅓ of the mozzarella. Repeat layer once.
Create a third layer of deli meat, meat sauce, and mozzarella.
Cover dish tightly with foil and bake for 20 minutes. Remove foil and bake for 15 more minutes.
Let set 10 minutes before slicing and serving. Sprinkle with additional parsely before serving, if desired.
Notes
The nutrition information is based on 6 servings. This is very hearty and filling and could easily serve 8 with a side salad and some veggies. Macros based on 8 servings would be 382 cal, 25g fat, 31g protein, 6g carbs, 1g fiber, and 5 net carbs.
Recommended Products
As an Amazon Associate and member of other affiliate programs, I earn from qualifying purchases.
Nutrition Information:
Yield: 6
Serving Size: 1 slice
Amount Per Serving:
Calories: 509
Total Fat: 33g
Saturated Fat: 14g
Trans Fat: 1g
Cholesterol: 105mg
Sodium: 783mg
Carbohydrates: 9g
Net Carbohydrates: 8g
Fiber: 1g
Sugar: 5g
Protein: 41g