Keto Chicken Parmesan doesn't get any easier than this! Crispy coated chicken, delicious tomato sauce, and plenty of melty cheese!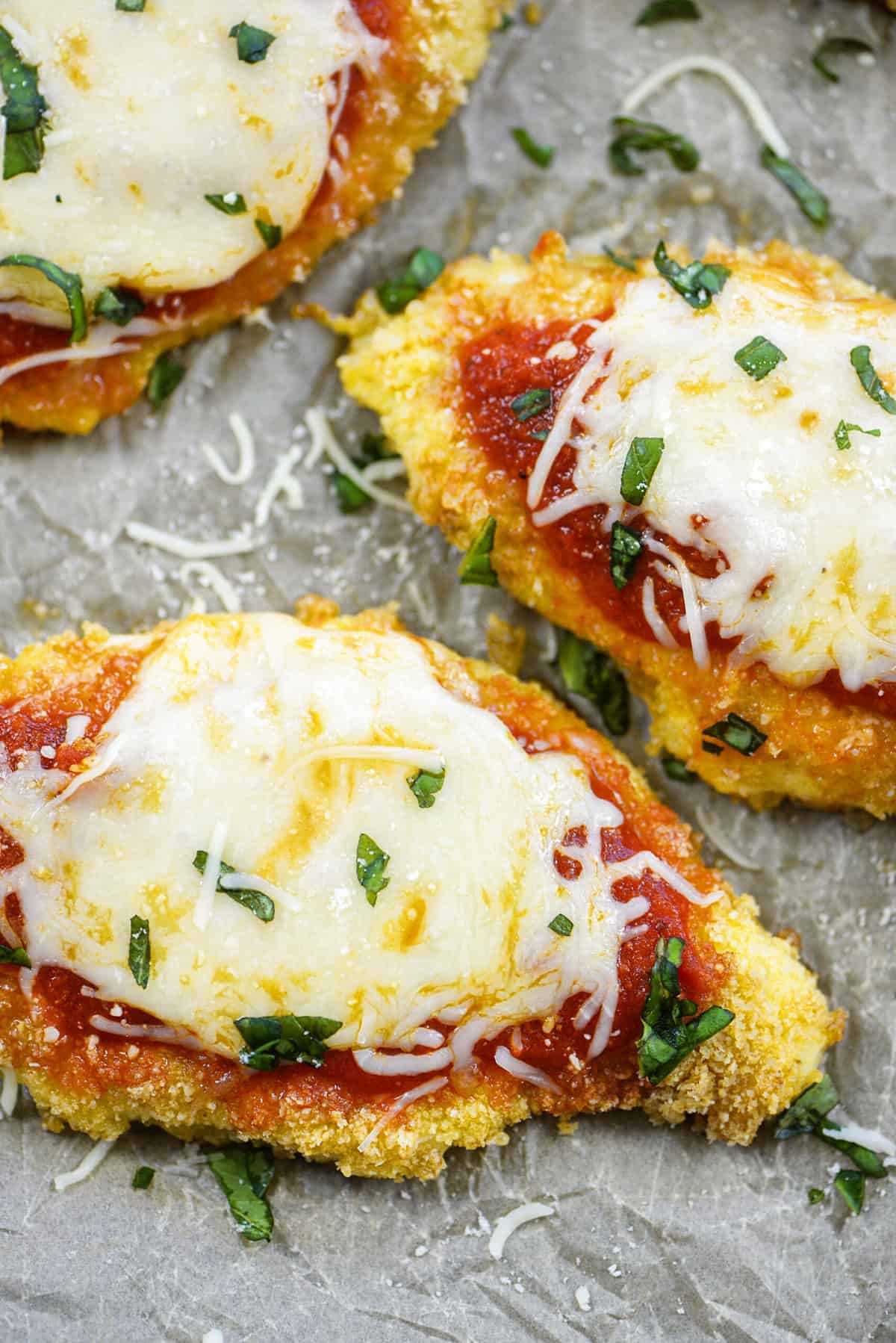 When Chad and I first married, I was happy to try out new recipes.
I had literally never even heard of chicken Parmesan the first time he requested it for dinner, but I jumped right in and it's been a favorite dinner of his ever since.
This keto chicken Parmesan is actually super easy and quick to throw together and the chicken comes out crispy on the outside and juicy on the inside, just like traditional chicken parmesan.
You can serve this with a side of zoodles or our Instant Pot spaghetti squash, if you like the pasta vibes. Otherwise, this is absolutely delicious with our roasted cauliflower rice and a Caesar salad made with our keto Caesar dressing.

Ingredient Notes:
This post contains affiliate links. As an Amazon associate and member of other affiliate programs, I earn from qualifying purchases.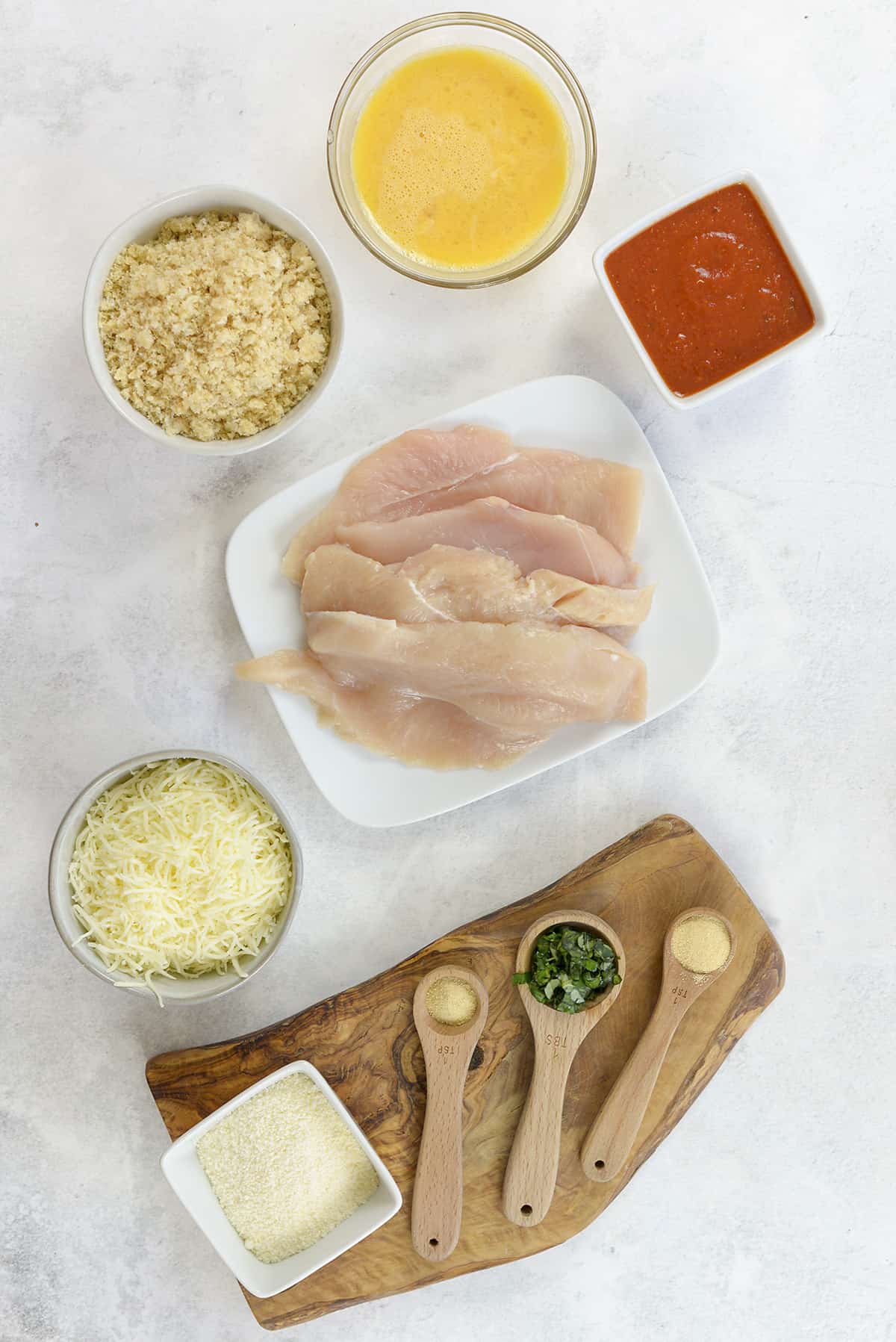 Chicken – This classic chicken recipe starts with some thin sliced chicken breast. You can buy this already sliced thin or buy the standard chicken breasts and slice them yourself.
Breading – We're keeping things low carb here, so we skip the stand breadcrumbs and use a mixture of crushed pork rinds and Parmesan cheese. That gets seasoned with garlic powder and onion powder and an egg helps hold it to the chicken. It's a savory mix that'll add a similar texture to traditional chicken parm.
Mozzarella – You'll finish this recipe off by topping it with add some freshly grated mozzarella cheese!
Marinara – Go for the good stuff! We love Rao's Marinara which has no sugar added and is super tasty! It's perfect for this chicken marinara recipe!
Shop Keto Ingredients
We use Thrive Market for a lot of our specialty ingredients and keto snacks or products. Their prices tend to be cheaper than the local stores and I love that you can so easily sort products by diet.
Like Costco, this is a membership site, but we find that it's more than worth it based on the amount we save over the regular grocery store.
They have monthly or yearly plans. Check it out here.
Why We Love This Recipe:
Comfort Food: Chicken Parmesan is a classic comfort food that many of us grew up eating. No need to give it up now, thanks to our low carb breading!
Easy Peasy: Breading chicken only takes about 10 minutes and then you'l pop it in a hot oven. This one is simple!
Versatile: If you're living with a family full of carb lovers, go ahead and serve this with a side of pasta for them! You can enjoy some spiralized zucchini or shredded spaghetti squash in place of the carbs.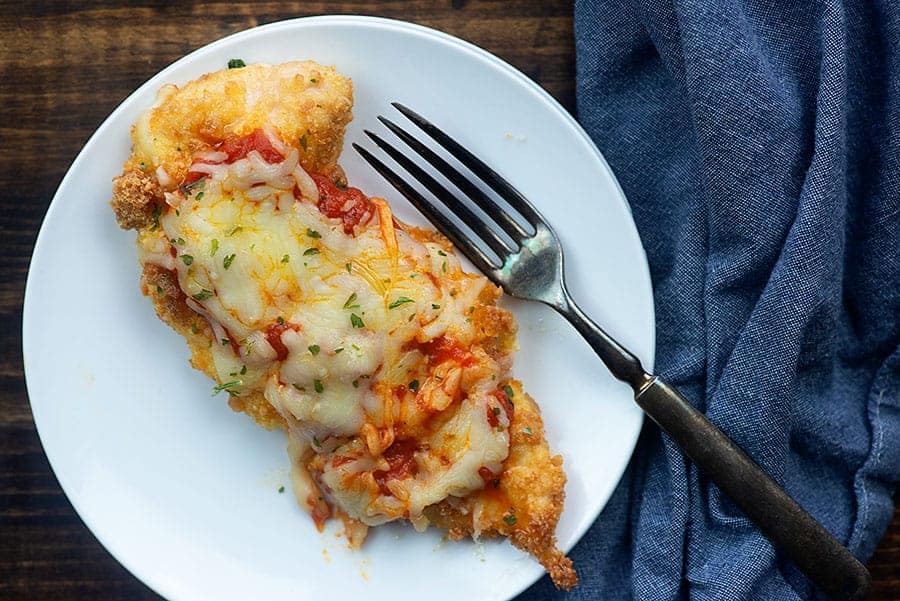 How To: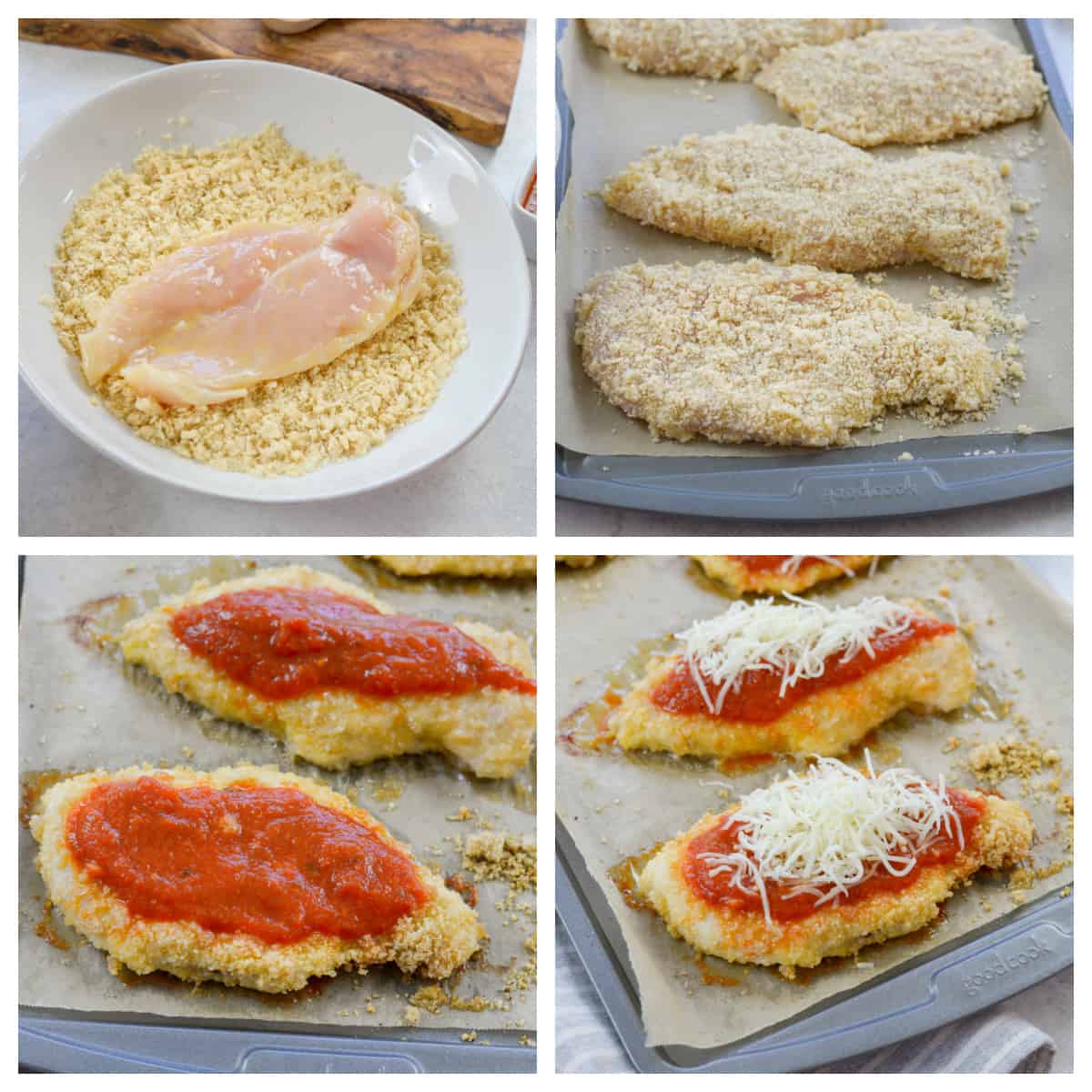 Breading – First, we're going to need to coat our chicken in the crunchy coating. Traditionally, chicken Parmesan is coated in bread crumbs, but you're going to love my hack: Pork rinds! They add the perfect amount of crunch, zero carbs, and the perfect flavor! It doesn't get much easier than this either.
Coat – Crush the pork rinds and mix them with a bit of the powdery Parmesan cheese and seasoning. Dip your chicken in some beaten egg and then dip the chicken in the pork rinds. Make sure you really press the pork rinds into the chicken so the crust adheres to the meat. This keto chicken Parmesan coating is super easy but also super tasty!
Bake – Pop the crushed pork rind breaded chicken breasts onto a greased cookie sheet and bake the chicken for about 20 minutes. You'll finish it off with the sauce and cheese next before a quick final bake!
Sauce – Remove the baked Parmesan chicken from the oven and spoon your favorite marinara sauce over the top of each piece of chicken. You can use as much or as little as you like!
Cheese – Sprinkle some freshly grated mozzarella over the top and pop the dish back in the oven for another 5 minutes. By then the cheese will be perfectly melted over the marinara sauce and the chicken should be nice and crispy! You can serve this keto chicken marinara as is, with a side salad, or my Italian cauliflower salad.
Breading Tips & Tricks: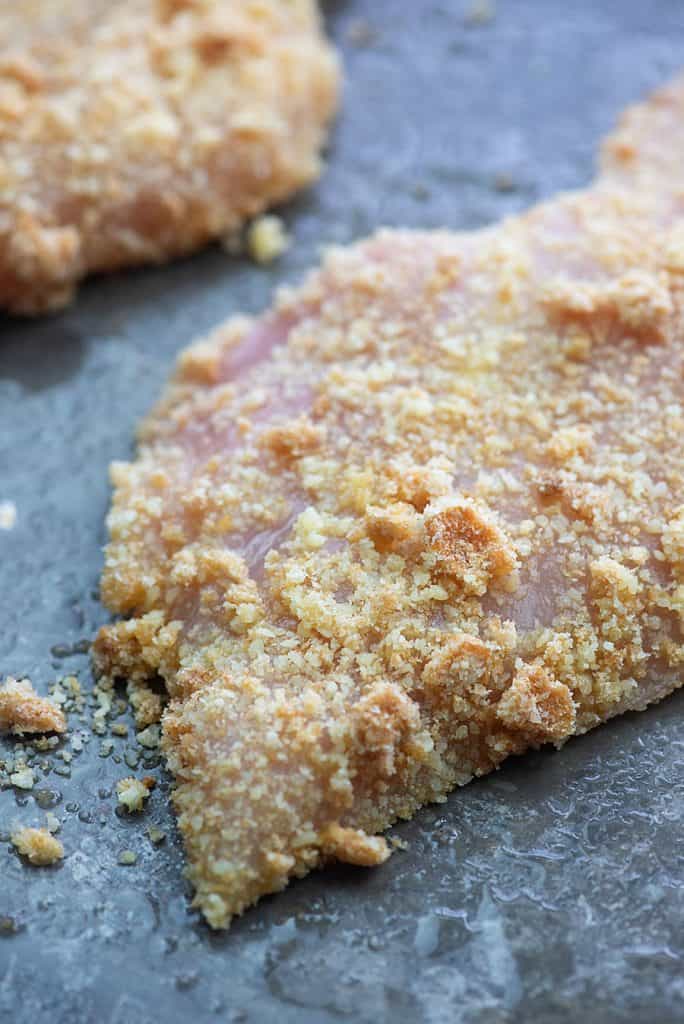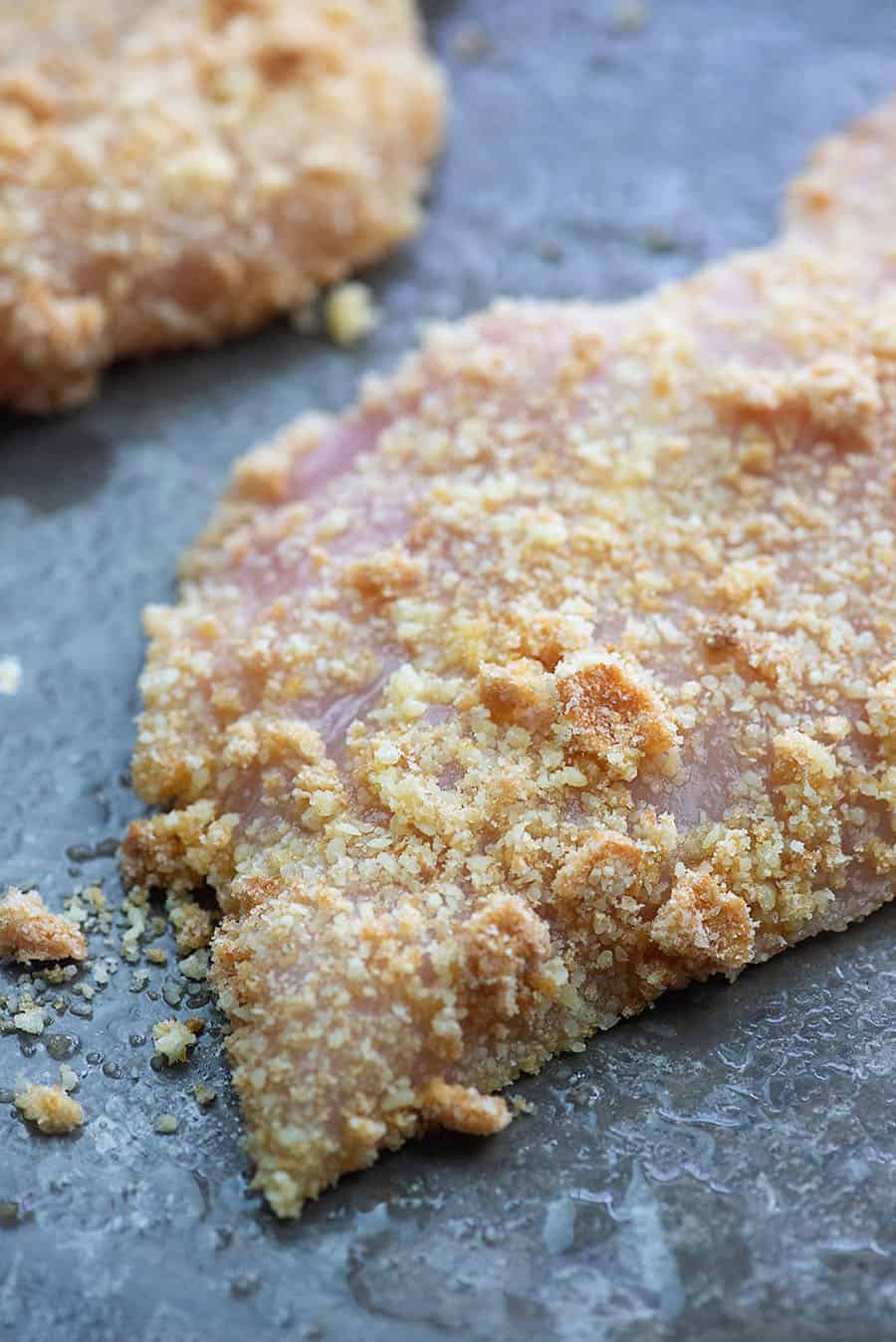 Be sure to use the powdery Parmesan cheese for the most coverage on your chicken!
To crush the pork rinds, we find it works best to pulverize them in a food processor or blender, so that you have nice, fine crumbs. If you have big chunks, they won't crisp up or coat the chicken as nicely.
To keep the breading from sticking to your hands, keep one hand for the wet ingredients (egg wash) and one hand for the dry ingredients (breading). As you transfer the chicken out of the egg, switch hands to coat it in the breading.
FAQs:
How to store chicken Parmesan?
You can keep this low carb chicken Parmesan in the refrigerator for about 4 days. To reheat, we find it crisps up best in an air fryer.
Is this gluten free?
It is! Since we're using crushed pork rinds for the ubreading, there is no gluten to be found in this recipe. Enjoy without worry!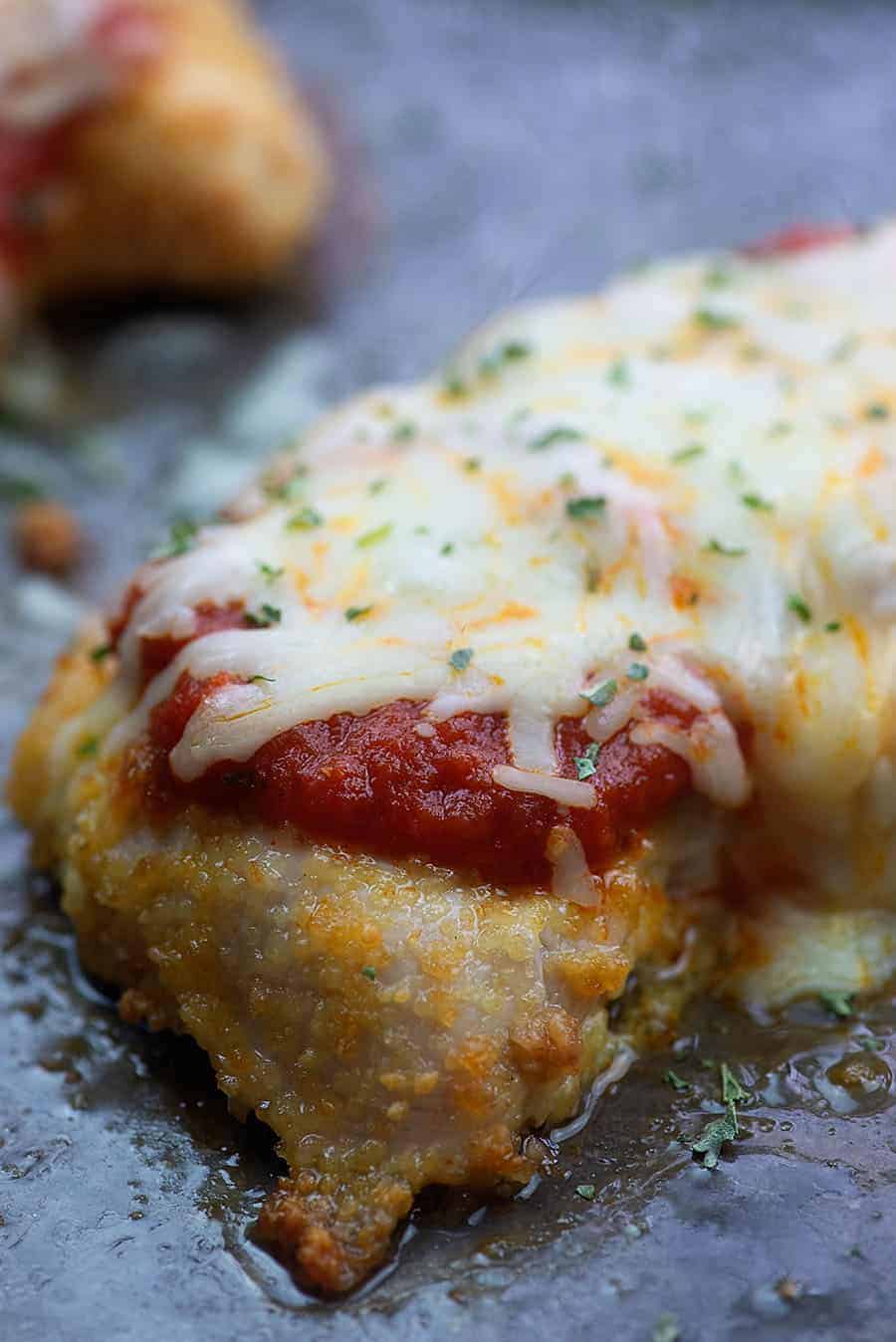 More Low Carb Italian Recipes: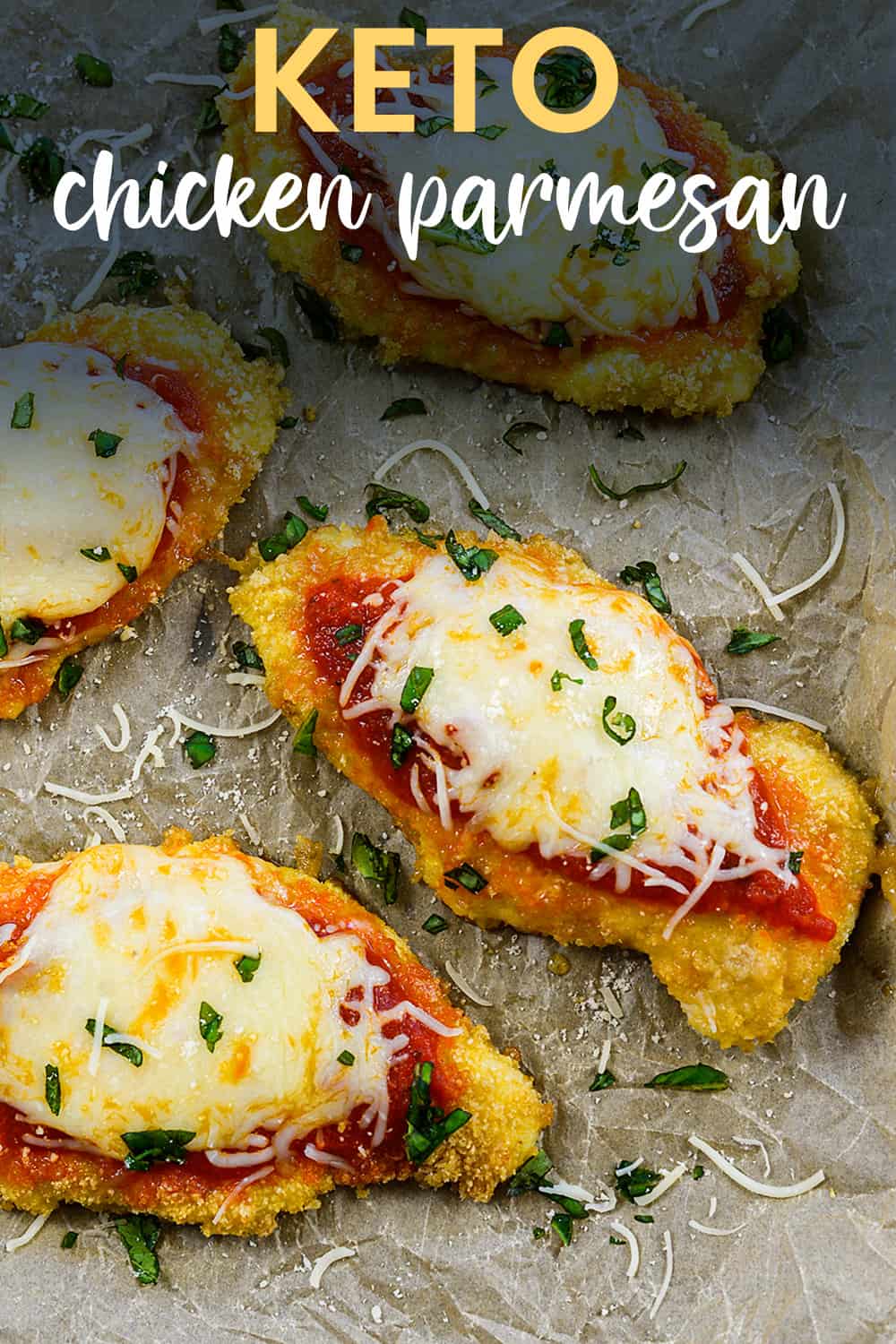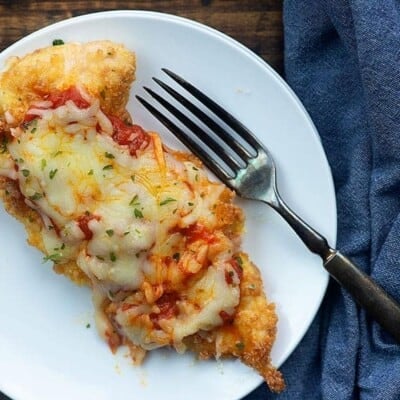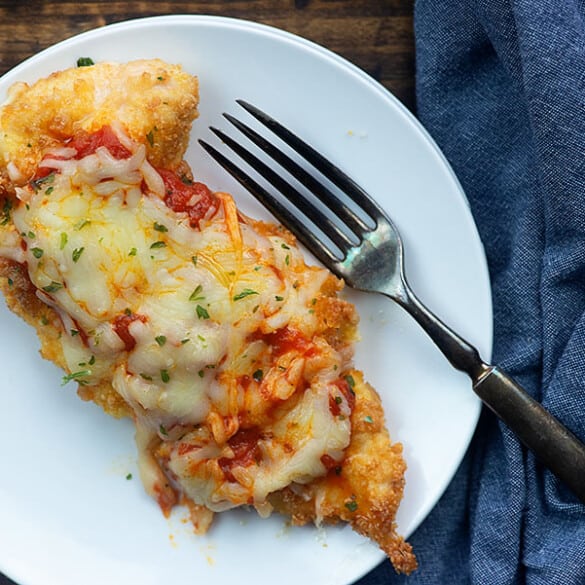 Easy Baked Chicken Parmesan
Low carb chicken Parmesan! So easy and it's ready in about 30 minutes!
Prep10 minutes
Cook25 minutes
Total35 minutes
Ingredients
4 thin sliced chicken breasts
2 large eggs beaten
2 cups crushed pork rinds
½ cup powdered Parmesan
1 teaspoon garlic powder
1/2 teaspoon onion powder
1/2 cup marinara
1 cup grated mozzarella
1 tablespoon minced basil or parsley
Instructions
Preheat oven to 350 degrees. Spray a large cookie sheet with non-stick spray.

Add the eggs to a shallow dish.

Add the pork rinds, Parmesan, garlic powder, and onion powder to a second shallow dish and stir to combine.

Dip each chicken breast into the egg and then the pork rinds. Be sure to press the pork rinds into the chicken so that the crust adheres to the meat.

Place the chicken on the prepared baking dish and bake for 15-20 minutes or until the chicken reaches 160 degrees.

Remove the chicken from the oven and spread the marinara evenly over each piece of chicken.

Sprinkle with the mozzarella.

Return the chicken to the oven for 5 more minutes or until the temperature reaches 165 degrees and the cheese has melted.

Sprinkle with minced basil or parsley before serving.
Tips & Notes:
We use the powdery Parmesan cheese here as it works best as a breading. Shredded Parmesan won't offer as much coverage. Serve with a side salad or sauteed zucchini noodles.
Nutrition Information:
Serving: 1piece| Calories: 527kcal (26%)| Carbohydrates: 6g (2%)| Protein: 66g (132%)| Fat: 25g (38%)| Saturated Fat: 10g (63%)| Polyunsaturated Fat: 12g| Cholesterol: 278mg (93%)| Sodium: 703mg (31%)| Fiber: 1g (4%)| Sugar: 2g (2%)| Net Carbs: 5g (10%)