Our Instant Pot Spaghetti Squash is an easy low carb option for dinner. The spaghetti squash cooks in no time and can be used in a number of ways! If you haven't tried spaghetti squash yet, I encourage you to give it a shot!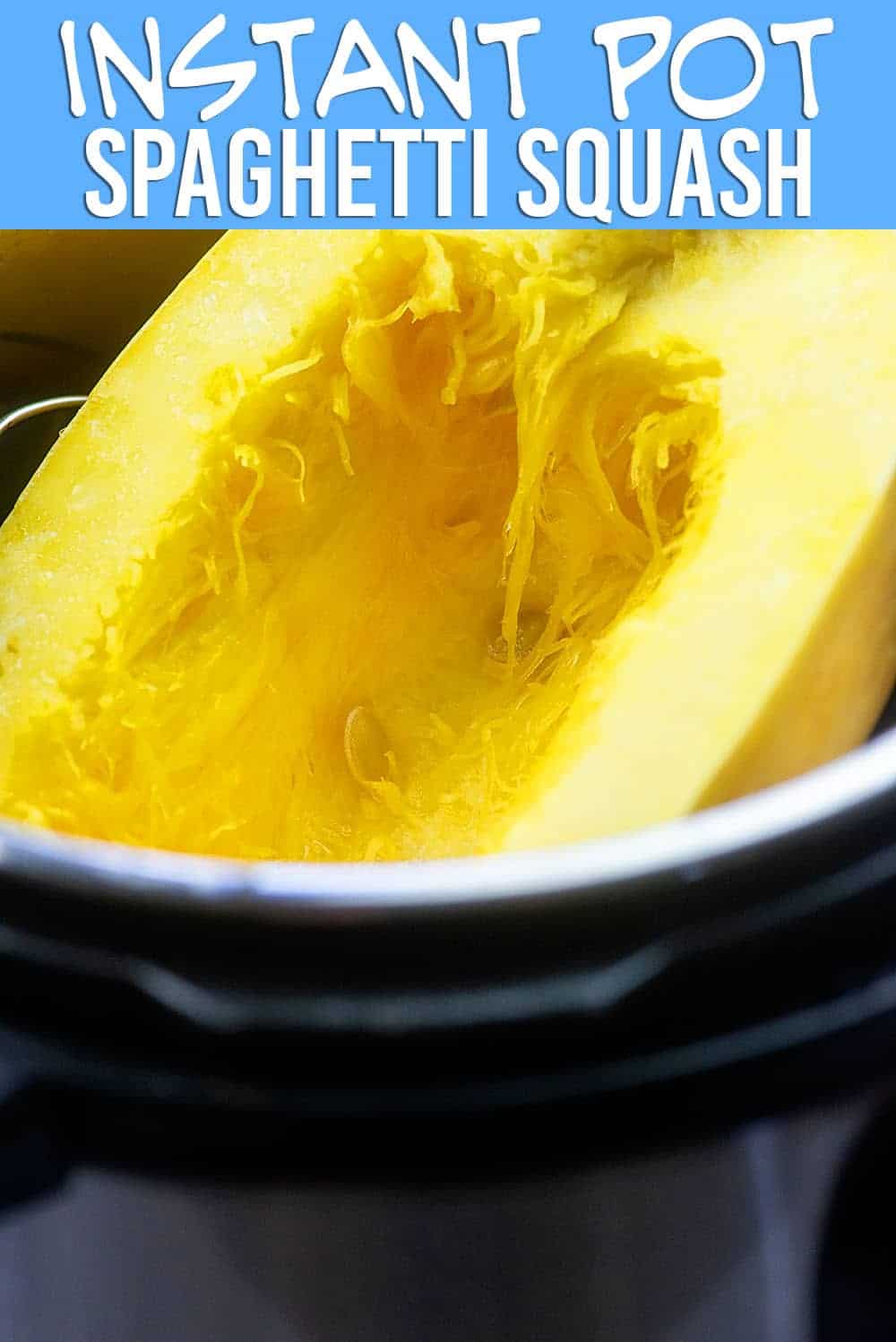 I don't share a ton of Instant Pot recipes here, because I mostly use my Instant Pot for the basics like making boiled eggs (for my keto deviled eggs!) or cooking up a bunch of chicken to shred for other recipes (like avocado chicken salad).
It's just not usually my go to for a real recipe, but I'm working on changing that! I just shared this Instant Pot Mississippi Roast and it was a huge hit with readers, so I'm thinking you guys want more Instant Pot recipes!
Another thing that I find myself using the pressure cooker for is SPAGHETTI SQUASH! It's a brilliant way to cook up that hard chunk of squash fairly quickly and easily! I love that it makes it a bit easier for me so we can have spaghetti squash more often.
Ingredient Notes:
Spaghetti Squash – You'll need a spaghetti squash that can fit in your Instant Pot when cut in half. A ripe spaghetti squash should be firm with a golden yellow or dark yellow color. You'll probably need to cut it in half to fit into your Instant Pot.
Optional Toppings – You can enjoy this spaghetti squash all on its own but there are also many ways you can use spaghetti squash in other recipes, and it's also great for topping with some simple ingredients like cheese and bacon! It's also delicious in our spaghetti squash casserole!
Why We Love This Recipe:
The Instant Pot makes everything simple!
It's an easy, low carb food that can be used in a variety of recipes!
Spaghetti sauce has a sweet, earthy flavor that works well in many pasta type dishes. It's perfect with marinara or Alfredo sauce.
How To Cook Spaghetti Squash in the Instant Pot:
Prepare the Squash – First, you'll want to carefully cut your spaghetti squash in half. The outside is very hard, so do be sure to use a sharp knife, some muscle, and a lot of caution. I find that cutting through one end, flipping, and cutting through again is the easiest. I work one end at a time until I'm all the way around the squash. Use a spoon (or your hand!) to scoop out all of the seeds.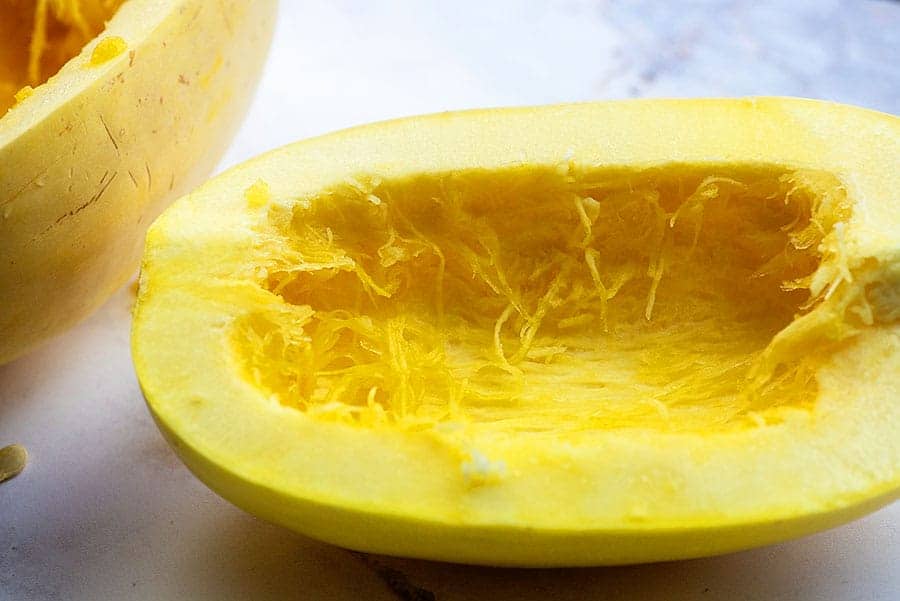 Pressure Cook – Add the trivet to the Instant Pot, pour in some water, and place your squash on the trivet. If you have a very large spaghetti squash, you'll likely not be able to fit both halves in your Instant Pot at the same time. This isn't a big deal since it cooks fairly quickly and is easy to do two batches. Close the Instant Pot, set the vent to sealing, and cook on high pressure for 7 minutes. Quick release the pressure and carefully remove the squash from the Instant Pot using tongs. Use a fork to scrape out strands of spaghetti squash.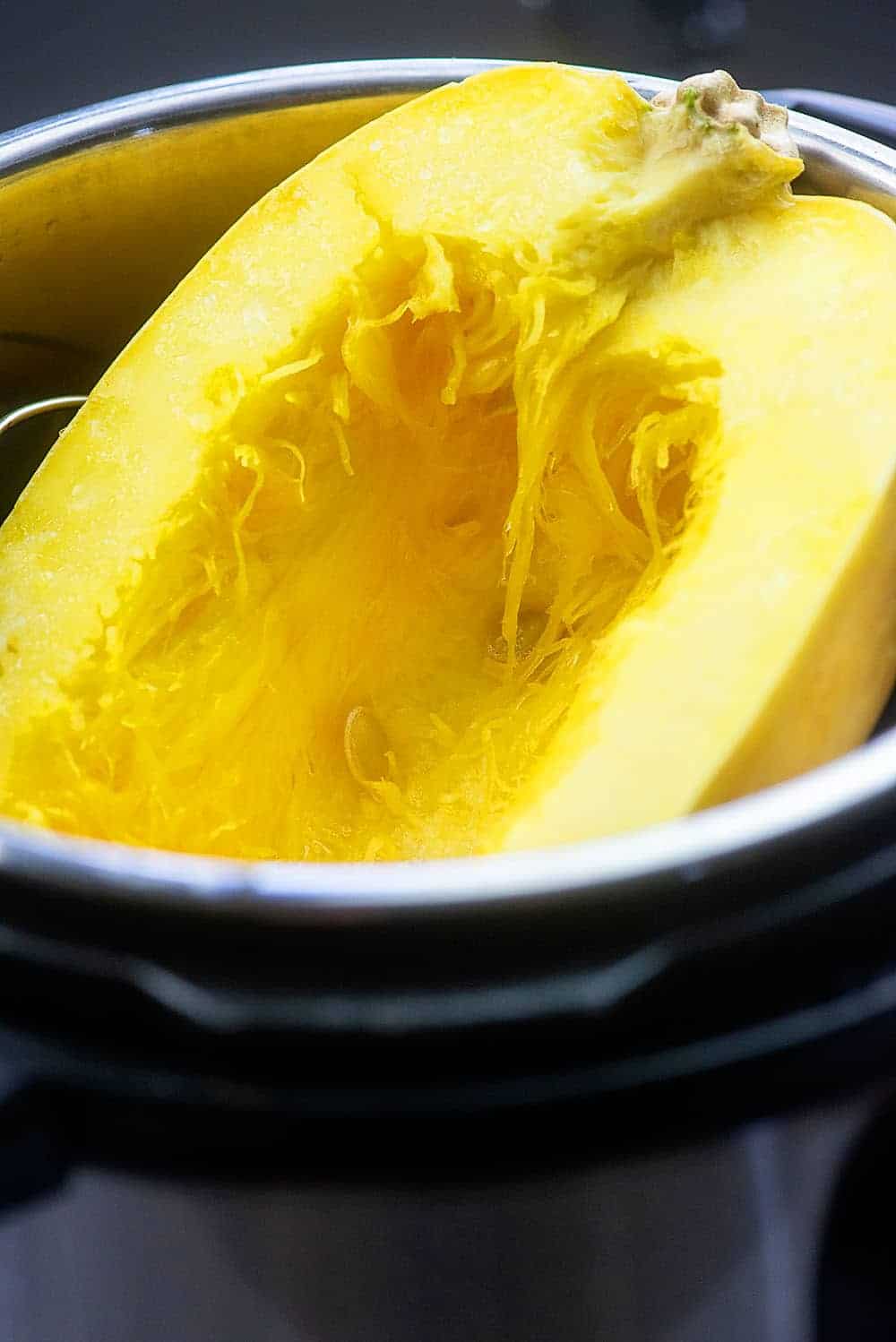 If you don't have an Instant Pot, you'll need one. Grab one here through my affiliate link:

How To Scrape Strands From Spaghetti Squash:
Spaghetti Strands – The key to getting long strands of squash that look like spaghetti noodles is all in the direction in which you scrape! Use a fork and scrape the squash from one short side to the other. It's a bit counter-intuitive as you'd think scraping the longer direction is how you'd get the long strands, but that will you give small pieces of squash.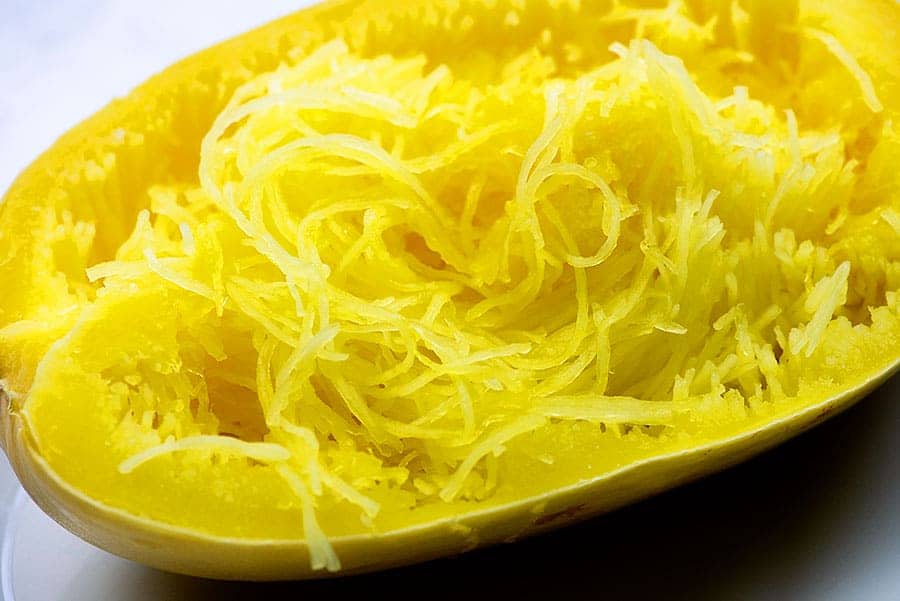 FAQs:
Is spaghetti squash keto?
Spaghetti squash can be a good choice for a keto or low carb diet when eaten in moderation. A 1-cup serving contains 7 grams of carbs and 1.5 grams of fiber. Spaghetti squash is a low calorie food and can be a very healthy option.
What does spaghetti squash taste like?
Spaghetti squash has an earthy, sweet flavor that pairs well with many different ingredients. It has more texture than a noodle, but it works well as a replacement in many pasta dishes.
How to store spaghetti squash?
If you are wondering how to store cooked spaghetti squash you can refrigerate it in a sealed container for about 2 to 3 days or freeze it for about 6 months in a freezer safe bag. Let it cool completely before freezing, and thaw before re-heating. If you only cook one half of the squash and need to store the other raw half wrap it tightly in plastic wrap and keep it in the fridge for up to 5 days.
How to cook spaghetti squash in the air fryer?
I love how quick and easy the Instant Pot is, but that's also true for most air fryer recipes! Check out this great guide on how to air fry spaghetti squash!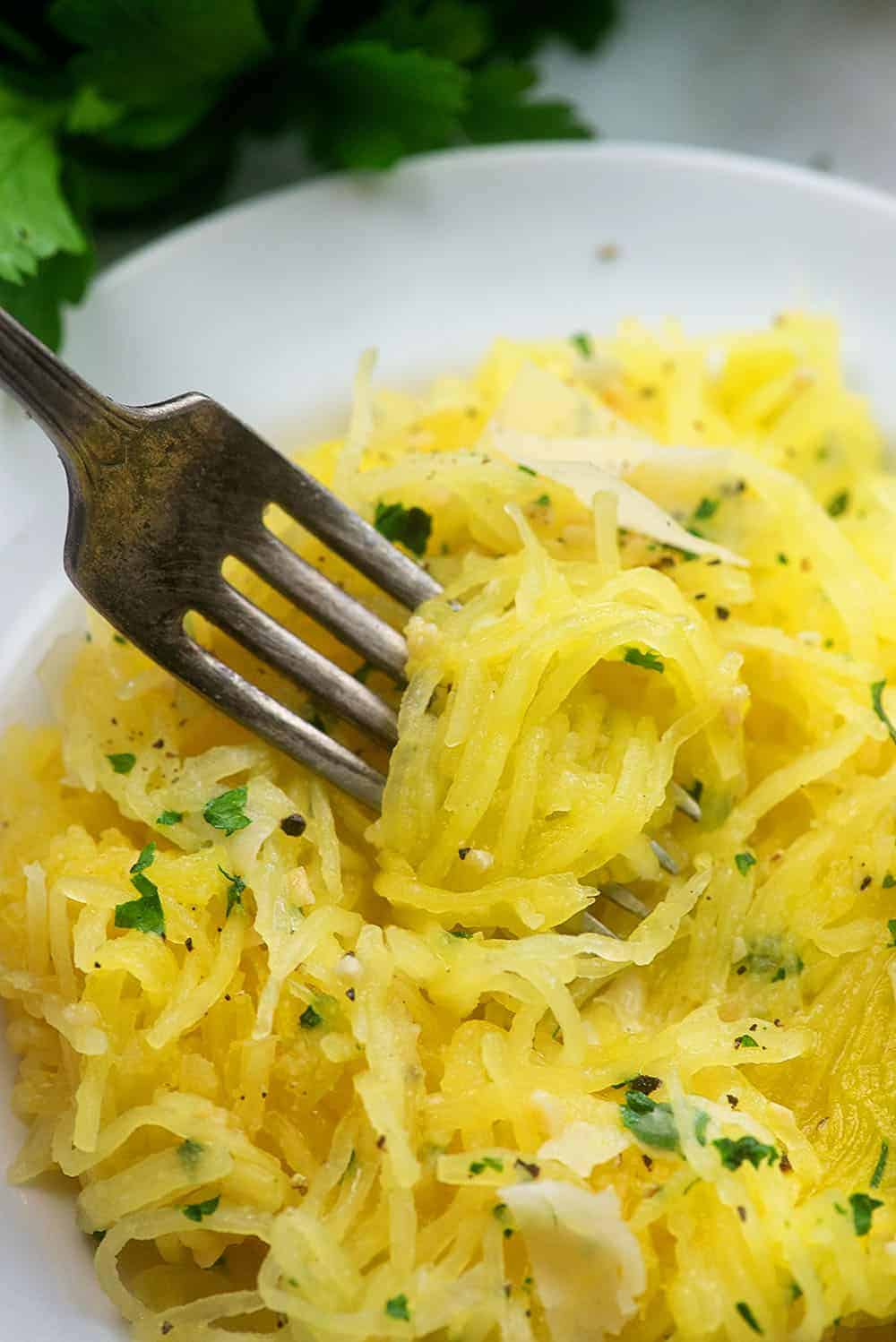 Easy spaghetti squash recipes:
Spaghetti squash is a great start to many recipes. We absolutely love it in my spaghetti squash casserole. This roasted spaghetti squash with bacon and Parmesan is always a hit too.
These spaghetti squash breadsticks have been calling my name lately, and buffalo chicken spaghetti squash is always a spicy hit!
I'm also anxious to try this spicy tomato spaghetti squash recipe!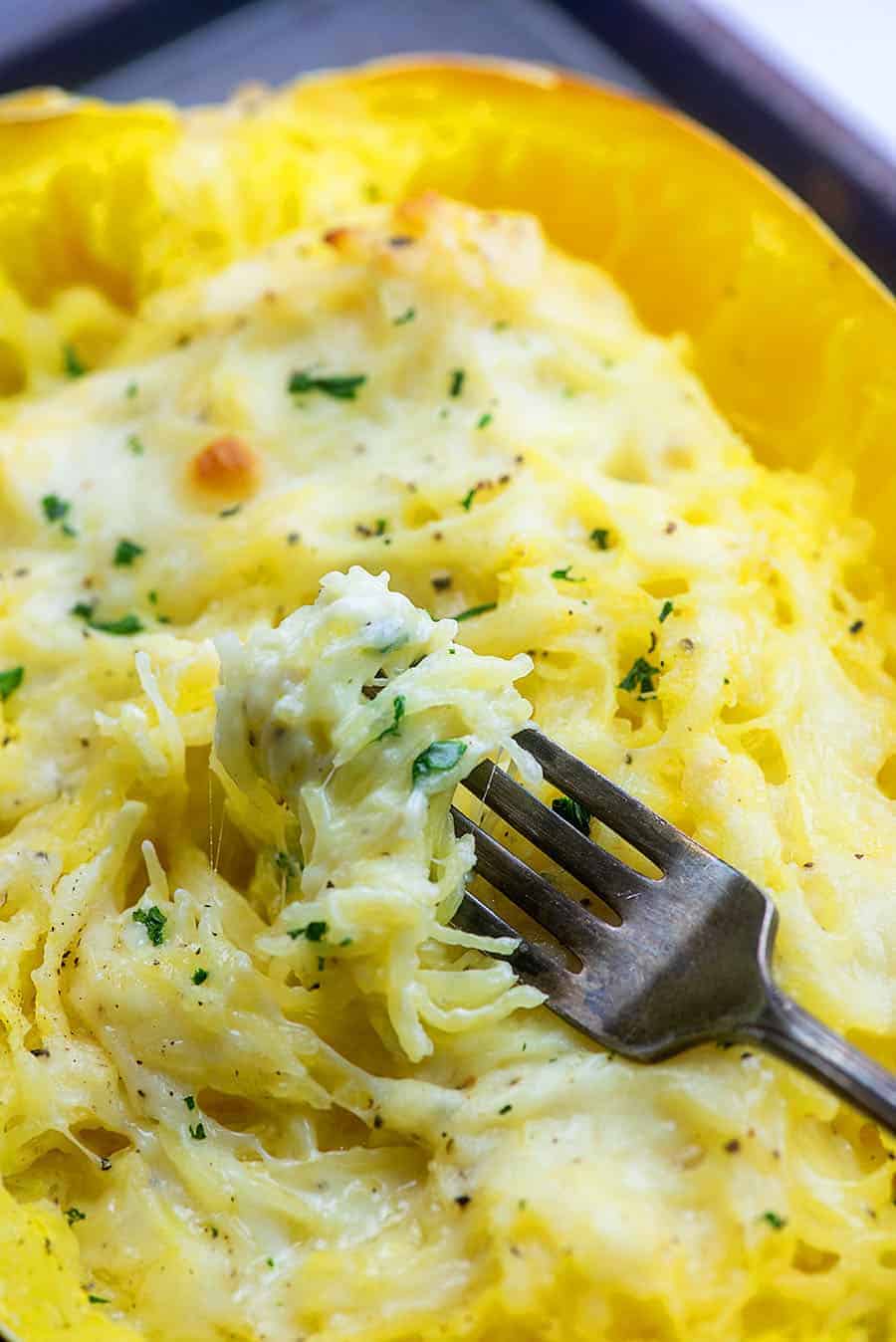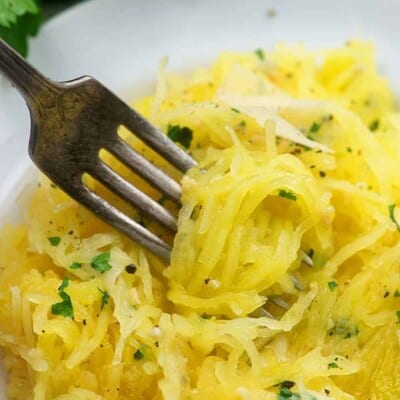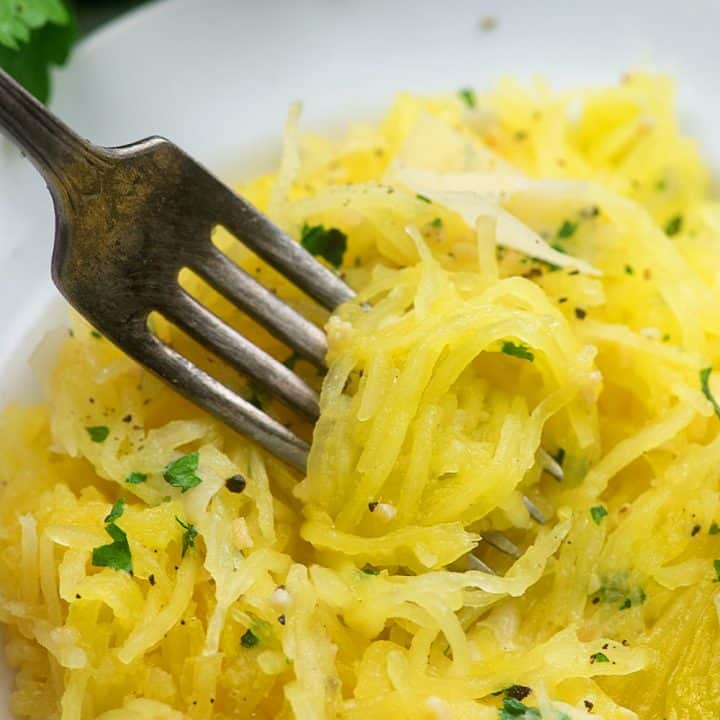 Instant Pot Spaghetti Squash
My favorite way to cook spaghetti squash is in the Instant Pot. It's quick, simple, and pretty hands off. Scrape out the strands of spaghetti squash and use in your favorite recipe.
Prep5 minutes
Cook7 minutes
Additional Time15 minutes
Total27 minutes
Serves 1 whole spaghetti squash
Ingredients
1 medium spaghetti squash about 3 pounds
Instructions
Use a sharp knife to carefully cut the spaghetti squash in half.

Remove the seeds from the squash using a spoon or your hands.

Add the trivet to your Instant Pot and add 1 cup of water.

Place the spaghetti squash in the Instant Pot. If both halves do not fit at the same time, you'll have to cook them separately. The lid must fully seal with the squash in the pot.

Close the lid, set vent to sealed, and cook on high pressure for 7 minutes.

When the Instant Pot finish cooking, manually release the pressure carefully.

Once pressure has fully released, remove the lid and use tongs to remove the squash.

To shred the squash into long spaghetti-like strands, use a fork to scrape the squash widthwise.
Tips & Notes:
This squash can be tossed with garlic butter and eaten as is, or used in any number of spaghetti squash recipes such as my spaghetti squash casserole.
Nutrition Information:
Serving: 1| Calories: 32kcal (2%)| Carbohydrates: 7g (2%)| Protein: 1g (2%)| Sodium: 22mg (1%)| Fiber: 2g (8%)| Sugar: 3g (3%)| Net Carbs: 5g (10%)