This 5 ingredient Instant Pot Mississippi Pot Roast is tender, juicy, and packed full of flavor from the pepperoncini, Au Jus mix, and ranch seasoning! Shred this up and serve on your favorite low carb bun or pile it on some mashed cauliflower for a family-friendly low carb dinner!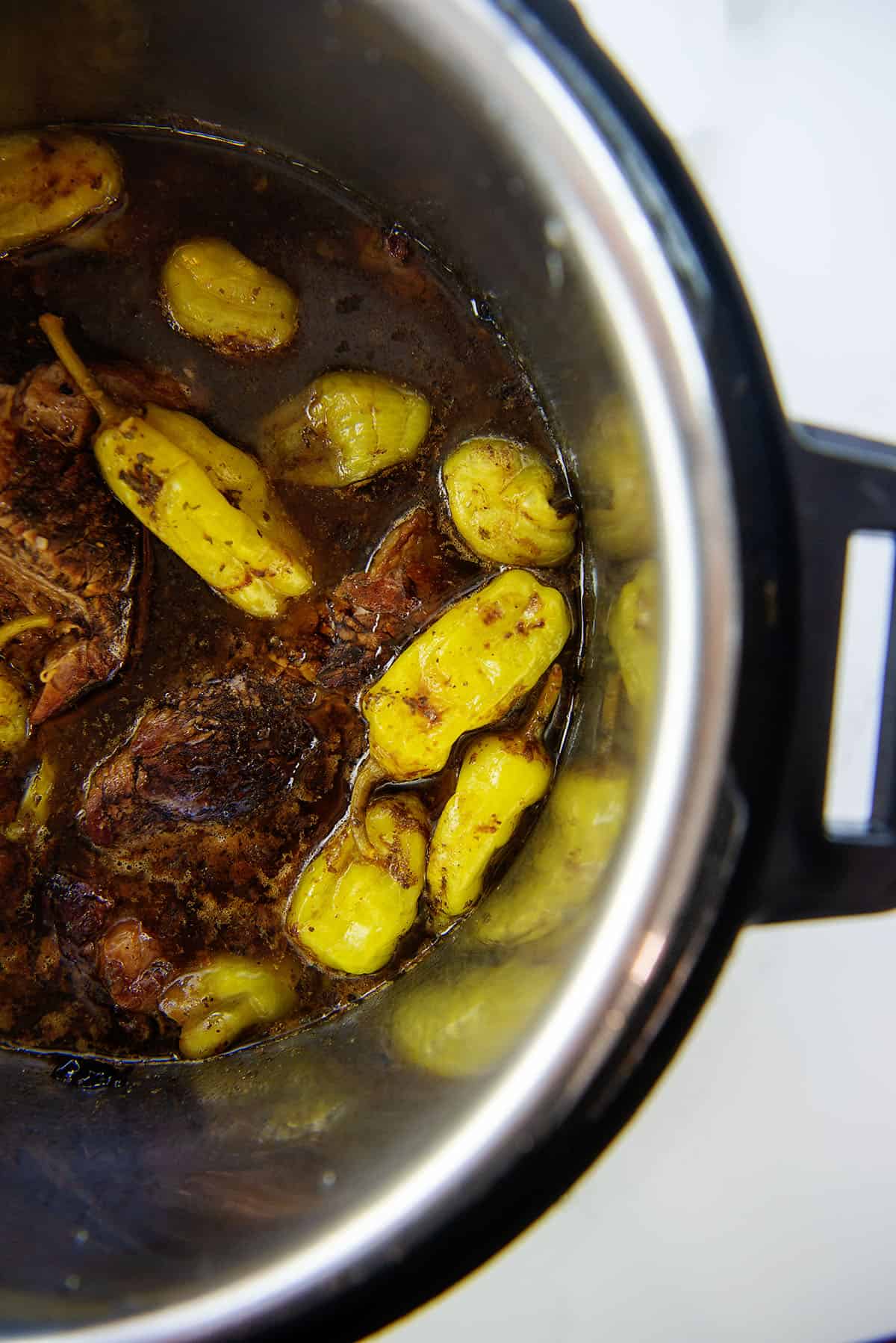 I was married for 15 years before my husband casually mentioned to me that he didn't like pot roast.
Pot roast just happens to be one of my favorite foods, so you can imagine how many times the man suffered silently through a dinner of beef so tender that it practically melts in your mouth and savory vegetables that are packed full of slow cooked flavor…Sorry. I guess I can't really even feel sorry for him. Pot roast really is the best meal. 😉
Our keto crock pot roast is one of my favorite meals, with tender beef, savory green beans, and soft cooked radishes that mimic potatoes. It's the low carb version of the 'classic' pot roast that my mama always made.
But, this Instant Pot Mississippi Pot Roast is a bit different – with a heavily seasoned broth, loads of flavor throughout the tender, and pepperoncini peppers that some people will leave in the pot and others will hoard for themselves. (I hoard them for myself!)
Ingredient Notes:
Chuck Roast – You'll need a 3 to 4 pound boneless chuck roast. When choosing a chuck roast look for one that is well marbled with thin streaks of fat.
Beef Broth – I like to use a good quality beef broth! The chuck roast and other ingredients are going to absorb all that flavor from the broth so it makes sense to use the good stuff.
Pepperoncini – We like to use the whole peppers but you can also use the sliced kind. Be sure to keep the juice from the jar, it will add loads of extra flavor to the beef along with the peppers! Most of the spicy heat will be cooked out of the peppers so don't worry too much about the spiciness and you can always use less if you are concerned.
Au Jus Gravy Mix – The gravy mix is going to add plenty of flavor to this Mississippi pot roast. Just grab a packet of mix from the store!
Ranch Seasoning – You can use your favorite brand of ranch seasoning for this recipe. It's hard to go wrong here!
Why We Love This Recipe:
We love classic pot roast recipes but this is a great way to change things up with some new flavors!
The Au Jus mix, ranch seasoning, and pepperoncini add loads of savory, tangy flavor. The dish isn't spicy, but it does have this delicious kick.
The Instant Pot makes for a super tender pot roast in less than half the time it would normally take.
How To:
Brown the Beef – This low carb Mississippi Pot Roast recipe is all about flavor! And one of the ways we're going to add flavor is to start things off by searing the chuck roast. Cut the roast into four evenly sized pieces, heat up some oil in a skillet, and start browning the pieces on each side over high heat. You can skip this step if you are in a hurry, but searing the chuck roast will add flavor!
Combine – Now you can add the browned beef to the Instant Pot along with the beef broth, the entire jar of pepperoncini including the juice, the au jus mix, and the ranch seasoning. The pepperoncini alone will add tons of flavor with a little bit of mild spiciness, but mix that with the au jus gravy and the ranch seasoning and the flavors in this Mississippi roast recipe are incredible! Stir all these ingredients well to combine.
Pressure Cook – Once you've added all the ingredients to the Instant Pot and finished combining, you can go ahead and start the pressure cook process. Place the lid on the Instant Pot and set the valve to sealing. You'll want to cook on high pressure for 1 hour and let the pressure release naturally for 15 minutes before doing a quick release. We like to serve this roast good and hot with plenty of the juices from the pot. The beef should be fork tender and will shred easily.
Helpful Tip!
Want a thicker gravy over your Mississippi roast? Remove all of the meat and peppers from the pot, leaving behind the broth. Whisk in 1/4 teaspoon of xanthan gum until the sauce has thickened a bit.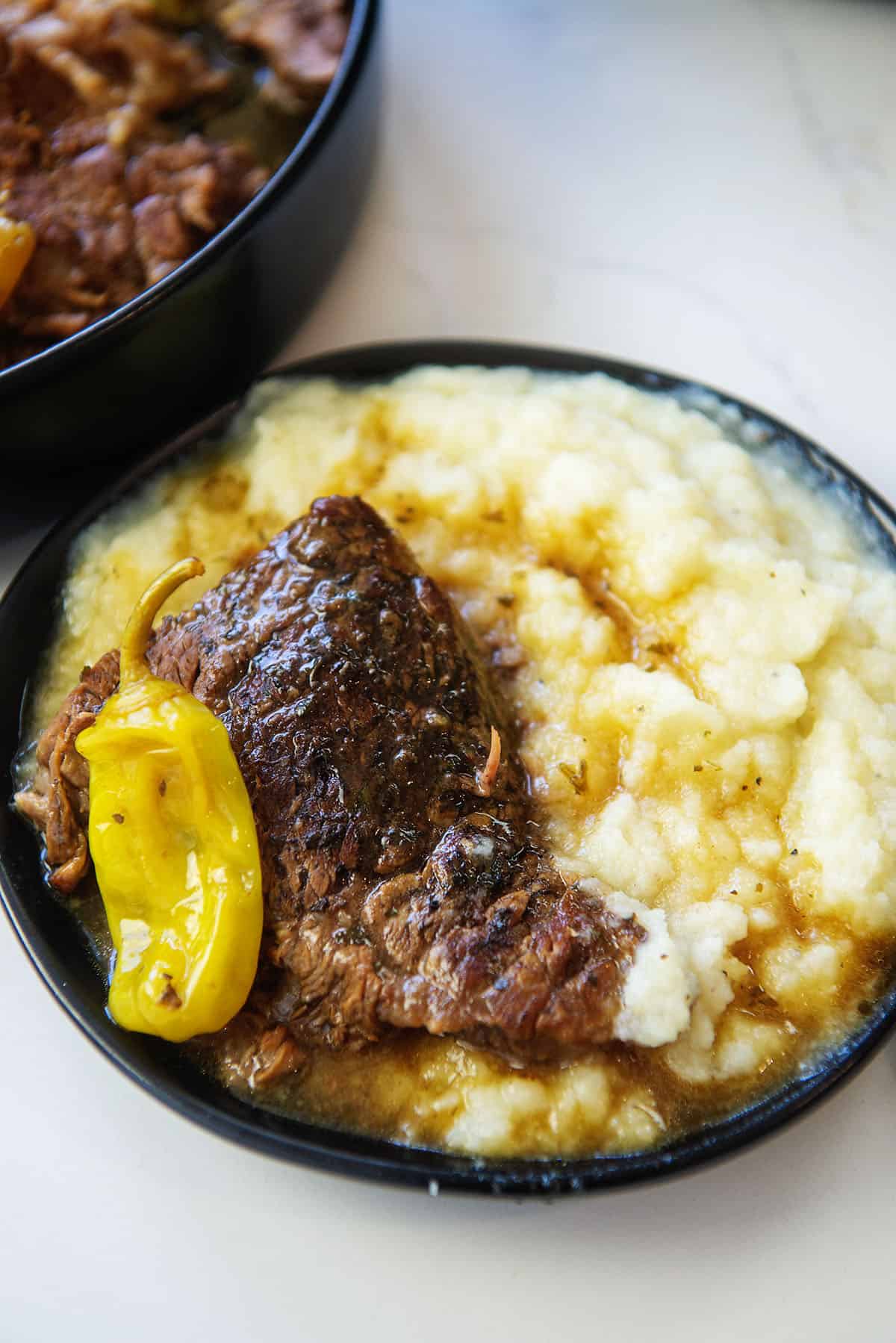 FAQ's:
Can Mississippi Pot Roast be made in the crockpot?
Sure! I like the Instant Pot because of how quick and easy it is, but a slow cooker can be pretty easy too. It just takes longer. Follow all the same instructions and cook on low for 8 hours.
Can Mississippi Pot Roast be made in the oven?
Yep, this recipe will also work in the oven. Cook it in a Dutch oven for about 3 hours at 350 degrees.
What is Mississippi Pot Roast?
If you are wondering why it is called Mississippi Pot Roast, the answer is simple! A person in Mississippi came up with the recipe, it got really popular, and the rest is history!
Can I store Mississippi Pot Roast?
Yes, this will keep well in the fridge for 3-4 days in a sealed container.
More Low Carb Instant Pot Recipes: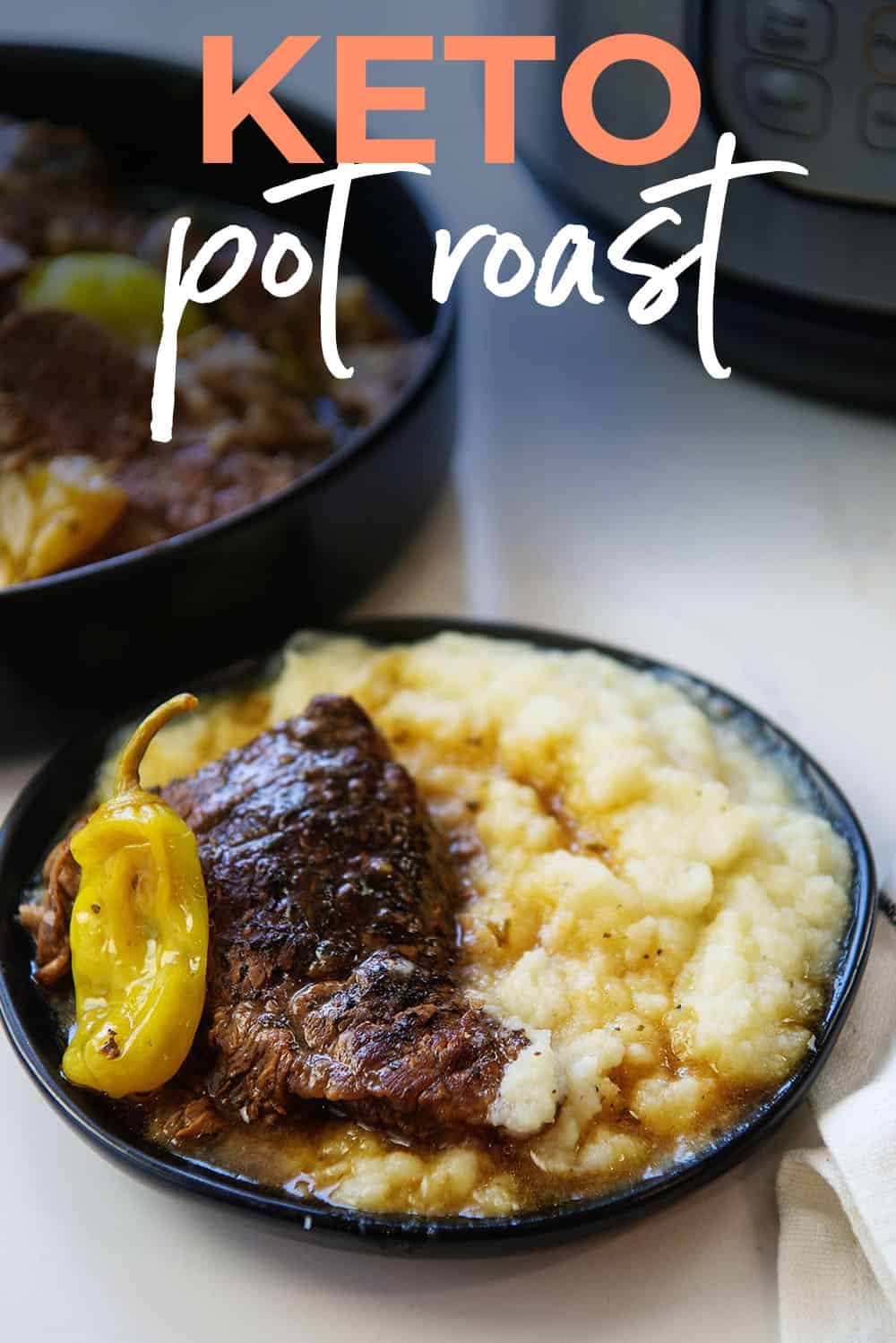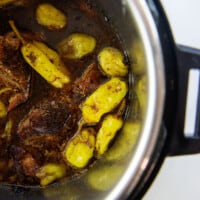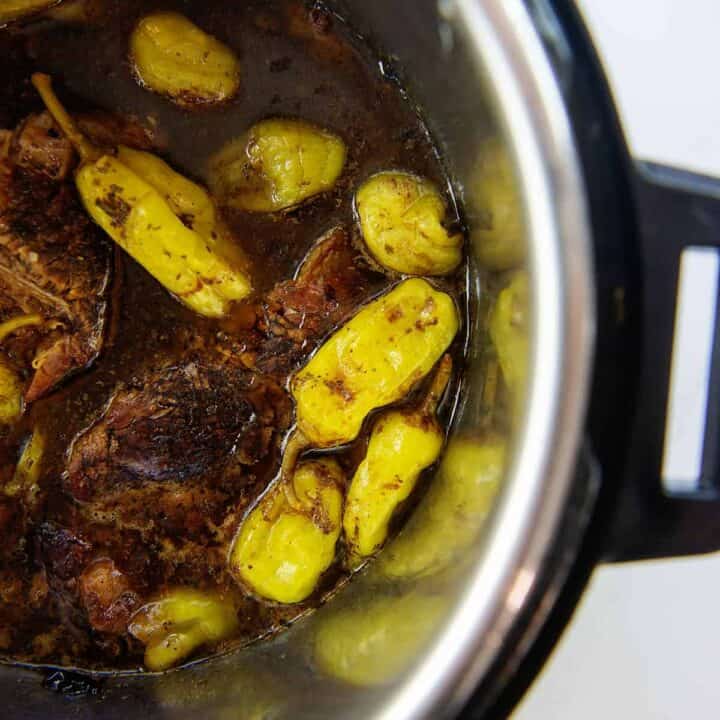 Instant Pot Mississippi Pot Roast
This Mississippi Pot Roast turns out so tender and flavorful, all with just 5 ingredients. The dish isn't spicy, but it does have a little bit of kick and tang from the pepperoncini peppers.
Total Time 1 hour 15 minutes
Ingredients
3 pounds chuck roast
2 tablespoons vegetable oil
½ cup beef broth
16 ounces jarred pepperoncini
1 packet dry Au Jus Gravy
1 packet dry ranch seasoning mix
Instructions
Cut the chuck roast into 4 evenly sized pieces.
Set the Instant Pot to saute and heat the oil until shimmering. Add the beef, 2 pieces at a time, and brown on each side.
Place all of the beef in the pot, along with the beef broth, jar of pepperoncini (juice and peppers), au jus mix, and ranch seasoning. Stir to combine.
Place the lid on the Instant Pot and set the valve to sealing.
Cook on high pressure for 60 minutes. Let pressure release naturally for 15 minutes before doing a quick release of any remaining pressure.
Remove the roast to a serving platter and drizzle with the juices from the pot.
Serve hot.
Notes
This dish really isn't spicy, but it does have a tangy, peppery kick without really being hot. If you're worried about it you can reduce the amount of pepperoncini and juice by half.
We didn't measure the serving size by volume. We just portioned the meal out into 6 servings. We find that chuck roast shrinks quite a bit and 3 pounds of meat is about right for 6 hearty servings.
Nutrition Information:
Yield: 6
Serving Size: 1
Amount Per Serving:
Calories: 620
Total Fat: 41g
Saturated Fat: 15g
Trans Fat: 2g
Unsaturated Fat: 23g
Cholesterol: 190mg
Sodium: 1618mg
Carbohydrates: 6g
Net Carbohydrates: 5g
Fiber: 1g
Sugar: 3g
Protein: 58g
All information and tools presented and written within this site are intended for informational purposes only. This information is provided as a courtesy and there is no guarantee that the information is accurate.