My LOADED INSTANT POT CAULIFLOWER SOUP is thick, creamy, and tastes just like my favorite potato soup. We start with bacon for loads of flavor, cream cheese for some body, and then we top it all off with cheddar, bacon, and green onions. This cauliflower 'potato' soup will go on repeat in your house!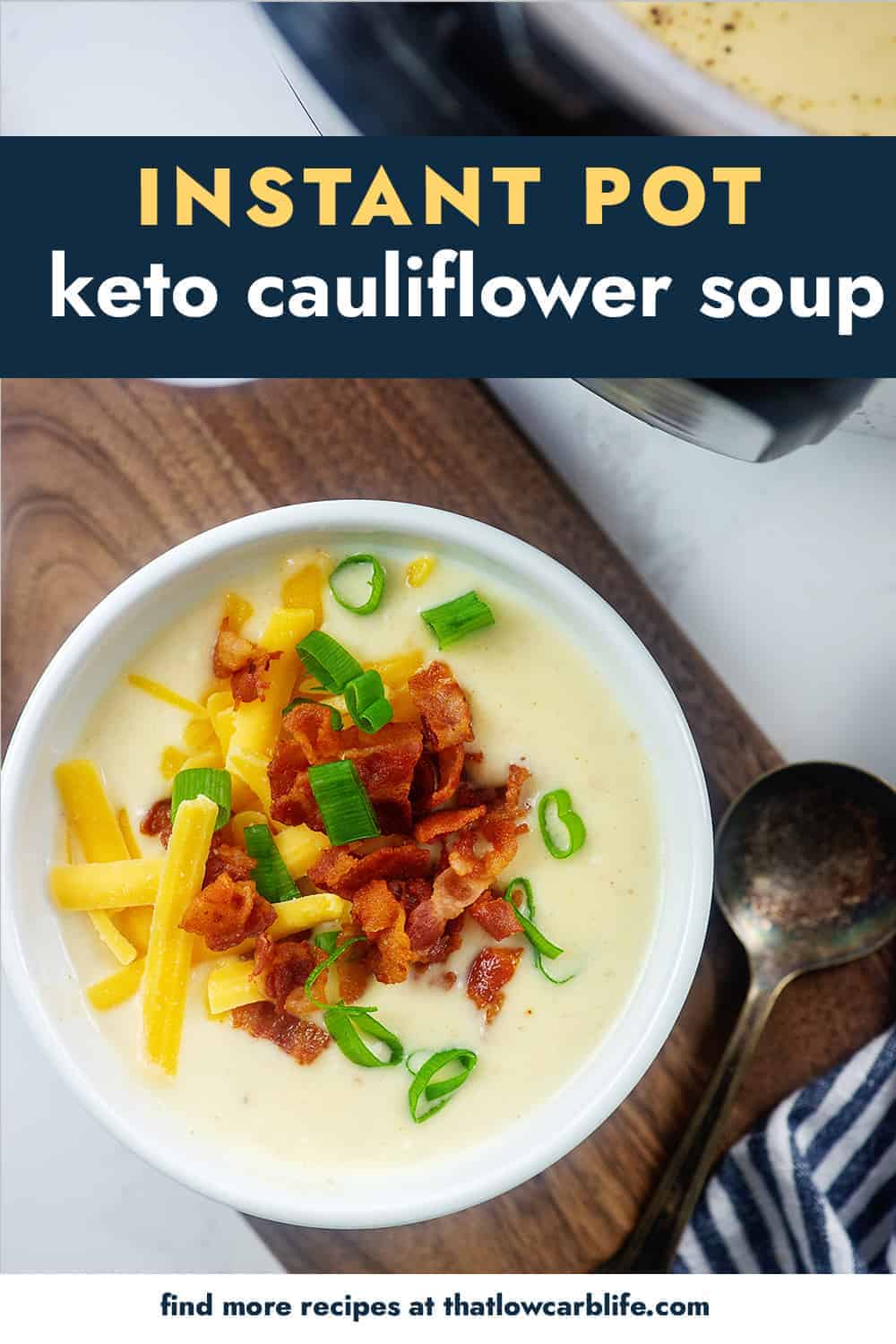 Potato soup has always been a favorite of mine. So thick, creamy, and generally loaded with my favorite things: bacon and cheddar!
Now I am well aware that cauliflower is never going to be a 100% potato replacement. It's not starchy, so it'll never have the same texture. It smells different. It doesn't have quite the same flavor.
But you know what? It comes really dang close when you do it right, and I did it right! I actually fooled one of my kids with this cauliflower 'potato' soup! I love when that happens.
This is an Instant Pot recipe, which means it's pretty quick and simple. Clean up is easy since everything cooks in the pot (even the bacon!) and it cooks quickly (5 minutes of pressure cooking!) and it turns out so silky smooth and delicious.
Pretty sure this Instant Pot Cauliflower Soup is going to quickly become a favorite in your house too!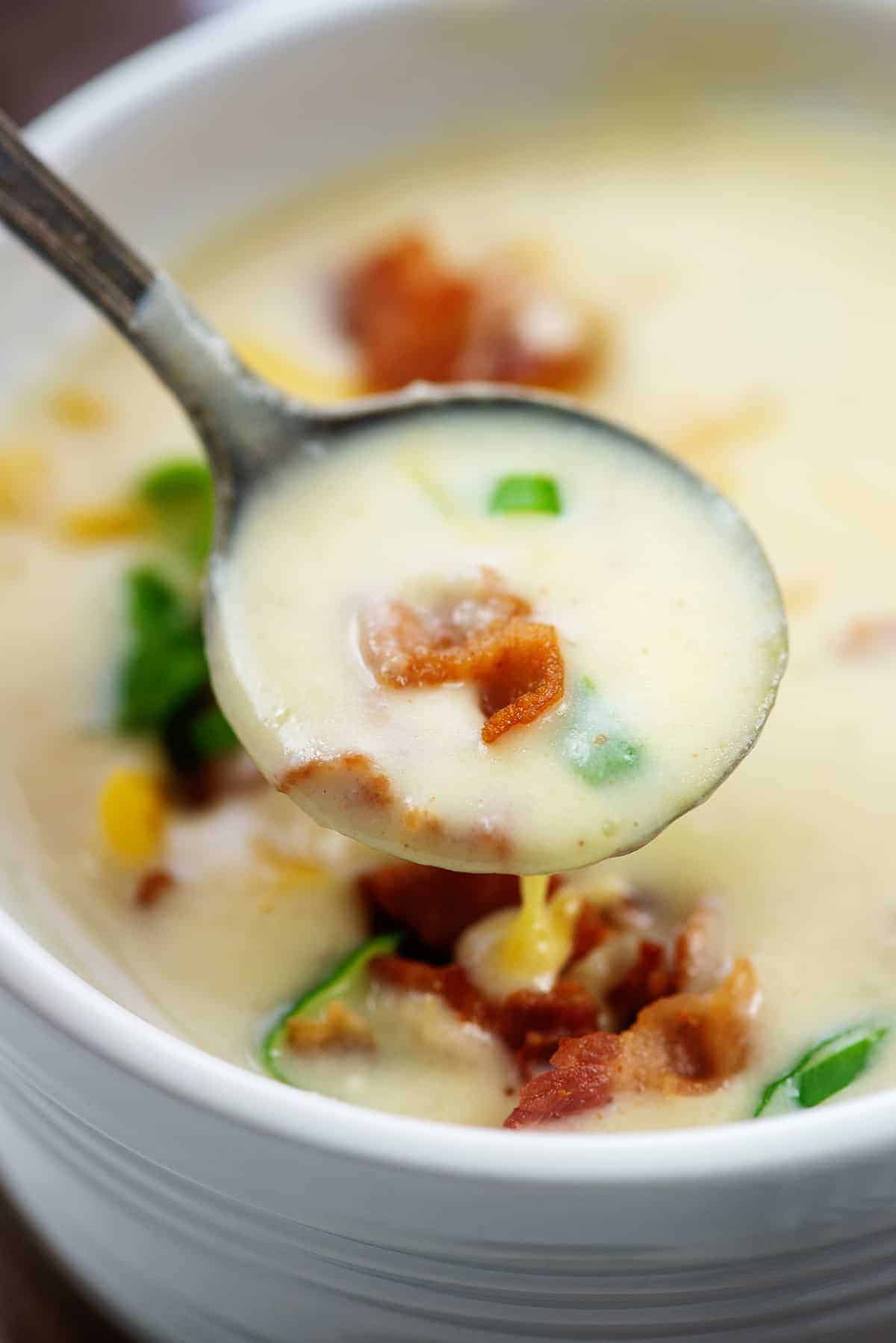 Ingredient Notes:
Cauliflower – You'll need one large head of cauliflower cut into florets. There isn't any potato in this soup, but the cauliflower and broth will get blended until they are smooth, and when combined with other ingredients like the cheese and cream this keto cauliflower soup will have a taste and consistency that closely resembles potato soup!
Cheese – I don't know about you but I like plenty of cheese in my cauliflower soup! You'll be using cream cheese and shredded cheddar to thicken this cheesy soup, along with some heavy cream. And you can always add more a for a thicker soup.
Broth – Homemade or store bought broth work well here.
Soup Toppings – We love to add crumbled bacon to our cauliflower soup! Not only is it a great topping, but you can cook the bacon in the Instant Pot and use all that wonderful bacon grease in the soup for more flavor. We also like to add some shredded cheese and green onion. A dollop of sour cream isn't too bad either!
Why We Love This Recipe:
The Instant Pot makes everything easy!
You can load it up with your favorite toppings like bacon, cheese, and more cheese!
I really miss the creamy cheesy starchy flavors of potato soup but this cauliflower soup is the perfect replacement! It's so good your kids might not even notice you switched out the potatoes with the cauliflower! They'll still be mad when they find out though, because kids. 😉
How To:
Bacon – Start by cooking the bacon in the Instant Pot on sauté. This makes clean up so easy, since everything cooks in one pot! Once the bacon is crisp, remove it to a paper towel lined plate and set aside. We'll use that bacon to top the keto cauliflower soup!
Deglaze – Add the onions and garlic and cook those in the bacon grease left behind in the pot, and then pour in the chicken broth and deglaze the pan. Deglazing just means using a liquid in a hot pan to scrape up any browned bits that are stuck to the bottom. Those browned bits have loads of flavor, but more importantly, if you skip this step you may get a burn notice when you try to cook under pressure!
Cauliflower – Add in the cauliflower and then close the lid, set to sealing, and pressure cook for 5 minutes. It'll take 5-10 minutes for the pot to come to pressure. Let the pressure release naturally for 10 minutes and then carefully open the valve to release any remaining steam.
Blend – I highly recommend using an immersion blender to puree the cauliflower soup. It's so simple – just plug it in and pop it right in the Instant Pot. We use ours just about any time we're making soup, whipping egg whites, pureeing veggies, and more. Super convenient! You could also carefully transfer the hot soup to a blender and blend it until smooth. Just be careful and work in batches, if needed.
Cheese – Next, stir in some warmed cream cheese until that's combined and then add in some shredded cheddar and cream. Keep stirring until the cauliflower "potato" soup is well combined and thickened from the cheese and cream. This is a cheesy cauliflower soup, so don't skimp on that cream cheese or cheddar – it helps give the soup some body.
Serve – Season with some salt and pepper and then ladle into your serving bowls. Don't forget the toppings like crumbled bacon, green onion, and even more cheese! Loaded cauliflower soup is the best!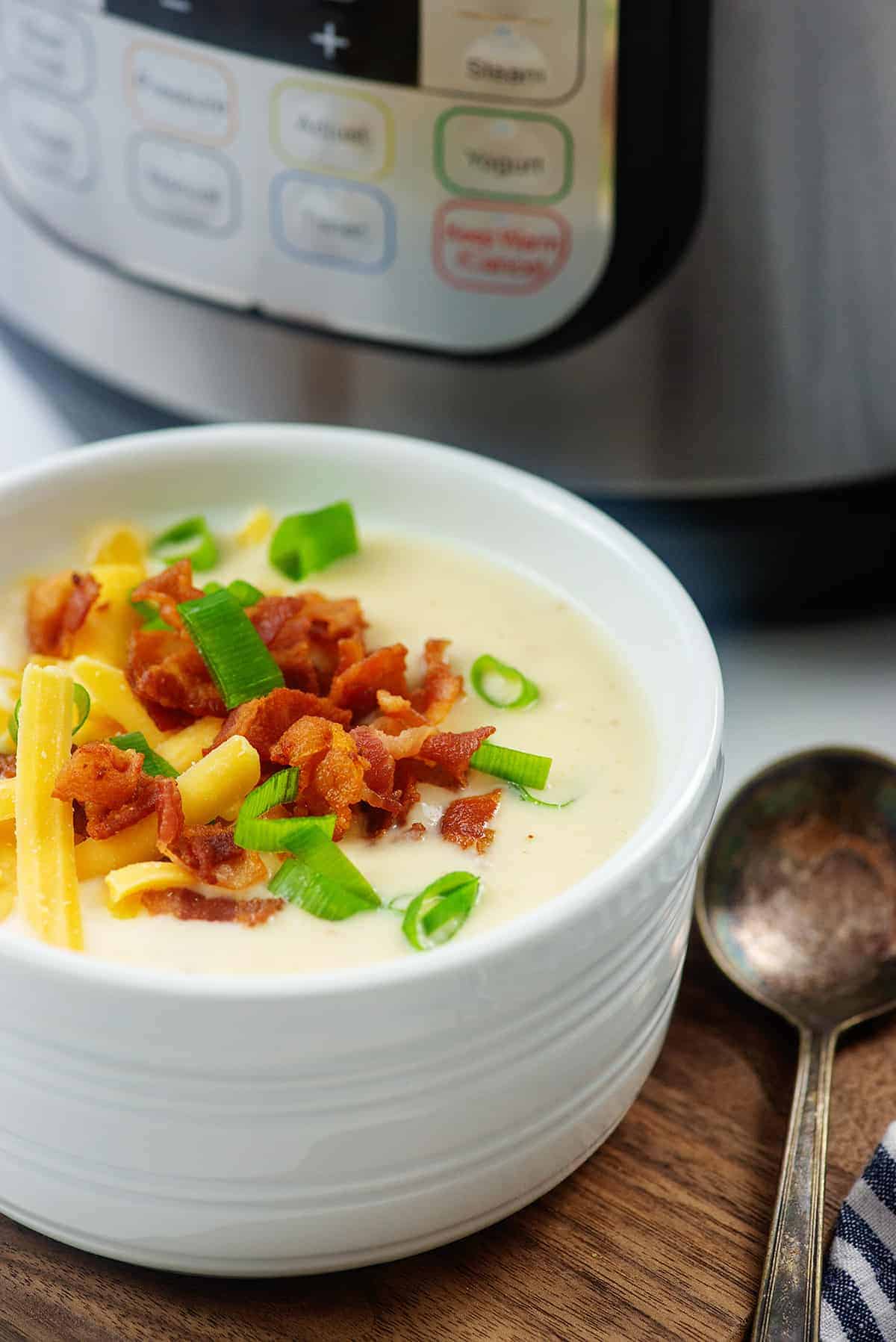 Special Tools Needed:
This post contains affiliate links. As an Amazon associate and member of other affiliate programs, I earn from qualifying purchases.
Instant Pot: We really love our Instant Pot. I use it weekly to make boiled eggs and they cook so quickly and the shells just slip right off with no effort at all. We have this Instant Pot and it works great for our family of four.
Check out all of my low carb Instant Pot recipes.
Immersion Blender: We have a regular countertop blender, but I find myself using our immersion blender so much more often. It's budget friendly, easy to store in a drawer so it doesn't take up valuable counter space, and it works great for everything from whipping egg whites to pureeing soup. The exact model we use is no longer available, but this one gets great reviews!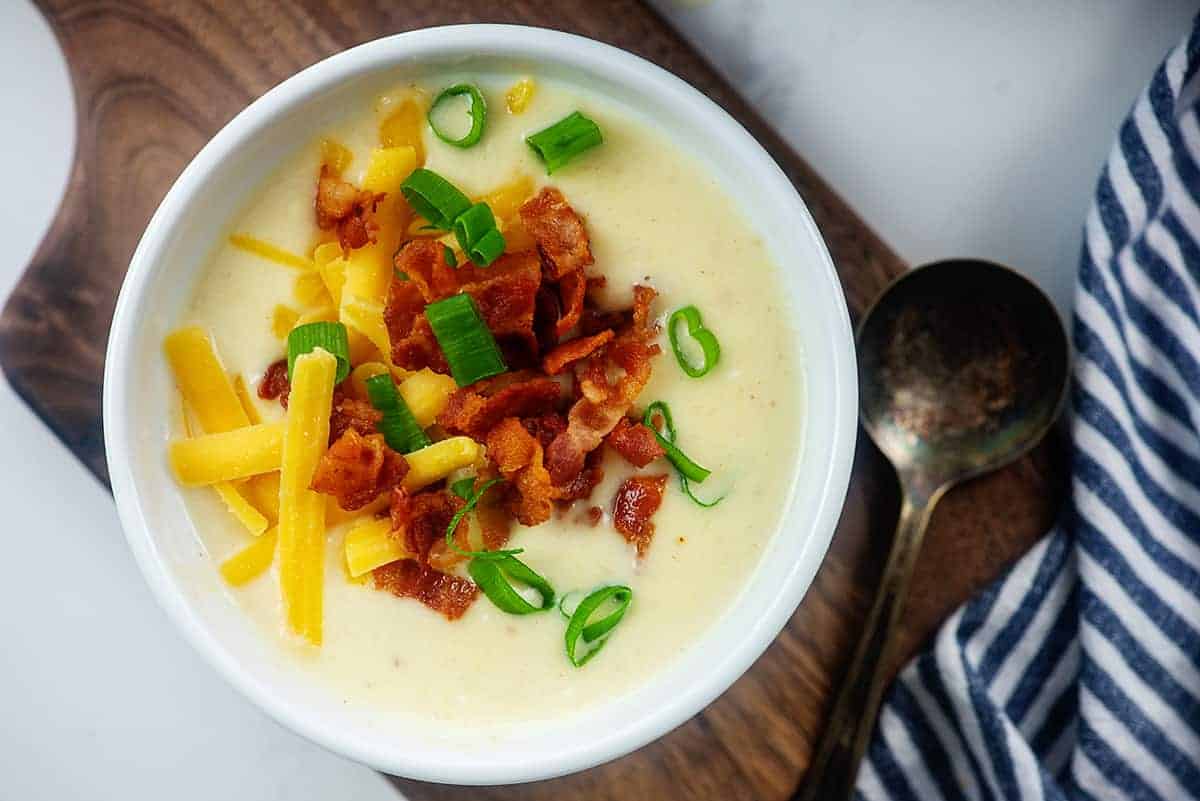 Loaded Cauliflower Soup:
The soup is delicious as is, but we pretty much always go the loaded cauliflower soup route.
We top this keto cauliflower soup with bacon, cheddar, and a sprinkle of chopped green onions.
A dollop of sour cream is also delicious, but honestly, this soup is so creamy and rich already that it's not necessary.
If you're wondering what to serve with cauliflower soup try these keto biscuits on the side, along with a green salad topped with our keto ranch dressing.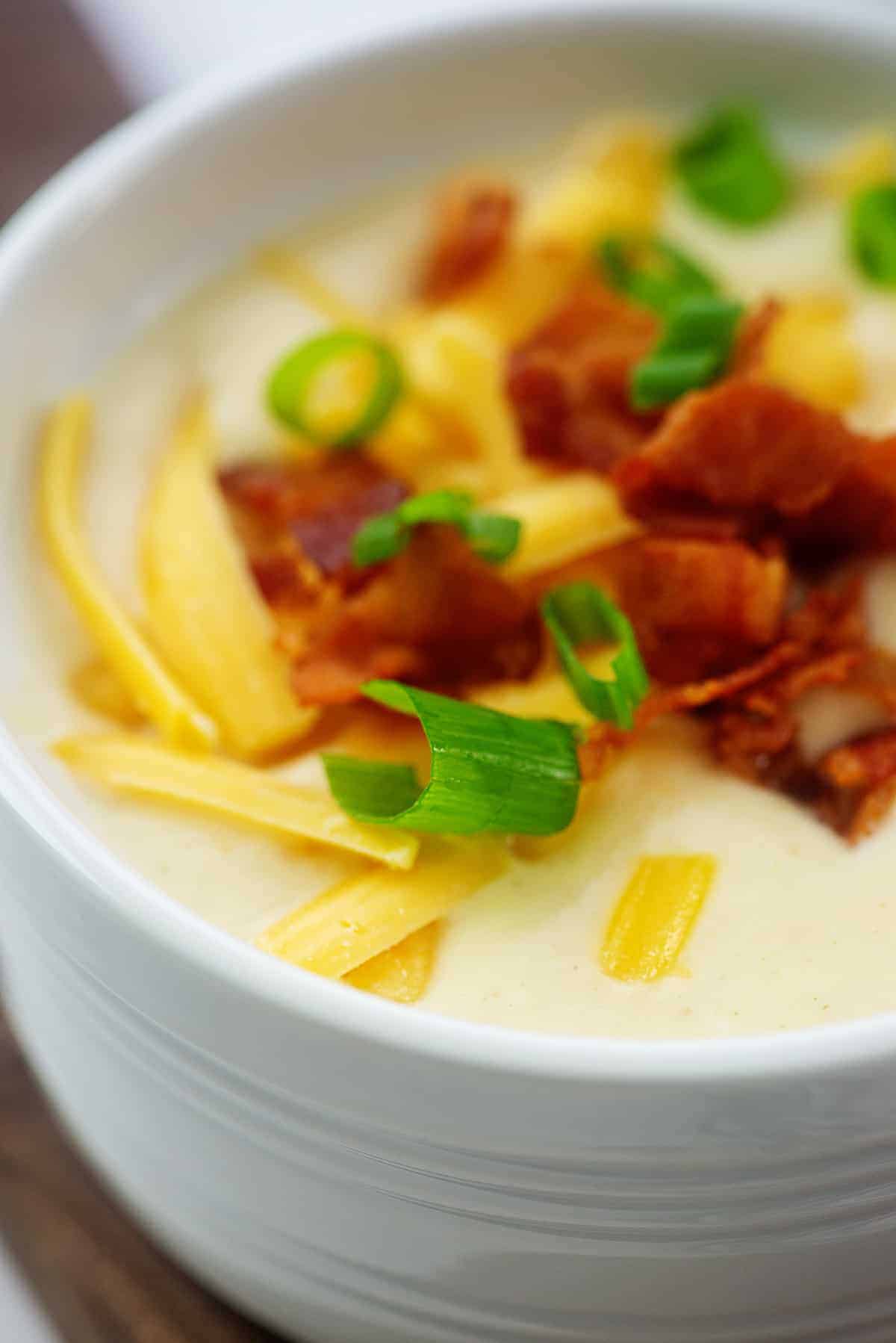 FAQs:
How to thicken soup?
If the loaded cauliflower soup isn't thick enough for your taste the simplest way to improve it would be to use more cheese and cream, or more cauliflower. Or both!
How long does cauliflower soup last in the fridge?
It should keep if well covered for about 3 to 4 days.
Can you freeze cauliflower soup?
Yes, it will freeze well! Just make sure it has cooled completely before adding to a freezer safe container or bag. Also, wait to add the bacon and any other toppings until after you've reheated. It should last for at least 4 months.
More Keto Soup Recipes: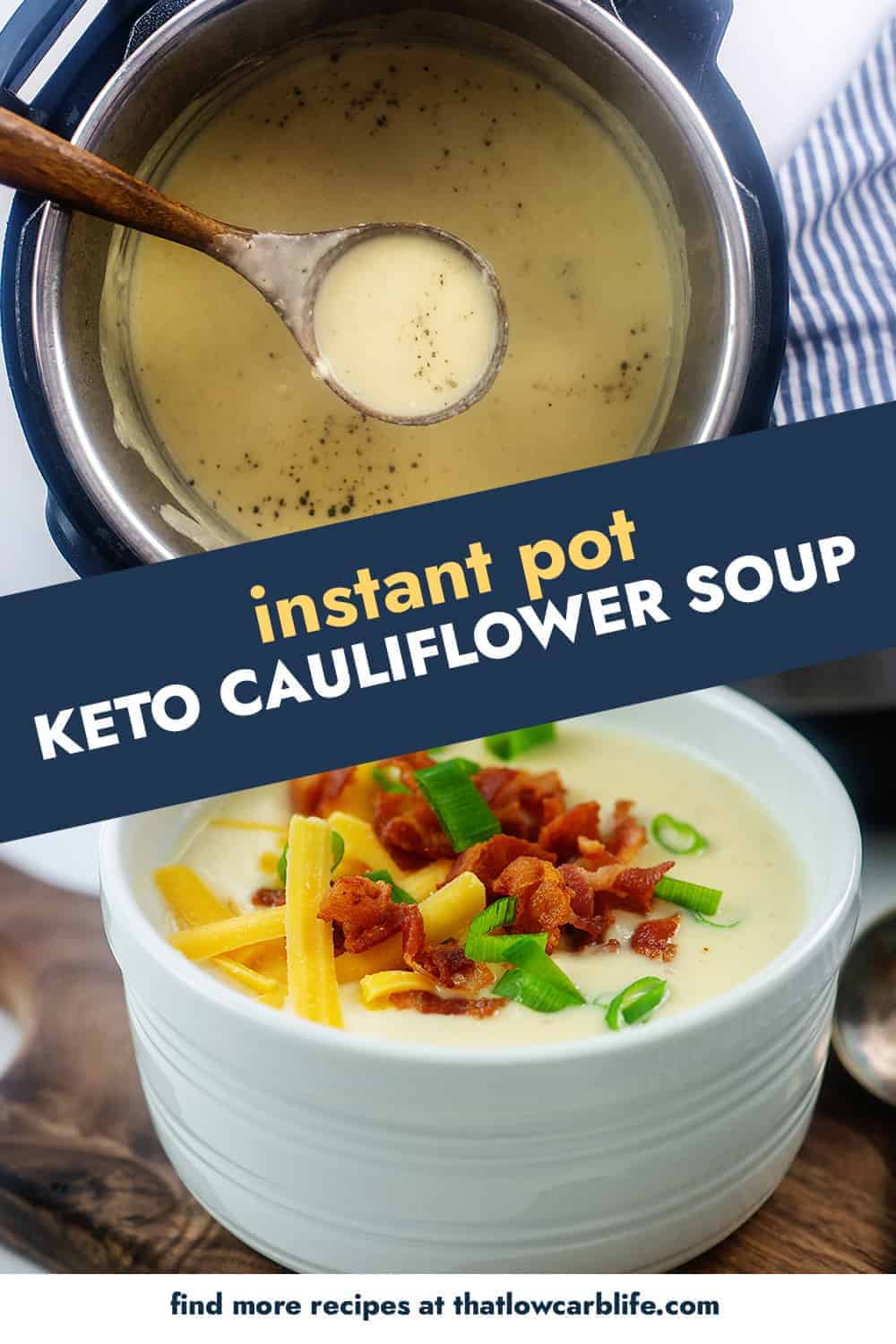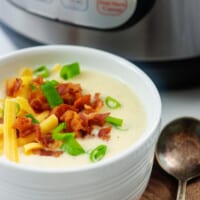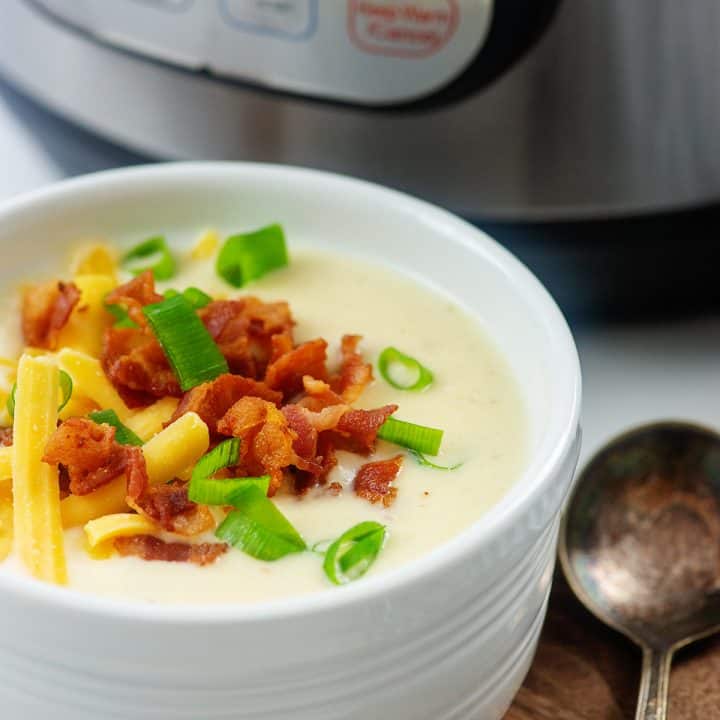 Instant Pot Cauliflower Soup
This cauliflower 'potato' soup tastes just so similar to the potato soup I've always loved, but without all of the carbs. It's rich, creamy, and so good topped with bacon and cheddar. Clean up is a breeze since everything cooks in the Instant Pot.
Additional Time 30 minutes
Ingredients
6 slices bacon, diced
½ medium onion, diced
2 cloves garlic, minced
1 large head cauliflower, cut into florets
4 cups chicken broth
4 ounces cream cheese
½ cup heavy cream
1 ½ cups shredded cheddar, divided
1 teaspoon salt
1 teaspoon cracked pepper
Green onions, for garnish
Instructions
Set the Instant Pot to saute and add the bacon to the pot. Cook until crisp and then remove with a slotted spoon and set aside on a paper towel lined plate to drain.
Add the onion to the bacon grease and cook for 5 minutes, stirring often, until the onions have softened. Add the garlic and cook for 30 seconds more.
Add the chicken broth to the pot and scrape up any browned bits from the bottom of the pan. Add the cauliflower to the pot.
Place the lid on the pot and set to the sealing position. Set the Instant Pot to manual and cook on high pressure for 5 minutes.
Let the pressure release naturally for 10 minutes and then quick release.
Use an immersion blender to puree the cauliflower. Alternately, carefully transfer the hot soup to a blender and blend until smooth, working in batches if needed.
Warm the cream cheese in the microwave until it's very soft and nearly melted. Stir in the cauliflower until smooth. Add the cream and 1 cup of the cheddar cheese and continue stirring until smooth and creamy.
Add salt and pepper, taste, and adjust seasonings if needed.
Ladle into serving bowls and top with the cooked bacon, remaining cheddar, and green onions.
Notes
Stove Top Instructions: While we always use the Instant Pot for this soup, it should be easy enough to cook on the stove. Cook the bacon in a dutch oven and then follow along until step 4. Simmer the soup for 30 minutes or until the cauliflower is very tender. Start again at step 6.
Recommended Products
As an Amazon Associate and member of other affiliate programs, I earn from qualifying purchases.
Nutrition Information:
Yield: 6
Serving Size: 1 cup
Amount Per Serving:
Calories: 350
Total Fat: 28g
Saturated Fat: 15g
Trans Fat: 1g
Unsaturated Fat: 10g
Cholesterol: 84mg
Sodium: 1233mg
Carbohydrates: 10g
Net Carbohydrates: 6g
Fiber: 4g
Sugar: 5g
Protein: 16g
All information and tools presented and written within this site are intended for informational purposes only. This information is provided as a courtesy and there is no guarantee that the information is accurate.