KETO VEGETABLE SOUP is a hearty, filling, and nutritious meal for any weeknight! Loaded with all kinds of low carb vegetables, it's an easy way to get a nutritious meal in my kids and it's perfect for a low carb lifestyle.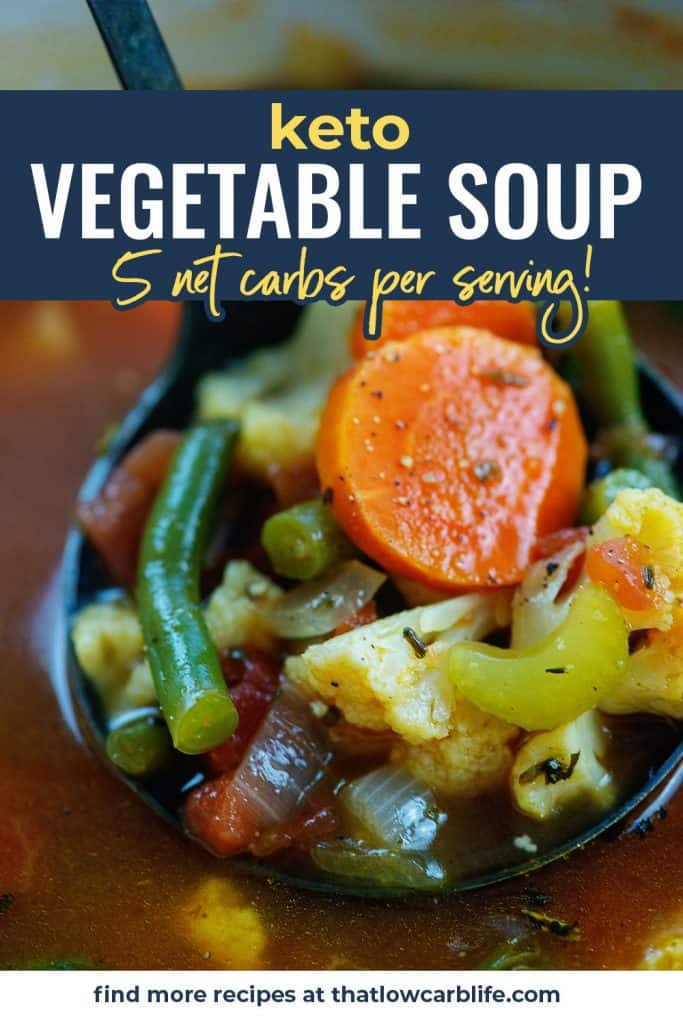 Ah, soup.
One of my favorite meals, and one of those meals where my husband is like…but what's for DINNER?
The man just doesn't think soup counts as dinner and I'm on a mission to change that.
He's learned to love my keto cheeseburger soup (seriously, outrageously good!) or my keto cabbage soup that's filled with smoked sausage.
But sometimes the man just has to eat some veggies and learn to live with it, ya know? 😉
This low carb vegetable soup is a simple, classic recipe that I grew up eating. Of course, as a kid there were potatoes involved, but not to worry – there are so many other veggies in here that you won't miss them!
Regarding the carrots:
Let's just get this out of the way, because I know I'm going to get some angry comments about the carrots.
Yes, I do call this recipe keto and yes, I do include carrots in the recipe.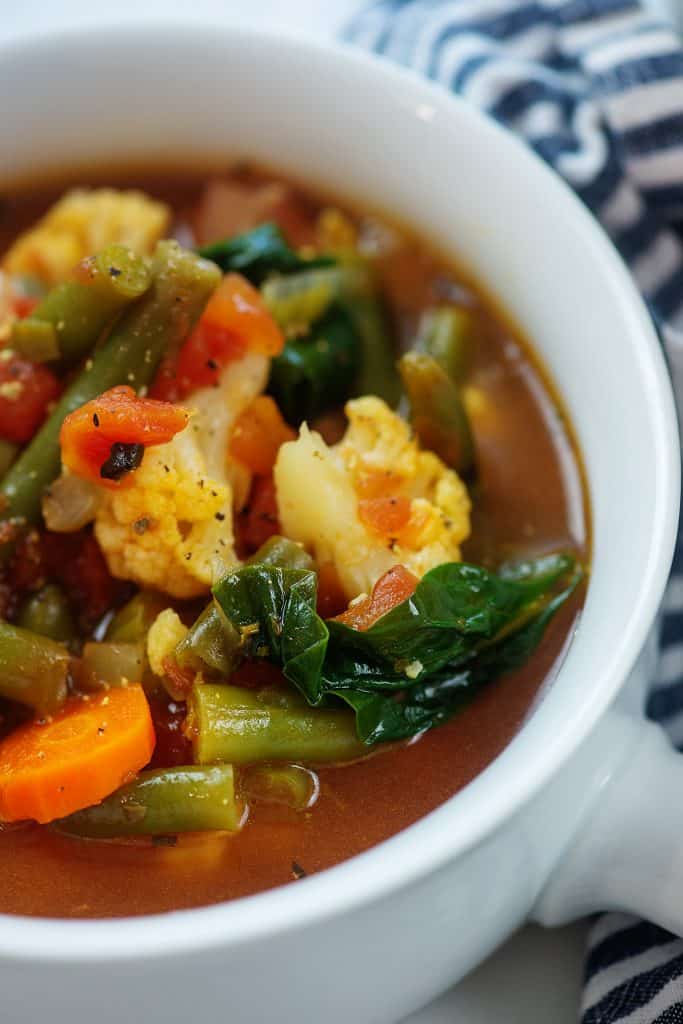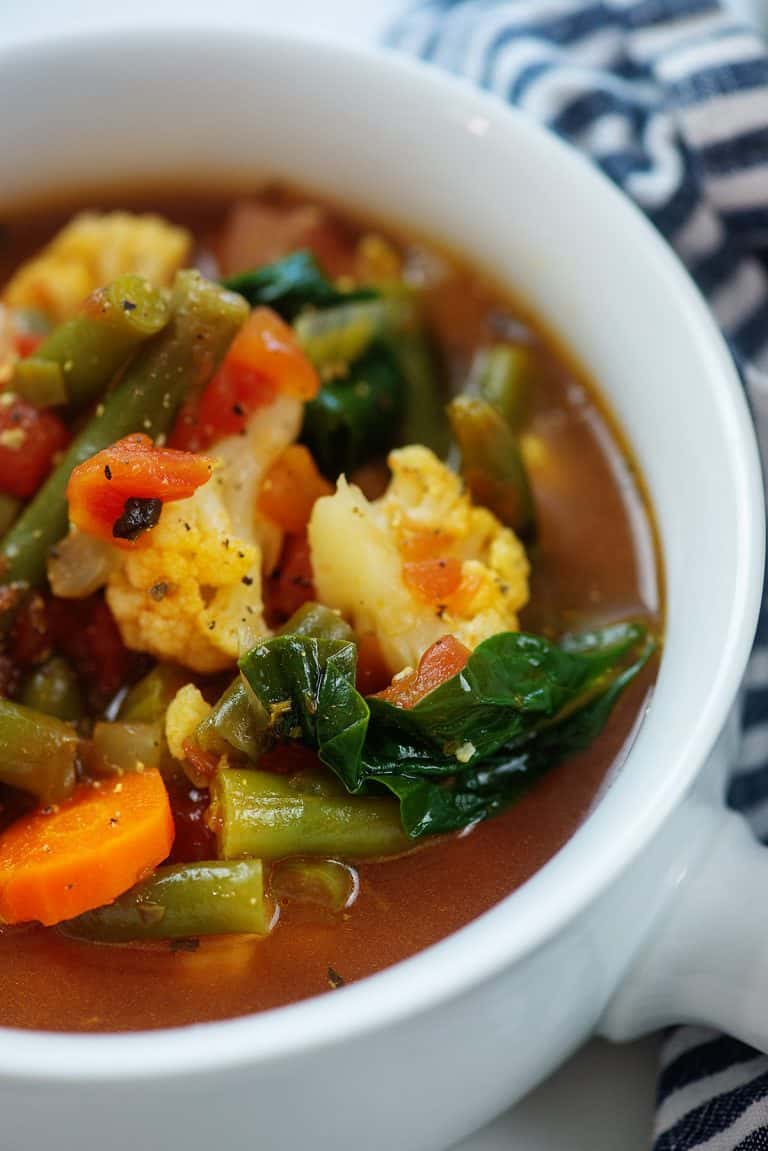 There are 2 whole carrots chopped and spread throughout the entire pot of soup that serves 10 people.
Those 2 carrots add a pop of color and makes the soup feel more like the traditional veggie soup we all grew up with. You can certainly leave them out, but I think they make the soup feel a little special.
How to:
Saute onions, celery, carrots, and garlic in butter and oil until soft.
Add cauliflower, green beans, tomatoes, beef broth, and seasonings and simmer.
Stir in the spinach until wilted.
Taste for seasoning and serve.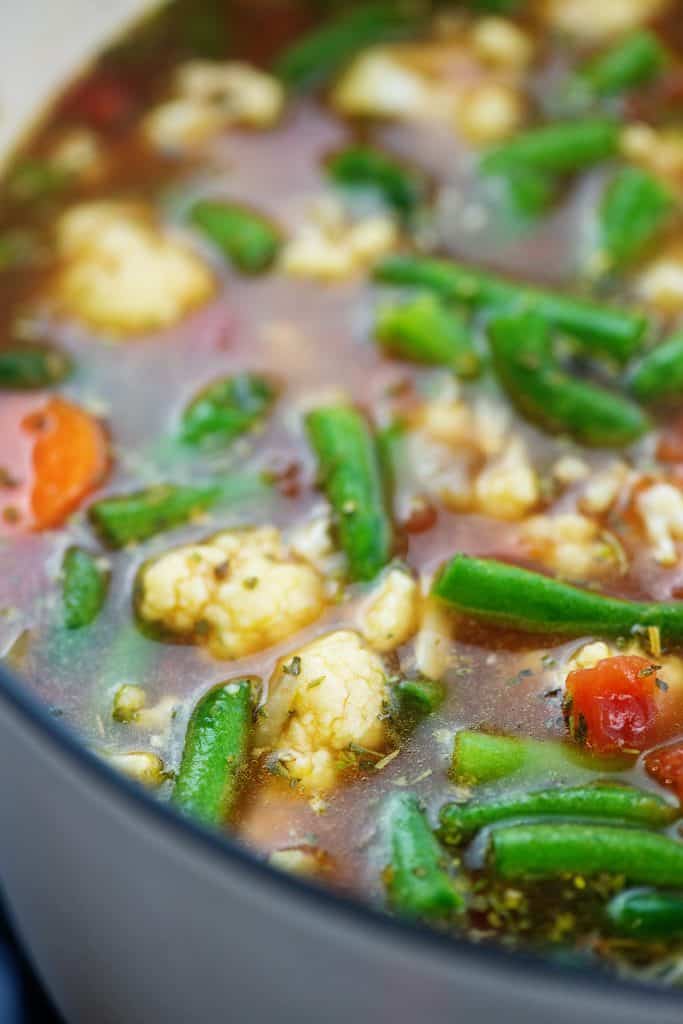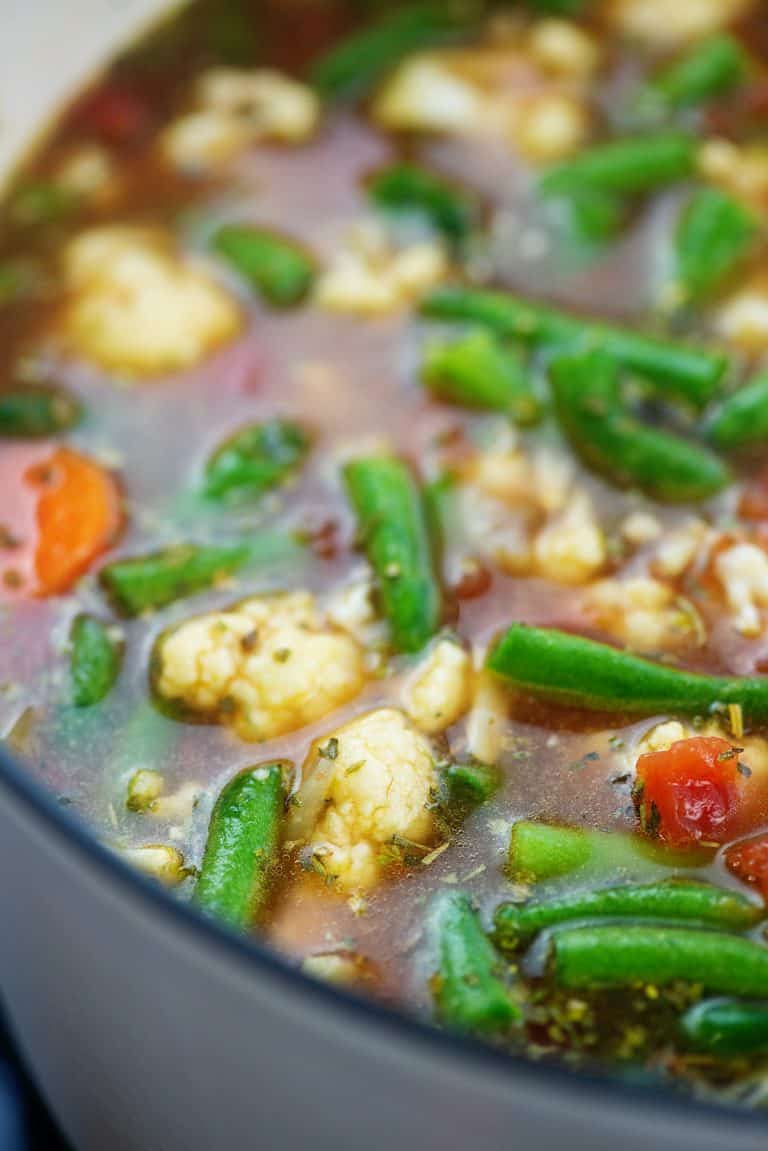 As you can see, this recipe is very straightforward.
The most difficult part is chopping the veggies and anyone living that low carb life is a pro at veggie chopping. 😉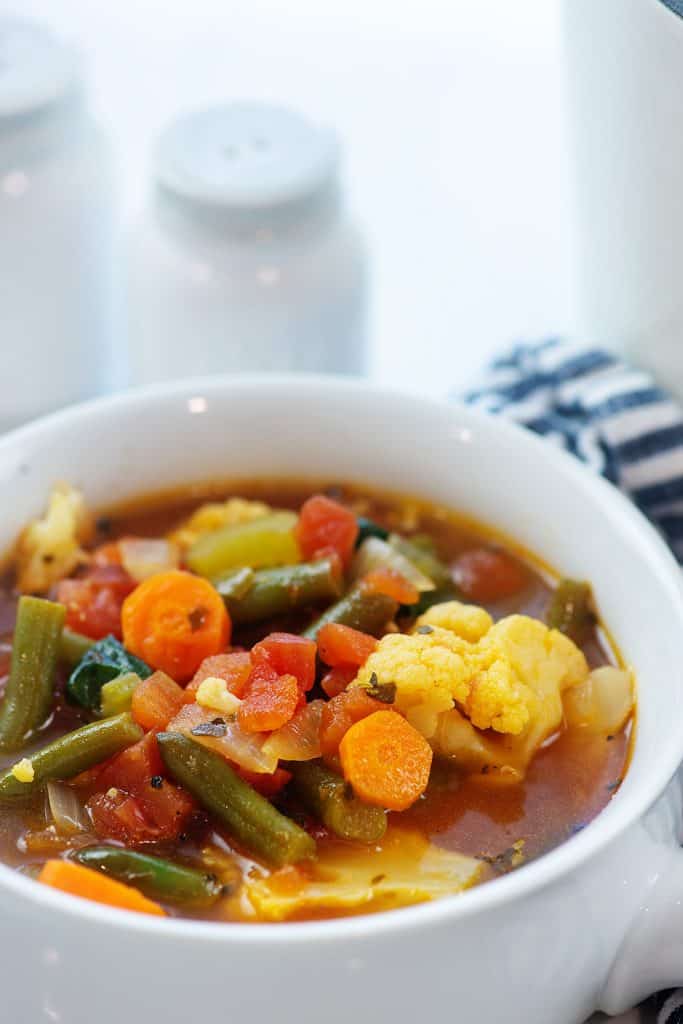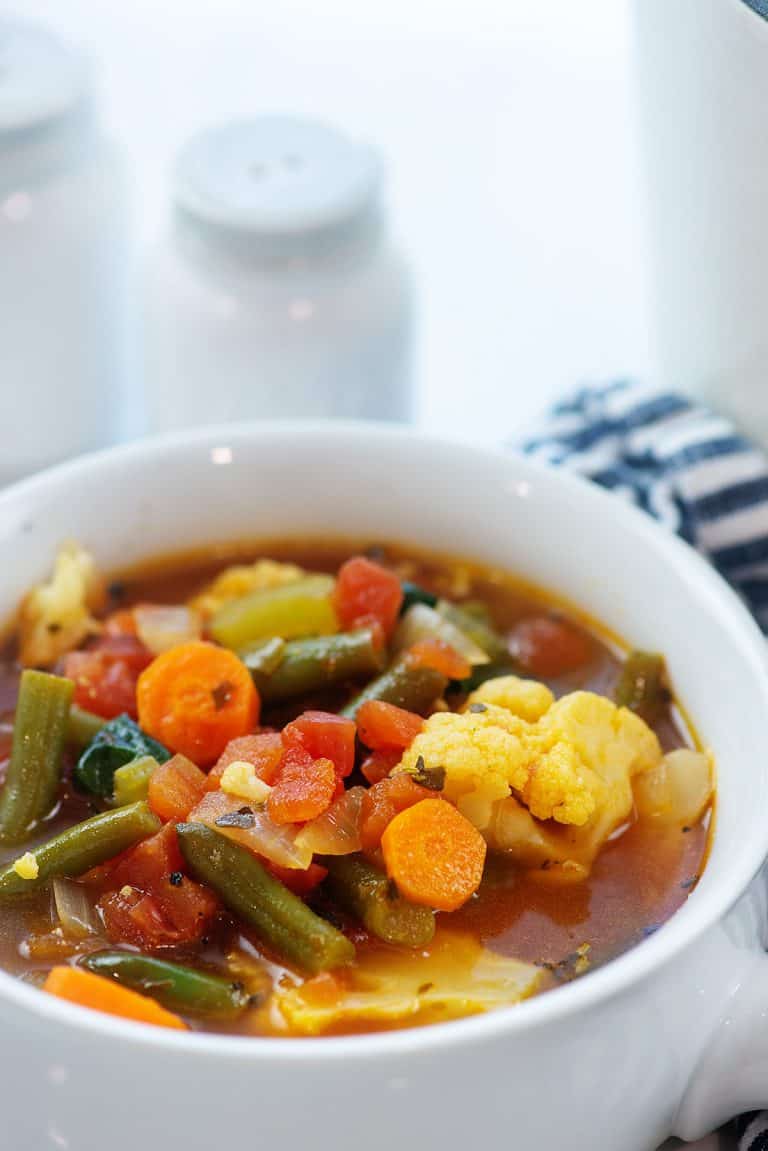 Serving Suggestions:
Soup and a salad is a go to in my house.
We serve salad with my keto ranch dressing, keto thousand island dressing, or keto Italian dressing.
My keto cheddar bay biscuits or keto cornbread are also great with soup!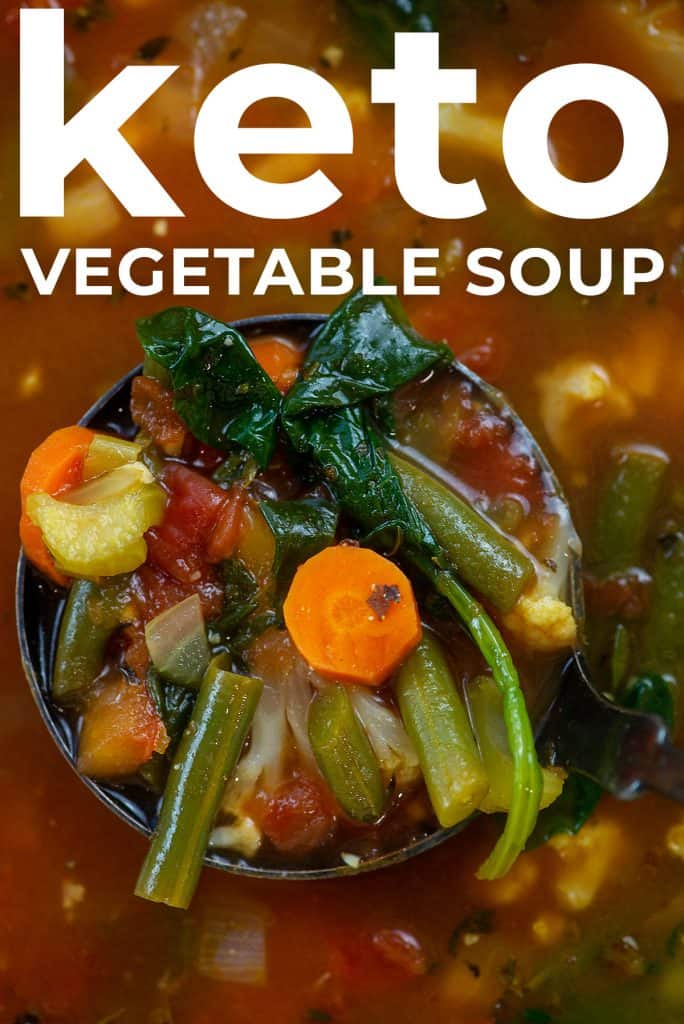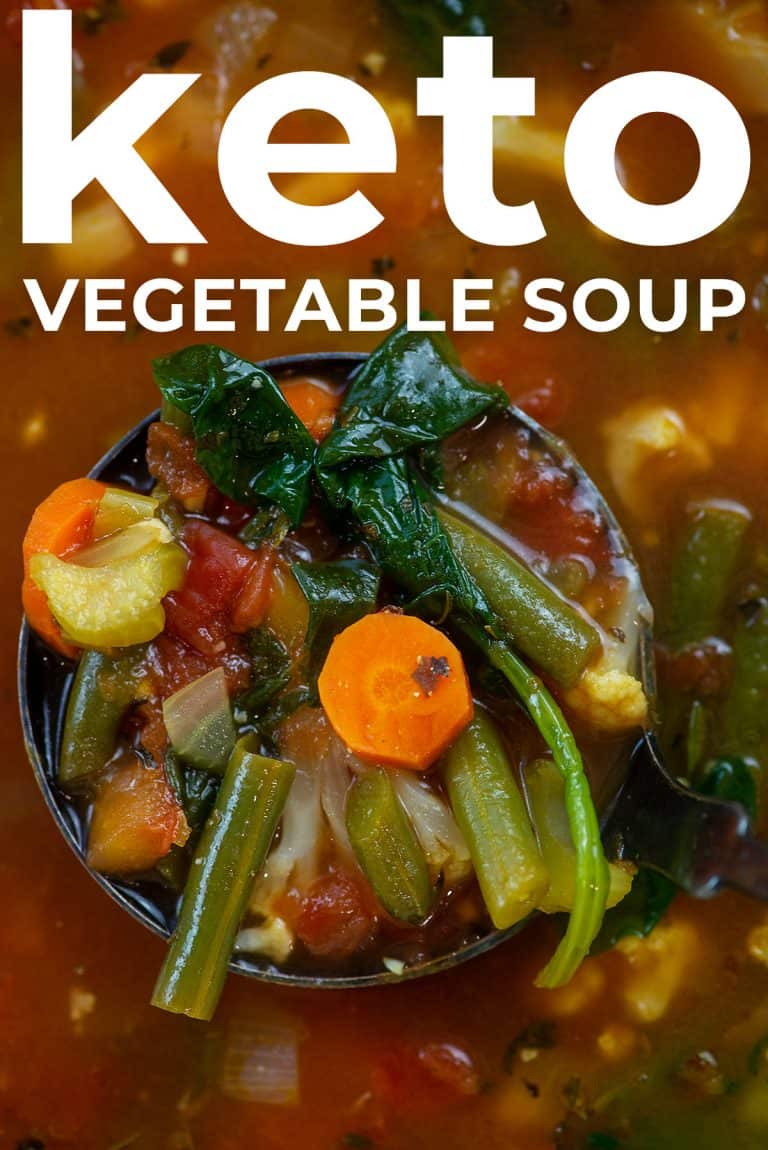 More low carb soup recipes: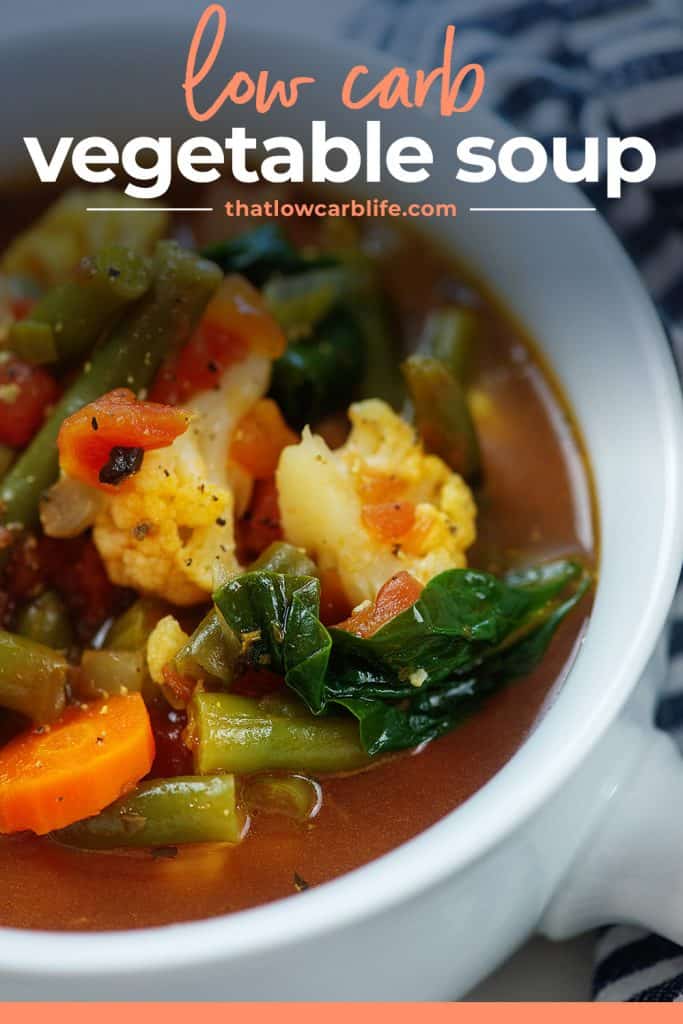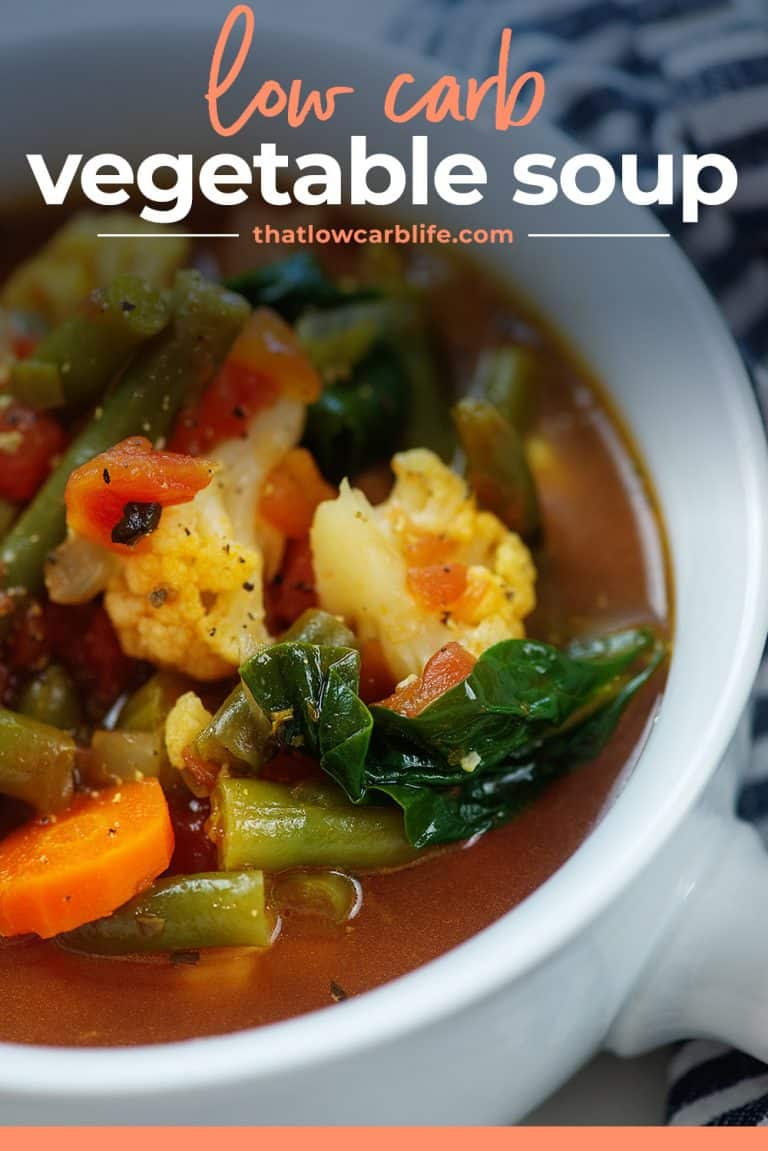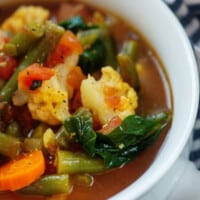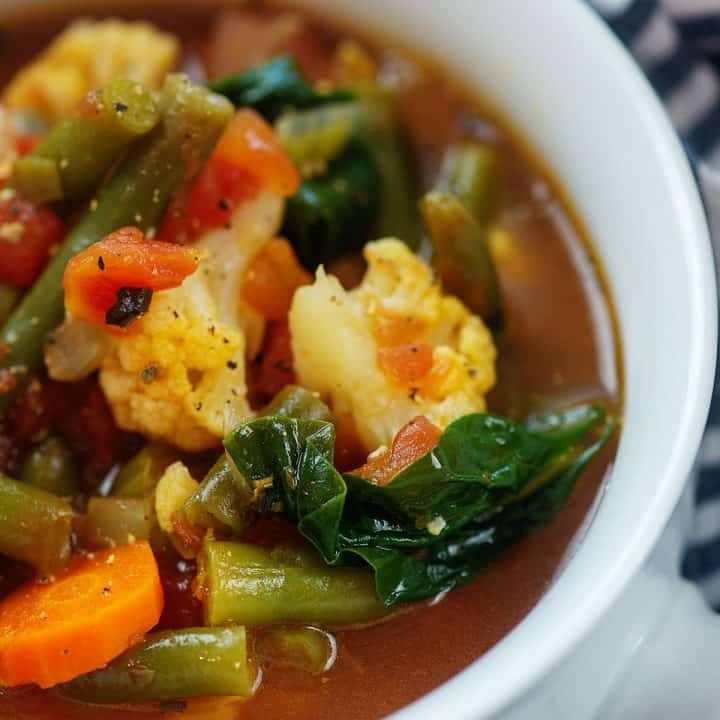 Keto Vegetable Soup
This low carb vegetable soup is packed with fresh veggies. We do add in a couple of carrots to give the soup a pop of color and make it feel more like a traditional soup. You may leave them out if you wish, but they only add 1 net carb per serving and we think it's worth it!
Ingredients
1 tablespoon butter
1 tablespoon olive oil
1 medium onion, chopped
3 stalks celery, chopped
2 carrots, peeled and chopped
4 cloves garlic, minced
2 cups chopped cauliflower florets
1 ½ cups fresh green beans, trimmed and cut into 1 inch pieces
30 ounces canned diced tomatoes
8 cups beef broth
1 tablespoon Worcestershire sauce
1 tablespoon Italian seasoning
1 teaspoon salt
1 teaspoon cracked pepper
2 cups fresh spinach
Instructions
Add the butter and olive to a large stock pot over medium heat until butter has melted.
Add the onions, celery, carrots, and garlic and cook for 5 minutes, stirring often.
Add the cauliflower, green beans, tomatoes, beef broth, Worcestershire sauce, and Italian seasoning. Stir to combine.
Bring to a boil, reduce to a simmer, and cook for 25 minutes or until vegetable are tender.
Season with the salt and pepper and add the spinach to the pot. Stir well and continue cooking for 1-2 minutes until the spinach has wilted.
Taste and add additional salt and pepper, if needed. Serve immediately.
Notes
You may swap out any low carb veggies that you like. Chopped turnips make a great sub for potatoes!
Use veggie broth to make this vegetarian.
Use low sodium broth to reduce the sodium content.
Nutrition Information:
Yield: 10
Serving Size: 1 1/4 cup
Amount Per Serving:
Calories: 75
Total Fat: 3g
Saturated Fat: 1g
Trans Fat: 0g
Unsaturated Fat: 2g
Cholesterol: 3mg
Sodium: 960mg
Carbohydrates: 9g
Net Carbohydrates: 5g
Fiber: 4g
Sugar: 4g
Protein: 4g
All information and tools presented and written within this site are intended for informational purposes only. This information is provided as a courtesy and there is no guarantee that the information is accurate.