This KETO SALAD DRESSING RECIPE is quick to whip up and I love that you know exactly what goes in it! No hidden sugars, carbs, or other funky stuff. It's made with simple every day ingredients and works perfectly on salad or as a marinade for grilled chicken or veggies.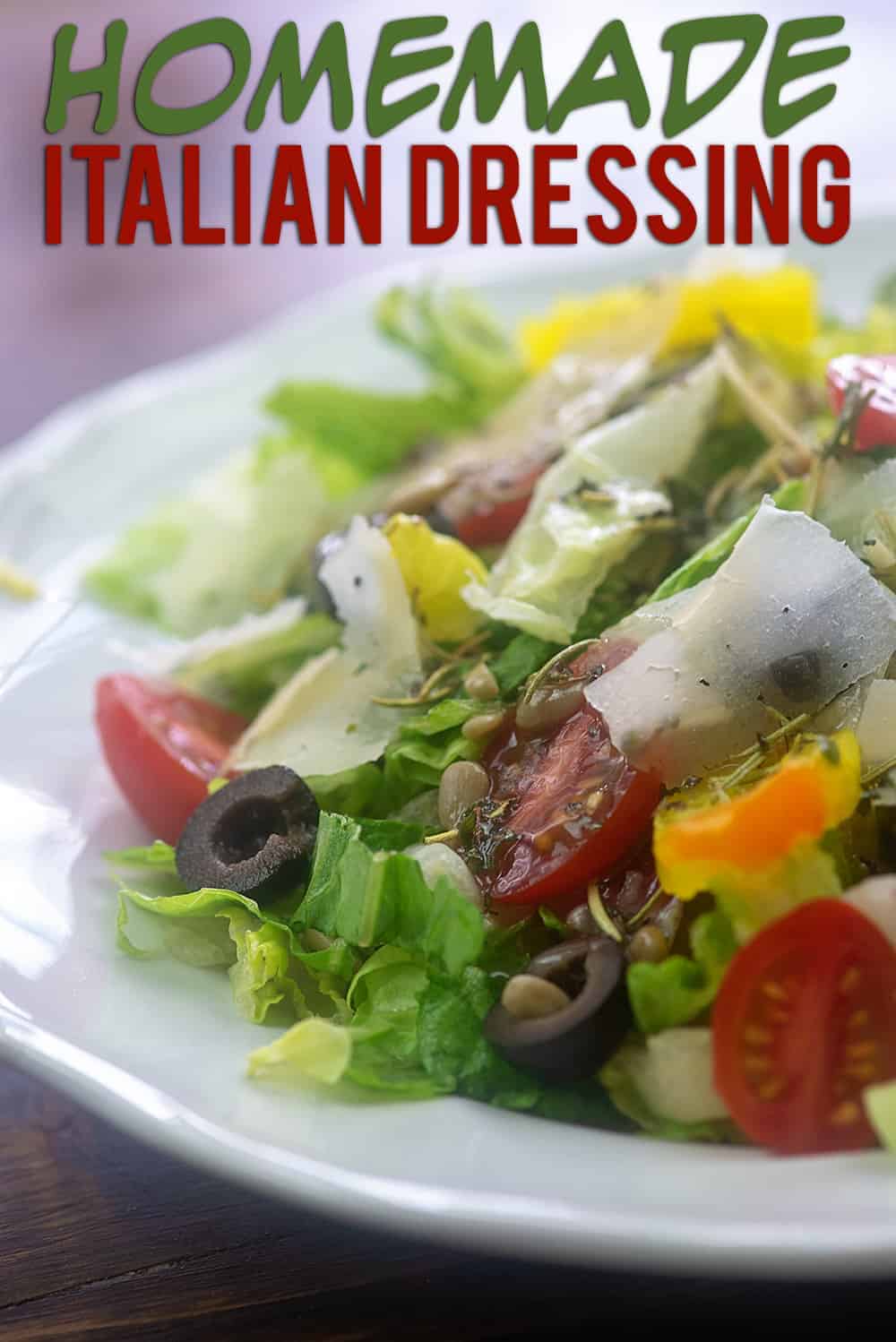 It's true that I'm a total sucker for a good keto ranch dressing (and it's no secret that our recipe is the best!), but I grew up on Italian salad dressing and I still love it!
There's just something about a nice, tangy dressing that makes a salad really pop and if it's keto? Even better!
We eat salads pretty regularly in my house. Let's be honest: they're easy, healthy, and almost always a hit. Whether it's a salad with mixed greens or something like our broccoli cauliflower salad, it's just a nice, healthy side dish to serve up.

I also love to grill chicken or veggies that have been marinated in this Italian salad dressing. Simple and delicious!
This dressing is also perfect on my cauliflower salad!
Ingredient Notes:
This post contains affiliate links. As an Amazon associate and member of other affiliate programs, I earn from qualifying purchases.
Olive Oil – The essential base ingredient for making a good Italian dressing! Use a good extra virgin olive oil here.
Lemon Juice – Fresh squeezed lemon juice adds a nice tangy flavor to the dressing and really helps brighten it up.
Seasoning – Classic Italian seasonings like basil, rosemary, and oregano along with fresh minced garlic! Use fresh herbs if you can find them but the dried stuff will work.
How To:
Juice – To start you'll need to juice a lemon, preferably into a mason jar. All the other ingredients will go in there with it. Hopefully all that work juicing the lemon won't tire you out too much because the next step is where this recipe gets really challenging! I'm joking, this is like the easiest recipe ever.
Shake – Like I said, things get difficult here. Take all the remaining ingredients* including the olive oil, garlic, herbs and salt and add those to the mason jar with the lemon juice. Shake, shake, shake! That's it. Your homemade Italian dressing is ready to enjoy!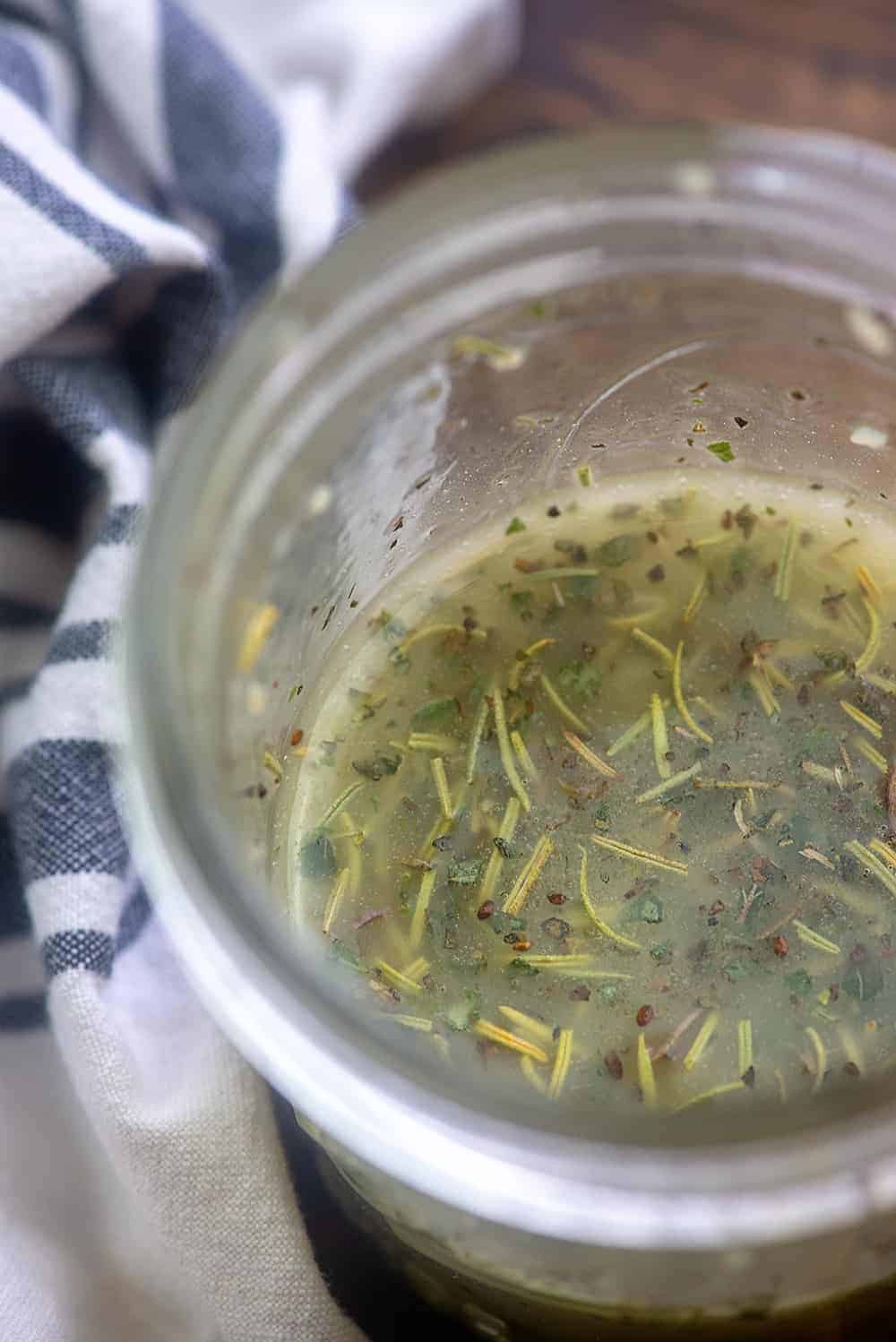 FAQs:
Is Italian salad dressing keto friendly?
Store bought Italian salad dressing can be full of hidden sugars and other funky ingredients. This homemade Italian salad dressing is a great choice for a keto diet, though!

This low carb Italian salad dressing contains just 1 carb per two tablespoon serving.
How long does Italian salad dressing last?
This homemade salad dressing will last for up to 2 weeks when stored tightly closed in the refrigerator. I recommend using a mason jar to keep your salad dressing. They're cheap and easy to find with so many uses.
Is this a dressing or a vinaigrette?
It's both! Technically a vinaigrette is made by mixing oil with something acidic, like lemon juice or vinegar. So this is definitely an Italian vinaigrette recipe, but dressing is sort of a catch-all term that includes vinaigrettes. And I think it's easier to say dressing!
What type of olive oil is best for salad dressing?
You'll want to use the best extra virgin olive oil you can find when making a dressing. It has the most flavor and is what is most commonly used in dressings/vinaigrettes.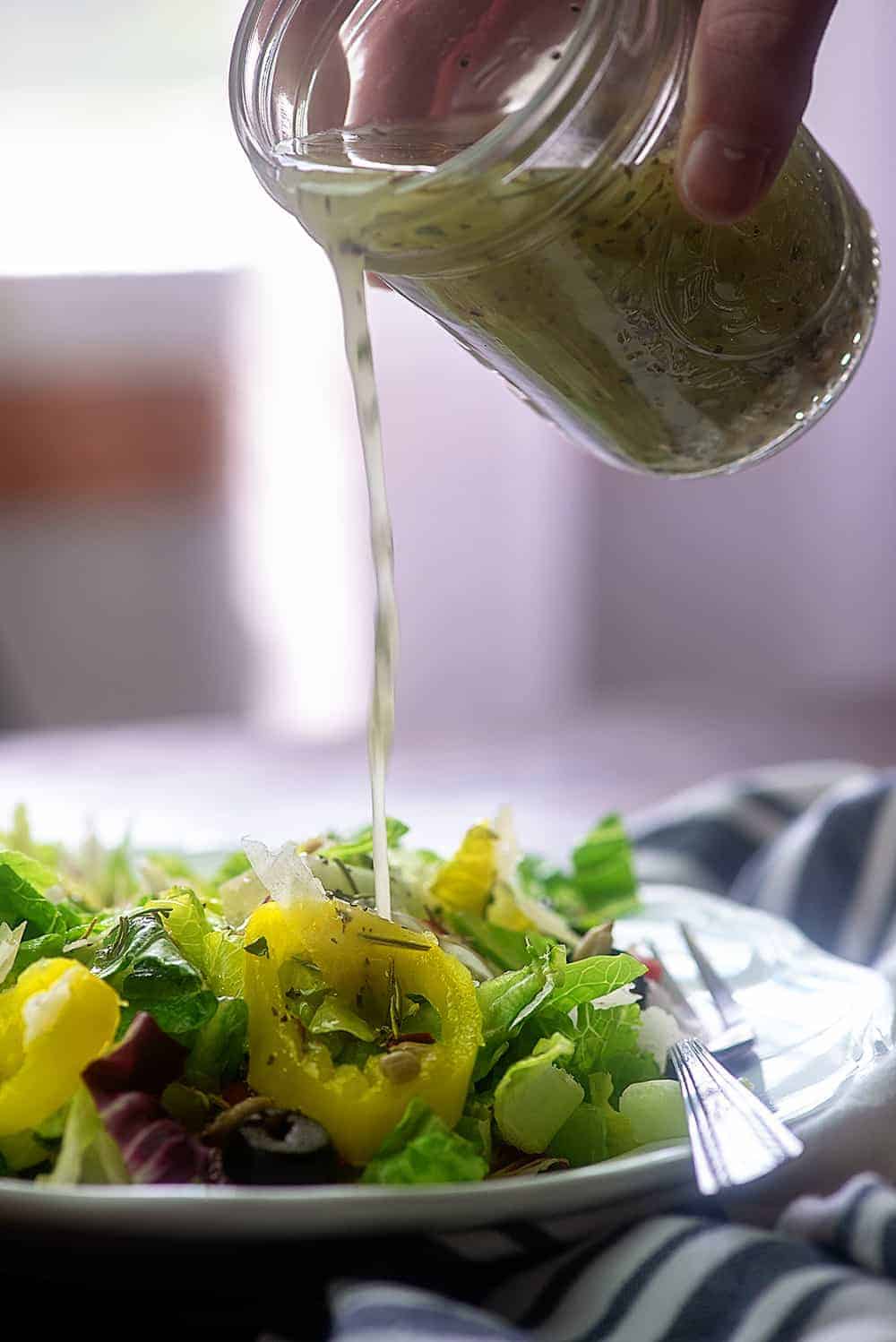 More low carb salad recipes:
Greek Chicken Salad: Made with a tzatziki dressing!
Thousand Island Dressing: Perfect on salads or burgers!
Sugar Free French Dressing: Looks amazing!
Avocado Chicken Salad: The ultimate lunch!
Big Mac Salad: A family favorite and so flavorful!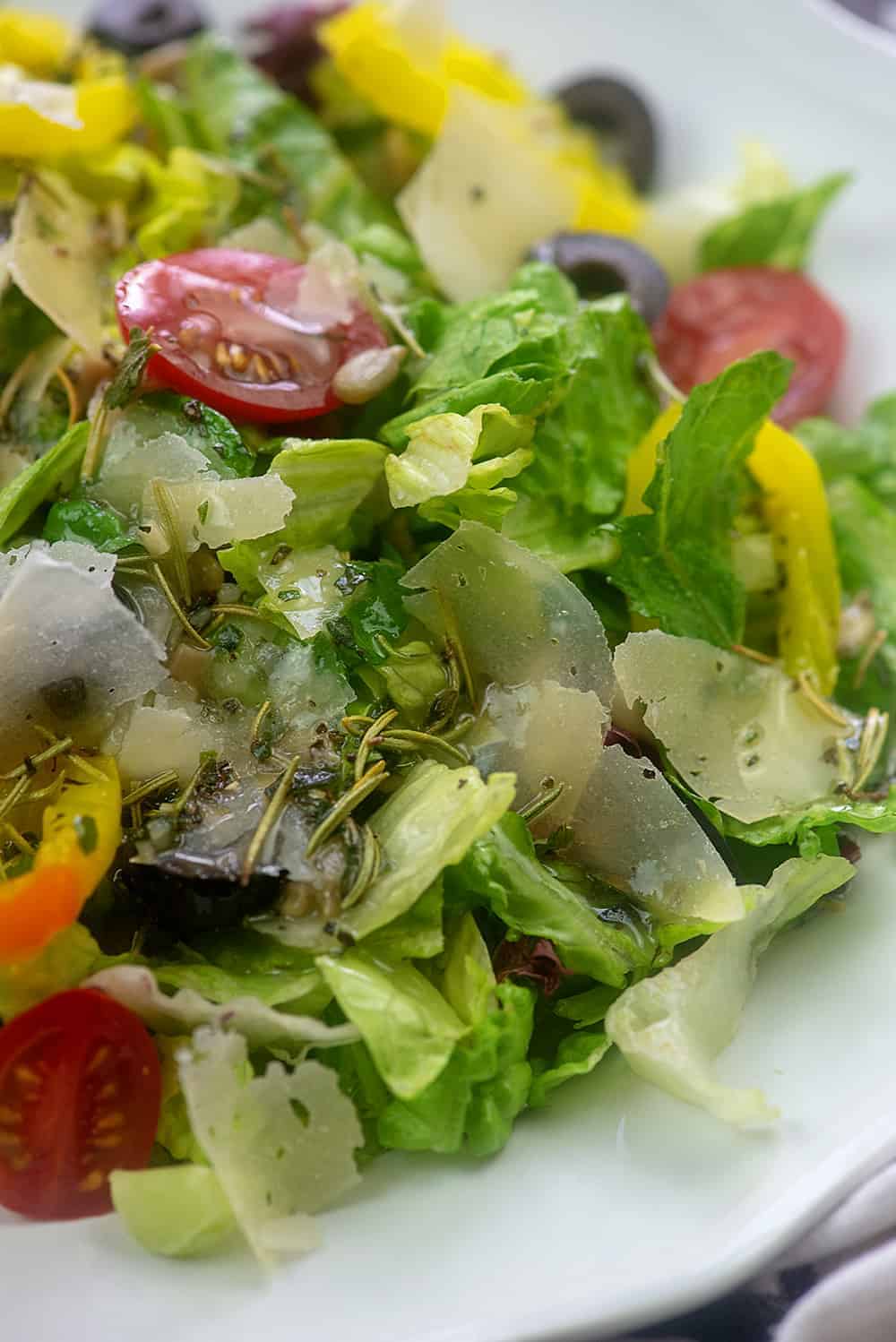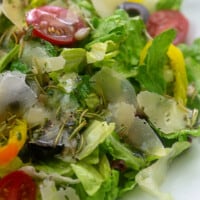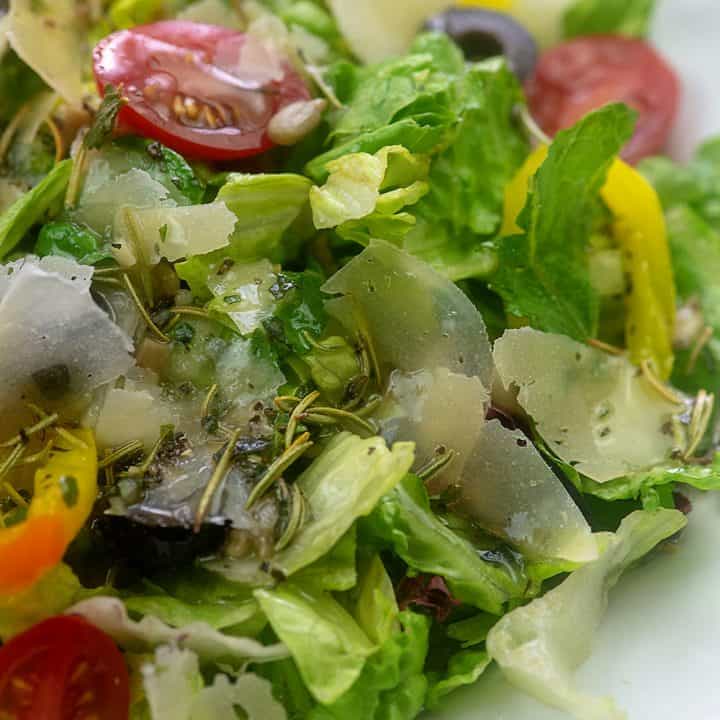 Homemade Italian Dressing
This homemade Italian dressing is so quick to throw together and it's perfect for a low carb or keto diet. It has great tang from the lemon and is perfect over a salad.
Ingredients
3/4 cup olive oil
1 lemon, juiced
2 cloves garlic minced
1 teaspoon salt
1 teaspoon oregano
1 teaspoon basil
1 teaspoon rosemary
Instructions
Add all of the ingredients to a mason jar and close the lid tightly.
Shake until well combined.
Serve immediately or store in the refrigerator for up to 2 weeks.
Notes
If you like a sweeter dressing, add a teaspoon of sweetener.
Nutrition Information:
Yield: 8
Serving Size: 2 tablespoons
Amount Per Serving:
Calories: 208
Total Fat: 23g
Saturated Fat: 3g
Trans Fat: 0g
Unsaturated Fat: 19g
Cholesterol: 0mg
Sodium: 303mg
Carbohydrates: 1g
Net Carbohydrates: 1g
Fiber: 0g
Sugar: 0g
Protein: 0g
All information and tools presented and written within this site are intended for informational purposes only. This information is provided as a courtesy and there is no guarantee that the information is accurate.