Italian Cauliflower Salad makes a great summer low carb side dish for any barbecue or gathering. It's packed with fresh mozzarella, pepperoni, salami, and more all tossed in a simple homemade Italian salad dressing. You'll want to serve this cold cauliflower salad all summer long!
Lately, I've been spending my afternoons in the backyard, floating around our pool.
I can not complain about life this summer. 😉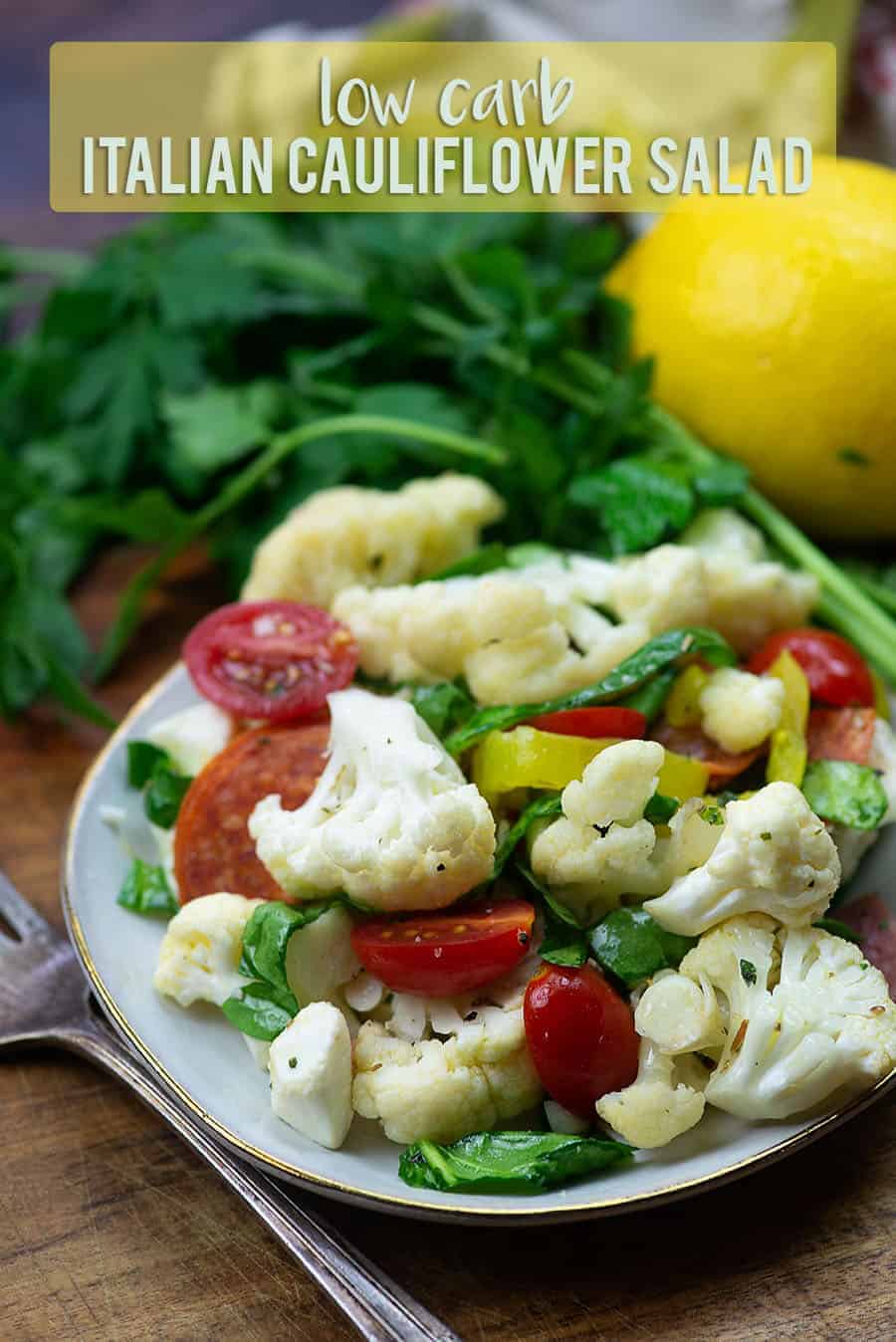 Being outside in the hot summer sun means that at dinner time I want something fresh and tasty and light. If I can convince the husband to toss some meat on the grill while I whip up a cold salad, even better.
This cauliflower salad is a great side dish to anything off the grill, in my opinion. And it also doubles as a nice lunch since it's so packed with goodies!

Cauliflower salad recipe:
I like to start this cauliflower salad with fresh cauliflower florets. You can chop a head of cauliflower or you can purchase a bag of florets, but definitely don't start with frozen cauliflower here.
I chop the cauliflower into bite-sized pieces and pop it into a large microwave-safe bowl. Add in a couple tablespoons of water, cover with plastic wrap, and microwave for 3 minutes.
We're not fully cooking the cauliflower much here, but I do like to soften it just a touch. You can skip this step if you'd prefer raw cauliflower – it'll be extra crunchy that way.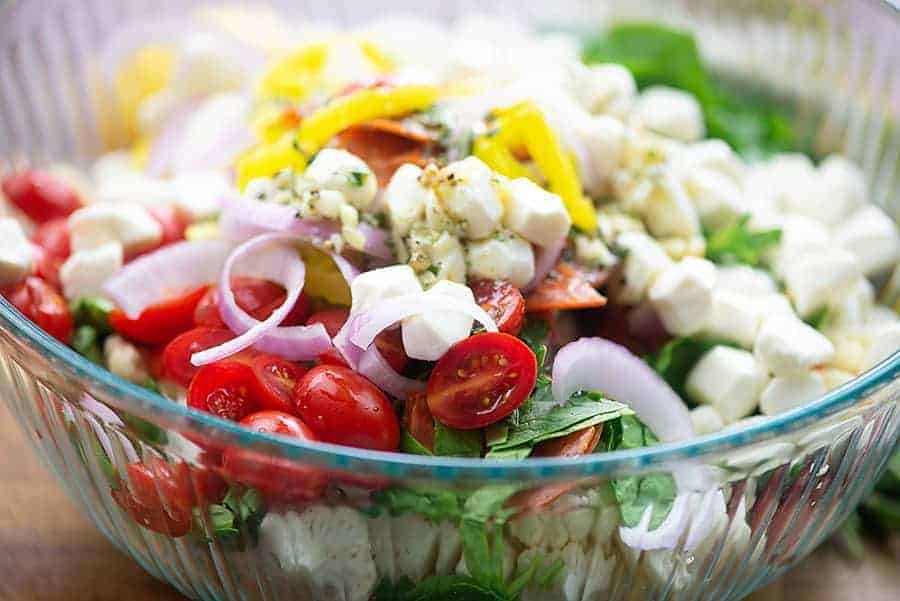 Once the cauliflower is softened just a bit, drain the liquid from the bowl and start tossing in the good stuff.
For this cauliflower salad recipe, I've added fresh mozzarella balls, chopped spinach, pepperoni, salami, halved grape tomatoes, red onion,, and pepperoncini. You can toss in whatever ingredients sound good to you here, keeping in mind that it's all going to get tossed in our homemade Italian dressing.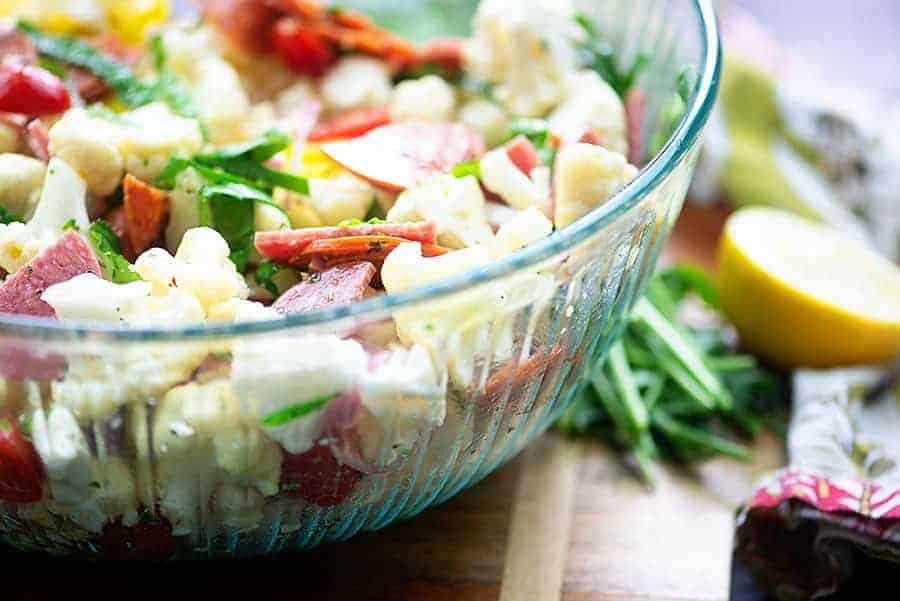 Italian salad dressing recipe:
For the dressing, you'll start with your favorite olive oil and some lemon juice.
Sprinkle in some dried herbs. I've used rosemary, basil, and oregano.
You'll also add in some freshly minced garlic and then season the dressing with some sea salt.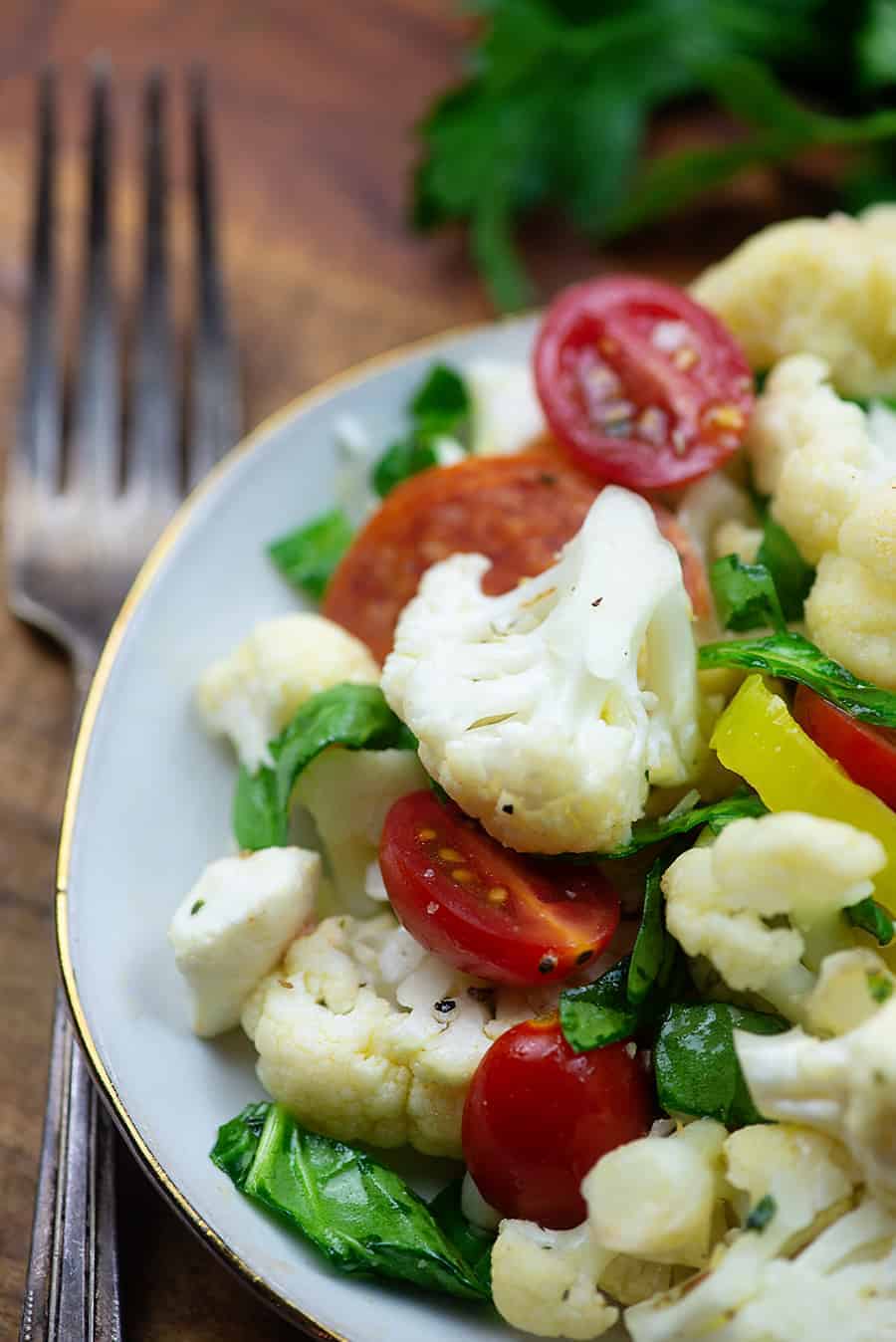 Whisk the Italian salad dressing together and give it a quick taste. Adjust with more lemon juice, salt, or herbs as desired. I like mine more on the tart side and nearly always add additional lemon juice.
Pour the salad dressing over the cauliflower salad and toss to combine.
I like to let this set in the fridge for a couple of hours before serving to allow the flavors to meld, but it's fine to serve it straight away too.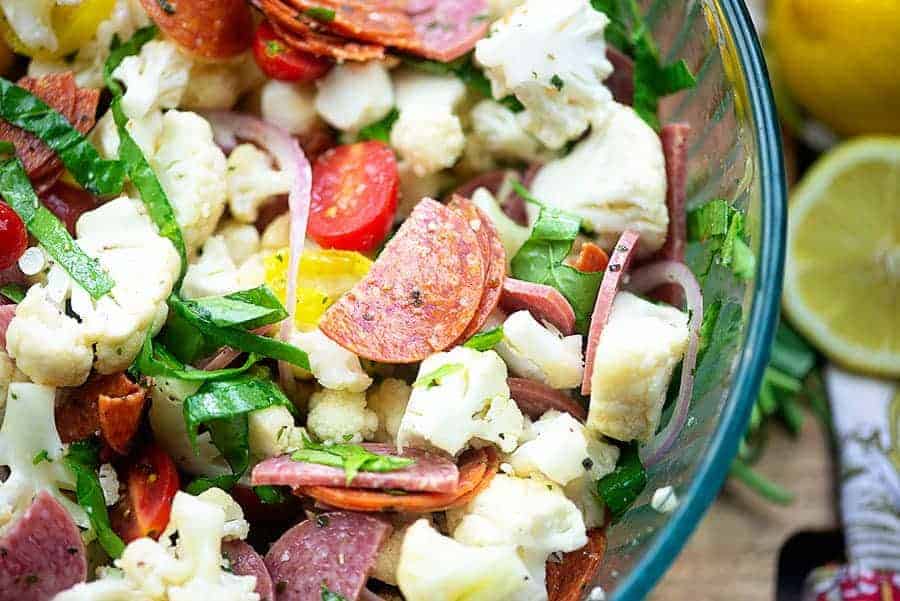 What to serve with this cauliflower salad:
Steak Bites – The marinade for this steak recipe is my all time favorite!
Spinach Stuffed Chicken – a true reader favorite! Have you tried this one yet?
Garlic Butter Shrimp – such an easy recipe and how can you say no to garlic butter??
Bacon Wrapped Meatloaf – I'm a sucker for anything wrapped in bacon and the low carb BBQ sauce on top is so good!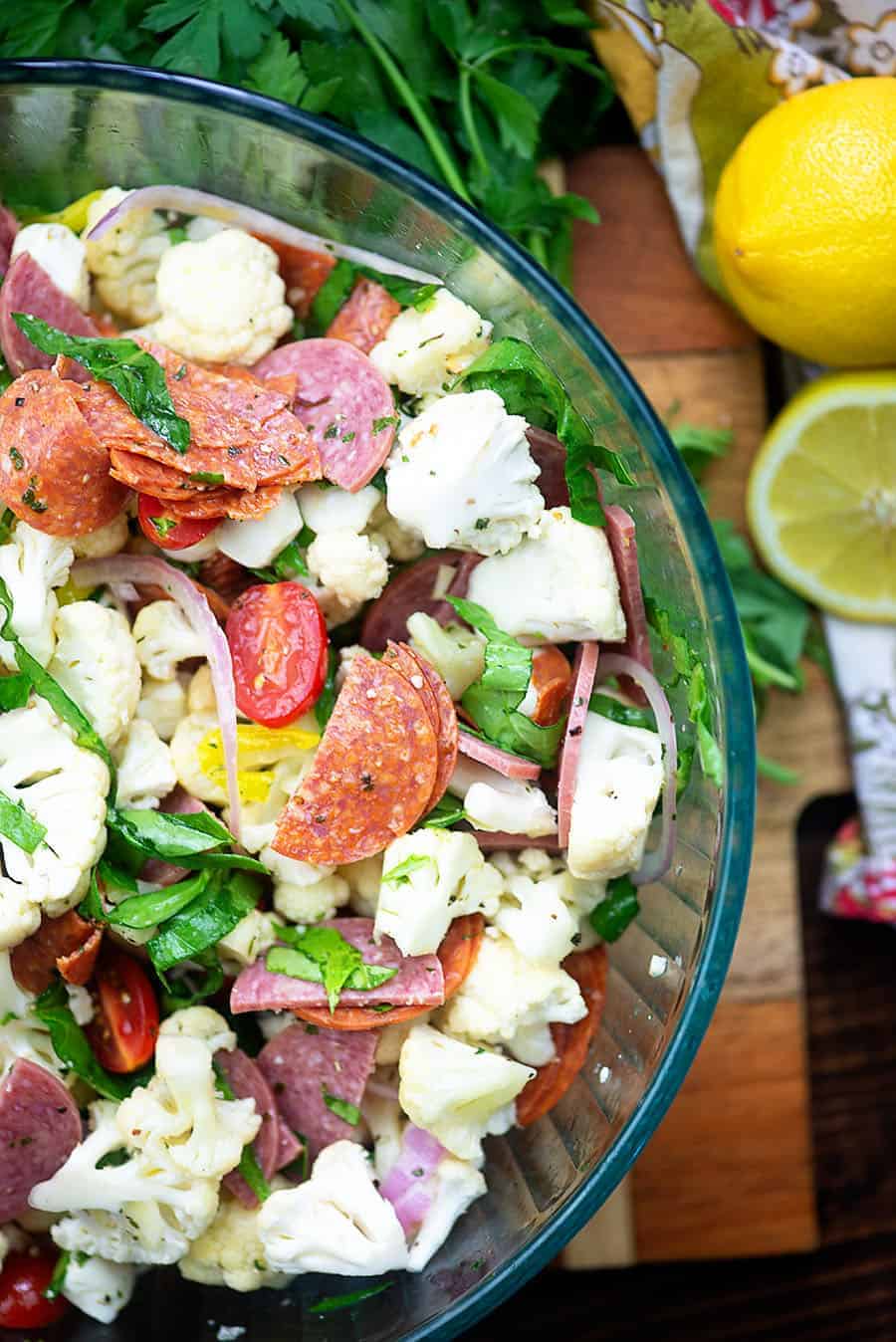 More low carb side dishes:
Loaded Cauliflower Casserole – if you're missing potatoes, this is the closest cauliflower will get! Loaded with bacon and cheese, too. 🙂
Keto Coleslaw – this is my mama's famous recipe!
Broccoli Salad Recipe – cheese, bacon, ranch, broccoli. You really have to try this one!
Cauliflower 'Potato' Salad – another summer favorite in our house!
Hope you guys enjoy this Italian Cauliflower Salad!
For more recipes, be sure to follow along on Facebook!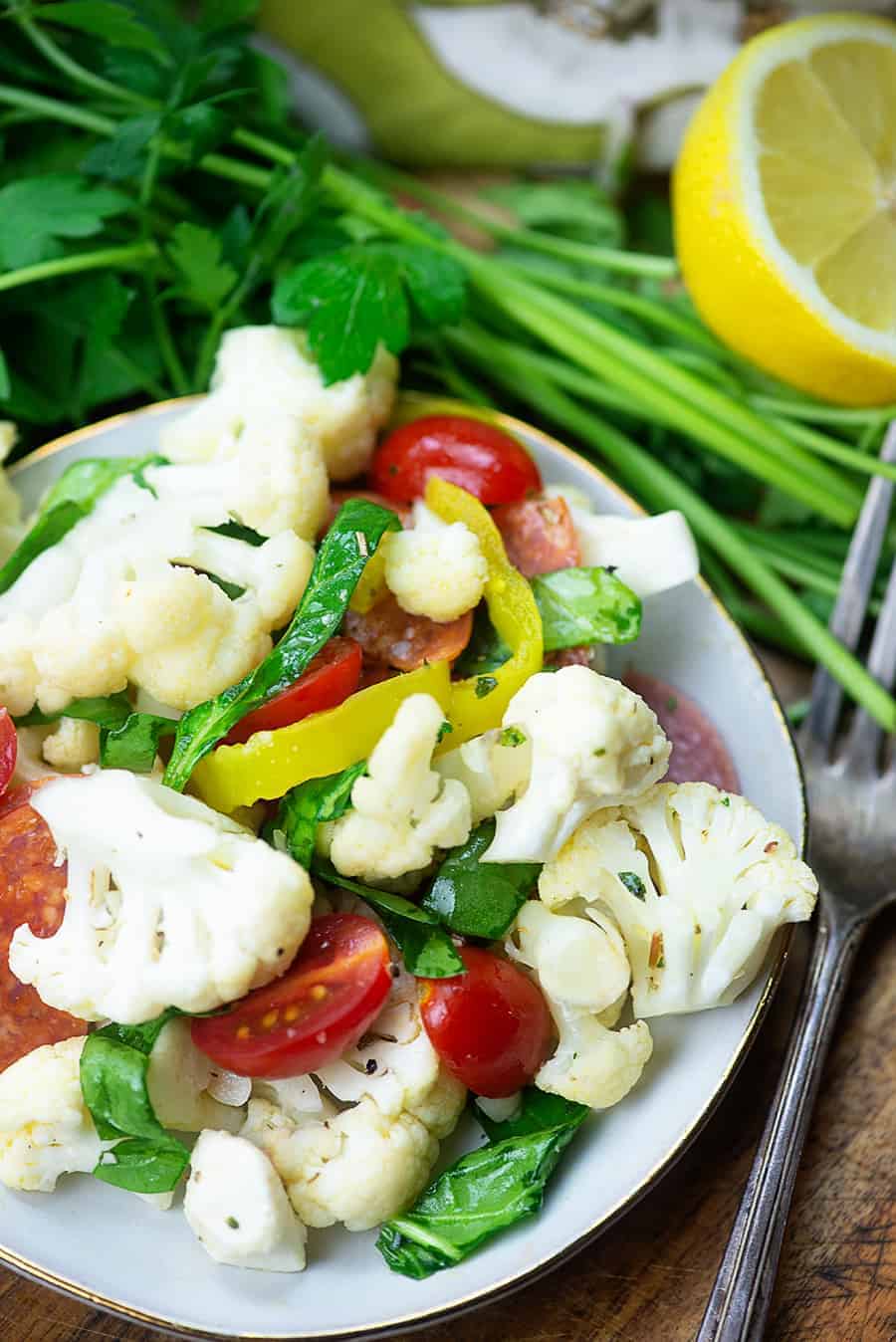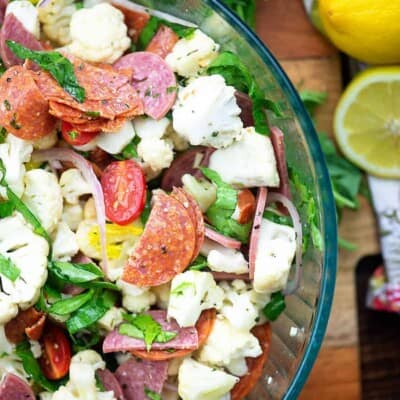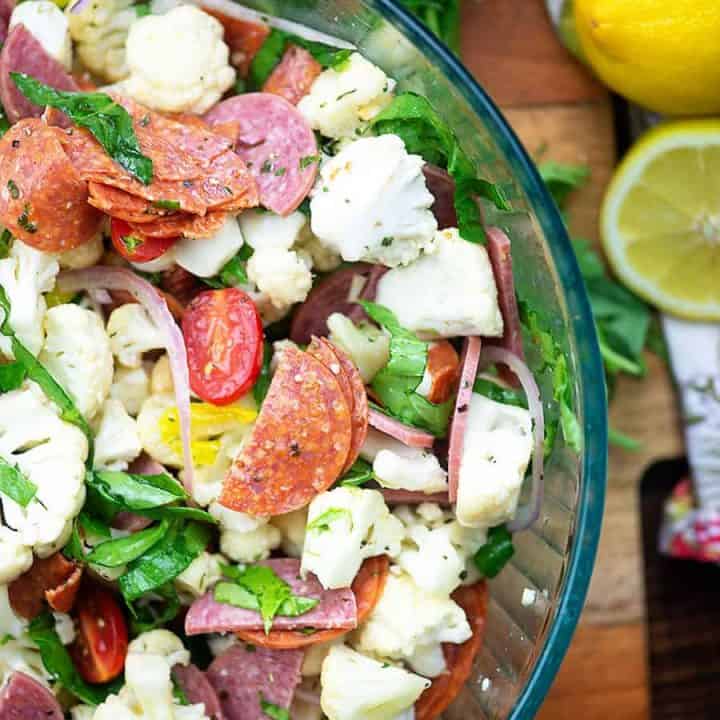 Italian Cauliflower Salad
This cold cauliflower salad is packed with fresh veggies, salami, and pepperoni. The homemade Italian dressing adds so much flavor!
Prep15 minutes
Cook3 minutes
Additional Time2 hours
Total2 hours 18 minutes
Ingredients
For the salad
1 pound cauliflower florets
8 ounces mozzarella balls
1 cup grape tomatoes
1 cup spinach
4 ounces salami slices
4 ounces pepperoni slices
1/4 cup sliced red onion
1/4 cup pepperoncini
For the dressing
1/2 cup olive oil
juice of 1 lemon
1 teaspoon salt
1 teaspoon oregano
1 teaspoon basil
1 teaspoon rosemary
1 clove garlic minced
Instructions
To make the salad:
Chop the cauliflower into bite-sized pieces and place in a large microwave-safe bowl. Add 2 tablespoons of water, cover with plastic wrap, and microwave for 3 minutes or until as tender as you'd like. Drain the liquid from the bowl.

Slice the grape tomatoes in half. Chop the spinach into small pieces. Cut the pepperoni and salami slices in half.

Add the tomatoes, spinach, pepperoni, salami, mozzarella, onion, and pepperoncini to the bowl with the cauliflower.
To make the dressing:
In a small bowl, whisk together the olive oil, lemon juice, salt, oregano, basil, rosemary, and garlic until well combined. Taste and add additional lemon, herbs, or salt as desired.

Pour the dressing over the cauliflower salad and toss to coat.

Cover the bowl and refrigerate for 2 hours to allow the flavors to meld before serving.
Tips & Notes:
You can adjust these ingredients to suit your tastes. This would be almost impossible to mess up.
Nutrition Information:
Serving: 1| Calories: 357kcal (18%)| Carbohydrates: 6g (2%)| Protein: 14g (28%)| Fat: 31g (48%)| Saturated Fat: 10g (63%)| Polyunsaturated Fat: 20g| Cholesterol: 51mg (17%)| Sodium: 986mg (43%)| Fiber: 2g (8%)| Sugar: 3g (3%)| Net Carbs: 4g (8%)