Our CHEDDAR BACON RANCH CHICKEN SALAD is the ultimate lunch for a busy day. Simple, flavorful, and filling – this is perfect in a lettuce wrap, eaten with low carb crackers, or just served up with a fork.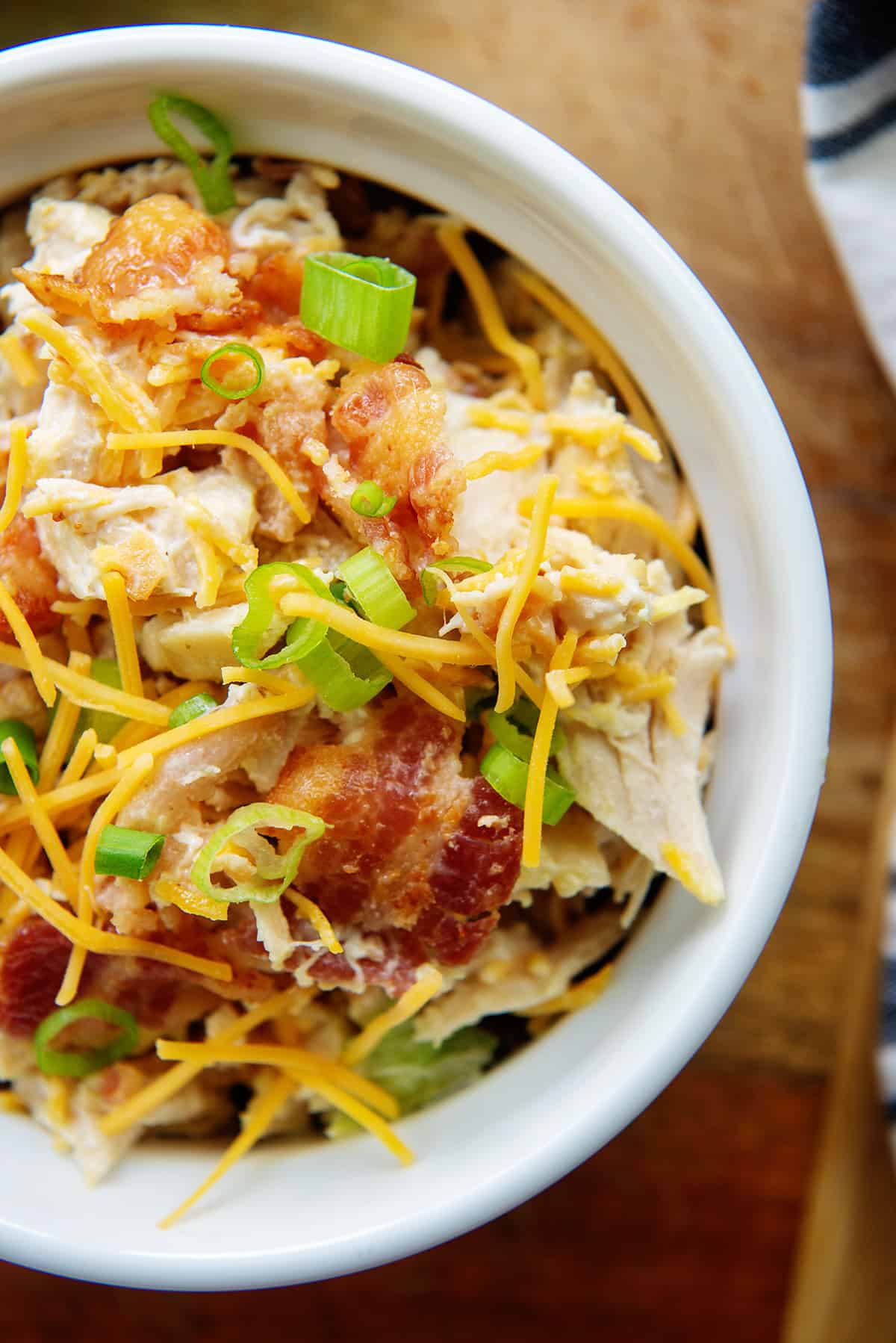 I'm pretty sure that nothing beats a bowl of chicken salad on a hot summer day for lunch!
The chicken is filling, the dressing is creamy and satisfying, and there are a million ways to doctor it up.
In fact, we have loads of chicken salad recipes here on the site…don't make me pick a favorite! I make a different one every week to keep lunch interesting and fun and I love them all, especially this avocado chicken salad.
This time around we added some of our favorite flavors – cheddar, bacon, and ranch – mixed right in with some shredded rotisserie chicken. It's such a quick and flavorful way to meal prep. Whip up a big bowl and you have a week's worth of lunches ready to grab and go!
Ingredient Notes: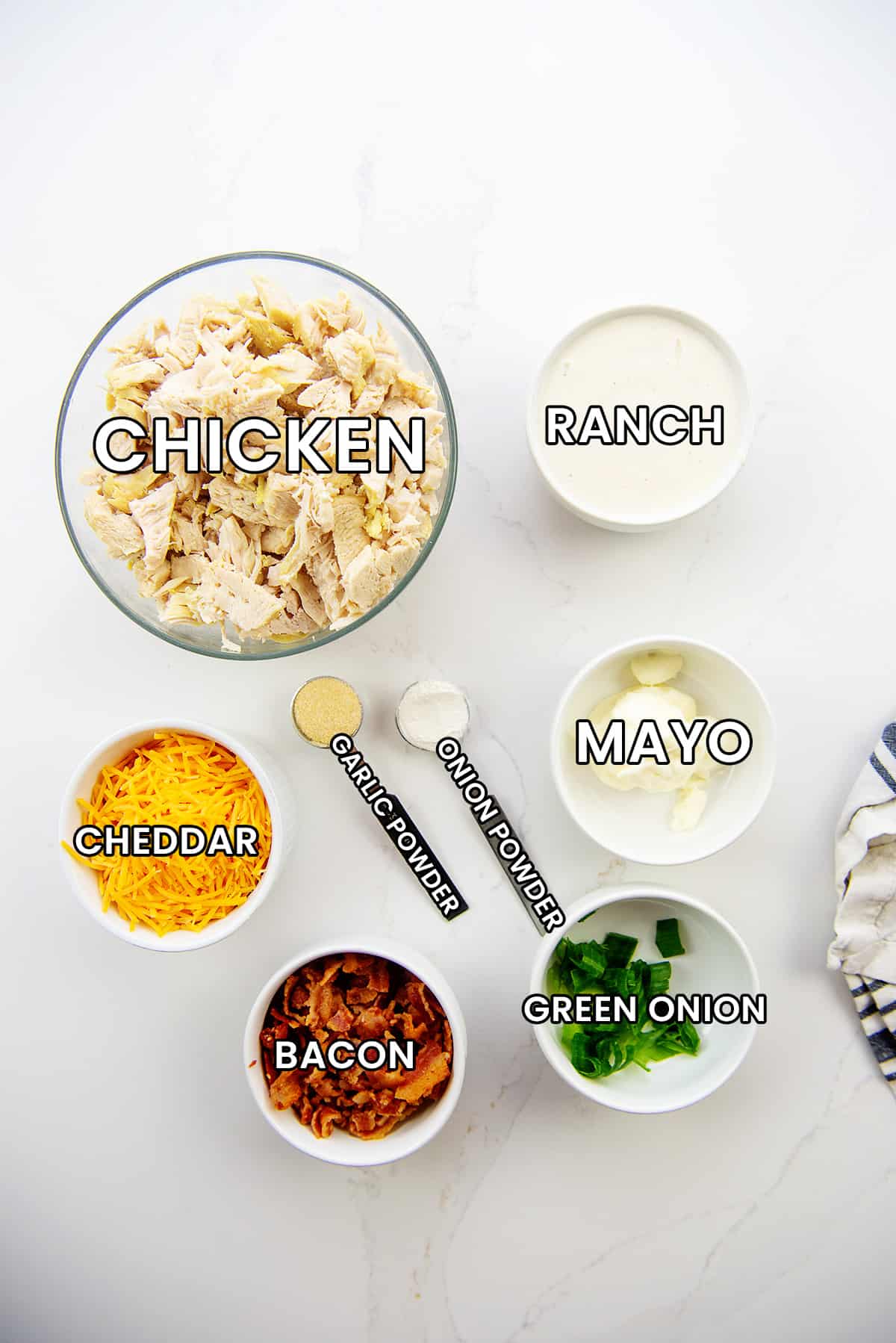 Chicken – We normally grab a rotisserie chicken when grocery shopping to use for chicken salad, but you can also poach some chicken breasts or thighs and shred those up.
Dressing – We combine mayo and ranch along with garlic and onion powder to make a creamy dressing.
Goodies – We load this chicken salad up with all of our favorites – shredded cheddar, crispy fried bacon, and green onions.
Why We Love This Recipe:
This recipe is easy to make, especially if you start with a rotisserie chicken. It lasts in the fridge for up to 5 days, so it's perfect for meal prep and the whole family loves the flavors of cheddar, bacon, and ranch.
How To:
Make The Salad – Add the chicken, bacon, cheddar, and green onions to a mixing bowl.
Make The Dressing – Combine the ranch, mayonnaise, garlic powder, and onion powder in a bowl and whisk until smooth.
Combine – Pour the dressing over the chicken mixture and stir to coat.
Chill – We like to let our chicken salad chill in the fridge for a couple of hours before eating, to really let the flavors meld together.
Serving Suggestions:
Our low carb chicken salad is perfect in a lettuce wrap! We love to use romaine for crunch or butter lettuce for a softer wrap.
Our low carb crackers are also perfect with this chicken salad.
Hollow out a tomato, stuff with chicken salad, and dig in with a fork!
Whip up a chaffle or a batch of keto hamburger buns and turn your chicken salad into a sandwich.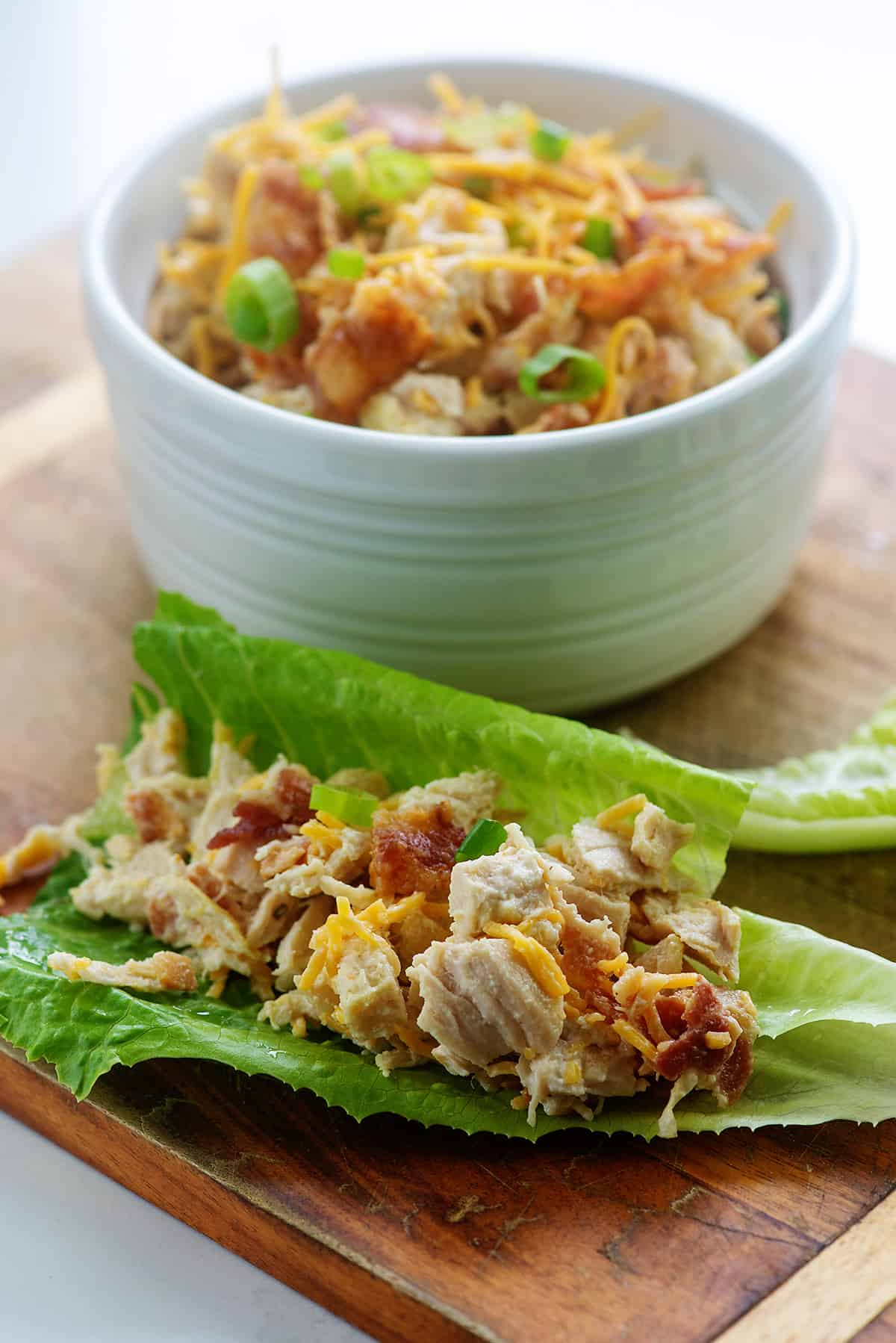 FAQ's:
Is mayonnaise low in carbs?
Yes, real mayo is extremely low in carbs as it's made with egg yolks and oil. Miracle Whip has added sweeteners, so please use real mayo for this recipe.
Can I use all ranch dressing instead of mayo?
Absolutely! We just like the extra richness of the mayo paired with the ranch. If you prefer to use all ranch dressing, we recommend using our homemade ranch dressing.
Do I have to chill the chicken salad?
We like to give this a couple of hours in the fridge for everything to reach the same temperature and to let the flavors all blend together. However, you can absolutely serve this right after mixing it together, but be sure to start with cold chicken.
More Keto Salad Recipes: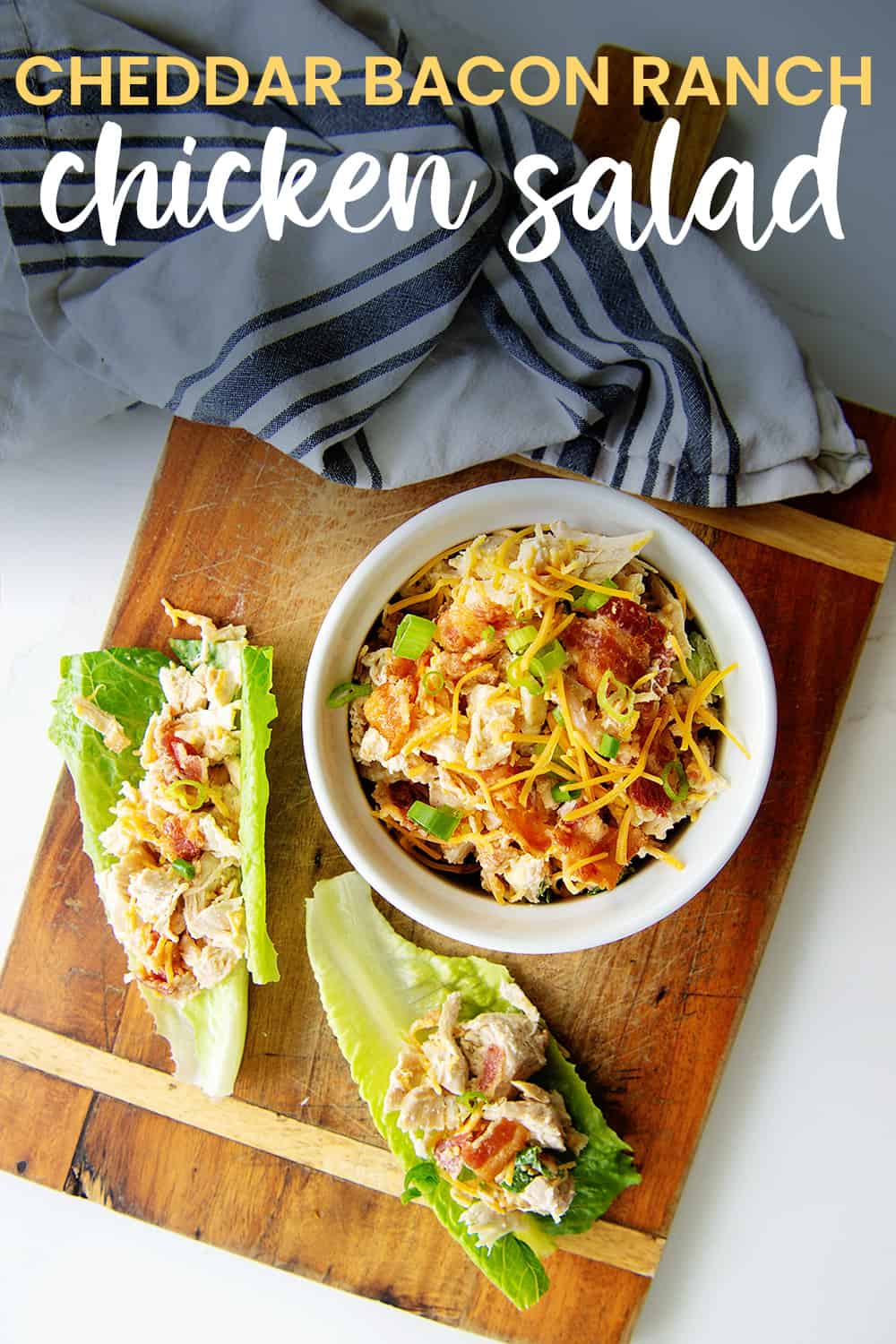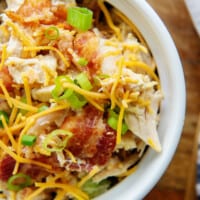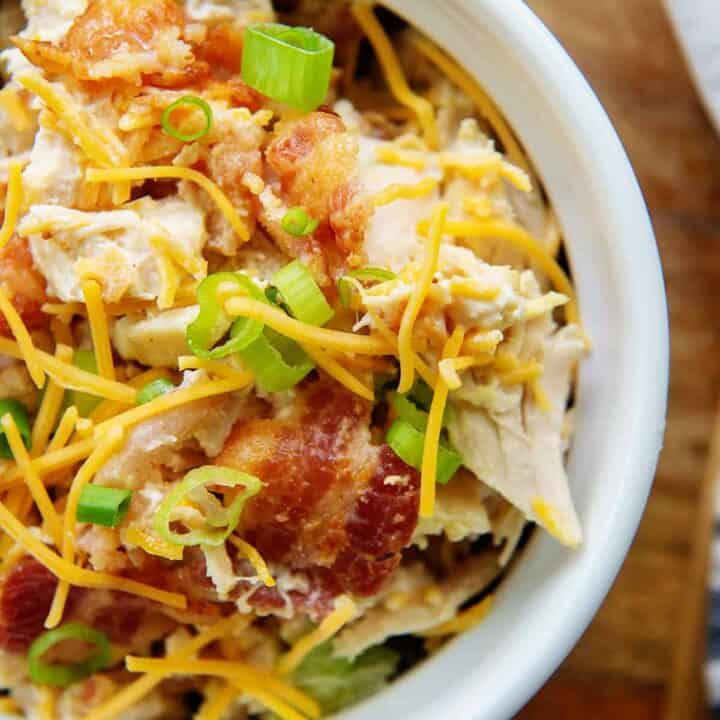 Cheddar Bacon Ranch Chicken Salad
Chicken salad is a favorite low carb lunch in our house, because it's so simple to make ahead and then grab when you're hungry. We mixed in cheddar, bacon, and green onions and then combined it with a simple ranch dressing.
Total Time 2 hours 10 minutes
Ingredients
3 cups cooked chicken, chopped or shredded
5 slices bacon, cooked and crumbled
3/4 cup shredded cheddar
2 green onions, sliced
2/3 cup ranch dressing
2 tablespoons mayonnaise
1 teaspoon garlic powder
1 teaspoon onion powder
Instructions
Add the chicken, bacon, green onions, and cheddar to a large mixing bowl.
Add the ranch, mayonnaise, garlic powder, and onion powder to a small bowl and stir well to combine.
Pour the ranch mixture over the chicken and stir well to combine.
Cover and refrigerate for 2 hours to allow the flavors to meld together.
Serve cold in a lettuce wrap or on our keto hamburger buns.
Notes
The mayonnaise adds a bit of extra creaminess and richness to the dressing, but you can swap for more ranch if you dislike mayonnaise.
We think this is perfectly seasoned as is, but taste and add additional salt if you think it's needed.
Nutrition Information:
Yield: 6
Serving Size: 1
Amount Per Serving:
Calories: 402
Total Fat: 32g
Saturated Fat: 9g
Trans Fat: 0g
Unsaturated Fat: 21g
Cholesterol: 96mg
Sodium: 574mg
Carbohydrates: 3g
Net Carbohydrates: 3g
Fiber: 0g
Sugar: 2g
Protein: 23g
All information and tools presented and written within this site are intended for informational purposes only. This information is provided as a courtesy and there is no guarantee that the information is accurate.