My entire family begs for these CHICKEN MEATBALLS stuffed with cheddar, bacon, and ranch! They're so flavorful and the best part is that they bake in a hot oven in about 10 minutes! So quick and perfect for a busy weeknight or as an appetizer at your next get-together.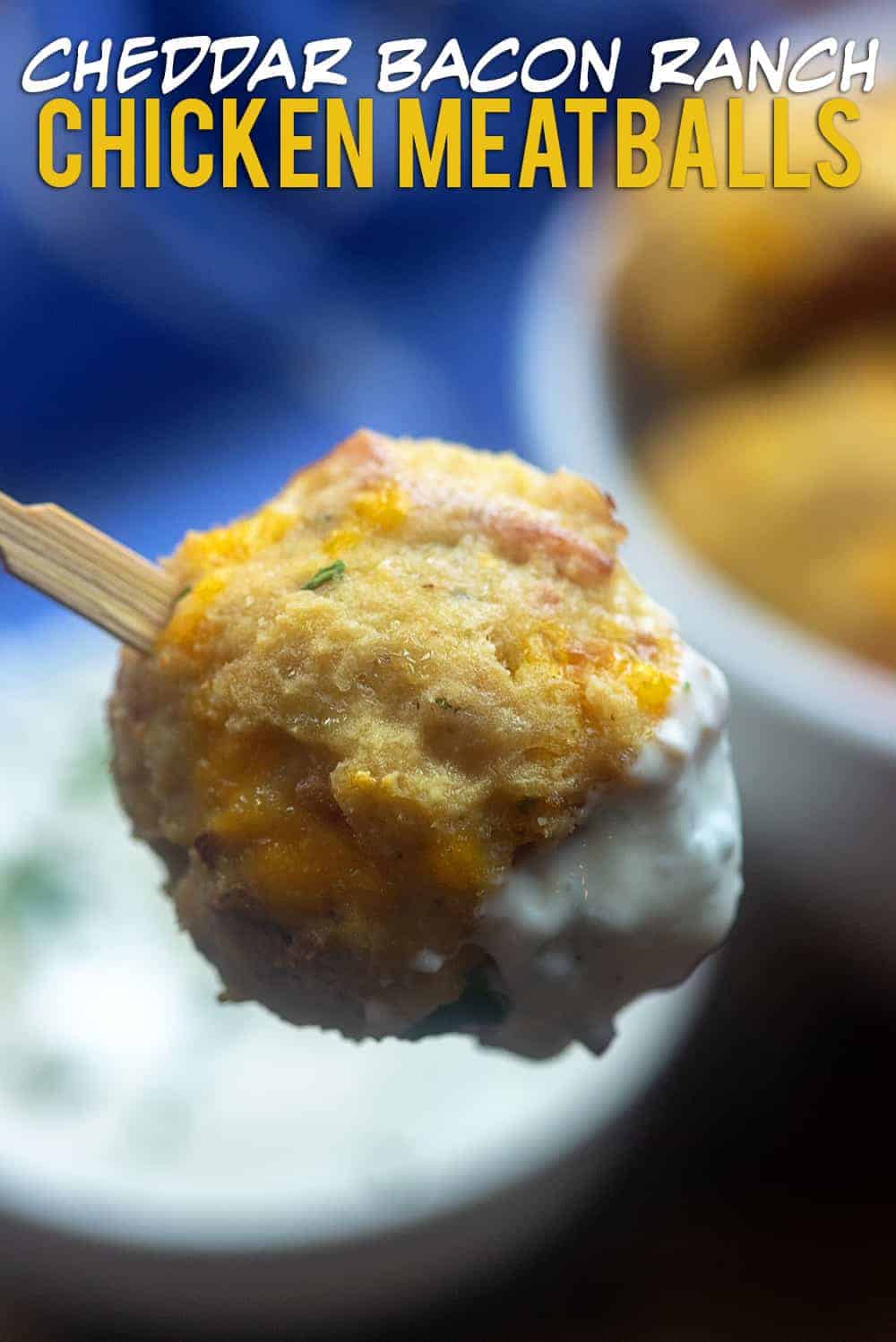 I've always been a huge fan of the meatball.
Well, that's not exactly true…I never even tried a meatball until I was a full blown adult, married with children of my own. My mama hates meatballs, so she never made them for us and I was never brave enough to try them on my own.

But that first meatball? Love at first bite.
I have a few fun variations I make, including these buffalo chicken meatballs, mozzarella stuffed meatballs, and keto meatballs with the simplest bbq sauce ever.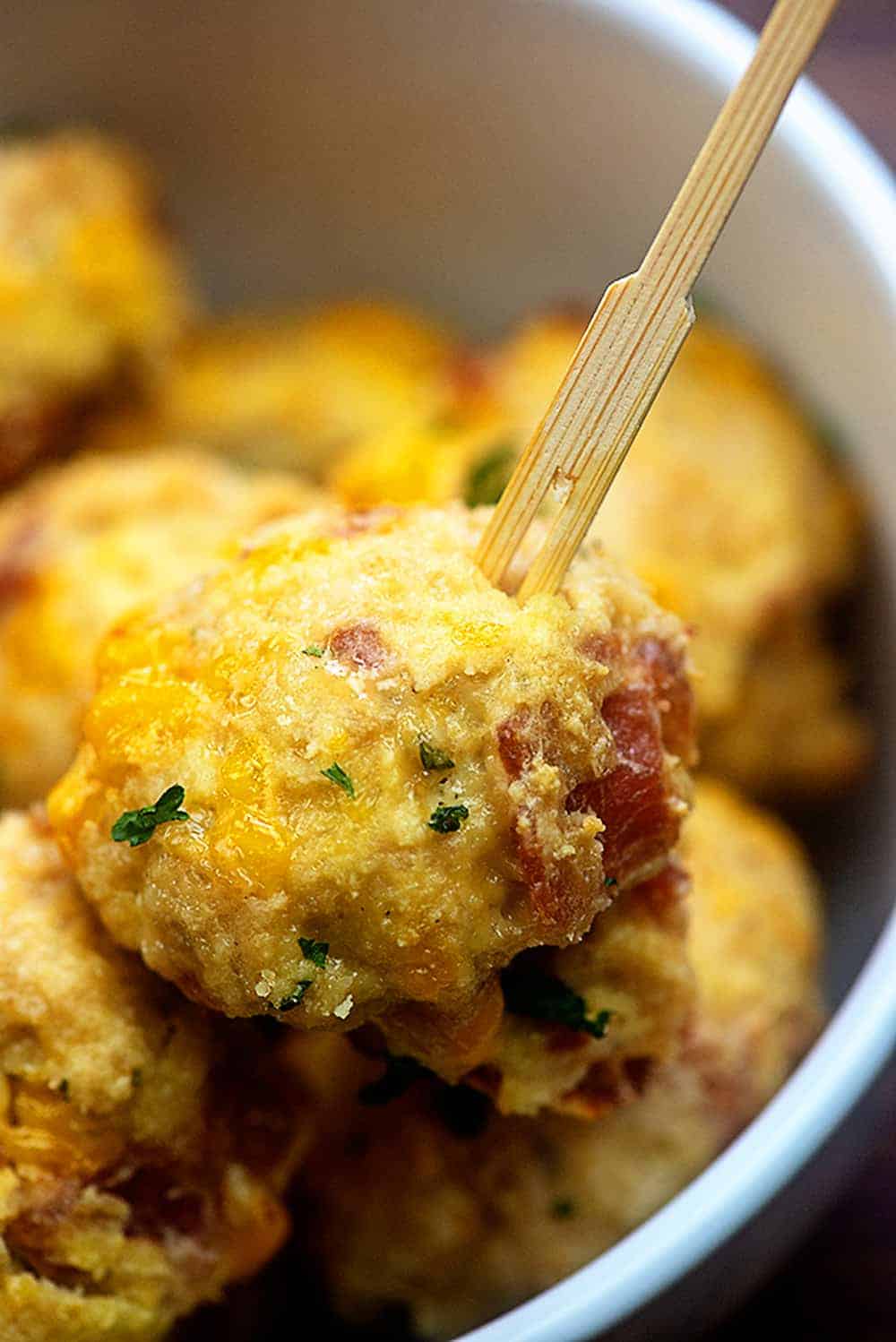 I'm working on a jalapeno popper version and I'll share that as soon as it's perfected.
Today, though, we've got these juicy cheddar bacon and ranch chicken meatballs. I LOVE all the flavors going on in here – reminds me a bit of my chicken bacon ranch pizza that's such a hit!
How to make low carb chicken meatballs: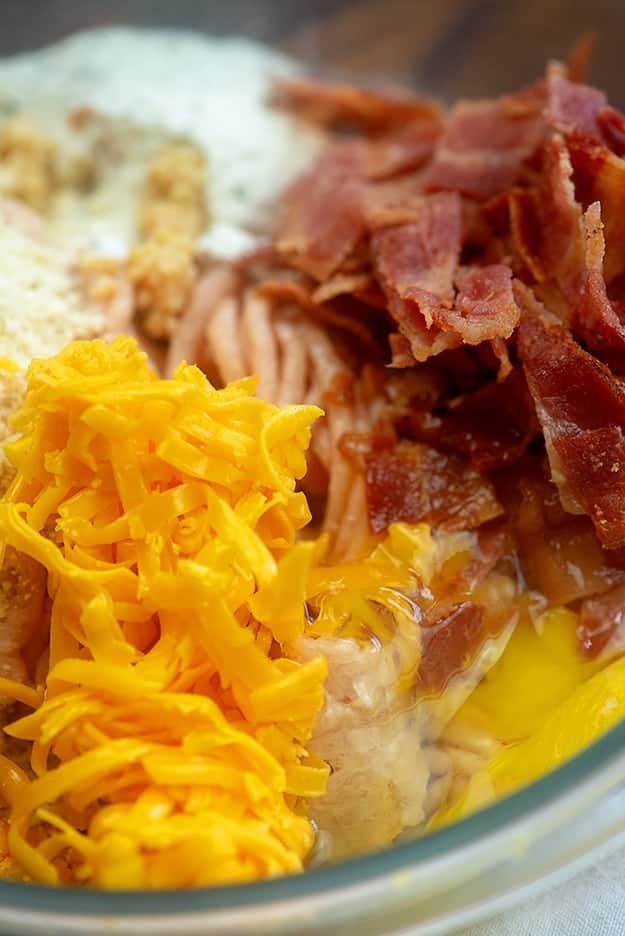 You'll need ground chicken, fried and crumbled bacon, cheddar cheese, egg, garlic, and ranch seasoning.
For the binder, we'll be using almond flour. I like this brand (affiliate link) , but whatever you have on hand will work fine.
Combine all of those ingredients and then scoop out the meatballs into equal sized portions. I use a medium cookie scoop for this. This is the one I use (affiliate link), and it's one of my favorite kitchen tools. Gets a lot of use in my house!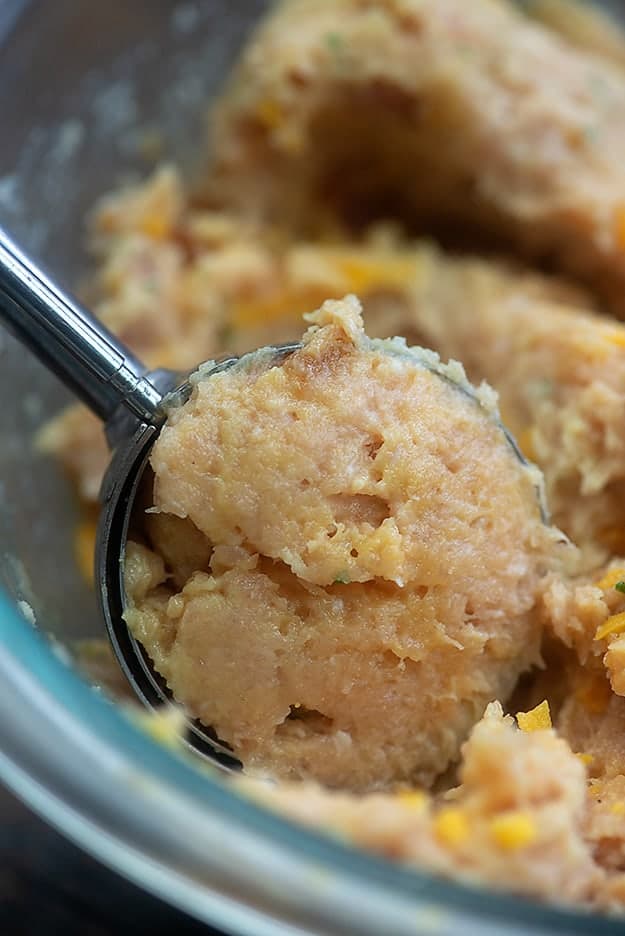 I like using a cookie scoop because it means that all of your meatballs will be the same size so they'll all cook evenly.
Pop the meatballs on a baking sheet and put them in a 500 degree oven – no that's not a typo. 500 degrees means they'll cook quickly and the outsides get browned a bit, similar to if you'd fried them.
We like to serve these cheddar bacon ranch chicken meatballs with an extra side of my keto ranch dressing. It's way better than the stuff you buy in a bottle and it's easy to prepare too! Check the reviews on that recipe!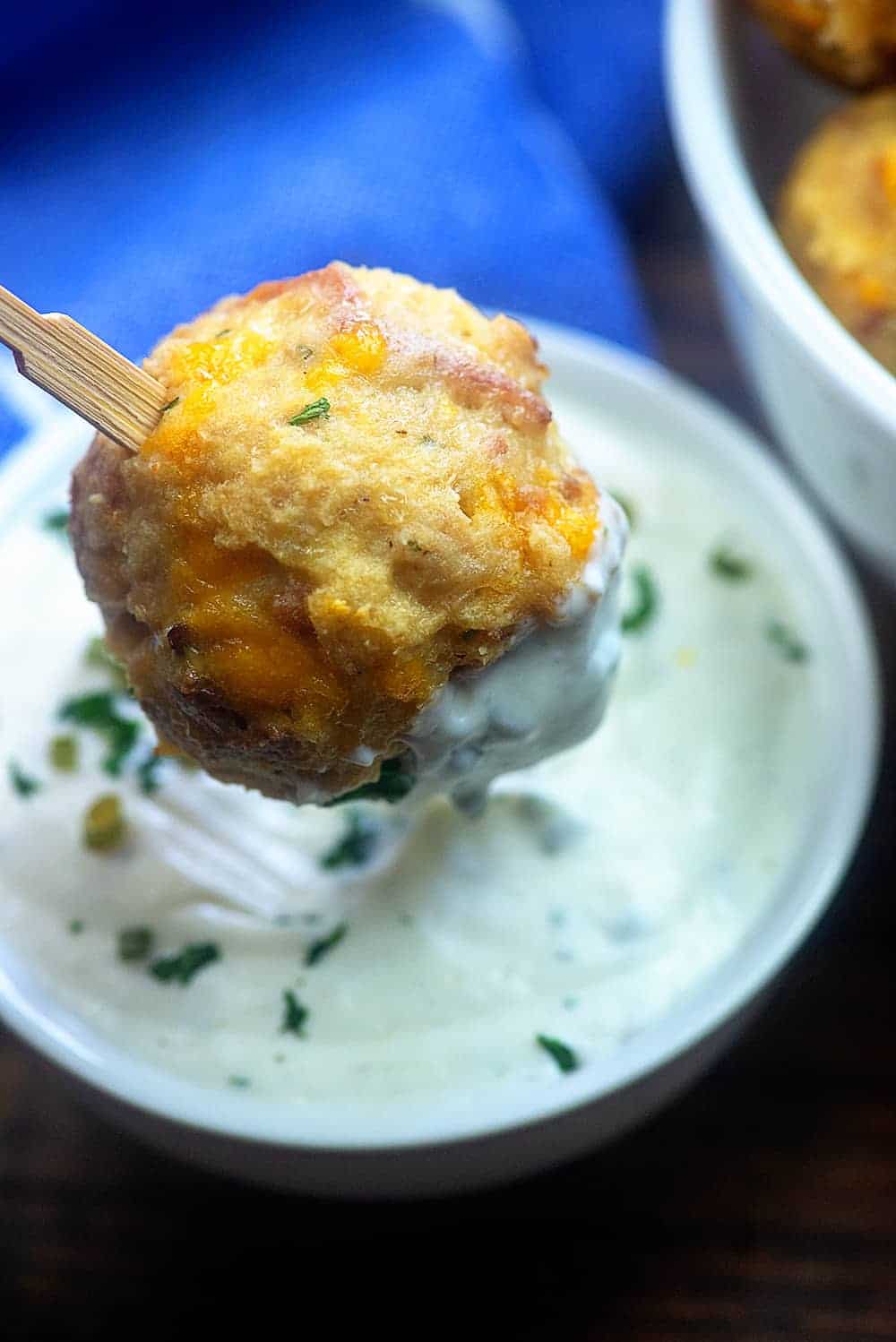 How to serve these low carb meatballs:
We like to serve these up as an easy and fun dinner with the kiddos. A side of ranch dressing, a pile o' meatballs, steamed veggies or a side salad, and some of my cauliflower mac and cheese is always a hit with the kids.
They also make a great appetizer or snack! Serve with toothpicks and a little bowl of ranch or sugar free BBQ sauce for dunking!
No matter how you serve them, I think you're going to love the flavors in these chicken meatballs!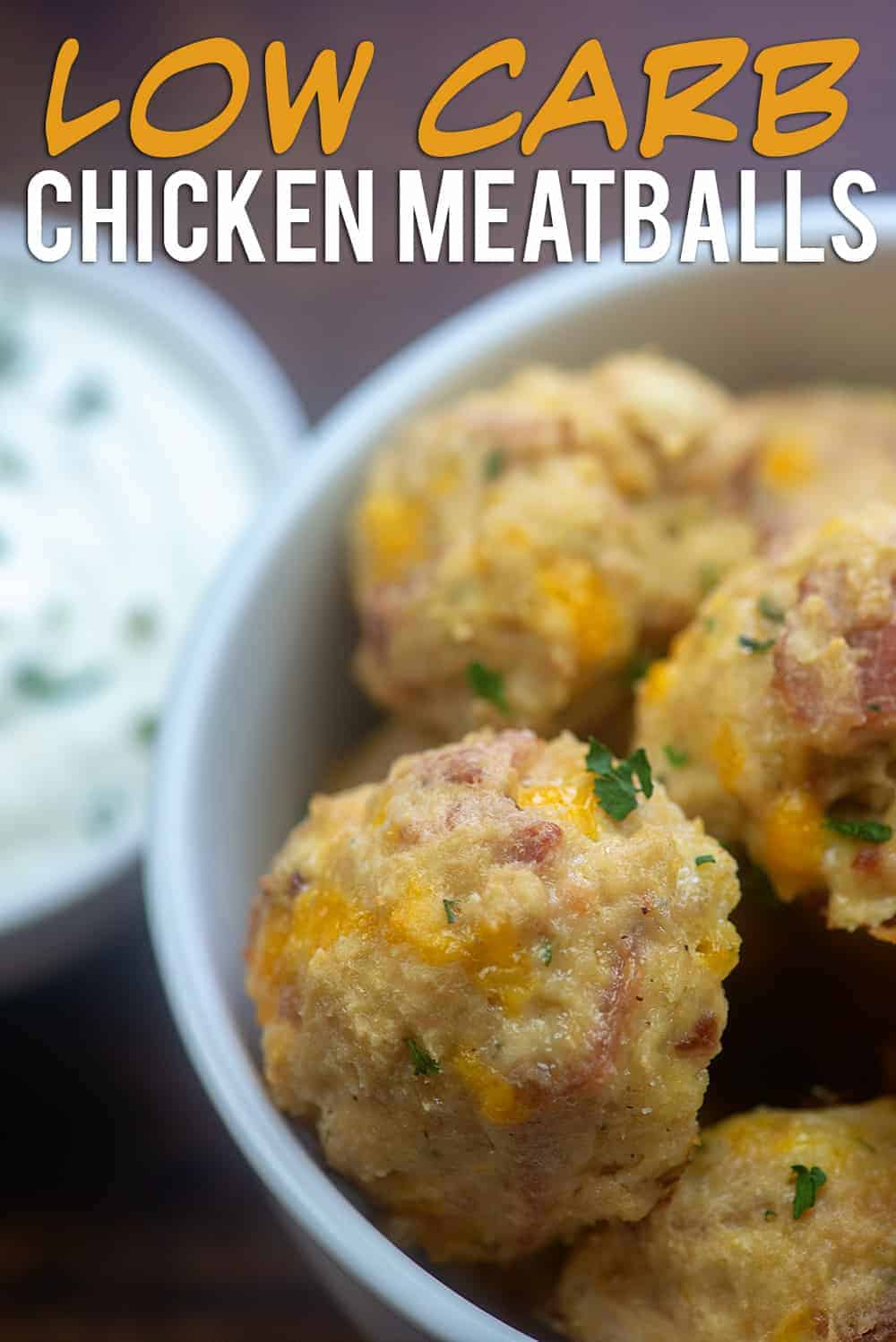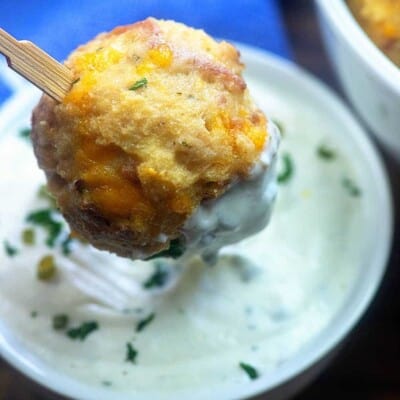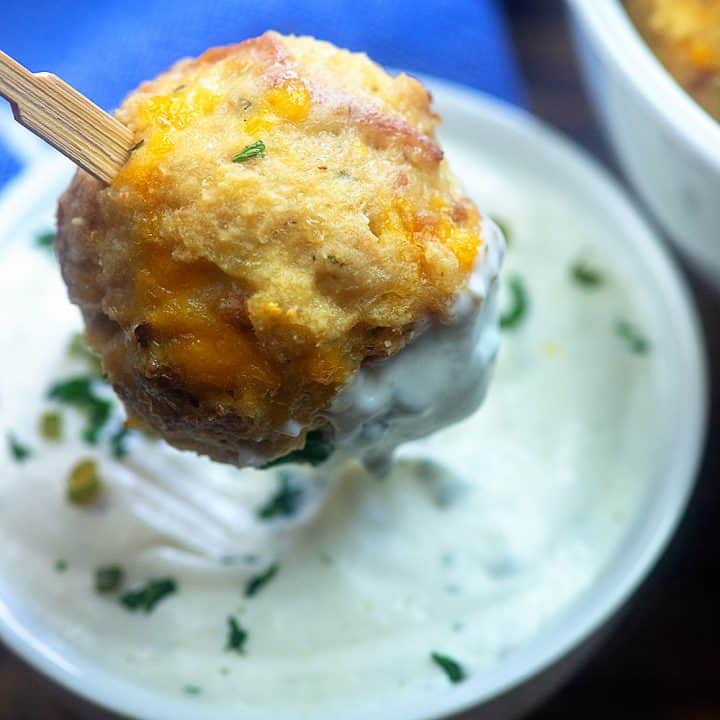 Cheddar Bacon Ranch Chicken Meatballs
These baked chicken meatballs are loaded with cheddar, bacon, and ranch seasoning. Serve them up with a side of ranch dressing or sugar free BBQ sauce for dipping.
Prep10 minutes
Cook13 minutes
Total23 minutes
Ingredients
1 pound ground chicken
4 slices bacon fried and crumbled
1/3 cup almond flour
¼ cup grated cheddar
1 clove garlic minced
1 large egg
2 tablespoons ranch dip powder
Instructions
Preheat oven to 500 degrees. Spray a large baking sheet with non-stick spray.

Add the ground chicken, bacon, almond flour, cheddar, garlic, egg, and ranch seasoning to a mixing bowl and mix with your hands until combined.

Use a large cookie scoop to scoop out 12 evenly sized meatballs and place on the prepared baking sheet.

Bake for 13 minutes or until chicken is cooked through.

Serve meatballs with ranch dressing or sugar free BBQ sauce for dipping.
Tips & Notes:
We prefer to purchase the leanest ground chicken we can find. Ground turkey also works just fine in this recipe.
Nutrition Information:
Serving: 3meatballs| Calories: 401kcal (20%)| Carbohydrates: 3g (1%)| Protein: 36g (72%)| Fat: 28g (43%)| Saturated Fat: 8g (50%)| Polyunsaturated Fat: 19g| Cholesterol: 188mg (63%)| Sodium: 410mg (18%)| Fiber: 1g (4%)| Sugar: 1g (1%)| Net Carbs: 2g (4%)