This CHEESY BACON RANCH CHICKEN is topped with a ranch cream cheese mixture, cheddar, crispy fried bacon, and green onions. It doesn't get tastier than this keto chicken recipe.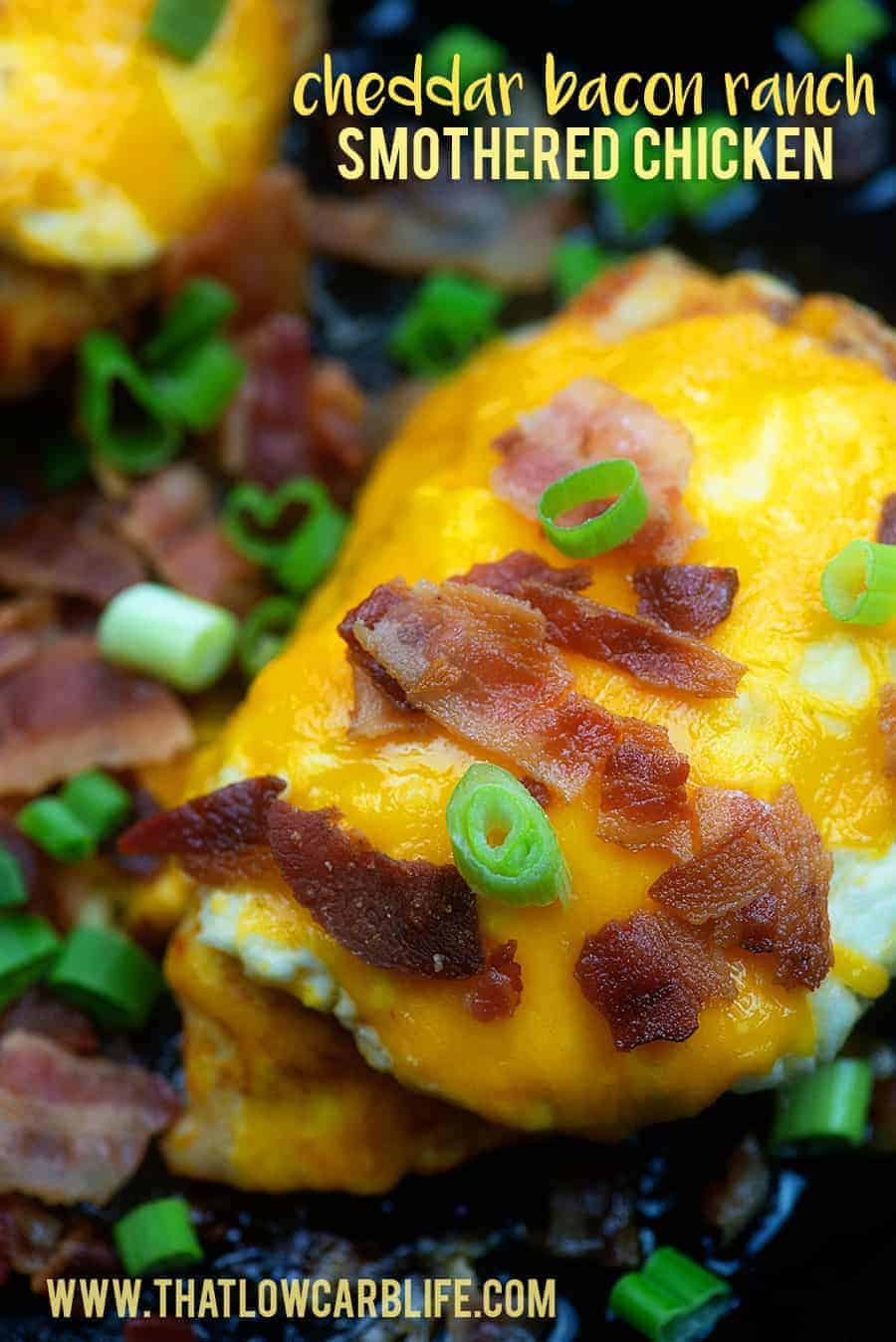 Keto chicken recipes just don't get better than this! Juicy chicken, plenty of cheese, crispy bacon, and ranch…what's not to love?
The best part is that even though this dish is totally low carb and keto, my kids beg for it! Don't you love when things work out like that?
The truth is that I've not always been the biggest fan of chicken, but lately I'm just obsessed with it. We eat some version of low carb chicken multiple nights a week these days and it's almost always a hit with everyone in my family.
This keto chicken recipe is pretty fantastic – super low in carbs, extra fat from the cheese and bacon, and enough protein to keep you full.

Oh, and don't worry – I didn't just sprinkle some cheddar on a chicken breast here. I added ranch seasoning to cream cheese, smeared that on some chicken, and THEN added the cheddar.
This is keto. We need fat and flavor. 😉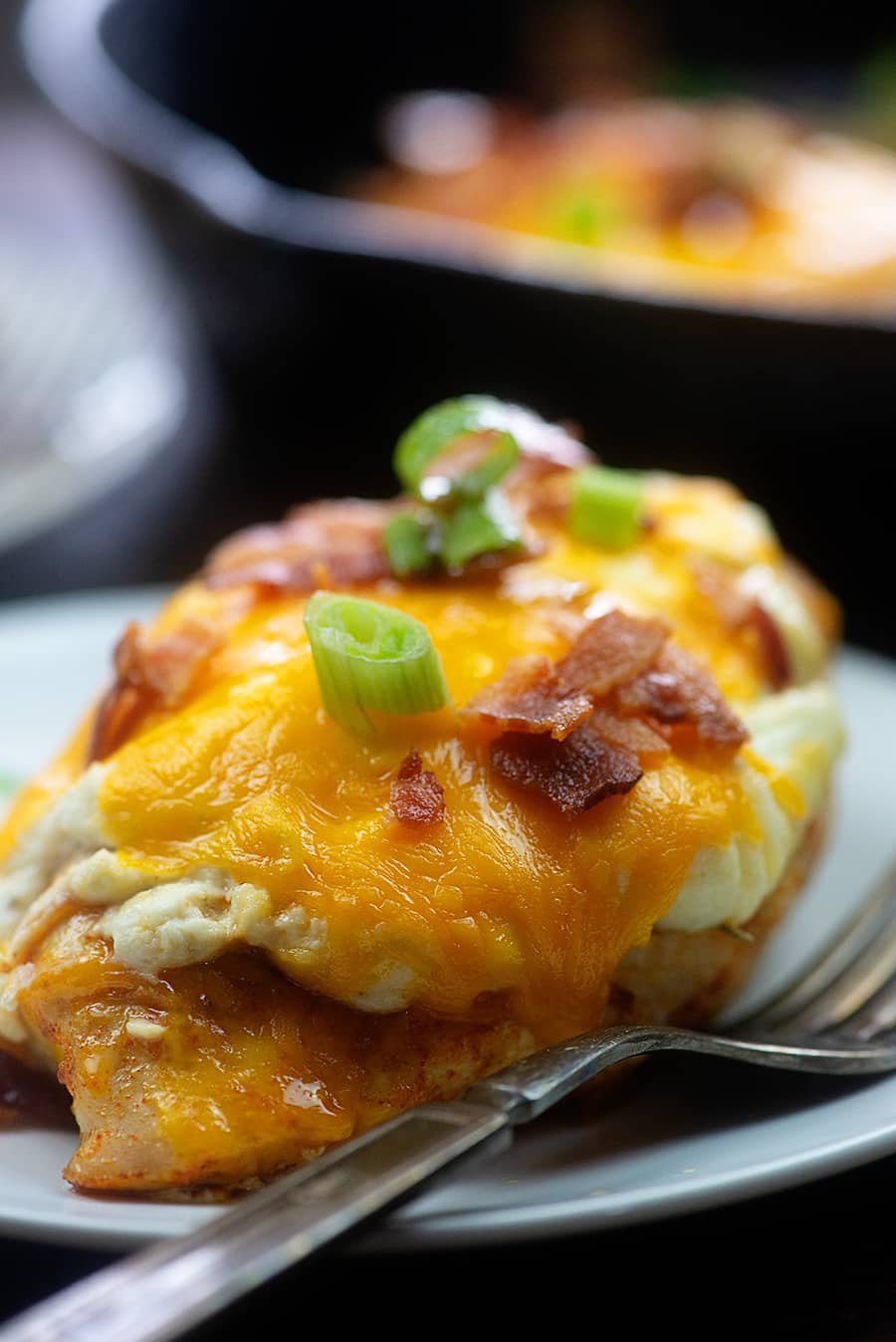 How to make cheesy bacon ranch chicken:
To start, we're going to season up some chicken breasts. I used paprika, onion powder, and garlic powder, but you can use any seasoning blend you think sounds good.
Just remember not to add too much salt as the cheesy topping is a bit salty on it's own, plus we're adding bacon down the road.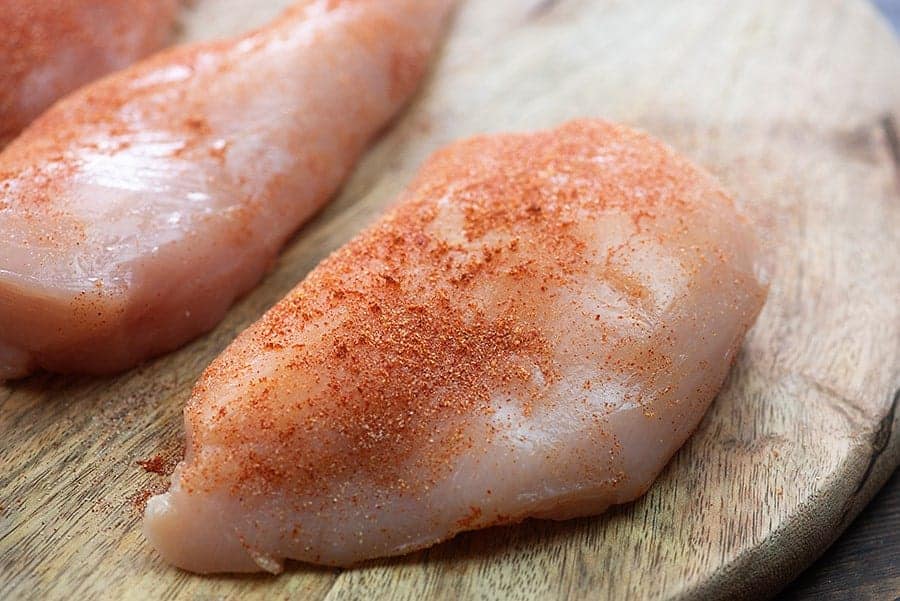 Once your chicken breasts are covered in seasoning, heat up a skillet and swirl in some avocado oil. Olive oil would also work.
Add your chicken breasts and let them brown on each side. This dish will be finished in the oven, so no need to fully cook the chicken. Just get a nice browned outside.
While the chicken is browning, stir together some room temperature cream cheese and ranch seasoning mix.
Hidden Valley is the go-to ranch mix, but it does have a few questionable ingredients if you're strict keto. You may want to use the dry seasonings/herbs from my recipe for ranch dressing, mix them together, and measure out 1 tablespoon for use in this recipe. Store the rest for use in my low carb crackers! Alternately, this Garden Ranch mix is a good, clean choice.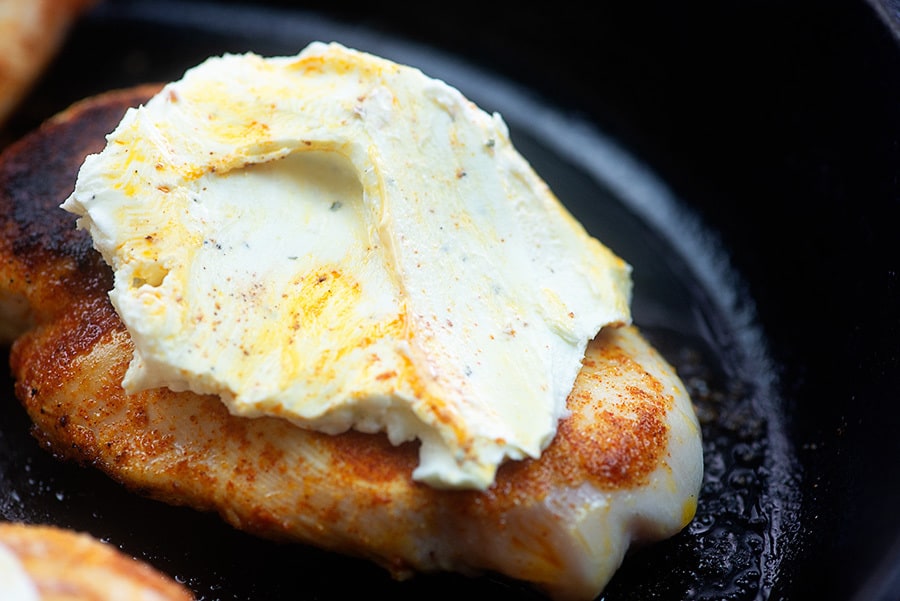 Smear the ranch cream cheese mixture evenly over the tops of the chicken breasts and then pile on some freshly shredded cheddar cheese.
It seriously looks so good at this stage, right?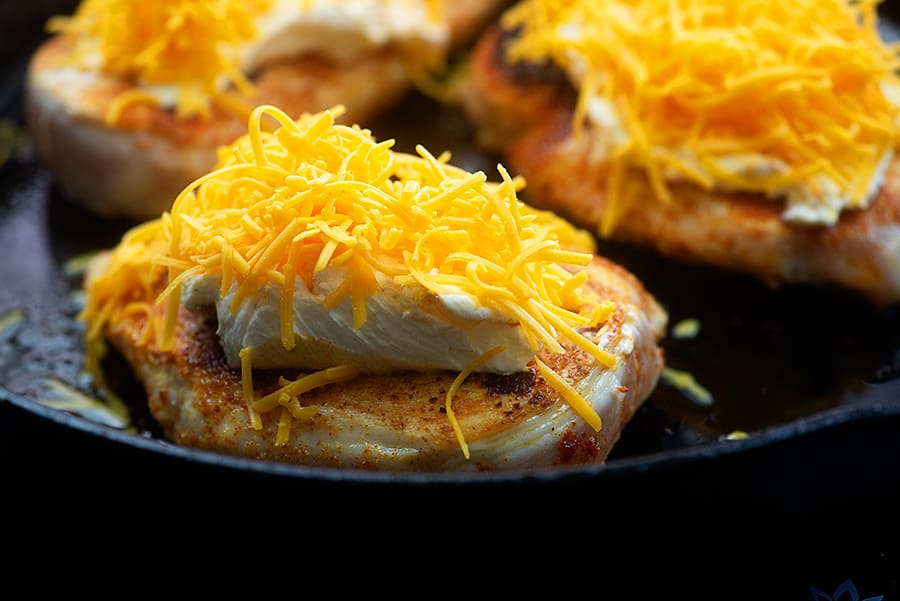 Pop all this in a hot oven and let it finish cooking. This should take about 10 minutes, but you'll want to use a meat thermometer to test for doneness. This is the one I use and recommend.
When the chicken is cooked through, the cheese will be perfectly melted and you'll be ready to top your cheese smothered chicken with some freshly fried bacon and chopped green onions.
This dish has such a pretty presentation, doesn't it? Who wouldn't want to dive right in to that cheesy chicken??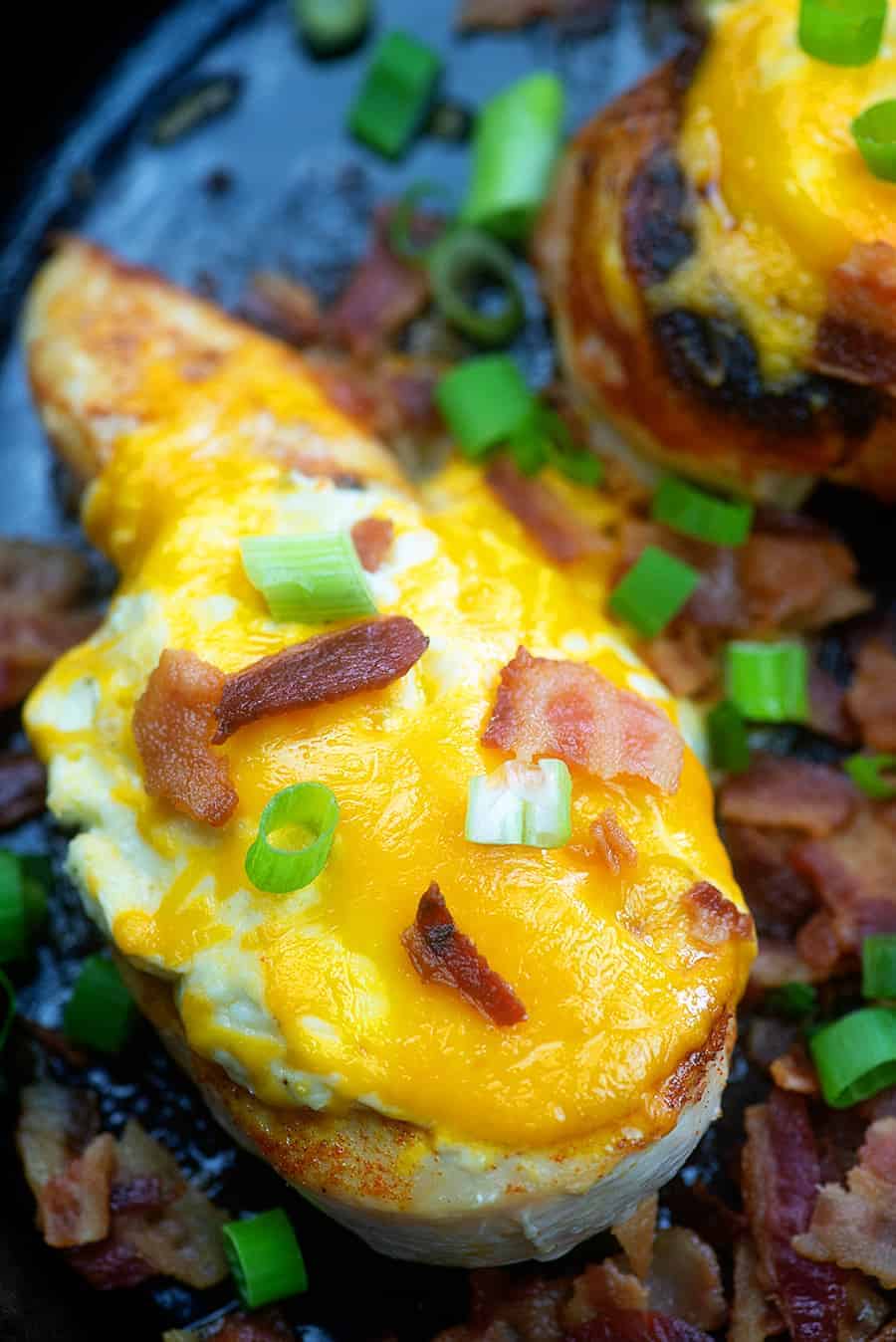 What to serve with this cheese smothered chicken:
Fried Radishes: Believe it or not, when you cook radishes they lose their bite and soften up like a potato!
Keto Coleslaw: Everyone's favorite coleslaw recipe!
Brussel Sprouts with Bacon: Bacon makes everything better – especially sprouts.
Oven Roasted Veggies: The simplest way to prepare vegetables!
If you enjoyed this low carb chicken recipe, please be sure to follow me on Facebook for more low carb recipes!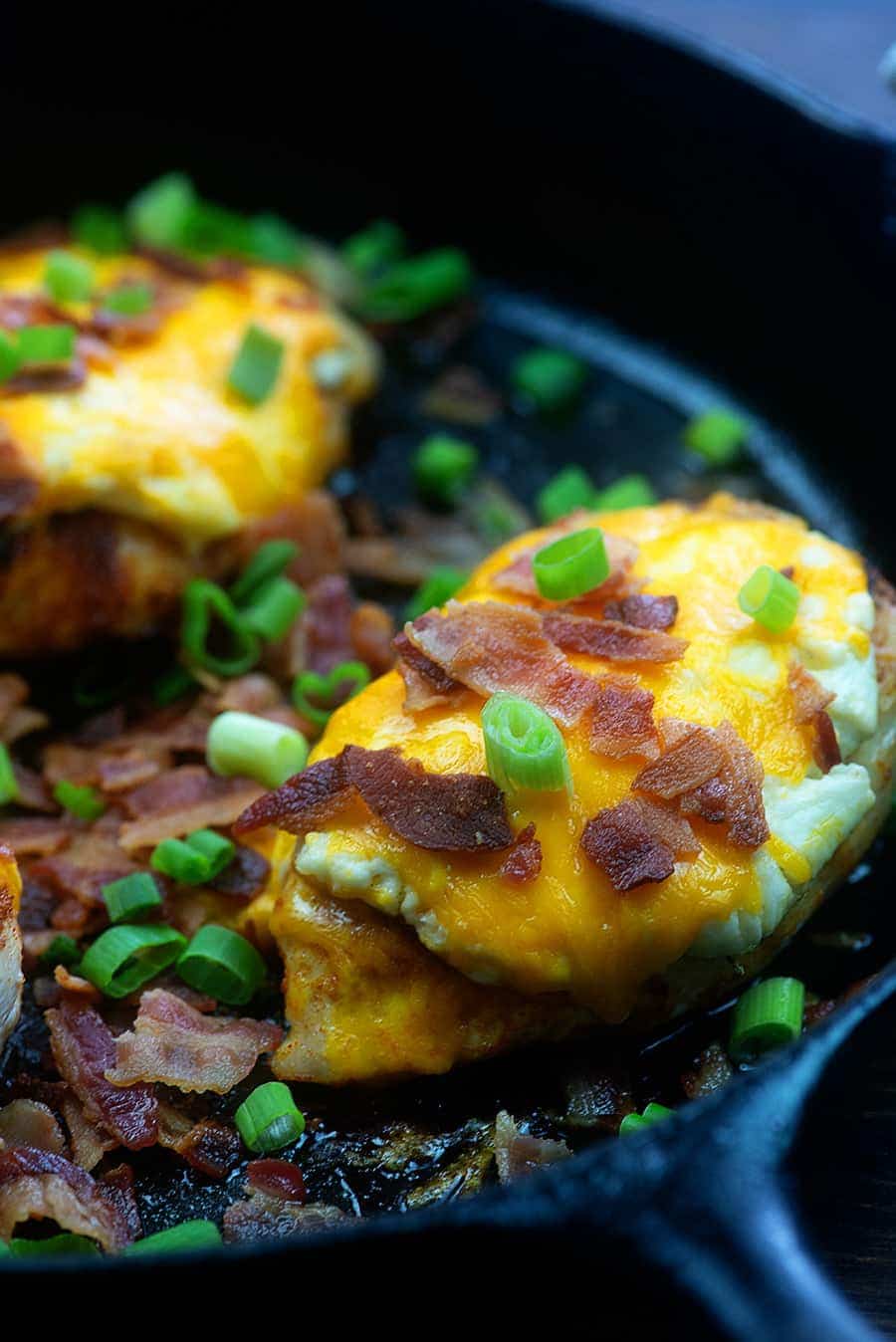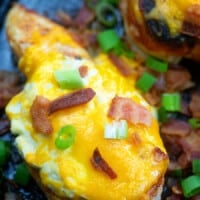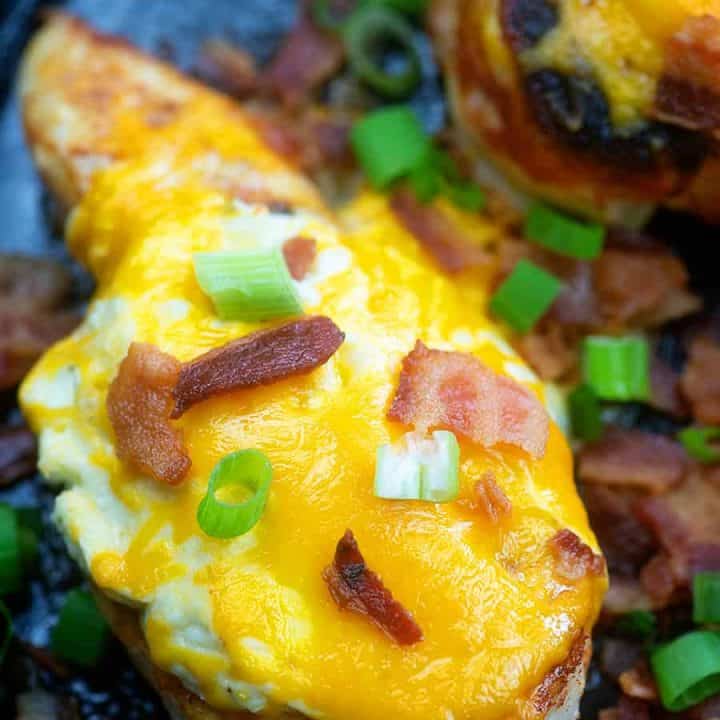 Cheddar Bacon & Ranch Smothered Chicken
This cheesy bacon ranch chicken is a family favorite. Everyone loves the ranch flavored cream cheese and pile of cheddar and bacon on top.
Ingredients
4 chicken breasts, about 6 ounces each
1 teaspoon onion powder
1 teaspoon garlic powder
1 teaspoon paprika
1 tablespoon avocado oil
6 ounces cream cheese, room temperature
1 tablespoon ranch seasoning powder
1 cup grated cheddar
4 slices bacon, cooked and crumbled
2 tablespoons chopped green onion
Instructions
Preheat oven to 375 degrees.
Mix together onion powder, garlic powder, and paprika and sprinkle evenly over chicken. Rub to coat chicken in seasoning blend.
Heat oil in a large heavy bottomed, oven safe skillet over medium heat.
Add the chicken to the skillet and cook for 4 minutes on each side or until nicely browned.
As chicken is cooking, stir together the cream cheese and ranch seasoning in a small bowl until well combined.
Carefully spread the cream cheese mixture over each piece of chicken.
Top with the shredded cheese.
Place pan in the oven and bake until chicken is fully cooked, about 10 minutes.
Top with the crumbled bacon and green onions just before serving.
Nutrition Information:
Yield: 4
Serving Size: 1 chicken breast
Amount Per Serving:
Calories: 432
Total Fat: 33g
Saturated Fat: 16g
Trans Fat: 0g
Unsaturated Fat: 14g
Cholesterol: 119mg
Sodium: 754mg
Carbohydrates: 5g
Net Carbohydrates: 4g
Fiber: 1g
Sugar: 2g
Protein: 27g
All information and tools presented and written within this site are intended for informational purposes only. This information is provided as a courtesy and there is no guarantee that the information is accurate.