This KETO BIG MAC SALAD has all of the flavors of my favorite fast food sandwich without all of the carbs or guilt! This makes a great lunch, it's packed with protein, and it's sure to satisfy that craving!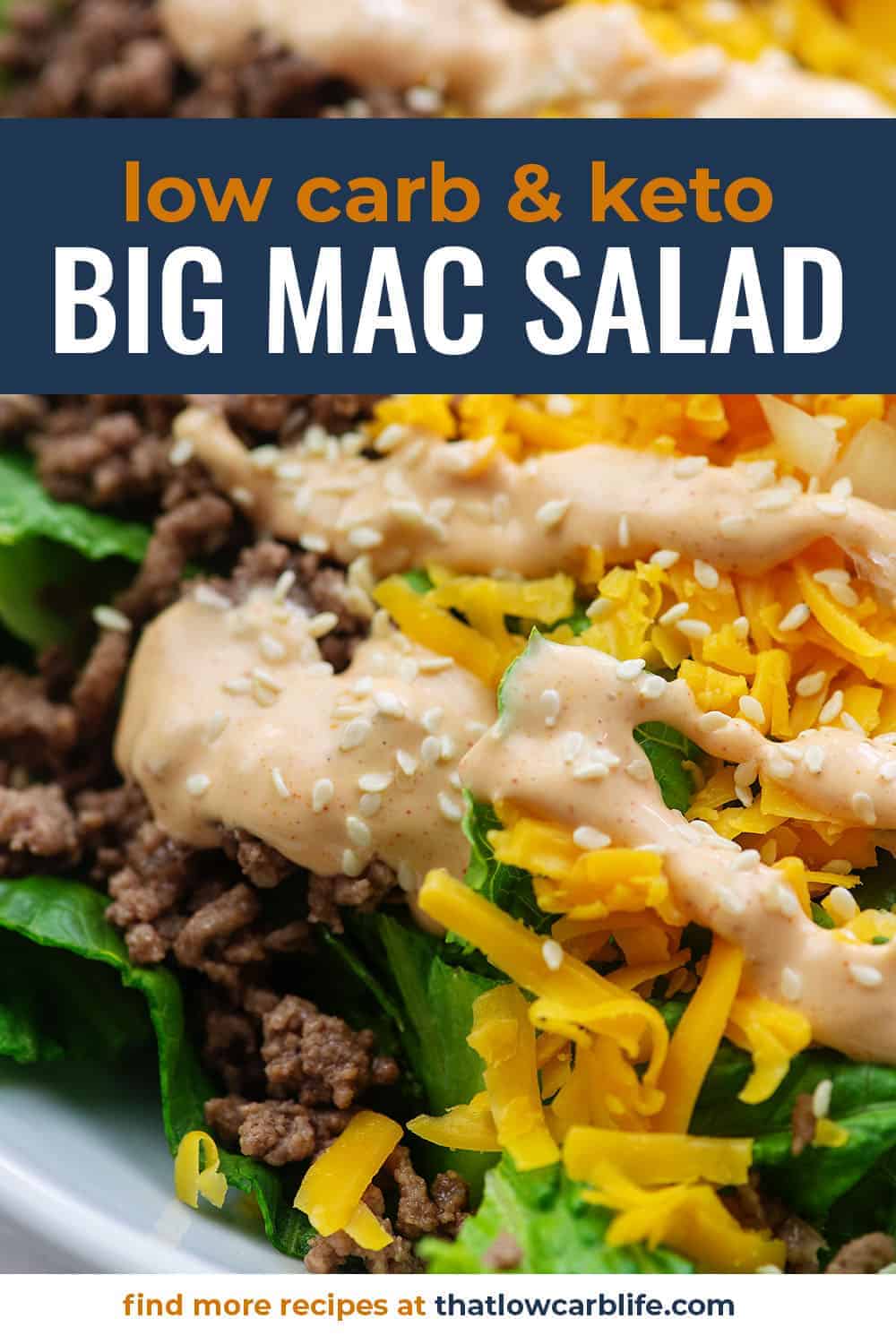 Yes, yes, I love Big Macs and I'm not ashamed to admit it.
I mean, I even shared a Big Mac Chaffle a few months ago and I still make the recipe on the regular. It's the perfect sandwich, if you ask me!
Anyway, this time around, we're going a bit lighter and turning that fast food burger into a salad!
This keto big mac salad has all of the flavor of a Big Mac sandwich and it's really pretty easy to make!
The dressing is a version of my keto Big Mac sauce and it's going to just bring it all together. You might have to hide the dressing from yourself – it's just that good!!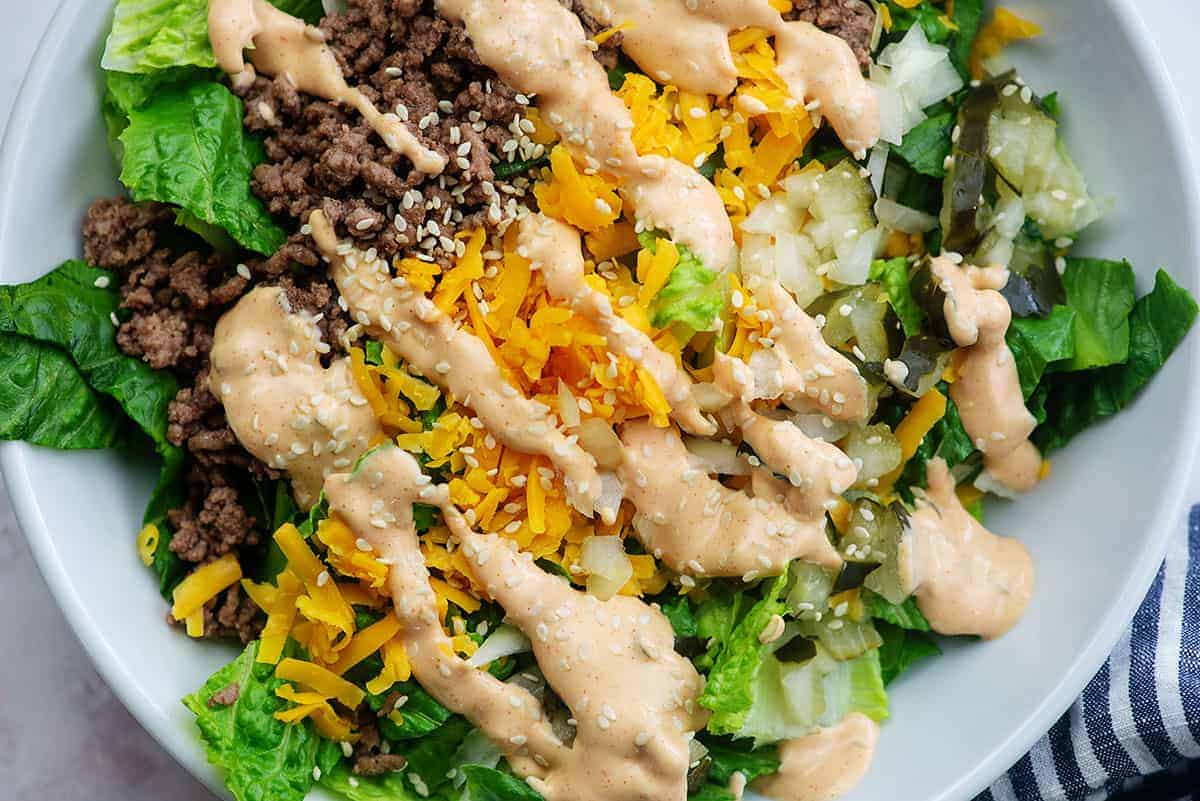 How to:
This post contains affiliate links. As an Amazon Associate and member of other programs, I earn from qualifying purchases.
There are a few components to this recipe: the beef, the salad, and the dressing!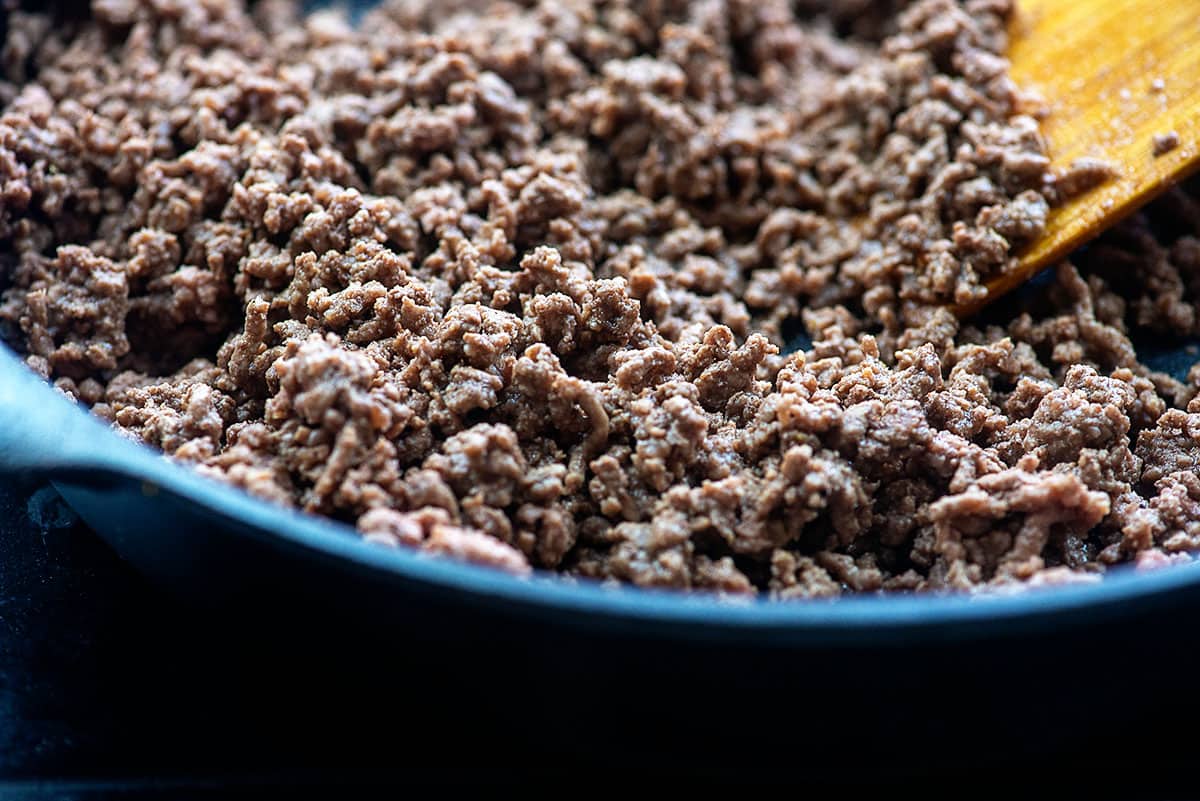 To make the beef, you'll just brown a pound of ground beef in a skillet and then season it with some on onion powder, garlic powder, salt, and pepper. I use lean beef for this, so there's no need to even drain the grease, but if you're using a fattier beef, you'll want to drain off the extra fat.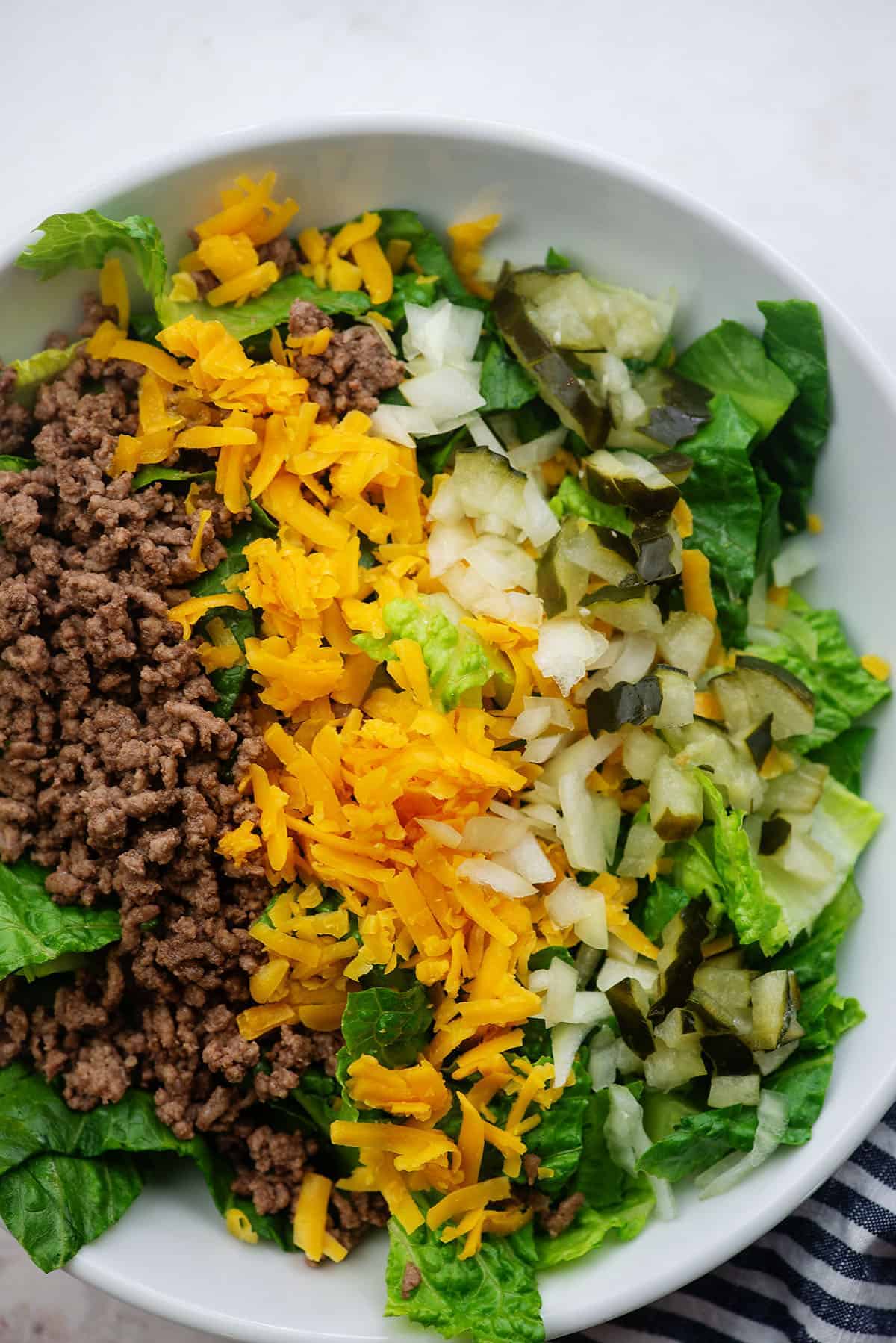 To make the salad, you'll want to chop up about 6 cups of romaine lettuce. This will be enough to make 4 large salads. You'll also need diced onions, chopped dill pickles, and shredded cheddar cheese.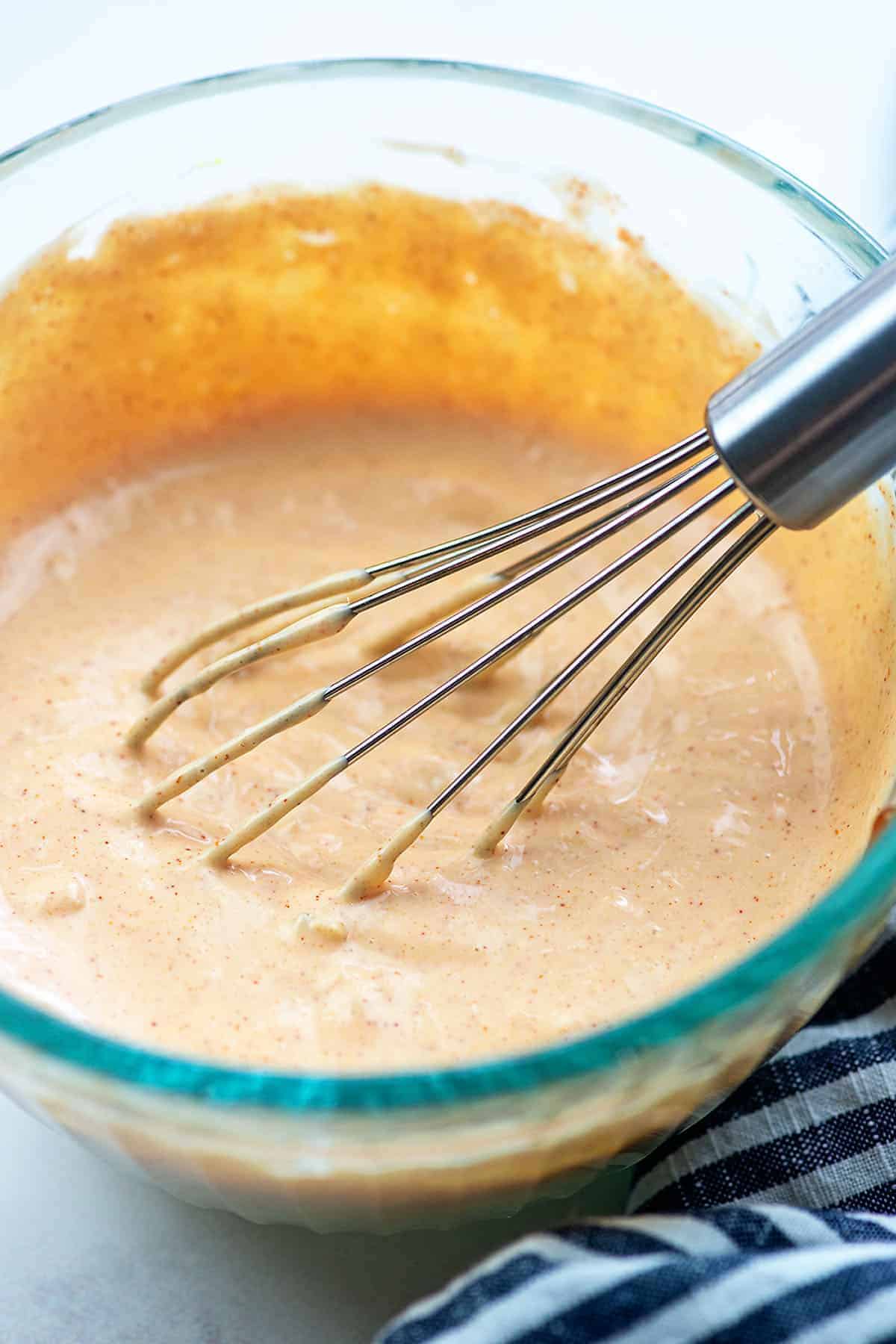 To make the big mac sauce, you'll whisk together mayonnaise, sugar free ketchup, dill pickle relish, mustard, vinegar, onion powder, and paprika.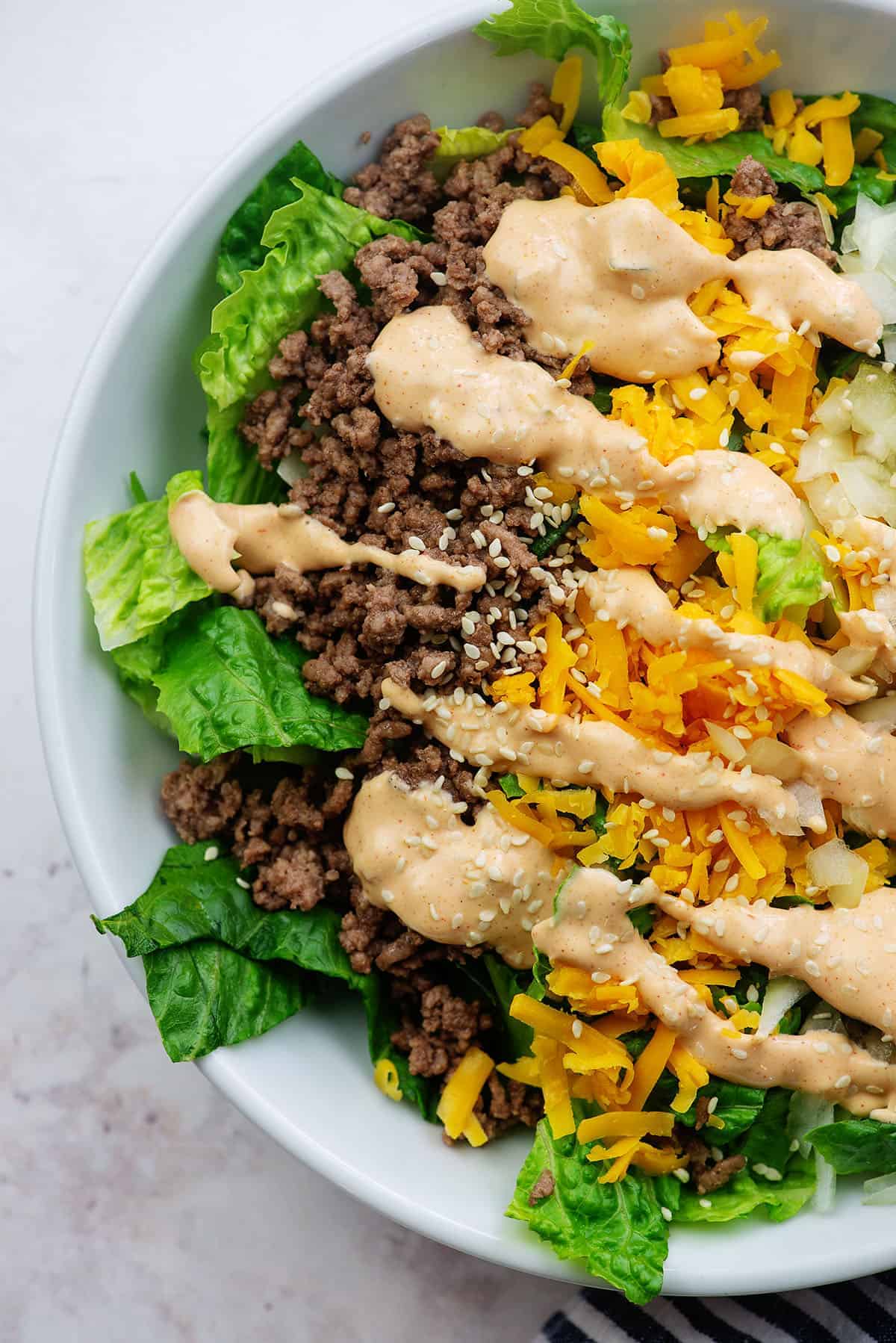 To assemble, fill a bowl with your salad greens, and top it all off with the seasoned beef, onions, pickles, and cheddar.
Drizzle on your Big Mac sauce – and don't be shy! That sauce is so good! Finish your salad off with a sprinkle of sesame seeds.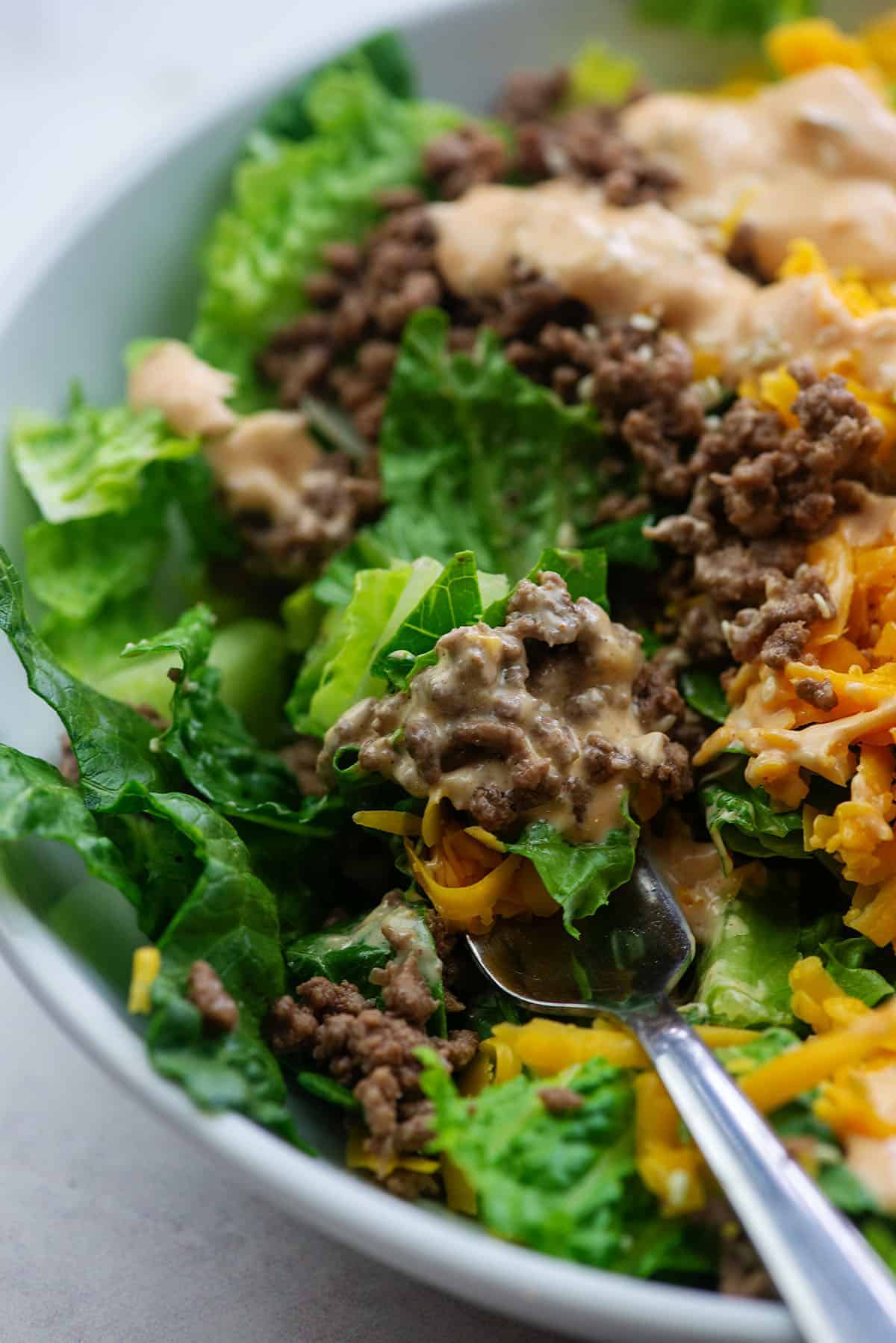 Serving & Storage: If we've put this salad all together, we like to dig in right away. No wilty lettuce in this house!
If we've made enough for more than one meal, we store the components separately and then assemble just before serving. The beef and dressing should each last for up to 5 days in the fridge.
More low carb ground beef recipes to try: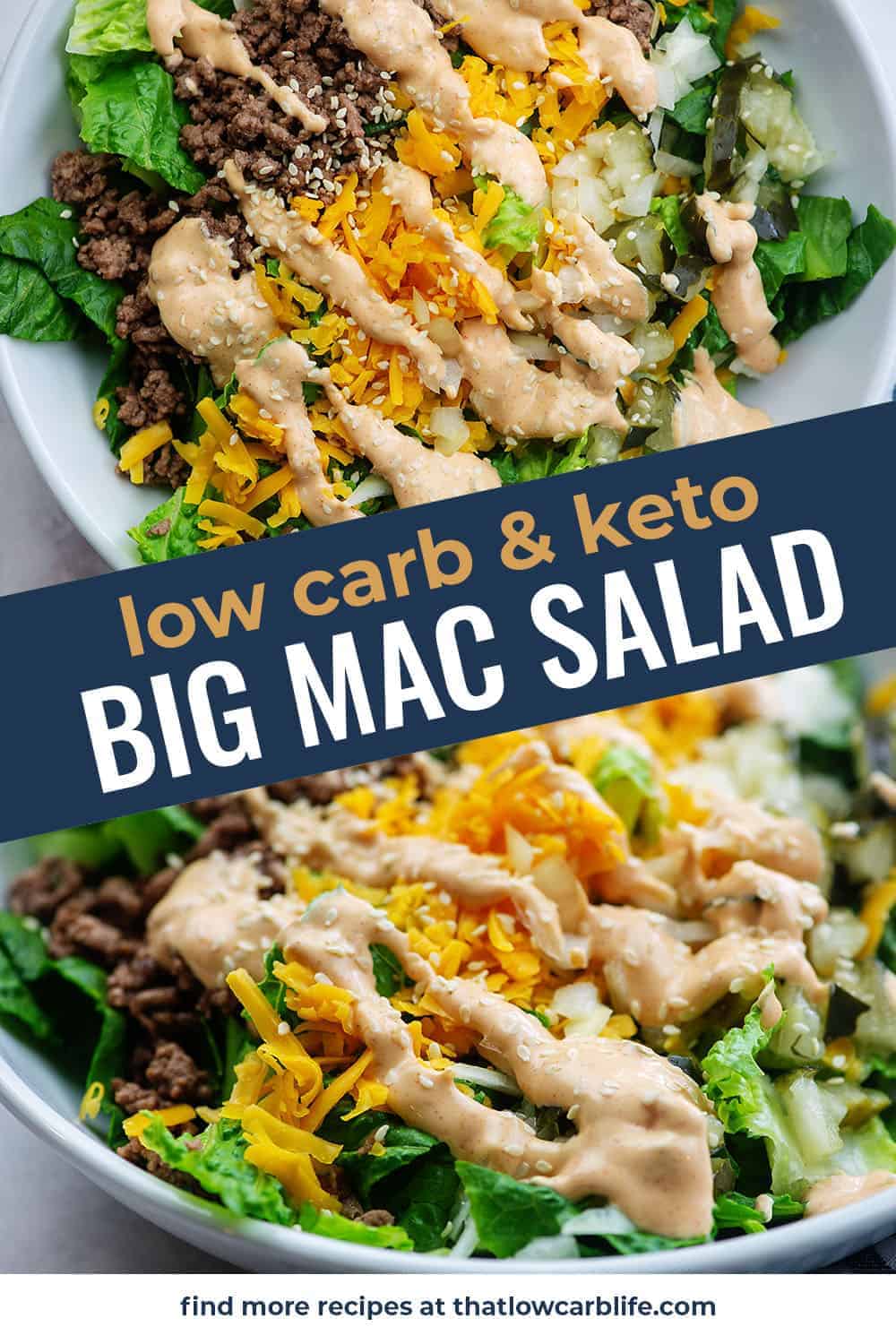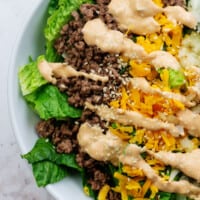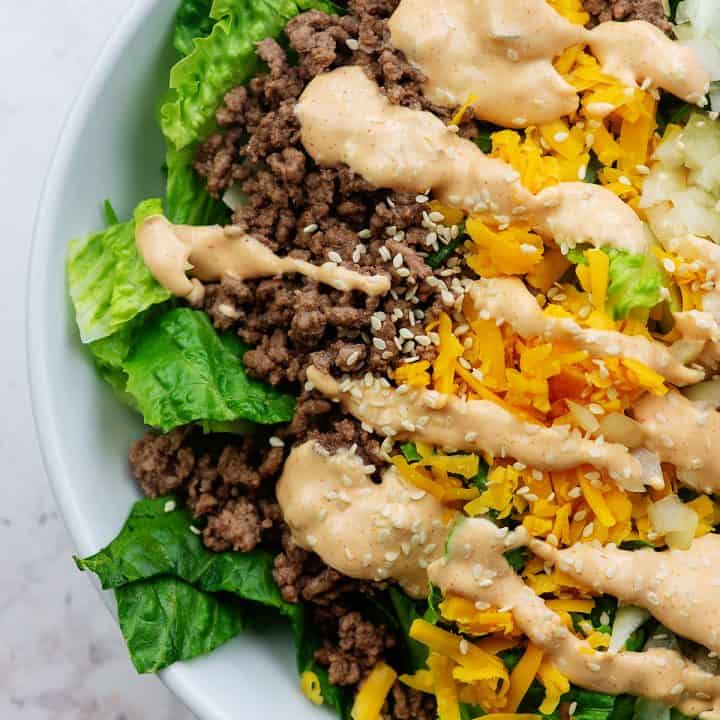 Big Mac Salad
This Big Mac Salad has all of the flavors of my favorite fast food sandwich without the guilt! The big mac dressing is the perfect touch.
Ingredients
For the salad:
1 pound lean ground beef
1 teaspoon salt
½ teaspoon cracked pepper
½ teaspoon onion powder
½ teaspoon garlic powder
6 cups chopped romaine or iceberg lettuce
1 cup shredded cheddar
1/2 cup sliced dill pickles
¼ cup diced yellow onions
Sesame seeds, for garnish
For the Big Mac sauce:
1/2 cup mayonnaise
2 tablespoons sugar free ketchup
2 tablespoons dill relish
2 teaspoons mustard
2 teaspoons distilled white vinegar
½ teaspoon onion powder
½ teaspoon paprika
Instructions
Add the beef to a large skillet over medium heat and break the meat up as it cooks. When the beef has cooked through, drain the fat.
Season the beef with the salt, pepper, onion powder, and garlic powder.
Divide the lettuce evenly between 4 salad bowls, about 1 1/2 cups each.
Top the lettuce with the the cheddar, onions, pickles, and beef.
To make the big mac sauce, whisk together all of the ingredients until well combined.
Drizzle about 3 tablespoons of the big mac sauce over each salad and toss well.
Sprinkle with sesame seeds and additional pickles just before serving, if desired.
Notes
We like to make our salads in separate bowls so that people can choose how much pickle and onion they'd like to add (or leave it out completely!). If this isn't a concern in your house, you can toss the salad in a large bowl and divide out into individual bowls for serving.
Recommended Products
As an Amazon Associate and member of other affiliate programs, I earn from qualifying purchases.
Nutrition Information:
Yield: 4
Serving Size: 1
Amount Per Serving:
Calories: 635
Total Fat: 48g
Saturated Fat: 14g
Trans Fat: 1g
Unsaturated Fat: 29g
Cholesterol: 140mg
Sodium: 1305mg
Carbohydrates: 9g
Net Carbohydrates: 5g
Fiber: 4g
Sugar: 3g
Protein: 42g
All information and tools presented and written within this site are intended for informational purposes only. This information is provided as a courtesy and there is no guarantee that the information is accurate.