When you're craving a burger, this Big Mac Casserole is the perfect option! Easy, cheesy, and topped off with a simple homemade Big Mac sauce that tastes like the original! This family favorite casserole is made on repeat in our house!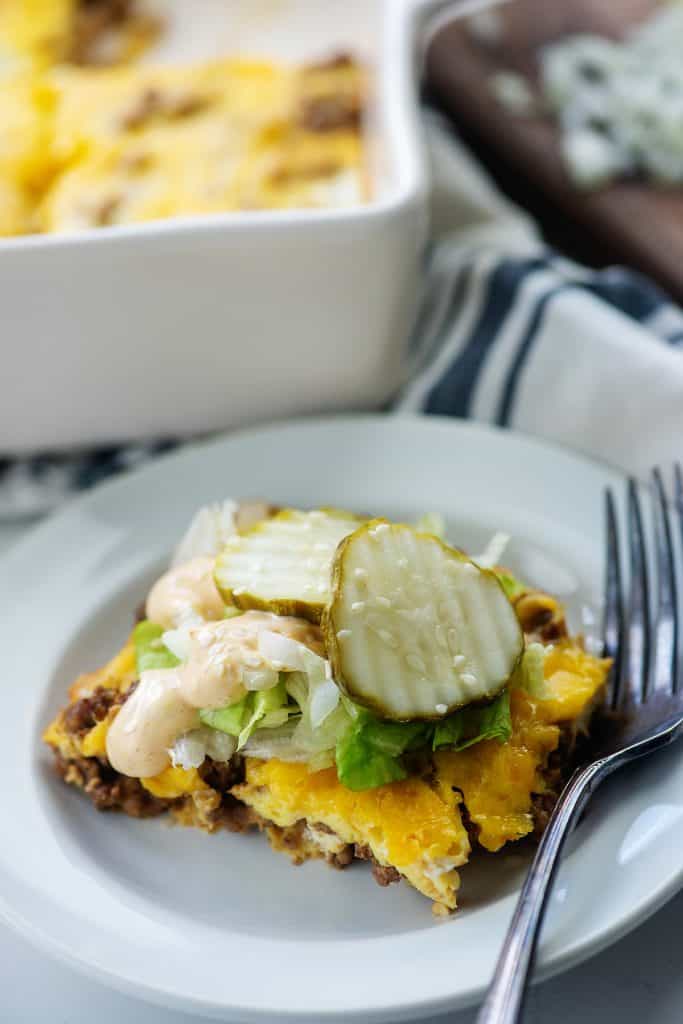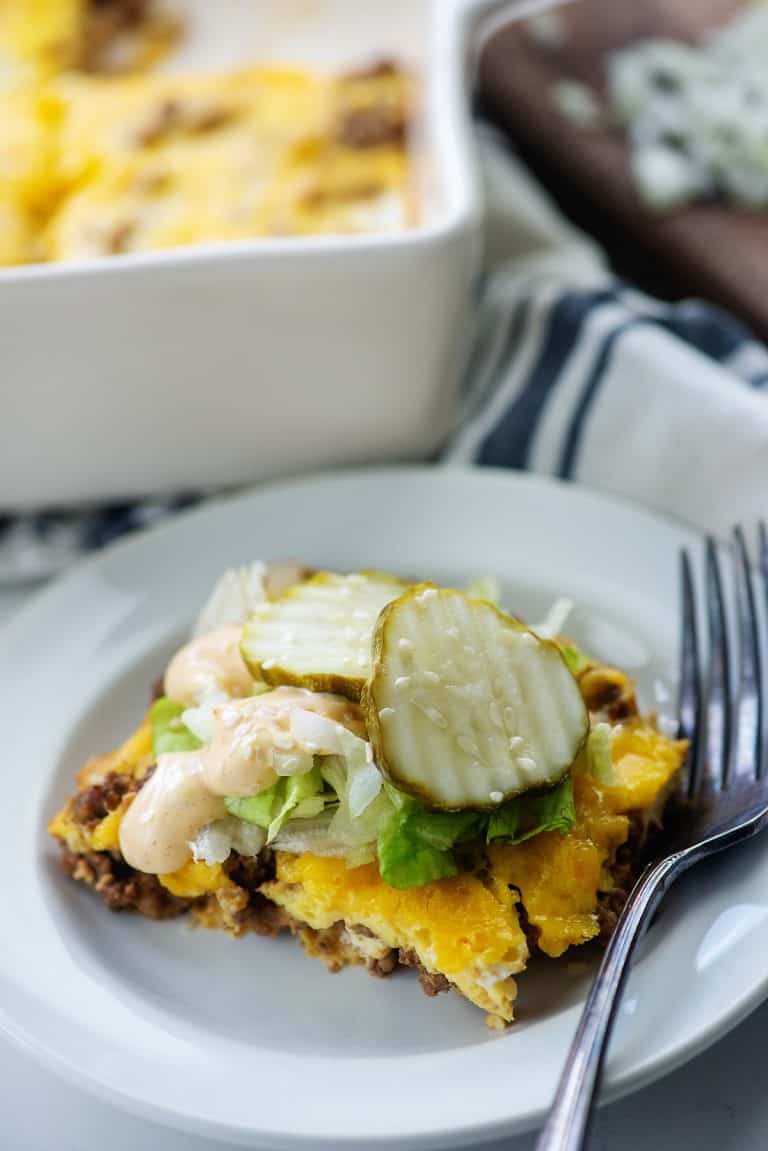 You may have noticed that we have a thing for Big Macs around here.
Honestly, sometimes I still hit up the drive-thru and get a Big Mac…I just bring it home and dump it into a low carb tortilla.
It's a quick and dirty way to enjoy a Big Mac, but I've come up with a few healthier options that skip the drive-thru altogether, like this Big Mac Chaffle, Big Mac Salad, and now this Big Mac Casserole!
We love Big Macs so much that we even do a Big Mac Pizza…can't stop, won't stop.
When you're craving a burger, this casserole will do the trick!
Ingredient Notes:
This post contains affiliate links. As an Amazon associate and member of other affiliate programs, I earn from qualifying purchases.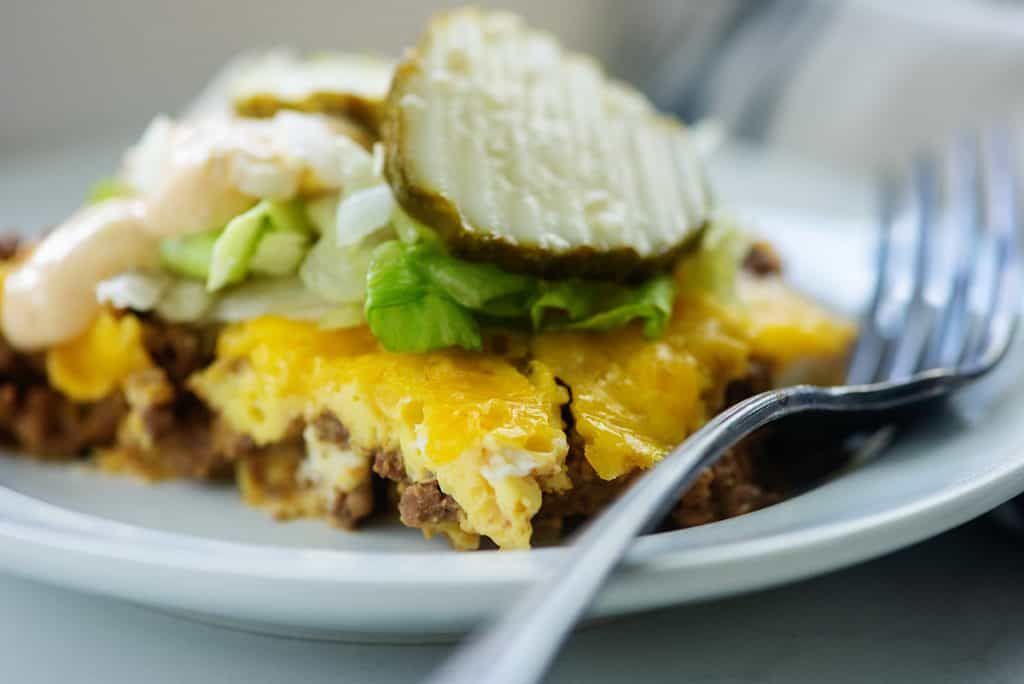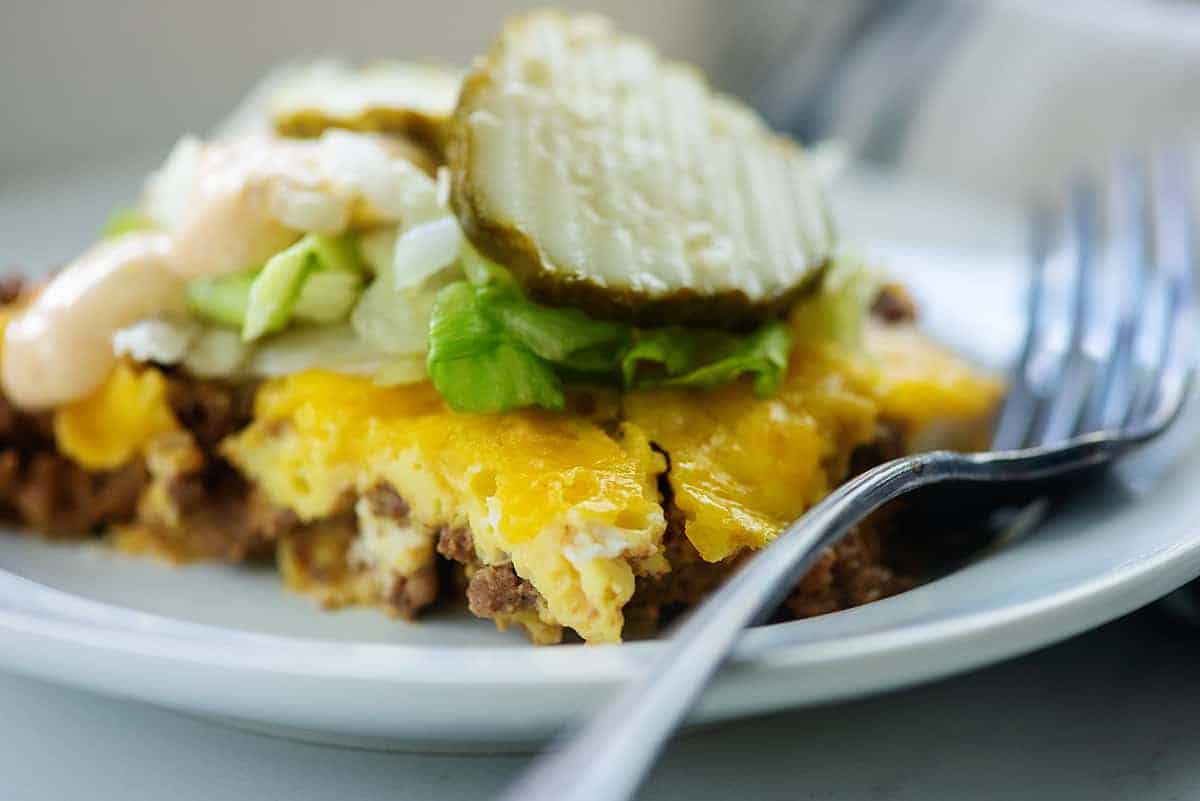 For the casserole:
Ground Beef – We prefer lean ground beef here, but ground turkey would work as well.
Cream Cheese – It'll add lots of rich, creamy flavor and help to keep the casserole from drying out when it bakes.
Sugar Free Ketchup & Mustard – Believe it or not, regular ketchup is LOADED with sugar. We use and love Heinz No Sugar Added – tastes just like the kind I grew up with. 😉 You can use whatever brand you prefer, but we love Heinz!
Worcestershire Sauce – This adds loads of savory flavor.
Seasoning – You'll mix in seasoned salt and pepper.
Eggs & Heavy Cream – Not to worry, this casserole doesn't taste eggy. The eggs just help bind everything together.
Hot Sauce – This just adds a little depth of flavor. The casserole won't be spicy.
Shredded Cheddar – Some pre-shredded cheddar will work fine for this Big Mac casserole, or feel free to grate your own!
For the Big Mac sauce:
Mayonnaise/Ketchup/Mustard – These three condiments make up the base of most every Big Mac sauce recipe. You'll also want to use sugar free ketchup for this!
Dill Relish – For all that wonderful dill pickle flavor! We like the Vlasic brand but you can use any you prefer.
Vinegar – I'm using distilled white vinegar to add a little tangy flavor to the Big Mac sauce.
Seasoning – Just a bit of onion powder and paprika!
For topping:
I'm pretty much just using the standard Big Mac toppings for this casserole, but if you want to change them up by adding or removing toppings feel free to do so! The toppings I'm using are:
Shredded Lettuce
Dill Pickles
Chopped Onion
Sesame Seeds
Why We Love This Recipe:
Classic Flavor: This casserole has all the great flavors of a Big Mac without the bun or the carbs! It's a creamy, cheesy, savory casserole recipe.
Ultimate Sauce: The copycat Big Mac sauce tastes just like the real deal!
Family-Friendly: My whole family loves a Big Mac and this is a huge hit with all of them. They don't miss the bun or realize that this is 'diet' food.
Meal Prep: This reheats like a dream, making it a great choice for meal prep.
How To Make Casserole:
Beef – To begin this casserole recipe you'll start by browning the ground beef. When it's browned and nearly cooked through add the garlic and cook for another minute.
Mix – Stir in some cream cheese, sugar free ketchup, mustard, Worcestershire sauce, and seasoned salt. This all gives the beef amazing flavor! Cook over low heat, stirring constantly, until it is all well combined.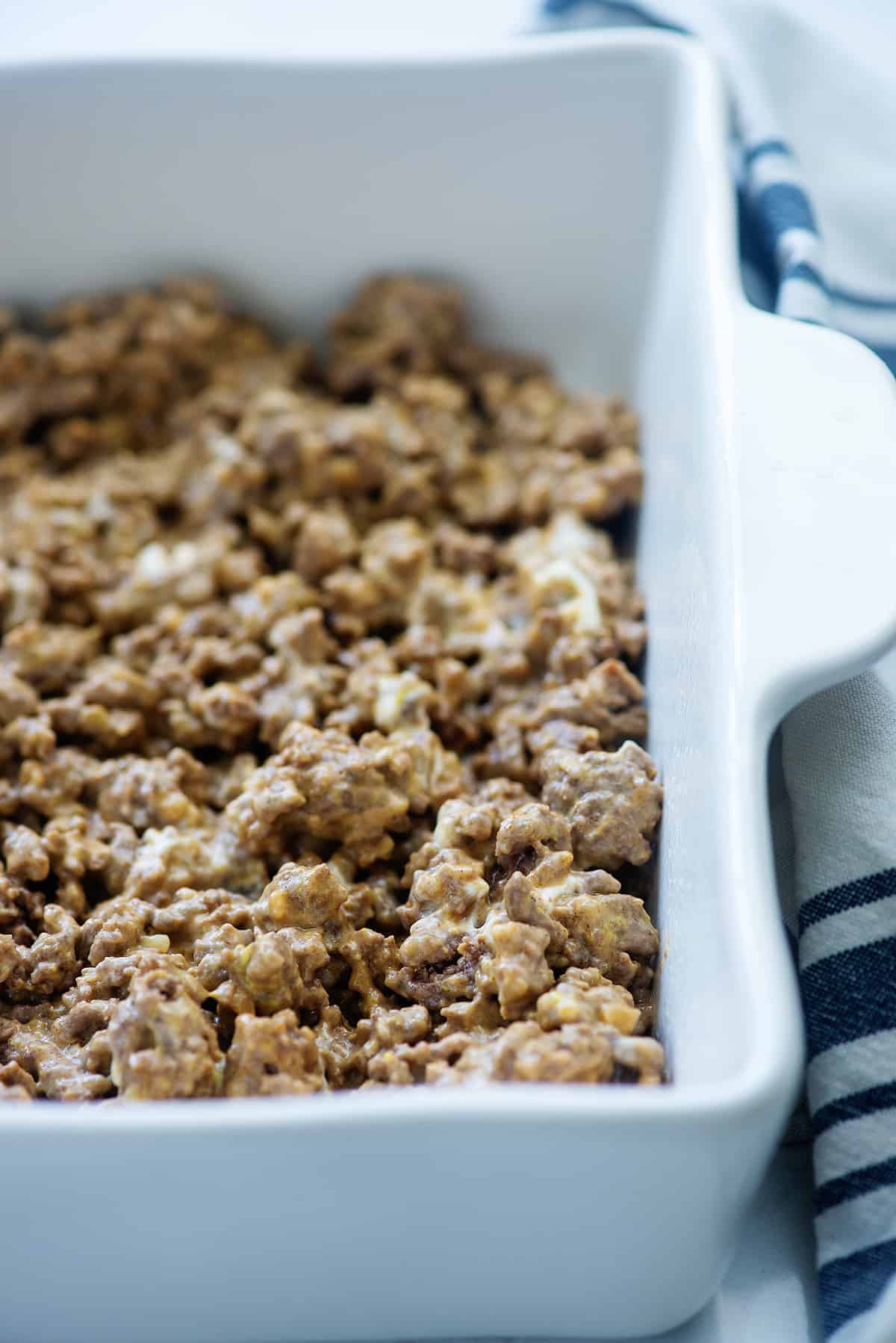 Eggs & Cream – Spread the ground beef mixture into an 8×8 baking dish and then whisk together some eggs, cream, and a dash of hot sauce. Pour the eggs over the beef and top it all off with some shredded cheddar.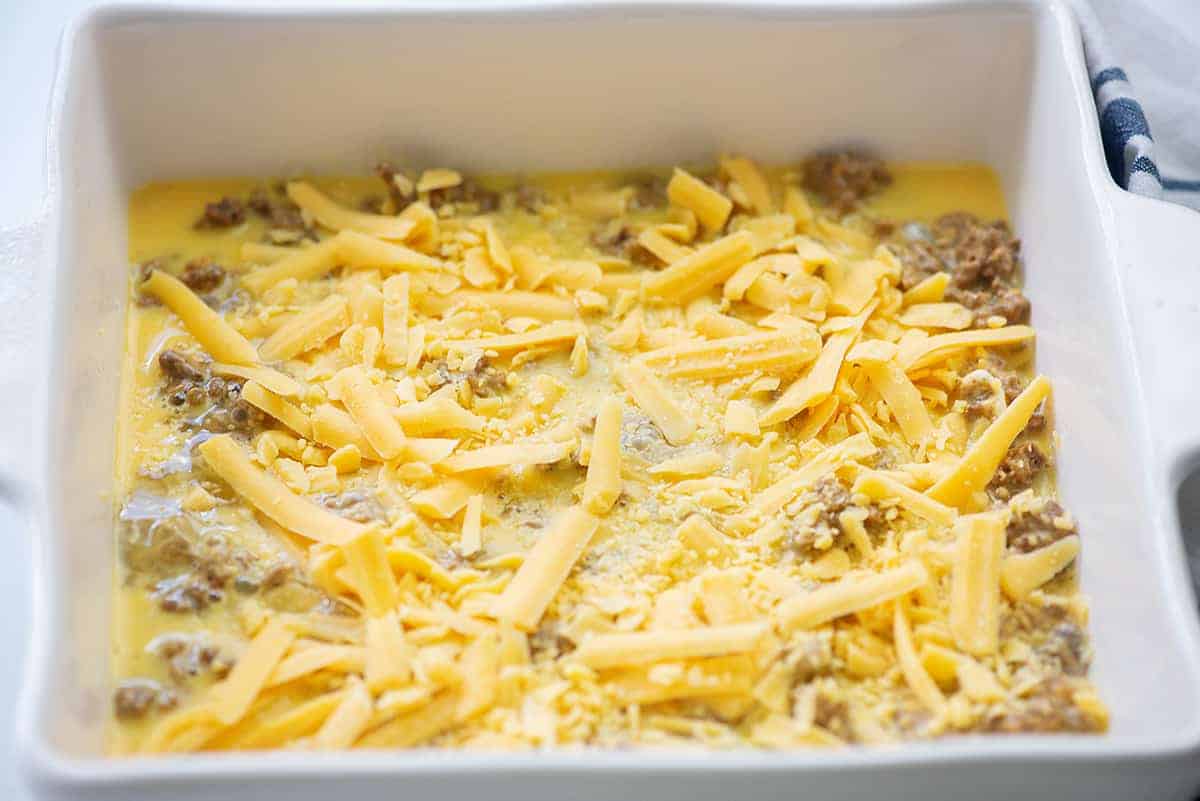 Bake – It'll take about 30 minutes for the keto Big Mac casserole to finish baking. When the top is set and is a nice golden brown color you'll know it's ready! You can start preparing the sauce while the casserole bakes.
How To Make Big Mac Sauce:
Mix – While the casserole is baking, whip up that keto Big Mac sauce. Just stir together mayo, ketchup, dill relish, mustard, vinegar, onion powder, and paprika until smooth and creamy. We use this sauce on burgers all the time – so good!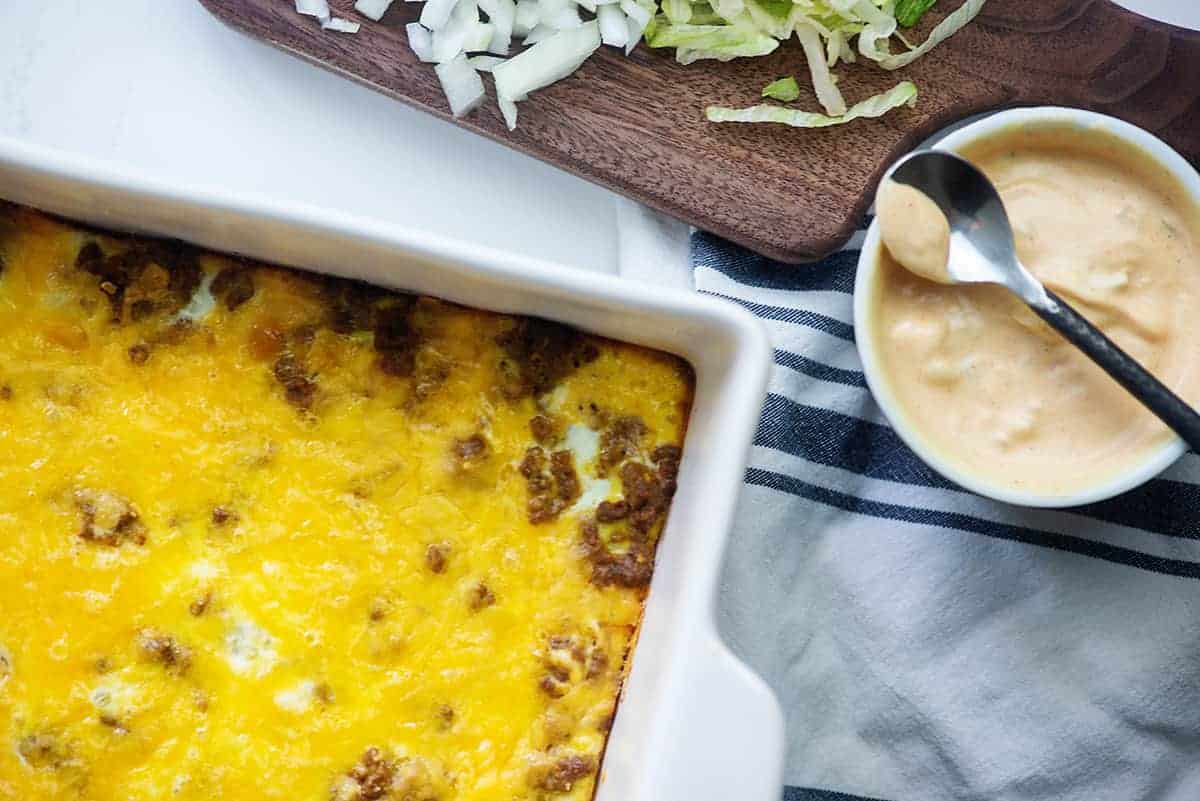 Serving:
Once your Big Mac casserole is cooked through, slice and serve.
We like to top our casserole with shredded lettuce, minced onion, pickles, sesame seeds, and a hefty drizzle of the big mac sauce.
It tastes just like the Big Mac you'd get from McDonalds, but better, fresher, and healthier!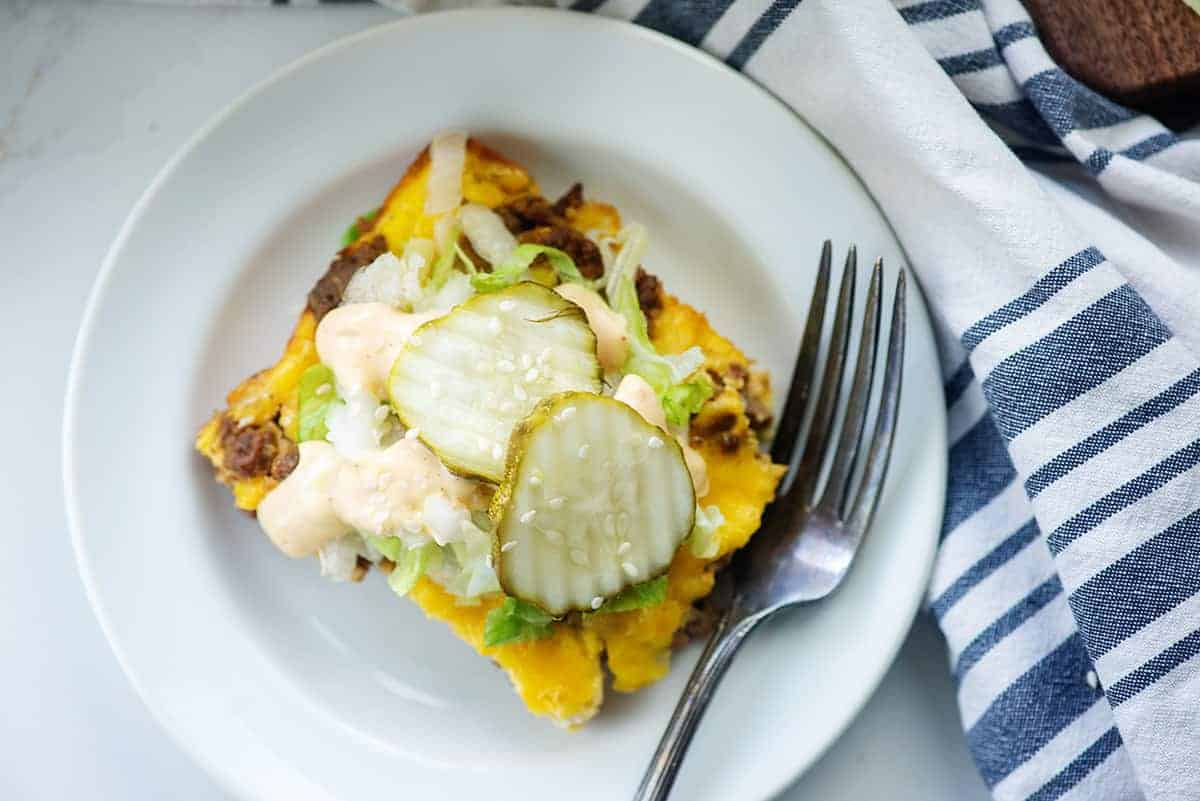 FAQs:
Does this casserole taste like a Big Mac?
It's about as close as I can get it! This copycat recipe has everything you'd find in a Big Mac sandwich minus the bun and the carbs, along with some extra cheesy and creamy flavors. The homemade Big Mac sauce helps too!
How to store casserole?
This Big Mac casserole can be stored in an airtight container or covered in the refrigerator for about 4-5 days. It should also freeze pretty well without the toppings or the sauce. Add those after reheating!
More Easy Casserole Recipes: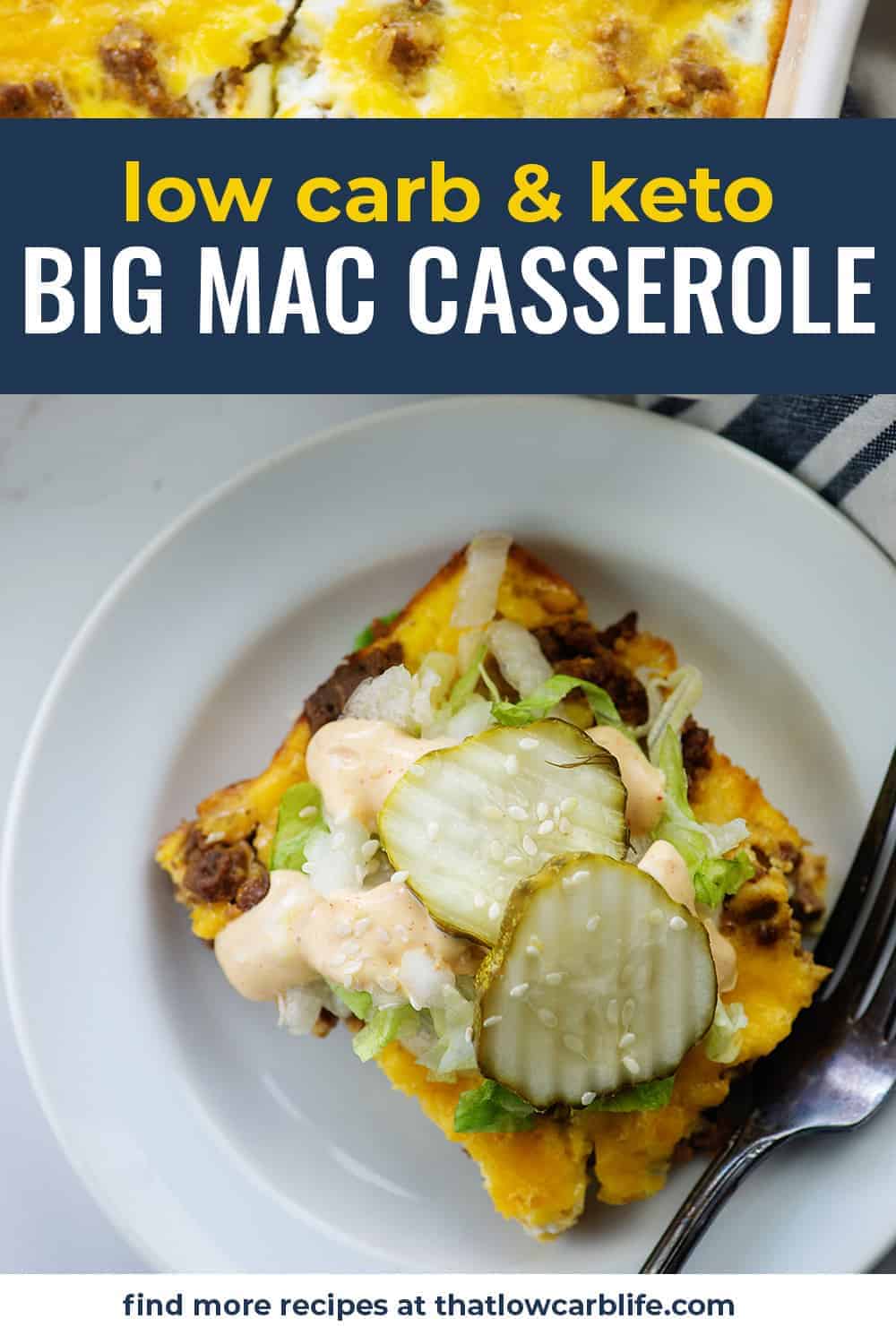 Keto Big Mac Casserole
This Big Mac Casserole is a healthier version of one of my favorite drive-thru burgers! The homemade Mac sauce is just perfect over this casserole, so don't skip it!
Ingredients
For the casserole:
1 1/2 pounds ground beef
1 clove garlic
4 tablespoons cream cheese
1 tablespoon yellow mustard
1 tablespoon Worcestershire sauce
1 teaspoon seasoned salt
4 large eggs
1/4 cup heavy cream
1 teaspoon ground pepper
1 teaspoon hot sauce
4 ounces shredded cheddar
For the Big Mac sauce:
1/2 cup mayonnaise
2 tablespoons dill relish
2 teaspoons mustard
2 teaspoons distilled white vinegar
½ teaspoon onion powder
½ teaspoon paprika
For topping:
Shredded lettuce
Dill pickles
Chopped onion
Sesame seeds
Instructions
To make the casserole:
Add the ground beef to the skillet and cook until browned, crumbling as it cooks. Drain fat.
Add the garlic to the skillet with the beef and cook 1 minute more.
Add the cream cheese, ketchup, mustard, Worcestershire sauce, and seasoned salt to the skillet and cook over low heat, stirring constantly, until combined.
Spread the beef mixture into a greased 8x8 baking dish.
Crack the eggs into a medium bowl and whisk together with the heavy cream until combined. Stir in the pepper and hot sauce.
Pour the egg mixture over the beef mixture.
Top with the cheddar cheese.
Bake at 350 degrees for 30 minutes or until set and golden on top.
To make the Big Mac sauce:
Whisk together all ingredients until well combined.
To serve:
Cut casserole into 6 pieces.
Top each serving with lettuce, pickles, onion, and sesame seeds as desired.
Drizzle with Big Mac sauce.
Notes
The eggs in this don't make the casserole taste eggy - they just help bind everything together so that you can cut into squares and eat it with a fork. Plus, they add extra protein!
Recommended Products
As an Amazon Associate and member of other affiliate programs, I earn from qualifying purchases.
Nutrition Information:
Yield: 6
Serving Size: 1
Amount Per Serving:
Calories: 671
Total Fat: 52g
Saturated Fat: 19g
Trans Fat: 1g
Unsaturated Fat: 28g
Cholesterol: 272mg
Sodium: 952mg
Carbohydrates: 6g
Net Carbohydrates: 4g
Fiber: 2g
Sugar: 3g
Protein: 42g
All information and tools presented and written within this site are intended for informational purposes only. This information is provided as a courtesy and there is no guarantee that the information is accurate.