These Unstuffed Cabbage Rolls have all the flavor of a traditional cabbage roll and call for just 5 ingredients! This low carb cabbage rolls recipe is super filling and totally easy for busy nights!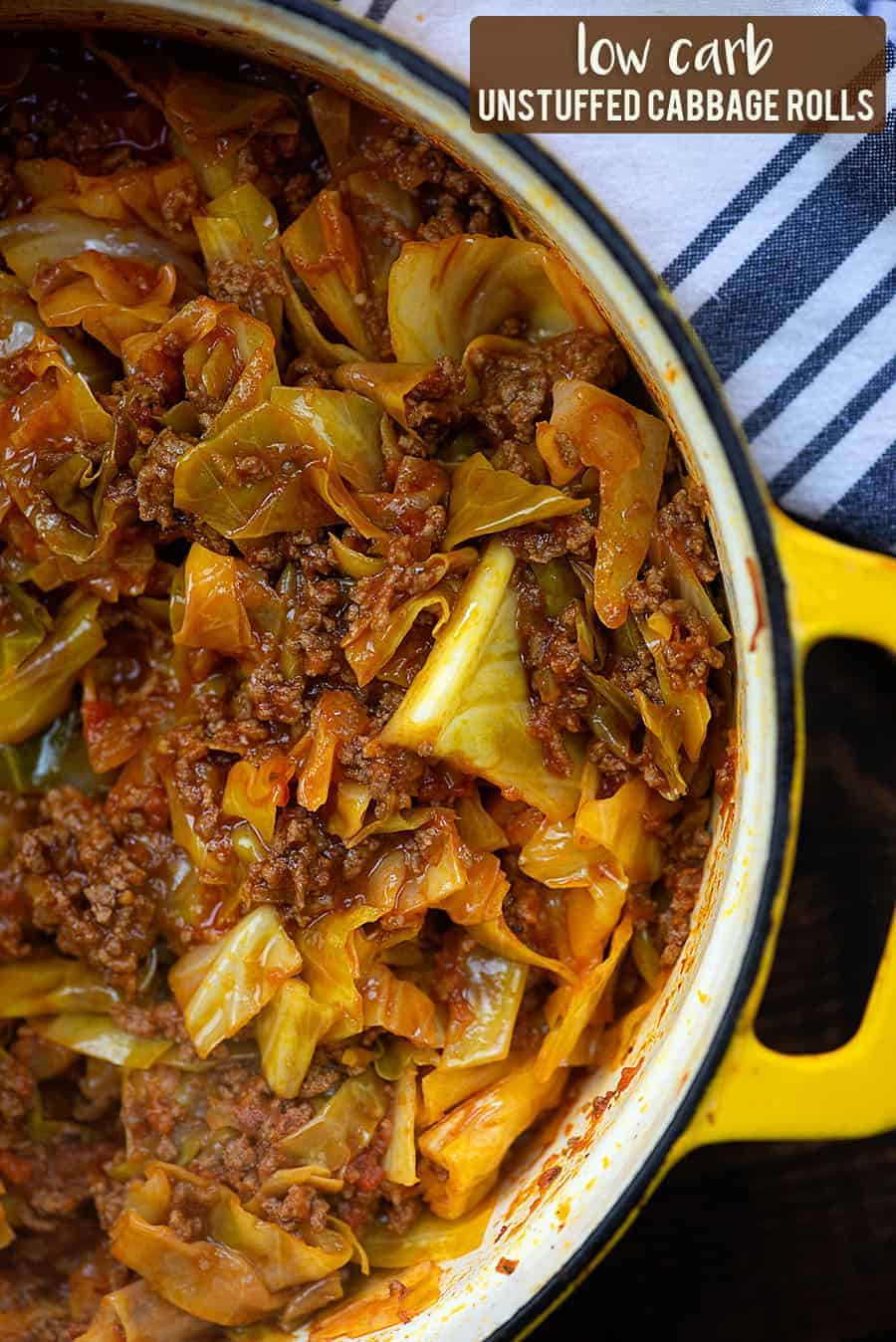 My family and I went on a cruise around the British Isles a few years ago and it was a seriously amazing trip. We stopped at 11 different ports and I absolutely loved trying the different foods in each port.
But what I loved even more was watching my son get excited seeking out local restaurants to get an authentic taste of each country.
One of our ports had a little Russian restaurant that he insisted on trying.
We were in Scotland at the time, but he'd had enough shepherd's pie and wasn't interested in trying haggis, so we got a little taste of Russia. He ordered cabbage rolls and I was super skeptical over whether or not he'd like them.
Y'all, the kid LOVES cabbage. I've been making all kinds of low carb cabbage recipes for him since then. This unstuffed cabbage casserole might just be his new favorite.
Ingredient Notes: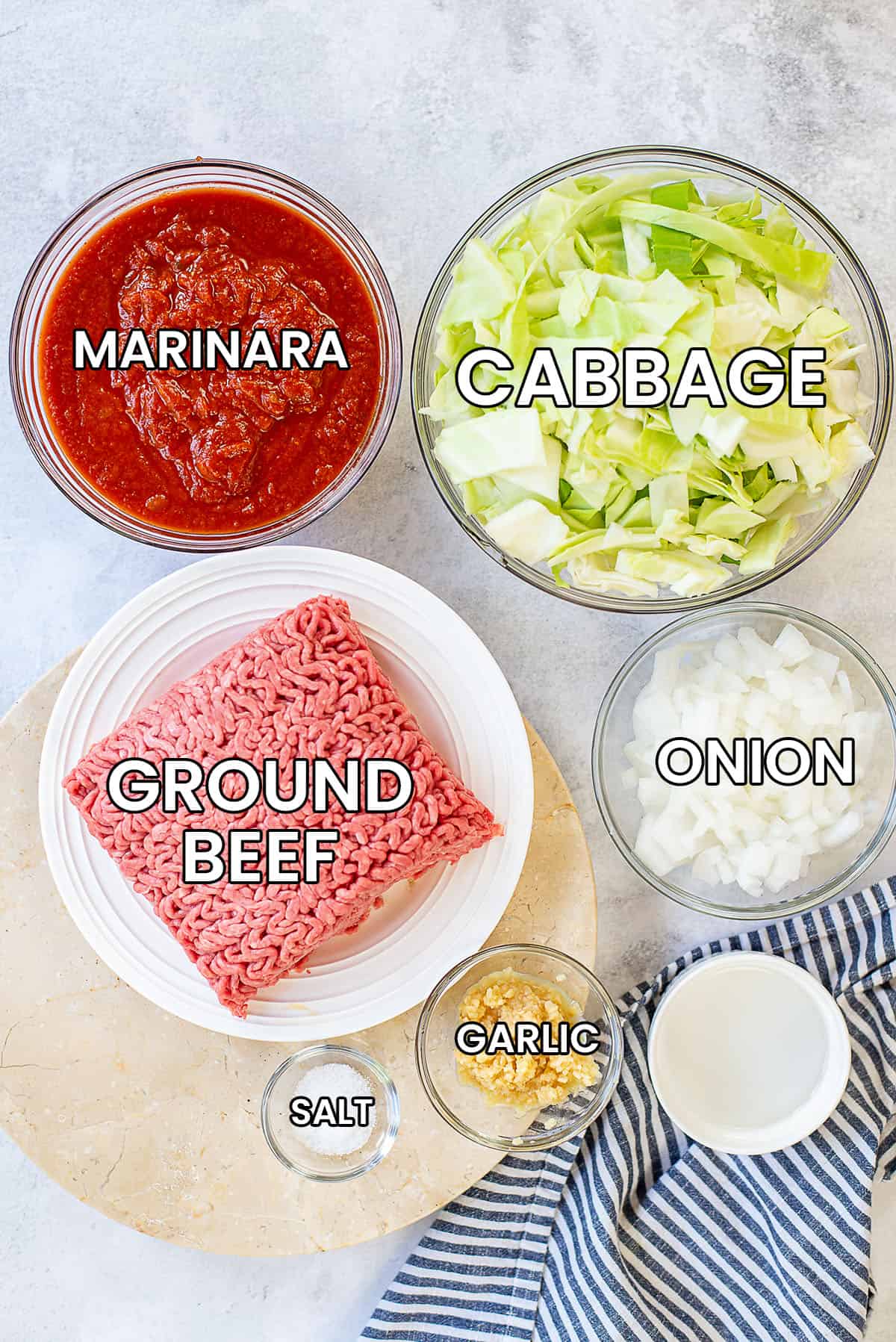 This post contains affiliate links. As an Amazon Associate and member of other qualifying programs, I earn from qualifying purchases.
Cabbage – Obviously you're going to need some cabbage when making unstuffed cabbage rolls! One large chopped head of cabbage should do the trick. While cabbage does have a fair amount of carbs, it's also full of fiber, which makes it a good low carb choice in moderation.
Ground Beef – I used lean ground beef in this recipe, but other types of ground meat will work too! Try chicken or turkey, if you'd like.
Marinara Sauce – I really love this Rao's Marinara Sauce. It tastes great and doesn't have any added sugars. You can use whichever brand you like, just be sure to check the label.
What Readers Are Saying:
"My family of 10 all gave 2 thumbs up!! I have some cabbage haters here, but they loved this!"
– Kris W.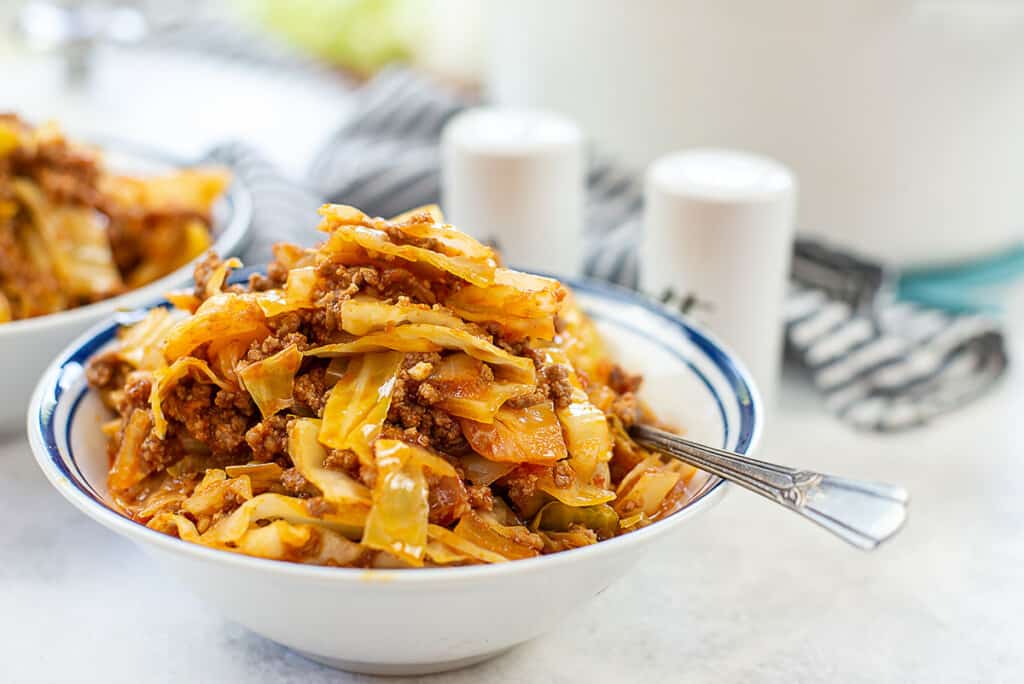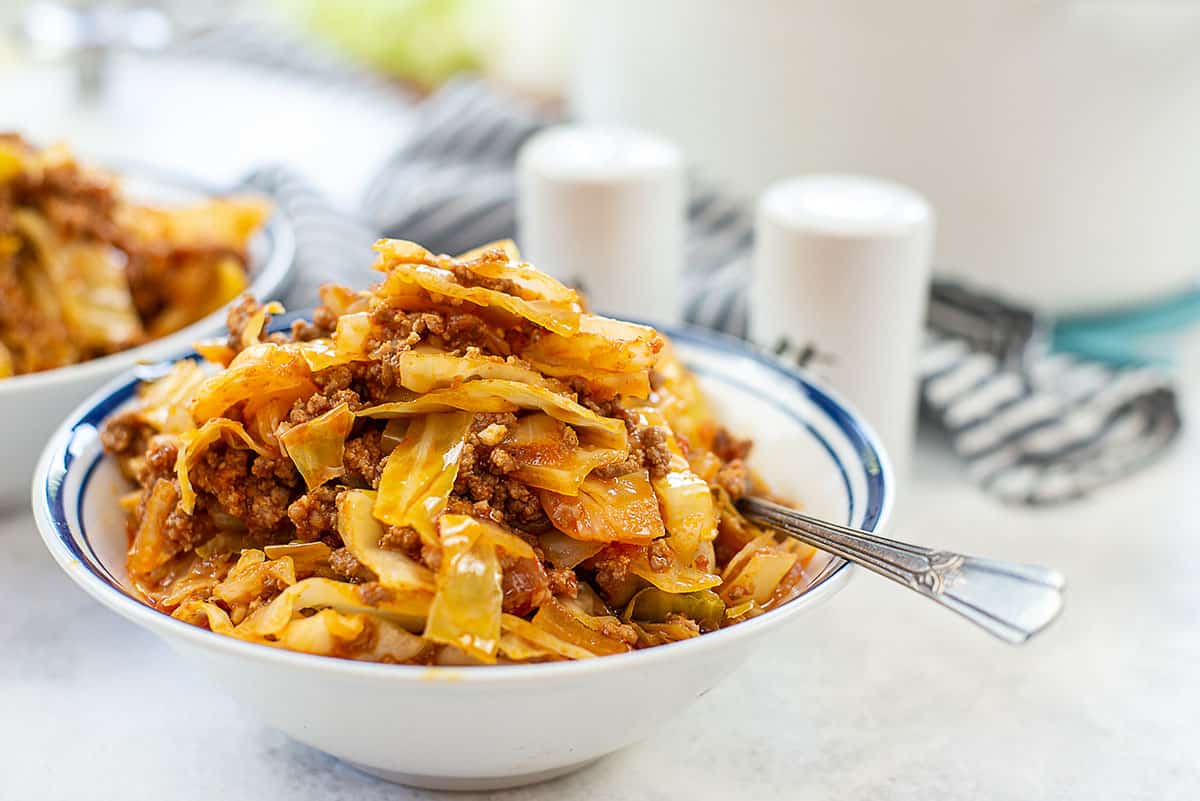 How To:
Prepare the Beef – First up you're going to need to brown some beef. Add it to a Dutch oven and cook over medium heat, crumbling as it cooks. You shouldn't need to drain the fat unless you are using some extra fatty ground beef. I would recommend using lean ground beef but it should be okay if you don't have it. Once the meat has partially cooked you can add in the onions and garlic and cook for a couple more minutes, stirring often, before moving to the next step.
Add the Sauce – Next up is the tasty marinara sauce! Start by stirring in the marinara sauce and water. I use Rao's Marinara because it's the BEST tasting sauce I've found in a jar and it also happens to be the lowest in carbs. Mix the sauce, beef, and onions up well and then move on to the final step!
Add the Cabbage – Now all that's left is to chop up a head of cabbage and add that to the pot. Just stuff it all in there and stir carefully! The cabbage will cook down some and the pot won't be quite so full. Once the cabbage has cooked down until it is nice and tender, you're all done! It's so quick and easy and you can enjoy this recipe in just 30 minutes.
FAQ's:
Do I have to use ground beef?
Nope! Just about any type of ground meat should work in this. A few readers have suggested that ground lamb works really well in this recipe, and another mentioned using smoked sausage. Ground pork, chicken, and turkey would be great too.
Can I store/freeze this recipe?
These unstuffed cabbage rolls should store well in the fridge for a few days if you seal it tightly. I have not tried freezing this recipe, but I think it would freeze well and reheat perfectly.
More Keto Cabbage Recipes: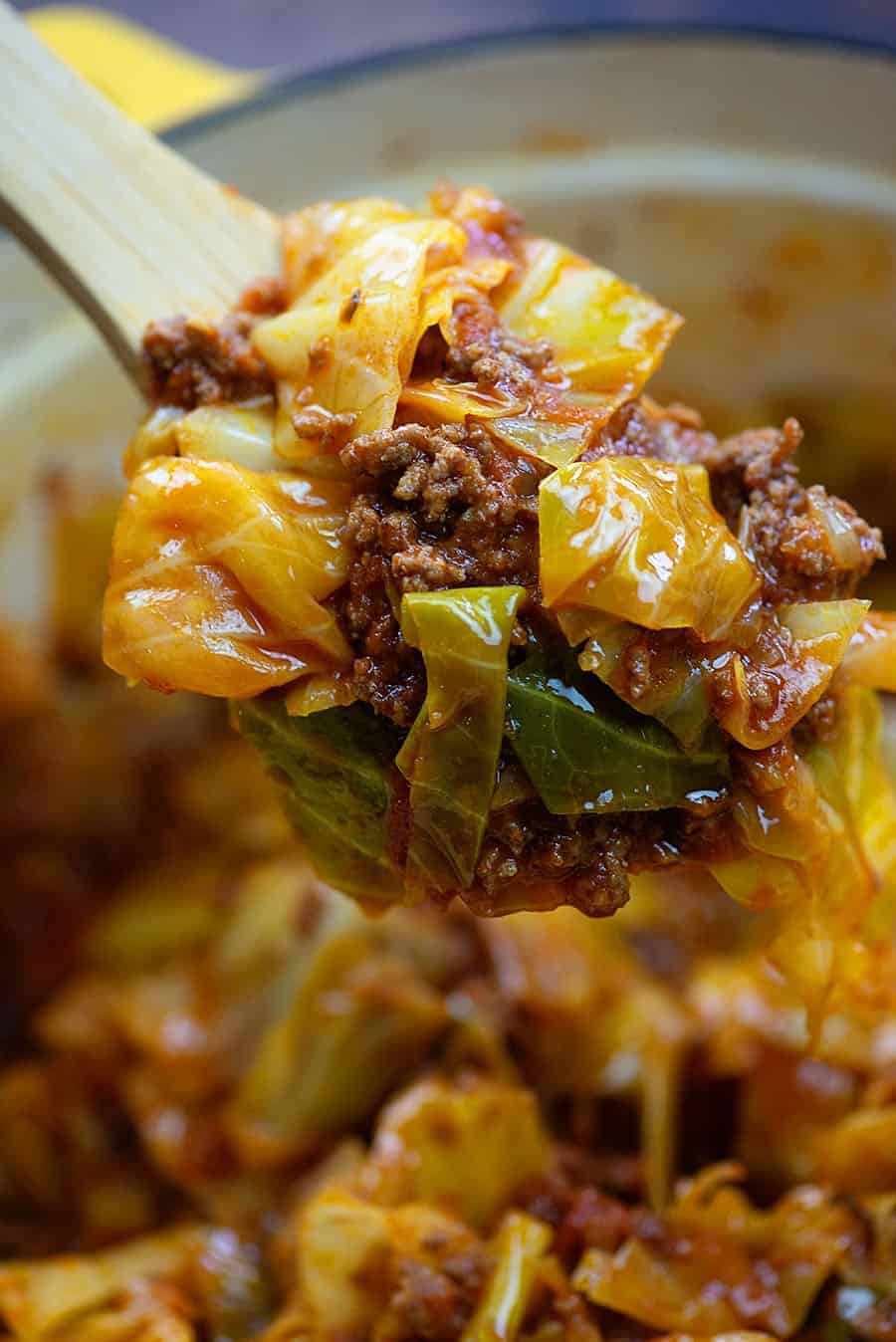 More low carb favorites:
Sausage Egg Roll in a Bowl: The most popular recipe on my other blog!
Avocado Egg Salad: This one is for the avocado lovers out there!
Cauliflower Potato Salad: You won't miss the potatoes, promise!
Brussel Sprouts and Bacon: Who would have guessed Brussels sprouts cold be so tasty?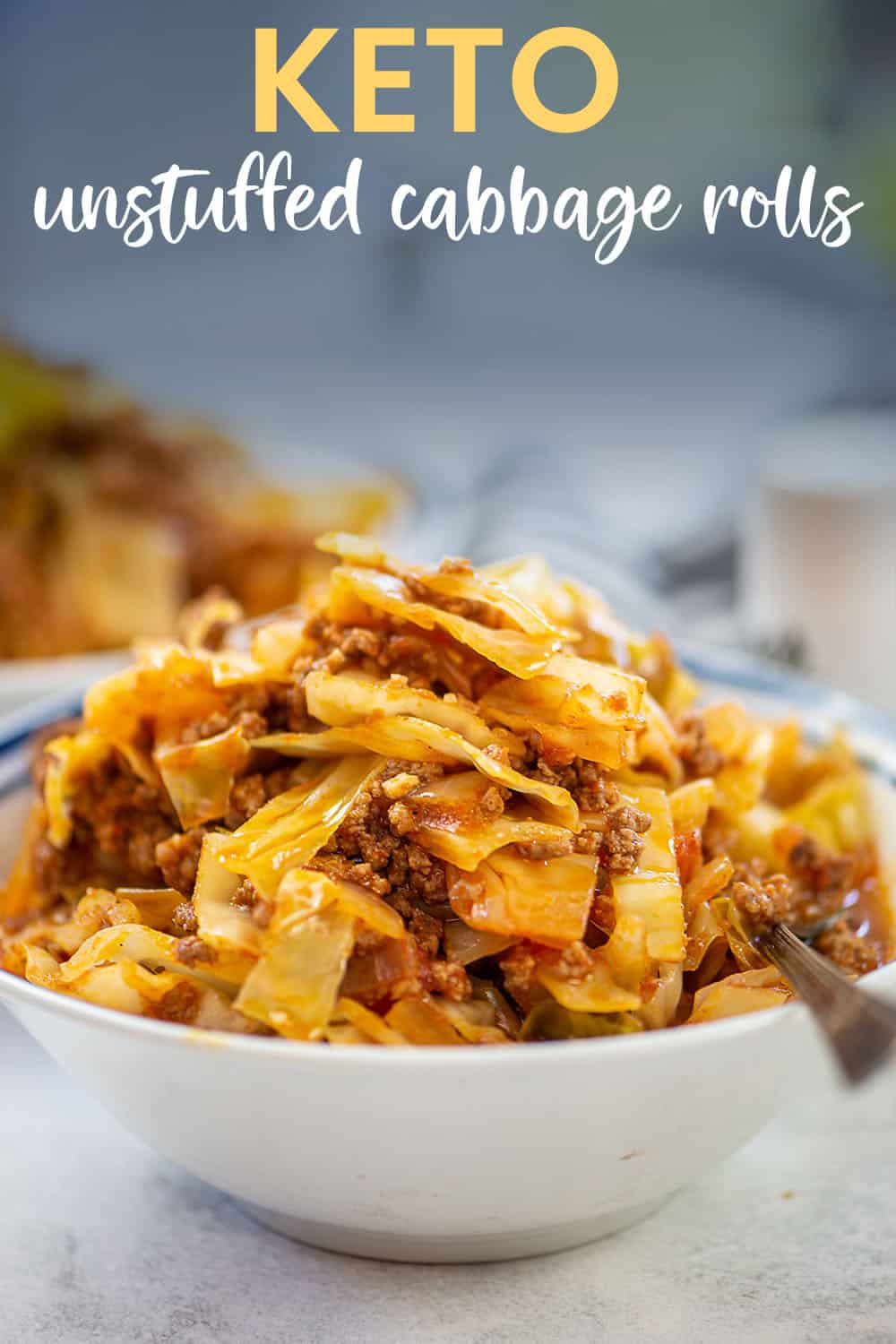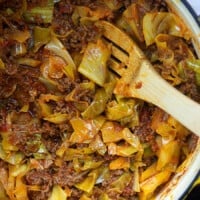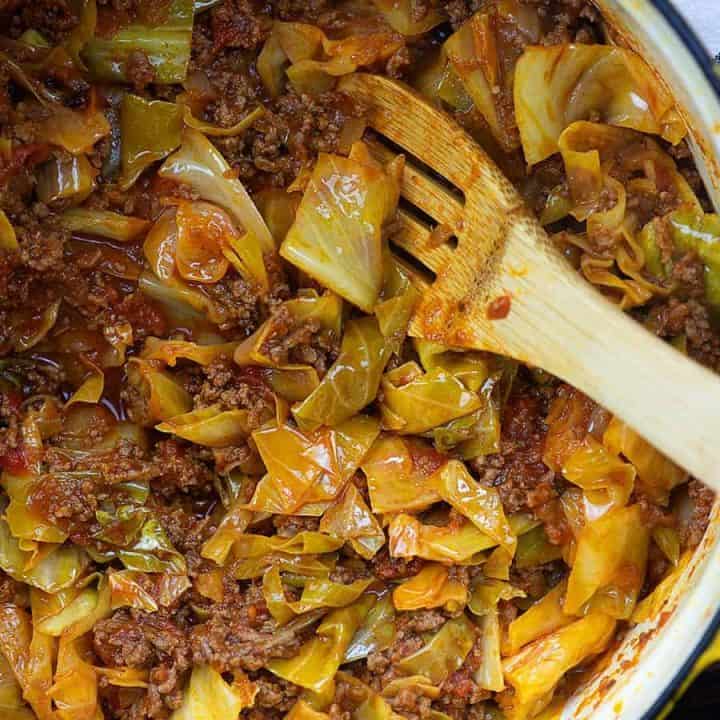 Unstuffed Cabbage Rolls
Take the work out of cabbage rolls with this low carb cabbage roll casserole recipe!
Ingredients
1 1/2 pounds lean ground beef
1/2 onion, diced
2 cloves garlic, minced
1 large head of cabbage, chopped
1/2 cup water
1 teaspoon salt
Instructions
Add the beef to a 5 quart dutch oven over medium heat. Brown the meat, crumbling as it cooks.
When meat is partially cooked, add the onion and garlic to the pan and continue cooking, stirring often.
Add the cabbage, marinara, water, and salt to the pan and stir to cover the cabbage in the marinara and beef.
Continue cooking, stirring occasionally, for 20 minutes or until the cabbage is as tender as you'd like.
Serve immediately.
Notes
We prefer to use Rao's marinara, but any will do. Be sure it contains zero added sugars.
Recommended Products
As an Amazon Associate and member of other affiliate programs, I earn from qualifying purchases.
Nutrition Information:
Yield: 6
Serving Size: 1
Amount Per Serving:
Calories: 335
Total Fat: 16g
Saturated Fat: 6g
Trans Fat: 0g
Unsaturated Fat: 7g
Cholesterol: 104mg
Sodium: 1030mg
Carbohydrates: 12g
Net Carbohydrates: 9g
Fiber: 3g
Sugar: 7g
Protein: 34g
All information and tools presented and written within this site are intended for informational purposes only. This information is provided as a courtesy and there is no guarantee that the information is accurate.