This Avocado Egg Salad is loaded with healthy fats and protein, turns out super creamy and flavorful, and is one of our favorite keto avocado recipes! This is such an easy recipe to make for lunch and we love to serve it in lettuce wraps, but it's good to eat with a fork too!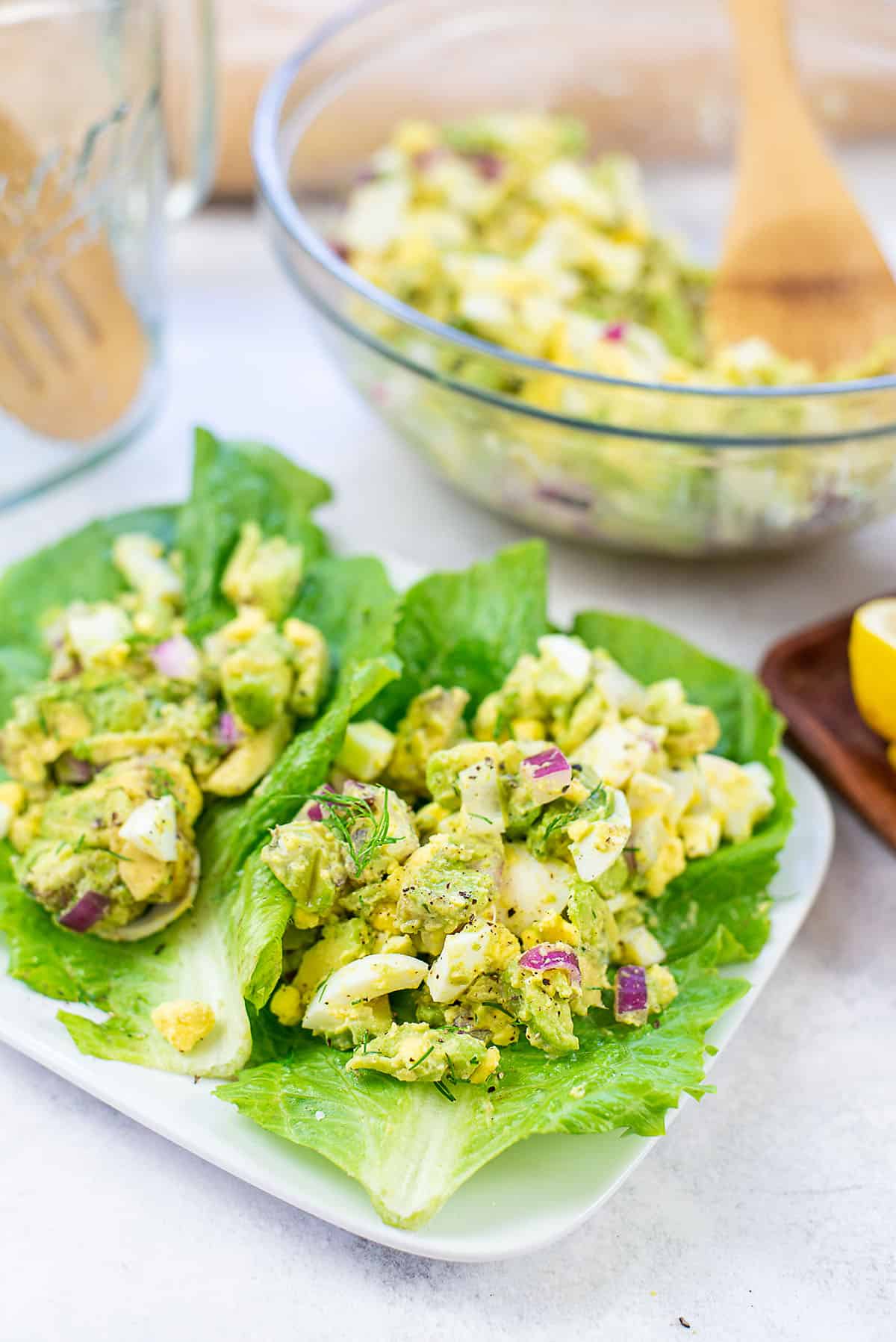 I've always been a big fan of deviled eggs and my aunt makes some amazing ones. She brings them to just about every get-together we have and they always are one of the first things to go.
Everyone loves deviled eggs, right?
Well, egg salad is generally just a big ol' bowl of mashed deviled eggs and I am 100% here for it!
Especially when you toss in avocado to up the creamy factor and make things a bit healthier! Egg salad without mayo? Yes, it's delicious!
If you've never had avocado, it doesn't have a ton of flavor on it's own. It's very creamy and rich, but has a pretty neutral flavor so it's perfect for doctoring up with seasonings and other ingredients.
Of course, I eat slices of avocado sprinkled with salt for breakfast quite a bit too. You really can't go wrong!
Ingredient Notes: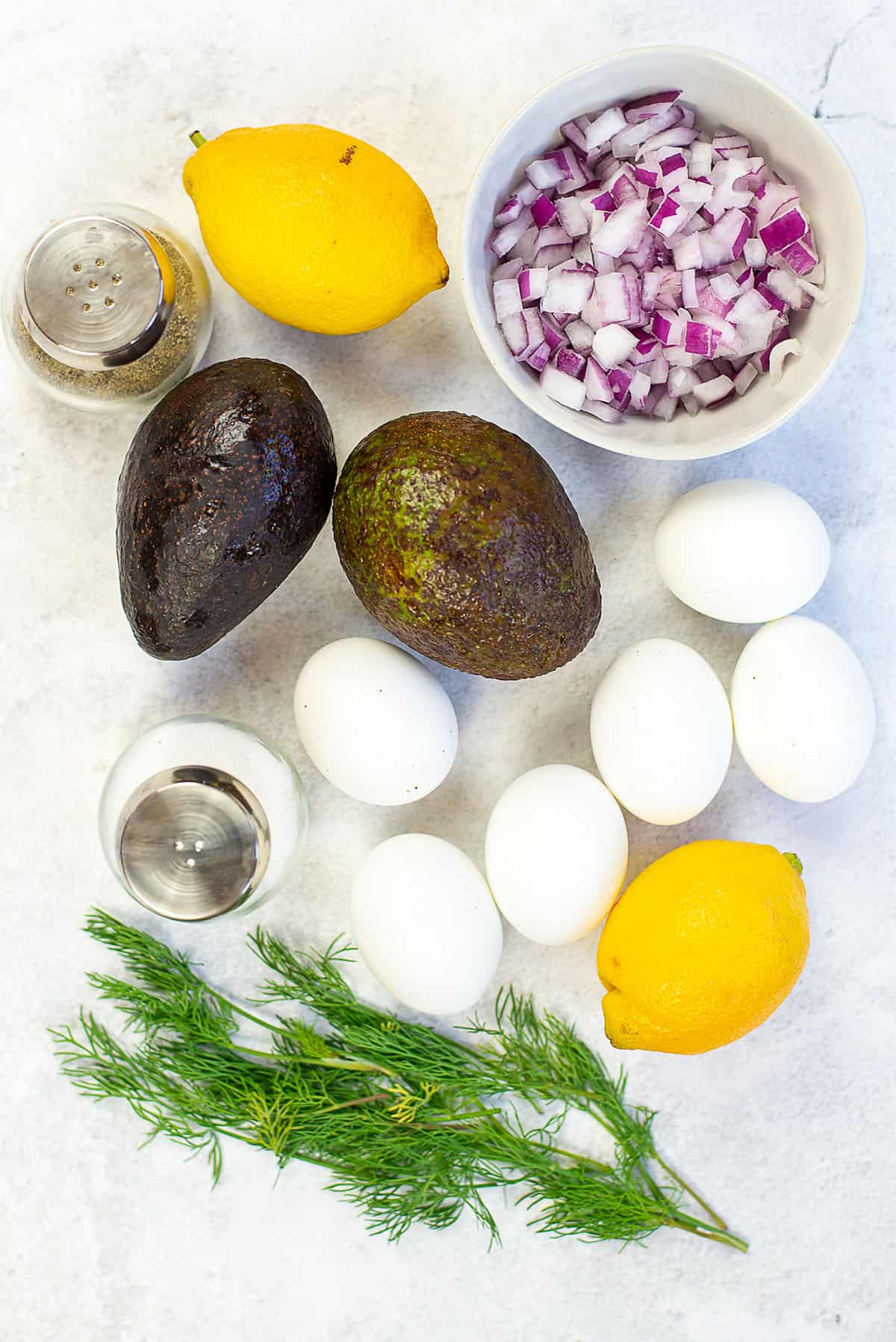 Eggs – You'll need some boiled and peeled eggs. I've got some great helpful advice you can find below on how to quickly and easily do that!
Avocado – Creamy avocado is what will replace the mayonnaise in this egg salad. It mixes really well with the egg, a lot like mayo would but we think avocado is a healthier fat and very filling!
Lemon Juice – Some fresh squeezed lemon juice will really help brighten up this dish and enhance the flavors, especially when you add it in with some fresh dill.
Pro Tip!
If you'd like more of a dressing on your egg salad, mash half of the avocado chunks with a fork before stirring it in with the eggs. It'll make things extra creamy. Be sure to use ripe avocado as well.
FAQs:
Can I store this avocado egg salad?
As with most avocado recipes, we like this served fresh. The avocado will oxidize fairly quickly and your gorgeous green avocado egg salad with turn a bit brown. You could probably keep it for up to a day in the refrigerator if you add some extra lemon juice to preserve it and very tightly cover the salad with plastic wrap.
How do I serve this egg salad?
We like to serve this as is, with a fork, for a quick lunch. It's also delicious in a lettuce wrap, a low carb tortilla, or sandwiched between a chaffle.
Customize this Avocado Egg Salad to Suit Your Tastes!
Add bacon for some protein, flavor, and texture. Bacon makes everything better, right?
You could go with a Mexican vibe really easily here by replacing the dill with cilantro and the lemon with lime. How fun is that?
Add a little heat to your avocado egg salad by adding some minced fresh or pickled jalapeno to the recipe.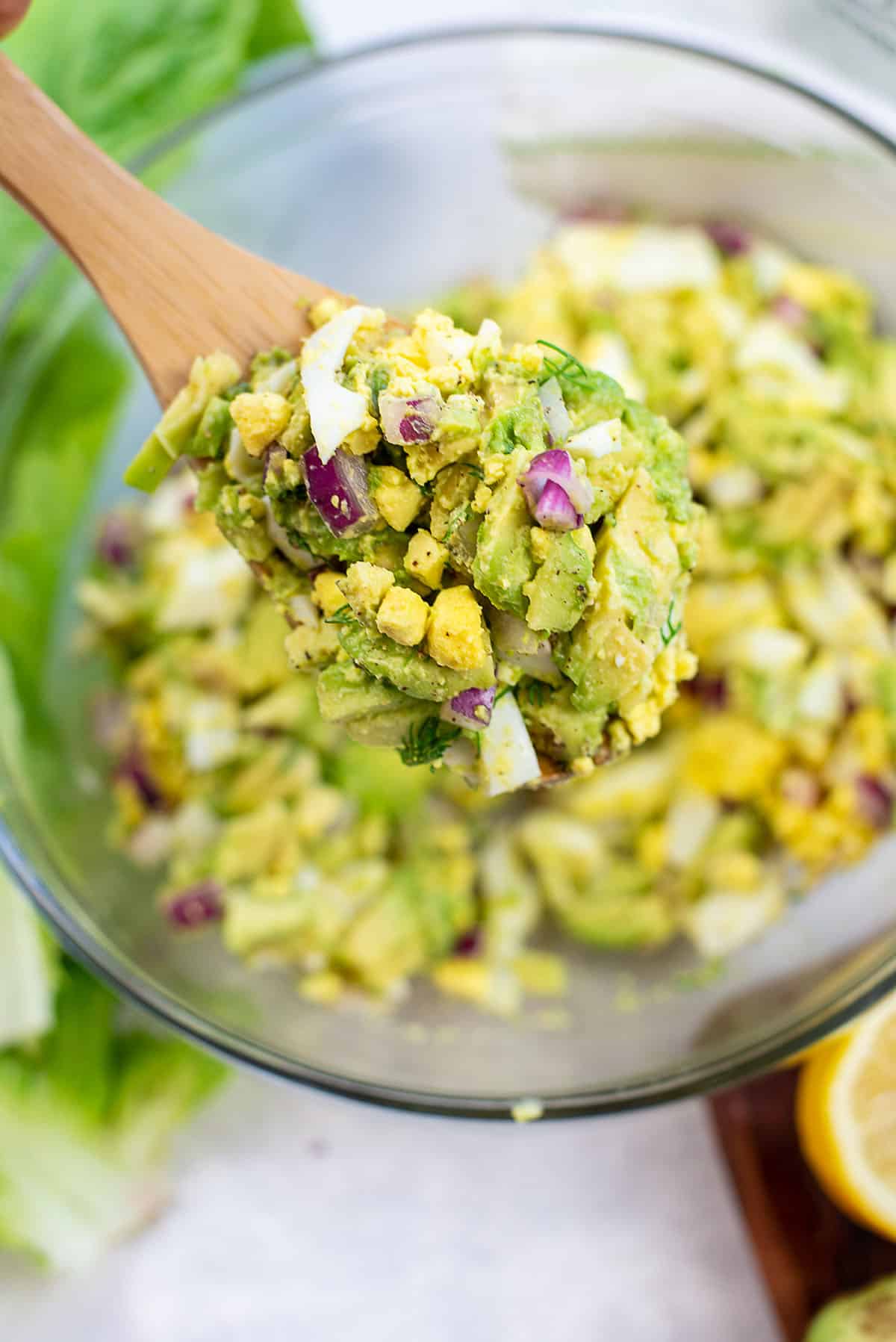 How to Boil Eggs for Easy Peeling:
This post contains affiliate links. As an Amazon associate and member of other affiliate programs, I earn from qualifying purchases.
Here's my secret trick – pressure cook your eggs!
I know, I know. You probably don't want to go out and purchase an Instant Pot just for boiled eggs, but my Instant Pot gets put to use for many other things! Check out all of our low carb Instant Pot recipes!
We do eat a TON of boiled eggs though. They're the perfect low carb snack!
To boil eggs in an Instant Pot, place 1 cup of water in the liner and add in as many eggs as you like in a single layer. Pressure cook on high for 5 minutes. Let the pressure release naturally for 5 minutes and then do a quick release. Place the eggs in an ice bath for 5 more minutes to cool down and stop the cooking process.
Perfectly cooked hard boiled eggs and the best part is that they peel like a dream. The shells literally just slip right off the eggs.
I also use the Instant Pot to cook a bunch of chicken breasts and then shred them up and keep bags on shredded chicken on hand for meals. I used some of my Instant Pot shredded chicken in these keto stuffed peppers.
I hope you try this egg salad with avocado! It's a favorite of mine and I think you'll love it, too!
More Low Carb Egg Recipes!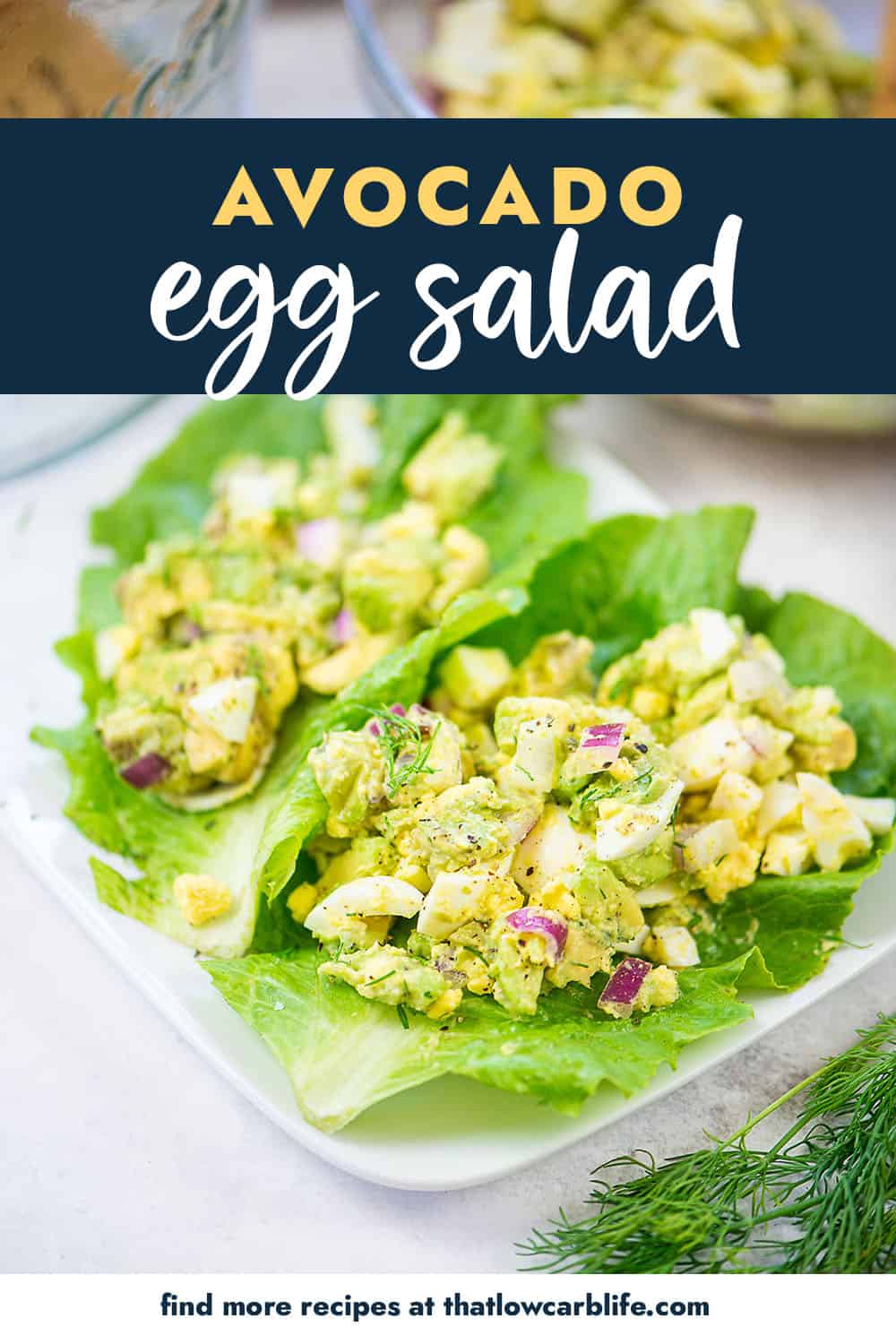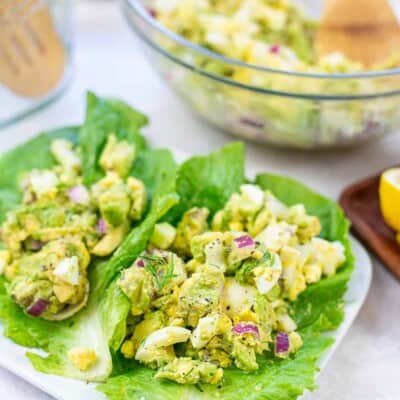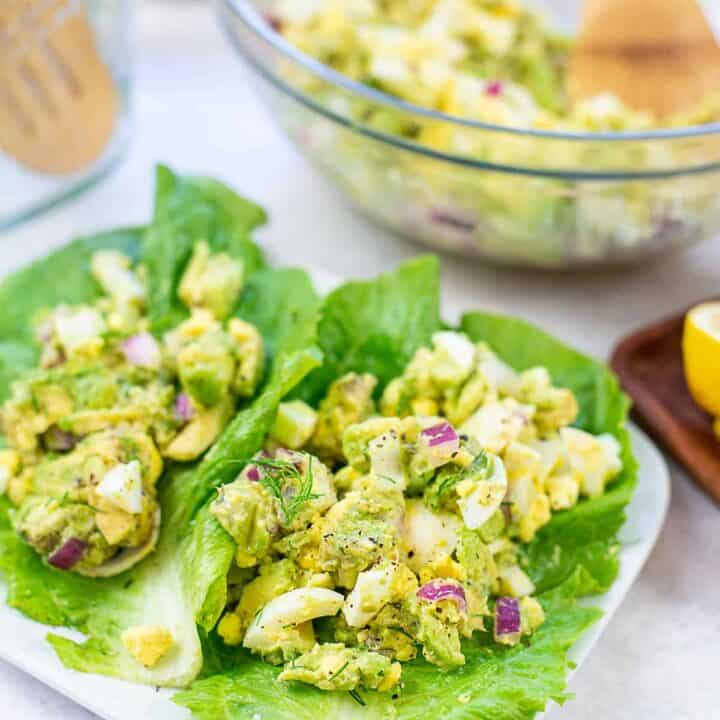 Avocado Egg Salad
This healthy egg salad is made extra creamy from the addition of avocado. Such a tasty twist on the traditional egg salad. The nutrition information is for the egg salad only and doesn't include info on lettuce if you choose to make lettuce wraps with this.
Prep10 minutes
Total10 minutes
Ingredients
6 large boiled eggs
2 medium ripe avocado diced
1/2 lemon
1/4 cup minced red onion
2 teaspoons fresh dill
½ teaspoon salt
½ teaspoon pepper
Instructions
Peel and dice the boiled eggs and place in a medium mixing bowl.

Add the avocado to the eggs and stir well. The avocado will become creamier the more you stir and coat the eggs.

Squeeze the lemon half over the eggs and stir in the onion, dill, salt, and pepper. Stir well to combine the mixture.

Serve immediately.
Tips & Notes:
If you'd like more of a dressing on your egg salad, mash half of the avocado with a fork before adding it to the egg salad. It will coat the eggs nicely. This avocado egg salad is best served immediately or within a few hours of making as the avocados will start to brown otherwise. To keep the avocados from turning as long as possible, squeeze an extra bit of lemon juice over the top of the mixture and press plastic wrap directly onto the egg salad.
Nutrition Information:
Serving: 1| Calories: 160kcal (8%)| Carbohydrates: 6g (2%)| Protein: 7g (14%)| Fat: 12g (18%)| Saturated Fat: 3g (19%)| Polyunsaturated Fat: 8g| Cholesterol: 187mg (62%)| Sodium: 242mg (11%)| Fiber: 3g (13%)| Sugar: 1g (1%)| Net Carbs: 3g (6%)