ON SALE: Two new eBooks! Visit the shop!
This avocado egg salad is loaded with healthy fats and protein from the avocado and eggs. This is such an easy recipe and we love to serve it in lettuce wraps, but it's good to eat with a fork too!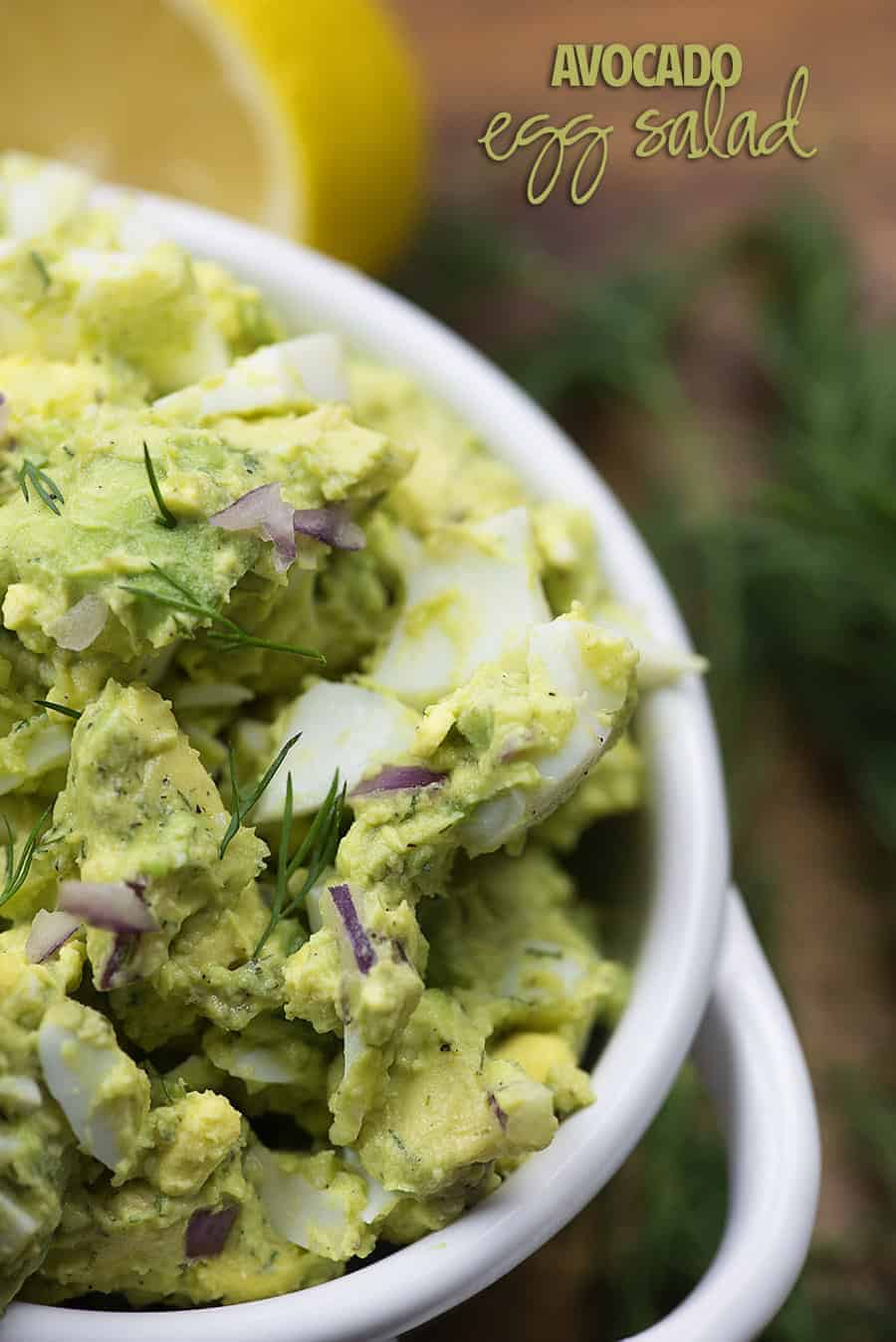 I've always been a big fan of deviled eggs and my aunt makes some amazing ones. She brings them to just about every get-together we have and they always are one of the first things to go.
Everyone loves deviled eggs, right?
The thing is, my husband will down a bunch deviled eggs with no problems. He LOVES them.
But put some egg salad in front of the man and he's all, nope. Not interested.
I don't get it.
Y'all realize that egg salad is basically just mooshed up devilled eggs, right?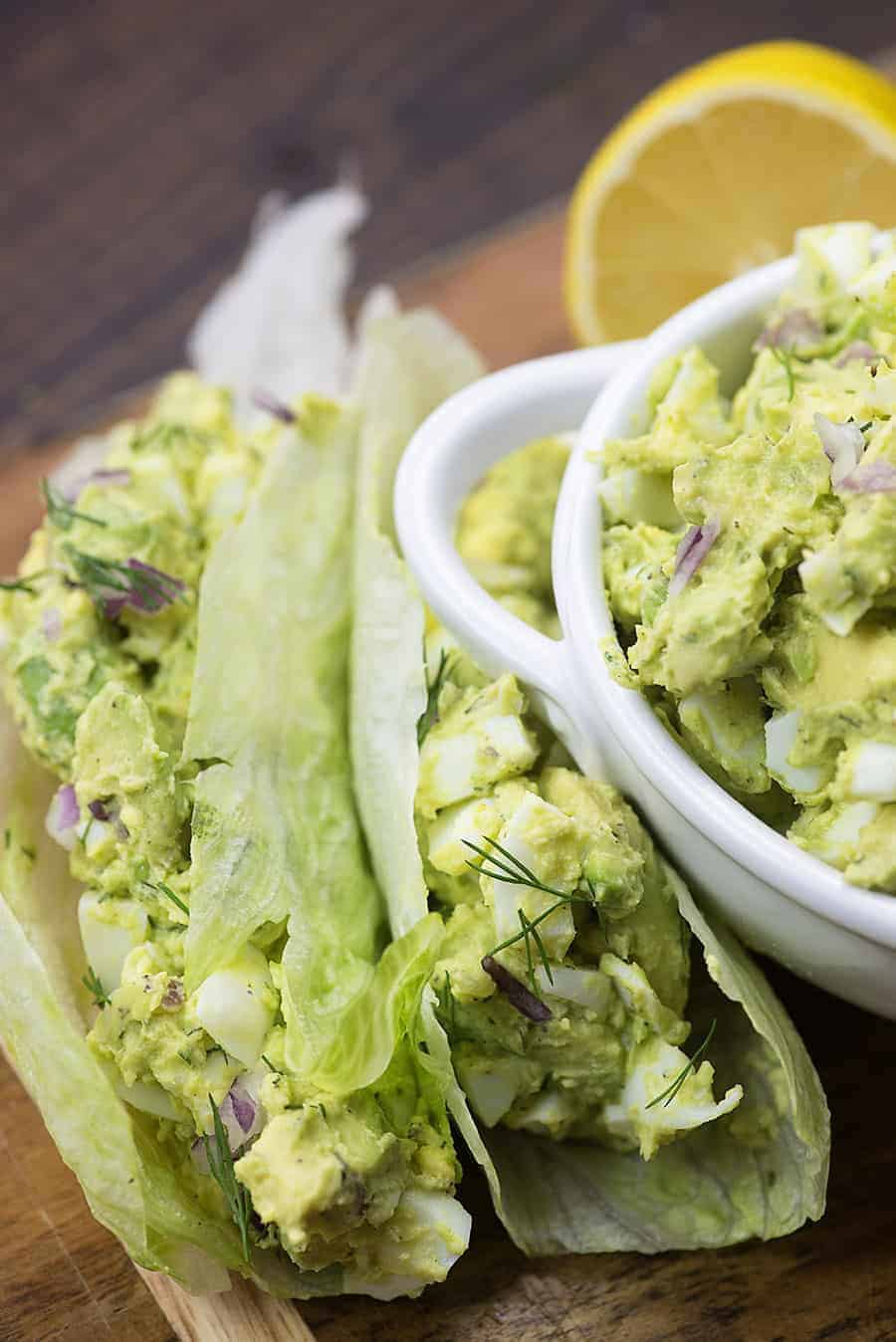 Well…traditionally, anyway.
Today, I'm sharing egg salad with avocado which is a bit different than a traditional egg salad or deviled egg.
This keto egg salad is packed with avocados. They're a "good" fat, right?
I often eat an entire avocado for breakfast. All that fat is so filling that I'm not hungry again until lunch. Super filling and so nutritious, too!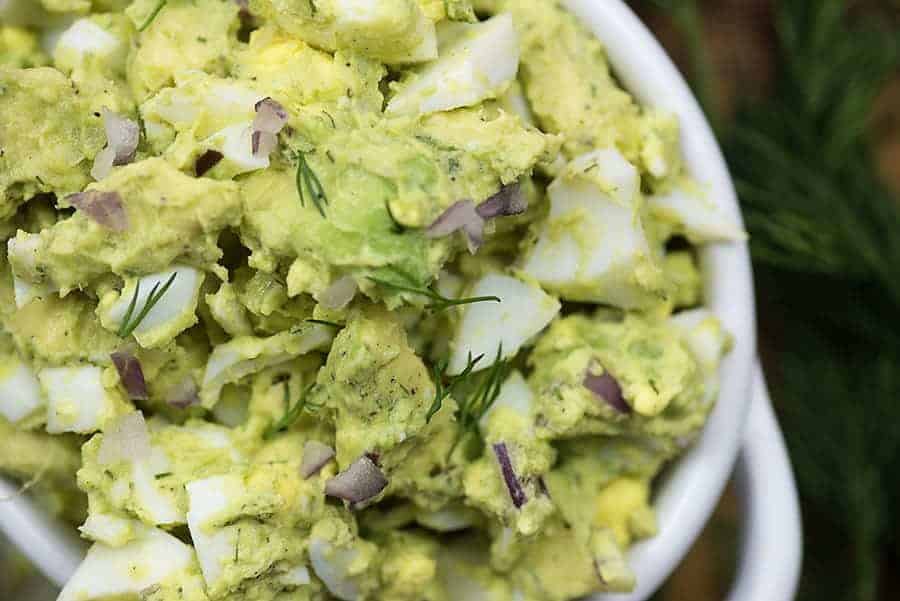 Avocado egg salad is total perfection if you'd like to make egg salad without mayo.
As you stir together the diced eggs with the avocado, the avocado starts to break down and coat the eggs. It makes for a creamy egg salad without mayo and the flavors are so fab.
I made this egg salad with dill, because I just love the way fresh dill brightens things up. I also stirred in some red onion for crunch.
This avocado egg salad is easy to customize to suit your tastes!
Stir in some chopped pickles or make your egg salad with relish. The tanginess of dill pickles works great in this dish.
Add bacon for a little extra saltiness and protein. Bacon makes everything better, right?
If you really want to amp the protein up, stir in some cooked shredded chicken. Now you've got an avocado chicken salad!
You could go with a Mexican vibe really easily here by replacing the dill with cilantro and the lemon with lime. How fun is that?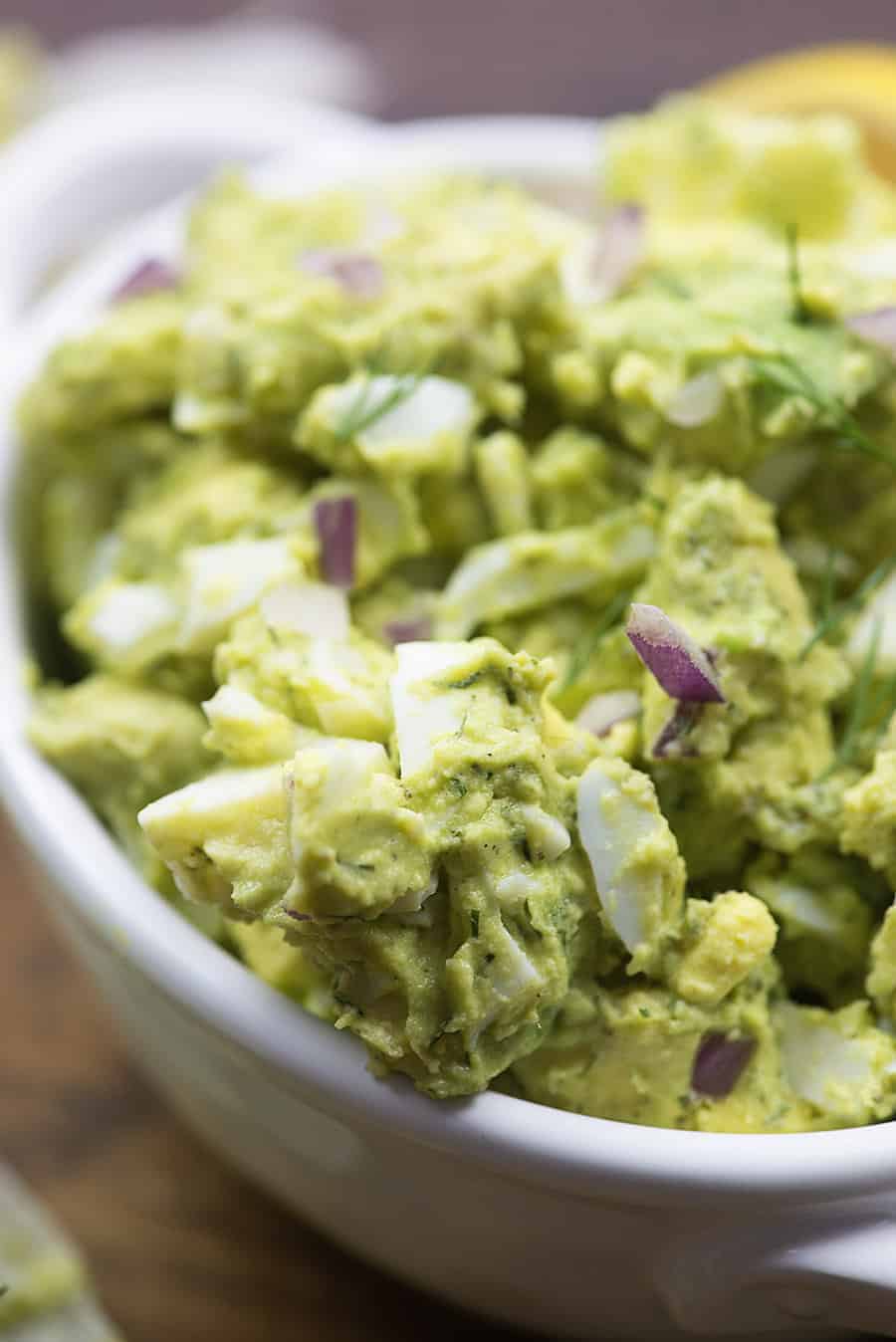 How to boil eggs so they peel easily:
Here's my secret trick – pressure cook your eggs!
I know, I know. You probably don't want to go out and purchase a pressure cooker or Instant Pot just for boiled eggs, but my Instant Pot gets put to use for many other things!
We do eat a TON of boiled eggs though. They're the perfect low carb snack!
To boil eggs in an Instant Pot, place 1 cup of water in the liner and add in as many eggs as you like in a single layer. Pressure cook on high for 5 minutes. Let the pressure release naturally for 5 minutes and then do a quick release. Place the eggs in an ice bath for 5 more minutes to cool down and stop the cooking process.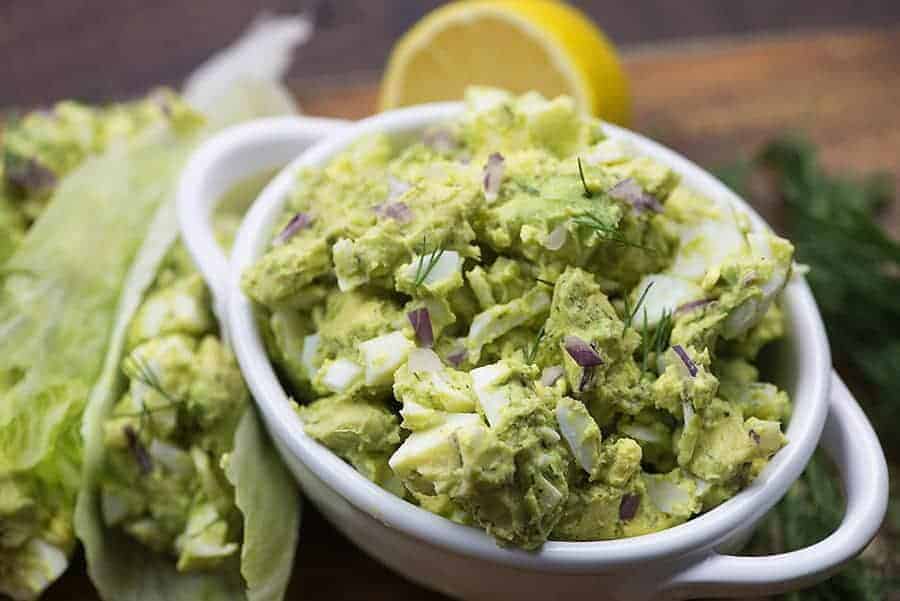 Perfectly cooked hard boiled eggs and they peel like a dream. The shells literally just slip right off the eggs.
I also use the Instant Pot to cook a bunch of chicken breasts and then shred them up and keep bags on shredded chicken on hand for meals. I used some of my Instant Pot shredded chicken in these keto stuffed peppers.
You can buy an Instant Pot here through my affiliate link.
I hope you try this egg salad with avocado! It's a favorite of mine and I think you'll love it, too!
More low carb egg recipes to try:
Keto Deviled Eggs: There is bacon and cheddar involved, you guys!
Deviled Egg Salad: Can't go wrong here!
Spicy Deviled Eggs: Basically a jalapeno popper in egg form.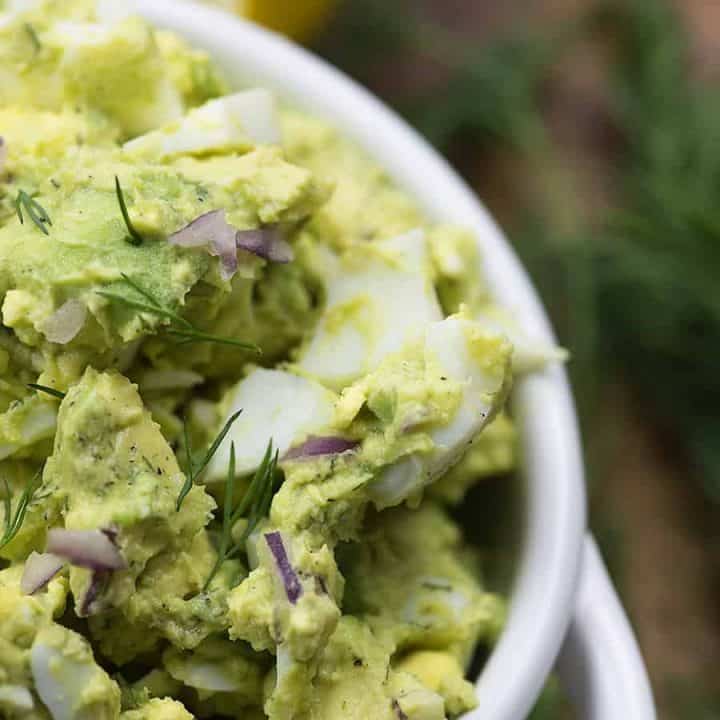 Avocado Egg Salad
This healthy egg salad is made extra creamy from the addition of avocado. Such a tasty twist on the traditional egg salad. The nutrition information is for the egg salad only and doesn't include info on lettuce if you choose to make lettuce wraps with this.
Ingredients
6 boiled eggs
2 avocado, diced
1/2 lemon
1/4 cup minced red onion
2 teaspoons fresh dill
½ teaspoon salt
½ teaspoon pepper
Instructions
Peel and dice the boiled eggs and place in a medium mixing bowl.
Add the avocado to the eggs and stir well. The avocado will become creamier the more you stir and coat the eggs.
Squeeze the lemon half over the eggs and stir in the onion, dill, salt, and pepper. Stir well to combine the mixture.
Serve immediately.
Notes
This avocado egg salad is best served immediately or within a few hours of making as the avocados will start to brown otherwise. To keep the avocados from turning as long as possible, squeeze an extra bit of lemon juice over the top of the mixture and press plastic wrap directly onto the egg salad.
Recommended Products
As an Amazon Associate and member of other affiliate programs, I earn from qualifying purchases.
Nutrition Information
Yield

6
Serving Size

1
Amount Per Serving
Calories

160
Total Fat

12g
Saturated Fat

3g
Trans Fat

0g
Unsaturated Fat

8g
Cholesterol

187mg
Sodium

242mg
Carbohydrates

6g
Fiber

3g
Sugar

1g
Protein

7g
All information and tools presented and written within this site are intended for informational purposes only. This information is provided as a courtesy and there is no guarantee that the information is accurate.