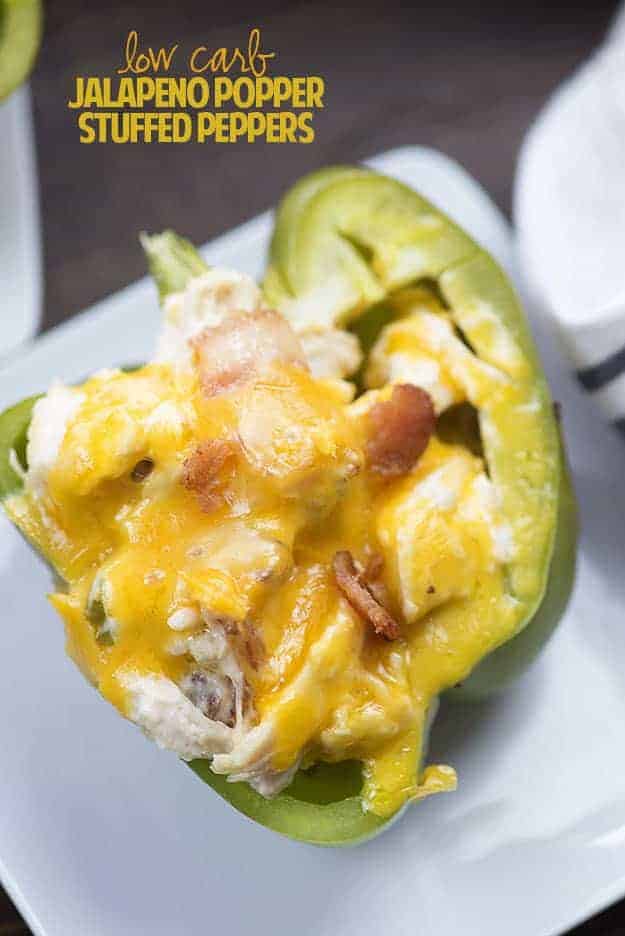 These keto stuffed peppers are full of a spicy homemade jalapeno popper dip combined with chicken for a low carb option that is packed with flavor. You can make these as spicy or as mild as you prefer, because these low carb stuffed peppers are totally customizable! I have a confession to make…
I didn't always love bell peppers.
In fact, I was well into my upper 20s before I really even thought about giving them a chance.
I blame green peppers on this.
I'd only ever tried green peppers as a kid and had no idea that red, yellow, and orange peppers were sweeter tasting.
Once I tried a red pepper and realized I loved it, it didn't take long for me to get used to the green peppers.
You can make keto stuffed peppers with any color pepper you prefer, but these days, I normally use green peppers. I've gotten quite used to them and there are a bit more carbs in the sweeter, more ripe red peppers, but not a whole lot.
Still, if you're on a keto diet and sticking to 20g net carbs a diet, every carb counts, right?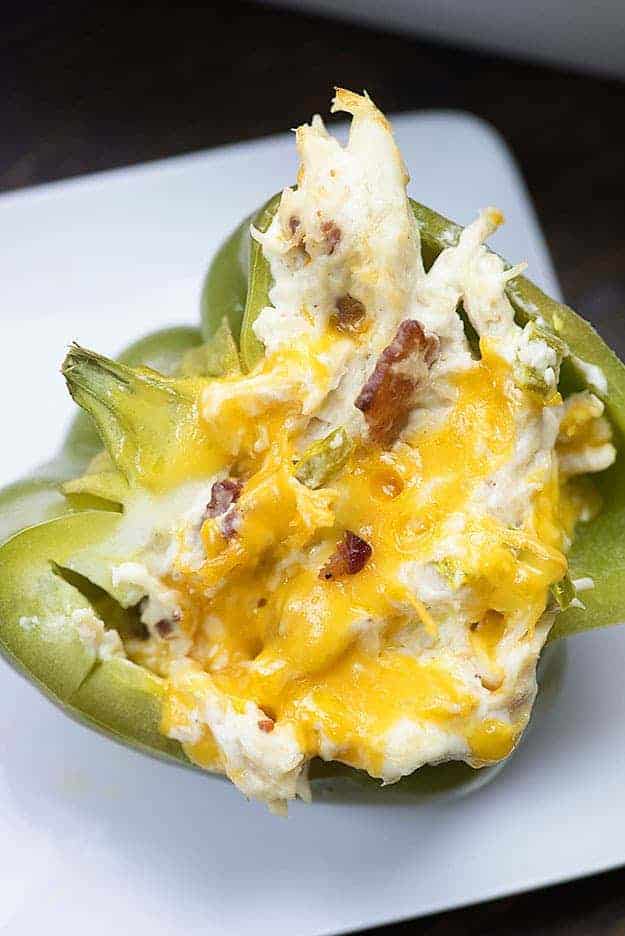 How To Make Keto Stuffed Peppers:
I make stuffed bell peppers a little differently than most people, because I slice the peppers in half and fill each half.
There are two reasons for this.
1.) Peppers do contain carbs and by cutting them in half, you're really maximizing the amount of filling per pepper and making it a whole lot easier to eat half of a pepper rather than a full pepper.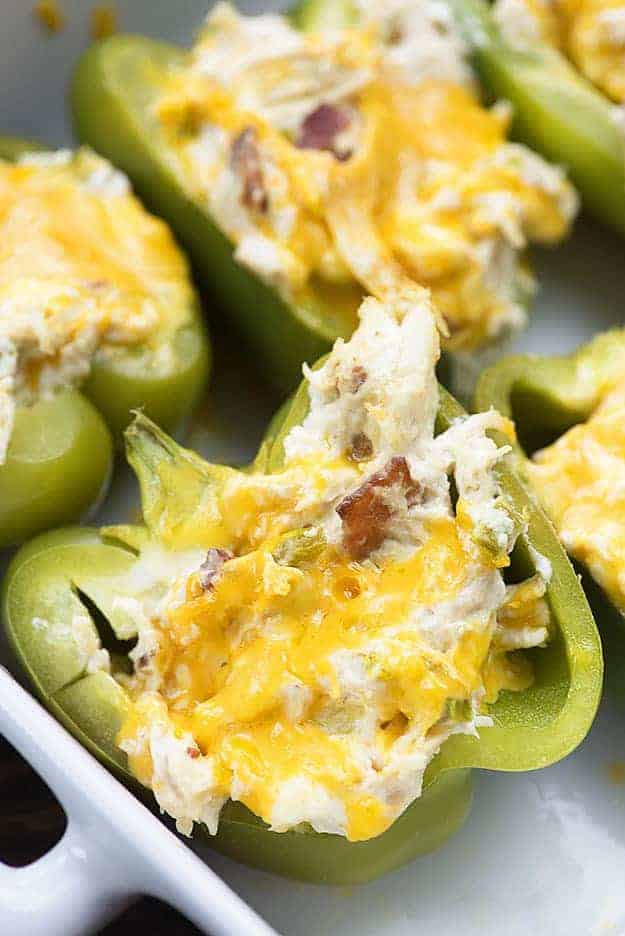 2.) It's a heck of a lot easier to fill and cook a pepper laying down on it's side than it is to get them to stand up on their ends. Some peppers are weirdly shaped on the bottom and just don't want to stand up for you, ya know?
There is no need to parboil your peppers before popping them in the oven if you follow my easy trick of adding a couple tablespoons of water to the bottom of your baking dish and then covering the pan tightly with foil.
The peppers steam to tender-crisp perfection this way. If you want these cream cheese stuffed peppers to be very soft, you may consider parboiling them.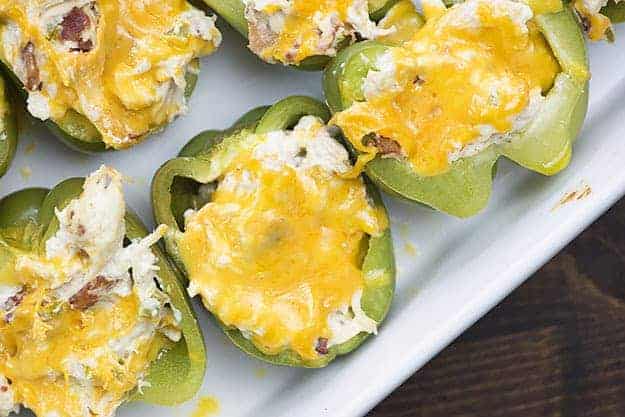 How Long To Cook Stuffed Peppers:
Like I mentioned above, I don't parboil my peppers, which means they bake a bit longer.
The peppers should be tender-crisp in 35 minutes, but feel free to adjust the cooking time to suit your own preferences. Some people prefer extra crunchy peppers and some people prefer soft peppers.
You really can't mess these up!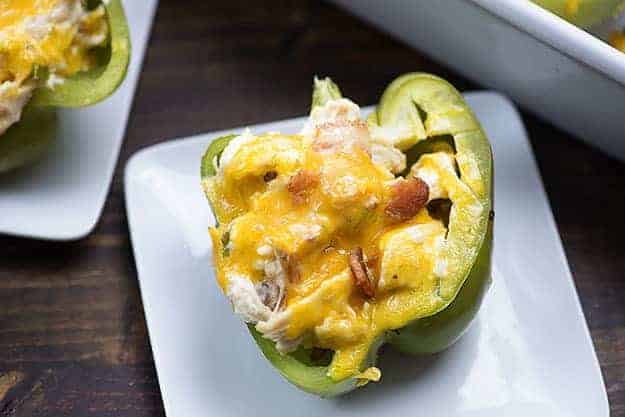 Stuffed Peppers Without Rice:
When people think of stuffed peppers, they usually imagine them filled with rice, but that definitely doesn't have to the be the case, especially when making keto stuffed peppers!
Cream cheese stuffed peppers are better than the carb heavy peppers, if you ask me. 😉
Cream cheese is a great base to hold together your ingredients and add the fat that is needed to make your stuffed peppers recipe satisfying and filling.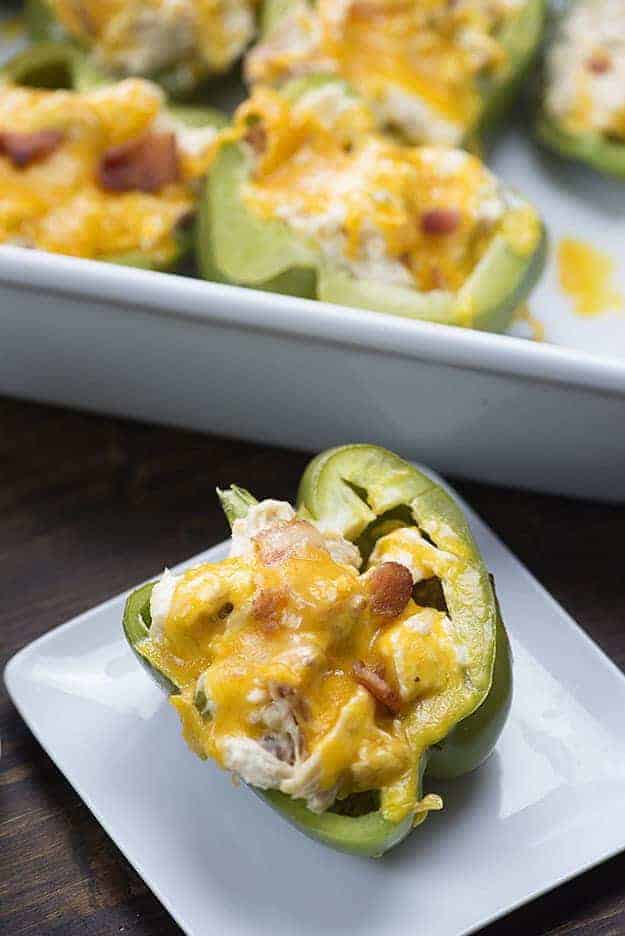 Filling:
I've always been the type of person that could eat dip with a spoon and low carb makes that completely acceptable. 😉 There are no carbs in a spoon, after all. Haha!
I filled this easy stuffed peppers recipe with a mixture of jalapeno popper dip, bacon, and shredded chicken. The fat and protein keep you full and the flavors are just phenomenal.
I think you're going to love this keto stuffed peppers recipe. This isn't a traditional stuffed pepper recipe – it's even better!
More recipes like this: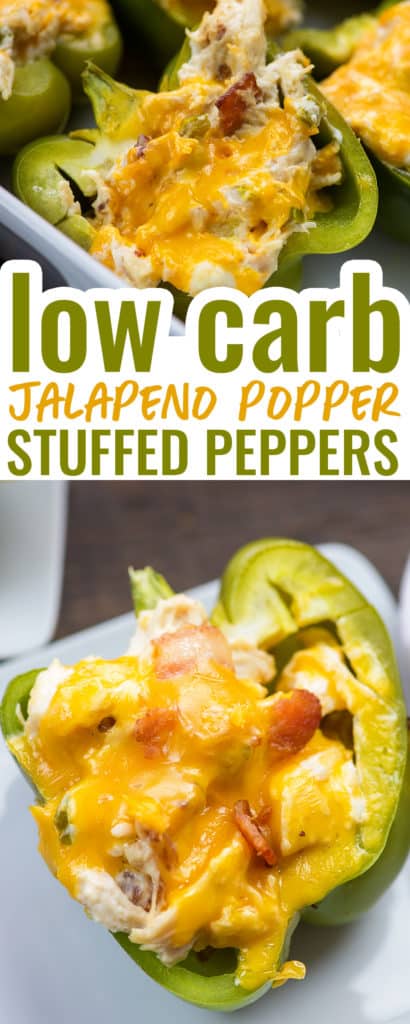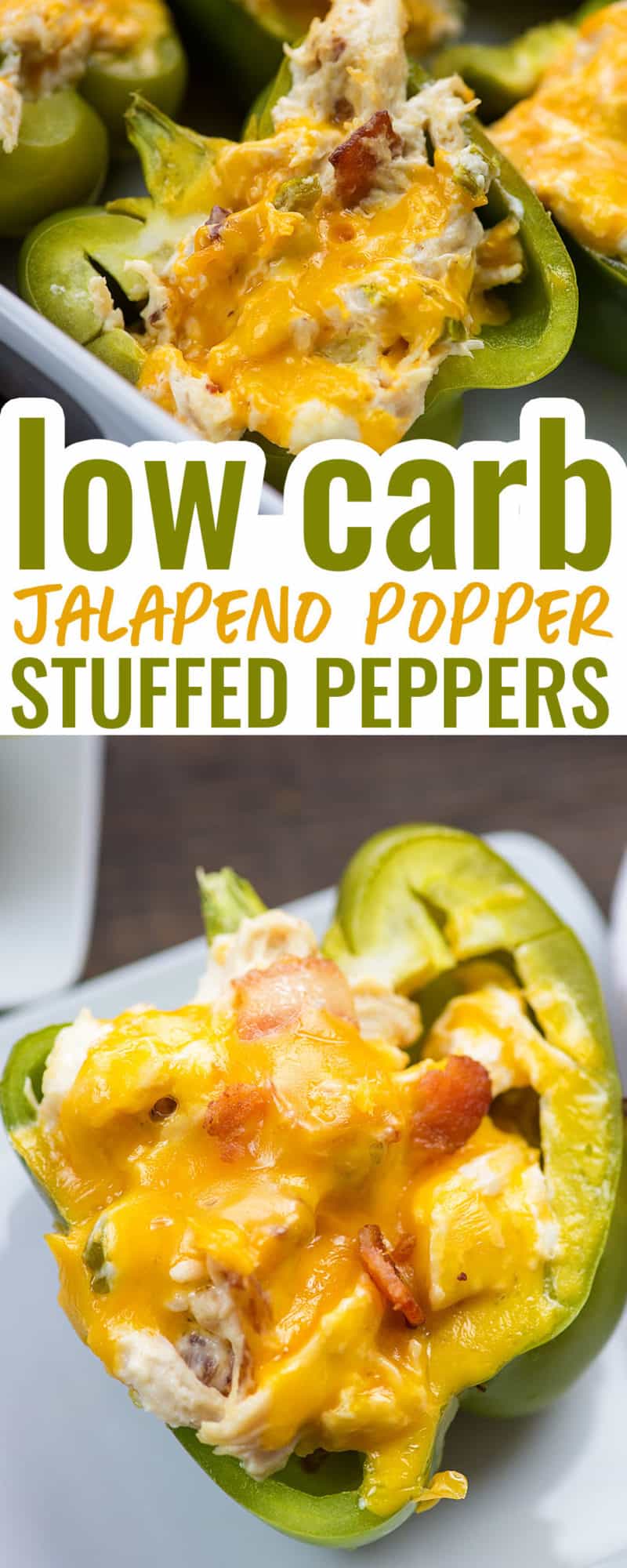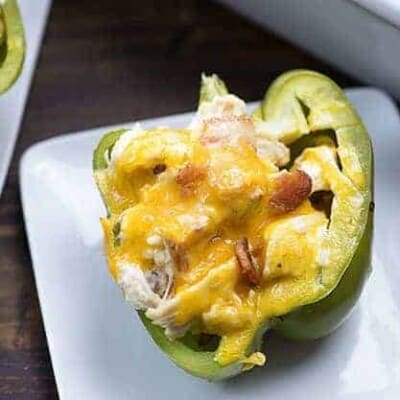 Jalapeno Popper Stuffed Peppers
These keto stuffed peppers are full of spicy jalapeno popper dip and shredded chicken for a low carb dinner that is satisfying and filling.
Prep10 minutes
Cook35 minutes
Total45 minutes
Ingredients
4 green bell peppers
8 ounces cream cheese room temperature
1 1/2 cups cooked shredded chicken
1/3 cup diced pickled jalapenos from a jar
1/4 cup mayonnaise
4 slices bacon fried and crumbled
1/2 cup grated cheddar divided
1/4 cup grated Parmesan
Instructions
Preheat oven to 350 degrees. Add 2 tablespoons of water to a 9x13 baking dish.

Slice each pepper in half from top to bottom. Remove the membrane and seeds and place the pepper halves in a 9x13 baking dish.

Add the cream cheese, chicken, jalapenos, mayonnaise, bacon, 1/4 cup of cheddar, and all of the Parmesan to a medium mixing bowl. Stir well to combine.

Spoon the filling evenly into each pepper.

Sprinkle the tops of the peppers with the remaining cheddar.

Cover the pan tightly with foil and bake for 35 minutes, or until the peppers are done to your liking.
Tips & Notes:
Fresh jalapenos are spicier than pickled jarred jalapenos. Use fresh for a spicier kick.
Nutrition Information:
Serving: 0.5pepper| Calories: 274kcal (14%)| Carbohydrates: 6g (2%)| Protein: 13g (26%)| Fat: 22g (34%)| Saturated Fat: 10g (63%)| Polyunsaturated Fat: 11g| Cholesterol: 66mg (22%)| Sodium: 435mg (19%)| Fiber: 1g (4%)| Sugar: 3g (3%)| Net Carbs: 5g (10%)
Want To Save This Recipe?