Healthy stuffed peppers are a simple way to get dinner on the table! I skipped the rice and filled these peppers with a cheesy spinach artichoke dip mixture.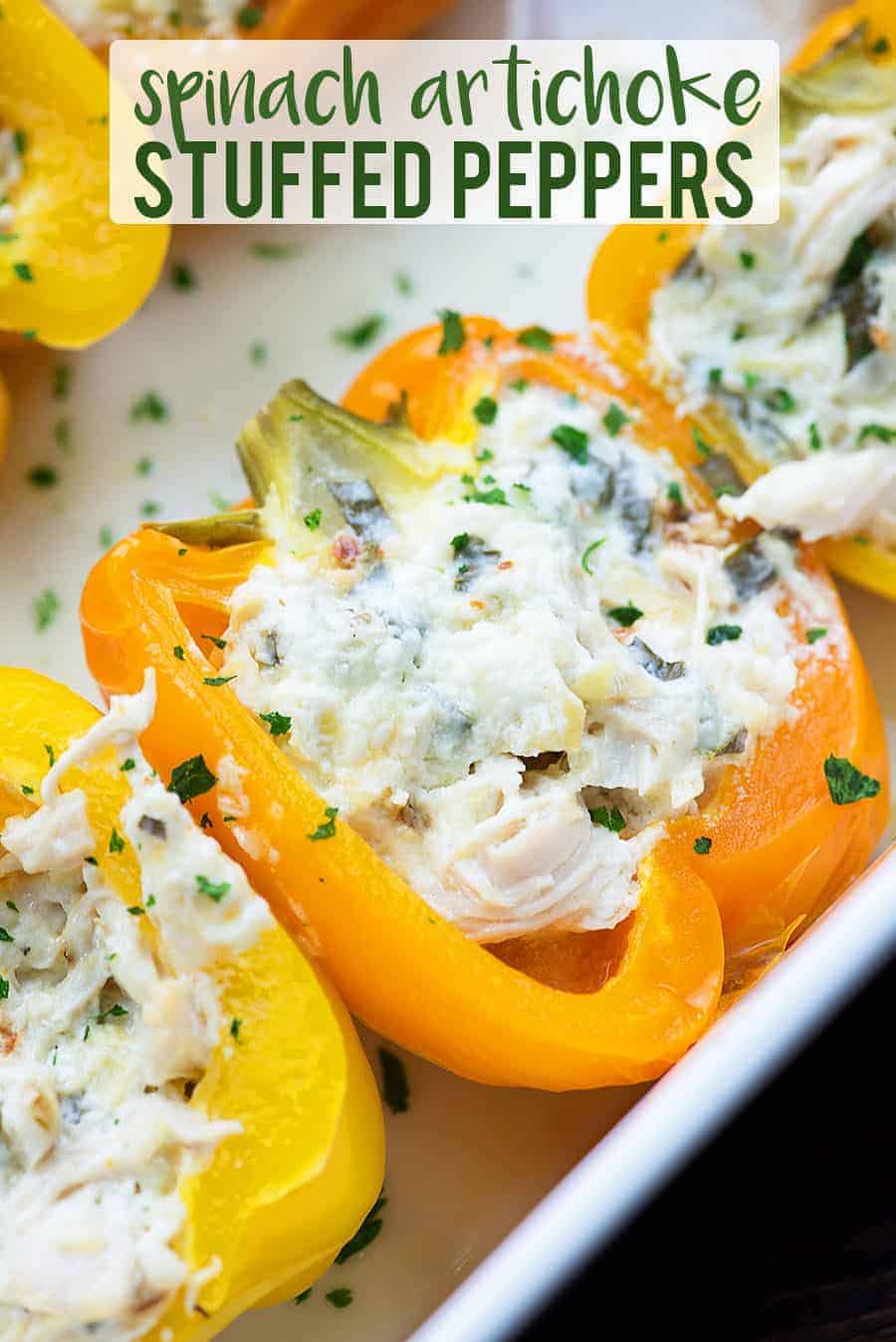 When it comes to dinner, I'm always looking for easy. I'm a busy mom with a couple of teenagers who are basically always hungry.
We also homeschool, so that means I'm responsible for 3 meals a day for these people. That's a lot of meals, guys.
My kids love cheesy spinach artichoke dip, so I knew that turning this into a stuffed peppers recipe would both be a win for them and a win for our low carb lifestyle.
Low carb stuffed peppers are so good!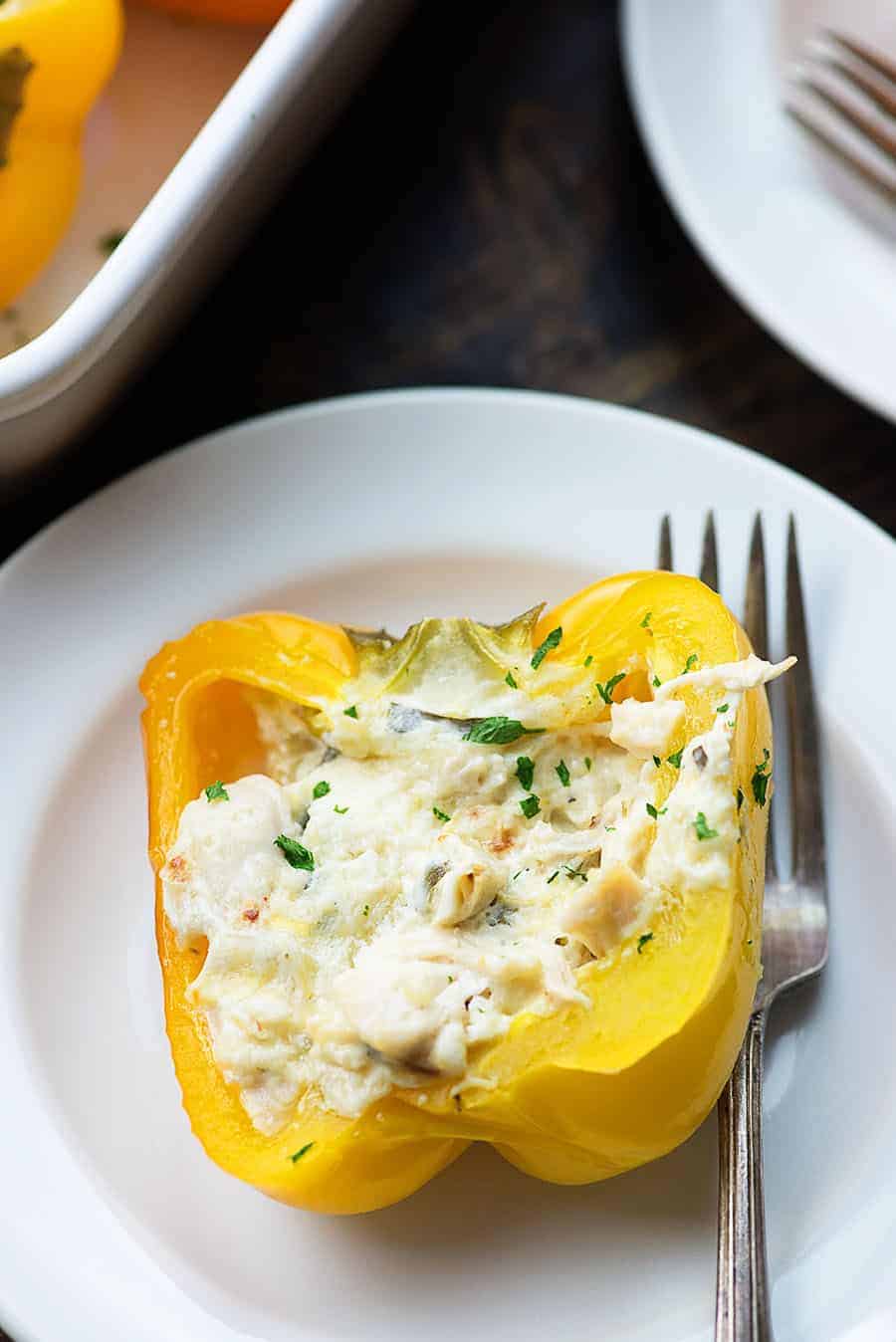 Keto stuffed peppers:
To keep these low carb, you'll skip the rice that usually hides out inside stuffed peppers.
Instead, we're going to do a spinach artichoke chicken mixture.
I don't know about you, but I love gooey, melty, cheesy dinners and this one doesn't disappoint!
I took my recipe for the best spinach artichoke dip, added some chicken, and stuffed it all inside bell peppers.
This keeps the recipe low in carbs and high in flavor. Each pepper half has 3 net carbs – not too bad at all. And, of course, these peppers are super filling thanks to all the cream cheese and chicken!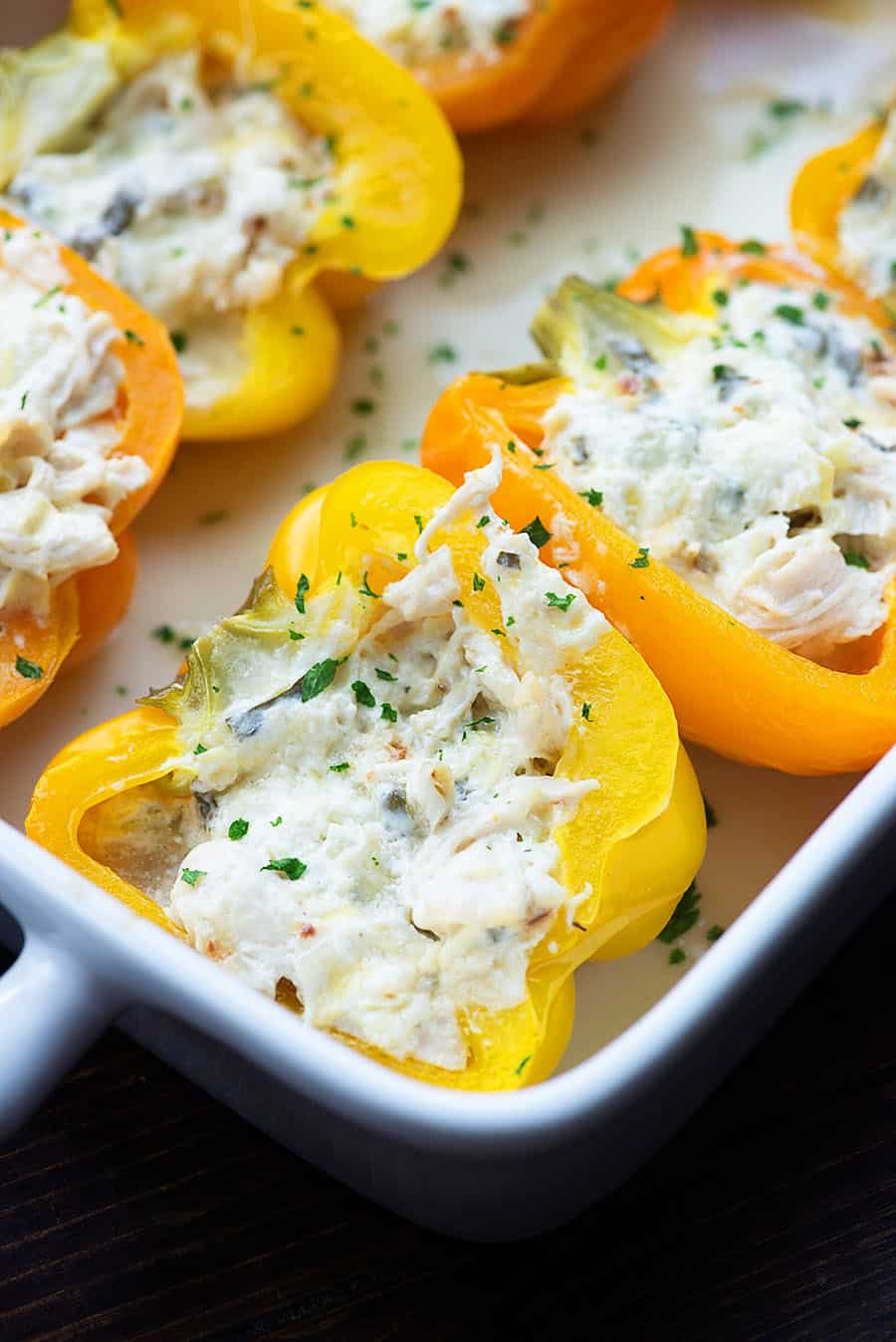 Baked stuffed peppers recipe:
A lot of people parboil their peppers before stuffing and baking.
Not me!!
It seems like a waste of time, if we're being honest. I mean, I get perfectly steamed, tender-crisp peppers by following one little method.
Stuff your peppers and add them to your baking dish. Add two tablespoons of water to the bottom of the dish and then cover tightly with foil.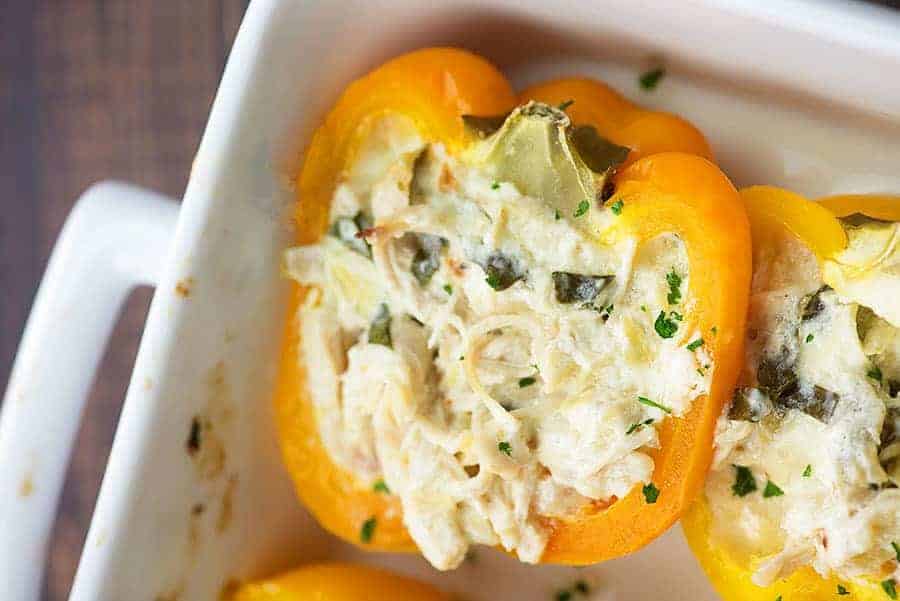 Bake the peppers at 350 degrees for about 35 minutes.
The peppers come out nice and steamy. They're perfectly cooked with this method and it's so much faster than bringing a pot of water to a boil, boiling the peppers, and then baking. Just completely eliminate that step!
Give my stuffed peppers recipe a try and let me know what you think.
I absolutely love healthy stuffed peppers. I have a recipe for jalapeno popper stuffed peppers too, if you'd like to give that one a try!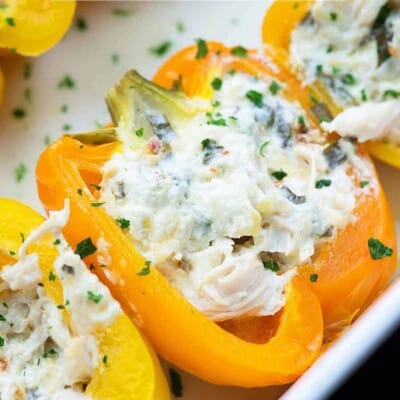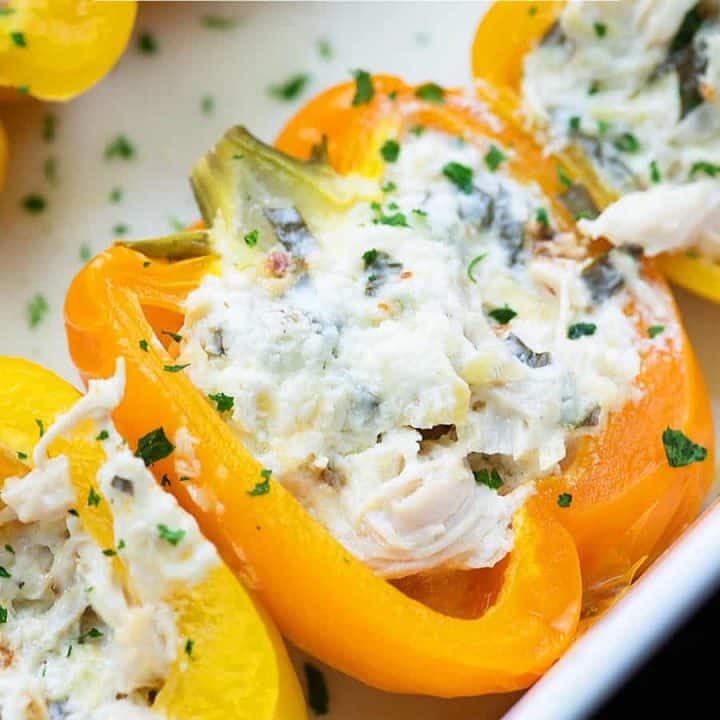 Spinach Artichoke Stuffed Peppers
These healthy stuffed peppers are perfect for a low carb diet! They're full of spinach artichoke dip and shredded chicken for a tasty meal served up in a pepper.
Prep10 minutes
Cook35 minutes
Total45 minutes
Ingredients
4 bell peppers any color
6 ounces cream cheese room temperature
1/3 cup grated Mozzarella
¼ cup grated Parmesan
2 tablespoons mayonnaise
1 clove garlic minced
1 cup chopped baby spinach
4 ounces artichoke hearts diced
¼ teaspoon red pepper flakes
¼ teaspoon salt
¼ teaspoon pepper
1 cup cooked shredded chicken
Instructions
Preheat oven to 350 degrees. Add 2 tablespoons of water to a 9x13 baking dish.

Slice each pepper in half from top to bottom. Remove the membrane and seeds and place the pepper halves in a 9x13 baking dish.

Add the cream cheese, mozzarella, Parmesan, mayonnaise, garlic, artichoke hearts, spinach, red pepper flakes, salt, and pepper to a medium mixing bowl. Stir well to combine.

Add the chicken to the mixture and stir to combine.

Spoon the filling evenly into each pepper and place the peppers in the prepared dish.

Cover the pan tightly with foil and bake for 35 minutes, or until the peppers are done to your liking.

Serve immediately.
Tips & Notes:
Any color of bell pepper works well in this recipe.
Nutrition Information:
Serving: 1pepper havle| Calories: 178kcal (9%)| Carbohydrates: 7g (2%)| Protein: 9g (18%)| Fat: 13g (20%)| Saturated Fat: 6g (38%)| Polyunsaturated Fat: 6g| Cholesterol: 42mg (14%)| Sodium: 265mg (12%)| Fiber: 2g (8%)| Sugar: 3g (3%)| Net Carbs: 5g (10%)
Want To Save This Recipe?