These healthy stuffed peppers are a simple way to get dinner on the table! I skipped the usual ground beef and rice and filled these peppers with a cheesy spinach artichoke dip mixture for a hearty meal that the family loves!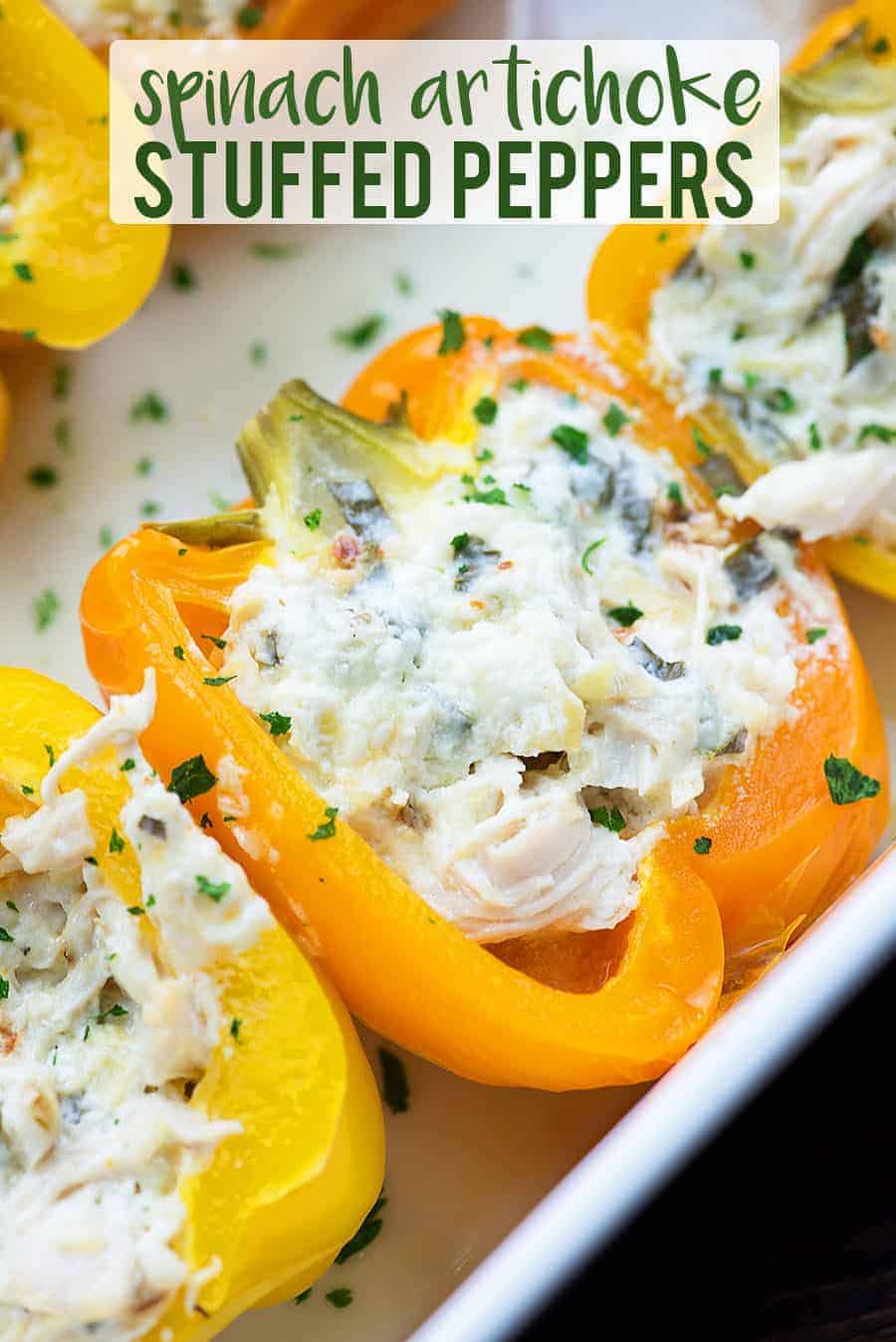 When it comes to dinner, I'm always looking for easy. I'm a busy mom with a couple of teenagers who are basically always hungry.
We also homeschool, so that means I'm responsible for 3 meals a day for these people. That's a lot of meals, you guys.
I took my recipe for the best spinach artichoke dip, added some chicken, and stuffed it all inside bell peppers. My kids love that dip so I knew this would be a huge win, similar to our keto stuffed mushrooms!
Low carb stuffed peppers are so good and this one was easy to whip up.
Ingredient Notes:
This post contains affiliate links. As an Amazon associate and member of other affiliate programs, I earn from qualifying purchases.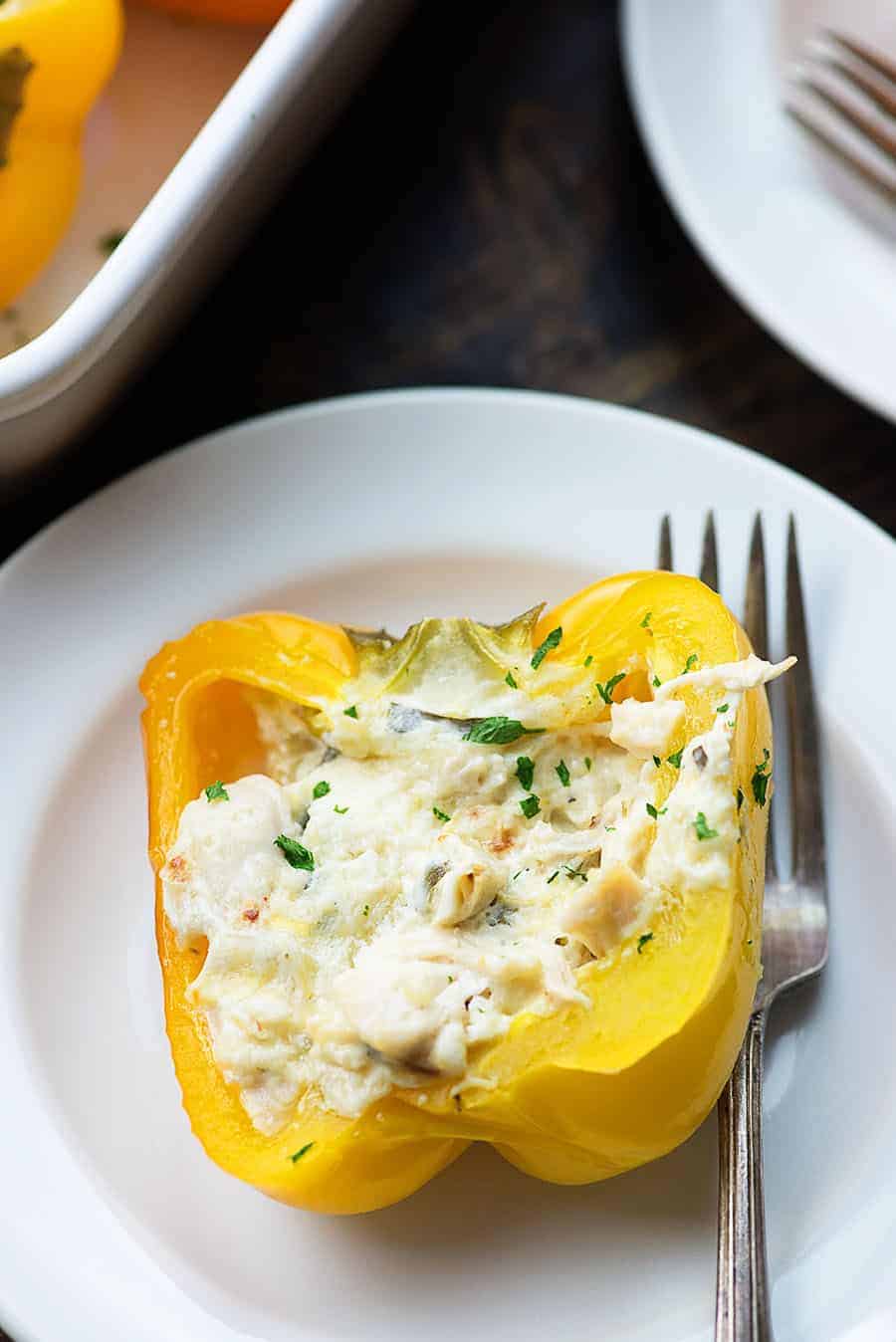 Bell Peppers – You can use any color of bell pepper that you like! Green do have the least amount of carbs, but the difference is pretty small.
Cheese – These cheesy stuffed peppers start with room temperature cream cheese. You'll also need shredded mozzarella and Parmesan.
Mayonnaise – This will more creamy goodness to the stuffed peppers along with the cream cheese.
Garlic – Mixing a bit of minced garlic into the filling is a simple way to add good flavor!
Chicken – I'm starting this with already cooked, shredded chicken. You can make your own ahead of time or pick up a rotisserie chicken from the store!
Baby Spinach – It goes great with the creamy, cheesy, and artichoke flavors plus it adds a nice nutritious boost!
Artichoke Hearts – Keep it simple and use either canned or jarred artichoke hearts to prepare the spinach artichoke dip filling.
Seasoning – Just a bit of salt, pepper, and some red pepper flakes. The red pepper doesn't add much heat. You can omit it if you like, or add more!
Why We Love This Recipe:
We love stuffed peppers! They make a great low carb substitute for bread and are perfect for stuffing with lots of cheesy, savory good stuff.
Everyone loves dip and this recipe turns it into a meal!
We buy rotisserie chicken from the store every week and love quick recipes like this to use it up.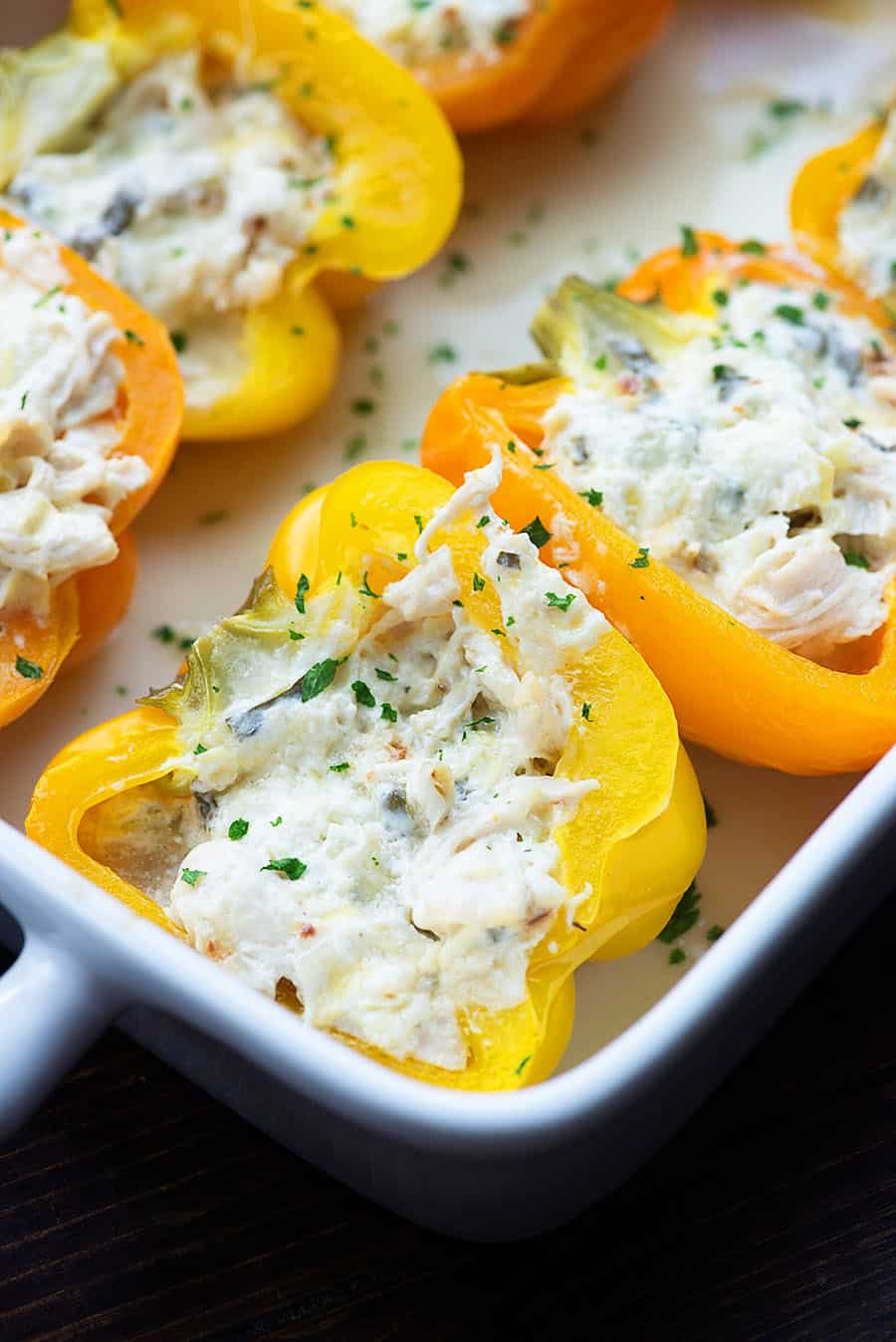 How To Make Baked Stuffed Peppers:
Prepare – To get started you'll need to prepare the peppers by slicing them and removing the seeds and membranes. See the section below for more info on how to cut the peppers.
Filling – To make the spinach artichoke dip that's being used as the filling for the stuffed peppers simply add the cheeses, chicken, mayo, spinach, artichokes hearts and seasoning to a mixing bowl and stir well to combine!
Stuff – Now spoon an even amount of the spinach artichoke mixture into each pepper half to finish stuffing. Place each in a 9×13 baking dish with two tablespoons of water in the dish.
Bake – Cover the baking dish tightly with aluminum foil and bake for 35 minutes. The water will create steam that'll cook the peppers until they're nice and tender while the cheesy artichoke stuffing bakes in the center.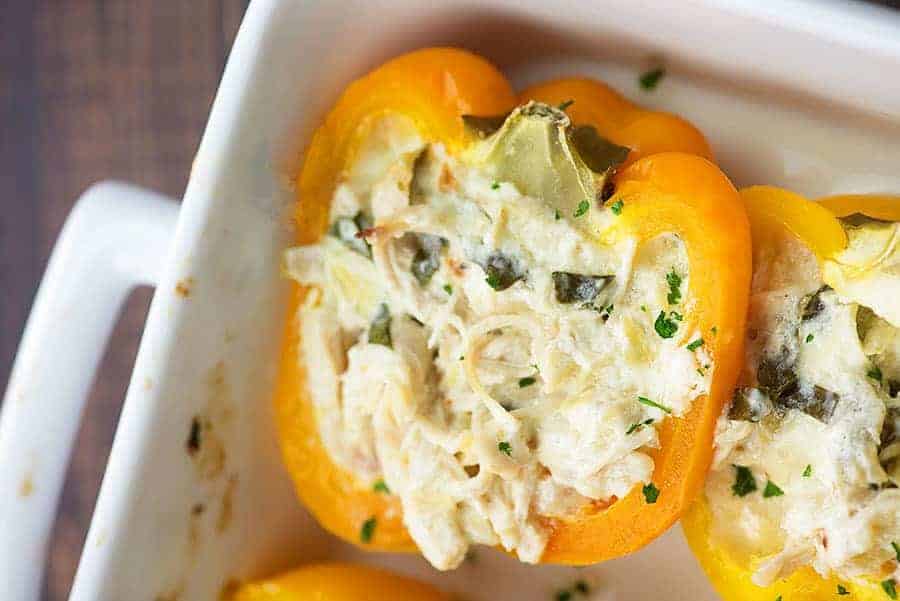 How To Cut Peppers For Stuffing:
I always cut peppers into halves and then remove the seeds and membranes. Another method is to cut the top off and then scoop out the seeds and membrane. I prefer slicing them into halves for a couple of reasons:
1.) Peppers do contain carbs and by cutting them in half, you're really maximizing the amount of filling per pepper and making it a whole lot easier to eat half of a pepper rather than a full pepper.
2.) It's a heck of a lot easier to fill and cook a pepper laying down on it's side than it is to get them to stand up on their ends. Some peppers are weirdly shaped on the bottom and just don't want to stand up for you, ya know?
FAQ's:
How to store stuffed peppers?
You can keep these spinach artichoke stuffed peppers in an airtight container in the refrigerator for about 3 to 4 days. Reheat in the microwave.
Do red peppers have more carbs than green?
Red bell peppers do have more carbs than green bell peppers, due to the increase in natural sugars as the peppers have ripened. A whole red bell pepper has 7 carbs and a whole green pepper has 6 carbs. The difference is negligible, so use what you like!
MORE LOW CARB STUFFED PEPPER RECIPES!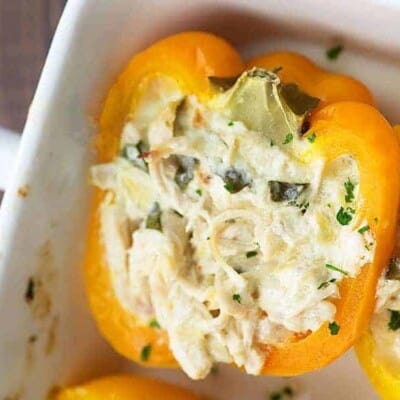 Spinach Artichoke Stuffed Peppers
These healthy stuffed peppers are perfect for a low carb diet! They're full of spinach artichoke dip and shredded chicken for a tasty meal served up in a pepper.
Prep10 minutes
Cook35 minutes
Total45 minutes
Ingredients
4 bell peppers any color
6 ounces cream cheese room temperature
1/3 cup grated Mozzarella
¼ cup grated Parmesan
2 tablespoons mayonnaise
1 clove garlic minced
1 cup chopped baby spinach
4 ounces artichoke hearts diced
¼ teaspoon red pepper flakes
¼ teaspoon salt
¼ teaspoon pepper
1 cup cooked shredded chicken
Instructions
Preheat oven to 350 degrees. Add 2 tablespoons of water to a 9×13 baking dish.

Slice each pepper in half from top to bottom. Remove the membrane and seeds and place the pepper halves in a 9×13 baking dish.

Add the cream cheese, mozzarella, Parmesan, mayonnaise, garlic, artichoke hearts, spinach, red pepper flakes, salt, and pepper to a medium mixing bowl. Stir well to combine.

Add the chicken to the mixture and stir to combine.

Spoon the filling evenly into each pepper and place the peppers in the prepared dish.

Cover the pan tightly with foil and bake for 35 minutes, or until the peppers are done to your liking.

Serve immediately.
Tips & Notes:
Any color of bell pepper works well in this recipe.
Nutrition Information:
Serving: 1pepper havle| Calories: 178kcal (9%)| Carbohydrates: 7g (2%)| Protein: 9g (18%)| Fat: 13g (20%)| Saturated Fat: 6g (38%)| Polyunsaturated Fat: 6g| Cholesterol: 42mg (14%)| Sodium: 265mg (12%)| Fiber: 2g (8%)| Sugar: 3g (3%)| Net Carbs: 5g (10%)