These ITALIAN STUFFED PEPPERS are filled with a simple mixture of ground beef (or sausage!), cauliflower rice, tomatoes, and plenty of Italian flavor. The filling is hearty and flavorful and the recipe will be a hit with the whole family.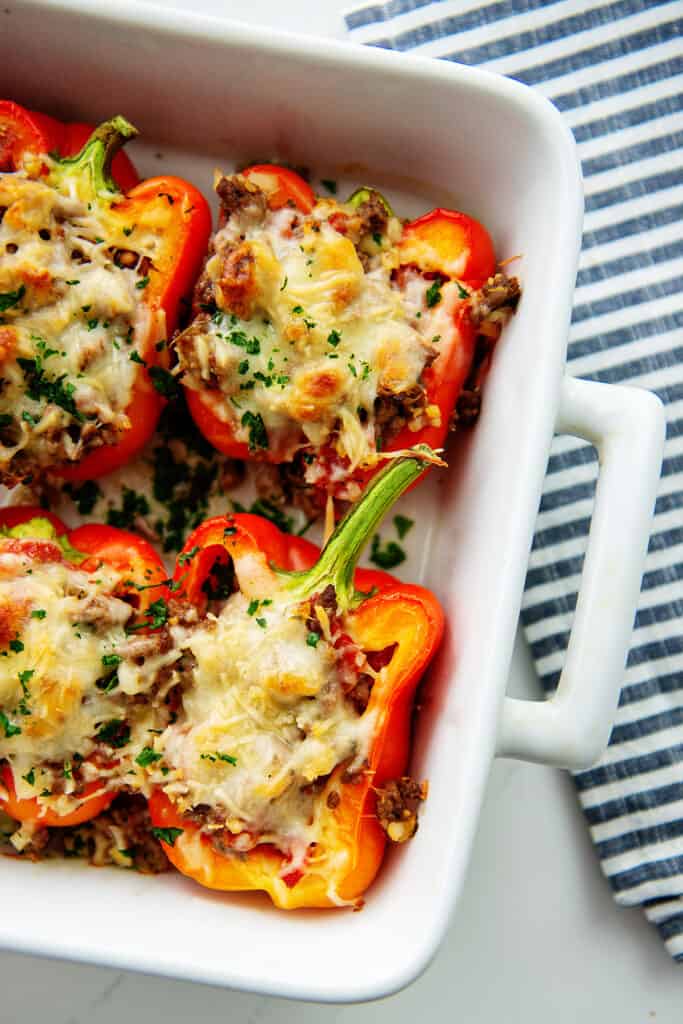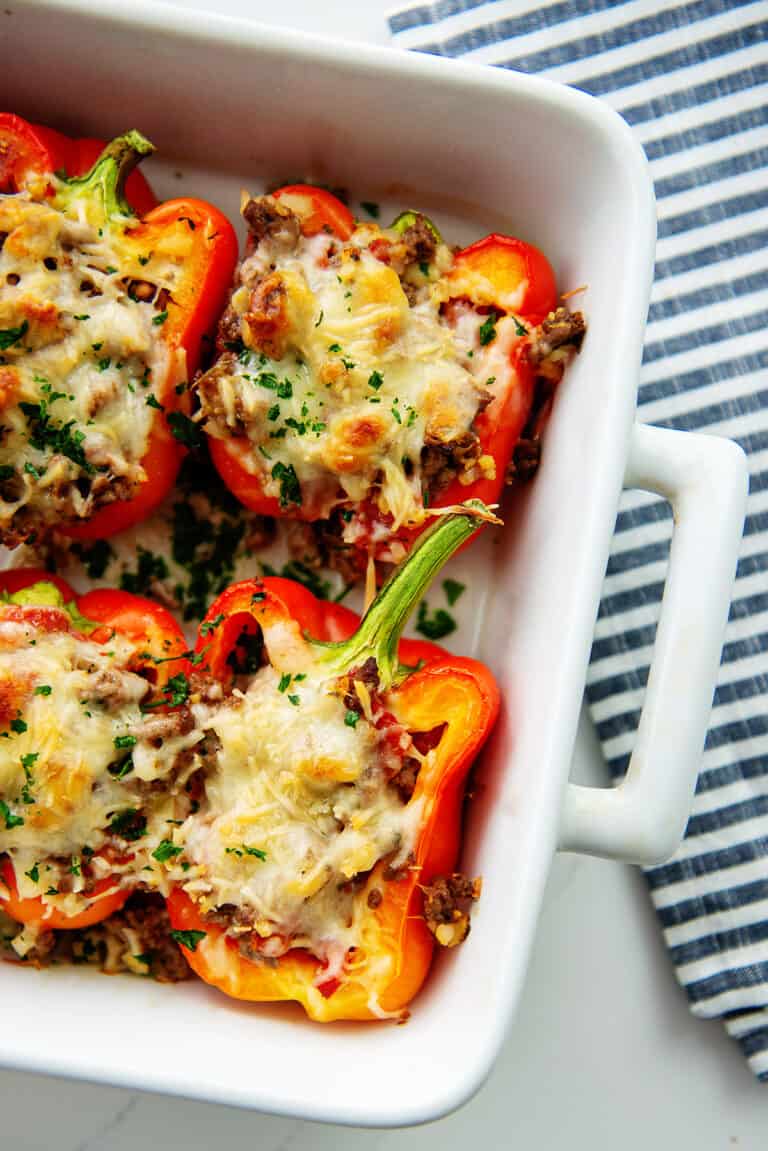 Stuffed peppers are a whole thing in my family…we all love them.
The youngest will just eat the filling out and leave the pepper behind, but that's okay. She's still learning to love peppers. 😉
This Italian stuffed pepper recipe is so flavorful thanks to the Italian seasoning, juicy tomatoes, and garlic.
We also have recipes for chicken stuffed peppers and buffalo chicken stuffed peppers. If you're in love with stuffed peppers, you've got options!
Ingredients:
4 Bell Peppers – grab big ones, so they fit plenty of filling. Any color is fine. We like red.
Lean Beef – I'm not a huge fan of sausage myself, but Italian sausage may also be used here!
Cauliflower Rice – Frozen, steamable, easy.
Diced Tomates – Canned are perfect. Drain the juice.
Garlic
Italian Seasoning
Cheese – We use a mix of mozzarella and Parmesan
Basil or Parsley – for topping off your peppers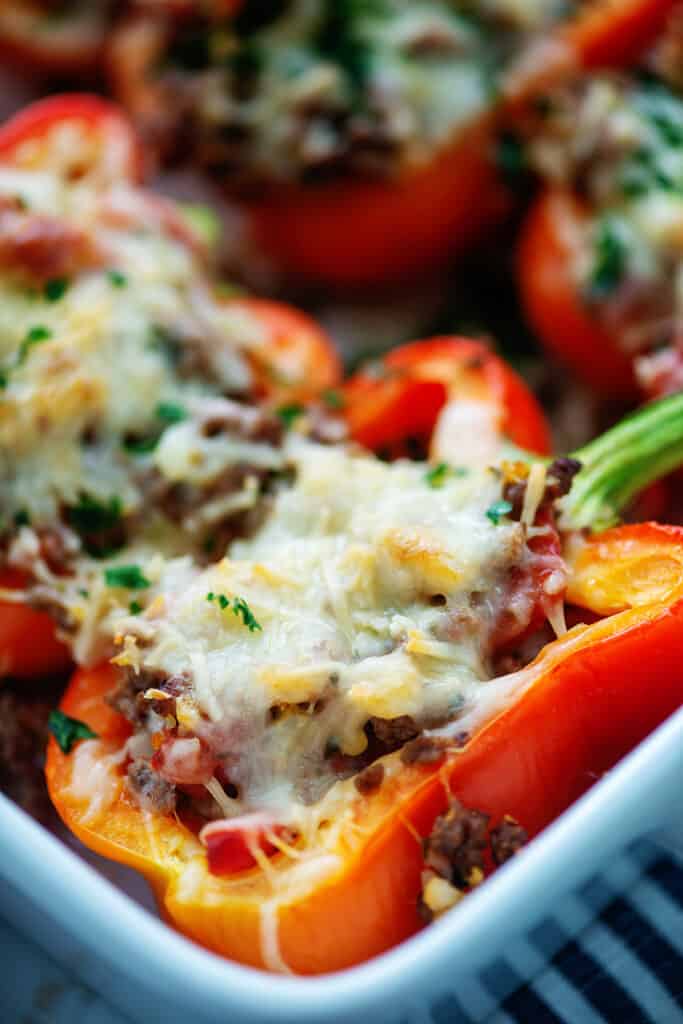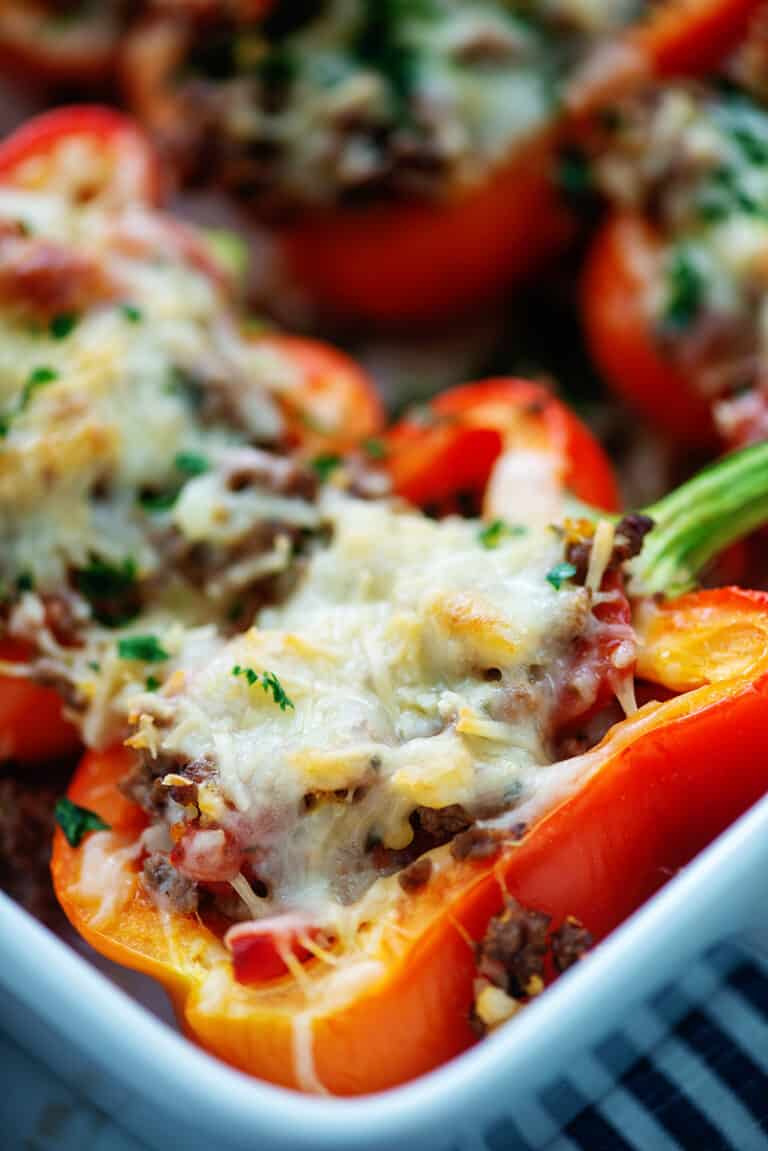 How to:
Prep: Rinse the peppers and cut them in half lengthwise. Scoop out the seeds and membranes and toss those out. Place the halved peppers in a 9×13 baking dish.
Filling: Start by whipping up the filling. Brown some beef and drain the fat. Stir in the cauliflower rice, tomatoes, garlic, seasoning, and cheese.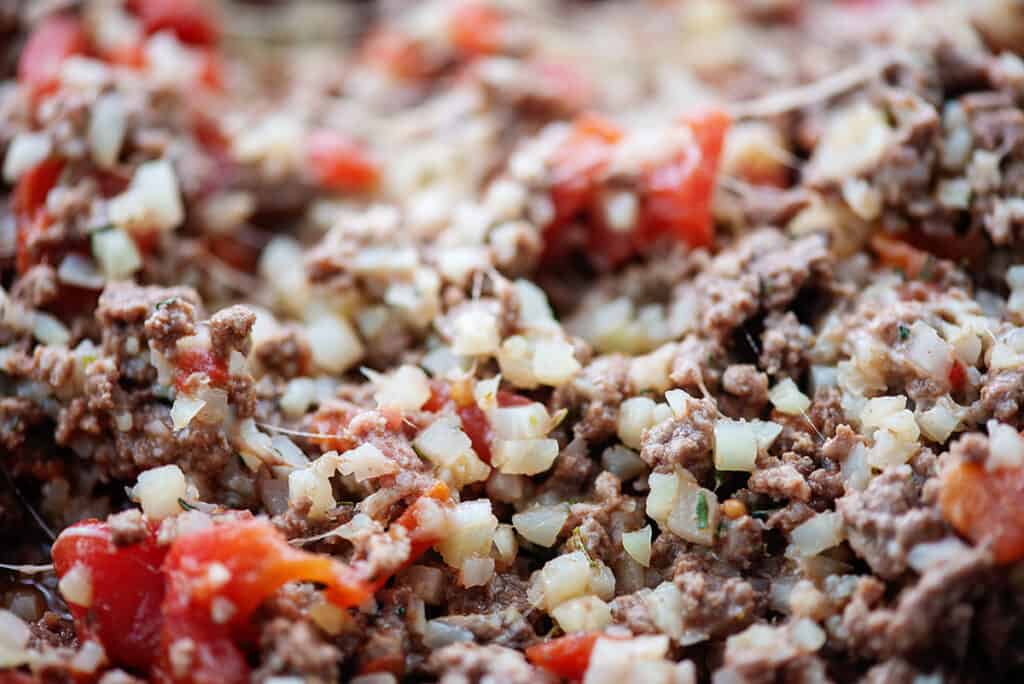 Assemble: Spoon the filling evenly between the peppers. Top with extra cheese. Carefully pour enough water into the pan to cover the bottom. This will allow the peppers to steam as they're cooking in the oven.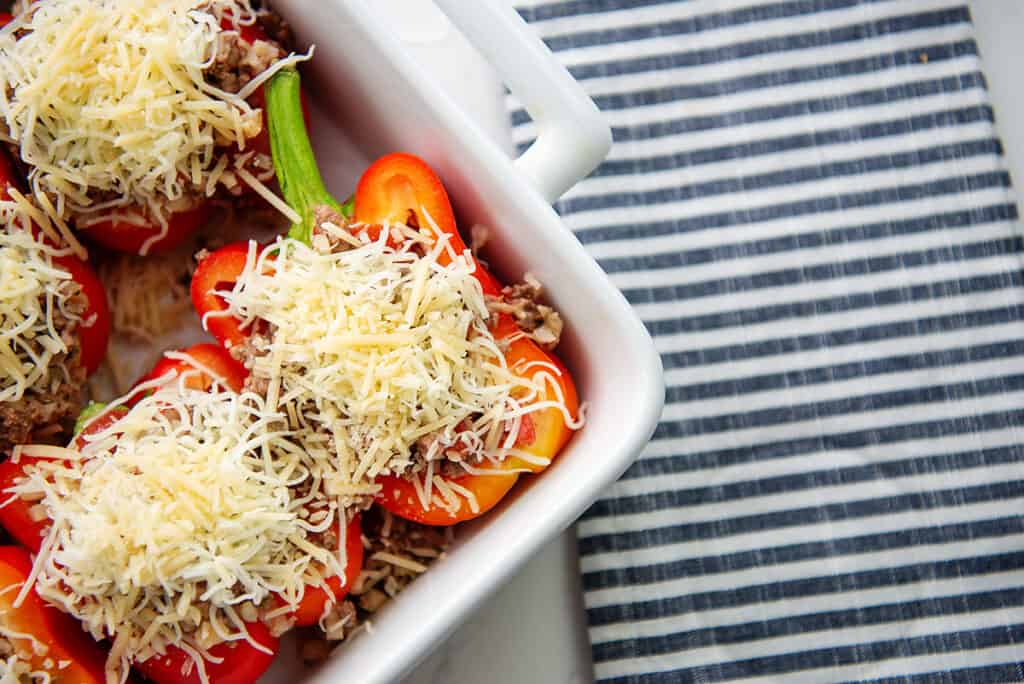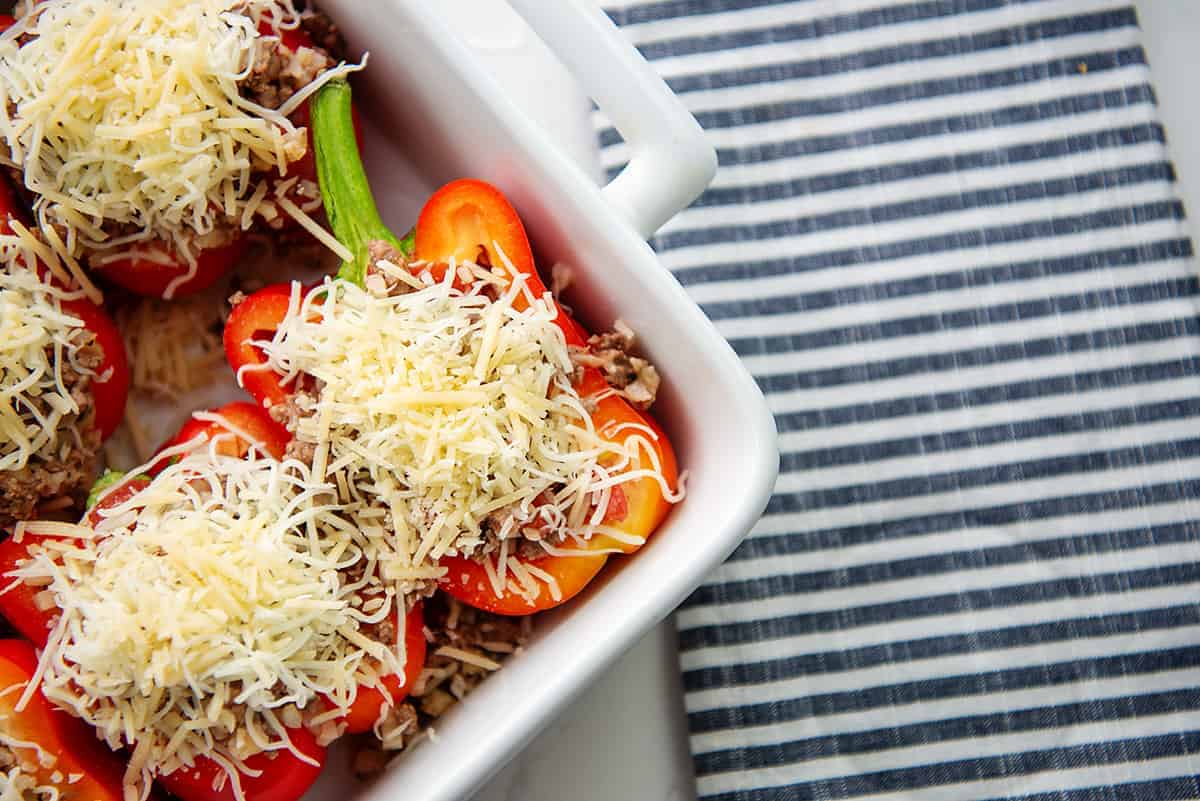 Bake: Wrap the dish tightly in foil and bake for 20 minutes. Remove the foil and bake for another 10 minutes.
Serve: Sprinkle with freshly chopped basil or parsley just before serving.
Swaps & Substitions:
Any color of bell pepper may be used. We prefer red peppers as they're a bit sweeter than green.
Italian sausage is a great swap for ground beef. Just check the nutrition label as it will contain some carbs.
We use a mixture of mozzarella and Parmesan cheese. You could also stir in a couple spoonfuls of ricotta cheese to make these extra creamy.
Add onions if you like, but do know that they'll increase the carb count a bit.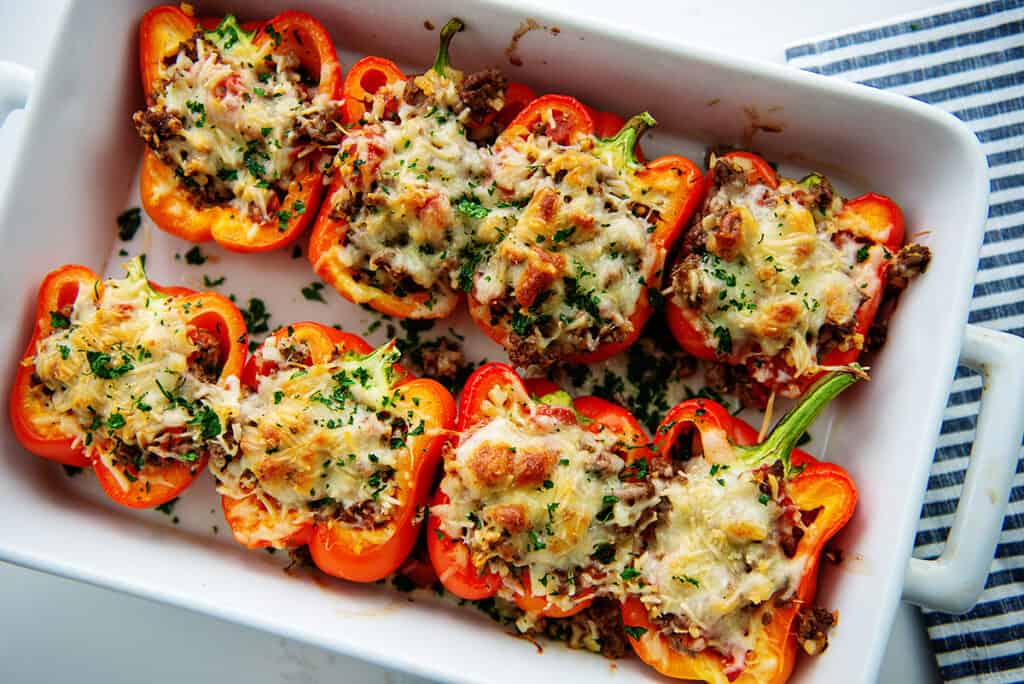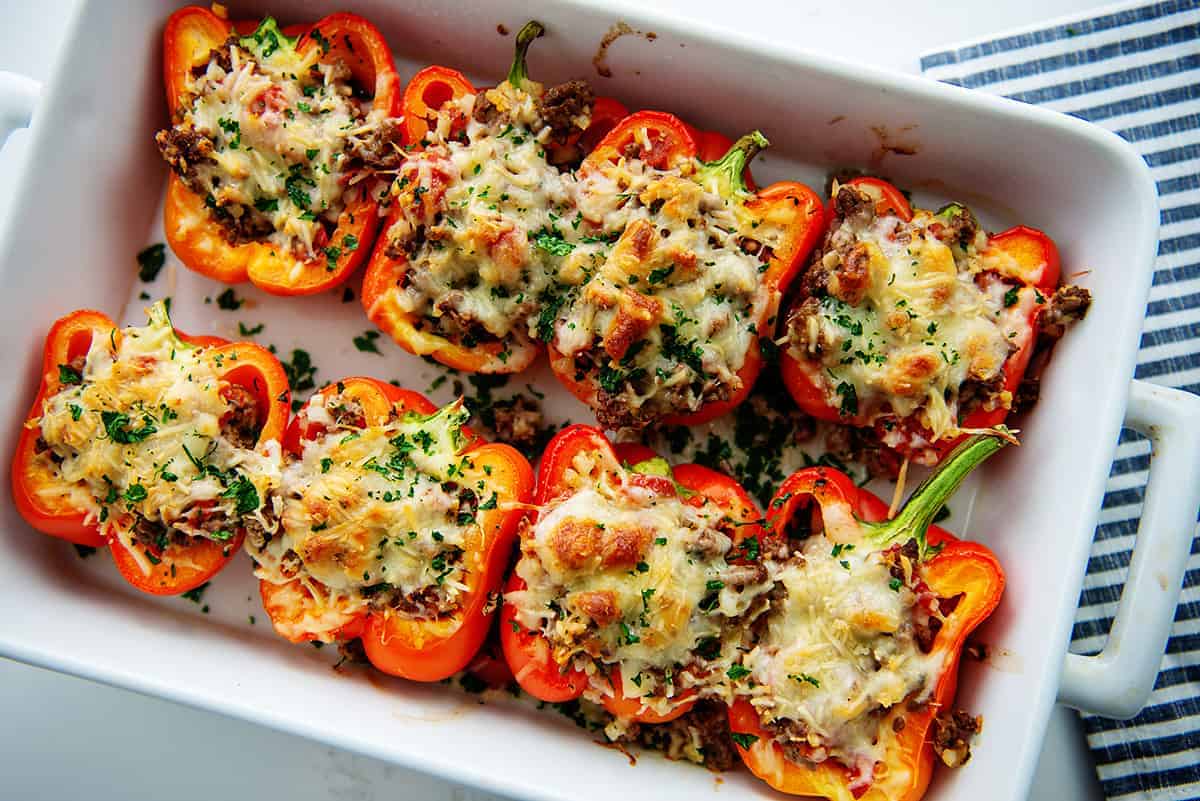 Storage & Reheating:
These will keep well, tightly covered, in the fridge for 3-4 days.
We prefer to reheat these in the microwave as it's quick and simple. Heat on high for 2 minutes or until heated through.
You could also reheat in a 325 degree oven. Cover the dish with foil and bake for 20 minutes or until heated through.
More Italian favorites: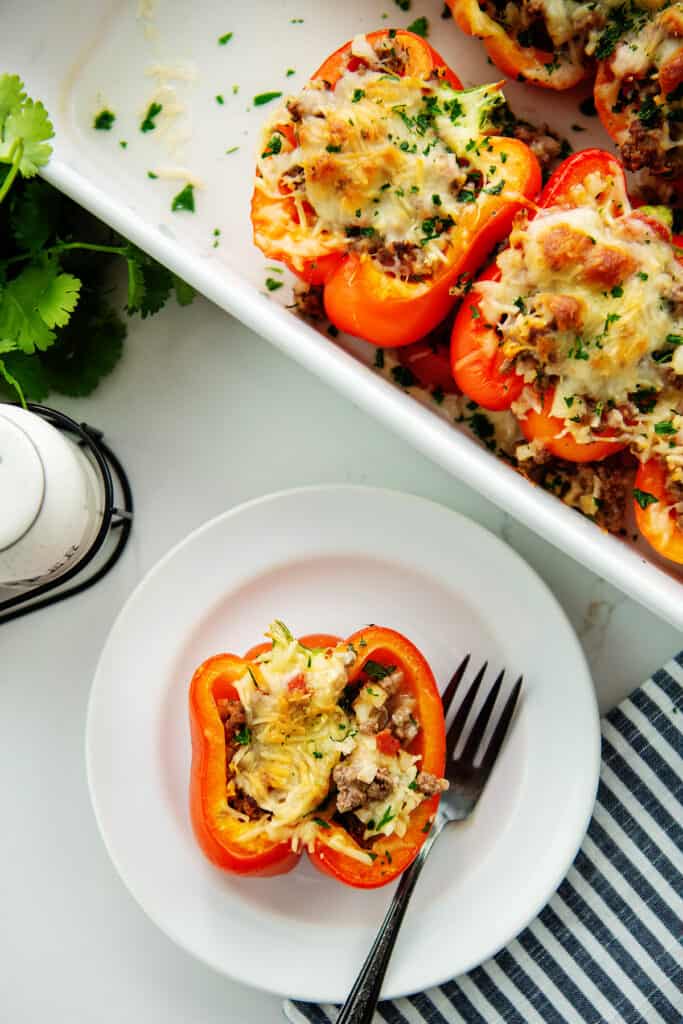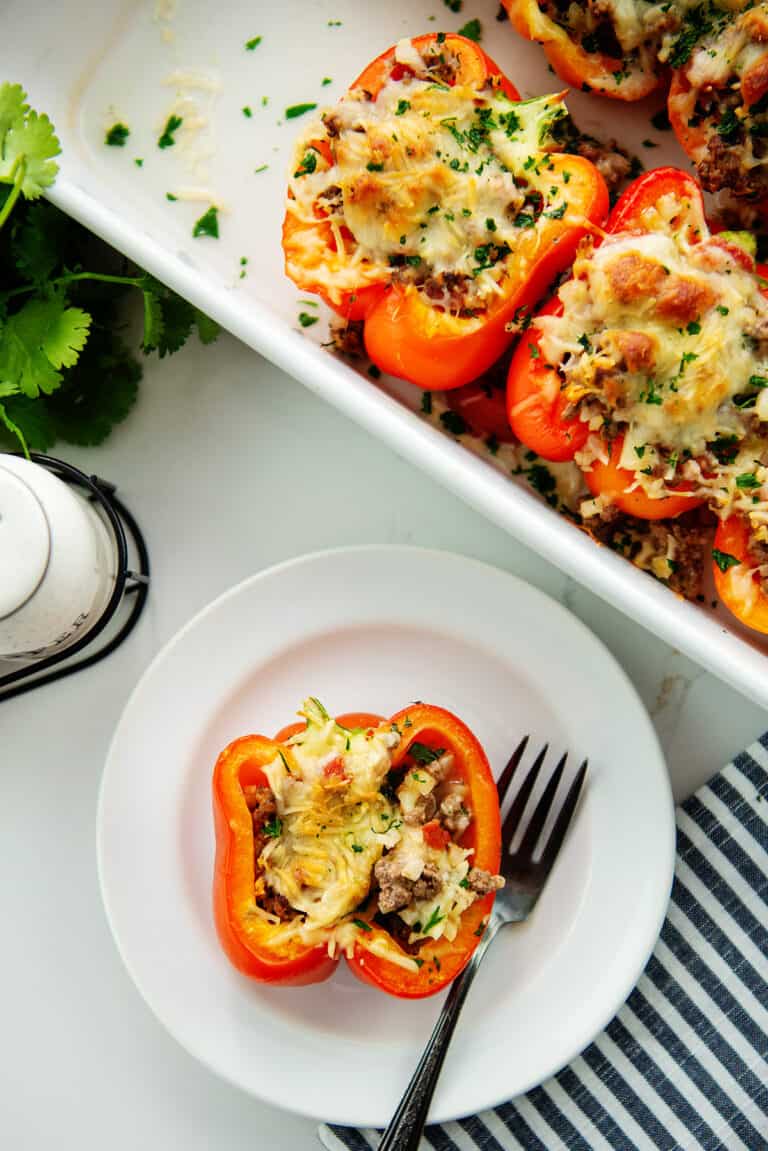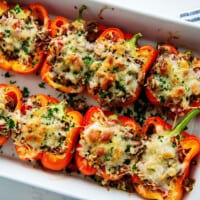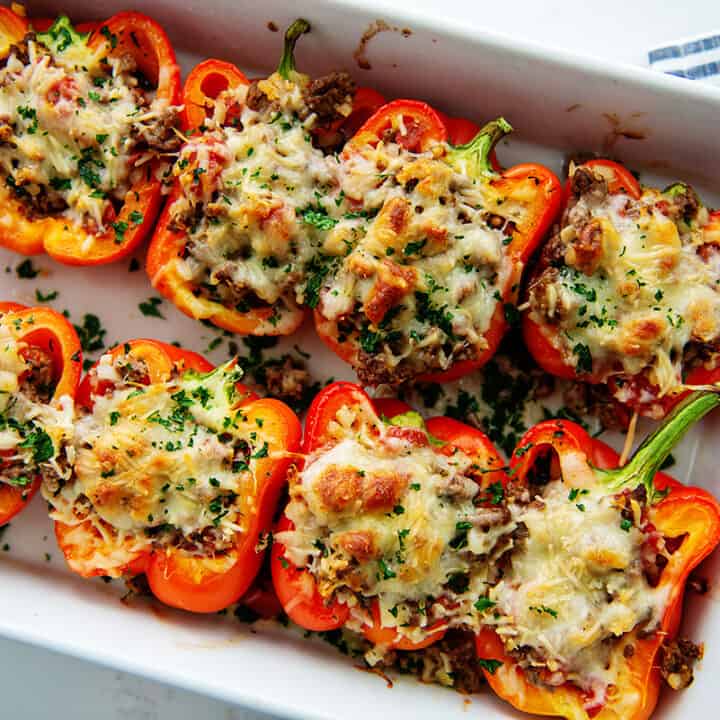 Italian Stuffed Peppers
Tender bell peppers filled with seasoned beef, tomatoes, cauliflower rice, and plenty of cheese make a for a simple, hearty low carb dinner.
Ingredients
4 large peppers, any color
1 pound lean ground beef
10 ounces frozen cauliflower rice
15 ounces canned diced tomatoes, drained
2 cloves garlic, minced
2 teaspoons Italian seasoning
1 teaspoon salt
1 ½ cups shredded mozzarella, divided
½ cup shredded Parmesan
Basil or parsley, for garnish
Instructions
Preheat oven to 375 degrees.
Slice the peppers in half from top to bottom and scoop out the seeds and membranes. Place cut side up in a 9x13 baking dish. Add 2-3 tablespoons of water to the bottom of the pan. There should be just enough water to cover the bottom of the dish.
Brown the beef in a medium skillet over medium heat, crumbling the meat as it cooks. Once browned, drain the grease.
While the beef is cooking, microwave the cauliflower rice according to package directions.
Add the tomatoes, garlic, Italian seasoning, and salt to the beef and stir well to combine.
Remove from the heat and stir in the cauliflower rice and 1 cup of mozzarella cheese.
Spoon the mixture evenly between the peppers and top with the remaining mozzarella and Parmesan.
Cover with foil and bake for 20 minutes. Remove foil and continue baking for 10 minutes or until peppers are as tender as you'd like.
Sprinkle with basil or parsley before serving.
Notes
You may swap Italian sausage for the ground beef, but it will add carbs to the dish.
Nutrition Information:
Yield: 8
Serving Size: 1
Amount Per Serving:
Calories: 235
Total Fat: 12g
Saturated Fat: 5g
Trans Fat: 0g
Unsaturated Fat: 5g
Cholesterol: 65mg
Sodium: 582mg
Carbohydrates: 9g
Net Carbohydrates: 7g
Fiber: 2g
Sugar: 4g
Protein: 24g
All information and tools presented and written within this site are intended for informational purposes only. This information is provided as a courtesy and there is no guarantee that the information is accurate.