AVOCADO DEVILED EGGS are the perfect snack for a low carb or keto diet. Packed with healthy fats and enough protein to get you through, these deviled eggs make a tasty snack that's bursting with guacamole goodness.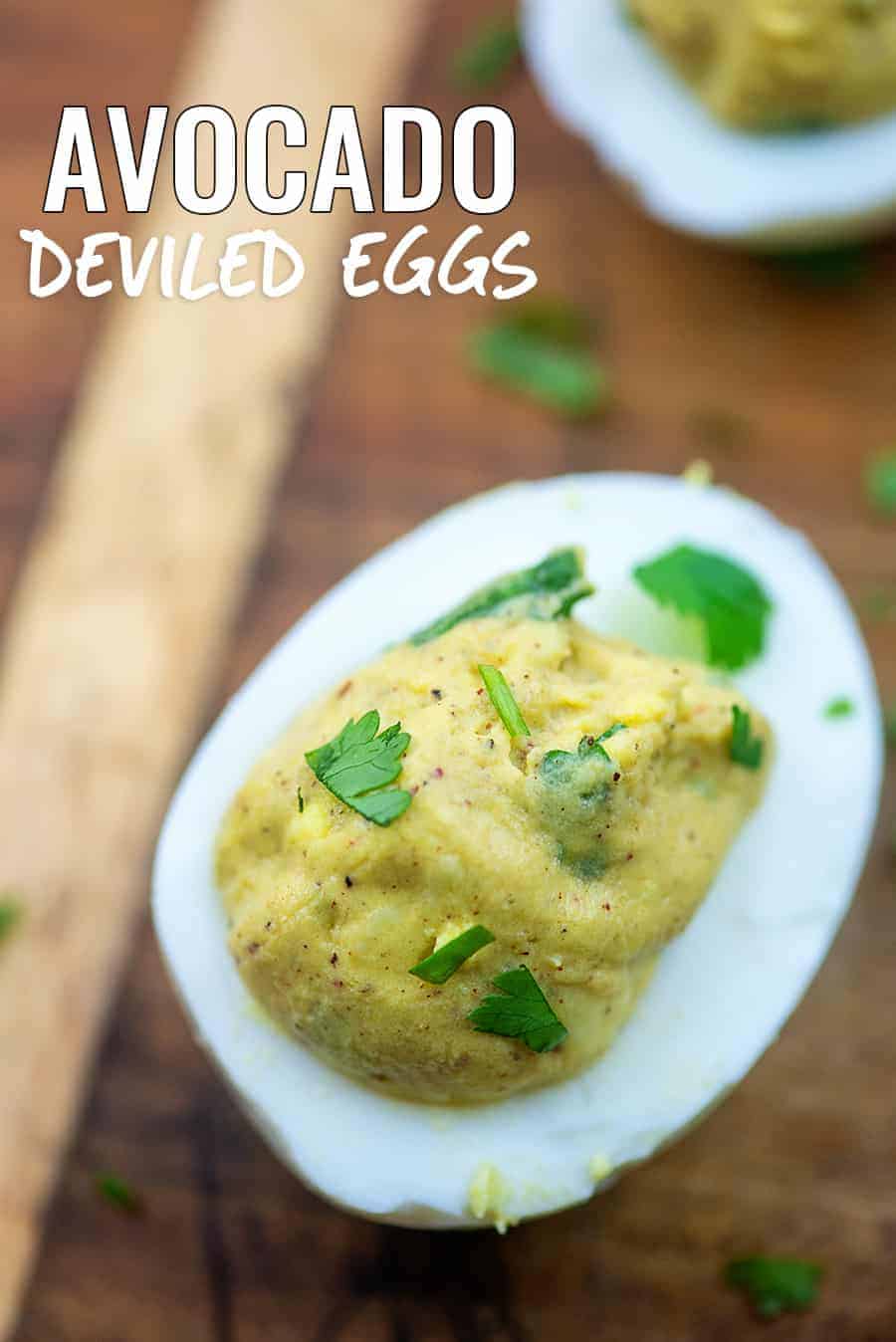 I've said this before and I'll say it again: The key to success is planning ahead.
It's EASY to stick to a low carb lifestyle when you have plenty of low carb options on hand to grab when you're starving.
It's easy to fail when you get to point of being hangry and then you have to stop and think about what low carb option you can come up with.
Fail to plan, plan to fail, and all of that. 😉

Anyway, keeping low carb food all prepped and easy to grab when the hanger strikes is key for me.
Boiled eggs are always in my fridge, sometimes just cooked and ready to eat and sometimes deviled to keep things interesting and fun. They really are the perfect snack!
These keto deviled eggs are often on repeat over here.
(Side note: Have you had pickled eggs? They're a great low carb snack too!)
Deviled eggs without mayo: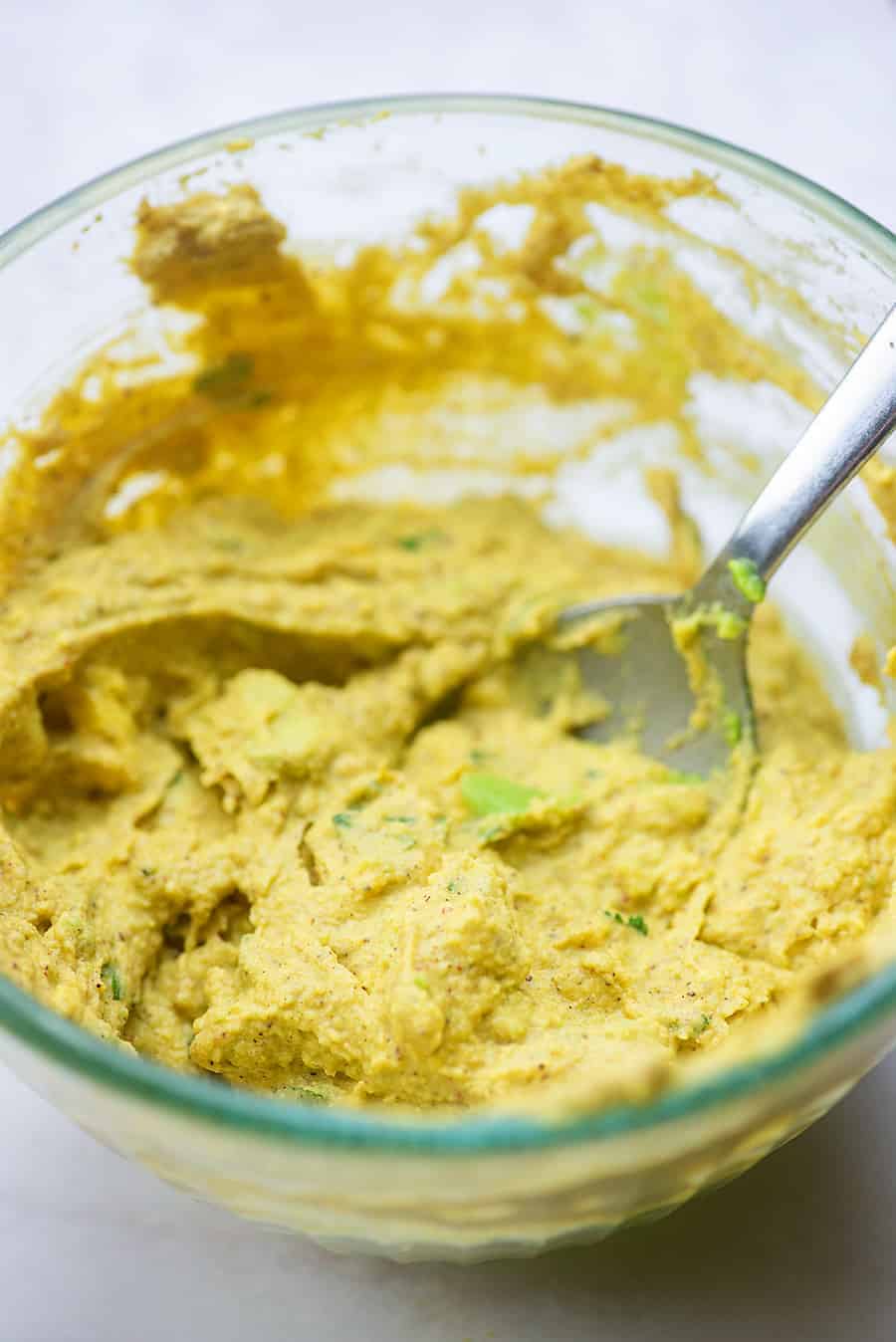 Using avocado makes these eggs so creamy and rich and you can skip the mayo completely!
I personally love mayonnaise, but I've gotten quite a few requests for deviled eggs without mayo, so here we are!
It seems that people either love or hate mayonnaise. Every time I include it in a recipe, I'm ALWAYS asked if it can be left out or swapped for something else.
Guacamole deviled eggs:
We're basically creating a super basic guacamole and adding in the egg yolks to fill our eggs.
You'll need avocado, sour cream, lime juice, cilantro, chili powder, cumin, onion powder, garlic powder, and salt.
Once your eggs are cooked, slice them in half, and pop out the yolks into a mixing bowl. Add the remaining ingredients to the yolks and start mashing it all together.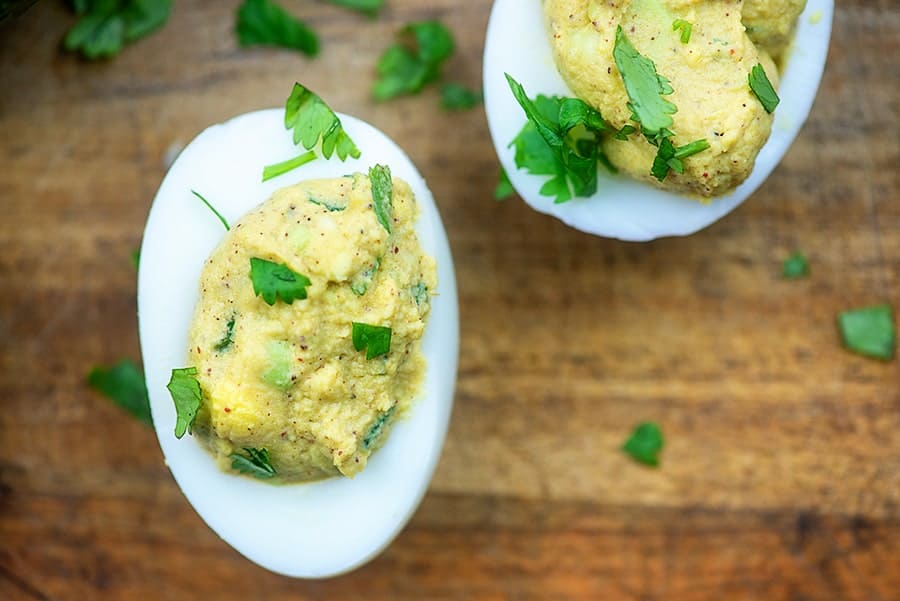 You can spoon this mixture into the eggs or you can spoon the mixture into a baggie and then snip off the corner to pipe it into the eggs. Either works!
We sprinkle cilantro over the time and dig in!
The lime juice helps prevent these from browning right away, but they will change color after a few hours in the fridge. To keep them looking fresh the longest, cover them in plastic wrap making sure to press the plastic down onto the filling of each egg. The less air that can get to the avocado, the better.
More low carb avocado recipes:
My avocado chicken salad and avocado egg salad are two favorites around here.
Speaking of salad, this avocado salad dressing is always a hit.
This keto smoothie uses avocado as the base to make it thick, creamy, and filling.
And if you love guacamole, you just can't go wrong with my guacamole chicken melt!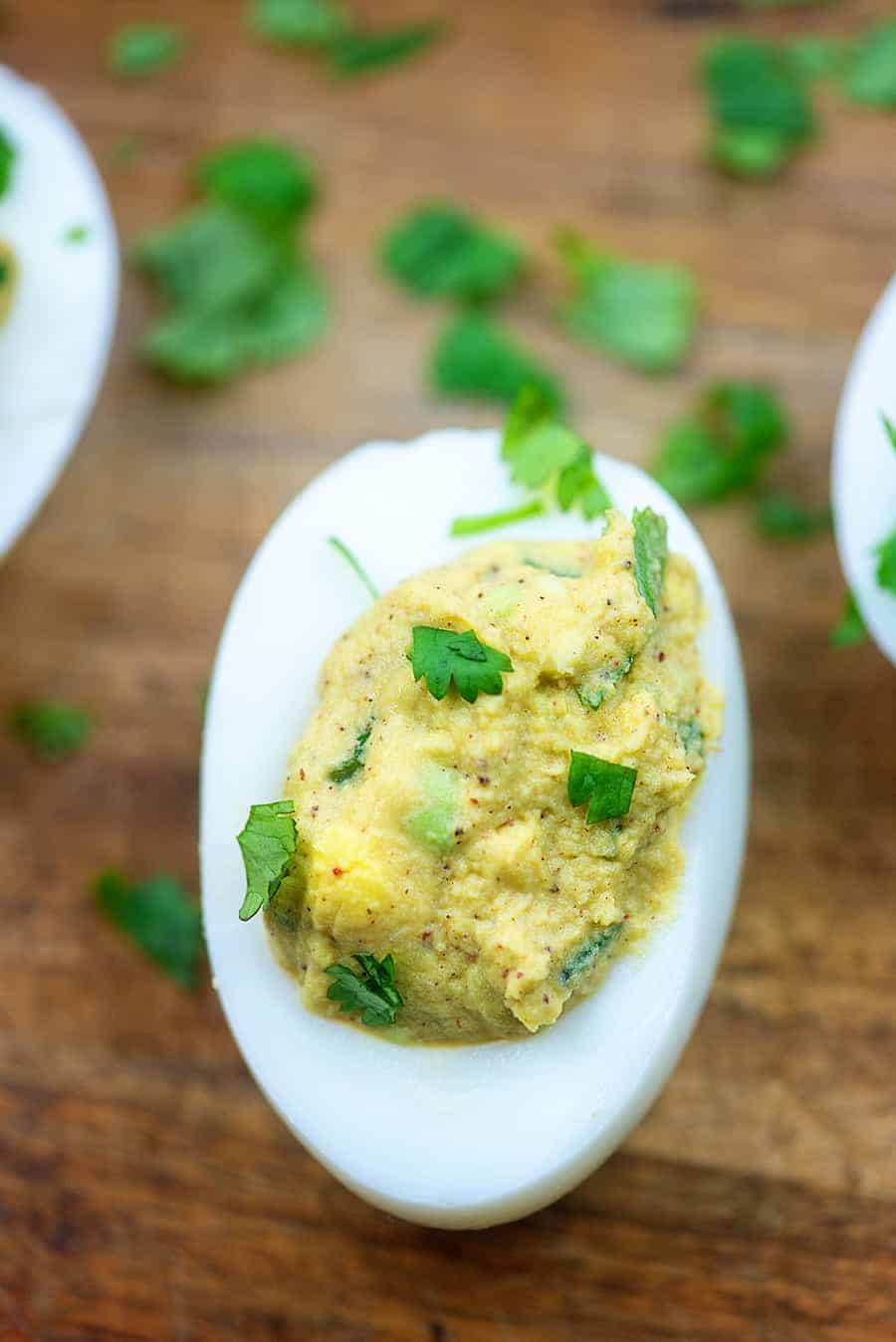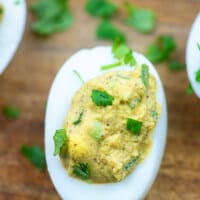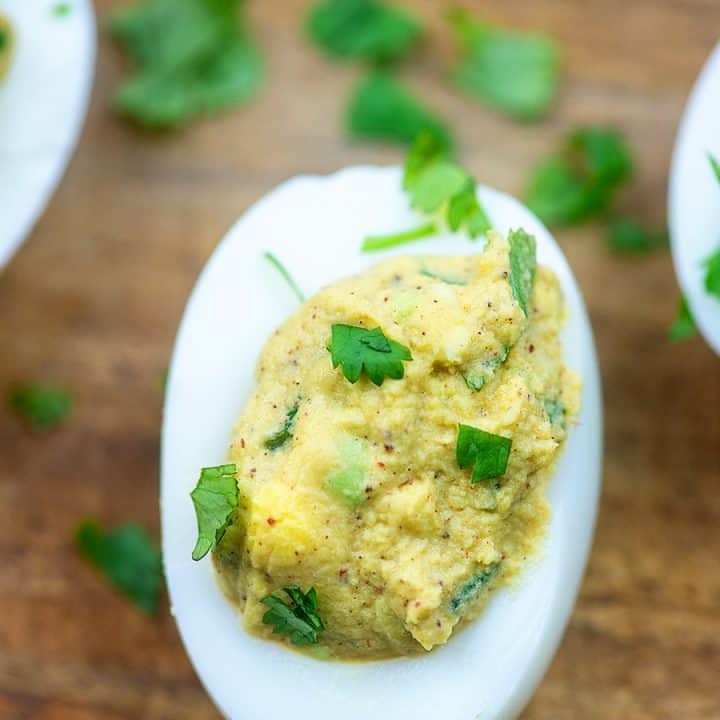 Avocado Deviled Eggs
These deviled eggs have no mayonnaise, but they still turn out so creamy and filling thanks to the avocado and sour cream. If you love guacamole, you'll love these eggs.
Ingredients
6 hard boiled eggs
1 large ripe avocado
Juice of ½ lime
2 tablespoons sour cream
1 tablespoon minced cilantro
1 teaspoon onion powder
1 teaspoon garlic powder
1 teaspoon chili powder
1 teaspoon salt
Instructions
Peel the eggs and slice in half lengthwise. Remove the yolks from the whites and place yolks in a small bowl. Set whites aside.
Add the avocado, lime juice, sour cream, cilantro, onion powder, garlic powder, chili powder, and salt to the yolks and mash together with a fork until smooth and creamy. Add additional sour cream, if desired, to reach your preferred consistency.
Spoon or pipe the filling into the egg whites.
Lightly sprinkle with extra cilantro, if desired.
Notes
The avocados will start to brown after an hour or two. To make ahead, boil the eggs and make the filling. Store the filling in a zip top bag with all of the air squeezed out for 1-2 days in the fridge. Fill the eggs just before serving.
Nutrition Information:
Yield: 12
Serving Size: 1 deviled egg
Amount Per Serving:
Calories: 67
Total Fat: 5g
Saturated Fat: 1g
Trans Fat: 0g
Unsaturated Fat: 3g
Cholesterol: 108mg
Sodium: 228mg
Carbohydrates: 2g
Net Carbohydrates: 1g
Fiber: 1g
Sugar: 1g
Sugar Alcohols: 0g
Protein: 4g
All information and tools presented and written within this site are intended for informational purposes only. This information is provided as a courtesy and there is no guarantee that the information is accurate.