Deviled Egg Salad is a fun twist on traditional egg salad! It's packed with flavor, low carb, and makes a great lunch.
I can't imagine living a low carb life without eggs. They're the perfect food, if you ask me!
Low in carbs, packed with protein, and so versatile.

We often have scrambled or fried eggs for breakfast, avocado egg salad for lunch, boiled eggs for a snack, and deviled eggs with dinner.
We eat a lot of eggs in our house, is what I'm saying.
My keto deviled eggs are a favorite, thanks to the addition of bacon and cheddar!
This deviled egg salad is a mash up of classic deviled eggs and egg salad and I couldn't love it more!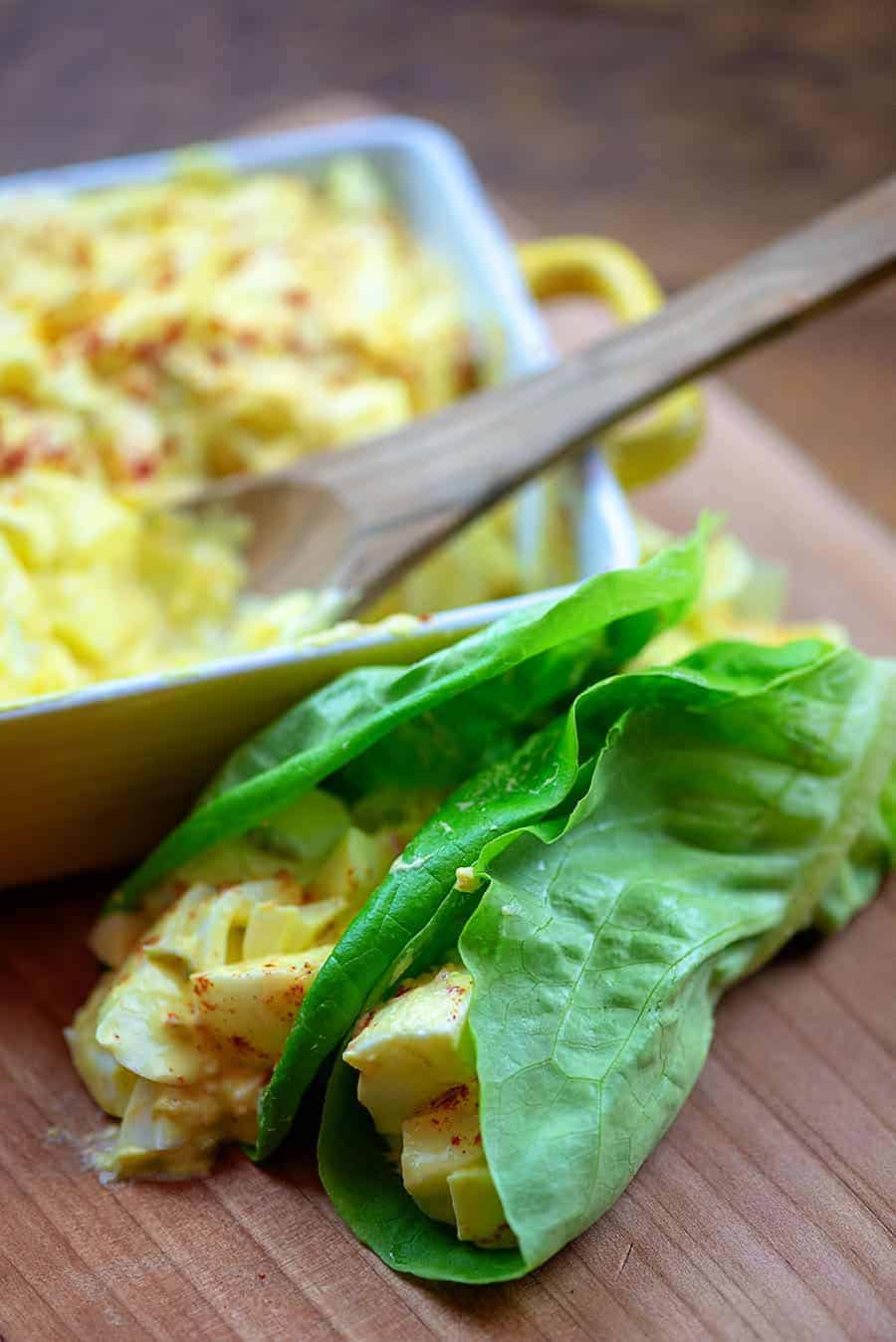 How to make deviled egg salad:
First, you'll want to boil some eggs.
I like to use my Instant Pot for this. I pop the eggs in with a cup of water and cook on high pressure for 5 minutes. I do a 5 minute natural release and then a 5 minute ice bath. This method always produces perfectly cooked hard boiled eggs that are easy to peel!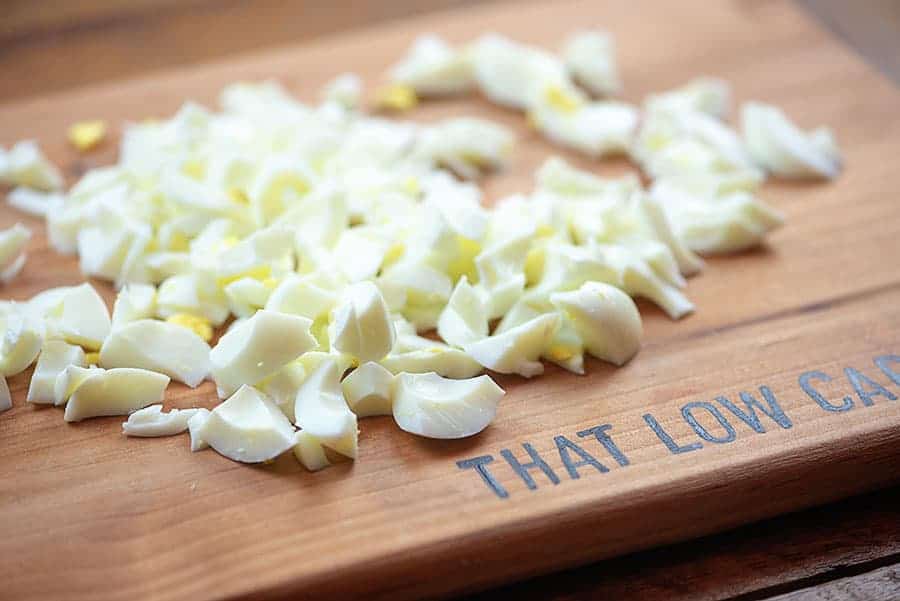 If you don't have a pressure cooker, you can pop your eggs in a pot of water. Bring the water to a boil, turn off the heat, and cover the pan. Let the eggs sit for 15 minutes before removing to an ice bath. This makes for nicely cooked eggs, but they can be a bit trickier to peel, which is why I always prefer the Instant Pot method.
After your eggs are boiled, cooled, and peeled, slice them in half and pop the yolks out into a small bowl. Chop the whites into bite sized pieces.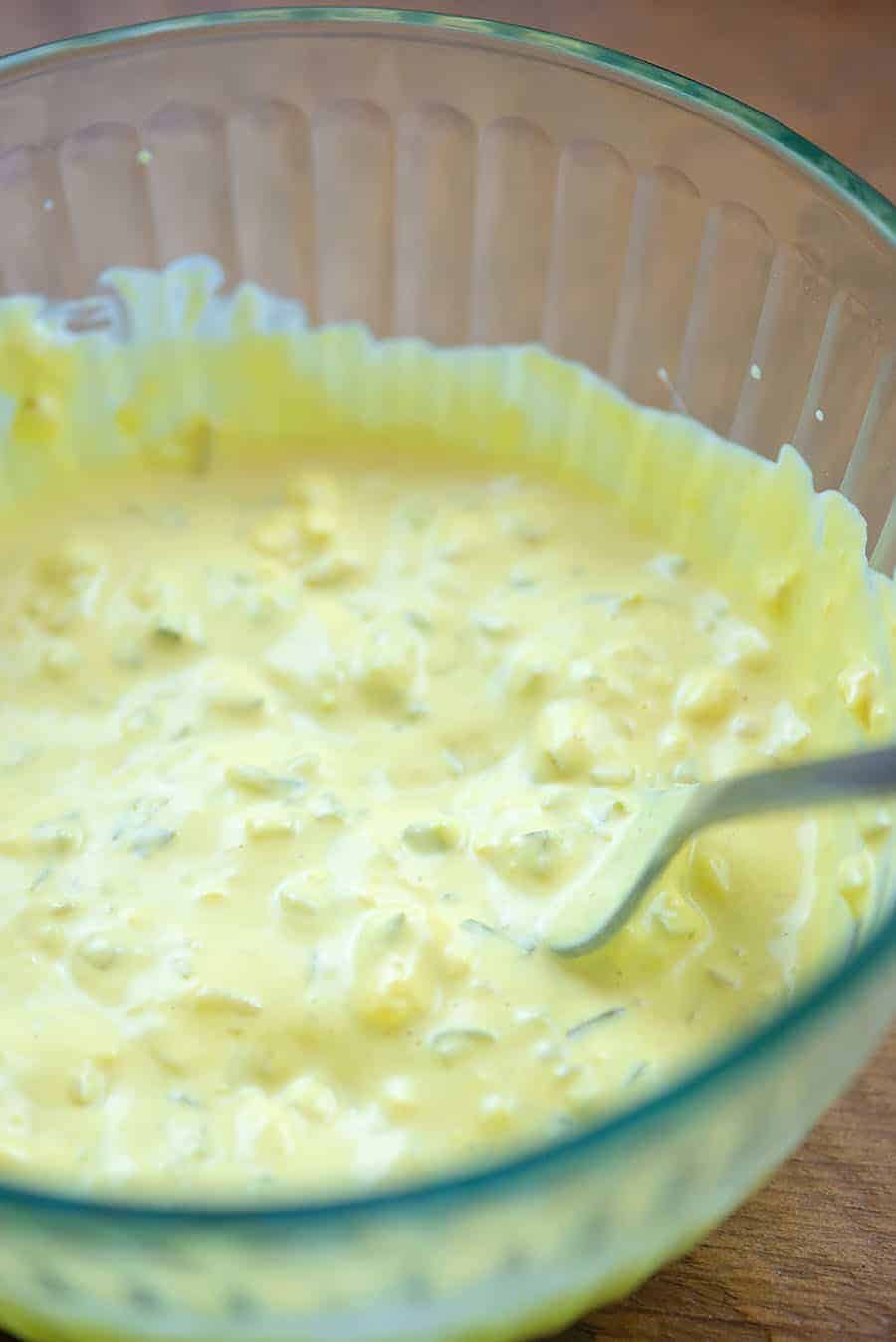 To make the dressing, you'll want to add mayo, pickle relish, mustard, vinegar, paprika, salt, and pepper to the yolks and mash it all together to form a smooth dressing.
Pour that mixture over the chopped egg whites and stir to combine.
Easy peasy!
I like to serve this in a lettuce wrap or with my low carb crackers for dipping! This makes a great lunch and it's very filling.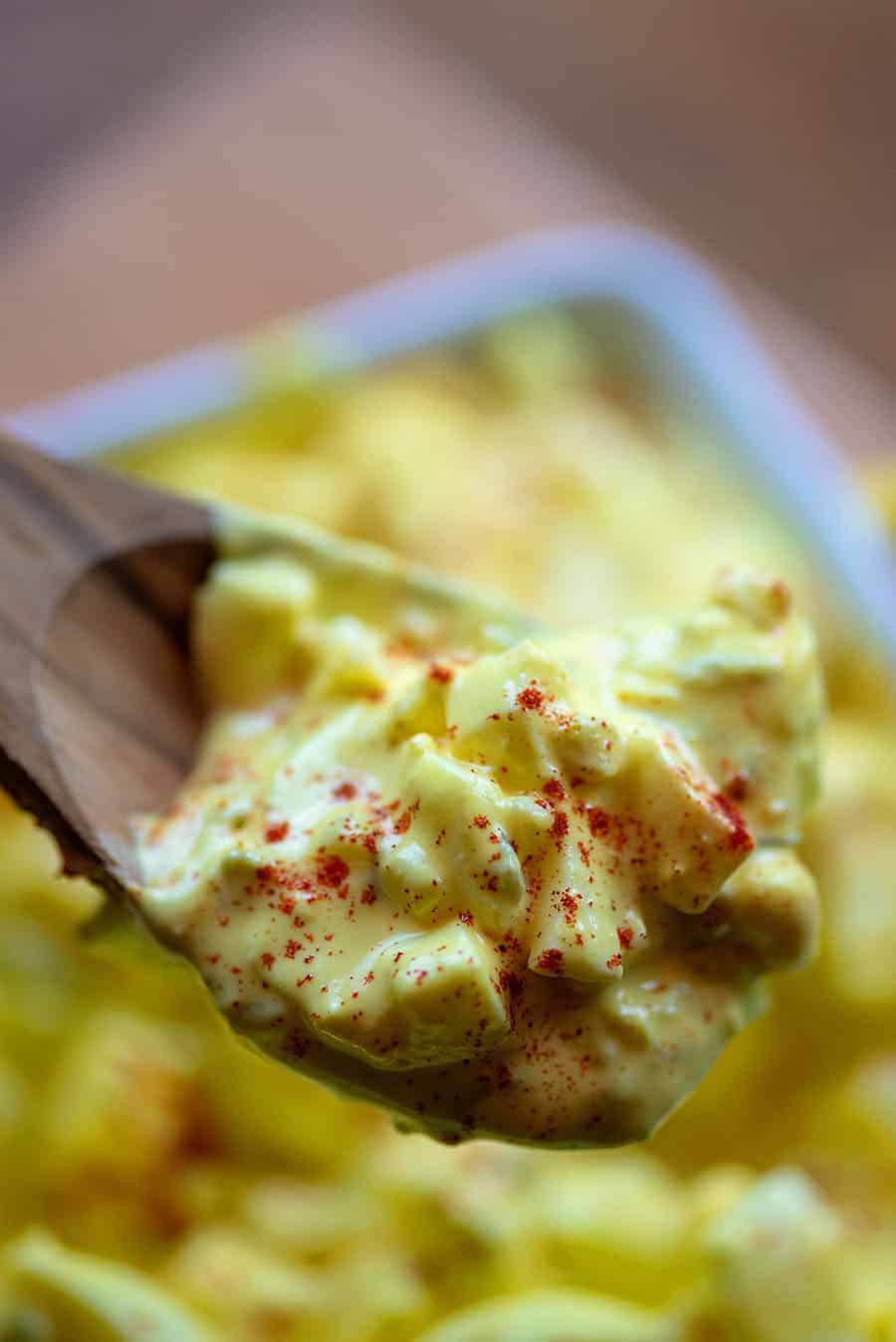 More low carb lunch recipes:
Fathead Pizza: Top it with whatever you like – we usually do pepperoni!
Low Carb Soup: All the flavors of a taco in a soup!
Fried Cabbage: I add smoked sausage and it's the best!
Cheeseburger Soup: Every bit as good as a juicy burger!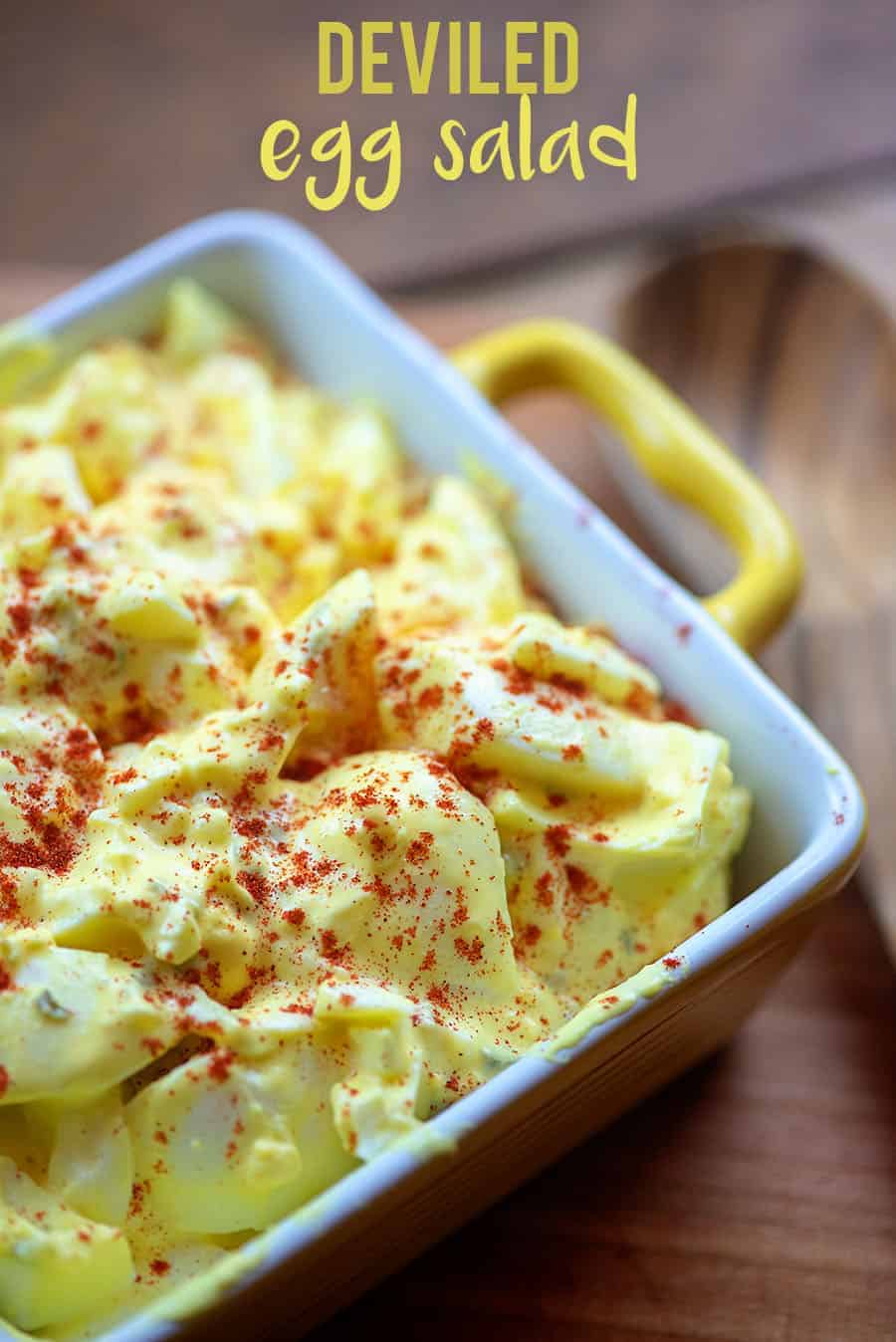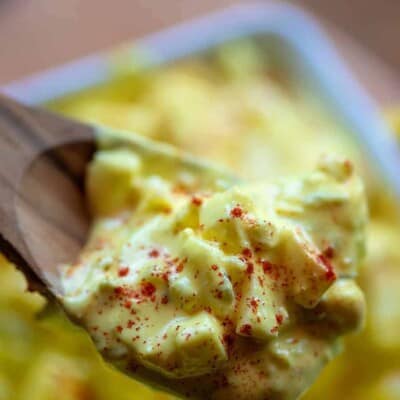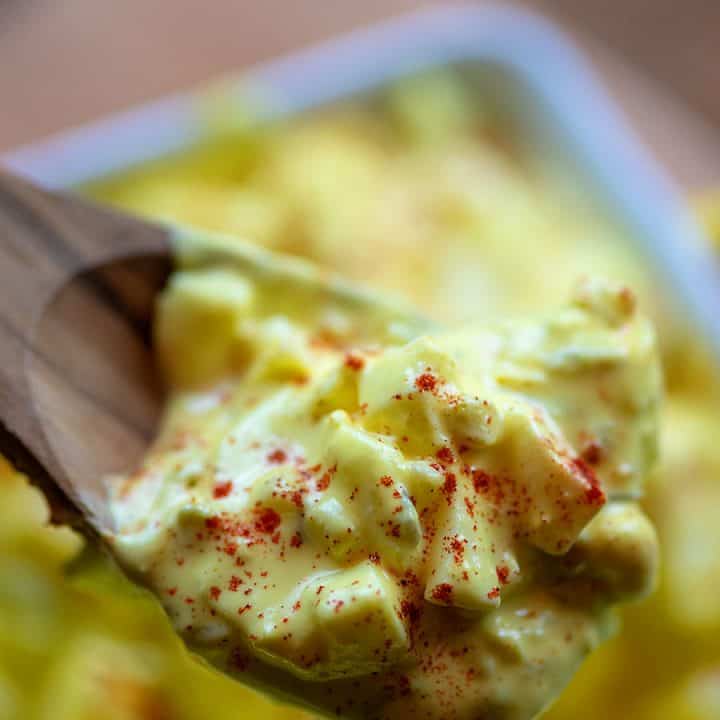 Deviled Egg Salad
A tasty mash up of deviled eggs and egg salad! This is the perfect lunch!
Prep5 minutes
Total5 minutes
Ingredients
6 boiled eggs
⅓ cup mayonnaise
¼ cup dill pickle relish
1 tablespoon mustard
1 teaspoon vinegar
½ teaspoon paprika
½ teaspoon cracked pepper
¼ teaspoon salt
6 pieces butter lettuce for serving
Instructions
Peel the boiled eggs and slice in half.

Pop the yolk out of the eggs and into a small mixing bowl. Set whites aside.

Add the mayonnaise, relish, mustard, vinegar, paprika, salt, and pepper to the yolks and mash together until smooth and creamy.

Chop the egg whites into small chunks and add to the yolk mixture. Stir to combine.

Serve with lettuce wraps or a fork.
Tips & Notes:
Make sure to check the sugar content on the pickle relish. Some of them have quite a bit of sugar.
Nutrition Information:
Serving: 2wraps| Calories: 329kcal (16%)| Carbohydrates: 3g (1%)| Protein: 13g (26%)| Fat: 29g (45%)| Saturated Fat: 6g (38%)| Polyunsaturated Fat: 21g| Cholesterol: 383mg (128%)| Sodium: 673mg (29%)| Fiber: 1g (4%)| Sugar: 2g (2%)| Net Carbs: 2g (4%)
Want To Save This Recipe?