Our FRIED CABBAGE AND SAUSAGE is such a simple dinner, loaded with seared smoked sausage, onions, and tender cabbage. This low carb recipe will quickly become a family favorite.
My kids never fail to surprise me at dinner time.
I set out something that I just know will be a big hit with both of them and neither one enjoy it.
Then I make fried cabbage expecting them to turn their nose up at it and both of them inhale half the pan.
First of all, that's my cabbage, back off.
Second of all, is this Southern fried cabbage magic? Why do my kids like it so much?
I don't know, but I'm happy about it!

Smoked sausage and cabbage is a classic, and we absolutely love serving this up as a hearty side or a lighter main dish. It's perfect for lunch or dinner and honestly, just delicious!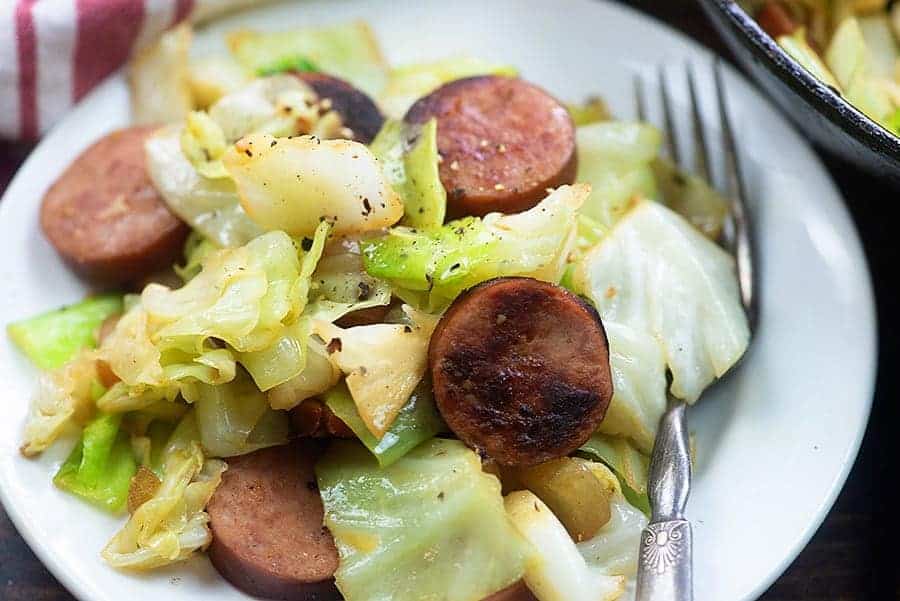 Why We Love This Recipe!
This is a quick recipe, ready in just 30 minutes! It starts with smoked sausage, which is an easy grab and go protein that we always keep on hand in our fridge.
This recipe is easy to customize with a variety of seasonings.
This can be served as a lighter main dish with more protein or veggies on the side or it can be served as a side dish.
Ingredient Notes:
Smoked Sausage – Smoked sausage comes in a variety of flavors by many different brands and some of them have a surprising amount of carbs! I've recently found that Hillshire Farm makes a smoked sausage with only 1 carb per 2 ounce serving and that's what I use. It's the lowest carb option I've seen.
You can use any brand/variety you prefer, but do know that I've calculated the nutrition information based on 1 carb per 2 ounces, so you'll want to make any necessary adjustments if you use a different brand.
(This post is not sponsored, just sharing what I use and love!)
Cabbage – Chop up a head cabbage into bite-sized pieces. It'll get real tender as it cooks with the oil and sausage and will soak up all those flavors along with the garlic and onion!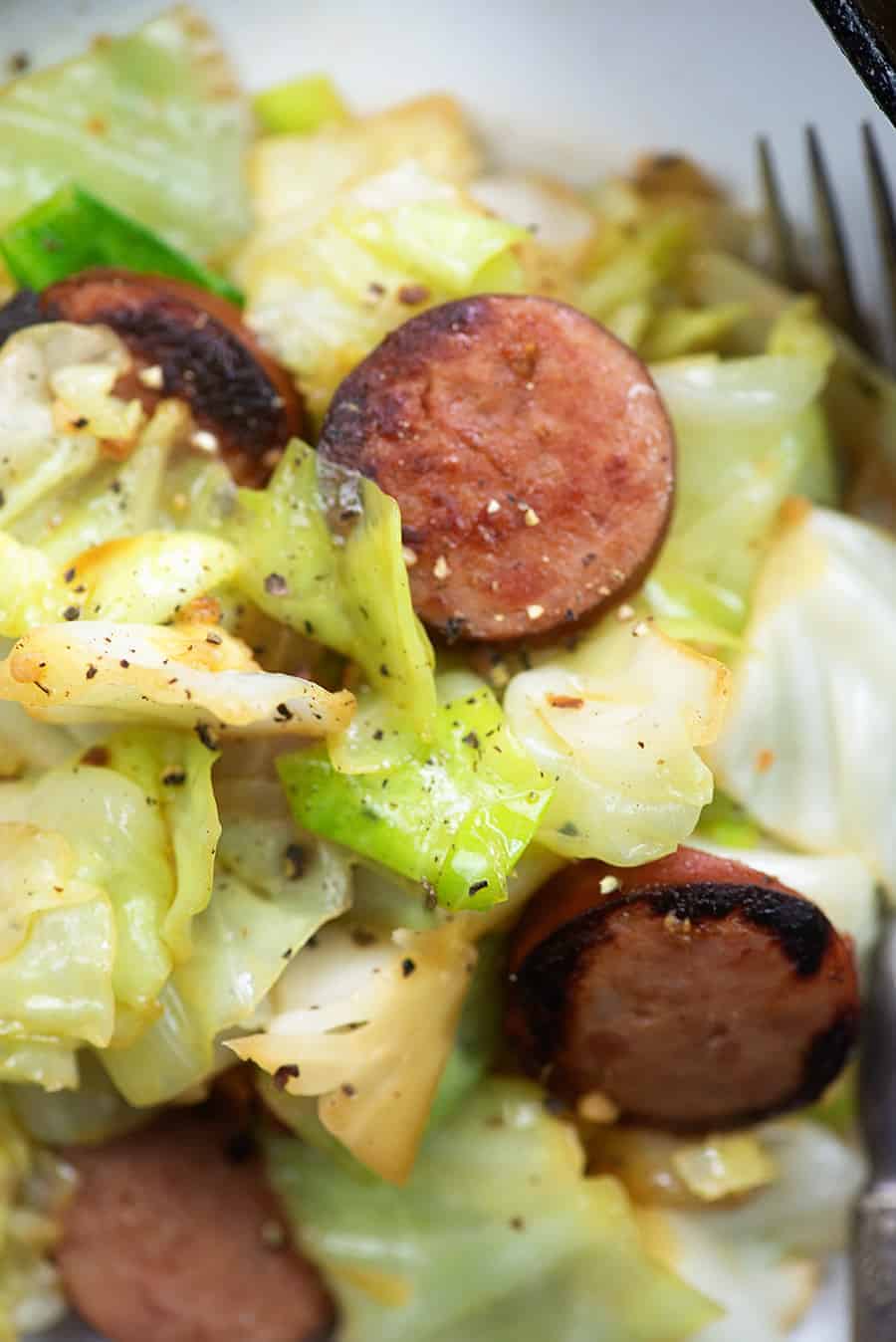 How To Make Smoked Sausage and Cabbage:
Brown the Sausage – Heat a large, heavy bottomed skillet over medium heat and swirl in some avocado or olive oil. Sear the sausage rounds on each side until browned.
Onion & Garlic – Add the onion and garlic to the skillet and cook until softened, about 5 minutes. Things should be smelling amazing right about this step.
Cook the Cabbage – Add the chopped cabbage to the skillet. It will look like quite a lot, but it will cook down and shrink up nicely. Keep cooking and stirring until the cabbage has softened to your liking. Season to taste with salt and pepper.
FAQs:
What type of smoked sausage to use?
There are different types and brands of smoked sausages such as Kielbasa or Andouille and even beef and chicken smoked sausages. Really just about any kind will work as long as you keep in mind that this recipe was made with a sausage that has 1 carb per 2 ounce serving, so adjust as necessary!
What else can I add to this recipe to bulk it up?
This dish is delicious as is, but feel free to get creative. Fry up some bacon before cooking your smoked sausage. Saute a bell pepper along with the onion. Stir in a can of diced tomatoes. Spice things up with red pepper flakes or sprinkle on some Cajun seasoning. This dish is easy to customize!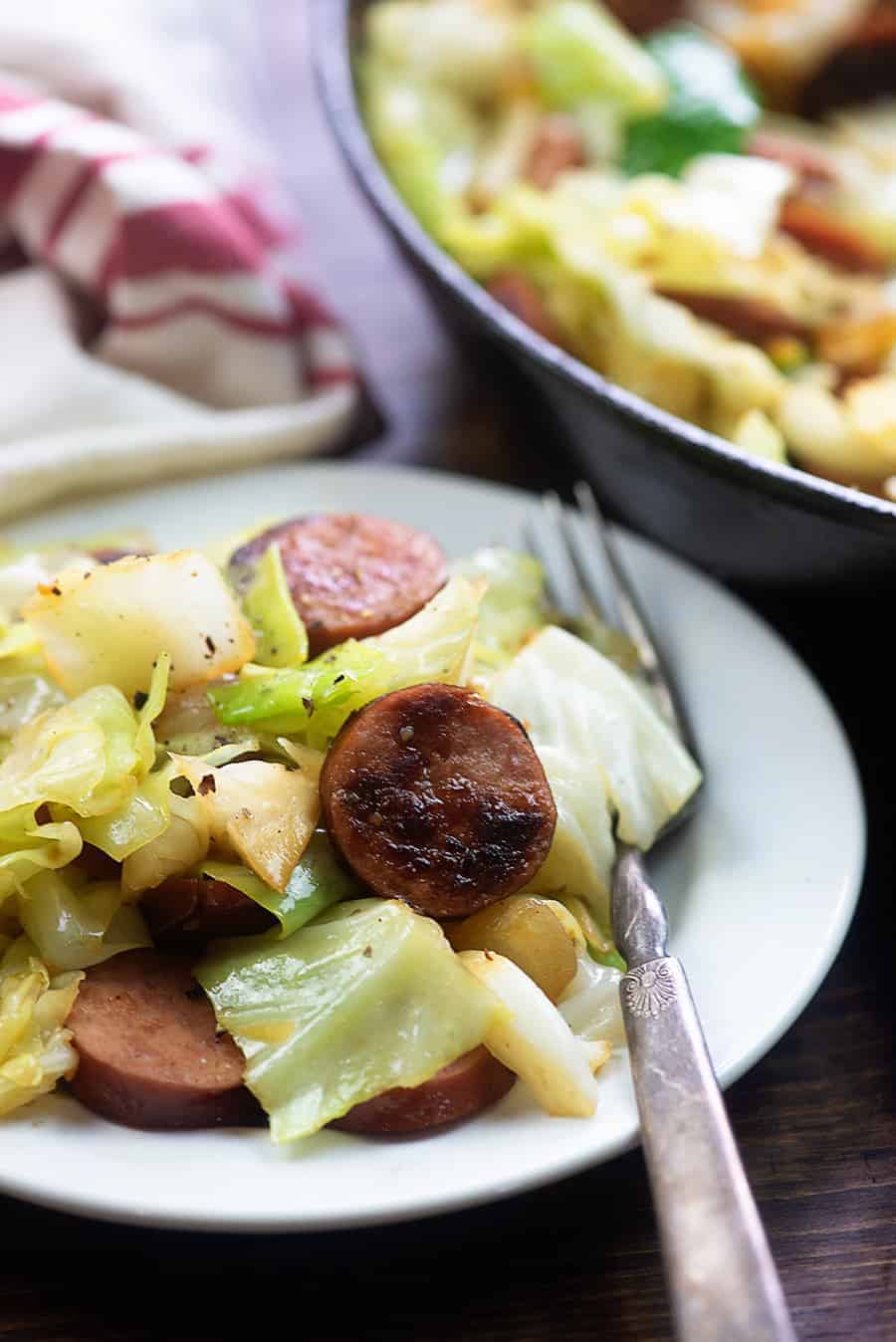 More Simple Recipes to Enjoy:
Asparagus Stuffed Chicken: This one is so impressive, but it's really quite simple to throw together on a busy night!
Unstuffed Cabbage Rolls: All the flavor of a traditional cabbage roll without the carbs or the work!
Air Fryer Chicken Legs: Perfectly seasoned with a crispy skin that is ready in no time!
German Cucumber Salad: We eat this as a side dish all summer long. So simple and refreshing!
Steak Bites: If you're a little intimidated by cooking a steak, this is a simple way to get started. Plus that marinade is AMAZING.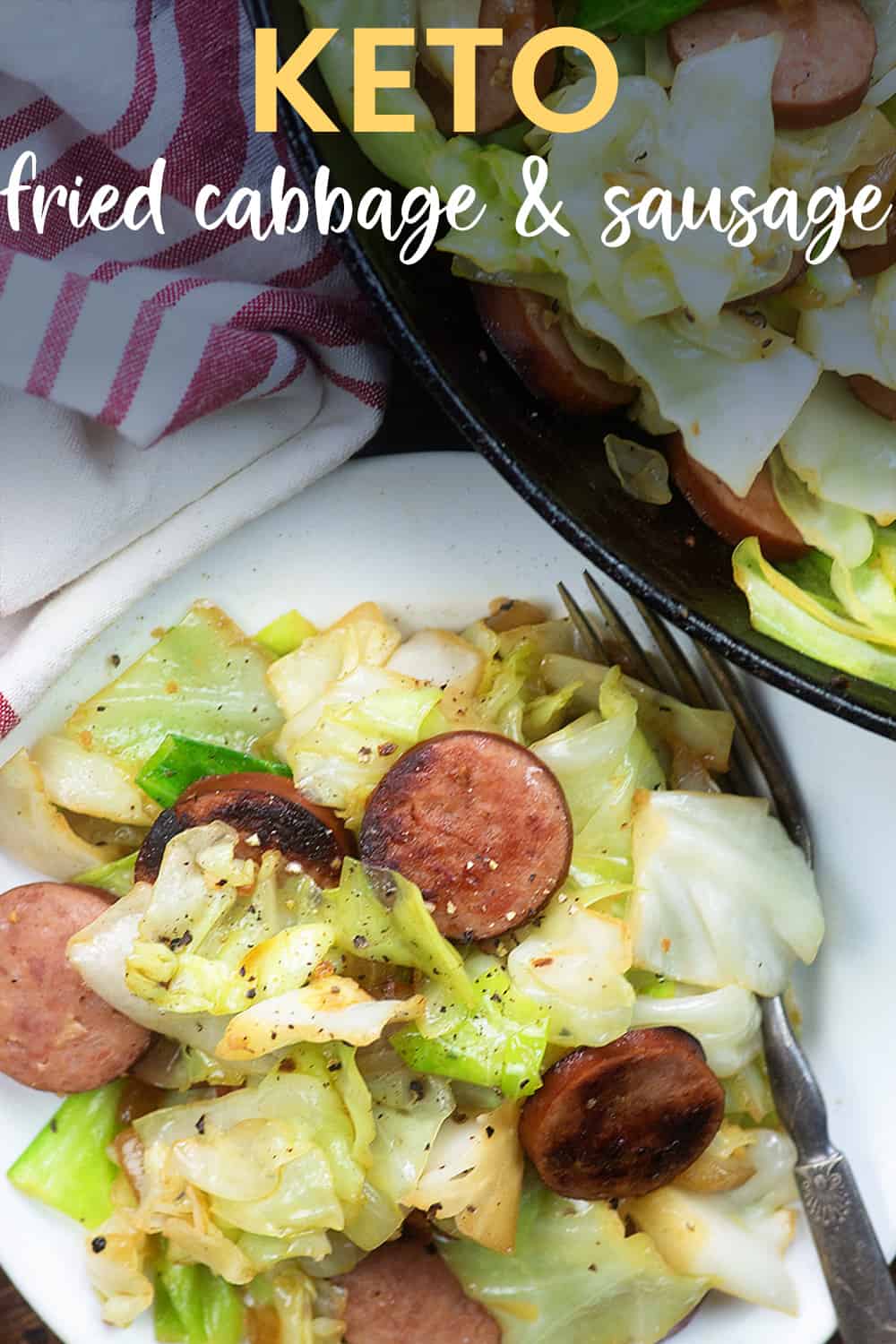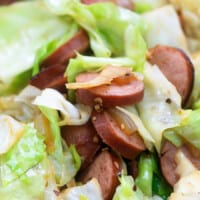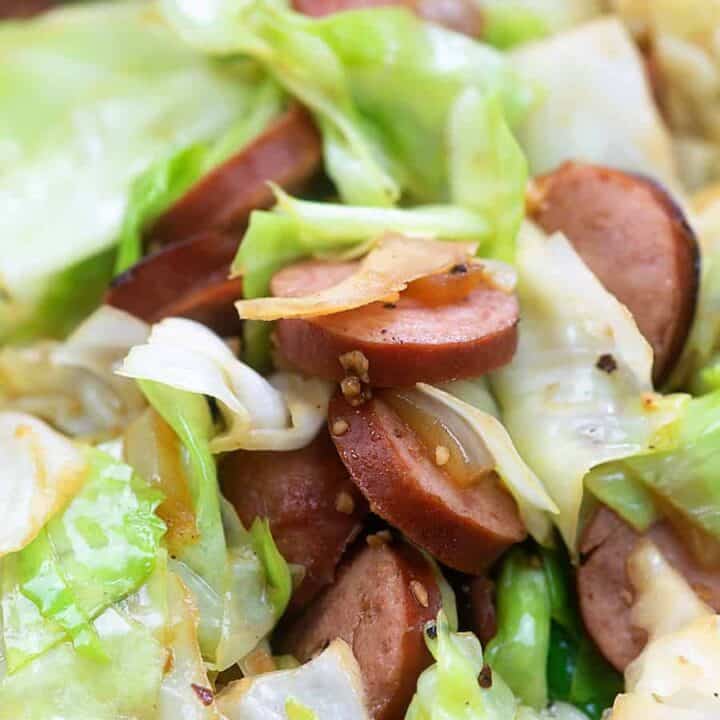 Fried Cabbage with Sausage
This fried cabbage recipe comes together quickly and makes a great lunch! Be sure to brown the sausage nicely for extra flavor.
Ingredients
12 ounces smoked sausage
2 tablespoons olive oil, divided
1/2 yellow onion, diced
2 cloves garlic, minced
1 large head cabbage, chopped
1 teaspoon salt
1 teaspoon ground pepper
Instructions
Slice the smoked sausage into thin rounds.
Heat 1 tablespoon olive oil in a dutch oven or large, deep skillet over medium heat. Add the sausage to the skillet and cook, stirring often, until sausage is browned on both sides, about 4 minutes.
Add the onion and garlic to the skillet and cook 3 more minutes to soften onions.
Add the remaining tablespoon of oil to the skillet along with the cabbage and sprinkle with salt and pepper.
Cook the cabbage, stirring constantly, until it becomes tender, about 10-15 minutes.
Serve immediately.
Notes
The lowest carb smoked sausage I've found is Hillshire Farms Naturals, but any variety you love will work. Macros are calculated based on 1 carb per 2 ounces of smoked sausage.
The cabbage will seem like a lot as you add it to the pan, but it will cook down quite a bit.
We divide this into 4 portions to serve as a main dish, with 10 net carbs per serving. You'll easily get 6 to 8 portions as a side dish and can adjust the nutrition accordingly.
Nutrition Information:
Yield: 4
Serving Size: 1
Amount Per Serving:
Calories: 374
Total Fat: 29g
Saturated Fat: 9g
Trans Fat: 0g
Unsaturated Fat: 18g
Cholesterol: 52mg
Sodium: 1328mg
Carbohydrates: 16g
Net Carbohydrates: 10g
Fiber: 6g
Sugar: 9g
Protein: 15g
All information and tools presented and written within this site are intended for informational purposes only. This information is provided as a courtesy and there is no guarantee that the information is accurate.