These mini KETO PEANUT BUTTER CHEESECAKE BITES start with a grain free chocolate crust and a creamy peanut butter cheesecake filling. They're topped off with a decadent chocolate topping that makes these the ultimate keto peanut butter dessert!
Peanut Butter Cups have always been my weakness, ever since I was a kid.
I have definitely slowed down on the pb cup eating as I've gotten older, but they're still my go to candy. We have a couple of sugar free peanut butter cups that I like and I always have them on hand for emergencies. 😉
Of course, this keto peanut butter cheesecake has the best part of a peanut butter cup – a super thick and creamy peanut butter center! We didn't skimp on the peanut butter cheesecake here and that chocolate crust and chocolate topping just makes these so decadent and fun to eat!
Plus, with just 6 net carbs per mini cheesecake, you don't have to feel guilty when you indulge!
We've also shared recipes for keto peanut butter balls and keto peanut butter pie, if you just can't get enough of this flavor combo in your life!
Why We Love This Recipe:
These mini cheesecakes are rich and decadent with just 6 net carbs per serving.
The cream cheese does a perfect job of masking any sweetener aftertaste you might normally notice and no one will even realize these are low carb!
Chocolate Crust:
This post contains affiliate links. As an Amazon associate and member of other affiliate programs, I earn from qualifying purchases.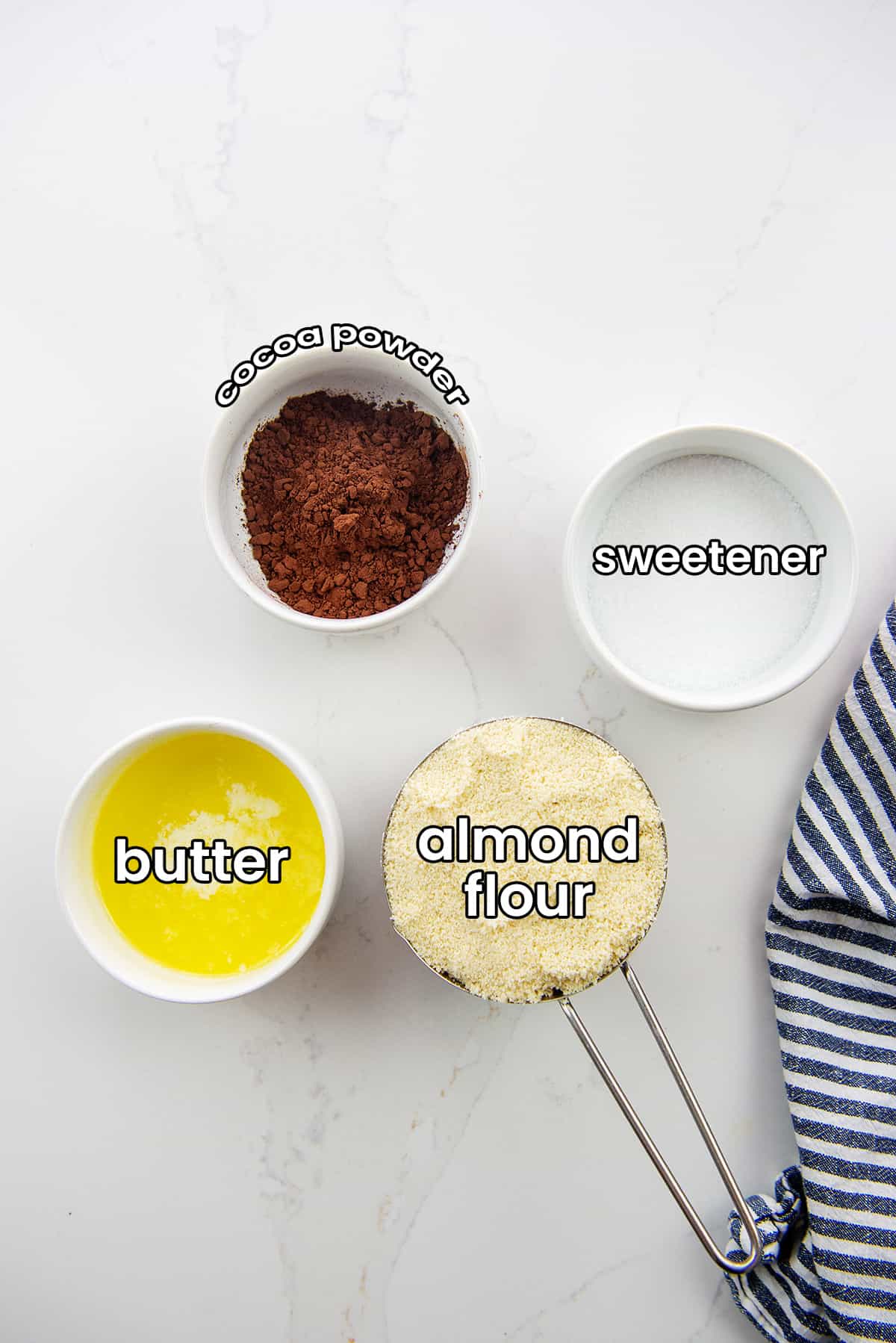 Cocoa Powder – Dutch processed or natural cocoa powder will work just fine here.
Sweetener – We use and love Lakanto products. We're using their original sweetener in this recipe. It bakes and tastes like real sugar with no impact on blood glucose, so it can be counted as ZERO net carbs! Use code THATLOWCARBLIFE for 20% off your order at Lakanto.
Almond Flour – This crust uses almond flour to keep things grain free and low carb. We do not have a substitute for almond flour at this time.
Shop Keto Ingredients
We use Thrive Market for a lot of our specialty ingredients and keto snacks or products. Their prices tend to be cheaper than the local stores and I love that you can so easily sort products by diet.
Like Costco, this is a membership site, but we find that it's more than worth it based on the amount we save over the regular grocery store.
They have monthly or yearly plans. Check it out here.
Peanut Butter Cheesecake Ingredients: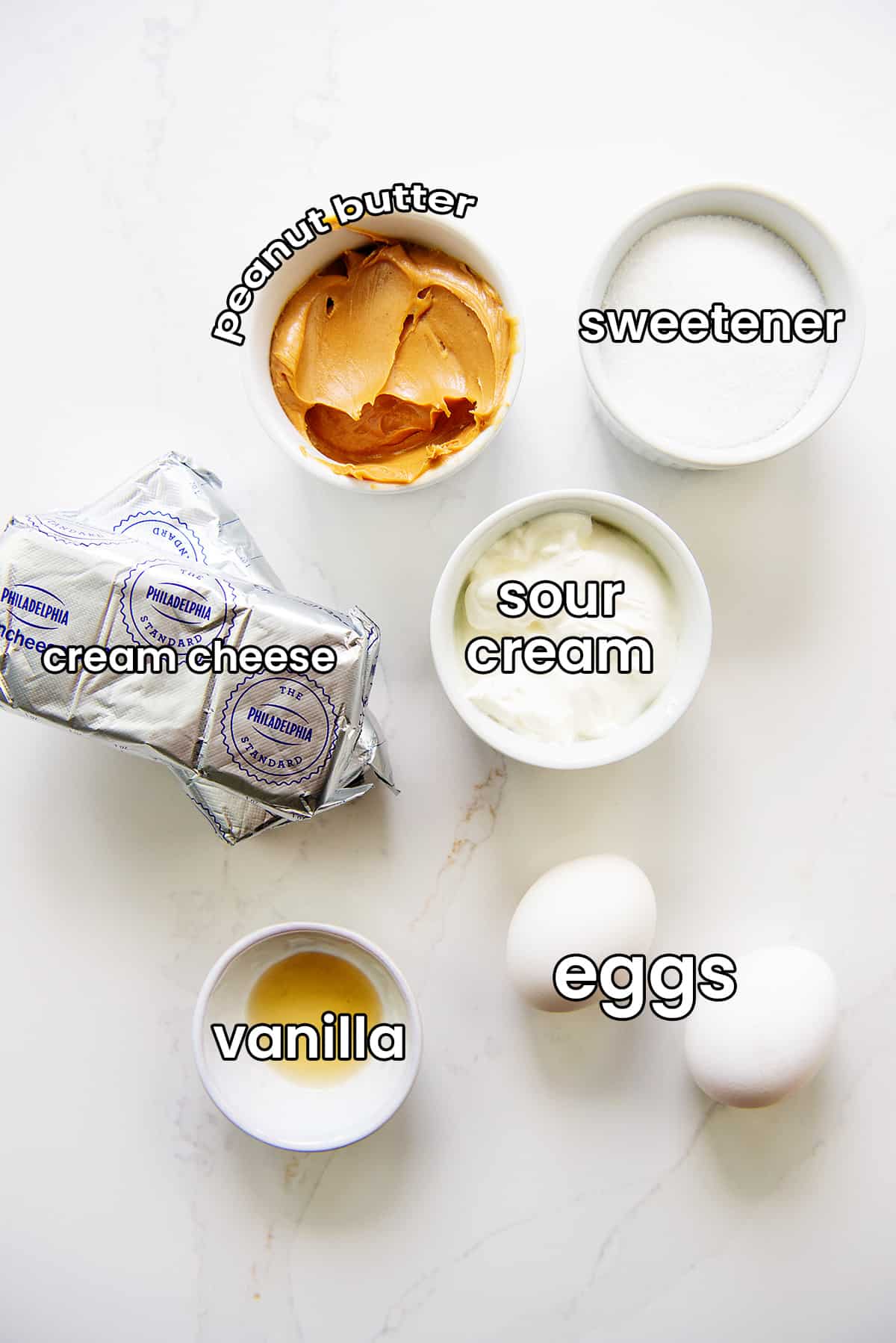 Cream Cheese – The key to a smooth and creamy cheesecake is room temperature cream cheese.
Peanut Butter – We're using Skippy Naturals Peanut Butter. It's lower in carbs than many commercial brands, but still bakes nicely and doesn't separate. You can use any type of no-stir peanut butter you like.
Sour Cream – This helps create a soft, smooth texture in the cheesecake.
How To:
Make the Crust – Stir together all of the ingredients and press the mixture evenly between 12 lined muffin tins.
Make the Filling – Beat together the cream cheese, peanut butter, and sweetener until smooth and creamy. Beat in the remaining ingredients.
Bake – Pop these in a hot oven and bake for 20 minutes. You'll want to let these cool completely before topping with the chocolate.
Top – Melt together sugar free chocolate chips and a bit of peanut butter in the microwave until smooth and creamy. Spoon that over the top of each cheesecake and then refrigerate until set.
Helpful Tip!
Don't overmix the cheesecake batter! If you incorporate too much air into the batter, your cheesecakes will sink and crack.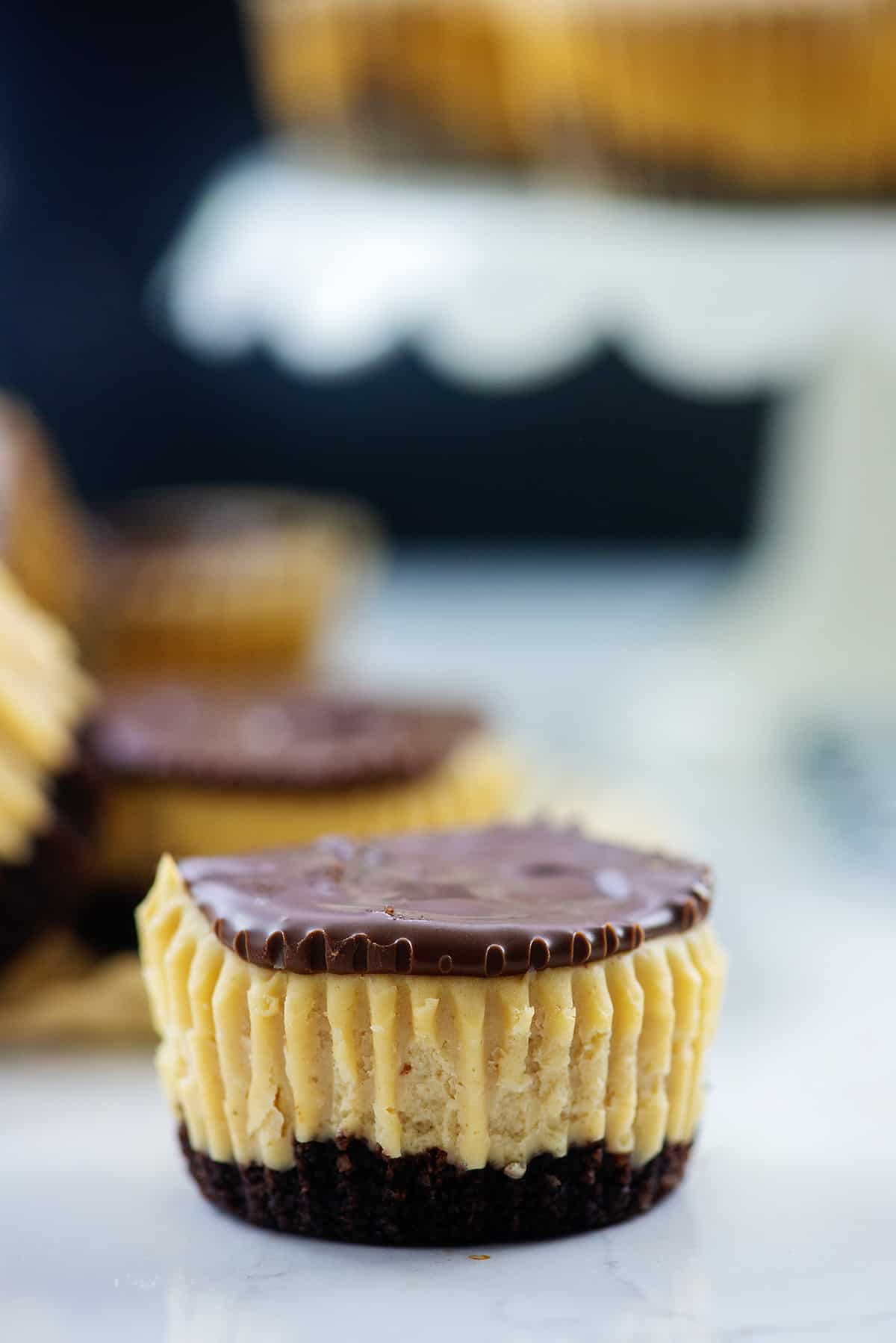 FAQ's:
Why did my cheesecake crack?
Overmixing your cheesecake batter can cause the cheesecake to crack as it cools. Beat the ingredients together until smooth and creamy, but don't beat longer than necessary.
Why did my cheesecake sink in the center?
This is pretty common and also happens due to incorporating too much air into the batter. Be sure to start with room temperature ingredients so that extra whipping isn't required.
Can I use another kind of sweetener in this recipe?
Any sweetener that bakes at a 1:1 ratio to table sugar should work just fine in this recipe. Please keep in mind this was tested with Lakanto sweetener and other sweeteners may leave an aftertaste or cooling effect when used.
Can I use the natural style peanut butter?
We've only tested this with the no-stir variety of peanut butter and not the drippy kind. I'm uncertain how the drippy peanut butter would hold up in this recipe. If you test it out, please report back and let us know!
More Keto Dessert Recipes: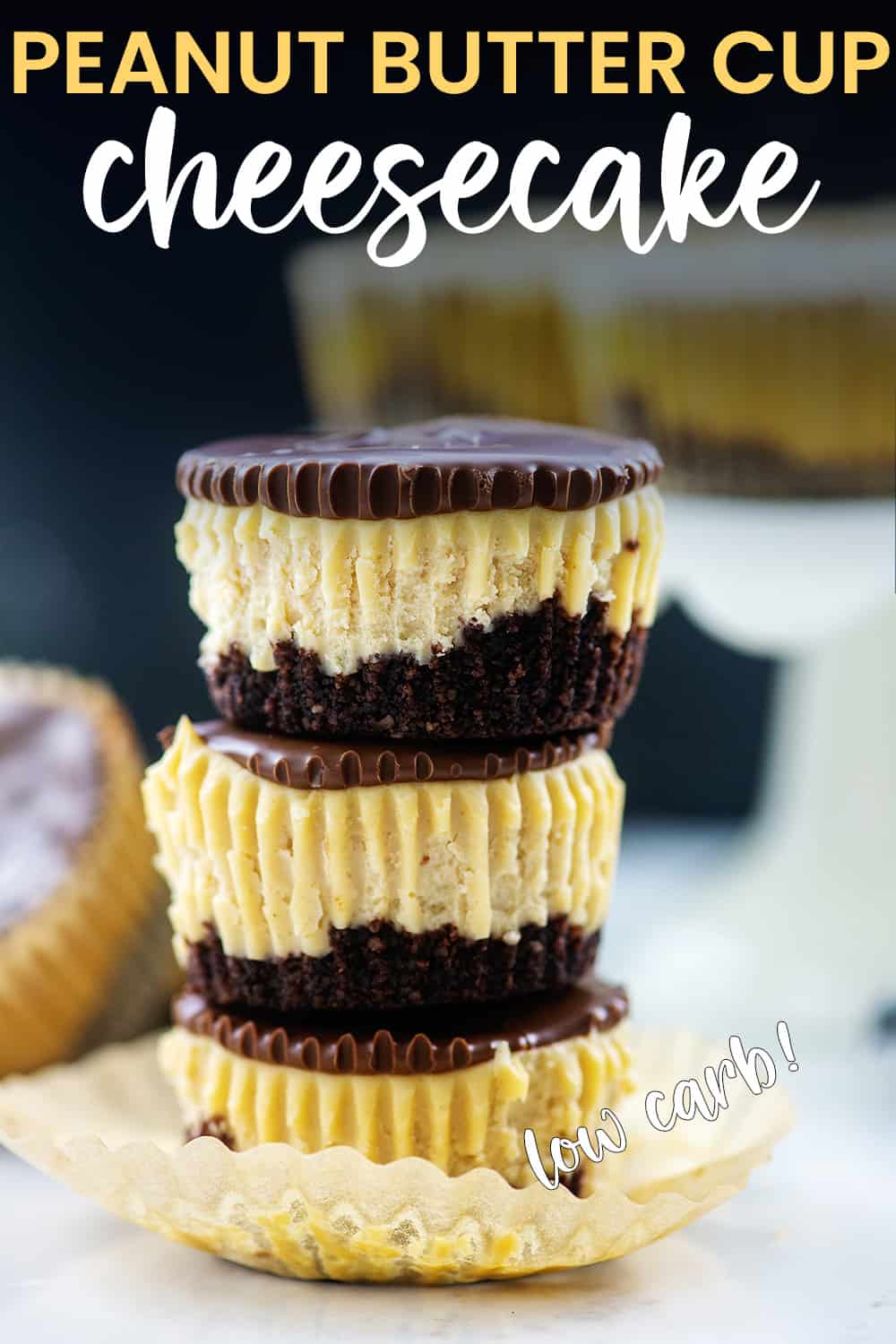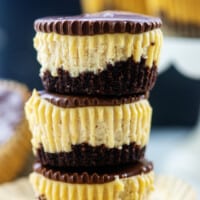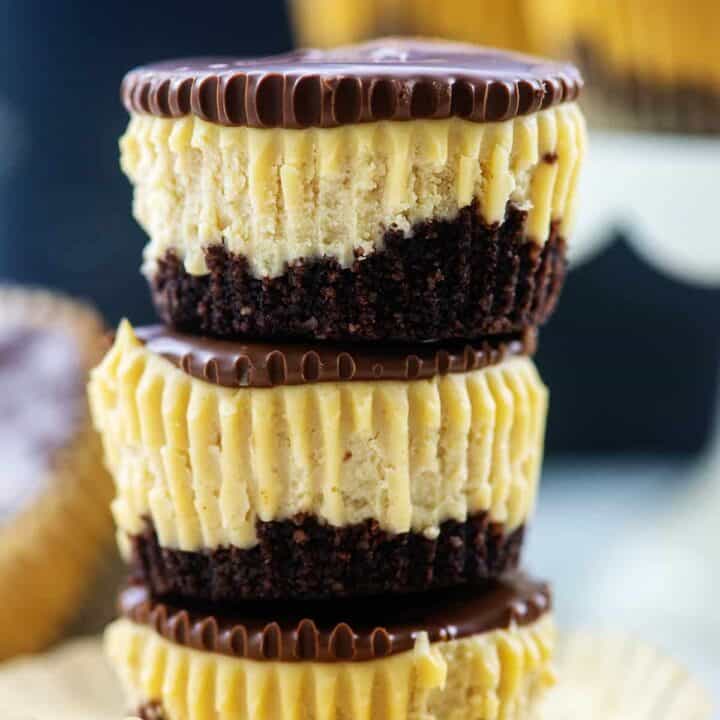 Keto Peanut Butter Cheesecake
These mini peanut butter cheesecakes turn out so rich, creamy, and decadent. The chocolate crust is a breeze to stir together and the thick layer of peanut butter cheesecake turns out just perfect.
Yield 12 mini cheesecakes
Total Time 4 hours 40 minutes
Ingredients
For the crust:
2 tablespoons cocoa powder, see note
3 tablespoons melted butter
For the filling:
16 oz cream cheese, room temperature
½ cup peanut butter
2 large eggs, room temperature
½ cup sour cream
1 teaspoon vanilla
Pinch of salt
For the topping:
2 tablespoons peanut butter
Instructions
To make the crust:
Preheat oven to 325 degrees. Spray a standard size muffin tin with non-stick spray or line tin with papers.
Add all of the ingredients for the crust into a mixing bowl and stir well with a fork until combined.
Spoon the mixture evenly between the muffin wells and press flat.
To make the cheesecake:
Beat together the cream cheese, peanut butter, and sweetener until smooth and creamy.
Beat in the eggs, one at a time, until just combined. Do not overmix.
Add sour cream, vanilla, and salt to the mixture and mix until just combined.
Pour the batter evenly between the 12 muffin wells. Use a large cookie scoop to get evenly sized portions every time.
Bake for 25 minutes or until just slightly jiggly in the center.
Cool completely on the counter before topping.
To make the topping:
Add the chocolate chips and peanut butter to a microwave safe bowl and heat until melted, stirring every 20 seconds.
Spoon the melted chocolate evenly over the cooled cheesecakes.
Place the cheesecakes in the refrigerator for 4 hours before serving.
Notes
You may use either Dutch processed or natural cocoa powder in the crust.
Be sure to use a no-stir variety of peanut butter for best results. We used Skippy Naturals which has 4 net carbs per 2 tablespoons of peanut butter. This is what the nutrition information was calculated on.
Overmixing the cheesecake batter will result in cracks or sinking. Beat mixture until just combined.
Nutrition Information:
Yield: 12
Serving Size: 1 mini cheesecake
Amount Per Serving:
Calories: 327
Total Fat: 29g
Saturated Fat: 14g
Cholesterol: 77mg
Sodium: 153mg
Carbohydrates: 7g
Net Carbohydrates: 6g
Fiber: 1g
Sugar: 2g
Protein: 8g