This KETO APPLE CRISP is actually made with zero apples – they're too high in sugar! We're using zucchini that we've sauteed in lemon juice and spices and your family will love it!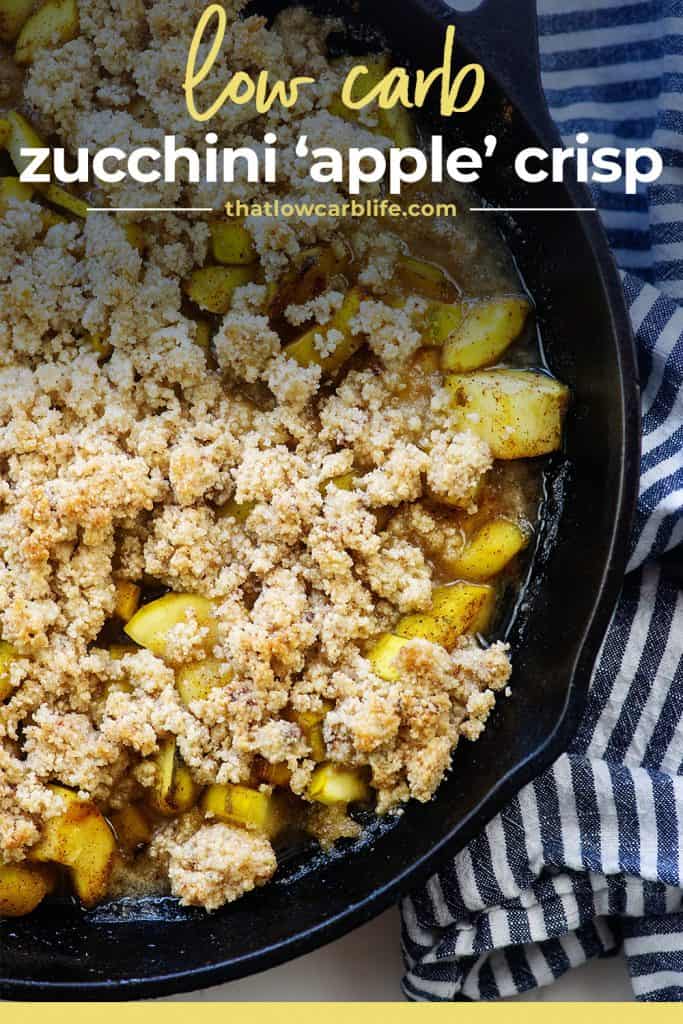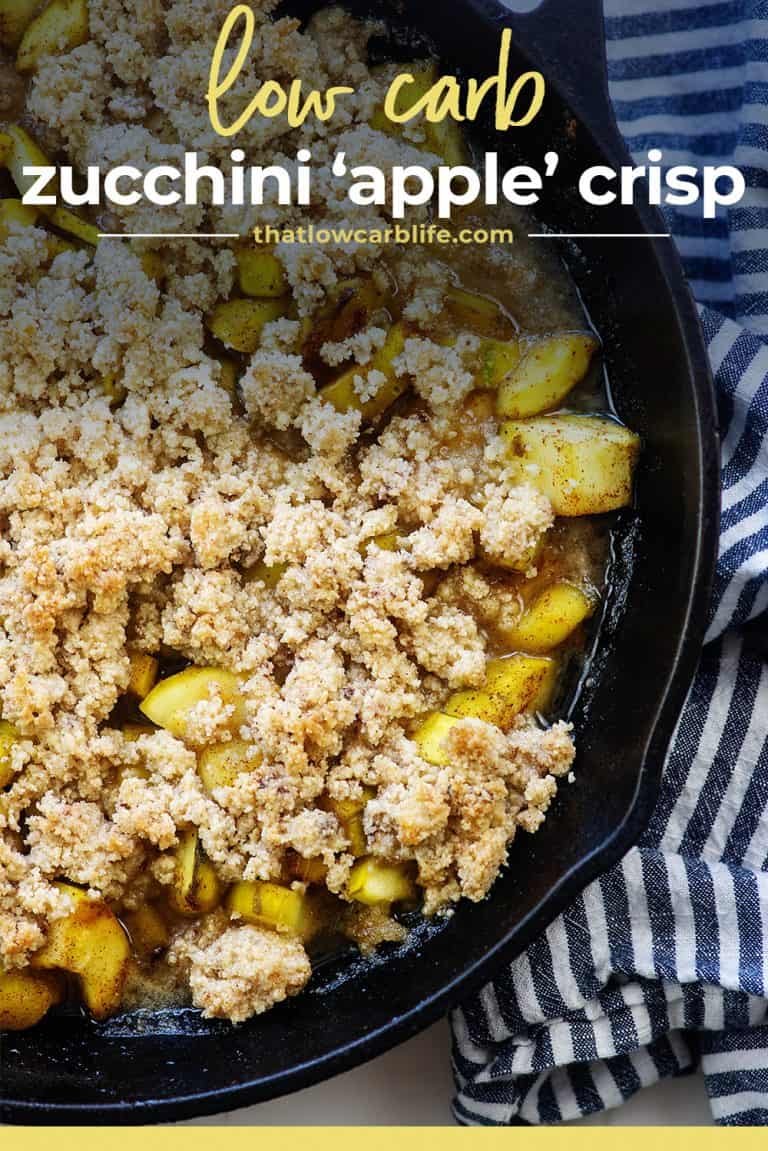 Prepare to have your mind blown when you bite into this easy, tasty, keto dessert that looks like an apple crisp, tastes like an apple crisp, and has exactly ZERO apples involved.
That's right! We're making fake apples today, my friends.
Sometimes low carb feels weird…you grow up your whole life thinking that an apple a day keeps the doctor away and that fruit is a healthy snack.
Then you start eating a low carb or keto diet and realize that some of your favorite fruits (apples, watermelon, peaches) are full of sugar and not really the best choices.
So, what's a person to do?
Grab the zucchini. <— This is not a time for cauliflower. Cauliflower does pretty much everything else, but zucchini is both the noodle and apple replacement in the low carb world. 😉
Zucchini Cobbler Filling:
Yes, you can transform zucchini into something that tastes like apples! Let me show you how easy it is…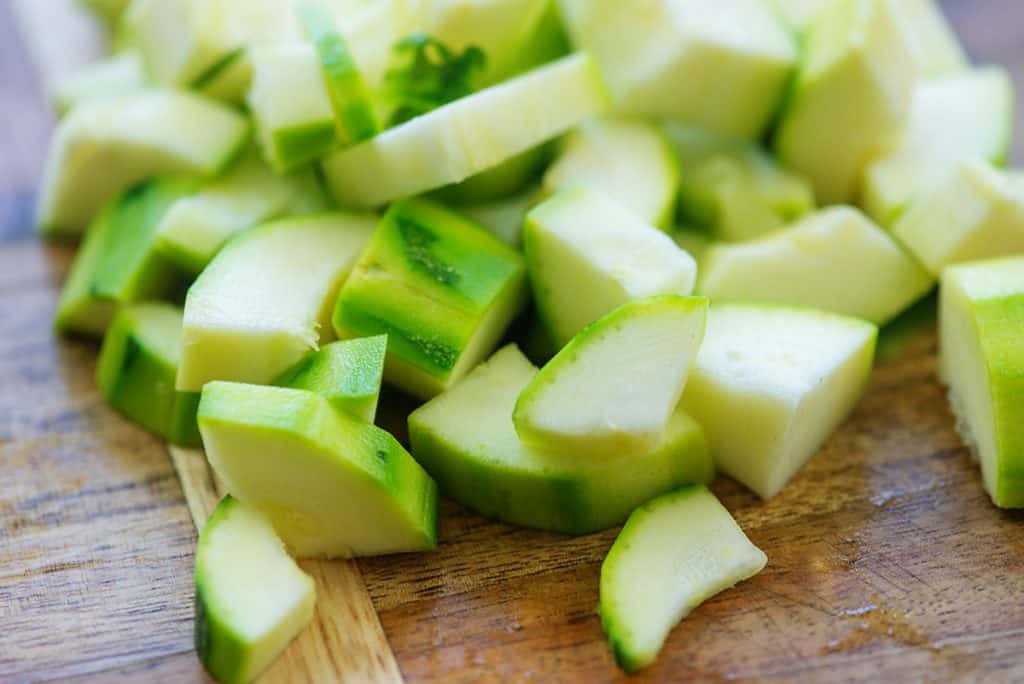 Peel it, chop it, and saute it in lemon juice until it's nice and soft.
The zucchini is going to soak up that lemon juice and take on the tart flavor of an apple.
Next, stir in sweetener, cinnamon, and nutmeg and bam! Apples!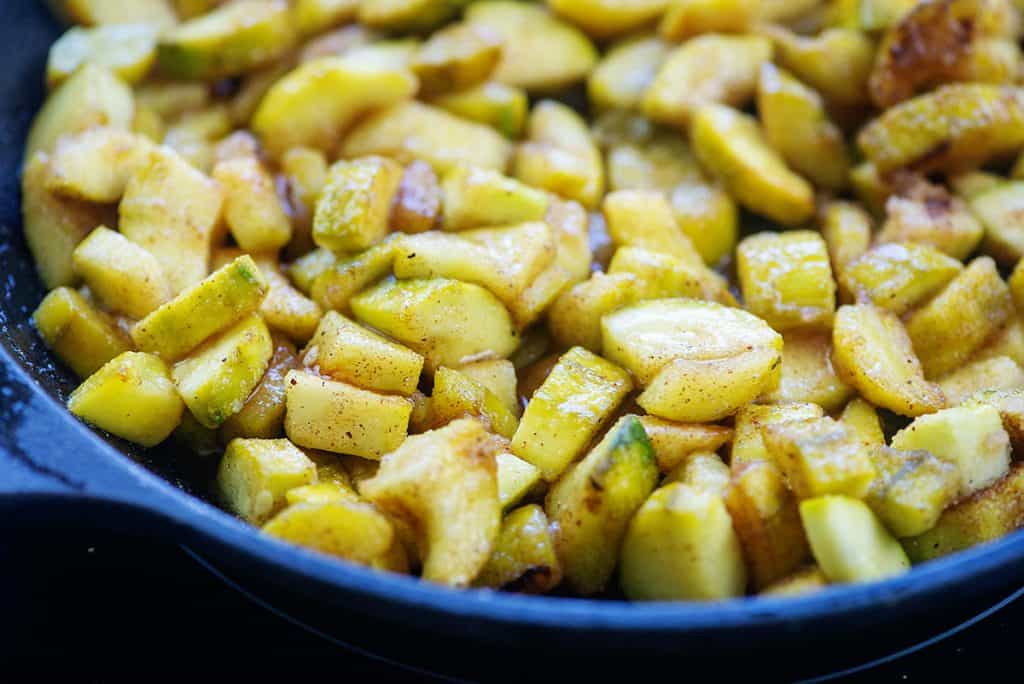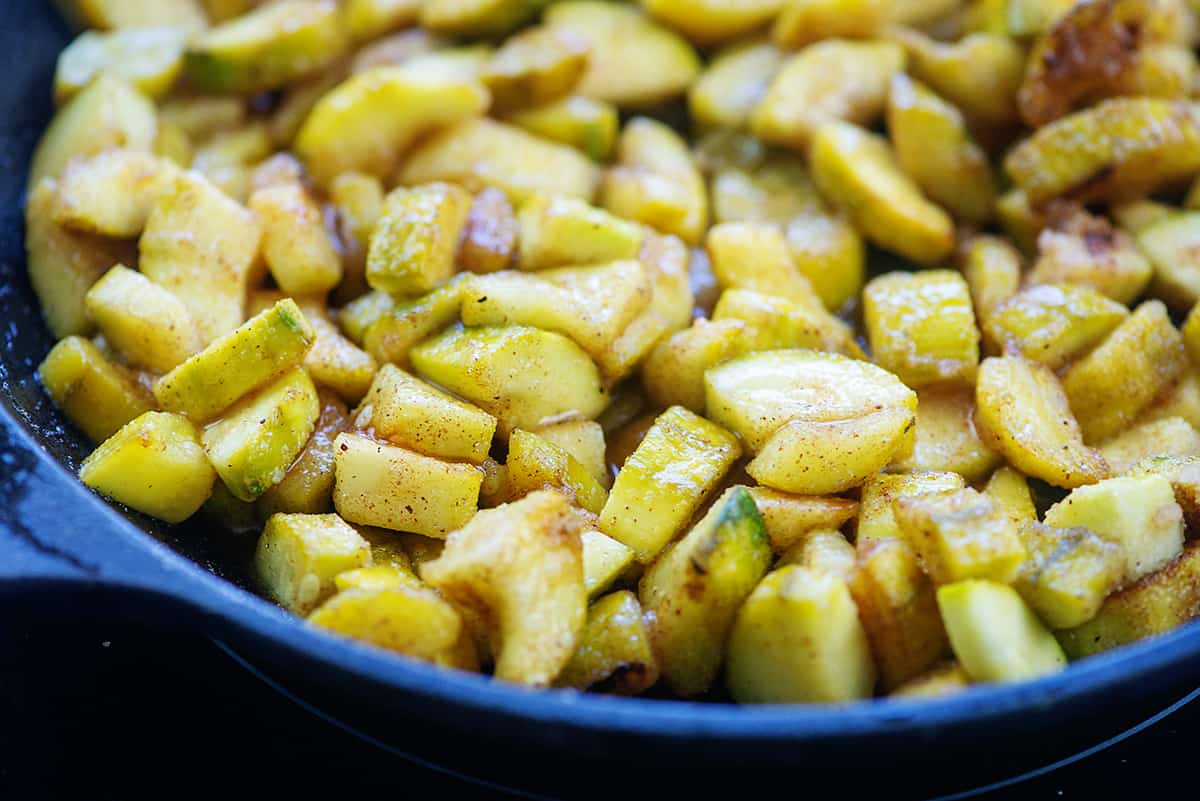 The sweetness and tang plus the cinnamon and nutmeg make this taste super similar to apple pie filling! Cooking is magic, I tell ya.
Crisp Topping:
The crisp topping is beyond easy to whip up.
Just stir together almond flour, melted butter, sweetener, and cinnamon.
Sprinkle that right over the cooked zucchini.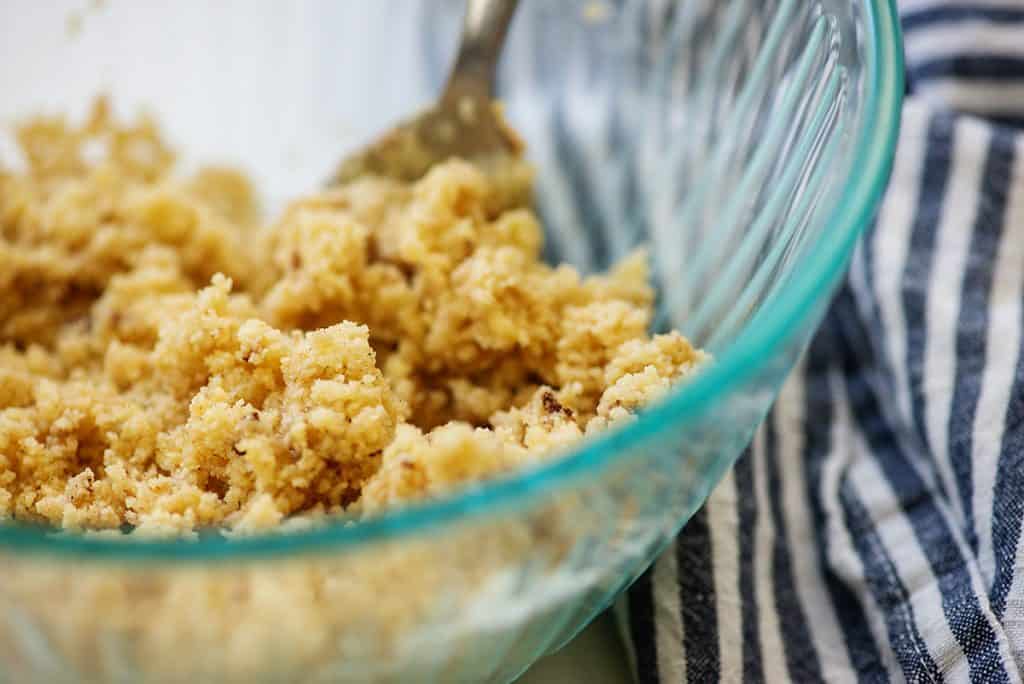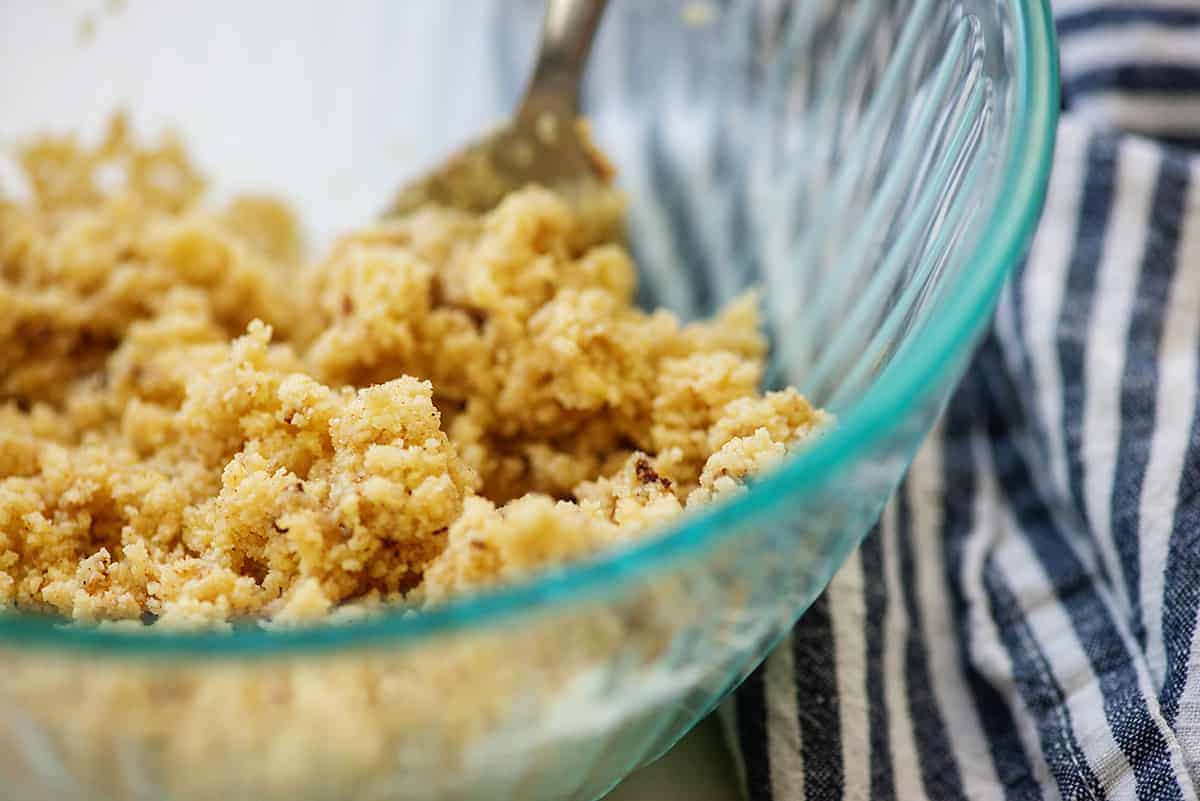 Key Ingredients:
This post contains affiliate links. As an Amazon Associate and member of other affiliate programs, I earn from qualifying purchases.
Almond Flour: Rich, buttery, and easy to find in any grocery store. This is a staple in low carb baking. We like this brand.
Sweetener: We use and recommend Lakanto Monkfruit. It's an all natural sweetener that bakes and tastes like sugar with a zero on the glycemic index. It has zero net carbs and zero calories. This tastes the most like real sugar to my family.
Lemon Juice: The lemon juice gives the zucchini that tart flavor you'd find in an apple. It's key.
Cinnamon: Apple crisp should taste warm and cozy, like a little bite of Fall. The cinnamon (and nutmeg!) is necessary.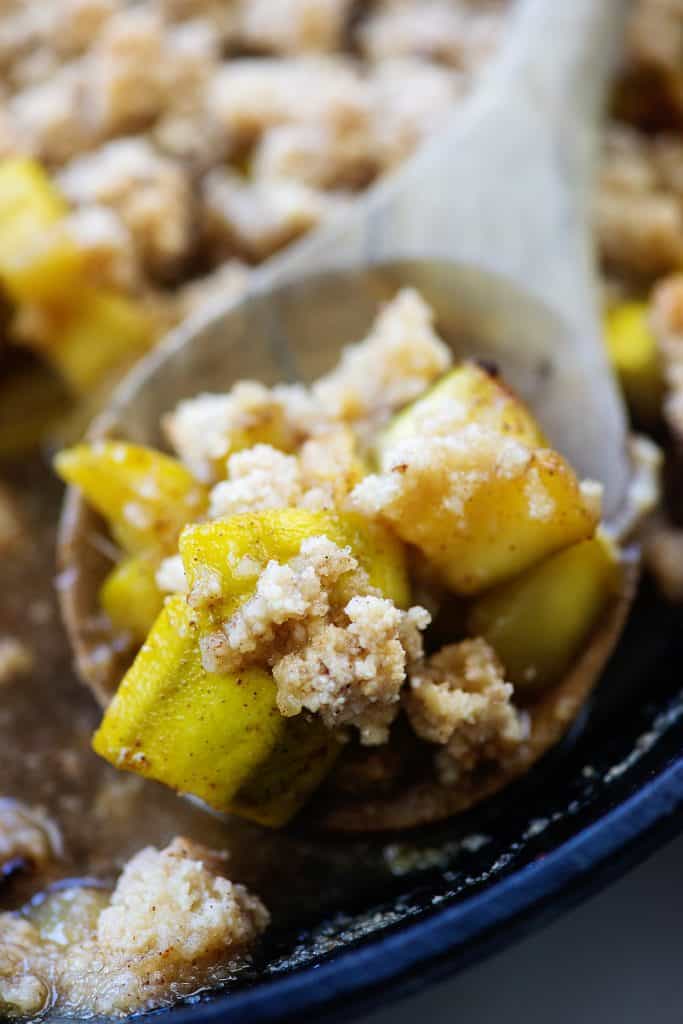 Serving:
This keto apple crisp is going to bake in just 20 minutes, but you'll want to let it set on the counter for at least 10 minutes to thicken up a bit after you take it from the oven.
That 10 minute wait gives you the perfect opportunity to grab your favorite keto ice cream and let it soften up.
We love Halo Top and Enlightened ice creams.
Breyer's Carb Smart also tastes delicious, but it does use malitol as a sweetener, which I personally try to avoid.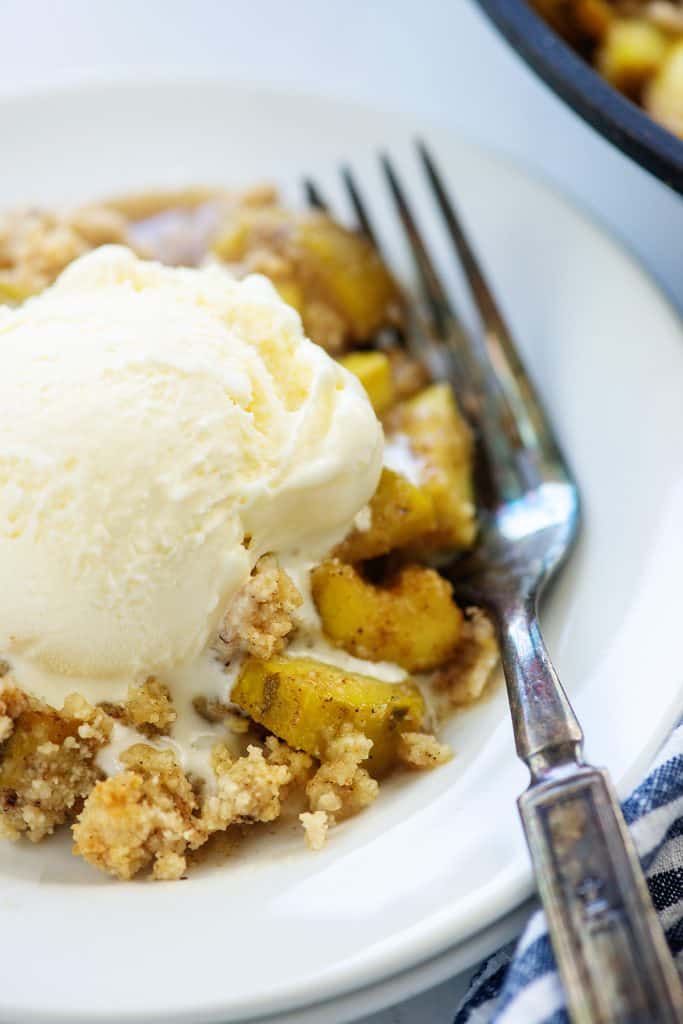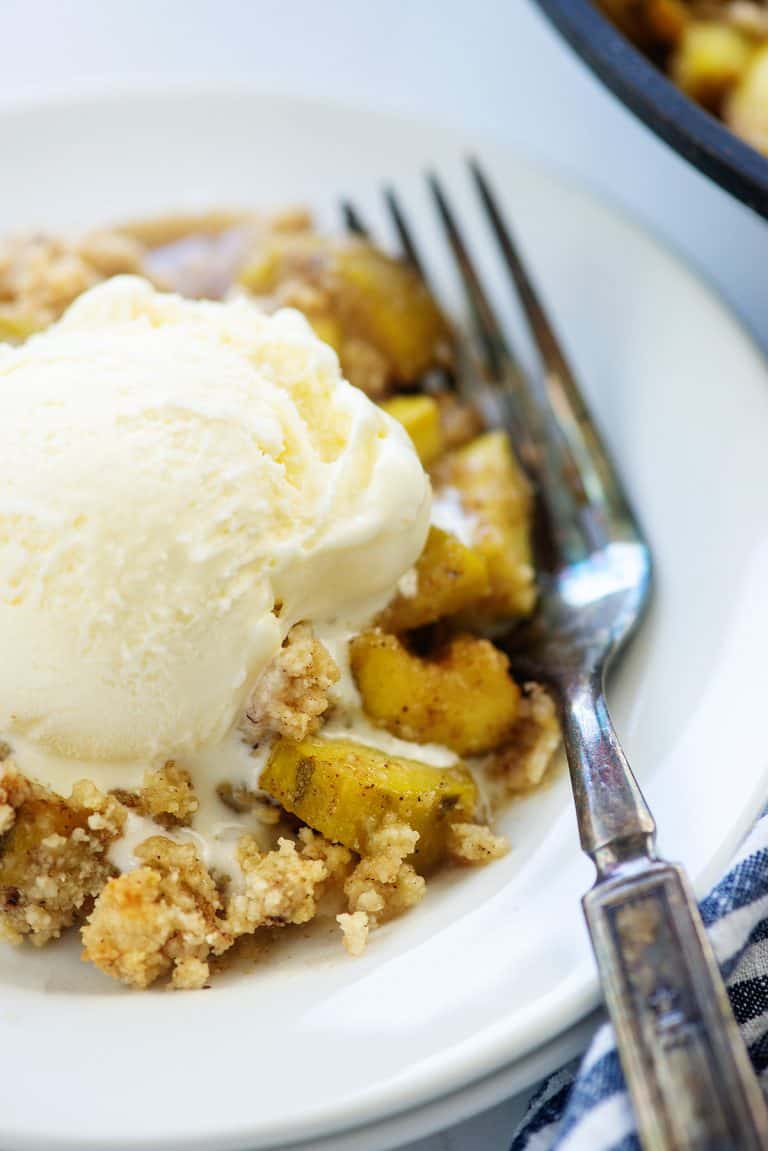 Does this really taste like apple crisp?
We think so! My daughter helped me make this recipe and she says that it tastes like apple crisp with a zucchini aftertaste. She DEVOURED her serving. My husband and son, who weren't in the kitchen when we made this recipe, had no idea they weren't eating real apples.
Do I have to peel the zucchini?
We recommend peeling the zucchini for two reasons – the texture of the zucchini is better without the skin and the dark green color of the skin takes away some of those apple vibes. It's easier to believe you're eating apples when it looks like apples.
How can I thicken this up?
The zucchini will release a bit of liquid during cooking. You might try draining the liquid off before adding the crumble topping. Alternately, try sprinkling 1/4 teaspoon xanthan gum over the zucchini before cooking in the lemon juice.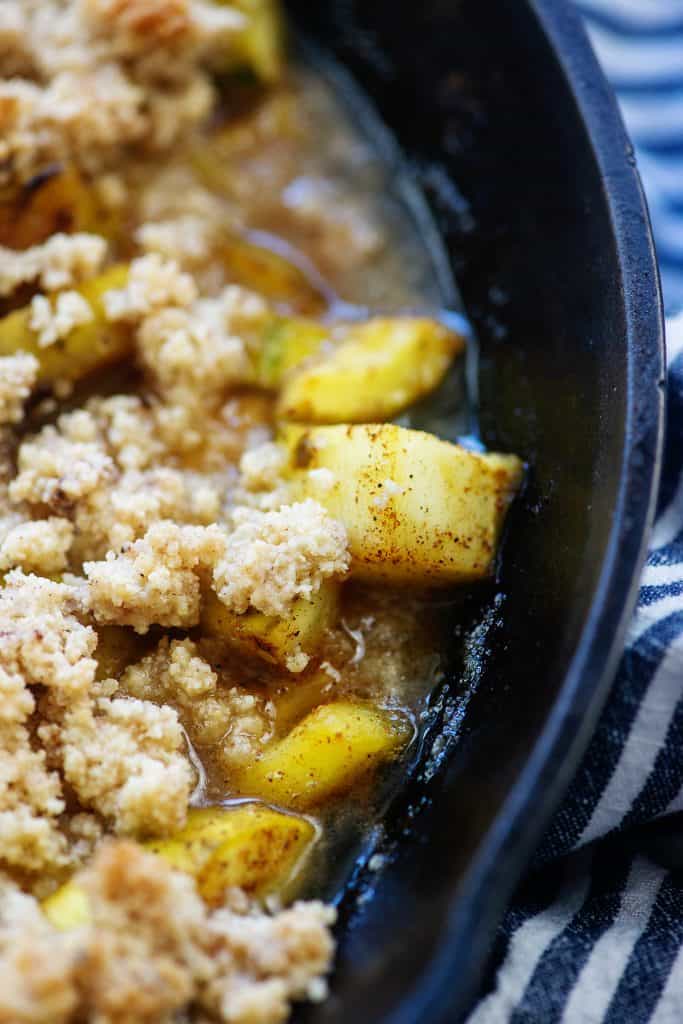 More keto desserts: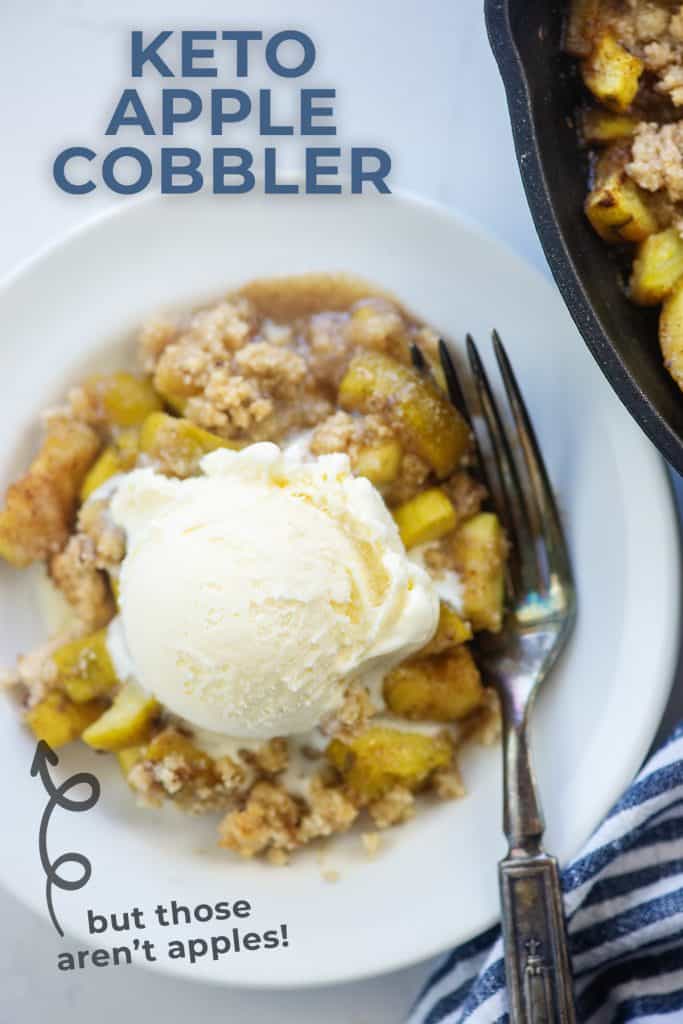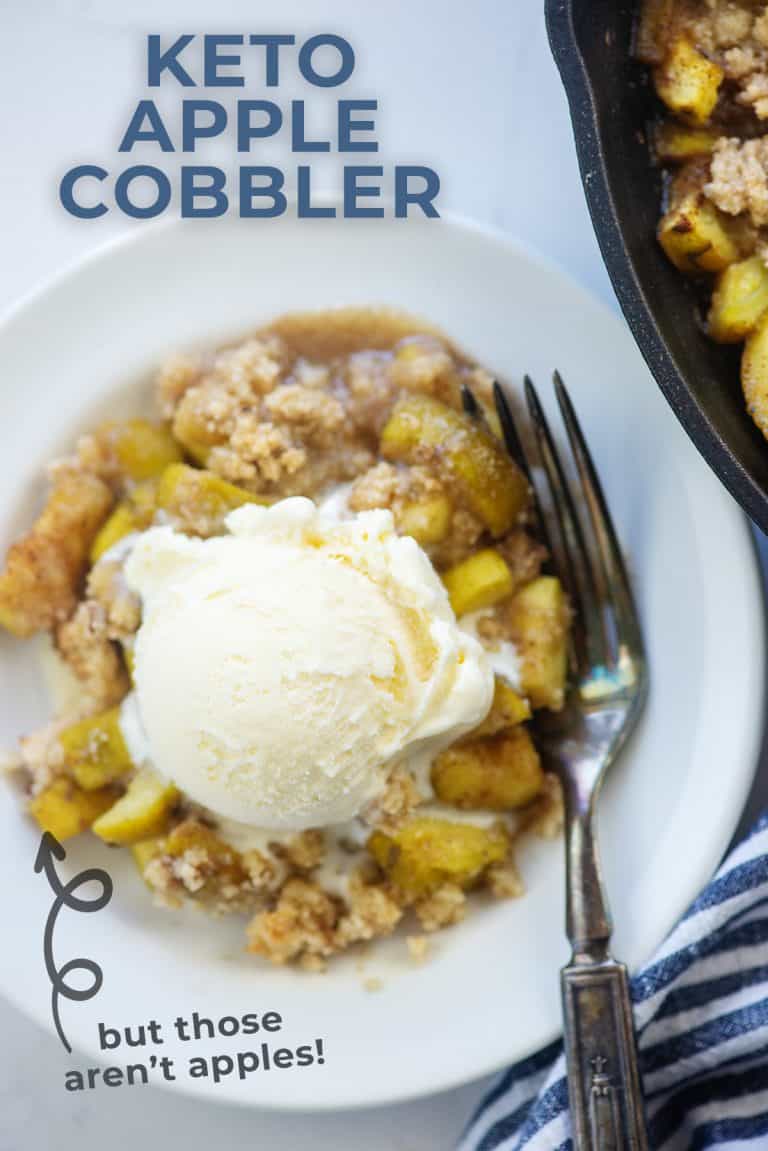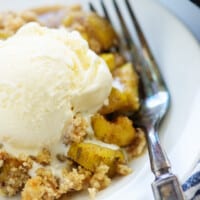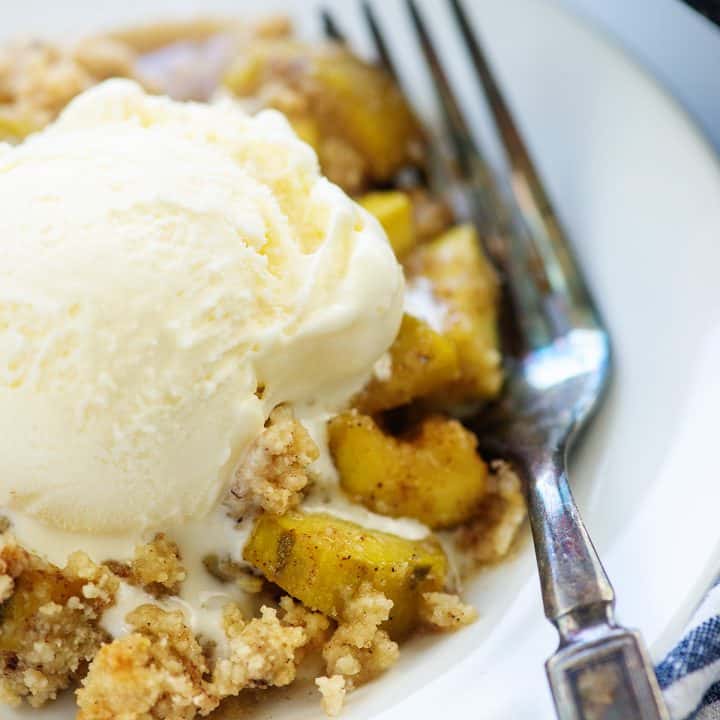 Keto Apple Crisp
There are zero apples in this keto dessert, but it tastes just like an apple crisp, thanks to the zucchini! We serve this up with a scoop of low carb vanilla ice cream.
Ingredients
For the filling:
4 cups chopped, seeded, peeled zucchini
1/3 cup lemon juice
1 teaspoon ground cinnamon
1/4 teaspoon ground nutmeg
For the topping:
4 tablespoons butter, melted
½ teaspoon cinnamon
Instructions
Preheat oven to 375 degrees.
In a large oven safe skillet, such as cast iron, cook the zucchini and lemon juice over medium heat until the zucchini has softened, about 20 minutes. Drain excess liquid from the skillet, if needed.
Stir in the sweetener, cinnamon, and nutmeg to coat the zucchini.
Add the almond flour, melted butter, sweetener, and cinnamon to a small bowl and stir well to form moist crumbs.
Sprinkle the topping over the zucchini.
Bake for 20 minutes.
Let set for 10 minutes before serving.
Notes
Sweetener: We prefer Lakanto Golden Monkfruit (linked above) but the classic variety also works great.
To thicken: If you'd like your cobbler to have less liquid, sprinkle 1/4 teaspoon xanthan gum over the chopped zucchini at the start of step 2.
Recommended Products
As an Amazon Associate and member of other affiliate programs, I earn from qualifying purchases.
Nutrition Information:
Yield: 5
Serving Size: 1/2 cup
Amount Per Serving:
Calories: 199
Total Fat: 17g
Saturated Fat: 7g
Trans Fat: 0g
Unsaturated Fat: 13g
Cholesterol: 24mg
Sodium: 82mg
Carbohydrates: 7g
Net Carbohydrates: 4g
Fiber: 3g
Sugar: 3g
Protein: 5g
All information and tools presented and written within this site are intended for informational purposes only. This information is provided as a courtesy and there is no guarantee that the information is accurate.