This smooth, creamy KETO PEANUT BUTTER MOUSSE is such an easy dessert to whip up when you have a sweet tooth. Ready in minutes and so satisfying! If you're a peanut butter lover, you'll need this recipe!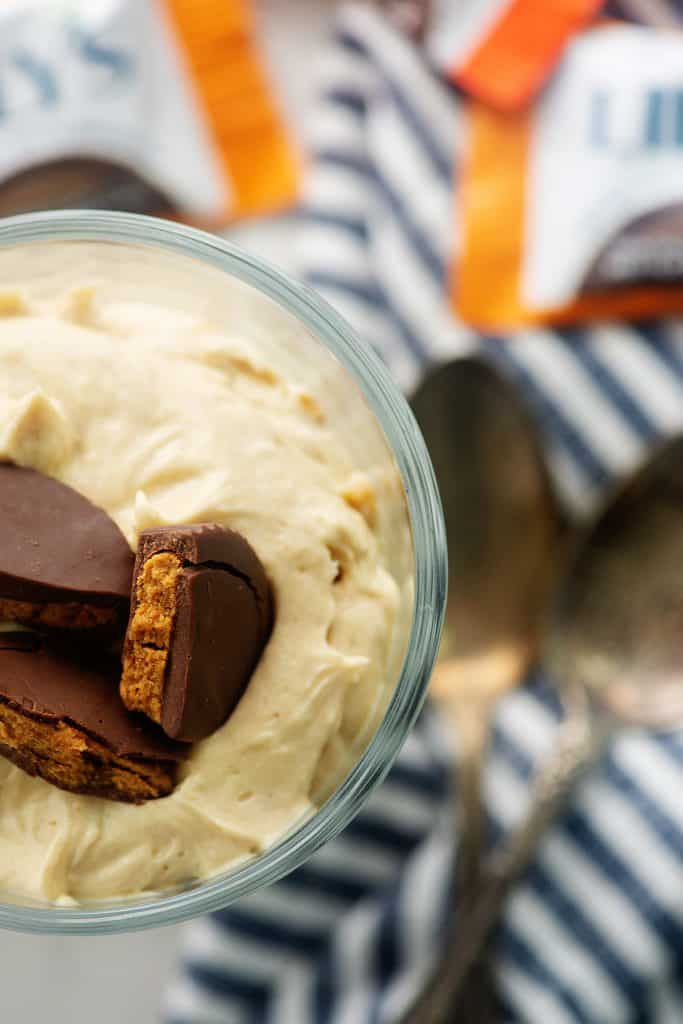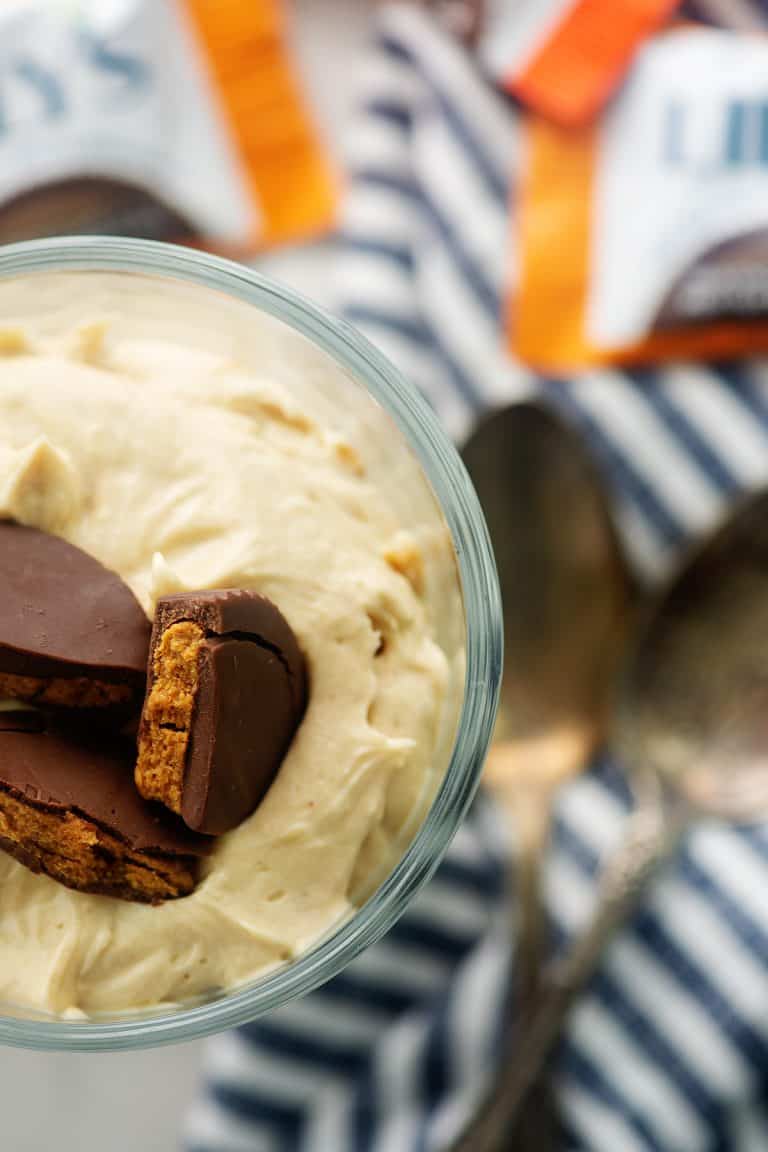 Let's start a club.
The Peanut Butter Eaters Anonymous Club. In the club we'll eat peanut butter straight from the jar. We'll spread peanut butter on every piece of low carb chocolate we can find. And we will definitely, without a doubt, make this peanut butter mousse.
If you think you could be a member of that club, you're going to want this recipe, because oh man. So good!
I've been enjoying making mousse lately, because it's such a quick way to satisfy that craving for dessert.
My keto chocolate mousse and pumpkin mousse have been on repeat around here, so I thought I'd mix it up and throw some peanut butter at my next batch of mousse.
So rich and decadent with just a few minutes of work and a handful of ingredients!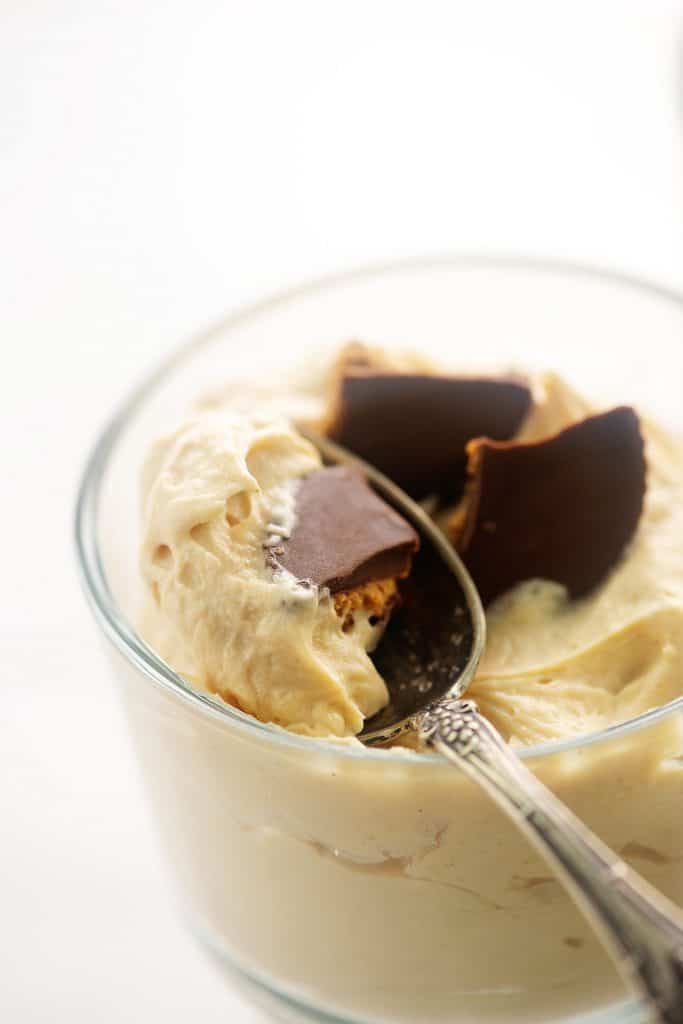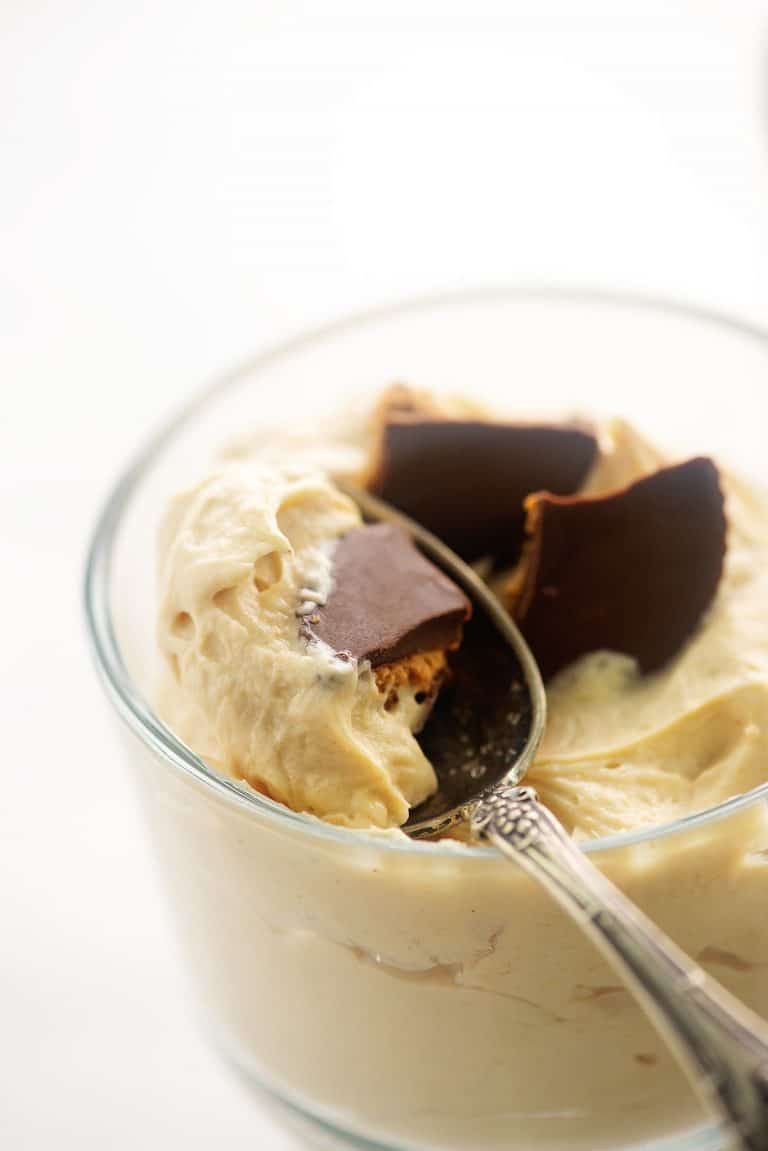 Products Used:
Peanut Butter: You'll want to look for a peanut butter that is sugar-free, if you're strict keto. This creamy peanut butter is perfect. It's 2 net carbs and the only ingredient is peanuts. If you're just cutting carbs, we really like Skippy with just 4 net carbs.
Sweetener: We use and love Lakanto products. Their powdered sweetener is perfect for this recipe, since it won't add the grainy texture of granulated sweetener. Use code THATLOWCARBLIFE for 20% off your order!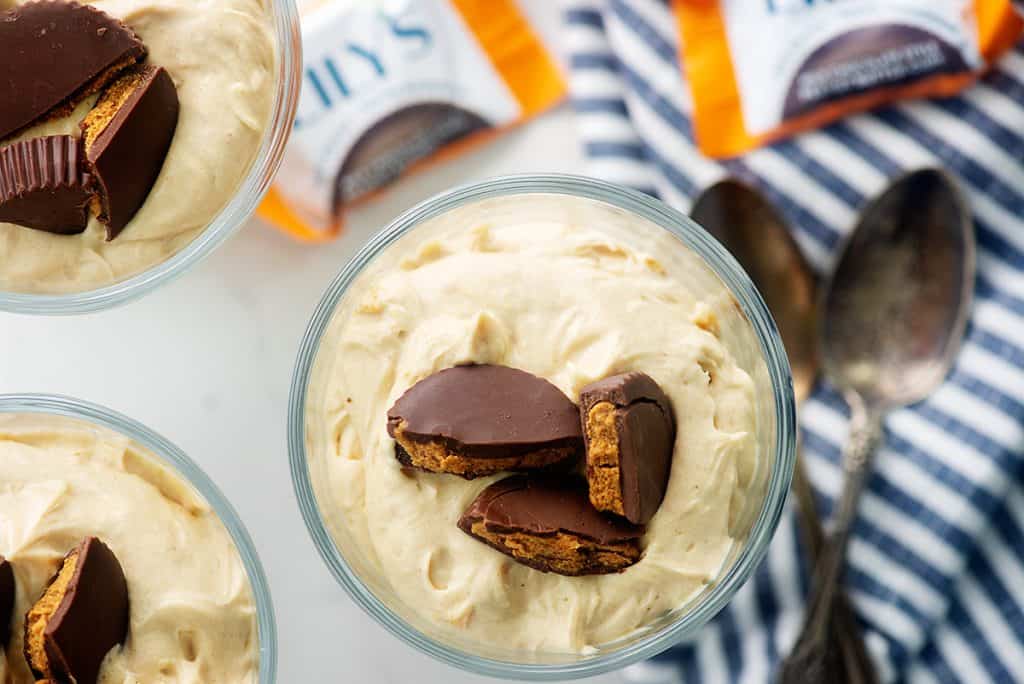 Peanut Butter Cups: These are totally not necessary, but how can you resist chopping up a peanut butter cup to sprinkle over the top of your mousse? We use Lily's. Their chocolate candy is the best!
Thrive Market: You may have noticed that a few of those links are for Thrive Market. We are obsessed with that shop – it's similar to Costco in that it's a membership site and you get a cheaper price on products. Beyond that, though, we love how easy it is to shop there.
You can sort by dietary needs and you won't see all the extra stuff you don't want.
Their keto section is phenomenal. I just looked and they have 733 keto products currently! Amazing!
They have different membership options available, ranging from monthly to yearly, so go check them out! The prices are great and we always save more than we spend on the membership.
How to:
This recipe is quick and simple!
Add room temperature cream cheese, peanut butter, powdered sweetener, and vanilla to a mixing bowl and use a hand mixer to beat that together until it's thick and creamy.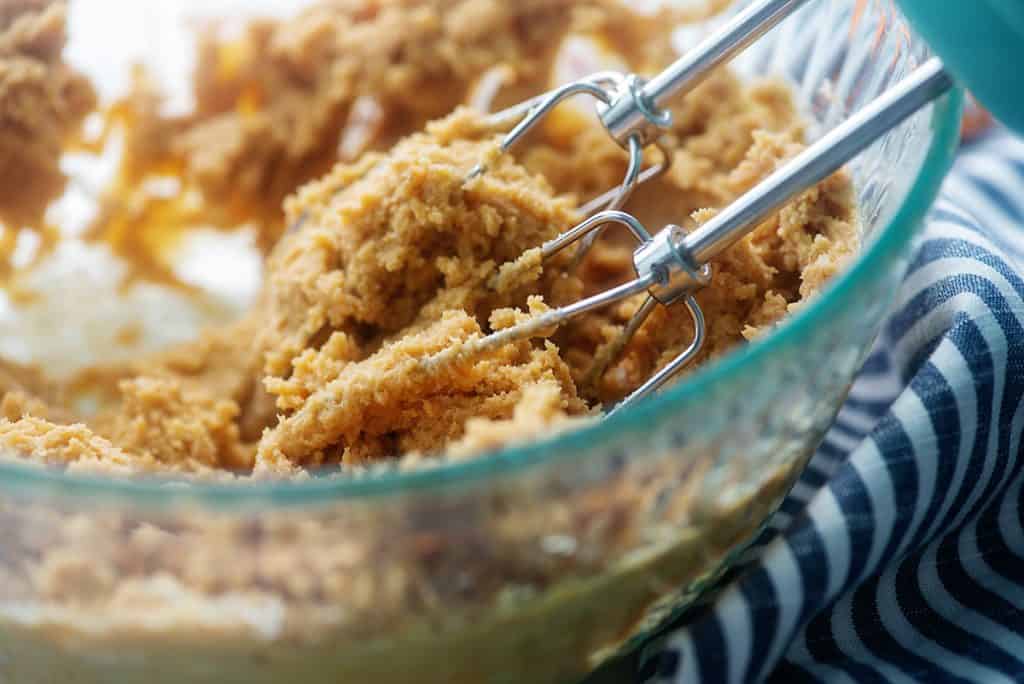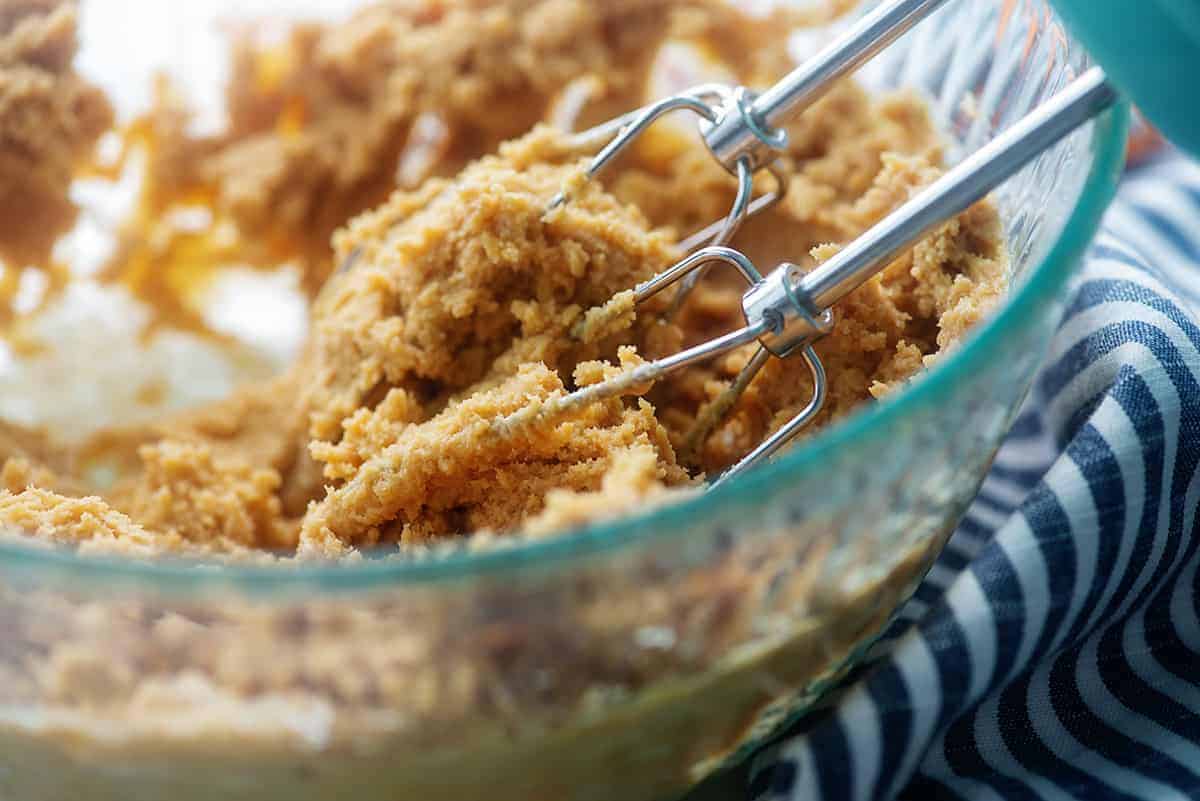 In a second bowl, add some cold whipping cream and beat with a mixer until stiff peaks form.
Combine whipped cream into the peanut butter mixture with your mixer. You don't want to overmix it, but you do want it to be all combined together.
Spoon into a pretty serving bowl, top with some Lily's peanut butter cups, and dive right in.
This one is hard to resist!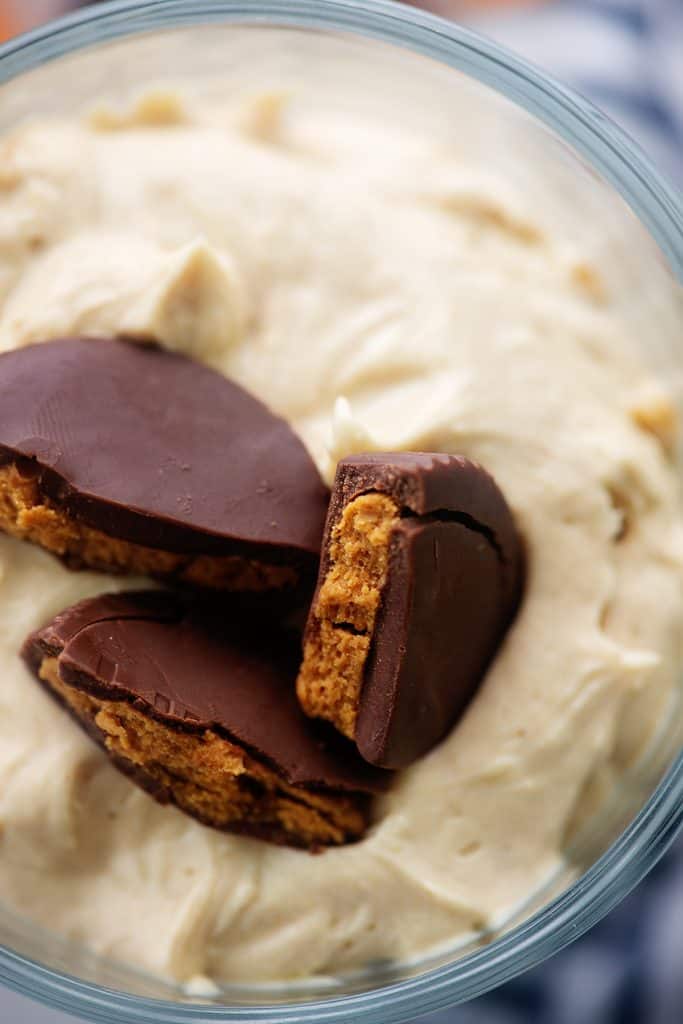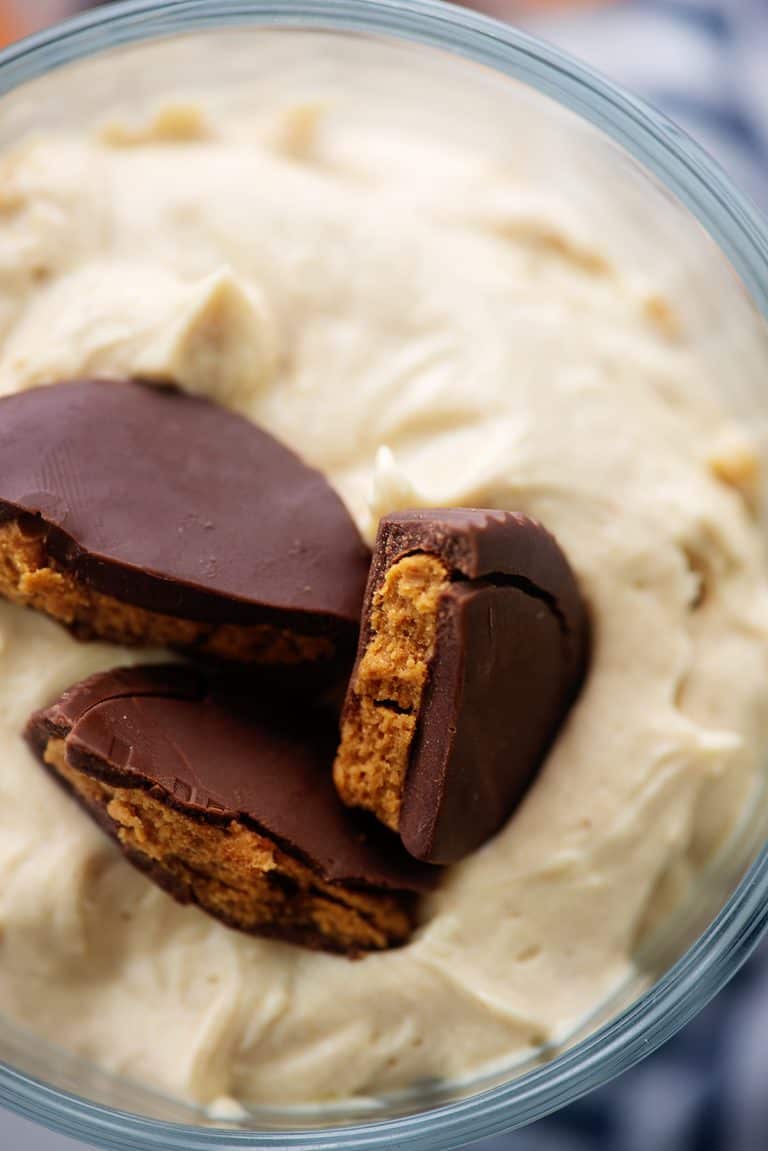 More low carb and keto desserts: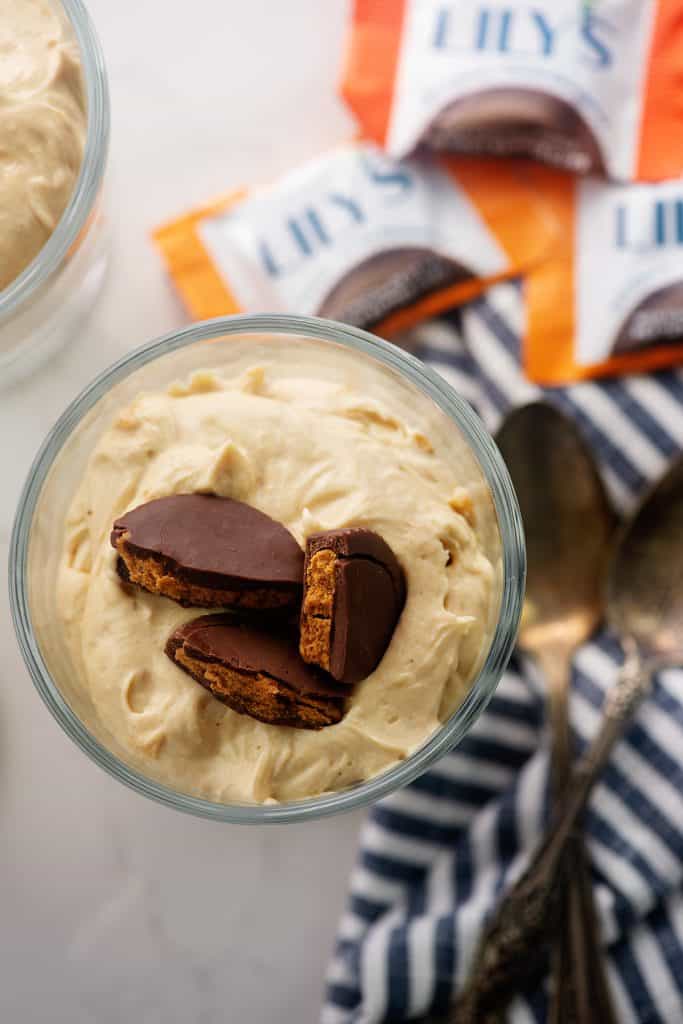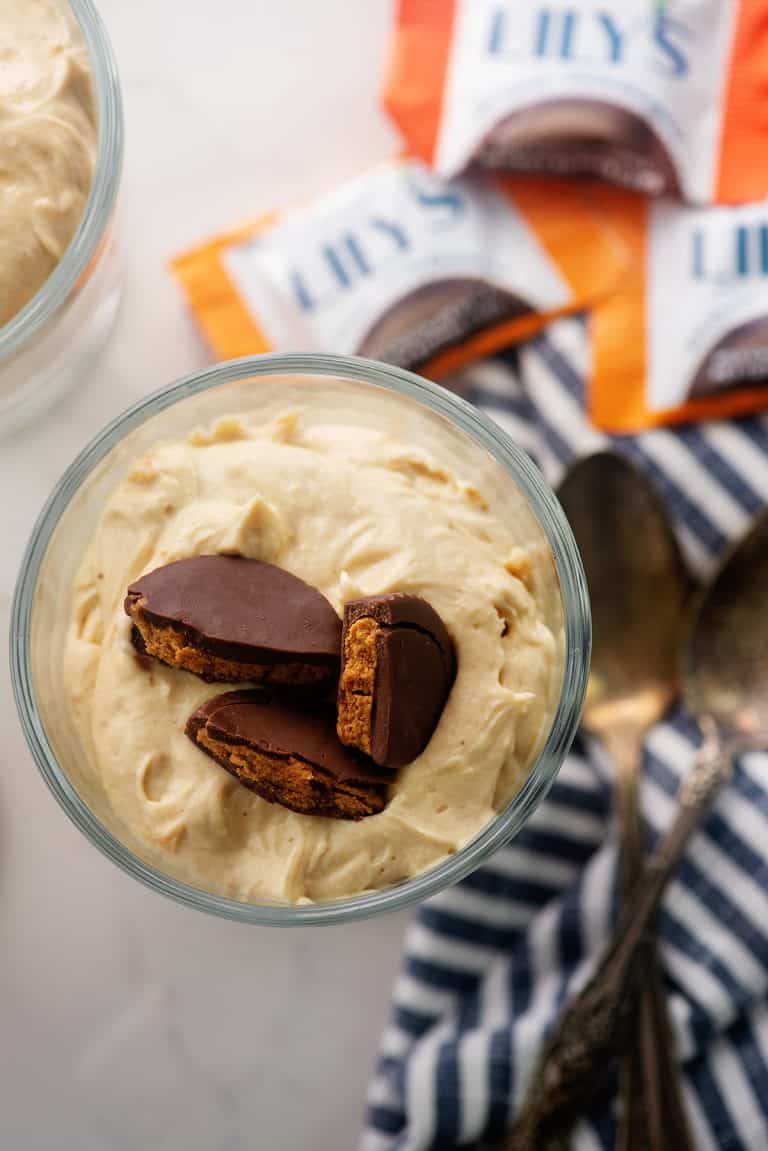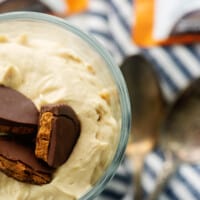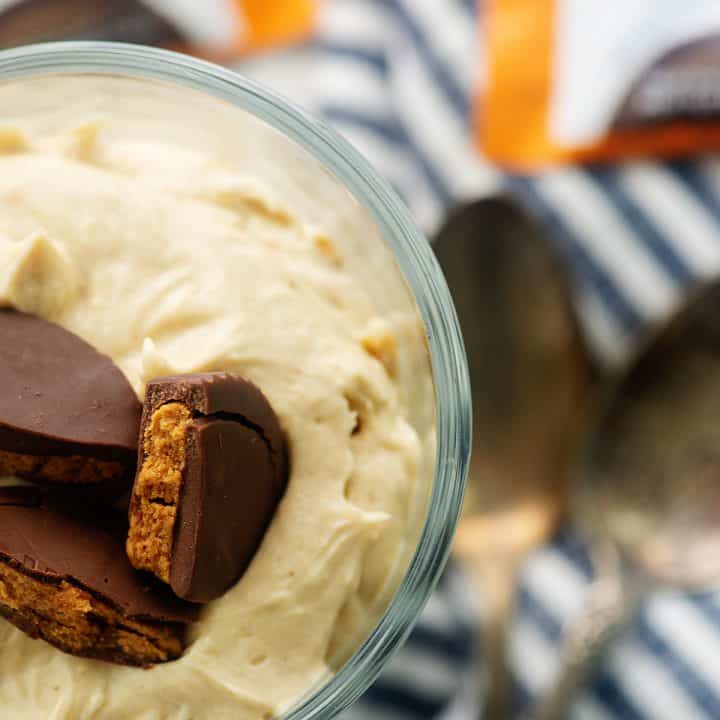 Keto Peanut Butter Mousse
Smooth, creamy, and loaded with peanut butter! This keto peanut butter mousse is ready in minutes, so you can satisfy that sweet tooth the minute a craving hits.
Ingredients
6 ounces cream cheese, room temperature
1 ½ cups heavy cream
1 teaspoon vanilla
Instructions
Add the cream cheese, peanut butter, and powdered sugar to a mixing bowl and beat with an electric mixer until smooth and creamy.
Add the whipping cream and vanilla to a second mixing bowl and beat until stiff peaks form.
Using the electric mixer, beat the whipped cream into the peanut butter mixture. Mix just until everything is combined.
Spoon mixture evenly between 6 containers and top with chopped peanut butter cups and extra whipped cream, if desired.

Notes
Peanut Butter: We used a sugar-free peanut butter with 2 net carbs per serving. The nutrition information is based on this. If your peanut butter has more carbs, you'll want to calculate the nutrition accordingly.
Sweetener: Use code THATLOWCARBLIFE for 20% off your order at Lakanto.com.
Peanut Butter Cups: Deduct 1 net carb per serving if you skip the peanut butter cups.
Nutrition Information:
Yield: 6
Serving Size: 1/2 cup
Amount Per Serving:
Calories: 467
Total Fat: 43g
Saturated Fat: 16g
Trans Fat: 0g
Unsaturated Fat: 0g
Cholesterol: 56mg
Sodium: 140mg
Carbohydrates: 10g
Net Carbohydrates: 6g
Fiber: 4g
Sugar: 4g
Protein: 14g
All information and tools presented and written within this site are intended for informational purposes only. This information is provided as a courtesy and there is no guarantee that the information is accurate.