These Keto Pumpkin Bars are the perfect Fall treat! They're loaded with pumpkin flavor and are topped with a rich, keto cream cheese frosting! These dessert bars are perfect for holiday gatherings.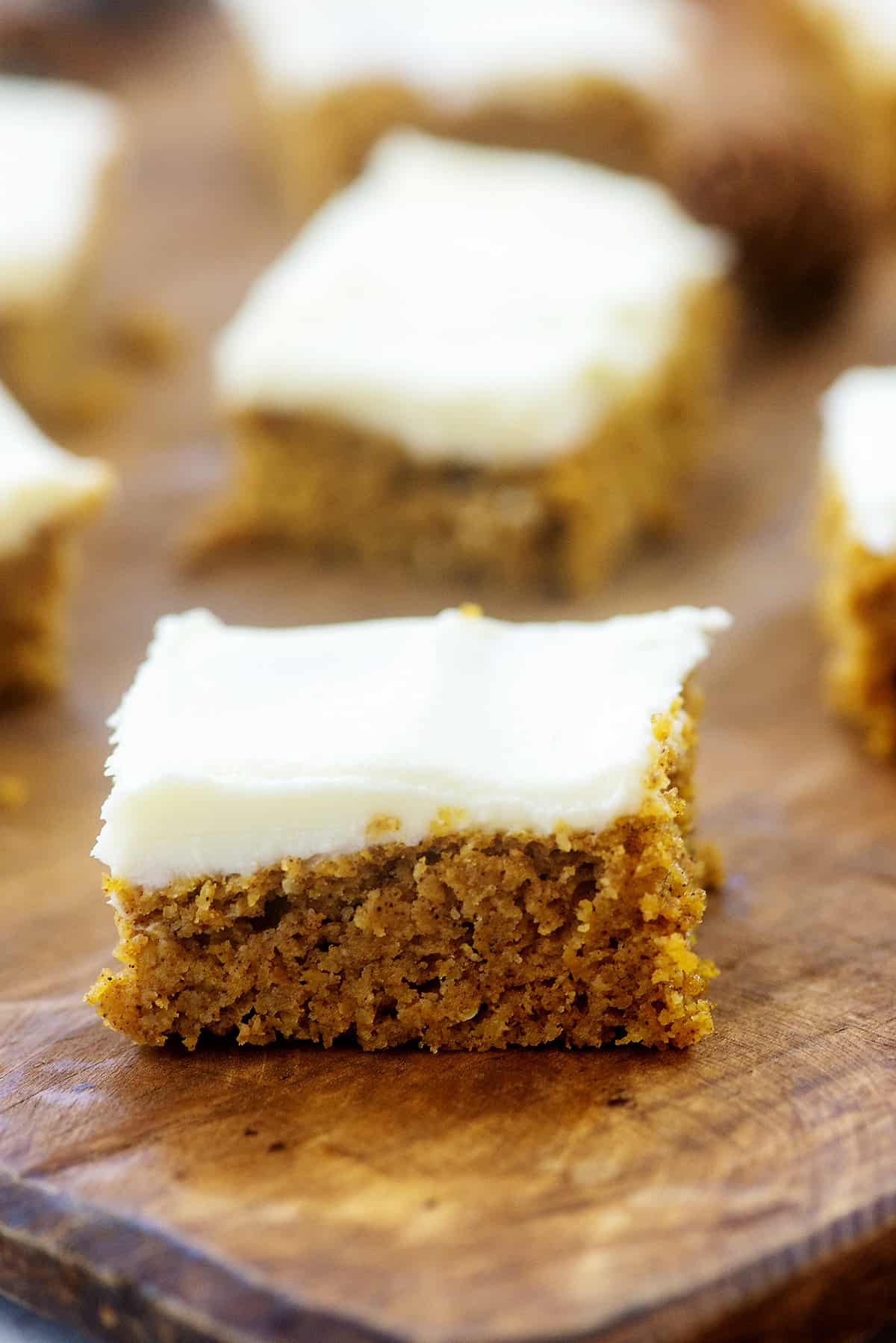 It's the best time of the year…pumpkin season!
I know some of you that are new to low carb are dreading this time of year without all of your beloved pumpkin treats and wondering how you're going to make it through without diving head first into a slice of pumpkin pie, but guess what…
It's so easy to make low carb pumpkin desserts!
We have quite a few to choose from already, including our keto pumpkin pie, keto pumpkin cheesecake, and keto pumpkin mousse.
Now we're bringing you a new favorite – Keto Pumpkin Bars!
When I tell you that the texture on these is just perfect…I mean it. So many times goodies made with almond flour just have a funky texture that I don't super love. Getting the correct ratio of liquid and fat to the flour can be tricky, especially if you've spent most of your life baking with the usual flour made of wheat.
Happy to say that after a few tries, we nailed this one.
Perfectly pumpkin spiced, moist and tender, with a rich cream cheese frosting…I can't stop eating these and will be making them for many years to come.
Keto Pumpin Bar Ingredient Notes:
This post contains affiliate links. As an Amazon associate and member of other affiliate programs, I earn from qualifying purchases.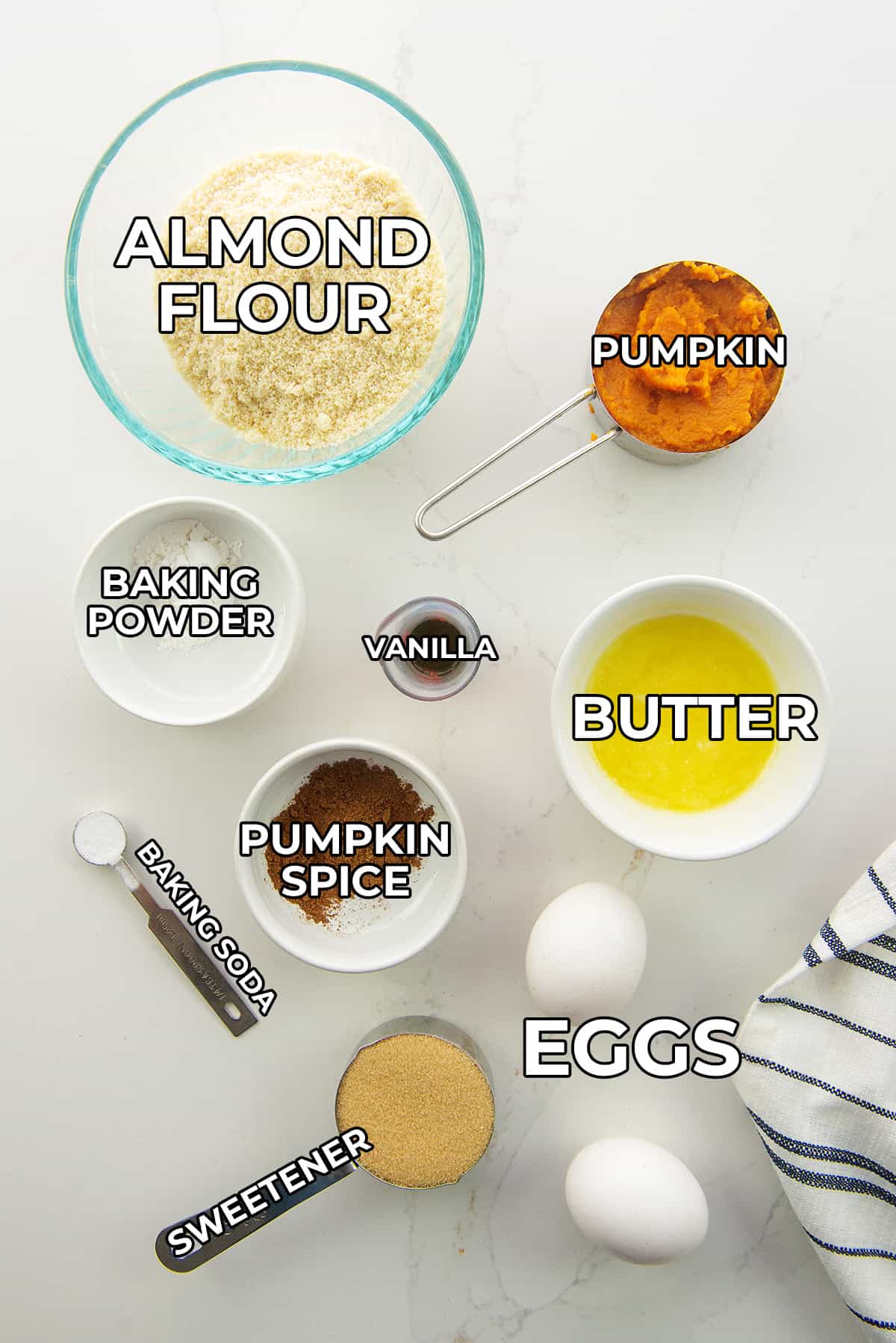 Almond Flour – We have not tested this recipe using any other type of flour. Coconut flour may work but not as a direct swap. Other changes would need to be made and you'll have to do quite a bit of experimenting.
Sweetener – We used the Lakanto Golden Sweetener here. We love that brown sugar vibe it has.
Pumpkin Puree – Be sure to use 100% pure pumpkin. We like the canned stuff best, because it's nice and thick. Homemade pumpkin puree may also work, but be sure to get all the excess liquid out.
Shop Keto Ingredients
We use Thrive Market for a lot of our specialty ingredients and keto snacks or products. Their prices tend to be cheaper than the local stores and I love that you can so easily sort products by diet.
Like Costco, this is a membership site, but we find that it's more than worth it based on the amount we save over the regular grocery store.
They have monthly or yearly plans. Check it out here.
Keto Cream Cheese Frosting Ingredient Notes: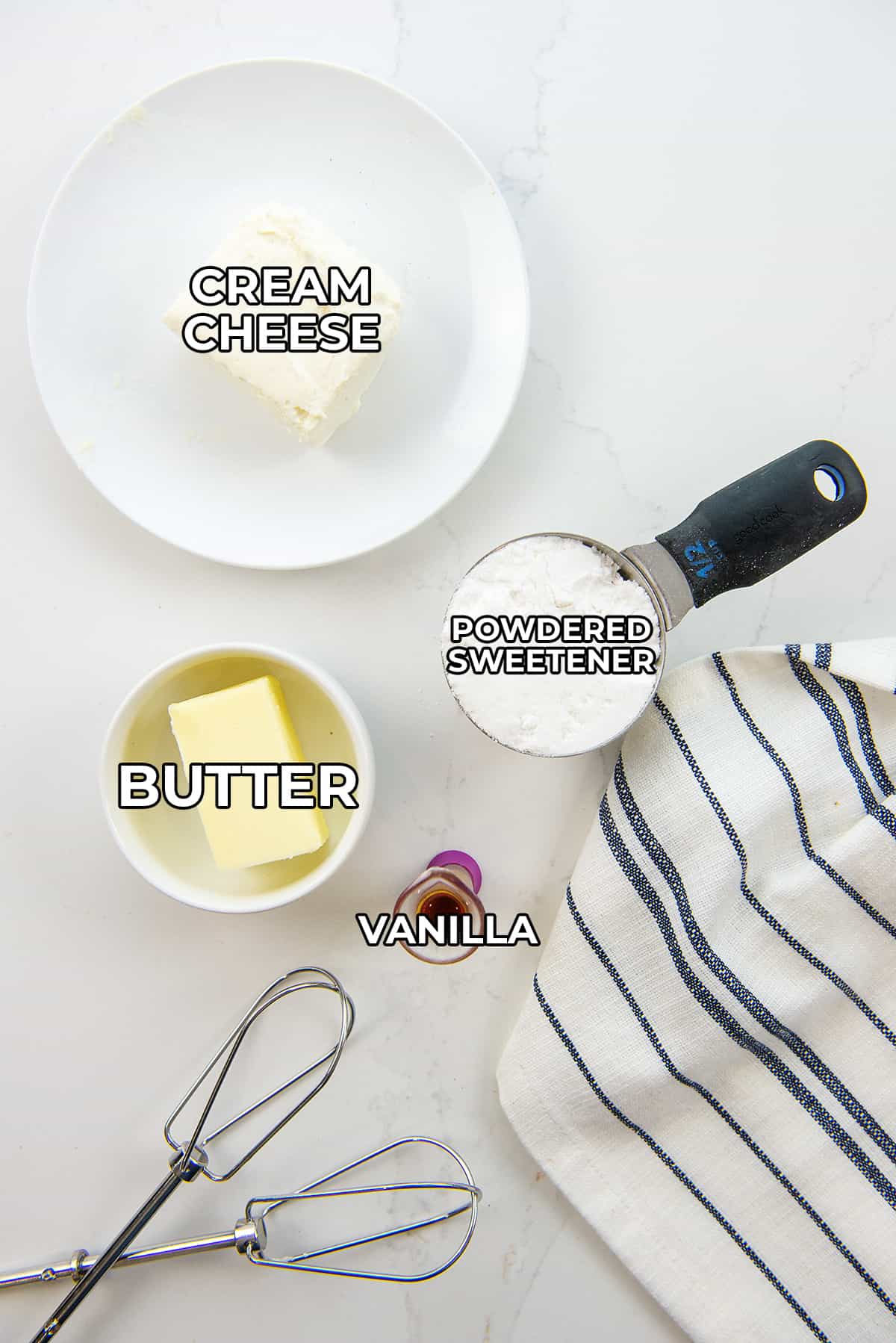 Cream Cheese – Be sure to use the block of cream cheese and not the spreadable stuff that comes in the tub.
Powdered Sweetener – We use and love Lakanto. Purchase above from Thrive or shop directly at Lakanto.com with code THATLOWCARBLIFE for 20% off your order.
Why We Love This Recipe:
It's so simple! Mix everything together in one bowl, bake, and then do the frosting.
Speaking of the frosting, this homemade cream cheese frosting is so simple and doesn't taste like 'diet' food at all! Nobody will even know it is low carb.
We just love pumpkin recipes in general and this is a classic way to enjoy those fall flavors!
How To:
Pumpkin Batter – This is one of those easy recipes where you can toss everything into a mixing bowl and whisk away! Start by adding the pumpkin puree, eggs, sweetener, butter and vanilla and whisk together. Once those are well combined you can add in all the remaining ingredients for the pumpkin batter, like the almond flour and pumpkin spice. Whisk it all together until you've got a smooth pumpkin batter!
Bake – When you've prepared the batter you can pour it into a buttered baking dish, smooth it out evenly with a rubber spatula and then start the baking! It's finished when the center is fully set and a tester comes out clean, about 25 to 30 minutes. Let it cool completely before you move on to making the cream cheese frosting for these low carb pumpkin bars. The pumpkin puree should keep these bars moist and flavorful!
Frosting – These pumpkin bars would definitely not be complete without our keto cream cheese frosting! It's so easy to make and nobody will even notice that it is low carb. Use an electric mixer to beat together the cream cheese, powdered sweetener, butter, and vanilla until it forms a smooth, creamy frosting. Stir in a bit of cream or almond milk to thin out the frosting, if needed.
Serve – Spread all that rich frosting over the top in a nice thick layer and then you can cut these into bars and either serve immediately or refrigerate for later!
Helpful Tip!
Serve Chilled! While these are definitely delicious at room temperature, they're even better straight from the fridge!
FAQ's:
Can I store these pumpkin bars for later?
Yep, just seal them tightly and they should last in the refrigerator for about four days.
Can I use another type of flour?
We've only tested this recipe using almond flour. Coconut flour may work, but there will need to be adjustments, including either less flour or more eggs. But, as we haven't tried it, we can't make recommendations.
Can I use fresh pumpkin in these pumpkin bars?
Perhaps! Canned pumpkin is very dense and not liquid at all. In our experience, homemade pumpkin puree tends to be much wetter. If you do use homemade pumpkin puree, be sure to get as much liquid out as possible to avoid gummy, mushy pumpkin bars.
More Low Carb Pumpkin Recipes!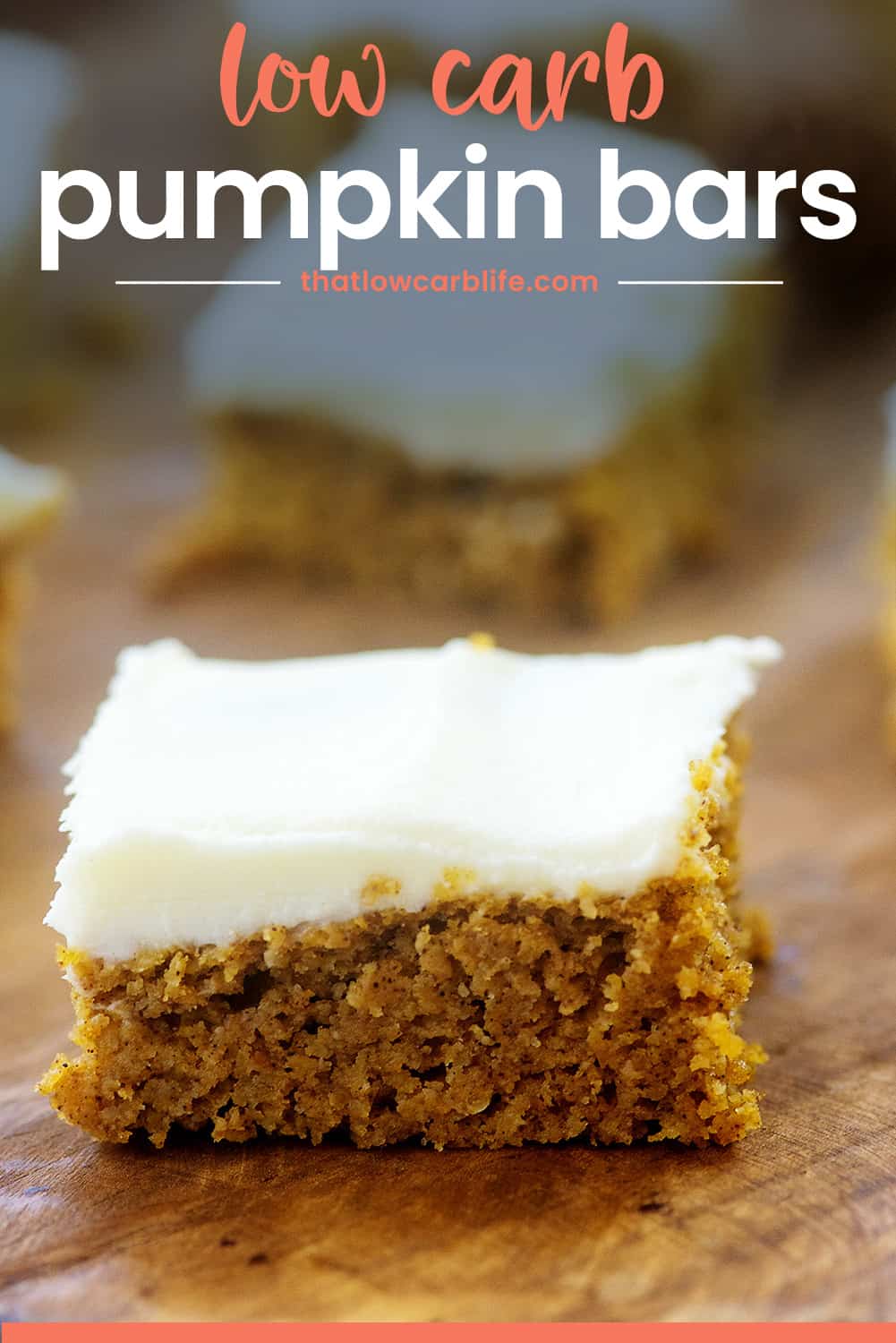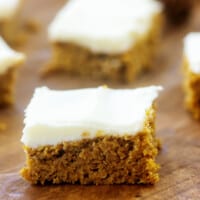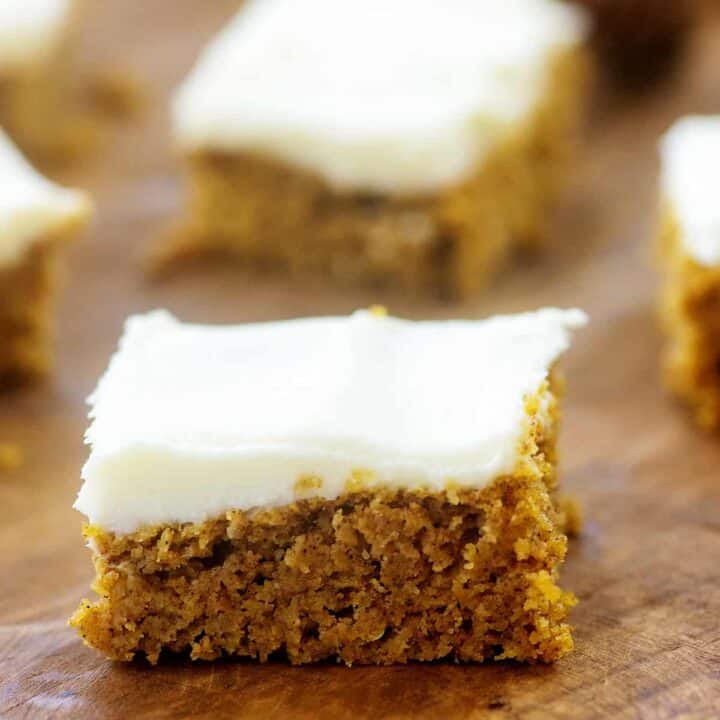 Keto Pumpkin Bars
These keto pumpkin bars are grain free, gluten free, and sugar free - but they taste just like the classic pumpkin bar that my grandma used to make. The rich cream cheese frosting is the perfect way to top these off.
Total Time 1 hour 40 minutes
Ingredients
For the pumpkin bars:
½ cup pumpkin puree
2 large eggs
⅓ cup golden sweetener
2 tablespoons butter, melted
2 teaspoons vanilla extract
1 ¼ cups almond flour
2 teaspoons pumpkin spice
2 teaspoons baking powder
¼ teaspoon baking soda
Pinch of salt
For the frosting:
6 ounces cream cheese, room temperature
¼ cup butter, room temperature
½ cup powdered sweetener
1 teaspoon vanilla
Almond milk or heavy cream, as needed
Instructions
To make the pumpkin bars:
Preheat oven to 350 degrees. Butter a 9x9 baking dish and set aside.
Add the pumpkin, eggs, sweetener, butter, and vanilla to a mixing bowl and whisk well until combined.
Add the almond flour, pumpkin spice, baking powder, baking soda, and salt to the mixing bowl and stir well until the batter is smooth and well combined.
Pour the batter into the prepared baking dish. Bake for 25-30 minutes or until the center is fully set and a tester comes out clean.
Let cool completely in the pan before frosting.
To make the frosting:
Add the cream cheese, butter, powdered sugar, and vanilla to a mixing bowl and beat well with an electric mixer until smooth and creamy. Add in almond milk or cream, 1 tablespoon at a time, to thin the frosting, if needed. Frosting should be thick but spreadable.
Spread the frosting evenly over the cooled pumpkin bars.
Serve immediately or store in the refrigerator until ready to serve.
Notes
These pumpkin bars will last in the fridge for 4-5 days. We prefer them served cold.
We use and love Lakanto sweeteners. Use code THATLOWCARBLIFE for 20% off your order at Lakanto.com.
Nutrition Information:
Yield: 16
Serving Size: 1
Amount Per Serving:
Calories: 155
Total Fat: 14g
Saturated Fat: 6g
Trans Fat: 0g
Unsaturated Fat: 7g
Cholesterol: 48mg
Sodium: 167mg
Carbohydrates: 5g
Net Carbohydrates: 3g
Fiber: 2g
Sugar: 3g
Protein: 4g
All information and tools presented and written within this site are intended for informational purposes only. This information is provided as a courtesy and there is no guarantee that the information is accurate.