Keto Pumpkin Cheesecake made extra easy and adorable in a muffin tin! This mini pumpkin cheesecake recipe turns out perfectly smooth and creamy every time with loads of pumpkin flavor and just 3 net carbs per serving!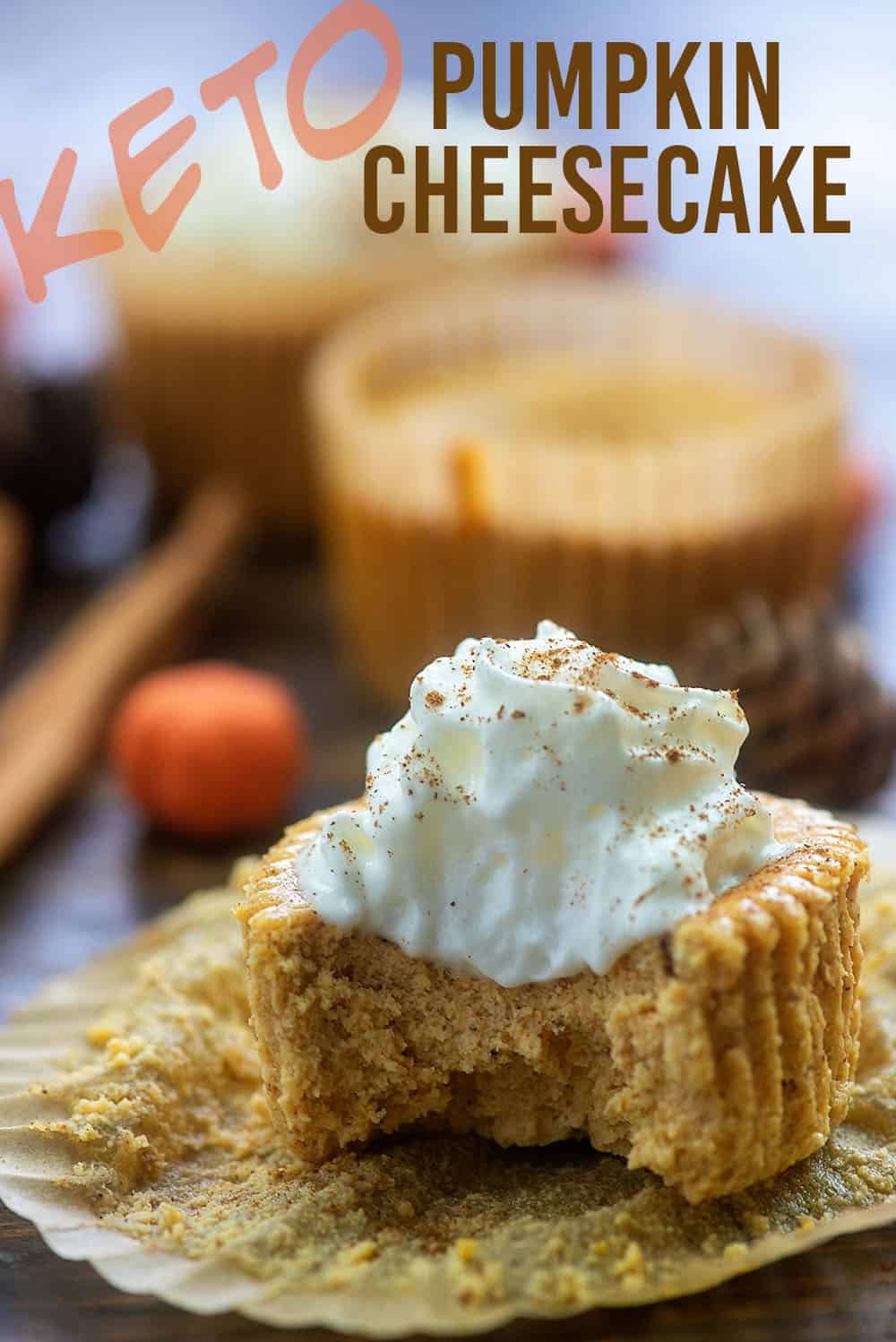 Every time we get a slightly chilly breeze rolling through here, I immediately look up the weather.
"Is this it? Is this the week we'll get down into the 70s or even 60s? Can I really bake with pumpkin and not get looked at funny?"
You see, I believe that pumpkin is good all year, but other people seem to want to reserve it for fall only. I'm not sure how y'all live without our keto pumpkin bars all year long, to be honest.
So last week we had a bit of a chill in the morning air and I headed straight to the kitchen to whip up some keto pumpkin cheesecake.
Isn't autumn the best?!

Ingredient Notes:
This post contains affiliate links. As an Amazon associate and member of other affiliate programs, I earn from qualifying purchases.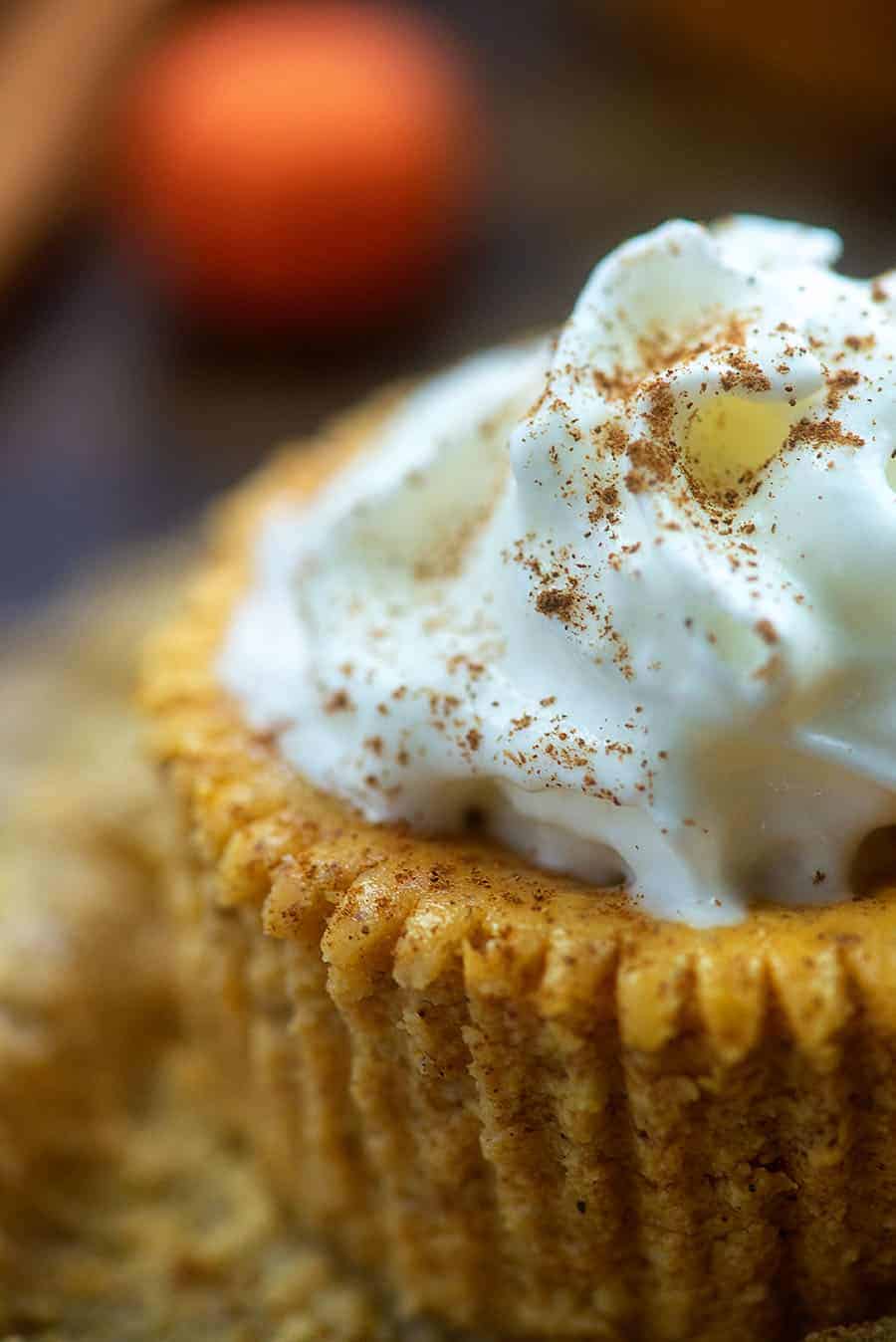 Cream Cheese – Be sure to use the brick cream cheese and not the tub of whipped cream cheese. You'll also want to make sure the cream cheese is fully at room temperature to prevent lumps in your cheesecake.
Pumpkin Puree – Use 100% pure pumpkin. Be careful not to buy the pumpkin pie filling as it has sugar, dairy, and other ingredients added.
Eggs – They'll help bind all the ingredients in the keto pumpkin cheesecake and hold it together while it bakes.
Sweetener – We use and love Lakanto products. We're using their original sweetener in this recipe. It bakes and tastes like real sugar with no impact on blood glucose, so it can be counted as ZERO net carbs! Swerve is also a great option!
Pumpkin Pie Spice – You can use the store bought kind or follow the link to try a homemade pumpkin pie spice recipe!
Vanilla Extract – For flavor!
Salt – Just a pinch!
Shop Keto Ingredients
We use Thrive Market for a lot of our specialty ingredients and keto snacks or products. Their prices tend to be cheaper than the local stores and I love that you can so easily sort products by diet.
Like Costco, this is a membership site, but we find that it's more than worth it based on the amount we save over the regular grocery store.
They have monthly or yearly plans. Check it out here.
Helpful Tools:
Muffin Tin – A standard sized 12-well muffin tin is needed for baking the mini pumpkin cheesecakes!
Paper Liners – Along with the muffin tin it'll be very helpful to use some parchment paper liners to keep from sticking.
Electric Hand Mixer – This will make your life so much easier for pretty much any baking recipe!
Why We Love This Recipe:
It's easy to overdo it when eating something rich and sweet like cheesecake! These mini cheesecakes are the perfect way to control your portions.
Pumpkin and cheesecake just work. It's a great fall dessert!
Cheesecake is our favorite type of low carb dessert, because the cream cheese does an amazing job of masking any 'fake' sweetener taste! No one even realizes these are low carb!
How To Make Mini Pumpkin Cheesecake:
Crust – Cheesecake might sound a bit tricky, but it's one of the easiest desserts to make when you go mini! No springform pans to fuss with or worrying about water baths and all that nonsense.
We're totally skipping the crust in this recipe – we COULD do an almond flour crust, but I prefer these without. Pure creamy pumpkin cheesecake goodness.
If you want a crust, use the topping from my keto blackberry cobbler and divide it evenly between the 12 muffin cups and press it in. No need to parbake – it'll bake with the cheesecake.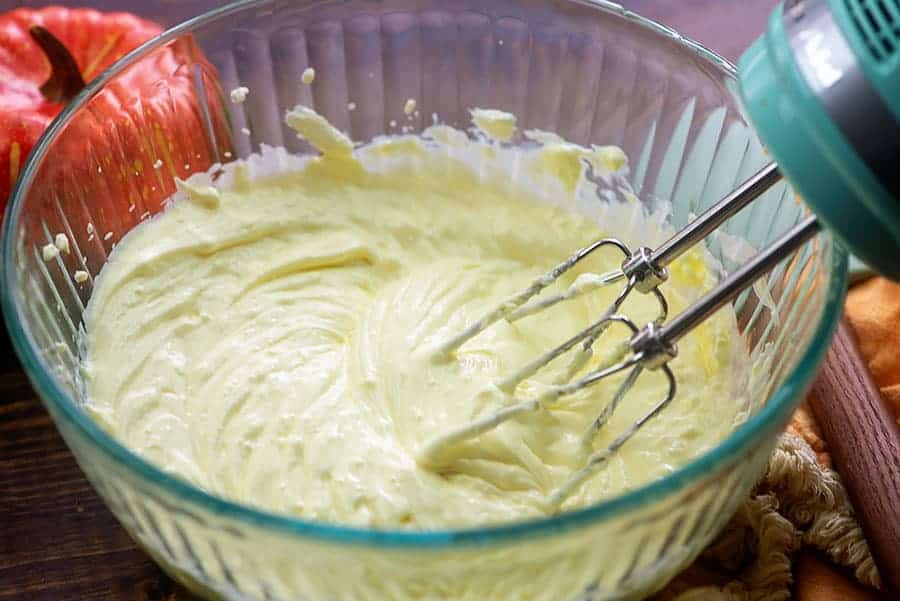 Batter – To make the cheesecake batter, you'll want to start with room temperature cream cheese. This is very important to get the right texture in your cheesecake. If your cream cheese is too cold, it will be lumpy and no amount of beating the mixture will take those lumps out.
Mix together the cream cheese and eggs until smooth and creamy.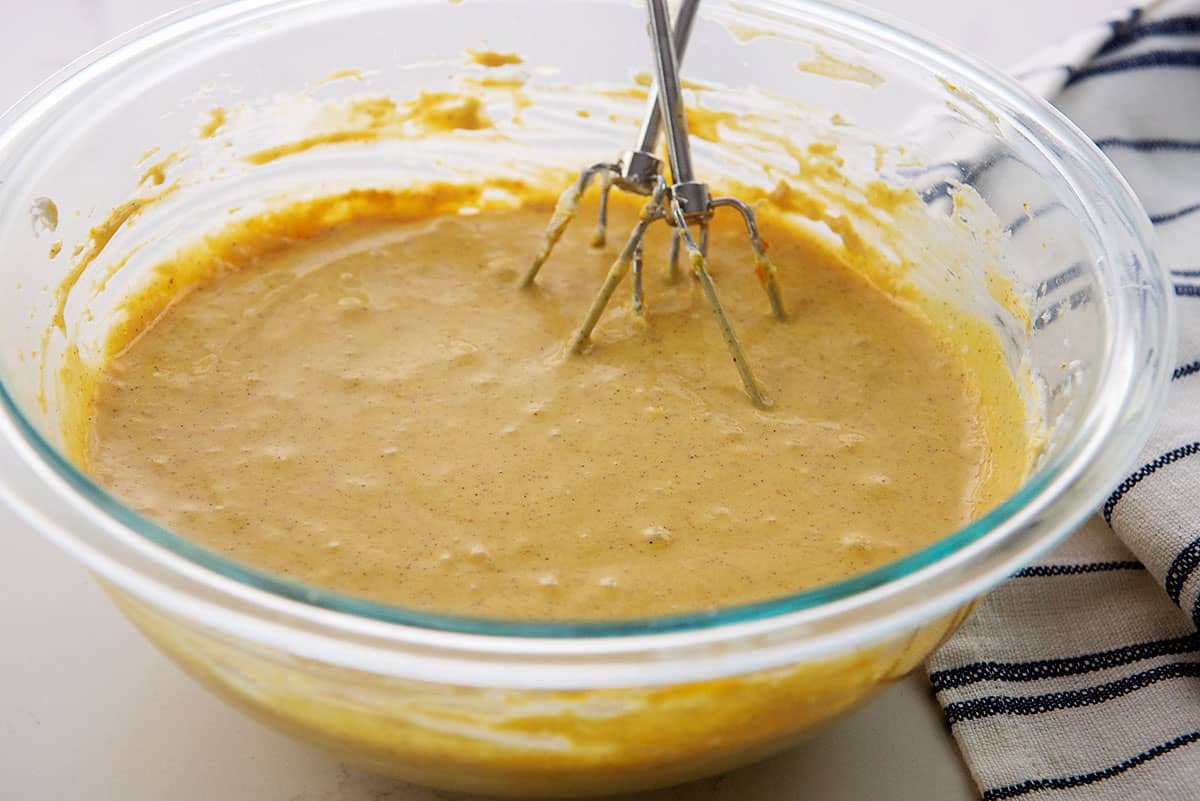 Pumpkin – Next, add in the pumpkin, sweetener, pumpkin pie spice, and vanilla. Go ahead and beat together all those goodies until the batter is smooth and creamy. Don't overmix – just mix until all combined.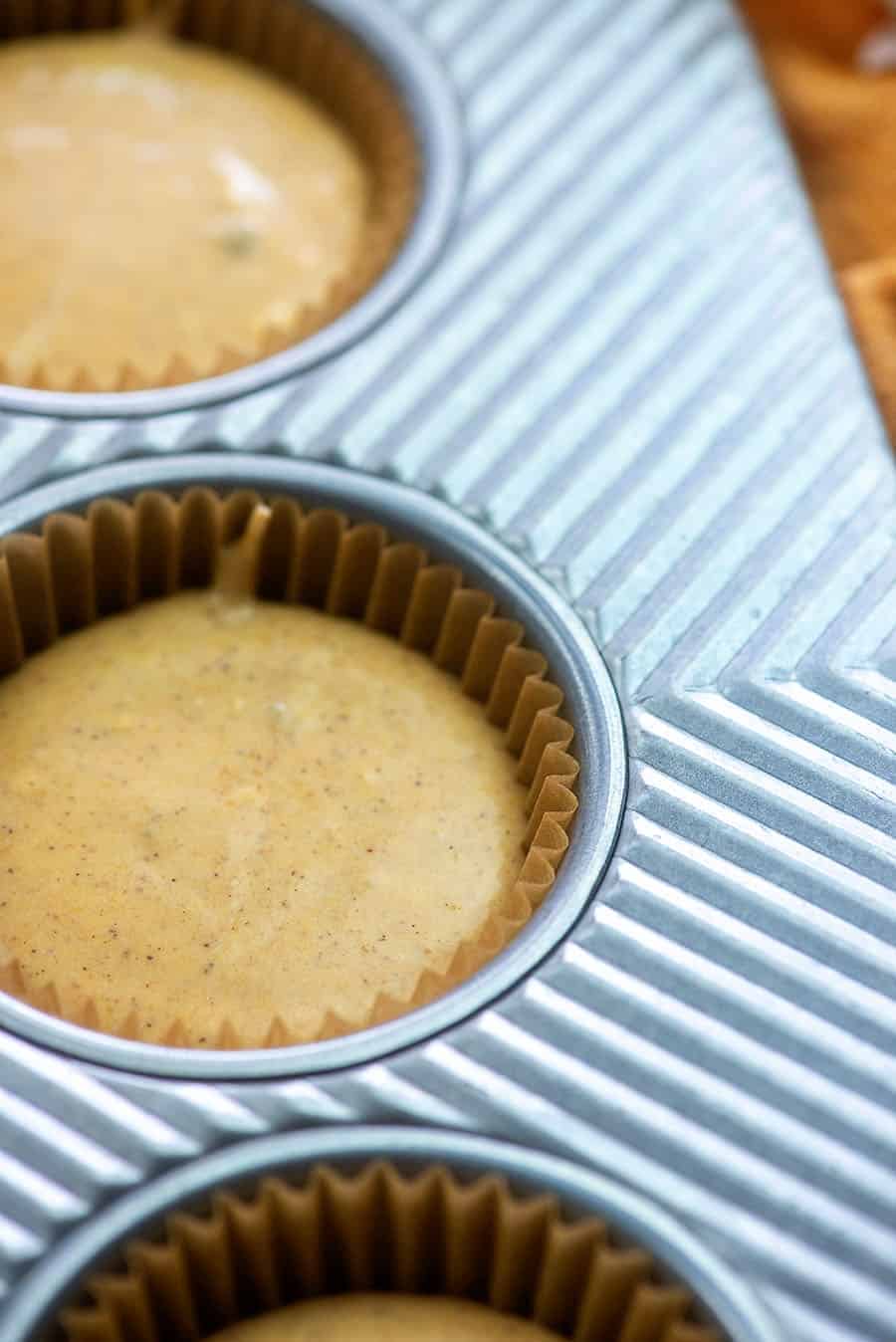 Scoop – Spoon the batter evenly between 12 muffin tins. I used a large cookie scoop to make portioning out the batter and filling the tin super easy. If you've read this blog for long, you're probably tired of hearing about cookie scoops, but I seriously use them all the time. They're so useful for way more things than cookies!
Bake – These low carb pumpkin cheesecake bites bake in just 20 minutes.rnrnWe like cold, creamy cheesecake, so we let these cool completely on the counter before popping them in the fridge to get nice and cold.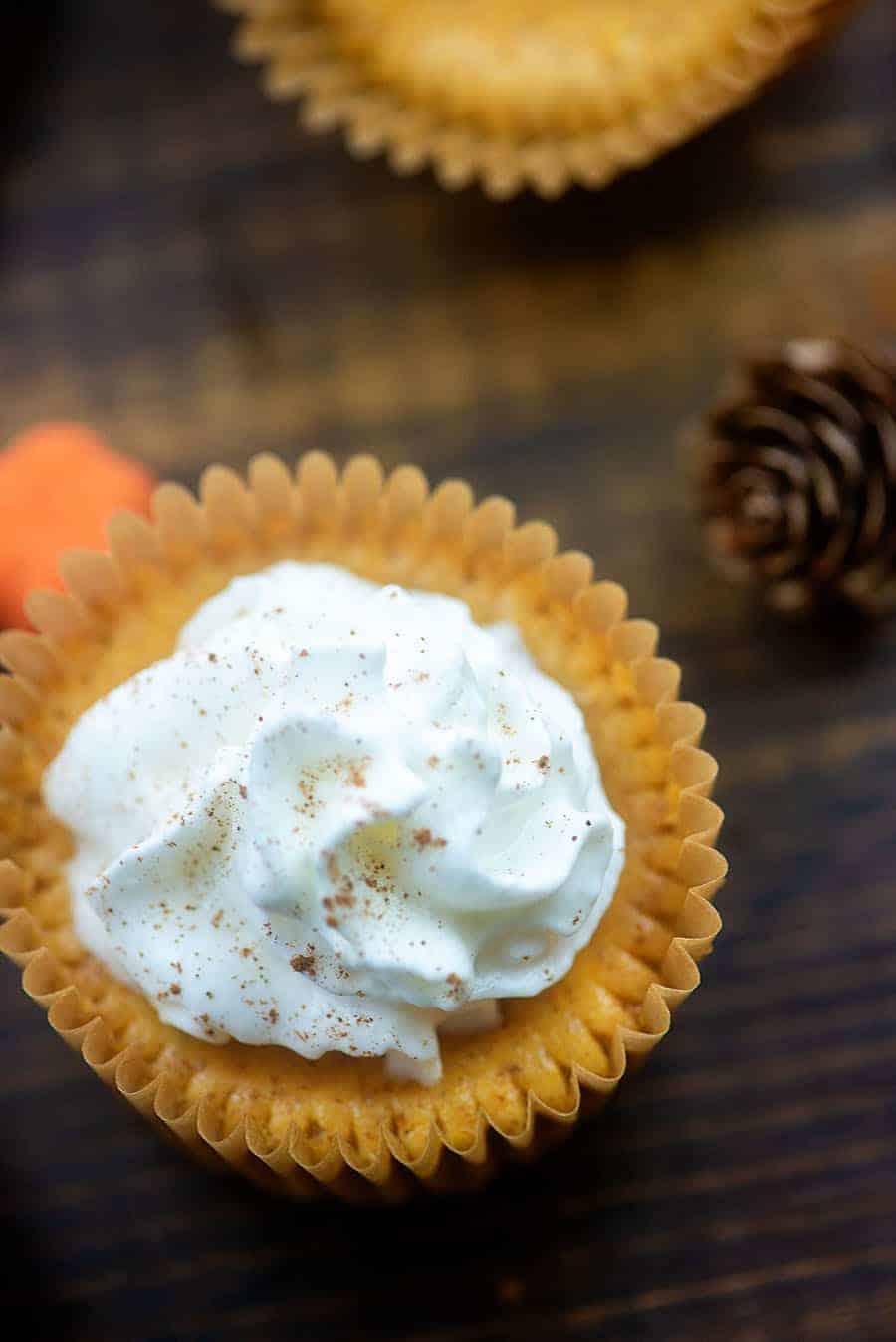 How To Serve Low Carb Pumpkin Cheesecake:
With a dollop of whipped cream and a light sprinkling of cinnamon, of course!
Check out my homemade keto whipped cream recipe!
Of course, the spray can of whipped cream is fine too – just 1 carb per tablespoon and it's easy peasy. 😉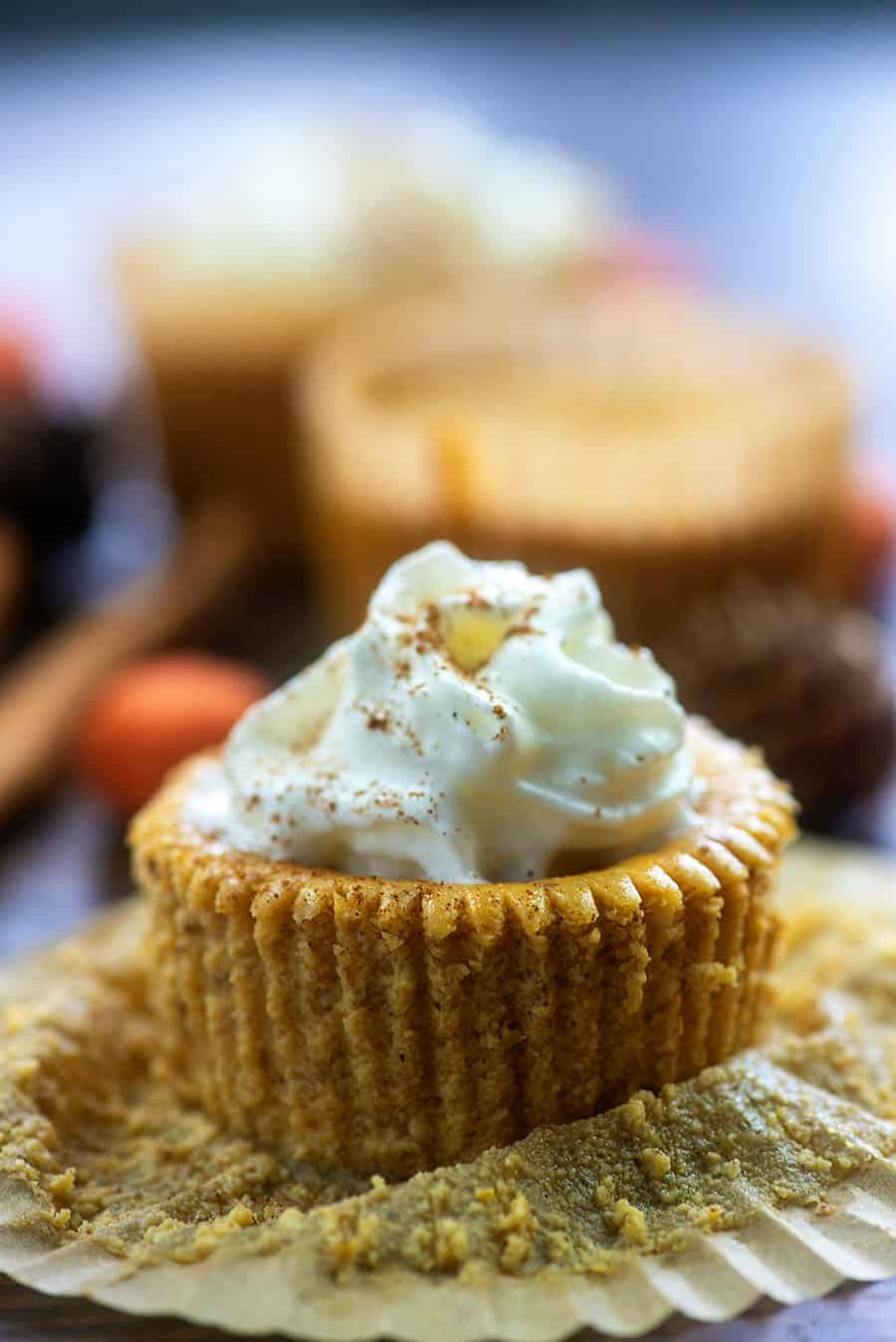 FAQs:
How to store pumpkin cheesecake bites?
You'll want to let these cool completely on the counter before placing them in air-tight container in the refrigerator. These will last in the fridge for 5 days.

If you'd like to keep these mini cheescakes for longer, wrap them well and freeze them for up to 3 months. Thaw overnight in the fridge before serving.
Can I use another kind of sweetener in this recipe?
Any sweetener that bakes at a 1:1 ratio to table sugar should work just fine in this recipe. Please keep in mind this was tested with Lakanto sweetener and other sweeteners may leave an aftertaste or cooling effect when used.
More Keto Pumpkin Recipes: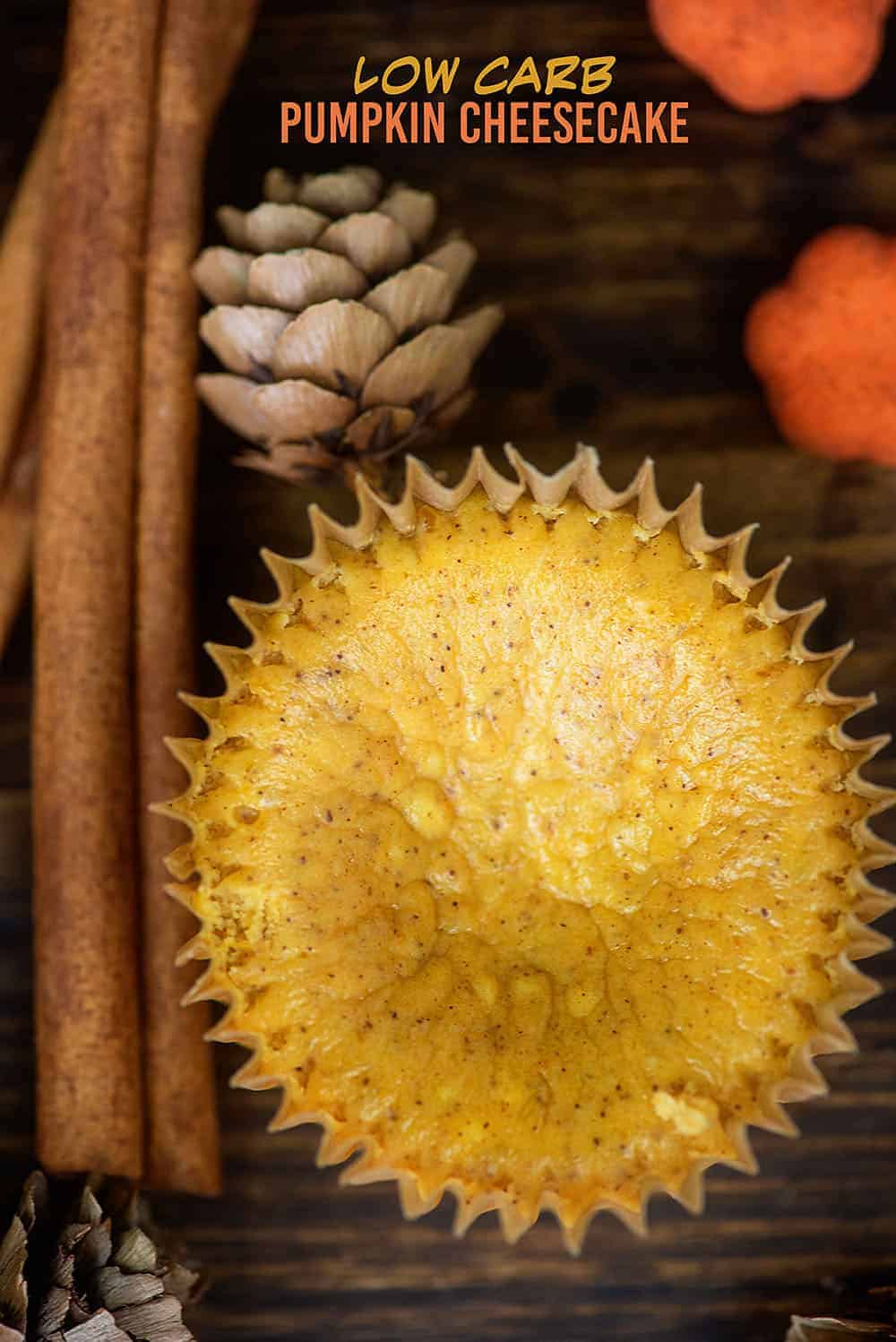 Be sure to try this pumpkin cream pie and these pumpkin pie cupcakes too!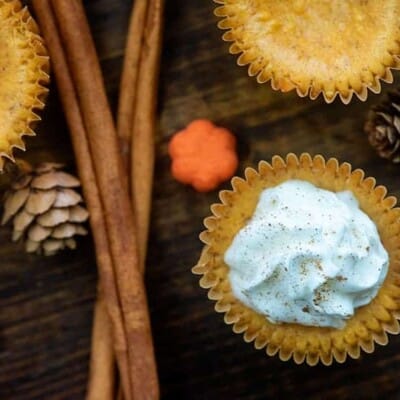 Keto Pumpkin Cheesecake
These mini cheesecake bites are loaded with pumpkin and they come out so creamy!
Prep10 minutes
Cook20 minutes
Cooling Time4 hours
Total4 hours 30 minutes
Serves 12 mini cheesecakes
Ingredients
16 ounces cream cheese room temperature
2 large eggs room temperature
1/2 cup pumpkin puree
1/2 cup sweetener such as monkfruit
1 tablespoon pumpkin pie spice
1 teaspoon vanilla
1/8 teaspoon salt
Instructions
Preheat oven to 350 degrees. Line a 12 cup standard muffin tin with paper liners.

Beat together the cream cheese and eggs until smooth and creamy.

Add the pumpkin, sweetener, pumpkin pie spice, and vanilla to the cream cheese mixture and mix until smooth and creamy. Do not overmix.

Pour the batter evenly between the 12 muffin wells.

Bake for 20 minutes or until just slightly jiggly in the center.

Cool completely on the counter before transferring to the refrigerator to finish cooling.
Tips & Notes:
Be sure to start with room temperature cream cheese or your cheesecake will be lumpy. Serve with whipped cream and a sprinkle of cinnamon, if desired.
Nutrition Information:
Serving: 1mini cheesecake| Calories: 151kcal (8%)| Carbohydrates: 11g (4%)| Protein: 3g (6%)| Fat: 14g (22%)| Cholesterol: 69mg (23%)| Sodium: 143mg (6%)| Sugar: 2g (2%)| Net Carbs: 11g (22%)