These KETO PUMPKIN CHEESECAKE BARS are so easy to make and you won't even notice they are low carb! They're full of pumpkin flavor and have a sweet cinnamon crackly topping! Rich, creamy, and perfect for Fall!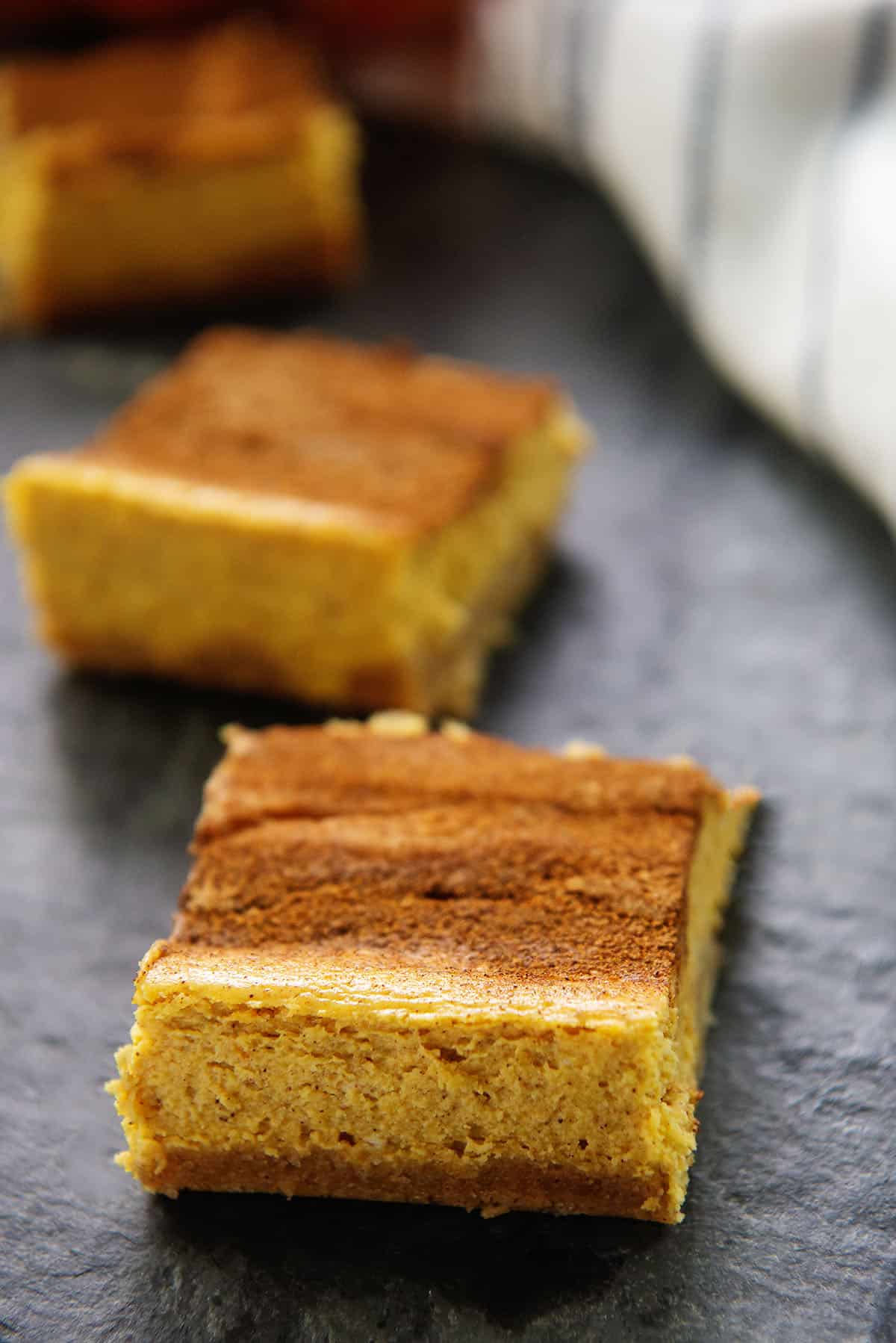 Oh my goodness, I think I've outdone myself this time.
These Keto Pumpkin Cheesecake Bars are honestly what dreams are made of. They're sugar free, grain free, loaded with pumpkin, so creamy, and that crackly cinnamon 'sugar' topping is just irresistible.
Now we can add these cheesecake bars to our must make list every Fall, right alongside our Keto Pumpkin Bars.
Love that cinnamon sugar topping just as much as we do? Be sure to try these keto snickerdoodles too!
What We Love About This Recipe
These bars are simple to make, but taste like they came from a fancy bakery.
The cinnamon 'sugar' topping gives these the perfect crackly texture on top and is perfect for Fall!
The grain free crust is rich and buttery, mimicking a graham cracker crust really nicely.
We turned these into cheesecake bars, so you won't need a special springform pan. Just use a 9×9 dish and be done with it!
Keto 'Graham Cracker' Crust Ingredient Notes:
Almond Flour – Almond flour has a great texture and holds together well for a cheesecake crust. Plus, it's easy to find and simple to use. We have not tested this with any other flour as of this time.
Sweetener – We use and love Lakanto sweeteners. Use code THATLOWCARBLIFE for 20% off your order at Lakanto.com.
Pumpkin Cheesecake Ingredient Notes:
Cream Cheese – Be sure to use the brick cream cheese and not the tub of whipped cream cheese. You'll also want to make sure the cream cheese is fully at room temperature to prevent lumps in your cheesecake.
Pumpkin – Use 100% pure pumpkin. Be careful not to buy the pumpkin pie filling as it has sugar, dairy, and other ingredients added.
Pumpkin Pie Spice – Did you know that pumpkin actually doesn't have a strong flavor? Most of the flavor comes from the spices!
Cheesecake Topping – We're going to turn these keto pumpkin cheesecake bars into pumpkin snickerdoodle bars by topping them with a cinnamon and sweetener mixture!
Shop Keto Ingredients
We use Thrive Market for a lot of our specialty ingredients and keto snacks or products. Their prices tend to be cheaper than the local stores and I love that you can so easily sort products by diet.
Like Costco, this is a membership site, but we find that it's more than worth it based on the amount we save over the regular grocery store.
They have monthly or yearly plans. Check it out here.
How To:
Prepare the Crust – To get started add the almond flour along with the cinnamon and sweetener to your baking dish and stir to combine. Next you'll pour the melted butter over the top and give it another stir before using your hands to press the keto crust mix down in an even layer on the bottom of the baking dish. Bake for 10 minutes at 350 degrees.
Prepare the Filling – While the cheesecake crust is baking you can get started on the keto pumpkin cheesecake filling! Add the cream cheese to a mixing bowl and use an electric mixer to beat until it is smooth and creamy. Now add in the pumpkin puree, pumpkin pie spice, sweetener, and vanilla! Give it another quick mix and then beat in the eggs, one at a time, until all is combined. You should have a smooth pumpkin filling, but don't overmix it!
Prepare the Topping – When you've finished making the pumpkin cheesecake filling you can go ahead and pour it over the parbaked keto cheesecake crust. Now you'll add a "snickerdoodle" like topping to the keto pumpkin cheesecake bars by mixing together cinnamon and sweetener and then generously sprinkling it over the pumpkin filling in an even layer.
Bake the Cheesecake – When you've completed the topping all that's left is to place it back in the oven and let it bake for about eighteen to twenty minutes or until the center is just slightly jiggly. You'll want to let this cool on the counter completely before transferring it to the refrigerator to chill. Serve nice and cold for the most delicious cheesecake!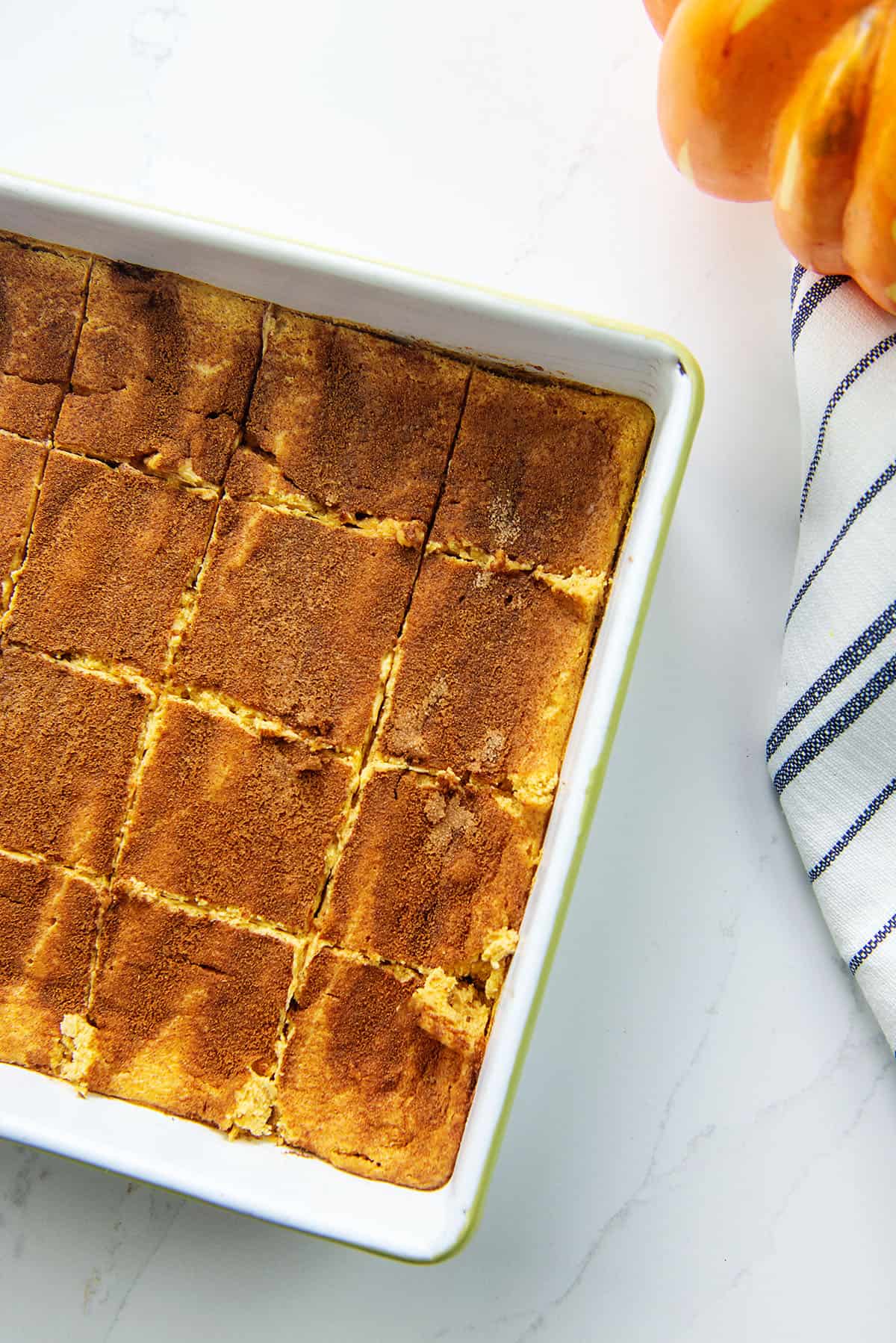 Helpful Tip!
Don't overmix the cheesecake batter! If you incorporate too much air into the batter, your cheesecake will sink and crack. For best results, cream cheese and eggs should be fully at room temperature. You'll end up with a lumpy cheesecake if your cream cheese is not soft enough.
FAQ's:
Can I use another kind of sweetener in this recipe?
Any sweetener that bakes at a 1:1 ratio to table sugar should work just fine in this recipe. Please keep in mind this was tested with Lakanto sweetener and other sweeteners may leave an aftertaste or cooling effect when used.
What makes this a "snickerdoodle" cheesecake?
The cinnamon sugar topping is what gives this cheesecake that snickerdoodle vibe!
How long does cheesecake last in the fridge?
These keto pumpkin cheesecake bars will last in the fridge for about 5 days.
Why did my cheesecake crack?
Overmixing your cheesecake batter can cause the cheesecake to crack as it cools. Beat the ingredients together until smooth and creamy, but don't beat longer than necessary. Cooling completely on the counter before transferring the cheesecake to the refrigerator also helps prevent cracking.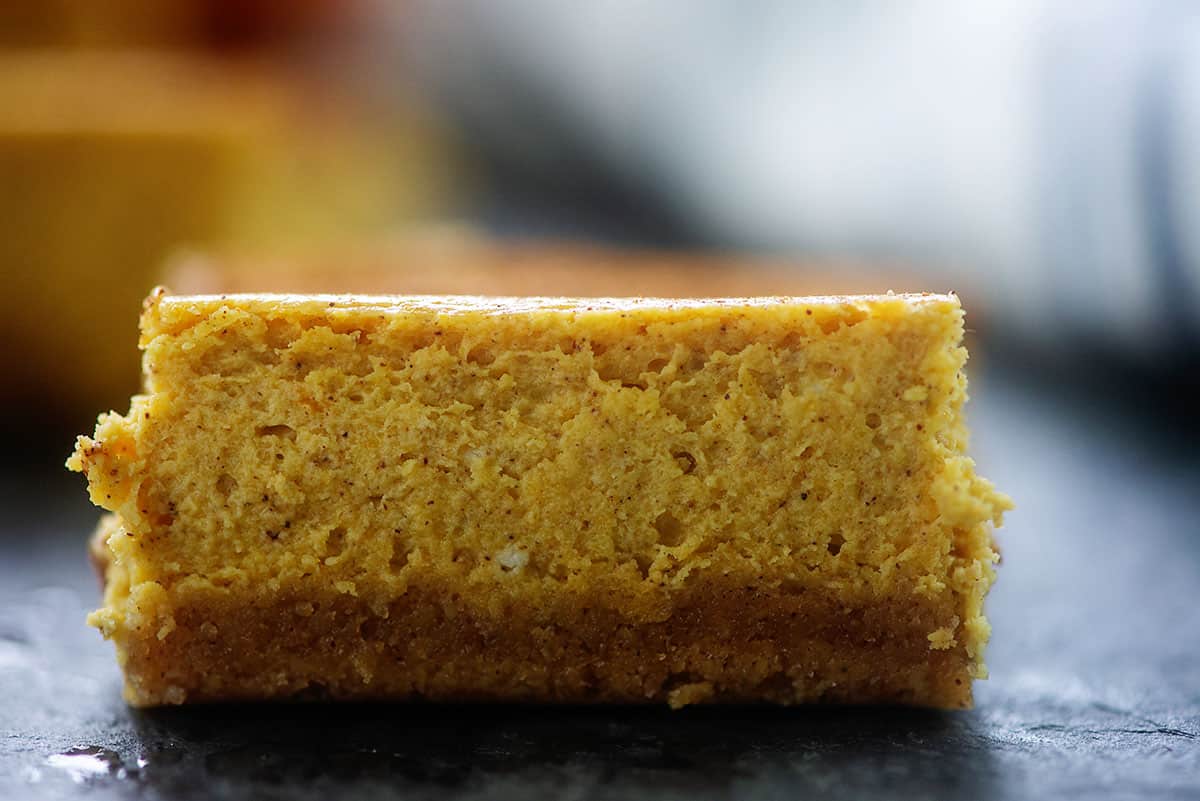 More Pumpkin Recipes:
More Cheesecake Recipes: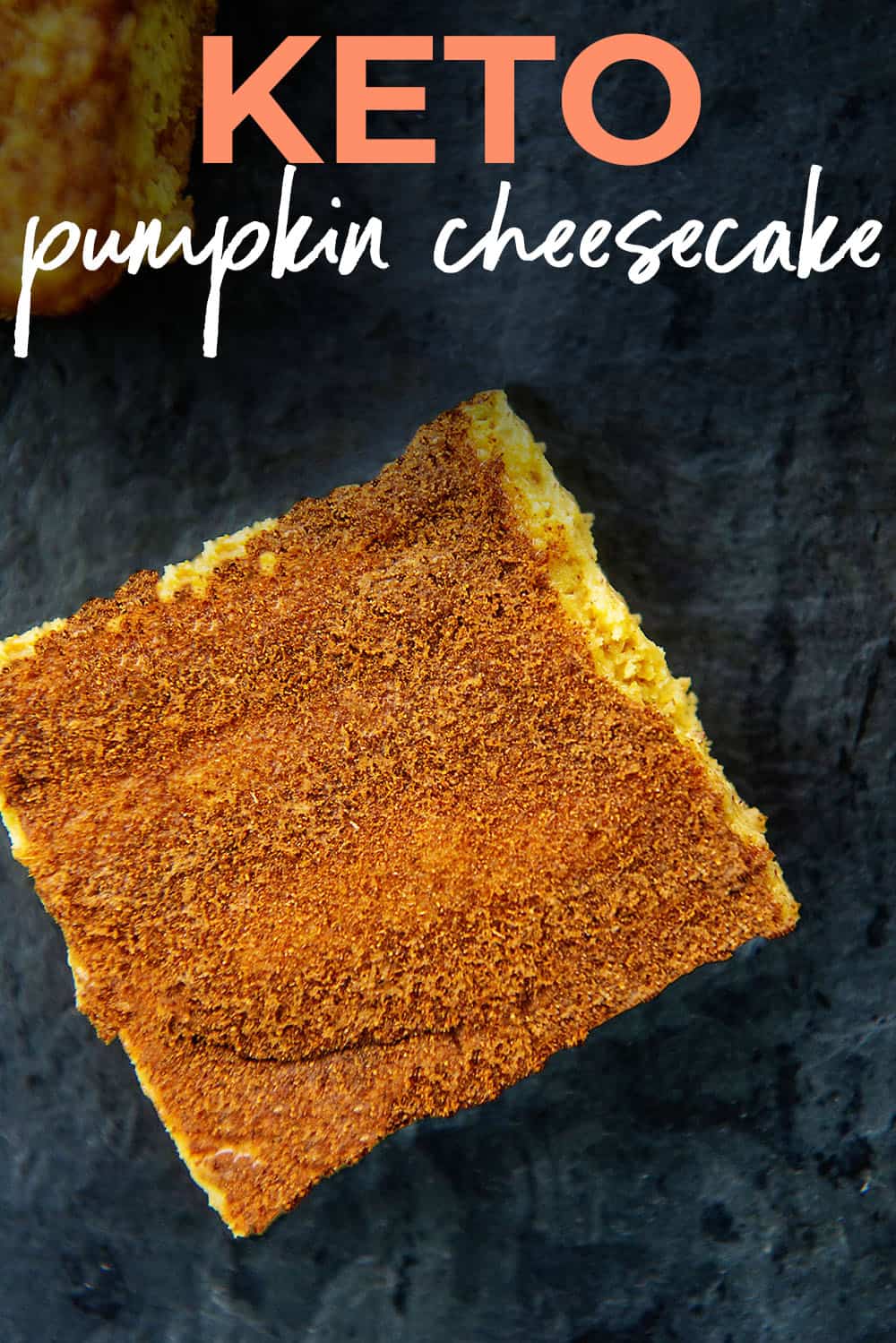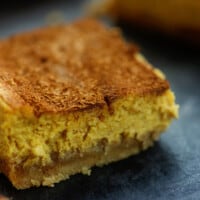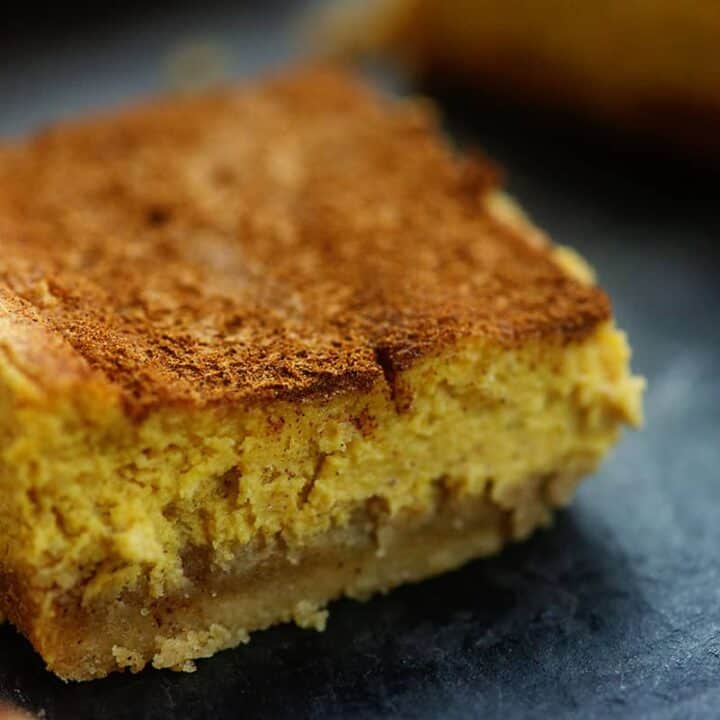 Keto Pumpkin Cheesecake Bars
These pumpkin cheesecake bars are rich, creamy, and loaded with pumpkin! The almond flour crust is simple to make and bakes up just perfect.
Ingredients
For the crust:
1 ¼ cups almond flour
¼ cup Lakanto sweetener
1 teaspoon cinnamon
¼ cup melted butter
For the filling:
16 ounces cream cheese, room temperature
½ cup Lakanto sweetener
½ cup pumpkin puree
1 tablespoon pumpkin pie spice
2 teaspoons vanilla extract
2 large eggs, room temperature
For the topping:
¼ cup Lakanto sweetener
2 teaspoons cinnamon
Instructions
To make the crust:
Preheat oven to 350 degrees.
Add the almond flour, sweetener, and cinnamon to the bottom of a 9x9 baking dish. Stir to combine.
Pour the melted butter over mixture and stir to combine. Press the crust into the bottom of the baking dish.
Bake for 10 minutes.
To make the filling:
Reduce oven to 325 degrees.
Add the cream cheese to a large mixing bowl and beat with an electric mixer until smooth and creamy.
Add the sweetener, pumpkin,pumpkin spice, and vanilla and mix until just combined.
Beat in the eggs, one at a time, until combined. Do not overmix.
Pour the cheesecake batter over the parbaked crust.
To make the topping:
Stir together the sweetener and cinnamon in a small bowl.
Sprinkle evenly over the top of the cheesecake batter.
To bake:
Bake for 18-20 minutes or until the center is just slightly jiggly.
Remove from the oven and let cool for 1 hour.
Refrigerate at least 4 hours before slicing and serving.
Notes
Be sure to use cream cheese and eggs that are fully at room temperature and do not overmix the cheesecake batter. This will help prevent the cheesecake from puffing up and sinking or forming cracks as it cools.
We use and love Lakanto sweeteners. Take 20% off your order at Lakanto.com with coupon code THATLOWCARBLIFE.
Any sweetener you prefer may be used, so long as it is a 1:1 swap for sugar.
Nutrition Information:
Yield: 16
Serving Size: 1 bar
Amount Per Serving:
Calories: 179
Total Fat: 15g
Cholesterol: 31mg
Sodium: 99mg
Carbohydrates: 5g
Net Carbohydrates: 4g
Fiber: 1g
Sugar: 1g
Protein: 5g