MINI CHEESECAKES with the BEST strawberry sauce! This creamy cheesecake recipe is the perfect way to satisfy that sweet tooth and they're beyond simple to make with no special tools!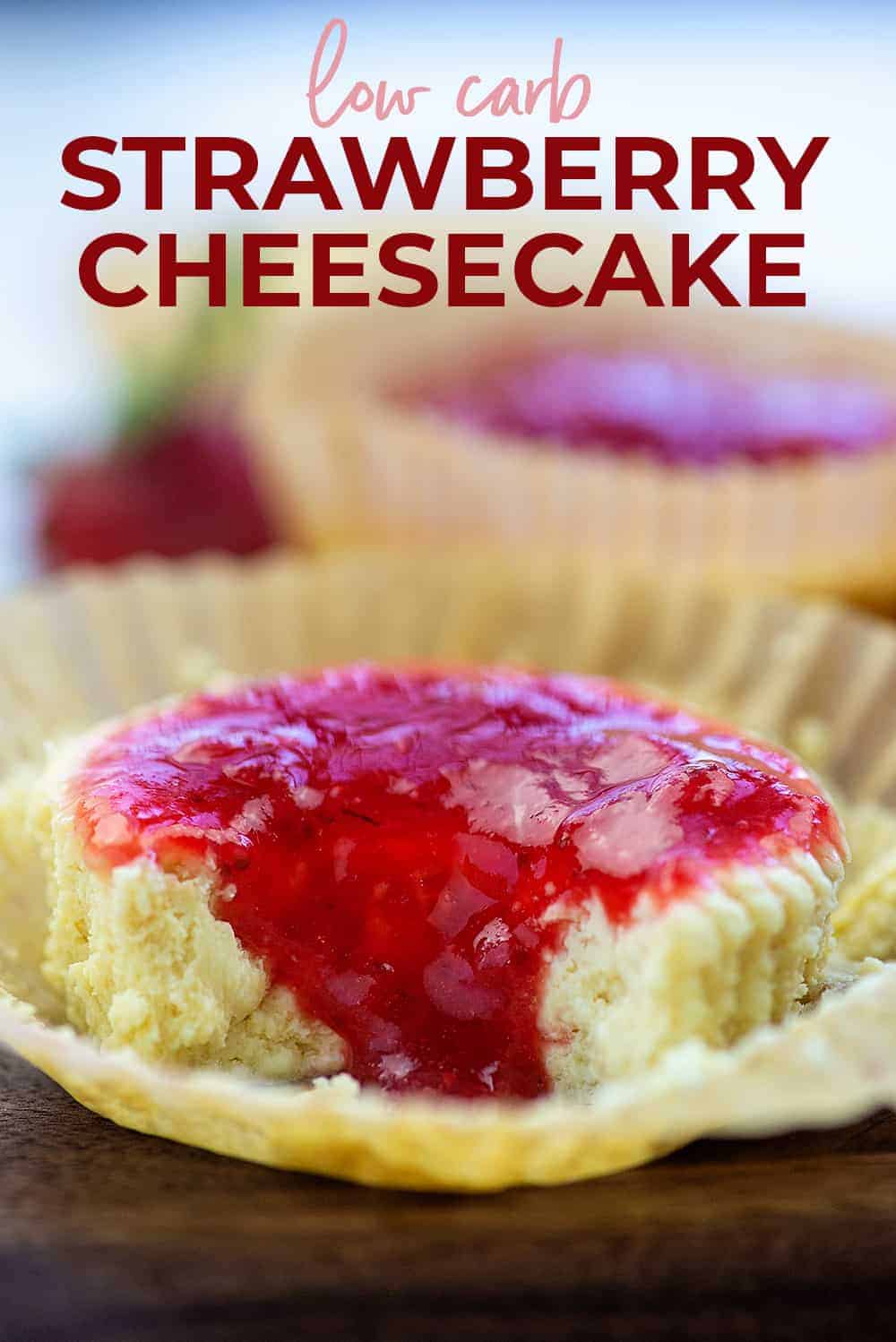 My daughter requests a batch of mini cheesecakes about once a week.
As soon as we run out, she's asking to make more.

I really can't blame her – there is nothing 'low carb' tasting about these and they turn out so creamy and dreamy every time.
I'm sharing my basic mini cheesecake recipe with you today along with the simplest homemade strawberry sauce. You're going to be so happy to have this recipe in your repertoire!
Mini cheesecake recipe tips:
This post contains affiliate links.
This recipe is beyond simple and you only need a few ingredients.
You'll want cream cheese, eggs, sweetener, and vanilla.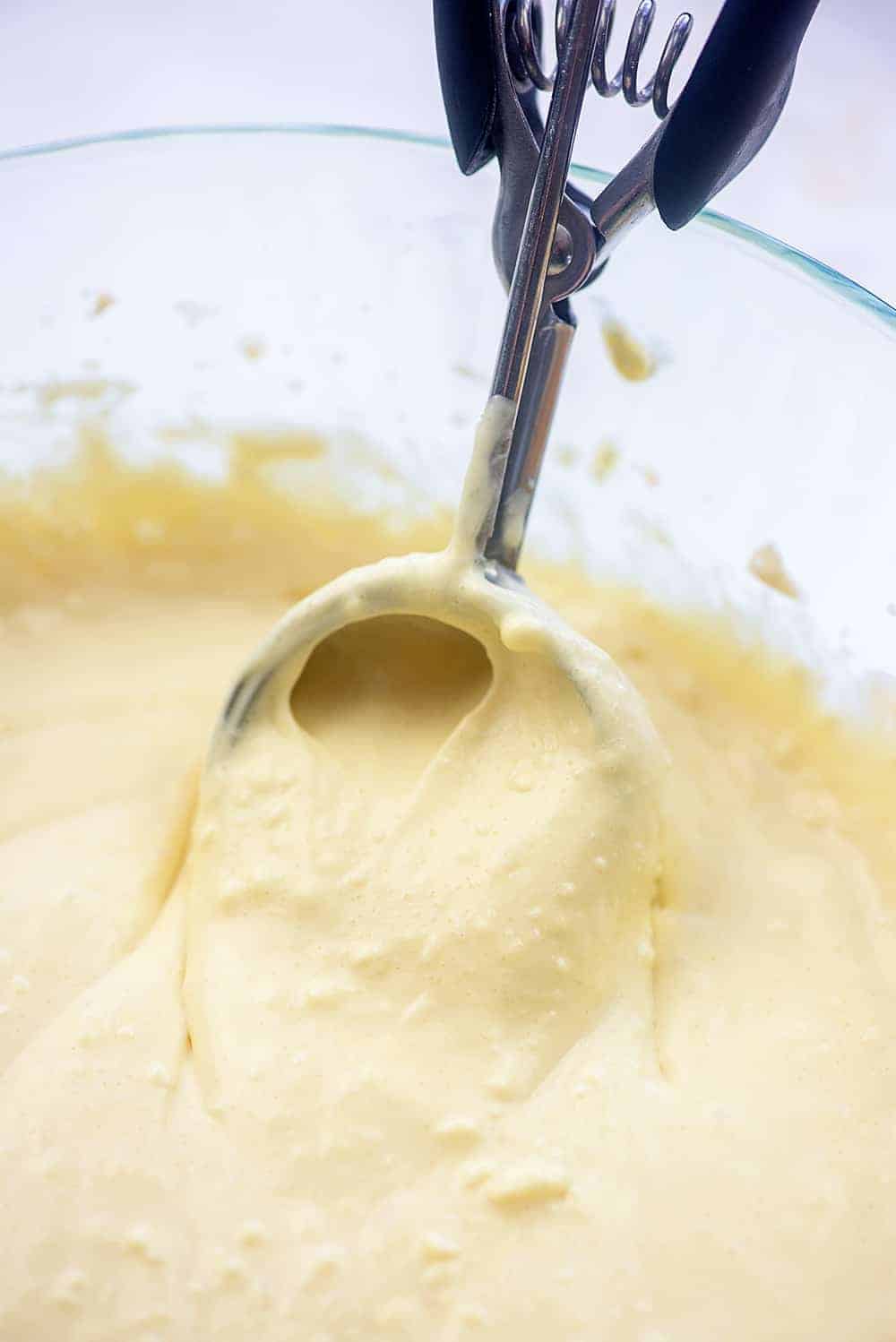 The cream cheese should be fully at room temperature. If it's too cold, it'll be lumpy and no one wants a lumpy cheesecake!
Don't overbeat the batter! That leads to the cheesecake puffing up and then falling and cracking. No bueno.
The sweetener that I use and recommend is Lakanto. Use code THATLOWCARBLIFE for 20% off your order at Lakanto.com!
Both the classic and golden version of their monkfruit sweetener is excellent in this recipe!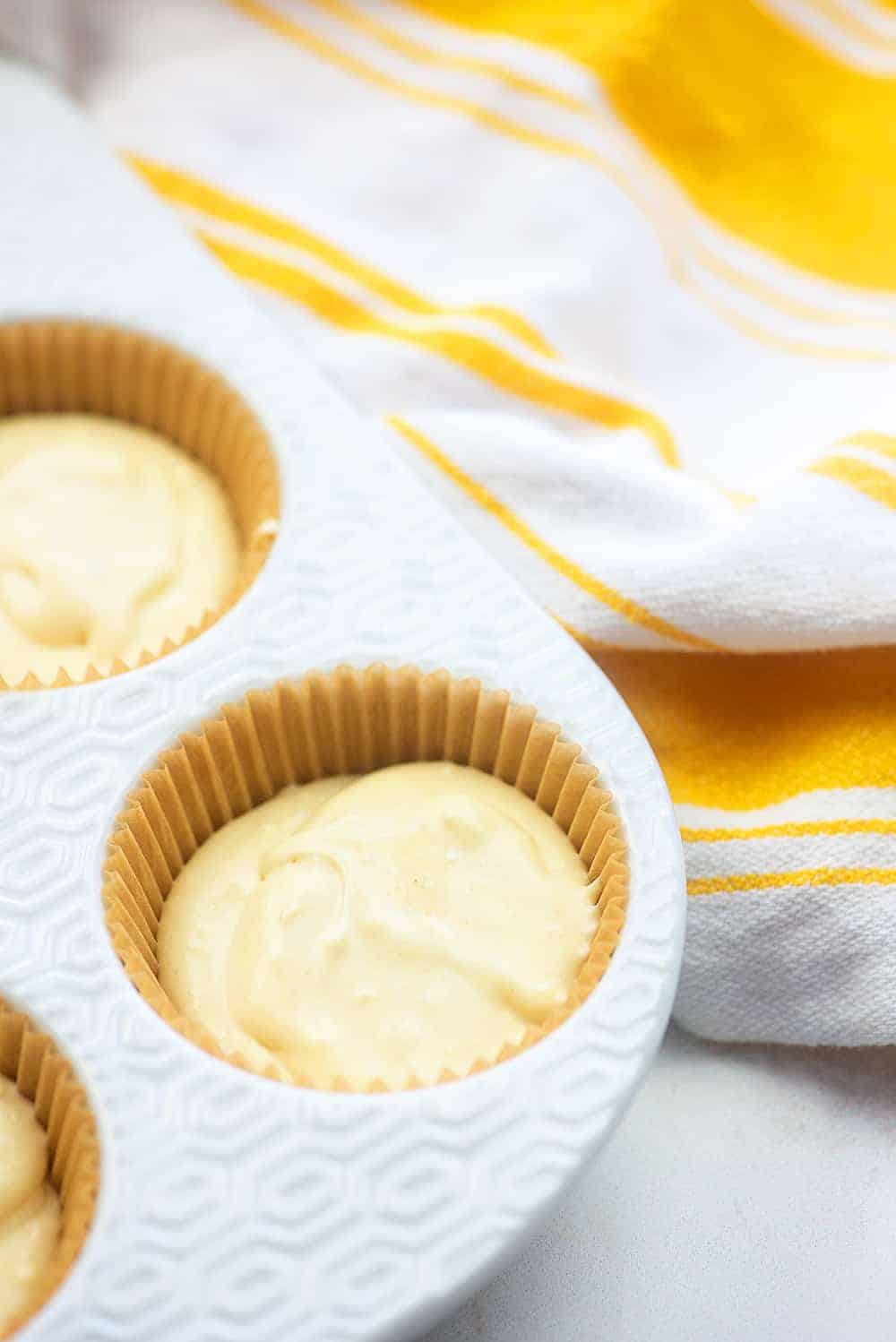 The cream cheese, eggs, sweetener, and vanilla all get mixed together and then poured into a lined muffin tin and baked. It honestly doesn't get easier than this.
Use a large cookie scoop to scoop out the same amount of batter into each muffin well. It's the simplest, most accurate way!
Strawberry sauce for cheesecake:
You're not going to believe how simple it is to make a low carb strawberry sauce!
I made this strawberry sauce for cheesecake, but it's tasty over chaffles and pancakes too!
You'll just add strawberries, lemon juice, and sweetener to a sauce pan and let it cook down. Mash the berries up as they start to soften.
No need to add water!
The strawberries will release their juices as the mixture cooks and that will leave you with an intensely flavored strawberry sauce. You're going to love it!
I like my strawberry sauce to be perfectly smooth, so I use an immersion blender to blend it up. You could also use a traditional blender or food processor, or you can just leave the sauce a bit chunky!
Again, I use Lakanto sweetener for this recipe.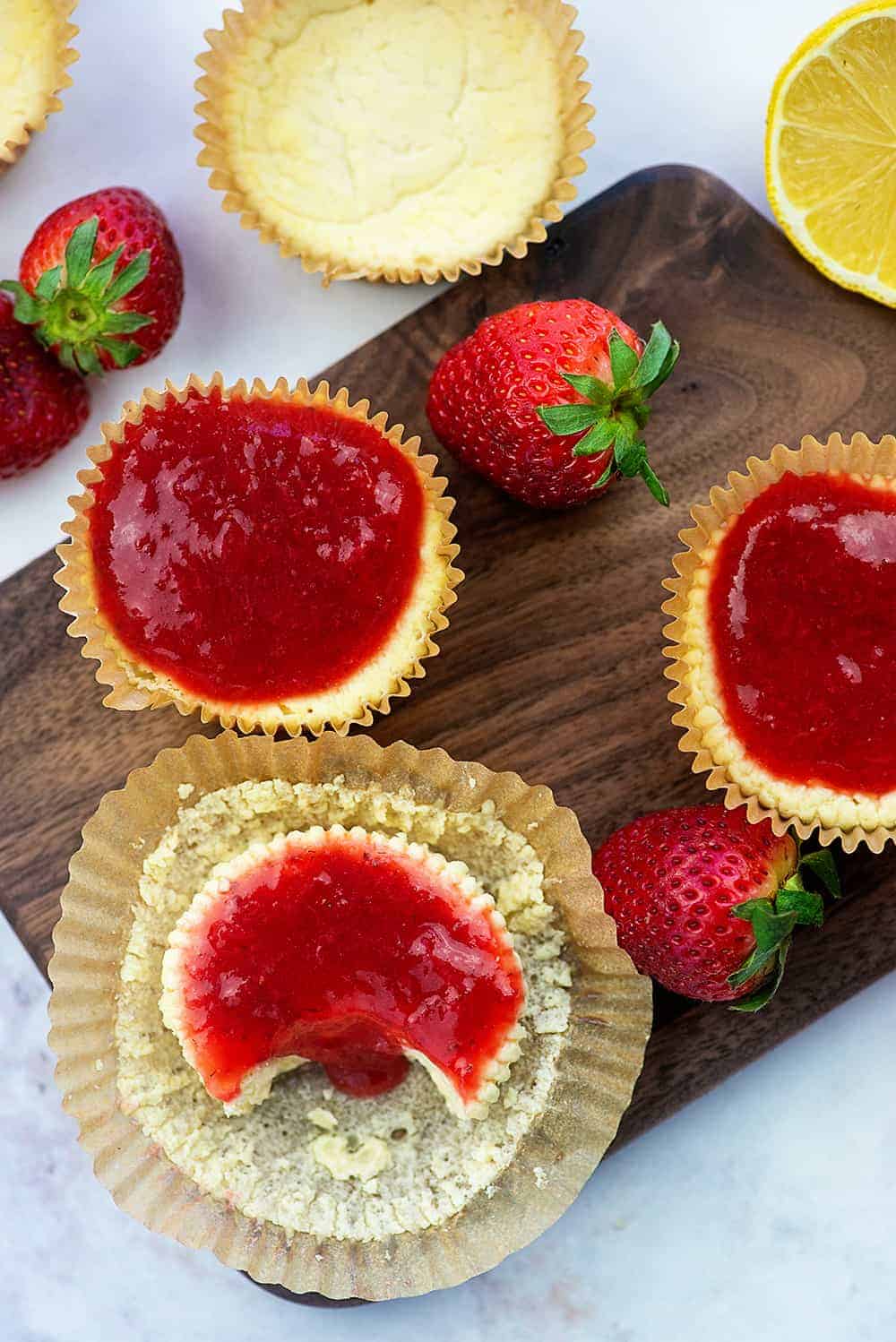 More low carb desserts: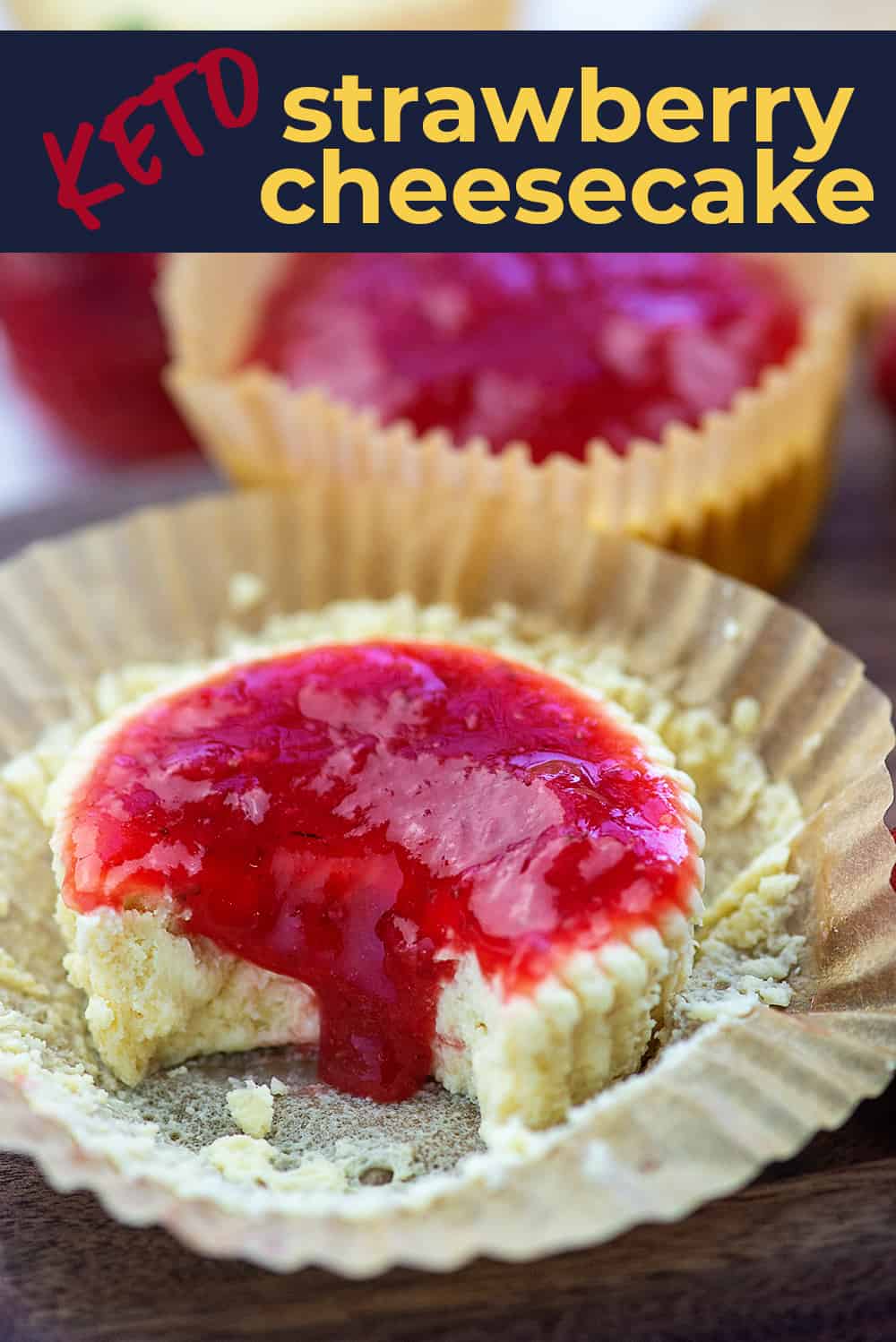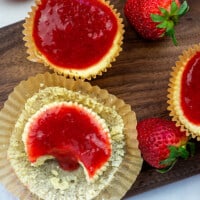 Mini Cheesecakes (with strawberry sauce!)
So rich and creamy and just perfect with this simple strawberry sauce! My kids ask me to make a batch of these weekly!
Ingredients
For the cheesecake:
16 ounces cream cheese, room temperature *see note
2 large eggs, room temperature
2 teaspoons vanilla extract
For the strawberry sauce:
8 ounces strawberries
2 teaspoons fresh lemon juice
Instructions
To make the cheesecake:
Preheat oven to 325 degrees. Line a muffin tin with paper liners.
Beat together the cream cheese and eggs until smooth and creamy.
Add the sweetener and vanilla to the cream cheese mixture and mix until well combined. Do not overmix.
Pour the batter evenly between the 12 muffin wells. Use a large cookie scoop to get evenly sized portions every time.
Bake for 25 minutes or until just slightly jiggly in the center.
Cool completely on the counter before transferring to the refrigerator to finish cooling.
When cheesecake is completely cooled, spoon strawberry sauce over the tops and serve.

To make the strawberry sauce:
Wash and quarter the strawberries.
Place the strawberries in a small sauce pan with the sweetener and lemon juice.
Cook over low heat for 20 minutes, stirring occasionally, until the strawberries are fully softened. Break the strawberries up with a spoon as you stir.
For a smooth sauce, use an immersion blender to puree the sauce. For a chunky sauce, use a spoon or fork to mash the strawberries to your desired consistency.
Transfer the sauce to a bowl and cover. Refrigerate until ready to use.
Store in the fridge for up to 1 week.
Notes
Make sure that the cream cheese is fully at room temperature for a smooth cheesecake. If it's too cold, you'll end up with lumps in the cheesecake batter.
Both the classic and golden version of monkfruit work well in this recipe. Use whichever you prefer.
The strawberry sauce doubles perfectly and makes a great topping for waffles, pancakes, or low carb bread.
Recommended Products
As an Amazon Associate and member of other affiliate programs, I earn from qualifying purchases.
Nutrition Information:
Yield: 12
Serving Size: 1
Amount Per Serving:
Calories: 157
Total Fat: 14g
Saturated Fat: 8g
Trans Fat: 0g
Unsaturated Fat: 4g
Cholesterol: 69mg
Sodium: 131mg
Carbohydrates: 8g
Net Carbohydrates: 3g
Fiber: 0g
Sugar: 2g
Sugar Alcohols: 5g
Protein: 4g
All information and tools presented and written within this site are intended for informational purposes only. This information is provided as a courtesy and there is no guarantee that the information is accurate.