This STRAWBERRY MOUSSE is thick, creamy, sweet, and flavorful. This is made with just 4 simple ingredients and makes the perfect sweet treat to keep in your fridge.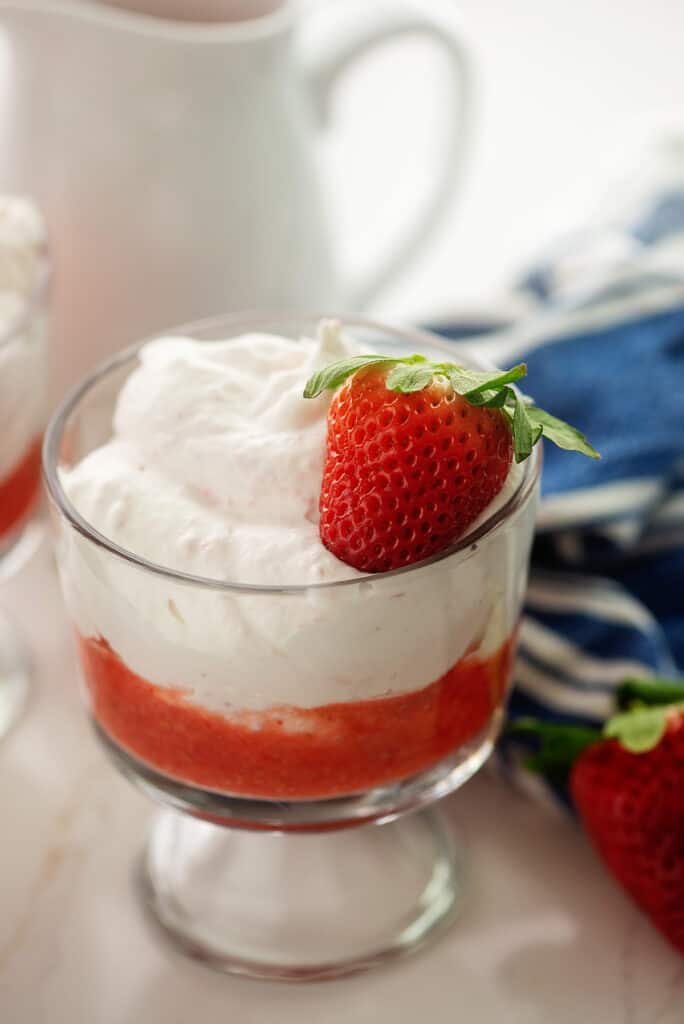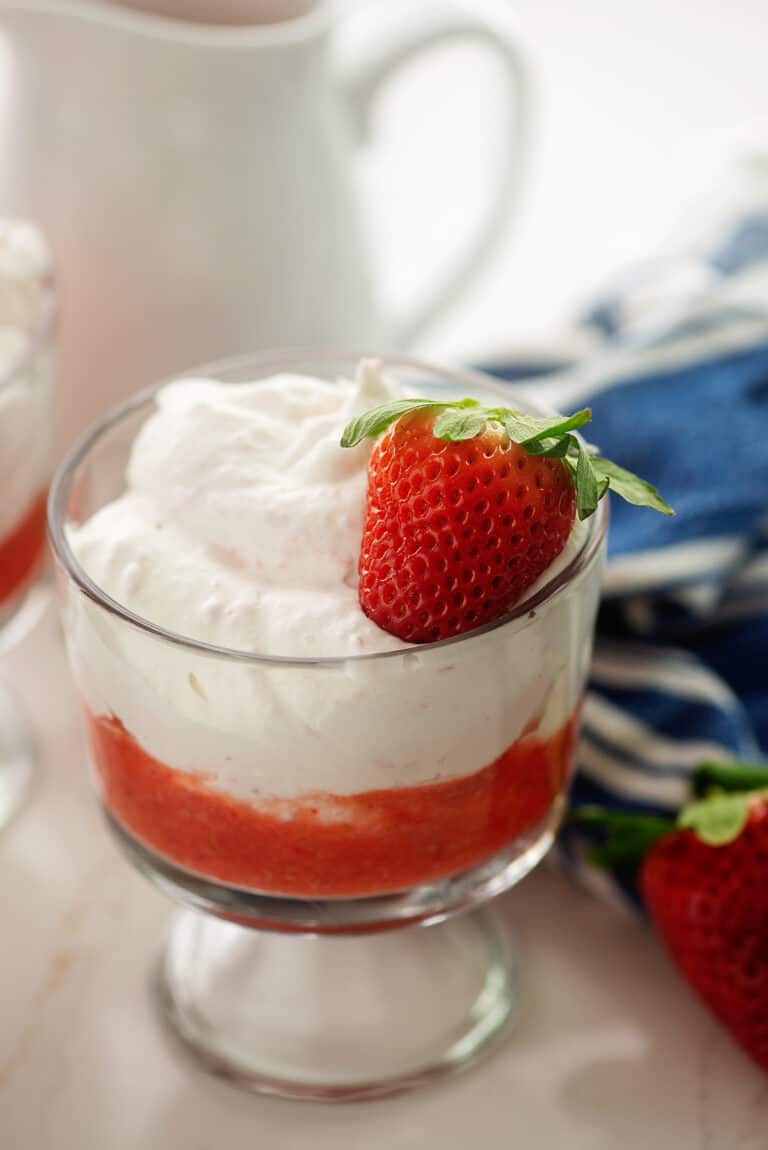 I don't eat dessert every single day, but I definitely like to have easy treats on hand for when the cravings hit!
There's nothing worse than needing something sweet and not being able to find anything that fits your low carb lifestyle.
This strawberry mousse recipe is simple and sweet, light and refreshing, and it keeps in the fridge for a few days so you can sneak a spoonful or two any time the urge hits.
We think this is very reminiscent of strawberry shortcake, but obviously without the shortcake.
Speaking of strawberries, we use a simple strawberry sauce over this keto mini cheesecake recipe too!
Ingredients:
You'll need just 4 simple ingredients for this strawberry mousse.
Fresh Strawberries – This may work with frozen and thawed berries, but we've only tried with fresh ourselves.
Granulated Sweetener – We use Lakanto monkfruit sweetener. It's our FAVORITE brand of sweetener and doesn't have any funky aftertaste. It also doesn't spike your blood sugar and can be counted as zero net carbs. Use carb THATLOWCARBLIFE for 20% off your order at Lakanto.com.
Whipping Cream – You'll want this cold from the fridge so that it whips nicely.
Powdered Sweetener – We use Lakanto here as well.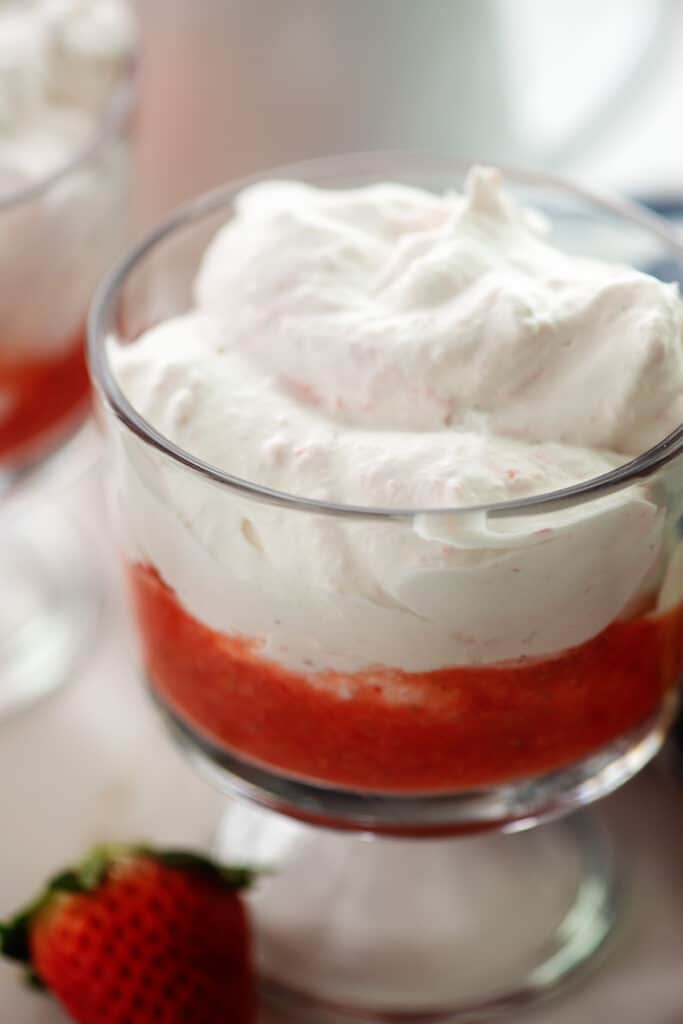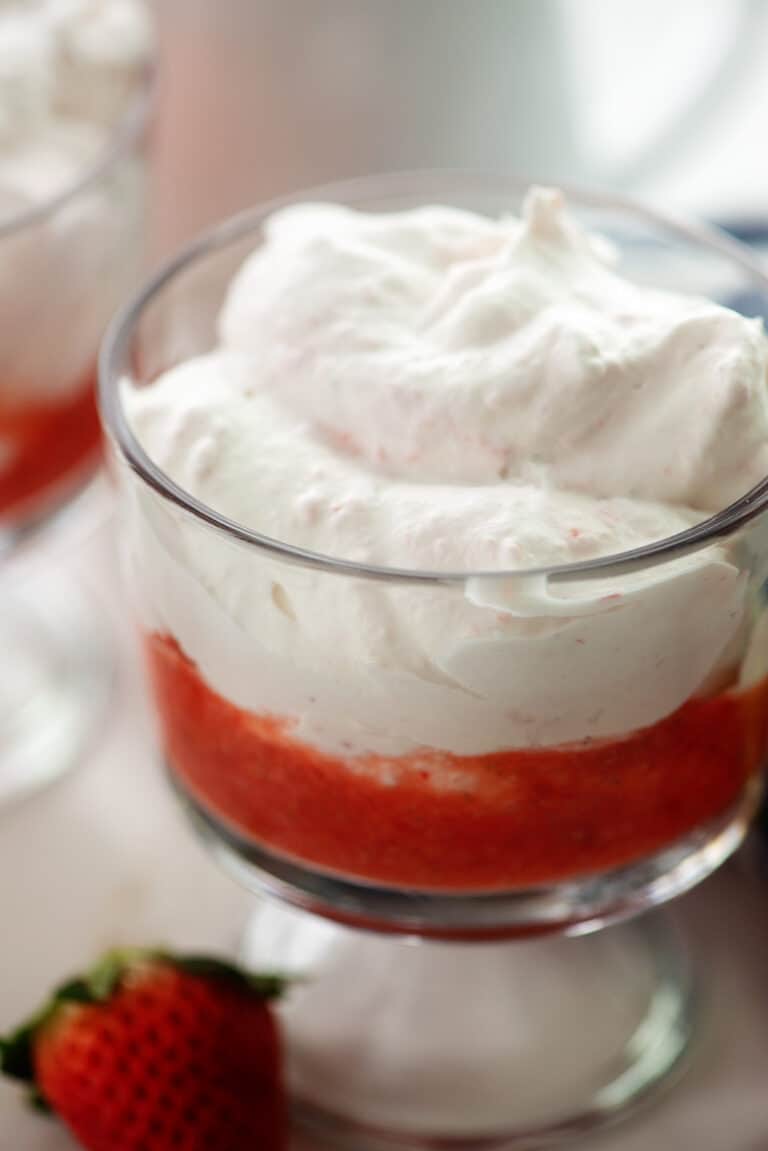 How to make strawberry mousse:
Make the strawberry puree: First up, you'll want to make the sweet strawberry sauce. Add berries and sweetener to a blender or food processor and process until everything is broken down and you have a gorgeous pink liquid.
Pop that mixture in the fridge for about 30 minutes. We want our strawberry puree to be nice and cold.
Whip the cream: Add the whipping cream and sweetener to a glass bowl and use an electric mixer to whip the cream until stiff peaks form.
We're using 1/4 cup of the powdered sweetener here and it doesn't make the cream super sweet. This is a very light and delicate tasting dessert, not overly sweet or rich.
If you'd like the cream to be sweetener, up the powdered sweetener to 1/3 or 1/2 cup, depending on your preference. Our kids like this on the sweeter side, but I love it with just 1/4 cup of sweetener.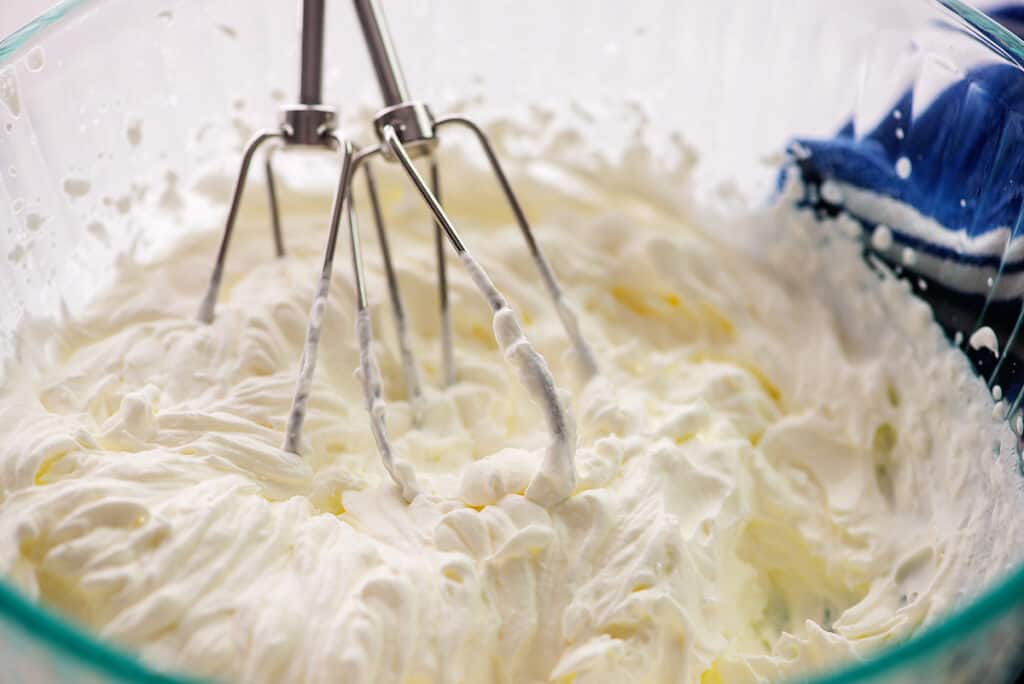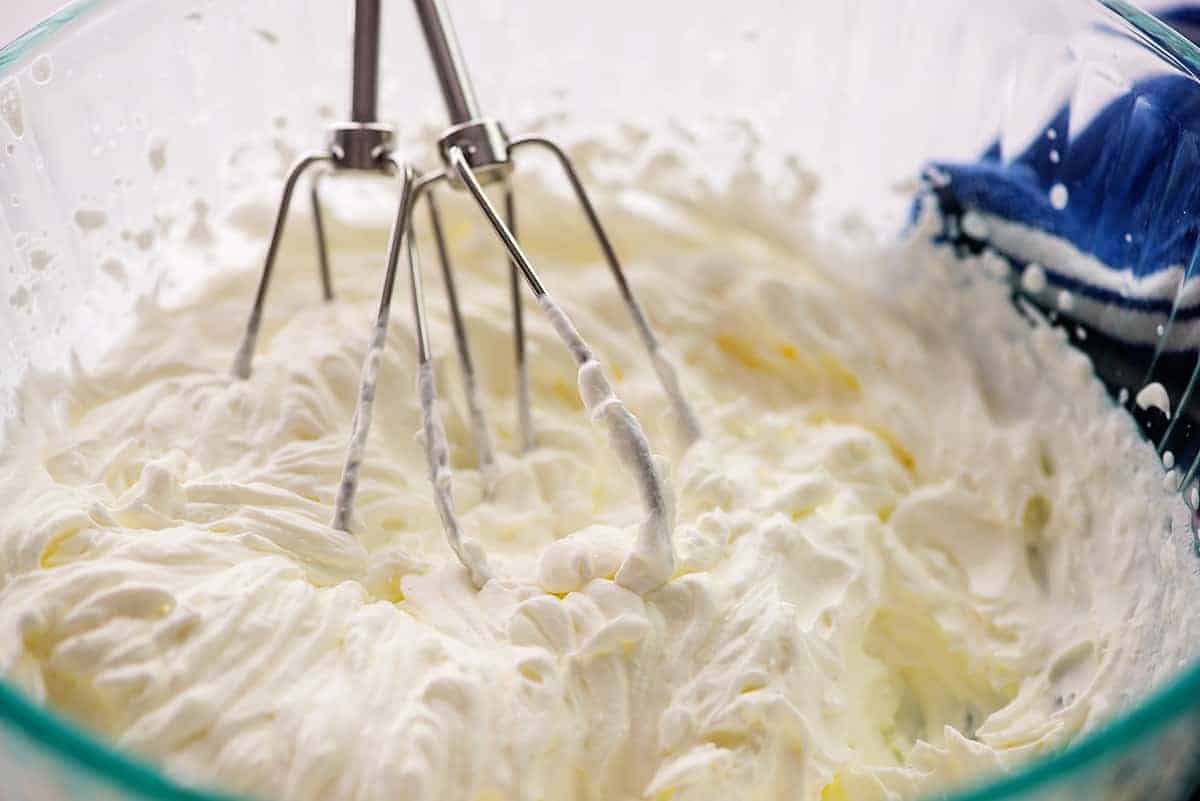 Fold it together: Pour 1/2 of the strawberry puree into the cream and gently fold it all together using a rubber spatula. Your cream should have ribbons of light pink throughout.
Serve: Divide the remaining strawberry puree evenly between 6 small dishes and then top it all off with dollops of the cream.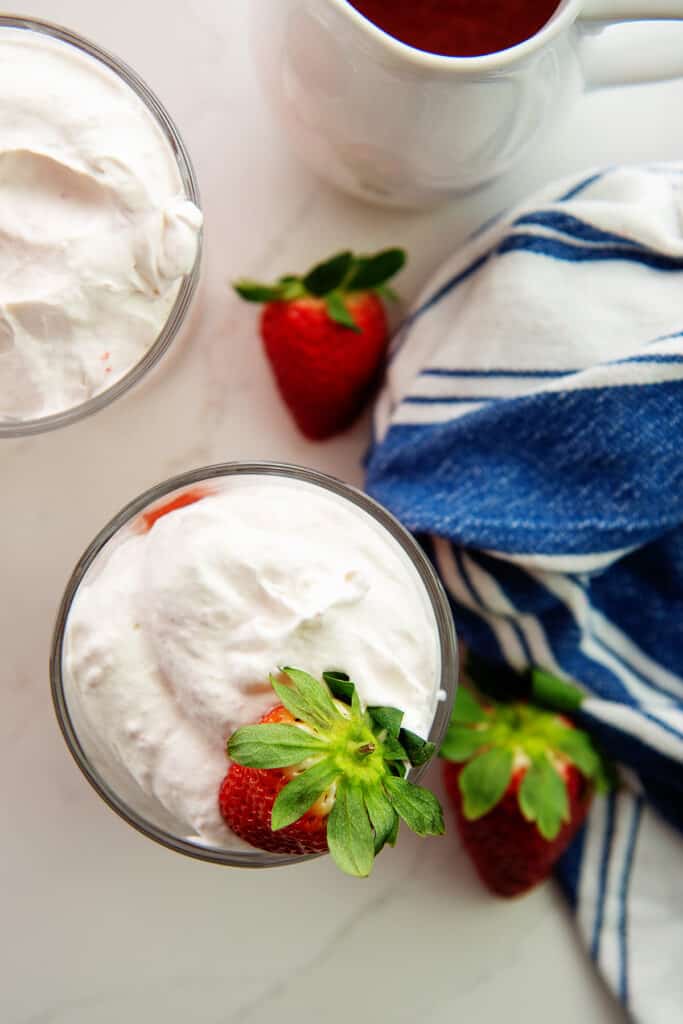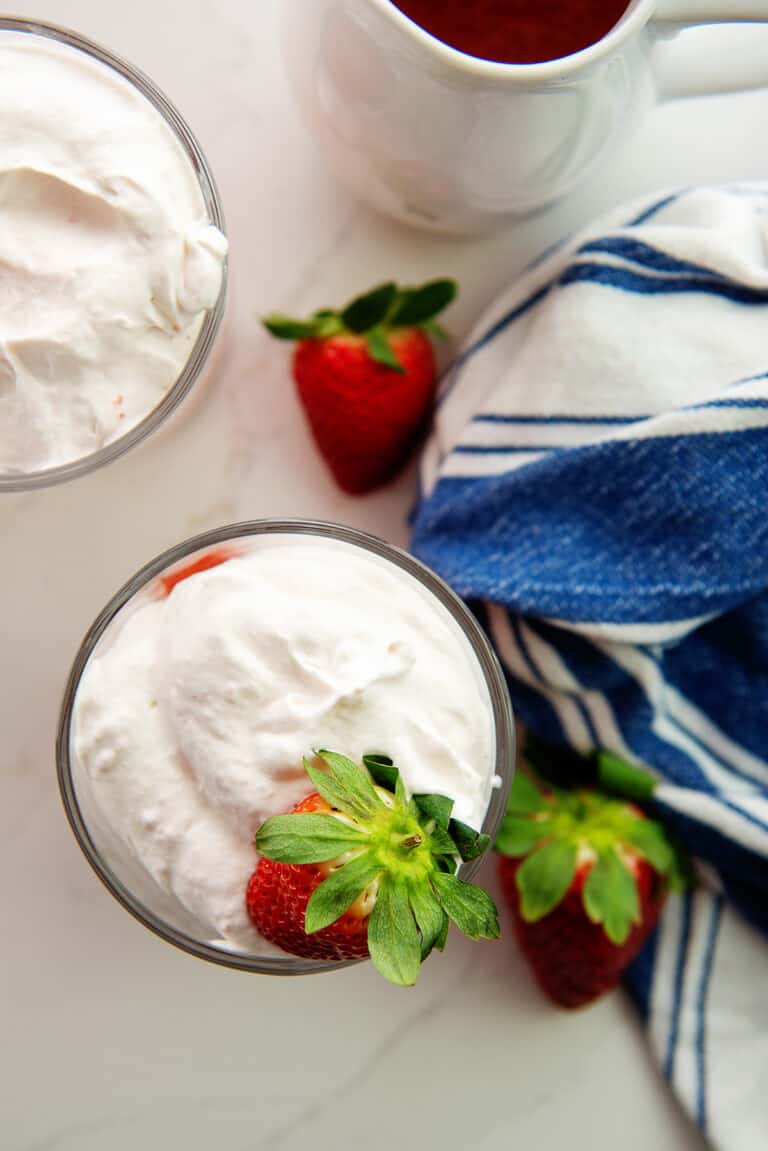 Storage:
This keto strawberry mousse should last in the fridge for 2-3 days.
We store the strawberry puree separately from the cream so that we can dish the two up together with strawberries on bottom and cream on top.
We do not add gelatin or anything else to stabilize the cream and this still lasts for 2-3 days just fine.
More low carb dessert recipes: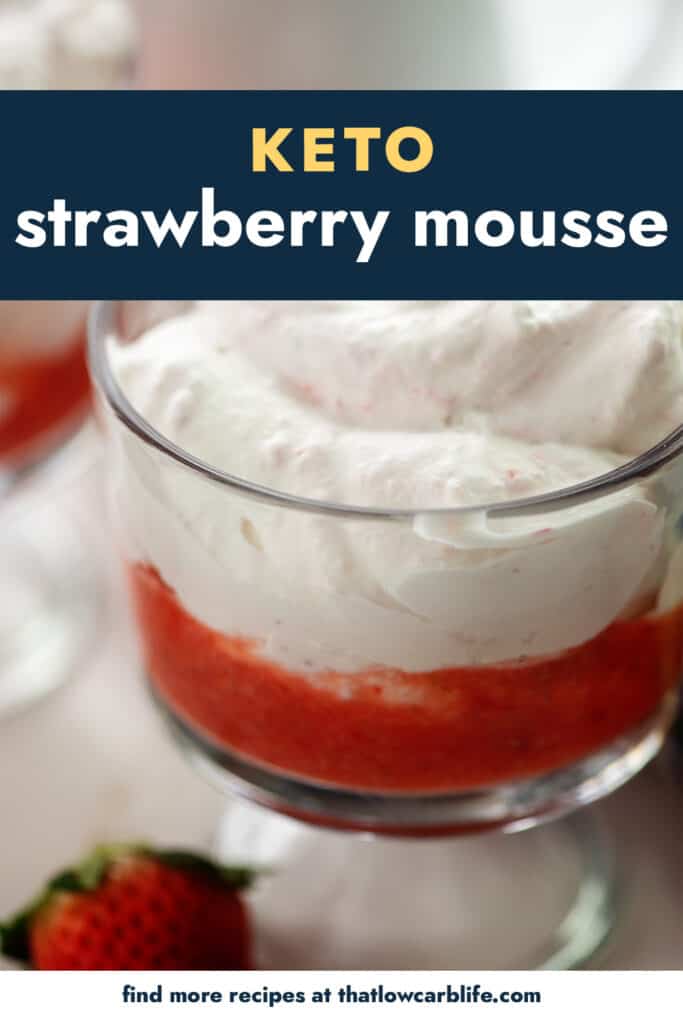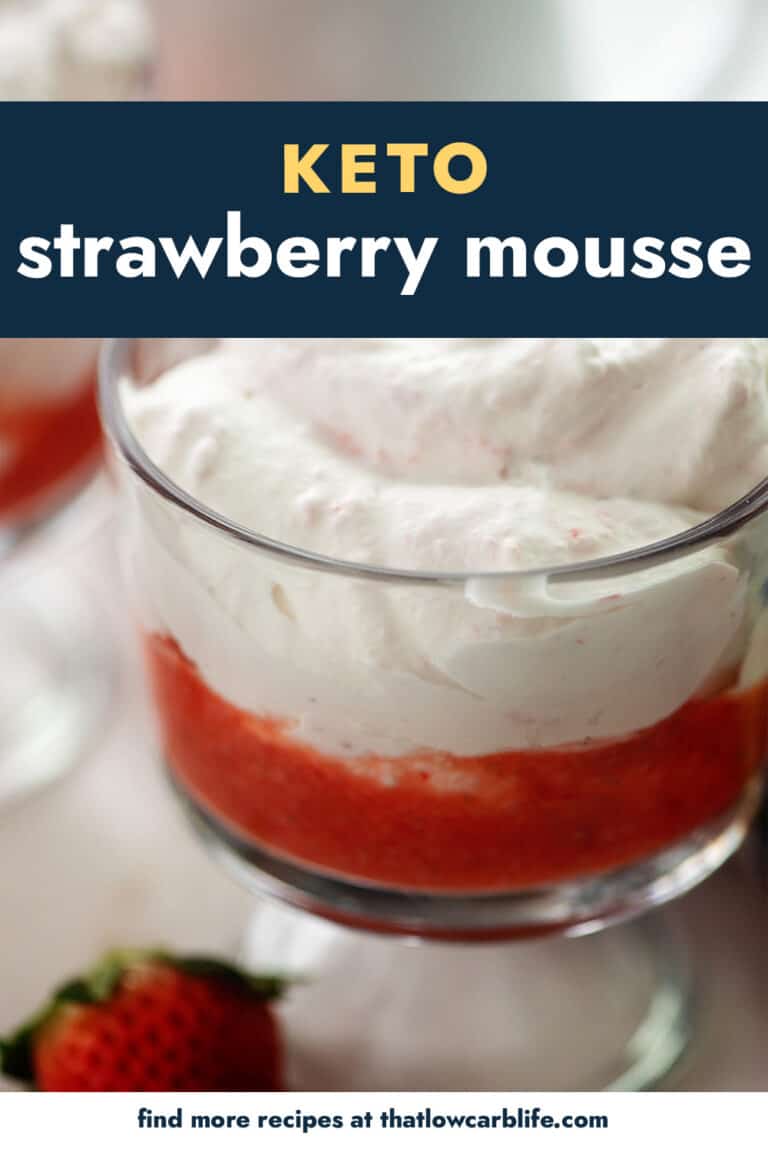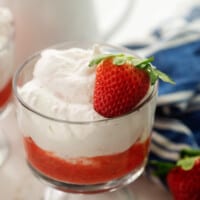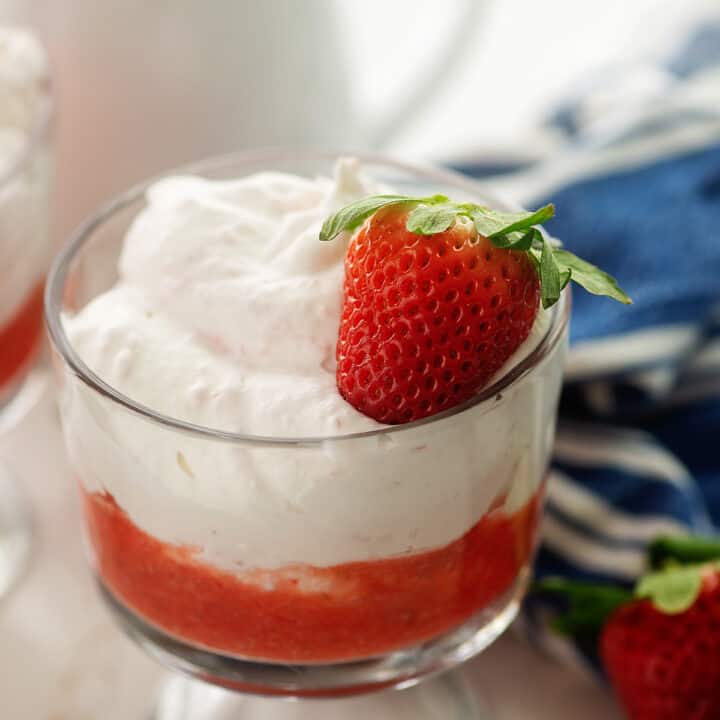 Keto Strawberry Mousse
Light, sweet, and loaded with fresh berries. This strawberry mousse is the perfect summer dessert to serve up on a hot night.
Ingredients
6 ounces strawberries
⅓ cup granulated sweetener
2 cups whipping cream
¼ cup powdered sweetener, see notes
Instructions
Add the strawberries and granulated sweetener to a blender or food processor and blend until smooth.
Place in refrigerator for 30 minutes or until ready to use.
Add the whipping cream and powdered sweetener to a cold mixing bowl and beat with an electric mixer until stiff peaks form.
Fold in ½ of the cold strawberry puree with a rubber spatula.
Before serving, pour the remaining strawberry puree evenly between 6 serving dishes.
Top with the strawberry cream and serve.
Notes
As written, the whipped cream portion of this dessert is not overly sweet. You may increase the powdered sweetener to 1/3 or 1/2 cup if you prefer it more sweet.
Use code THATLOWCARBLIFE at Lakanto.com for 20% off your order!
Nutrition Information:
Yield: 6
Serving Size: 1
Amount Per Serving:
Calories: 240
Total Fat: 24g
Saturated Fat: 0g
Trans Fat: 0g
Unsaturated Fat: 0g
Cholesterol: 90mg
Sodium: 22mg
Carbohydrates: 5g
Net Carbohydrates: 4g
Fiber: 1g
Sugar: 1g
Protein: 2g
All information and tools presented and written within this site are intended for informational purposes only. This information is provided as a courtesy and there is no guarantee that the information is accurate.