These Keto Peanut Butter Cookies are grain free, sugar free, and gluten free, but thick, chewy, and soft! They're the perfect low carb cookie and have just 2 net carbs each! Made with almond flour!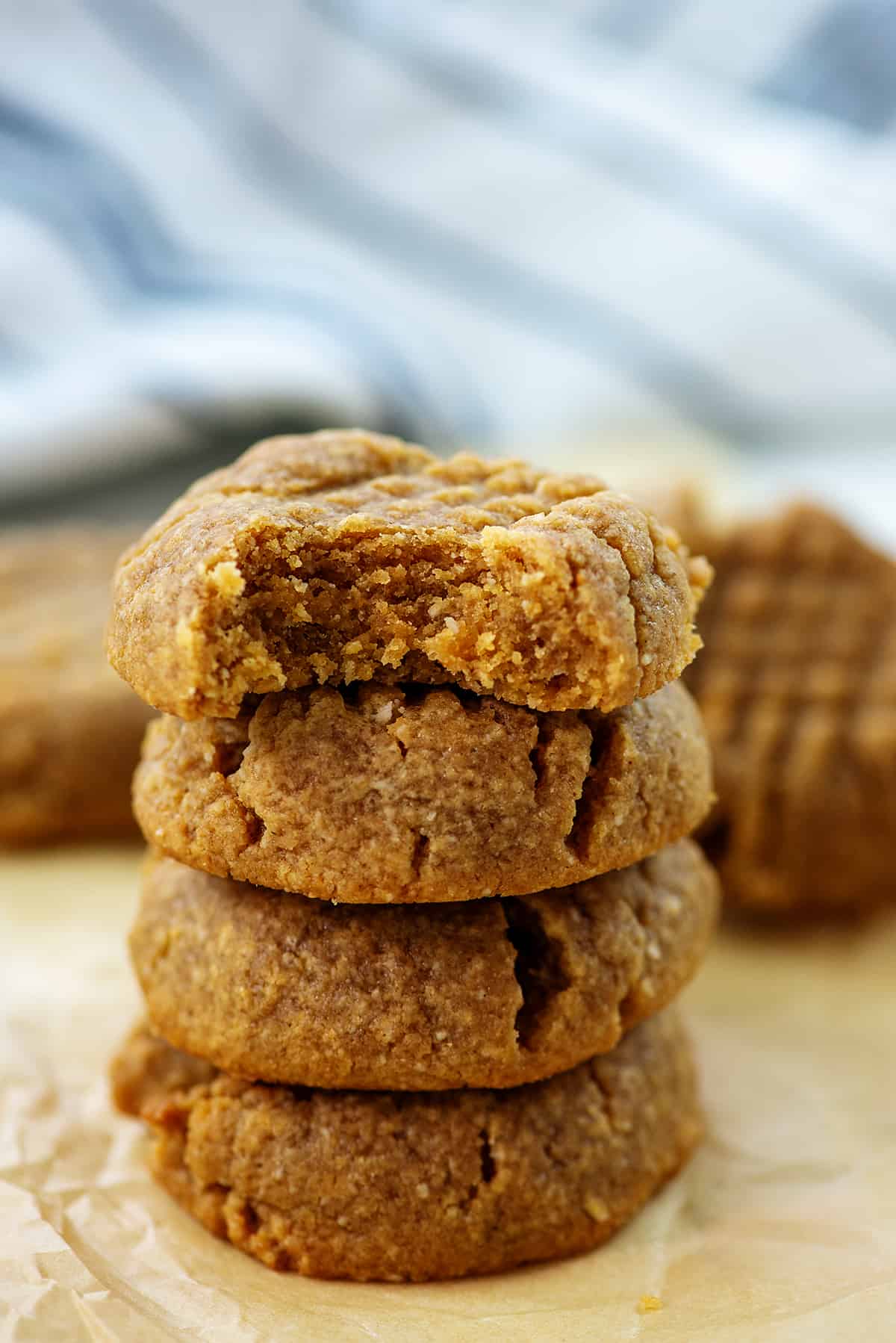 Just a handful of ingredients, a few minutes of mixing, 10 minutes in the oven, and a couple of minutes to cool and you've got the most perfect little keto peanut butter cookie to munch on!
And I don't know about you, but I firmly believe that peanut butter treats are the BEST treats. Our keto peanut butter balls and keto peanut butter pie are two of my favorite treats!
We grew up eating the peanut butter cookies with the crisscross marks from the fork and I'm a believer that nothing beats a classic so here we are. Just this time we made them low carb, sugar free, and gluten free!
These almond flour peanut butter cookies are seriously going to become a favorite in your house. My kids love them just as much as I do and I love that I can make them something sweet without the sugar!
And since these are gluten free peanut butter cookies, they're good for sharing with your friends with gluten sensitivities or allergies!
Why We Love This Recipe
Just 6 ingredients and a few minutes of mixing make thick, chewy cookies!
These bake up and taste just as good as the classic version!
They work for those with gluten allergies and those who are avoiding sugar!
With just 2 carbs and around 100 calories per cookie, we can fit these in any day of the week!
Ingredient Notes:
This post contains affiliate links. As an Amazon associate and member of other affiliate programs, I earn from qualifying purchases.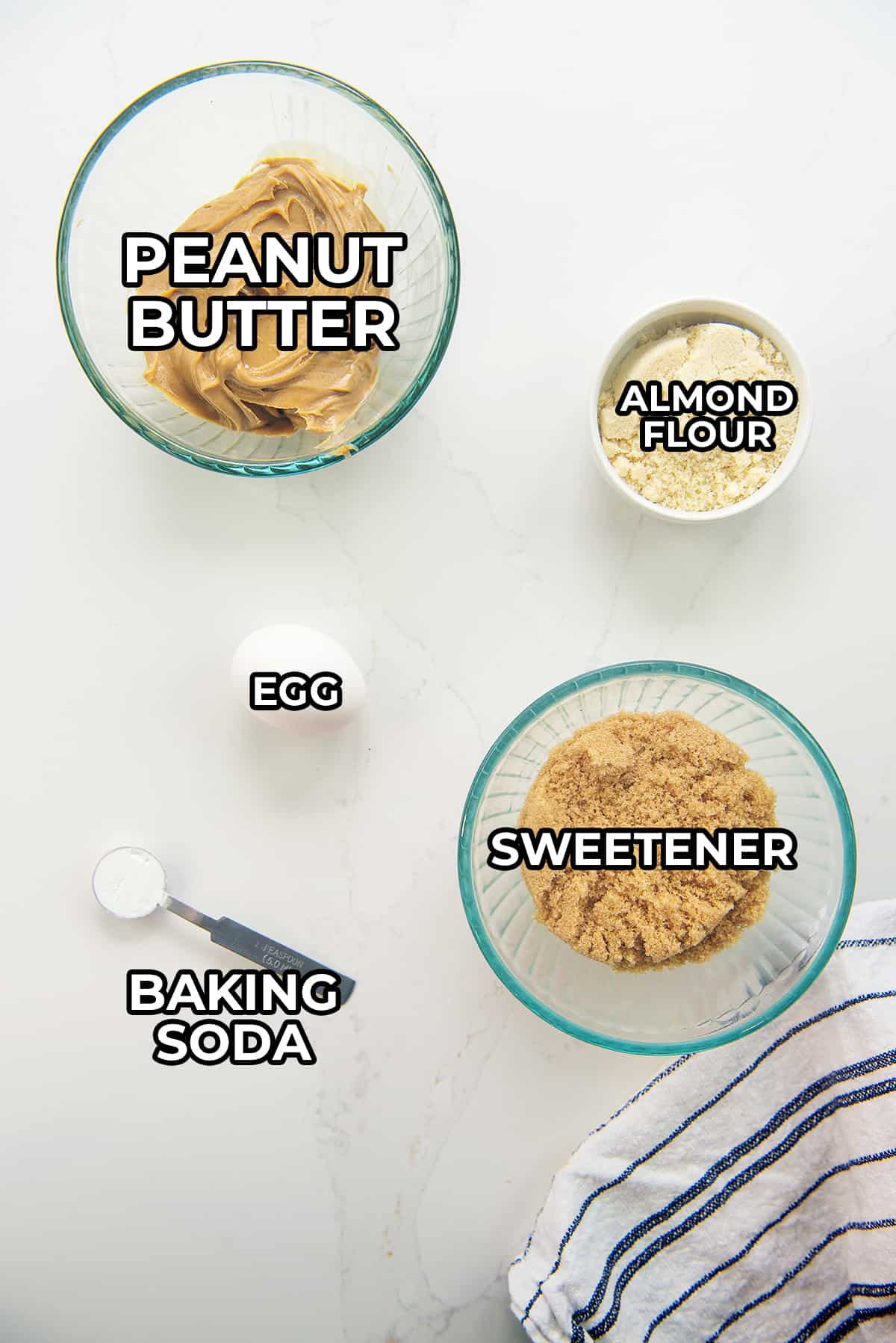 Peanut Butter – You'll need some creamy peanut butter for these keto peanut butter cookies. We used the Jif No Sugar Added Peanut Butter this time around – we just recently started seeing it in our grocery store and we love it!
Brown Sugar Sub – A good brown sugar substitute that we use in pretty much all our recipes is Lakanto Brown Monkfruit Sweetener. It's the perfect low carb replacement for brown sugar!
Almond Flour – Almond flour works great as a replacement for flour in these keto peanut butter cookies, it holds together well with a great texture!
Shop Keto Ingredients
We use Thrive Market for a lot of our specialty ingredients and keto snacks or products. Their prices tend to be cheaper than the local stores and I love that you can so easily sort products by diet.
Like Costco, this is a membership site, but we find that it's more than worth it based on the amount we save over the regular grocery store.
They have monthly or yearly plans. Check it out here.
How To Make Keto Peanut Butter Cookies:
Cookie Dough – First up you'll prepare the peanut butter cookie dough. This is a pretty simple recipe with only a few ingredients. Add the creamy peanut butter to a mixing bowl with the brown sugar substitute, egg, and vanilla extract and beat together with an electric mixer until it is all well combined. Finally go ahead and add in the almond flour and baking soda and mix it well to form the dough.
Scoop – The best way to make sure you get the cookies sized properly so they bake evenly is to use a cookie scoop. I was able to get 20 balls of the keto peanut butter cookie dough using a medium sized cookie scoop. Scoop the balls of dough and sort them out onto a parchment lined baking sheet.
Flatten – Use your hands to roll the balls into a nice circle and then press a fork into the tops in a crisscross pattern. Peanut butter cookies are thick and this will help flatten them out so they bake a little more evenly.
Bake – When you've finished preparing the balls of cookie dough on the baking sheet you can start baking. These do not take long, only about 8 to 9 minutes. They may look a bit underdone, but they'll set up as they cool on the hot baking sheet. Serve them up with a cold glass of almond milk!
Helpful Tip!
Use a medium cookie scoop to quickly and easily scoop out equal sized portions of dough. Roll the dough quickly between your hands to compact and smooth it before using a fork to make the crisscross pattern.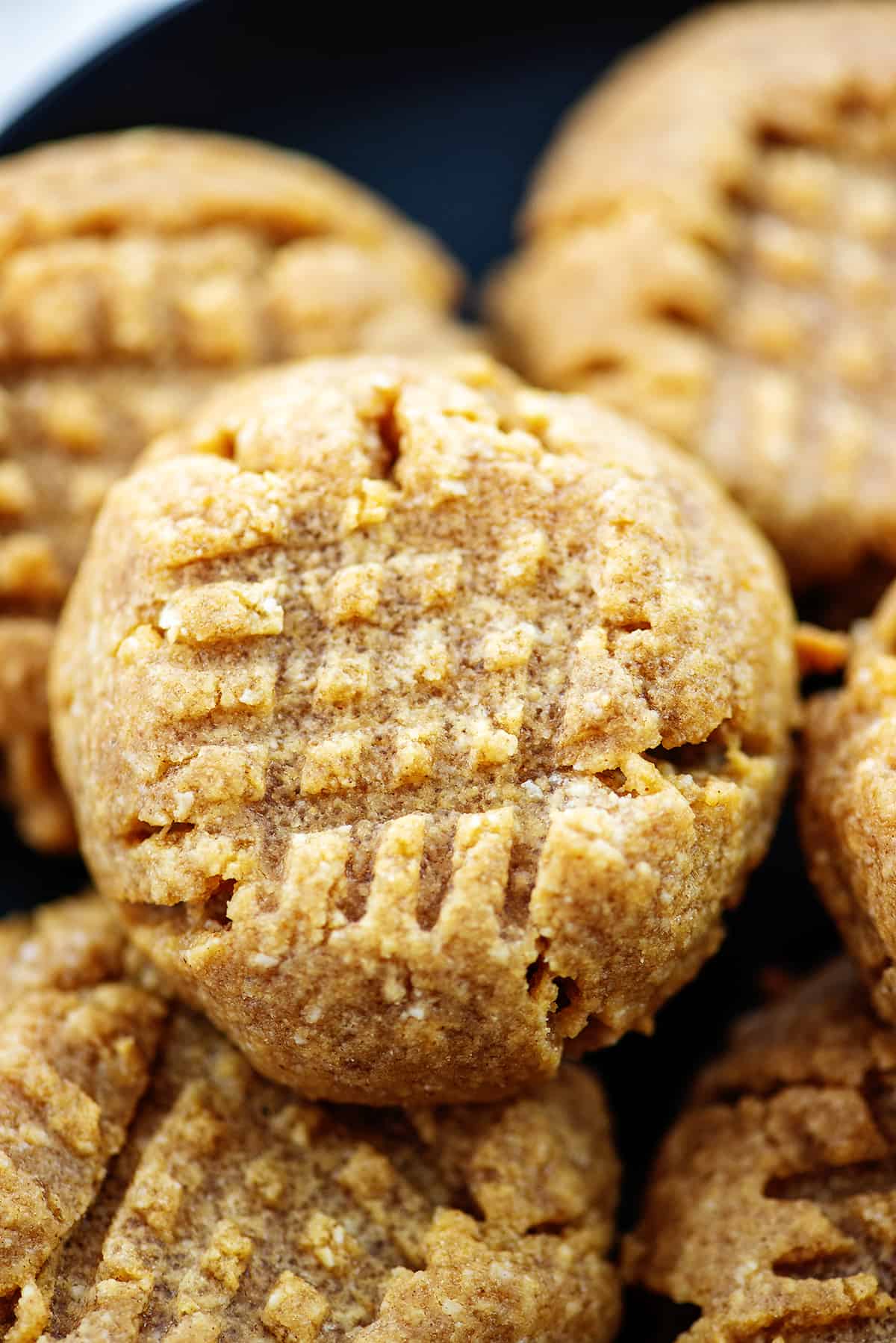 FAQ's:
Can I store peanut butter cookies?
Sure! These will keep well like most other cookies. Store them in an airtight container at room temperature for up to a week.
Can I freeze the cookies/dough?
Absolutely! To free before baking, scoop and shape the dough, place on a baking sheet, and freeze for 1 hour before transferring to a freezer safe bag for up to 3 months. Bake straight from the freezer for 10-11 minutes. To freeze already baked cookies, cool completely and freeze in a freezer bag for up to 3 months. Thaw on the countertop.
Why make a crisscross pattern?
It flattens out the cookies so that they will bake more evenly. The dough is pretty thick so if you don't flatten them out the centers may not be done.
More Low Carb Dessert Recipes!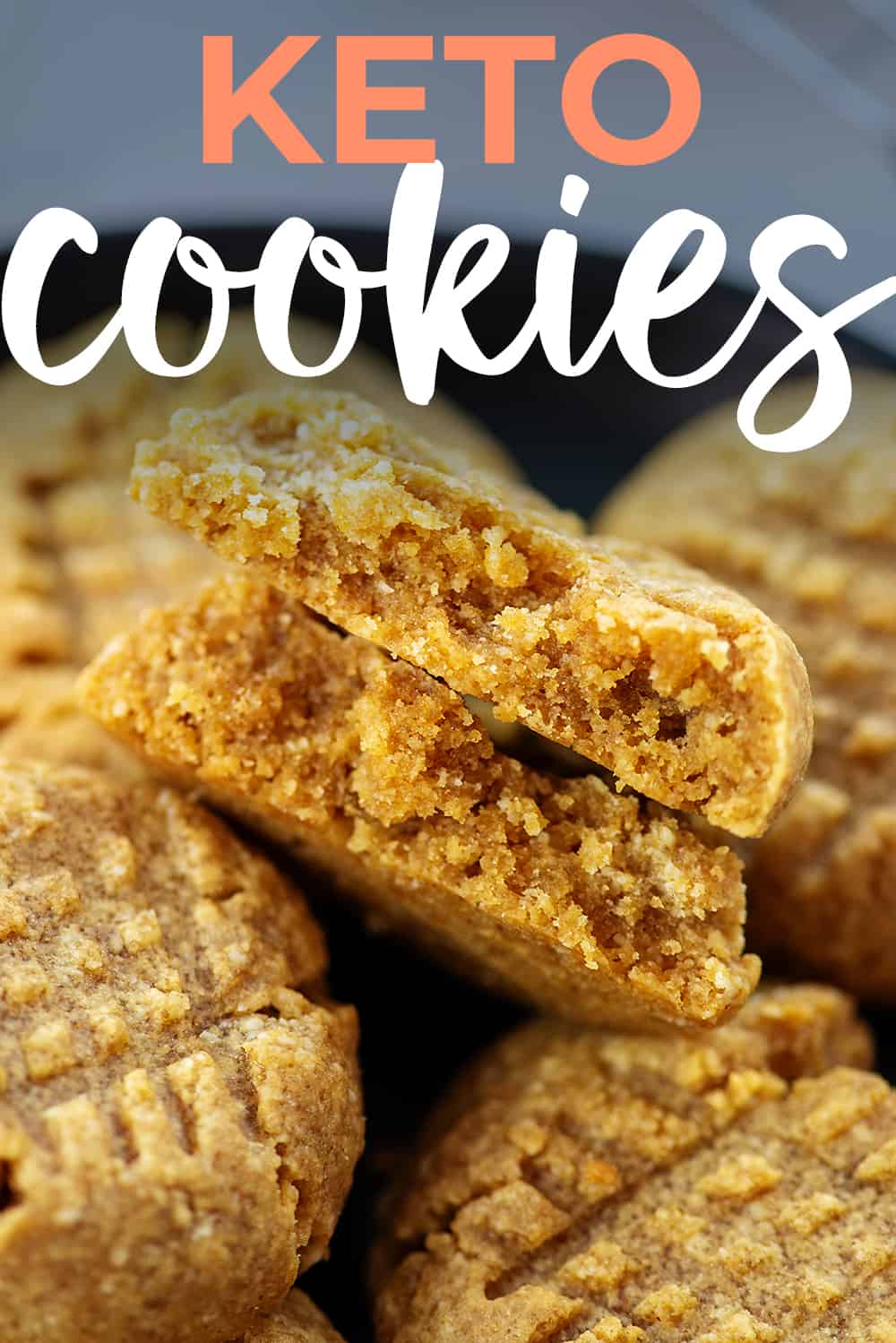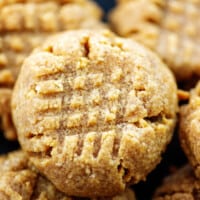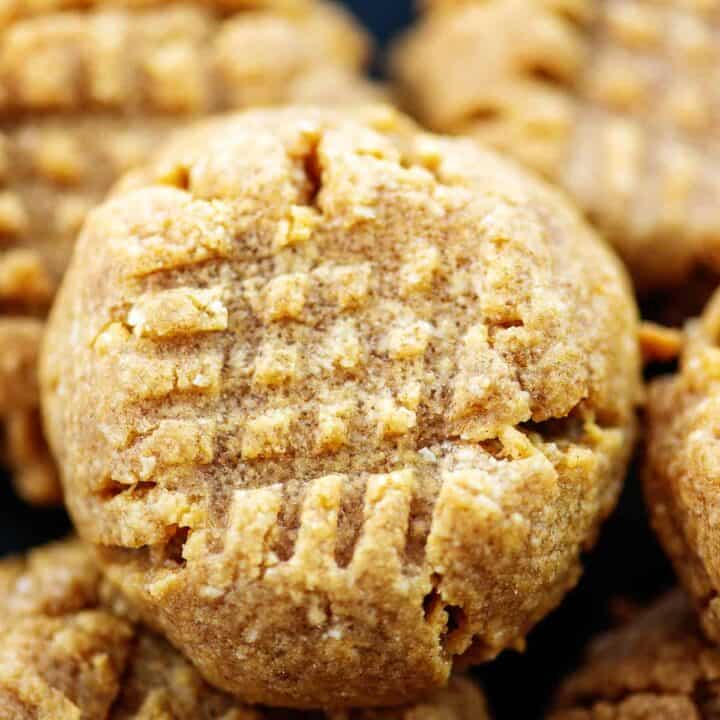 Almond Flour Peanut Butter Cookies
These peanut butter cookies are sugar free, gluten free, and keto - all while baking up soft and chewy and sweet!
Ingredients
1 cup creamy no sugar added peanut butter
1 large egg
1 teaspoon vanilla
1 teaspoon baking soda
Instructions
Preheat oven to 350 degrees.
Add the peanut butter, brown sugar, egg, and vanilla to a mixing bowl and beat with an electric mixer until well combined.
Add the almond flour and baking soda and mix well.
Use a medium cookie scoop to scoop out 18 balls of dough onto a parchment lined baking sheet.
Use a fork to make a crisscross pattern in each ball of dough.
Bake for 8-9 minutes or until the cookies are set on the edges. Do not overbake.
Allow cookies to cool on the baking sheet for 10 minutes before transferring to a cooling rack.
Notes
Any sweetener that bakes at a 1:1 ratio with sugar should work, but the taste and texture may be different than our tests. We use and love Lakanto sweeteners. Use code THATLOWCARBLIFE for 20% off your order at Lakanto.com.
The nutrition information was calculated with a peanut butter that is 4 net carbs per 2 tablespoons.
Nutrition Information:
Yield: 18
Serving Size: 1 cookie
Amount Per Serving:
Calories: 106
Total Fat: 9g
Saturated Fat: 1g
Trans Fat: 0g
Unsaturated Fat: 7g
Cholesterol: 10mg
Sodium: 129mg
Carbohydrates: 3g
Net Carbohydrates: 2g
Fiber: 1g
Sugar: 1g
Protein: 4g
All information and tools presented and written within this site are intended for informational purposes only. This information is provided as a courtesy and there is no guarantee that the information is accurate.