Strawberry cream cake made low carb with a simple vanilla cake as the base and homemade whipped cream to top it off! Layer on the strawberries and this dessert is perfect for spring!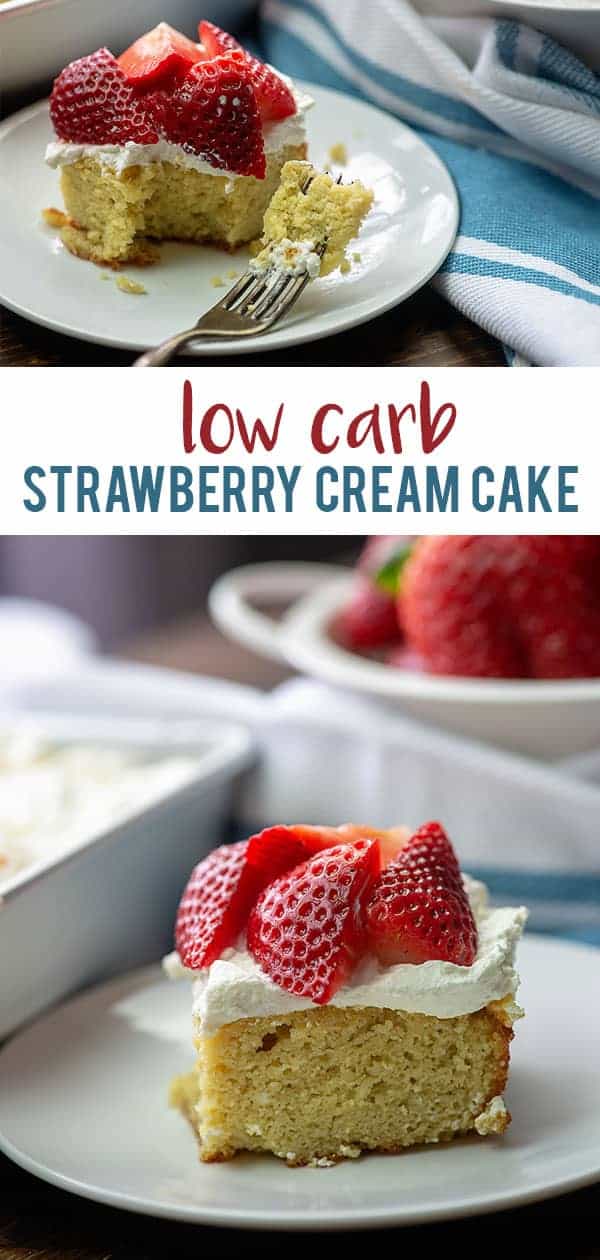 Isn't this just the best time of year? The weather is changing from cold to warm and the markets are beginning to get fruit and berries that taste extra sweet and juicy.
We love when berries start coming in to season and I can never resist munching on a few strawberries every day this time of year.
Strawberries are a favorite of mine and they're fairly low in carbs if you're conscious of your portion size! I can make room in my diet for strawberries pretty much ever day, especially when they're extra delicious and juicy like they are in the spring and early summer.
I whipped up a simple low carb cake and topped it off with fresh whipped cream and sliced berries. This strawberry cream cake is total perfection!
Look how moist this cake is!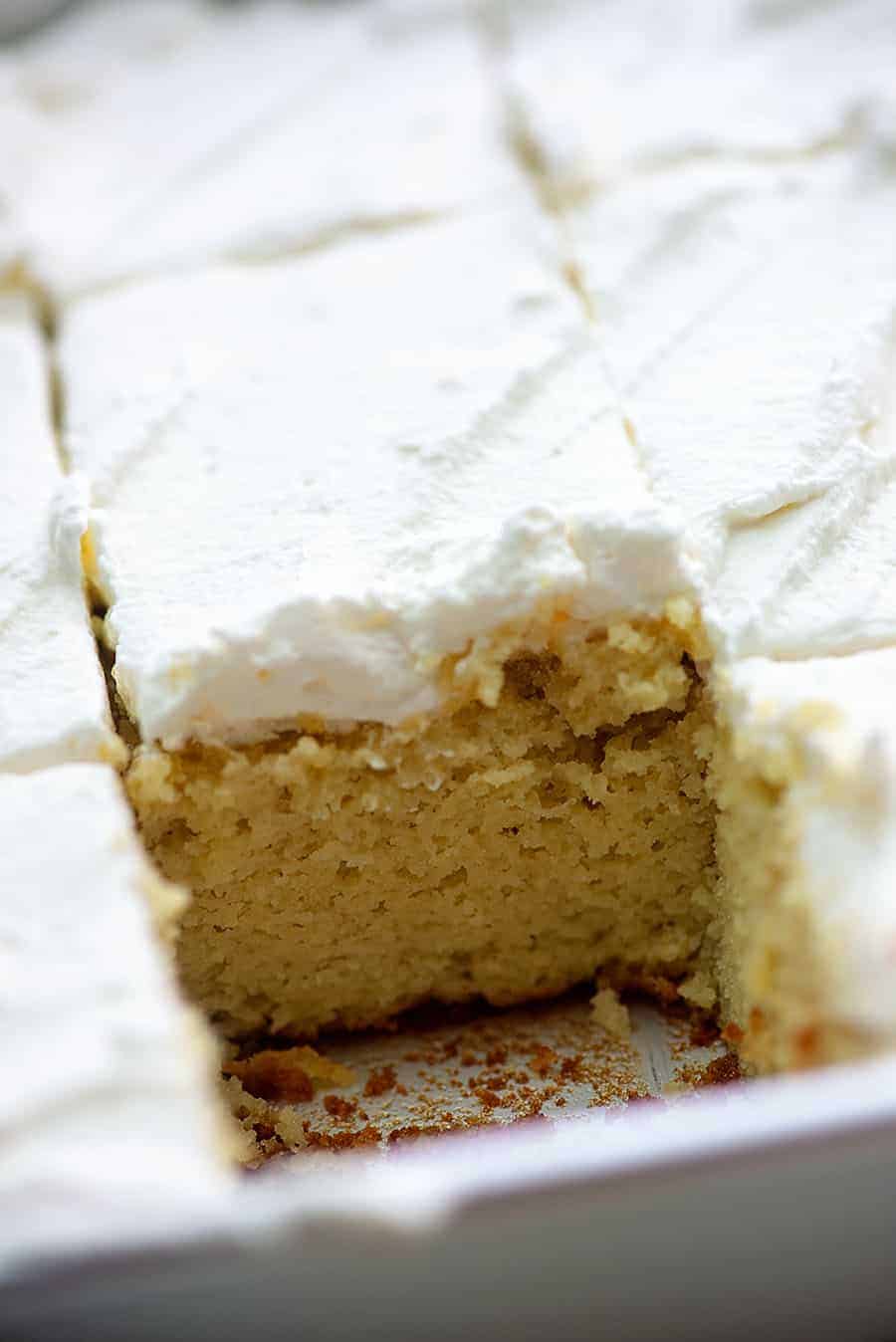 How to make low carb cake:
This post contains affiliate links.
For the cake base, we'll start with melted butter, heavy cream, eggs, and vanilla. Whip all of those together well and then start adding in your dry ingredients.
This recipe uses coconut flour, but I don't find it has a coconut flavor at all.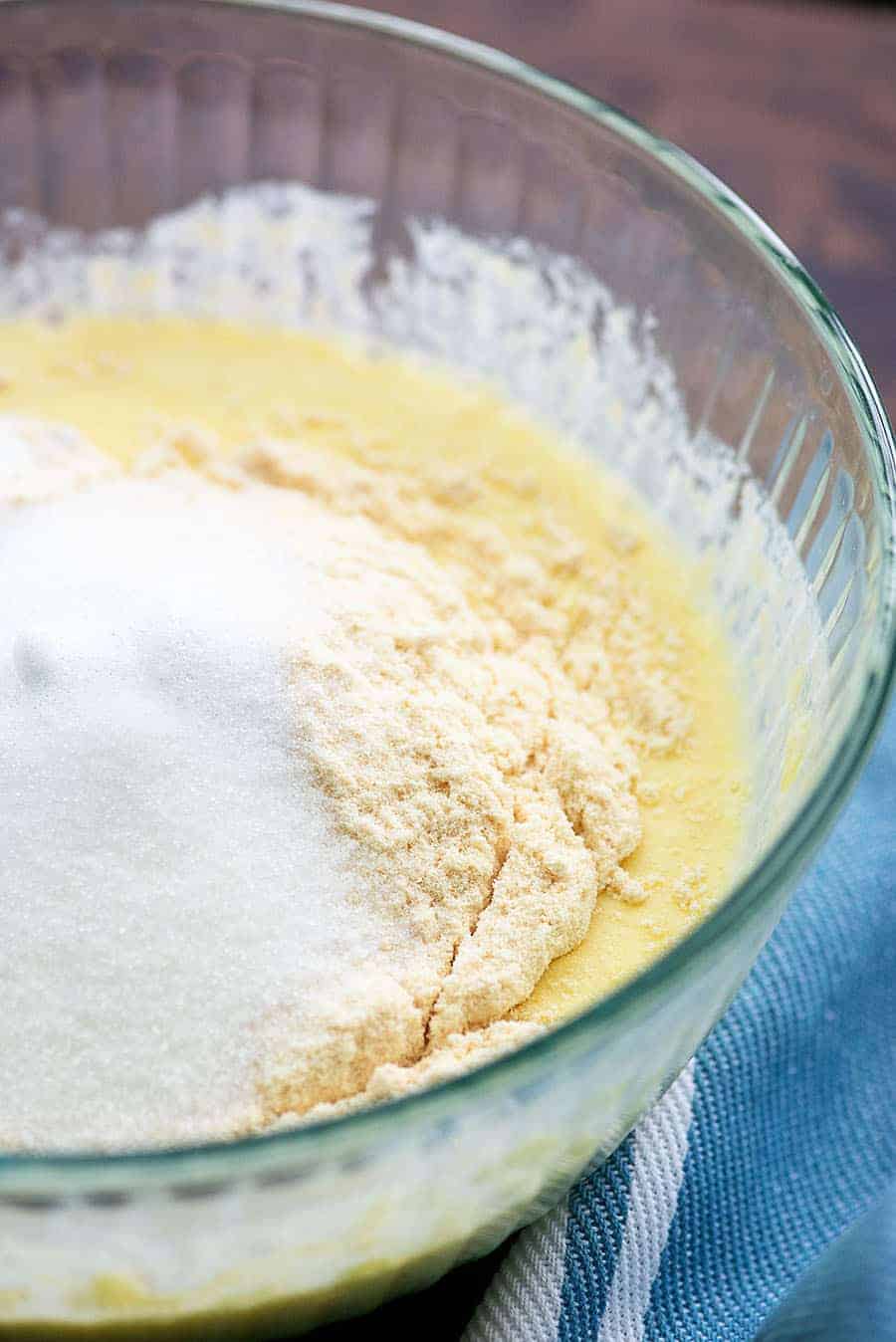 I've made this recipe with both xylitol and monkfruit as the sweetener. You may use either but be careful with the xylitol as it's very toxic for dogs and even a small amount can be lethal.
I use and recommend Lakanto Monkfruit almost exclusively in baking. It measures 1:1 like sugar, leaves no funky aftertaste, and it's a blend of monkfruit and erythritol (both natural, healthy sweeteners).
I also add in 1 tablespoon stevia blend. The brand I use is Pyure. It's sweeter than traditional sugar so you don't need a lot. You can leave it out if you prefer, but I find that using a mix of sweeteners helps eliminate that 'fake sugar' flavor that can happen. I never use Pyure on it's own as I find it has a very bitter aftertaste.
You'll also need a dash of salt and some baking soda.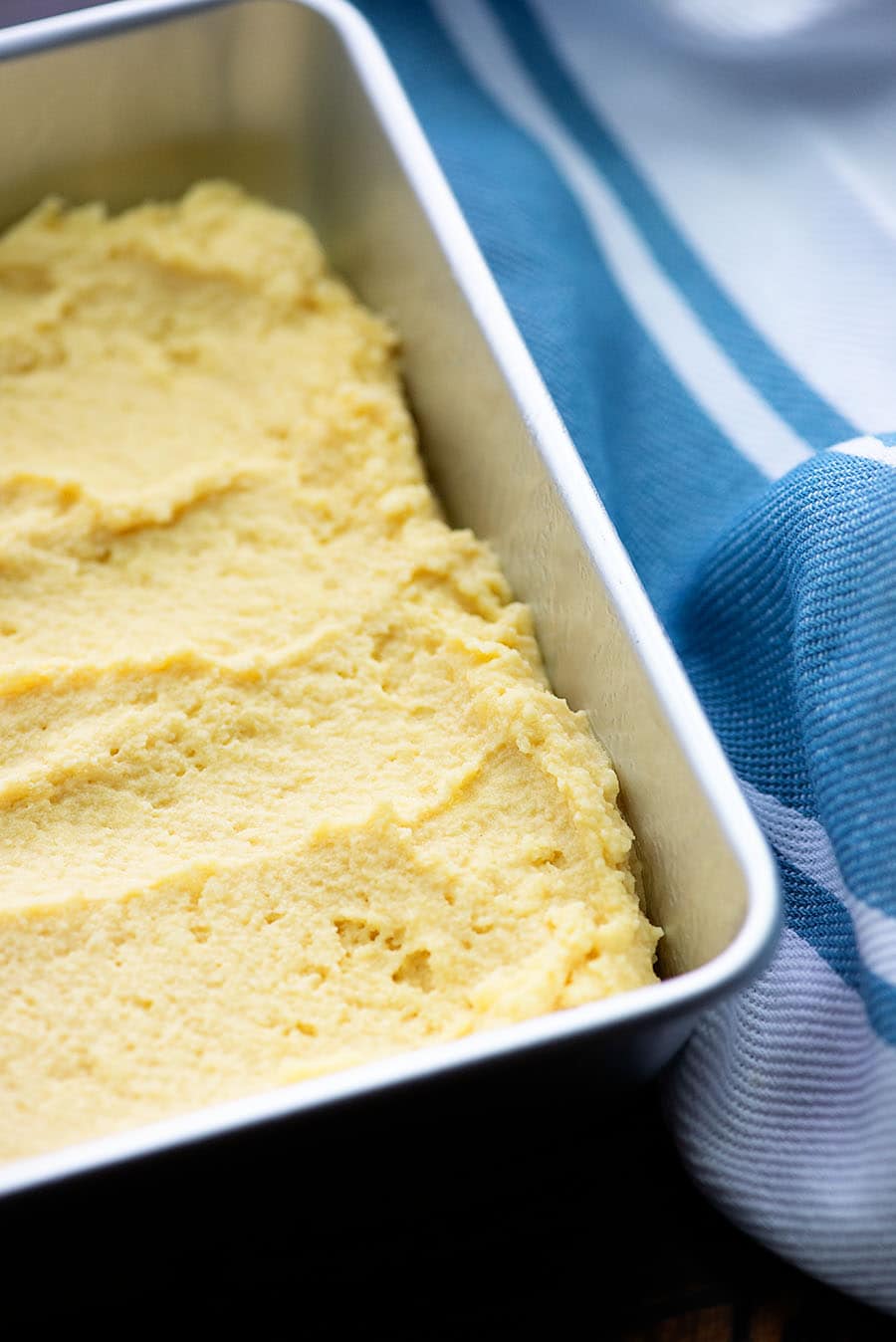 Stir this mixture together and spread it into a well greased 8×8 baking dish.
You may notice that this batter starts out with the texture of a normal cake batter, but the longer it sets the thicker it gets. No worries! It's just the coconut flour doing what coconut flour does – soaking up all that liquid.
Bake until the top springs back and a toothpick comes out clean – about 20 minutes.
Let the cake cool completely before moving on to the whipped cream.
How to make low carb whipped cream:
The whipped cream is beyond simple to prepare with just a couple of ingredients.
Since it's acting as the frosting to a cake, I like to lightly sweeten it with powdered sweetener.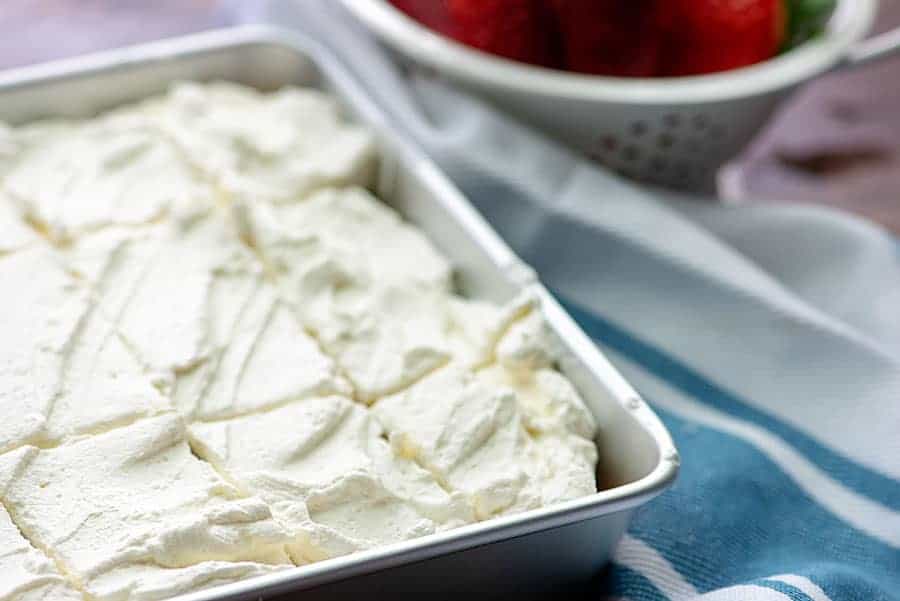 Add in a dash of vanilla and use an electric mixer to whip the cream.
Spread it over the cooled cake.
Low carb strawberry topping:
Next, you'll want to slice your berries and give one a taste.
If your strawberries are sweet enough, go ahead and use them as is.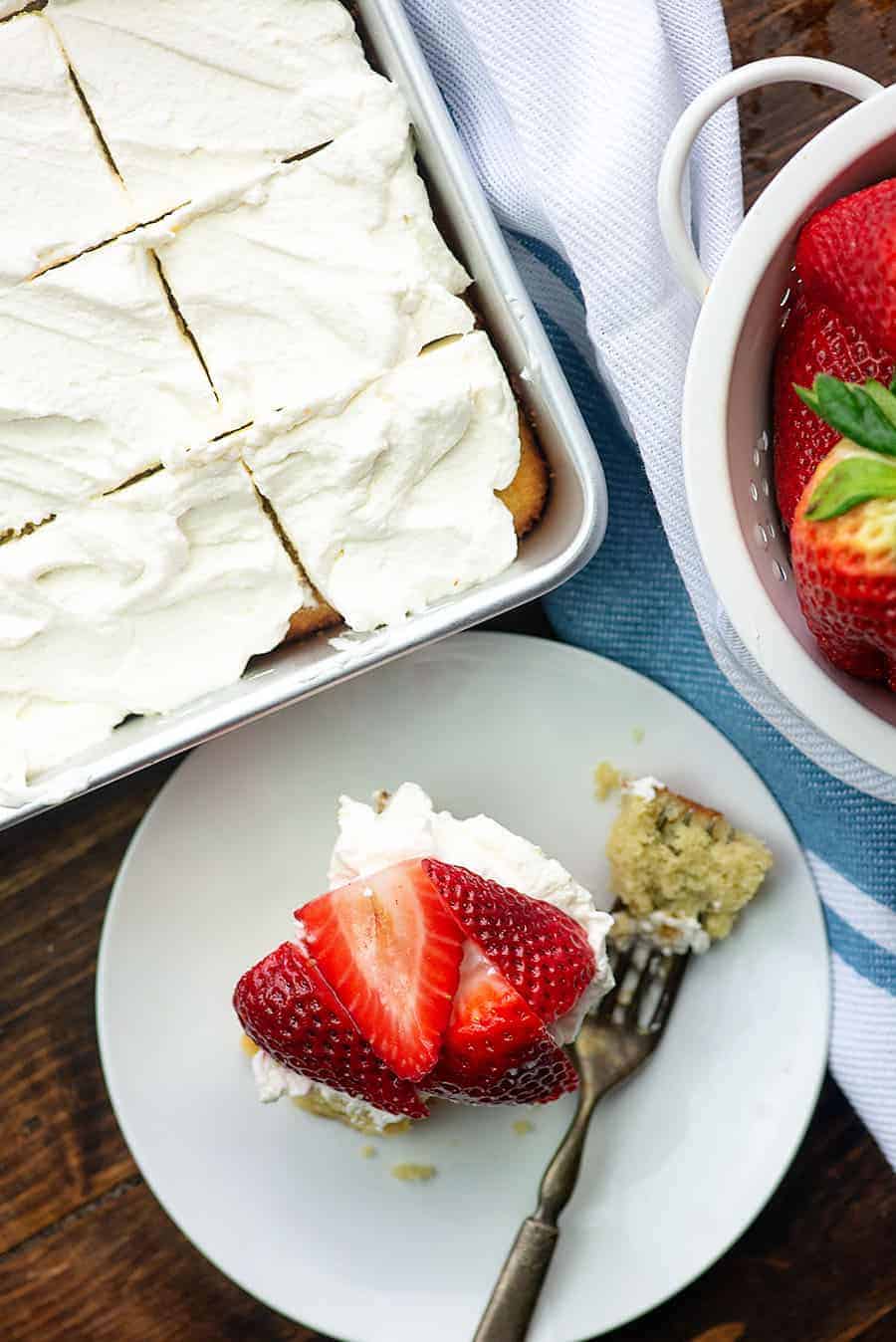 If you think they could use a little boost, sprinkle your preferred sweetener over the top and stir to combine.
I like to layer the strawberries on each individual serving to make cutting and serving the cake easier. It will also keep better if you store the strawberries separately.
More low carb desserts to try this spring:
No Bake Nutella Raspberry Tart: Raspberries and chocolate are the best!
Low Carb Lemon Bars: Don't these look tasty?
FroYo Popsicles: So tasty!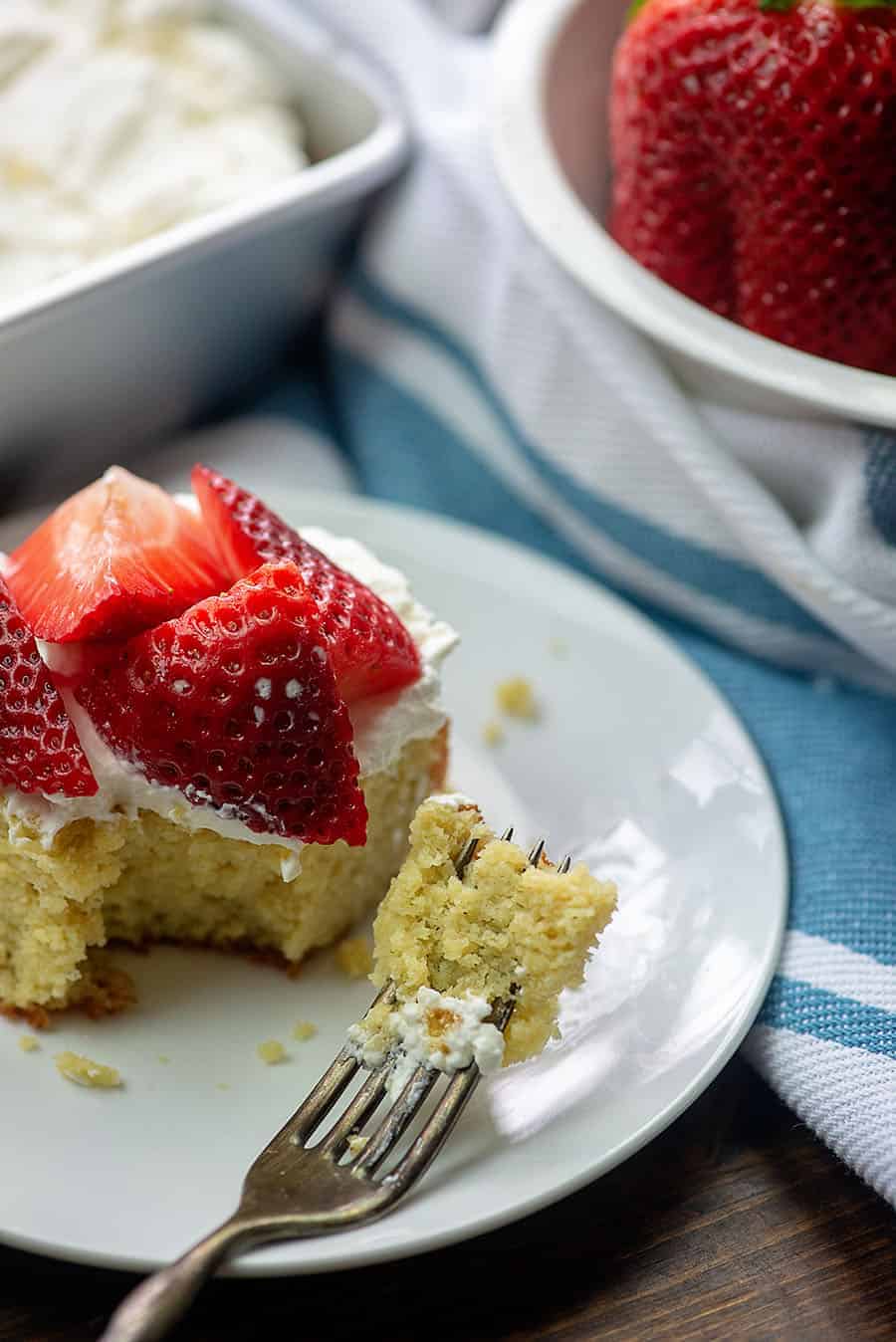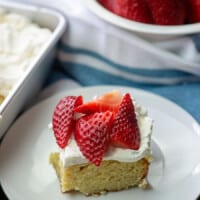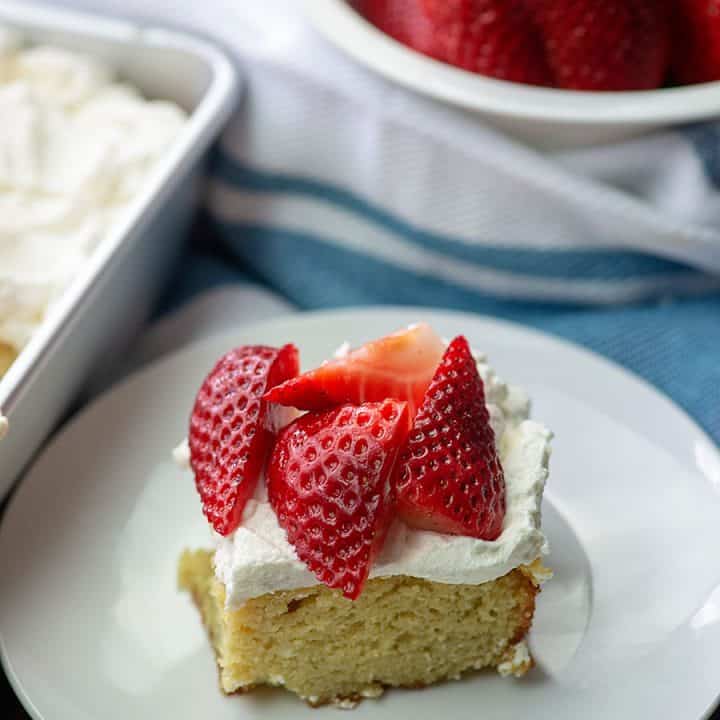 Strawberry Cream Cake
Simple vanilla cake topped off with cream and strawberries!
Total Time 1 hour 30 minutes
Ingredients
For the cake:
6 tablespoons butter, melted
⅓ cup heavy cream
4 large eggs
2 teaspoons vanilla extract
½ teaspoon salt
¼ teaspoon baking soda
For the whipped cream:
1 cup whipping cream
1 teaspoon vanilla
For the strawberries:
1 cup sliced strawberries
Instructions
Preheat oven to 350 degrees. Spray an 8x8 square baking dish with non-stick spray.
Add the melted butter, heavy cream, eggs, and vanilla to a mixing bowl and mix with an electric mixer until well combined.
Add the coconut flour, xylitol, stevia, salt, and baking soda to the bowl and stir to combine.
Spread the batter into the prepared baking dish and place in the oven.
Bake for 15-20 minutes or until the top springs back when lightly touched and a toothpick comes out clean.
Cool completely.
To make the whipped cream, beat together the cold whipping cream, vanilla, and sweetener until stiff peaks form.
Spread the whipped cream over the cake.
Taste the strawberries and sprinkle with sweetener, if needed.
Cut the cake into 12 slices and top with strawberries when serving.
Store cake, tightly covered, in the fridge for up to 2 days.
Notes
I've used multiple sweeteners in this recipe as I find it gives the best flavor/texture without an aftertaste. You may use whatever sweeteners you prefer.
Nutrition information was calculated with the sugar alcohols already subtracted.
Recommended Products
As an Amazon Associate and member of other affiliate programs, I earn from qualifying purchases.
Nutrition Information:
Yield: 12
Serving Size: 1 slice
Amount Per Serving:
Calories: 199
Total Fat: 19g
Saturated Fat: 13g
Trans Fat: 1g
Unsaturated Fat: 6g
Cholesterol: 107mg
Sodium: 192mg
Carbohydrates: 4g
Net Carbohydrates: 3g
Fiber: 1g
Sugar: 2g
Protein: 3g
All information and tools presented and written within this site are intended for informational purposes only. This information is provided as a courtesy and there is no guarantee that the information is accurate.